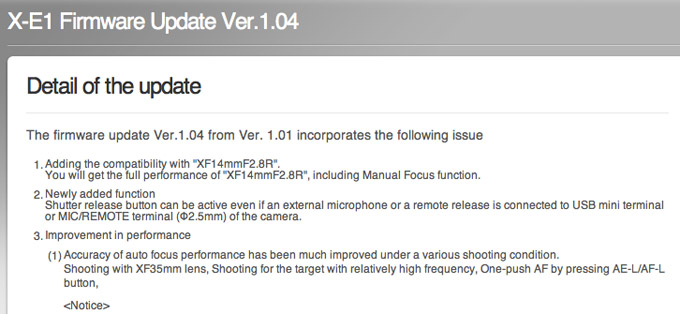 New Firmware for the Fuji X-E1 and 35 1.4 Lens!
Seems I was not the only one who admitted there were AF issues with the 35 1.4 lens on the X-E1. Fuji has released new firmware for the X-E1 and 35 1.4 today that does a few things but the one that caught my eye was THIS:
"Accuracy of auto focus performance has been much improved under a various shooting condition.
Shooting with XF35mm lens, Shooting for the target with relatively high frequency, One-push AF by pressing AE-L/AF-L button,
<Notice> 
To enable more accurate AF performance with XF35mm lens, please update the firmware of your Fujinon XF35mm lens at the same time. Firmware version must be Ver 2.02 or later."
Exactly what I have been saying..it is the ACCURACY of the AF that was lacking in lower light conditions. Supposedly this firmware update will vastly improve this. I have downloaded it and it does indeed seem to be much more accurate! I would not say it is any faster but that was not my concern with the 35 1.4, it was the accuracy. I will do more testing but some lower light test snaps in my office provided me with all hits and zero misses when just three days ago I had 3 misses out of 5 shots. So this is GOOD.
To update you firmware click HERE for the body and HERE for the Lens. Them just drag those files to a formatted SD card, insert into your X-E1 and power on while holding down the "back" button. The camera will give you instructions from there. 
Some quick and dirty test snaps in my office just now all at 1.4 with the 35mm and the newest firmware.