User Report: The Nikon V1 as a run-and-gun video camera
By Ivan Lietaert
I'm an amateur documentary/film maker. I run a passion project about the World War One cemeteries here in Flanders (Belgium) in the Ypres region, where I live. (Vimeo channel). I am also part of a small group of local videographers and we create non-profit videos for and about the local community life. It's called Gtv, 'Geluwe TV' and here is one of my movies, just one of many I created this one with my trusty (and now almost rusty) DSLR (a Canon Eos 550D/T2i). I have been using this DSLR for many years and I am not a 'fanboy'. The camera that really introduced me into photography and movie making was the Panasonic Lumix LX3. I still have it and use it regularly. A year later, the 550D came out, with, at the time, unseen video possibilities at a budget price. This camera allowed me to further develop my skills, both in still photography and video making. I have a small collection of lenses, my favorites being manual, 30 year old Auto Chinon glass, cheap as dirt.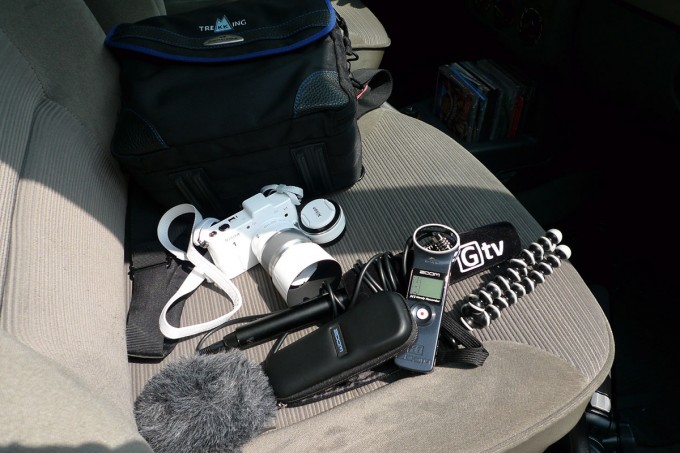 Quite recently, I have become very intrigued by the Nikon 1 V1, so after the huge price drop, in 2013 I jumped the wagon and bought a white V1 with a set of lenses, the 10mm f2.8 and the 30-110mm telezoom. I also ordered the 18mm f1.8, but it hadn't been yet delivered yet when I did this project and wrote this user review.
So after a week of getting to know the camera, I took the V1 out for its first real run-and-gun project; a commissioned job actually, issued by the local town council, cultural department. Mind you, this is my very first video project with the V1, so I was doomed to make some mistakes. Don't expect any 4K raw experiments here, just the basic run-and-gun work, lots of walking, a trip on a bus, shooting under various light conditions, and with specific attention for in-camera classical music recording as well.
For those interested, here is the story: Wervik (B) and Wervicq-Sud (Fr) are border towns separated by the river Lys. The cultural department makes huge efforts in bringing the inhabitants, which share historical roots, together. This day, the focus was on literature and music. The invited authors are renowned, both in Flanders (Belgium) and France, and internationally.
So there it was: instead of taking my trusty 550D, I only took the V1 with me for the assignment. Was this madness and unwise? Does the smallish, one inch CX sensor stand up against a asp-c dslr? Here is my report.
Size does matter!
A friend of mine is the creator of the videos for the official fan website of a Belgian premier league soccer club. When he started, he was using a small camcorder with a decent image quality. Soon, he found out nobody took him seriously. Not the players, not the fans, and certainly not the professional cameramen from national and commercial television. So he quickly invested in a bigger, bulkier but professional looking camera which he put on an even bigger tripod. Though the image quality wasn't any better, now he was taken seriously, and he has been using that bulky camera for many years, very successfully.
While this is a cautionary tail in favour of bigger cameras, I myself have always put priority on image quality and portability. That's why I opted for a DSLR. Still, when preparing for my first V1 field trip, I was quite nervous… did I, perhaps, overlook something? Never before had I traveled so lightly! This was the contents of my small Samsonite Trekking shoulder bag: a white Nikon 1 V1, the Nikon 1 10mm f2.8 pancake, the Nikon 1 VR 30-110mm telezoom. A mono mike with cable for interviews. A Zoom H1 (+ case and windcat), a cloth, a 16GB Transend memory card (in the camera). The biggest weight I was carrying, was in fact my Manfrotto XProb 055 tripod with the 501HDV video head. The bag itself was feather light. Nope, all 's here. Nothing forgotten! Wow. Size does matter indeed, but here in quite the opposite sense!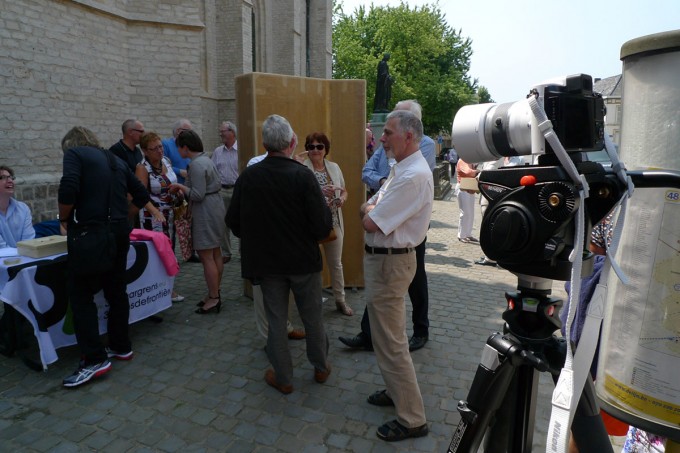 Format
The V1 can film in 1080i 60fps and that is what I chose. I figured that at times there would be lots of movement and 60fps is an advantage then. 1080p at 30fps would have been the alternative.
Exposure
I chose for manual. Aperture and exposure can be changed with the wheel and a nob on the back of the camera.
Exposure is 1/100 or faster. I would have preferred it started at 1/30. Outdoors, in the bright sunlight, exposure would be much shorter, of course, and I would also tweak aperture in order to get avoid blow outs. Outdoors, I set iso at 100 or 200; inside the church, iso was set at 1600. There is no iso button, so one must access the menu in order to change it, which is not good.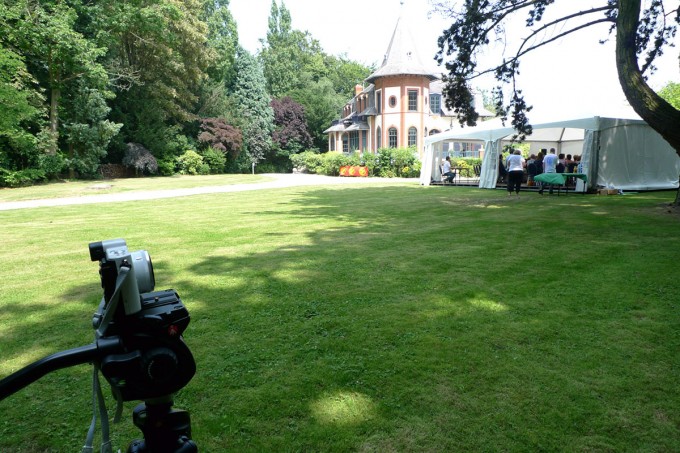 Focus
Of course, the V1's autofocus is very fast, and it works really well. Full manual focus would have been too hard, I thought, so I used AF-S(ingle) most of the time, and also AF-F(ull). First I had 'face recognition priority' on. I turned it off, because it interferes with the focussing: in AF-F focus will jump from one face to the other all the time, while in AF-S, the same will happen. It is not only distraction, but can ruin a shot. So my modus operandi was to use AF-S mode with the center focus point only; target the subject, achieve focus, and then reframe. Afterthought: if I had turned off 'face recogniton priority' from the start, I might have used AF-F more.
As the Nikkor 1 lenses I own have no focus ring, focus pulling was impossible. In fact, hitting the shutter release button in AF-S will instantly pull focus, but much too fast (!) and I haven't found a way of slowing it down in order to create a beautiful focus-pull shot. I miss that a lot.
During a whole afternoon of filming, there were two occasions where the lens was hunting just a little bit.
Screen and viewfinder
I used the lcd sreen 99 per cent of the time. It was a sunny day, but the screen is sufficiently bright. In fact, I only used the V1's viewfinder once, when I was unsure if the focus was right, and I must say that the viewfinders was of great help here (it has higher resolution than the sreen). My camera was on the tripod all the time. If I were to handhold the camera, I think I would use the electronic viewfinder a lot more, for the added stability of a tree point contact. After all, when I do still image photography with the V1, I have noticed that I use the viewfinder exclusively.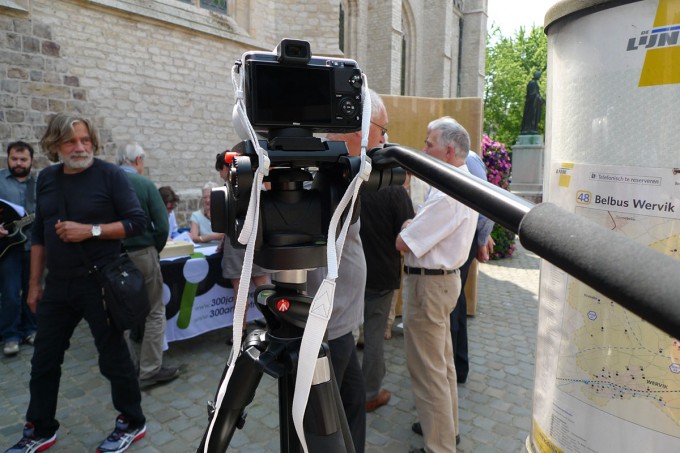 Lenses
Both lenses I used are pretty responsive and sharp. The 10mm f2.8 is wide enough to be 'wide' and the lack of VR is not an issue. The VR 30-110mm is pretty amazing, both outdoors and indoors, and has a very useful reach (80-300mm is the 35mm equivalent). It also allows to isolate a subject against a blurred background when the zoom is maxed out. Focus pulling is not possible with these lenses. Image quality is really good, but I wonder if one of my vintage Auto Chinon lenses would make an even sharper image – but then, focussing would be a lot harder.)
The Nikon 1 lenses are great value for money, and a no-brainer. It's as simple as that. Yes, the motorized Nikkor 10-100mm lens, would have been ideal. But for me, using the V1 both for vidoe and photography, a prime lens is always preferable.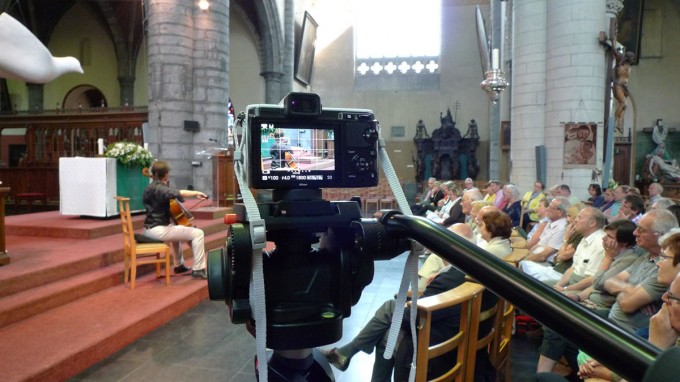 Image quality
I did no color correction or grading at all in post. I did tweak the in-camera neutral picture control a bit (by turning down the contrast).
I'm really impressed by the lvel of grain and noise at iso 1600. In my opinion, the V1 easily beats my 550D/T2i. If there is any noise, it has a very grainy look to it, making the footage more film-like. There is no moiré but there is aliasing when there are fine lines in the shot. Banding and flickering may occur. Inside the church, where they use these modern TL-lights nowadays, I noticed some banding and weird flickering at 1/100, so I quickly changed the exporsure a little bit, in order to avoid the banding. Strangely, while filming the cello player, the banding suddenly disappeared, even at 1/100. I have no explanation for this.
Audio quality
I only used the built-in stereo microphone on this shoot. Though I did bring a cabled mic and a Zoom H1 external audio recorder with me (in the event of a possible interview), I did not put them to use that day. Mind you, the V1 has audio in.
I hesitated a bit about the audio settings, but decided to choose for 'auto' instead of one of the three sensitivity levels. Outdoors, there was the occasional popping sound due to the wind, which I hate, but the indoor recording of the cello player I find really impressive. Of course, I turned off all the beeps in order not to disturb the concert (when recording, the camera is completely silent automatically, it is in between shots that the beeping occurs). When pushing the buttons while recording, for instance when focusing or tweaking exposure, the camera doesn't record the clicks and sounds.
Battery life and memory card
The V1 comes with a bulky battery which also is used in the D7000 dslr. I had 7 per cent of battery power left after a whole afternoon of filming (14 pm until 18 pm). While filming there is an awkward indication of how much memore space is left on the card: 1.2K, I guess it meams I could still take 1,200 jpegs with what is left. I used a Sandisk 16GB 45Mbp/s Class 10 I memory card.
Editing and post-processing
Like I said, I did no color correction or color grading in post.
As for the editing, there was a problem. Lighroom and Windows Movie Maker Live can easily play/edit the V1's files on my low end, Intel 2.4 Quad Core Windows 8 Pro (64bit) 3 GB ram sysem, but my trusty NLE, Sony Vegas Movie Studio 12 had a very tough time with it and it had only 5fps in playback, which makes it useless to work with. Vegas handles the 550D mov files just fine, but it has huge issues with Nikon's movs. How can this be? Here is the thing: 'mov' is a 'container' for a compressed video file. The way it is compressed (and later decompressed) is determined by the codec. This codec is typical of the brand. Canon, Nikon and many other brands record mov files, but what is inside this container is not the same! As Canon dslrs have become very popular as a video camera, most NLEs have invested in implementing Canon's mov files. Not so with the Nikon mov files, unfortunately…
Of course, one could argue that this is an issue for Vegas, and not for the V1, but at the end of the day, it is a huge pain! So I decided to avoid Vegas in my workflow altogether and rather than transcoding/converting or wasting time online finding (non-existent) solutions. I relied on Movie Maker to edit. Many years ago, I taught myself editing with Movie Maker, so it felt a bit like coming home again! Movie Maker, of course, has substantial limitations compared to Vegas. With only one video track and one audio track, it's really hard to edit a more complex project. The major issue in Movie Maker was editing the audio, especially adding background music and turning down the levels of recorded audio.. In the end, my plan was to render a 24Mbt bitrate file with Movie Maker, and then import this file into Vegas, and do the final audio work there. Unfortunately, it failed: for a reason beyond my knowledge, I could not keyframe the audio volume, it simple did not work this time (while it usually does…) So in the finalised video, the audio is still a mess.
I ended up rendering the file to a more modest 14 Mbps bitrate. This also brought down the size of the file to more 'uploadable' dimensions: my 15 minutes report is about 1.2Gb in size.
Of course, if this were a commercial project, I would have transcoded the original mov files to a Vegas-editable file format and I would have had to re-edit the whole bunch. But in this case, I simply didn't bother: the reason of exisitence for this video is, let's be honest, anecdotal (for this user review) and archival, for the sake of history. I can live with that. Can you?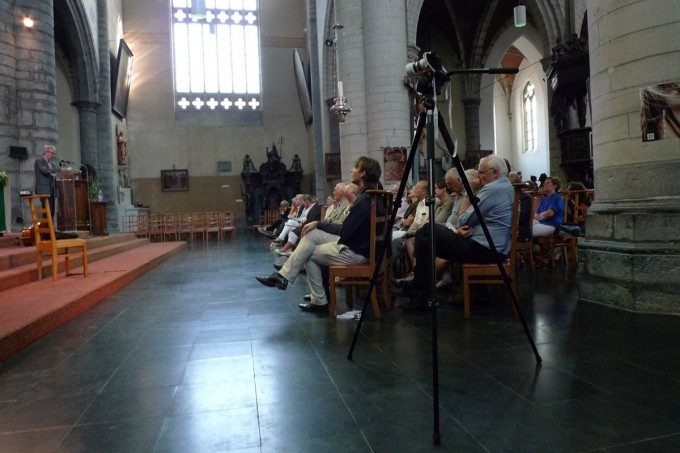 Conclusion
I can honestly conclude that the V1 is a worthy replacement for my 550D/T2i when it comes to handling and image quality. The small 10 megapixel CX sensor is amazingly capable and the controls are snappy and very intuitive thanks to the dual core processor in the V1. This is a very compact, portable kit! Of course, the V1 plus pancake is rediculously small on a 501HDV video head/tripod. If you can live with that, the V1 is a winner!
Kind regards,
Ivan Lietaert,
Belgium, July 2013.
See Steve's Review of the V1 Here.