A just for fun CRAZY comparison! Leica M vs Nikon V1 vs RX1R crop mode! 
As many of you know the Nikon 1 system has been more popular now than ever thanks to two things that have happened recently. 1st, the price of the Nikon V1 plummeted to crazy deal levels allowing so many more to give this system a try. 2nd, Nikon released a trio of fantastic lenses that are superb in quality and a couple with fast aperture speeds to combat the fact that shallow depth of field was hard to get with the kit zooms. So now that we have some killer lenses to go along with the super V1 or V2 or J bodies, the system is much more appealing. I have said it from the 1st launch of the V1 and J1…the Nikon 1 system is unique in the fact that they have very well made bodies and a very unique image quality which is best described as "hard" but with superb out of camera color, super fast AF, great spot on metering and very nice video as well. We lose out on shallow deoth of field when compared to a full frame sensor, but so does APS-C and Micro 4/3 when compared to full frame.
[ad#Adsense Blog Sq Embed Image]
To me and for me, the best full frame digital experience there is comes from a Leica M or M9. It has been said that the Nikon 32 1.2 lens will give you the equivalent depth of field of an 85 f/3.6 on full frame. That is due to the fact that the Nikon is a 32mm lens, not an 85. You are only getting the magnification of an 85 because of the small sensor size and 2.7 crop. You still get the depth of field of a 32mm lens, which is always going  to give you MORE DOF than any 85mm lens.
Since the Nikon 32 1.2 is marketed as a fast portrait prime due to this fact that it gives us 85mm equivalent, I decided to test it against a Leica M with a Nikkor 85 at f/4 to see if the DOF is the same. Turns out the M with 85 at f/4 still gives us more shallow DOF than the Nikon 1 and 32 1.2 at 1.2 but with the Nikon we gain nice OOC color, sharp results all the way around and much less cost involved 🙂
For the 1st two images below I used right from camera RAW images without any modification. I was only testing for color, and DOF here. So images were resized to 1800 pixels wide. The V1 shot was sharper, just as I expected but if you look at her thumb ring you will see the M is still giving us some shallow DOF at f/4 and the Nikon is pretty sharp in this area.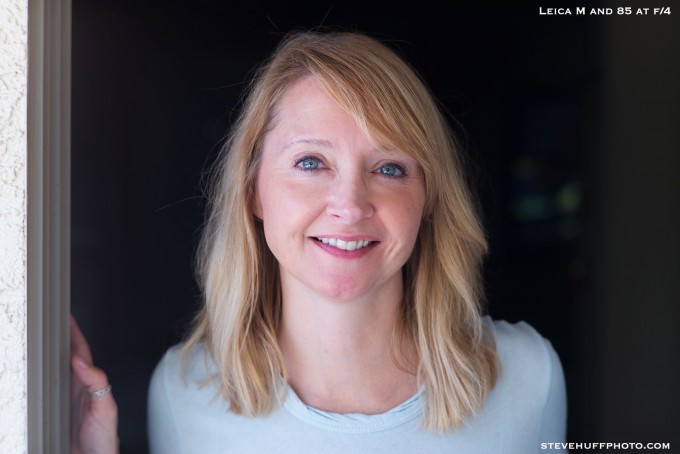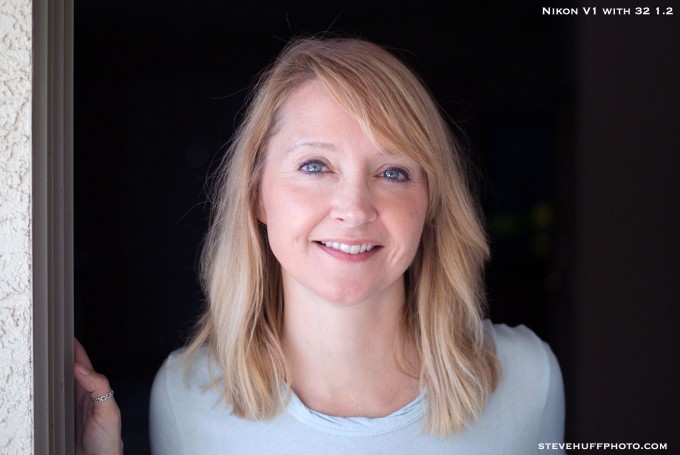 Next up you can see the DOF differences more easily. Just look at the tree in the background. In the M shot, which was again taken at 85mm and f/4, there is a more shallow DOF. The Nikon was shot with the 32mm at 1.2. Is one more pleasing than the other? All depends on your preferences.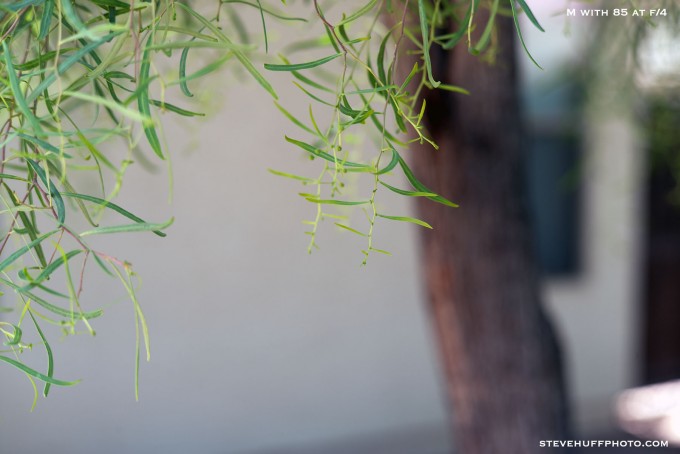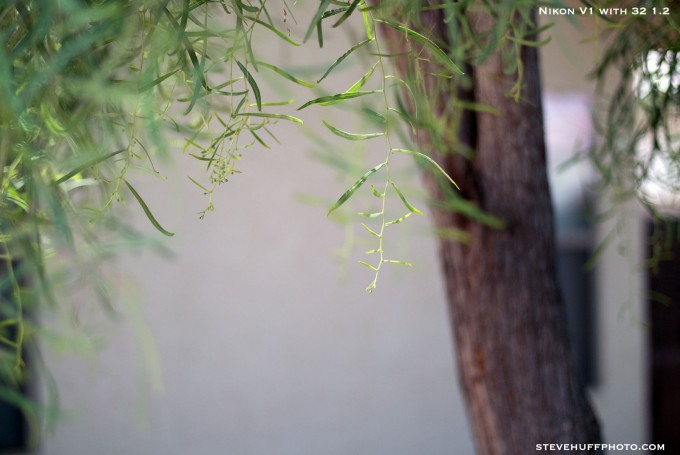 BONUS comparison!
How about using the Sony RX1R with its 35mm lens in 70mm crop mode at f/2 vs the Nikon 32 1.2 at 1.2? Using JPEGS only as the Sony can not shoot in 70mm crop in RAW. This way both cameras are using 35 mm lenses (close enough) and the Sony is being cropped to 70mm. What will the results be?
JPEG only on these tests due to the JPEG limitation of the Sony crop mode. The cameras did their own metering as well so this is basically a comparison of DOF and OOC color in Standard modes. Click for larger. You can see the Nikon has a more shallow DOF because I am at 1.2 vs the f/2 setting of the Sony. At f/2 they would have been the same in regards to DOF regardless of sensor size because they are both similar focal lengths.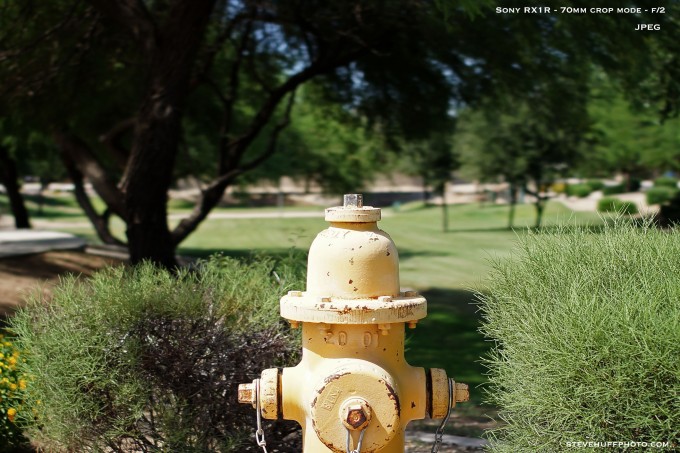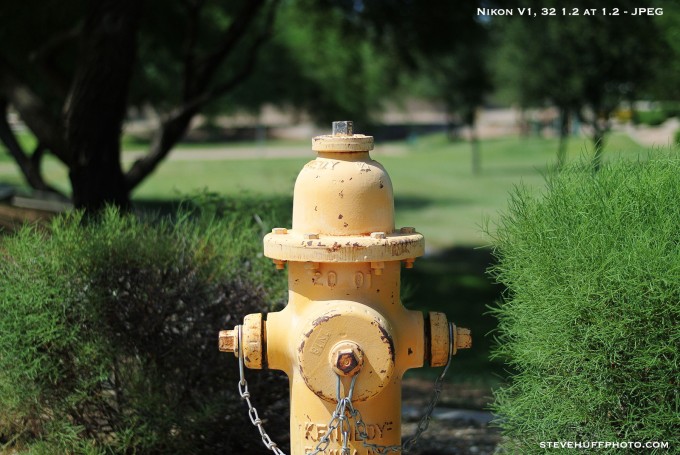 –
One more.. you can clearly see here what should be. The Nikon giving a more shallow DOF because here we are comparing two lenses that are VERY close in focal length, 32/35mm. The Nikon at 1.2 will give a more shallow DOF than the Sony at f/2 even though the Sony is using a full frame sensor. At f/2 they would be the same in regards to DOF. SO as you can see using the same focal length lens on full frame or a 1″ sensor will give you the same DOF.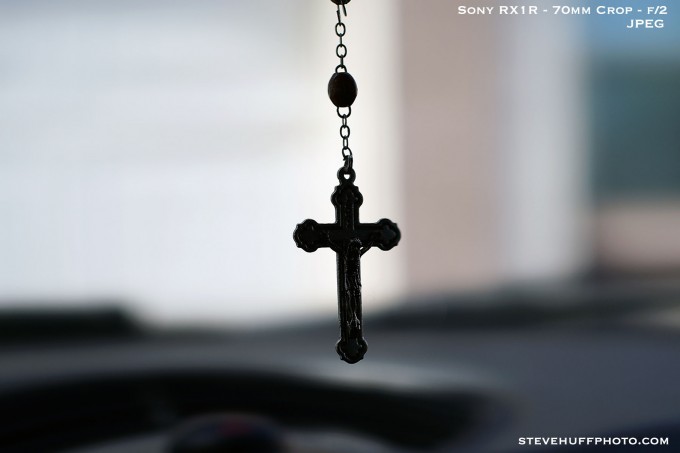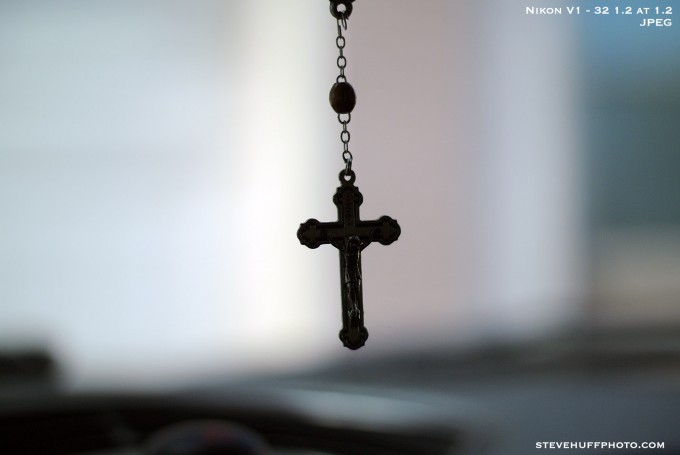 NOTE: One thing to know is that the M and RX1R will easily beat the Nikon V1 for low light and high ISO, it is just how it is. Once the V1 hits ISO 1200+ it gets noisy though it is not as bad as many think or make it out to be. Below is an ISO 1600 shot with the V1 and 32 1.2, indoors last night. The Nikon V1 color, WB and metering was amazing in this low light. This is ISO 1600 with the 32 wide open at 1.2. So while the V1/V2 can not beat the big full frame guns at low light it can indeed beat them for large DOF and out of camera color and metering, and most importantly, cost. I love them ALL.
Leica M is $7000 without lens – My review is HERE
RX1R is $2800 with Zeiss 35 f.2 – My review is HERE
and Nikon V1 can be found for $249 body only. The 32 1.2 is $896 🙂 – My review is HERE