The Zeiss 16-35 FE F/4 lens on the Sony A7r
by Raymond Hau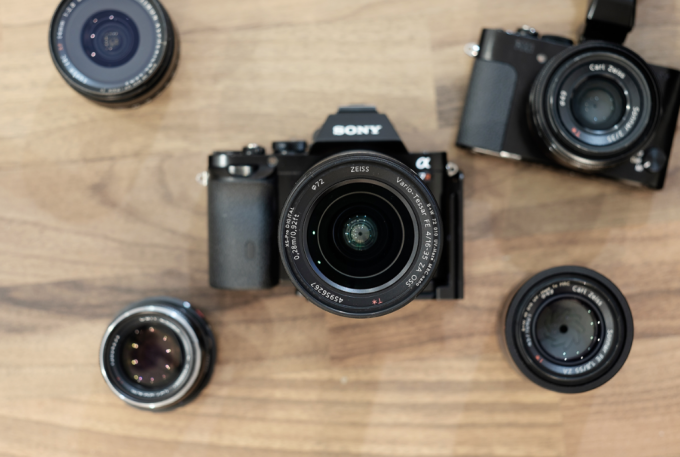 Sony's A7R is great little camera in some respects, not so in others and that is especially true when it came to a native wide-angle offering. For the past year, my A7R has been running the FE55mm and an adapted ZM50 Classic Sonnar and all was good as the RX1 and X-T1/E1 paired with the excellent XF14mm lens catered for anything wider. But sometimes that is not enough.
With the release of the new Zeiss FE16-35mm offering, the A7R finally has something to offer.
I run two brands of camera equipment, Sony and Fujifilm, and for a long while now Fuji has had a few native wide-angle offerings with the XF10-24mm being the closest to the Zeiss FE16-35mm. At an equivalent of 15-36mm focal length, with f/4 minimum aperture and with optical stabilisation it is on par with the FE16-35mm. Priced at HKD $6,500 being two-thirds the cost of the FE16-35mm (I paid HKD $9,700), an aperture dial and reports of it being extremely sharp and distortion free makes this doubly attractive; so why did I end up with the Zeiss FE16-35mm on my latest trip to Europe?
Simple, there are no aperture dial markings. It is a ridiculous reason but it is something that I know will annoy me to no end and I knew I could not live with it. I would love to say that the Zeiss won on merit but I had initially wanted the XF10-24mm, then eagerly awaited a Zeiss Loxia wide-angle announcement before deciding, the day before I flew to Europe, that I needed something wider and so settled for the FE16-35mm.
Not the greatest of starts but will see how it fares.
Initial impressions
It is made of metal, rather large and wide compared to every other lens I own at the moment and looks like any other wide-angle zoom. It is impressively well made and as expected has a very large front element, the first thing I did was to put a B+W filter on it. It was a large expensive but seeing nothing that seemed obscene for the money.
The images coming out of the lens didn't wow me, it appears to lack a bit of contrast and the colours are subdued with a cool temperature cast. It does feel like a Zeiss over done.
Below you can see the FE16-35mm (at 35mm) compared to the Zeiss FE55mm on the left and Fujinon XF14mm on the right. At 16mm length, the front element moves out from the front of the barrel.
I was also impressed by the hood, it is part plastic and part metal and clicks reassuringly into place. This will not come off unless you want it to.
Overlapping views
I like primes, it keeps my shooting rhythm simple, it is manageable and it suits my style. I have 21mm, 35mm, 50mm, 55mm, 85mm focal lengths and that is the way I prefer to shoot. I'm not a working photographer and so do I worry much when I don't have the right focal length.
I generally pick a camera, pick a lens and then go shoot but with the introduction of the Zeiss FE16-35mm in my bag I now have a dilemma, I have overlapping lengths on different cameras bodies. Whereas once I would take either the Sony RX1 (at 35mm) or a Fuji with the XF14mm (at 21mm), I now also have the A7R with FE16-35mm as a single option.
I was intrigued to find out how these compare although I will not perform any 'scientific' testing – that stuff bores and for anoraks but I will at least try and provide some images for comparison. All that I need to satisfy me is to use them all in the field and see what happens.
Sony A7R & FE16-35mm and Fujifilm X-T1 and XF14mm in the snow (shot with Sony RX1)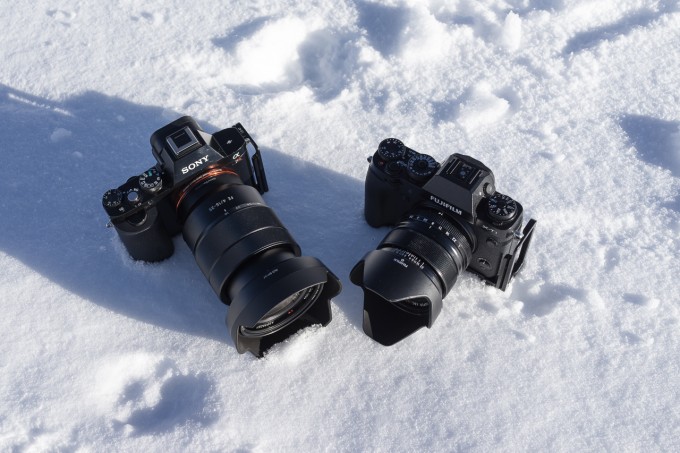 The Kit
For my week-long Europe (mini) road trip, I took the Sony A7R, Sony RX1 and Fujifilm X-T1 and for lenses the Fujinon XF14mm F2.8, the Zeiss FE55mm F1.8 and the Zeiss FE16-35mm F4.
I also took the Gitzo Systematic Series 2 tripod with the Markins Q10i ball head and various ND filters, Triggertrap cables, batteries and other miscellaneous items all contained within a Lowepro backpack. It is the first time I have travelled with such a large equipment bag but since this trip was to test out these cameras together it worked well.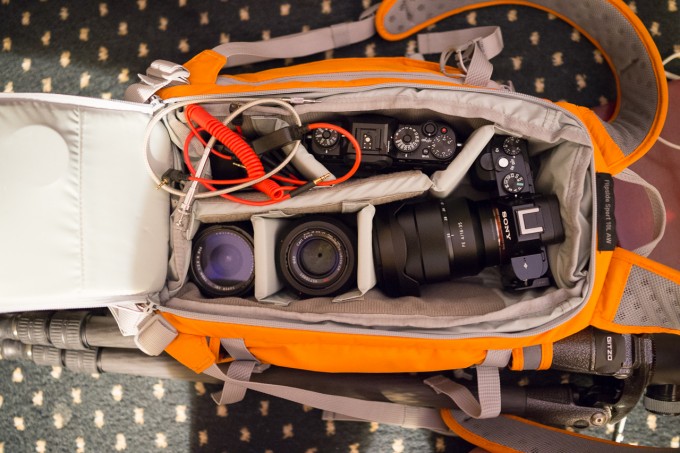 –
All Weather Support
This lens isn't advertised as weather-proof, I'm not if any of the Sony system is. It's advertised as "Dust and Moisture Resistant Design" which basically means it's okay if it sits on the shelf for a while.
Anyway, this lens has so far been used in the wet and rain, snow and sub-zero temperatures. In the cold and wet, my Apple iPhone 5S actually died before the camera or lens gave any indication of following suit. The battery of the iPhone actually gave out, turning back on when I warmed it back up later.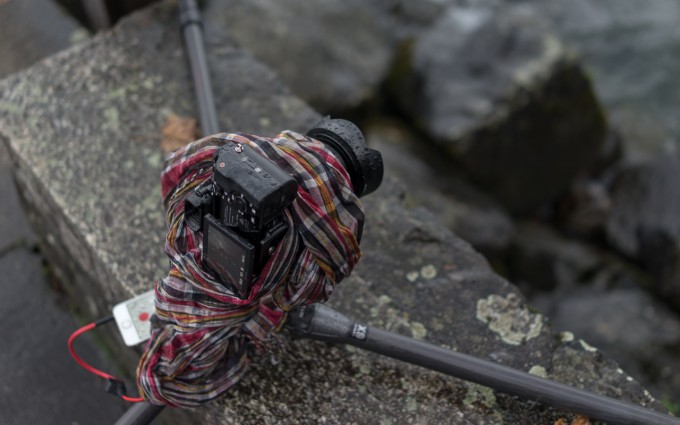 –
Mountain landscape taking of the Alps, 10,000 feet above sea level – Gornergrat, Switzerland (shot with Sony RX1)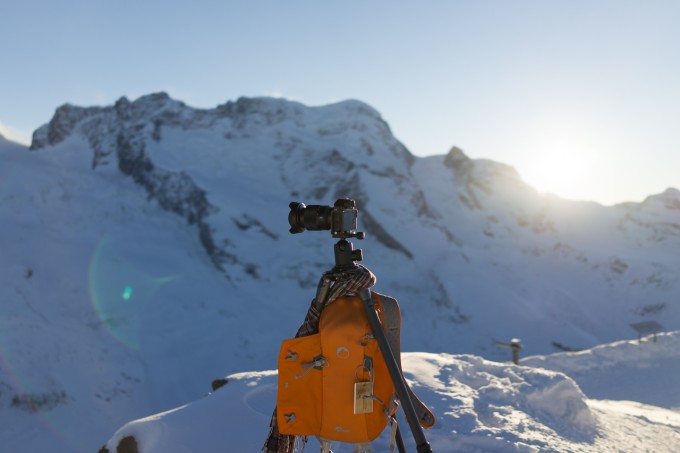 Against the Fuji X-T1 and XF14mmF2.8 R
Some shots of the FE16-35mm at 21mm as compared to the Fujinon XF14mm.
Initial impressions are that the A7R and FE16-35mm combination gives a cooler image. Obviously much for fine detail close-up given that it is 36MP versus 16MP of the Fuji but the images are a little flatter.
Obvious differences to note are the changes in field of view between the two combinations.
The Zeiss FE16-35mm images are at the (top) with the Fujinon XF14mm images at the (bottom).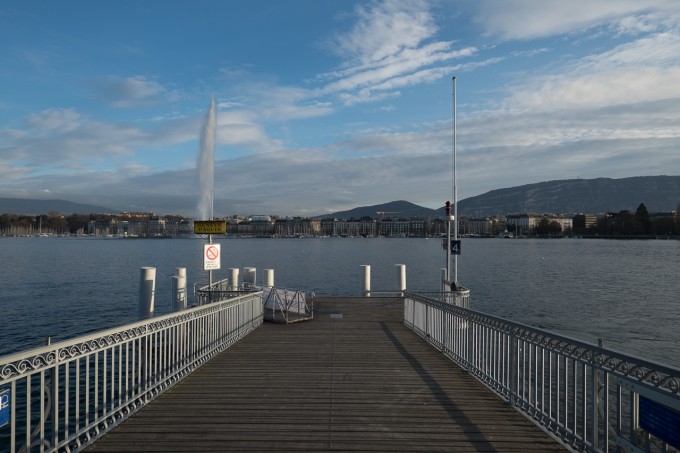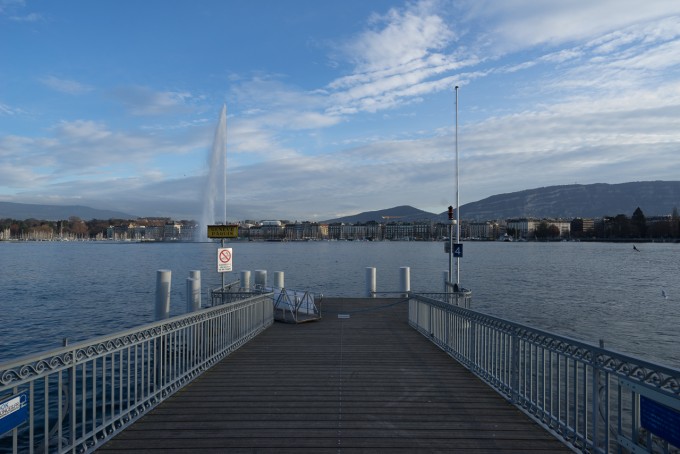 –
Pier and Water Jet – Geneva, Switzerland.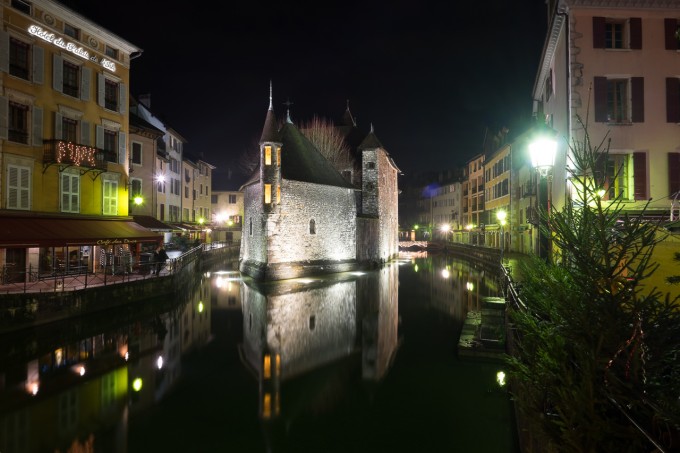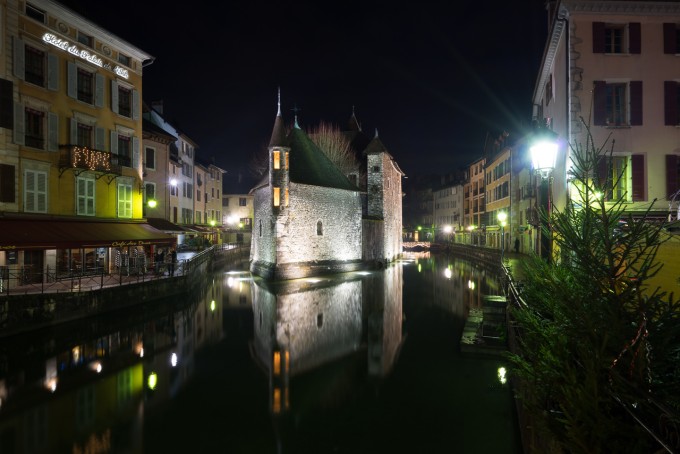 –
Palais de l'Isle – Annecy, France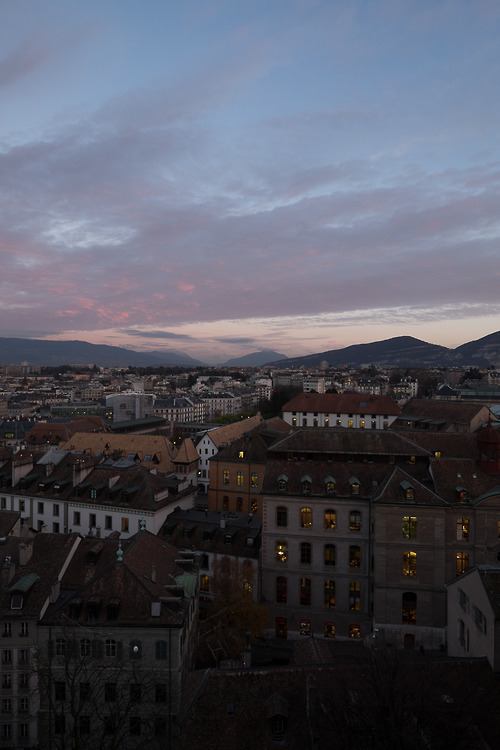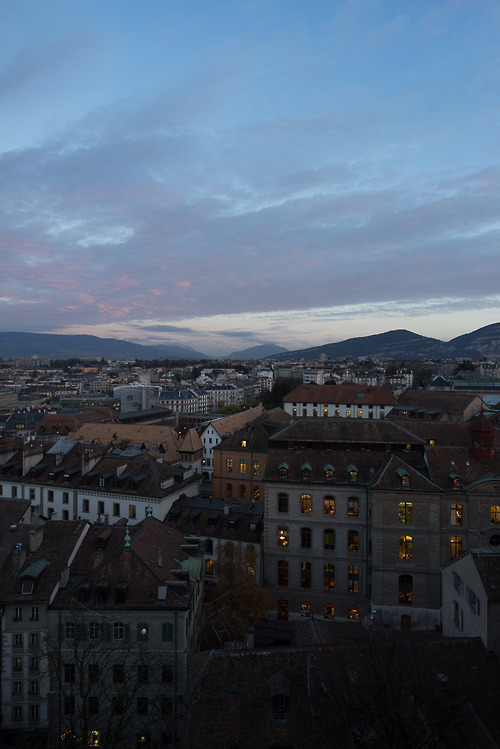 –
St Pierre Cathedral – Geneva, Switzerland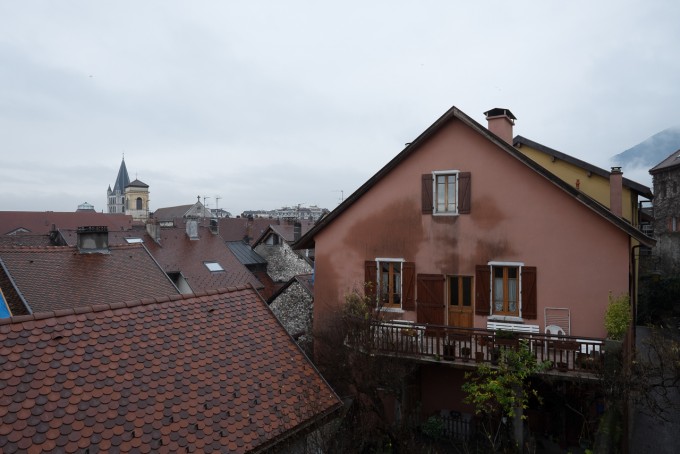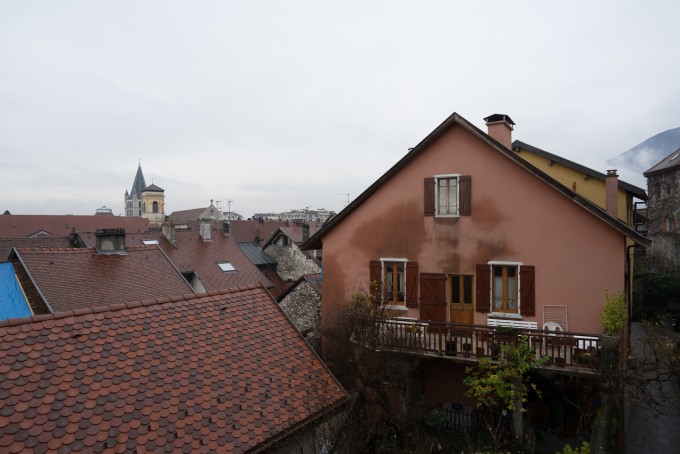 –
St Pierre Cathedral – Geneva, Switzerland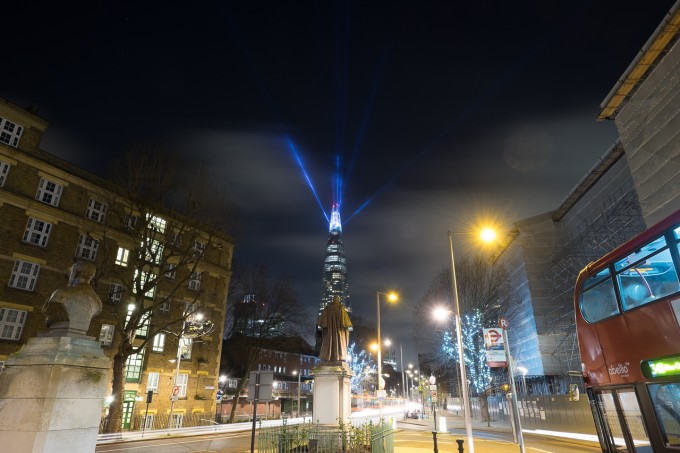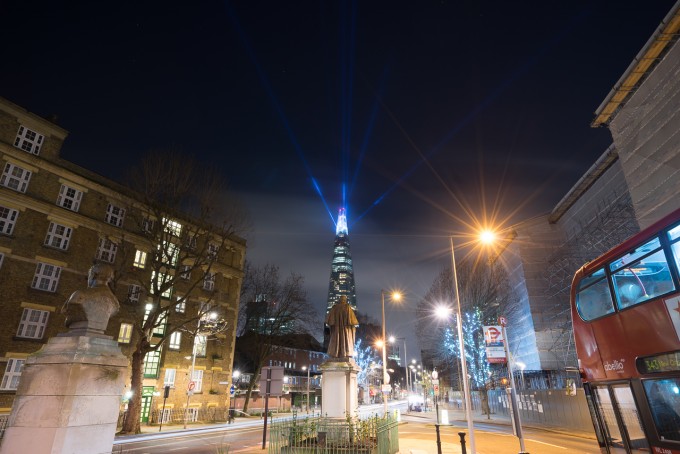 Against the Sony RX1
Images of FE16-35mm at 35mm as compared to the RX1.
Again, there is a slight difference in field of view (or whether the focal lengths are exactly equal) but the overall image is similar. Obviously the 36MP of the A7R gives more fine detail close-up than the RX1 at 24MP but overall sharpness appears to be largely similar.
The last image of Hong Kong rooftops was one of the very first images taken with lens immediately after purchase. The FE16-35mm appears softer than the RX1 image but after more investigation and use over time I suspect the lens is back-focusing. Using auto-focus does not guarantee an image that is in focus, I have found that I need to manual focus-peek to obtain perfect sharpness. I have somewhat confirmed my suspicions over the course of this trip as even at f/8 to f/11 on a tripod shooting the Matterhorn I have been getting some soft images on auto-focus.
The Zeiss FE16-35mm images at the (top) with the RX1 images at the (bottom).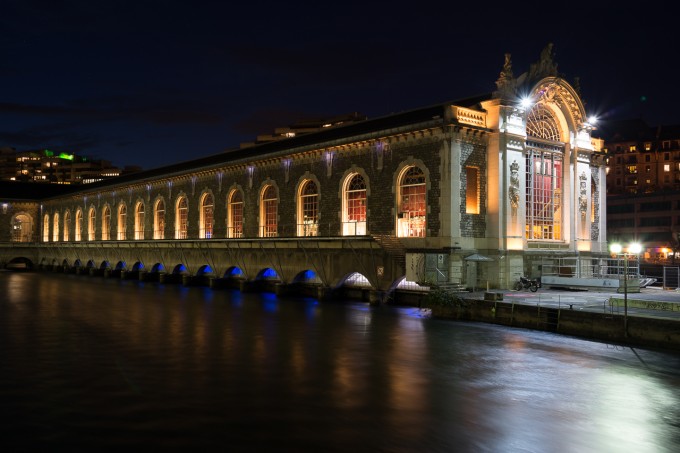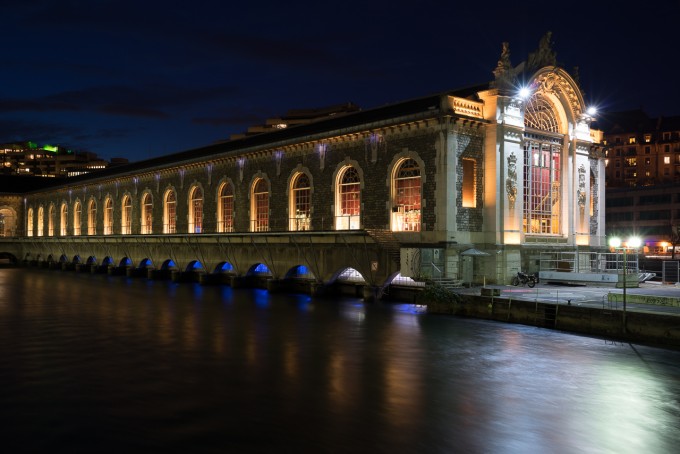 –
Bâtiment des Forces Motrices – Geneva, Switzerland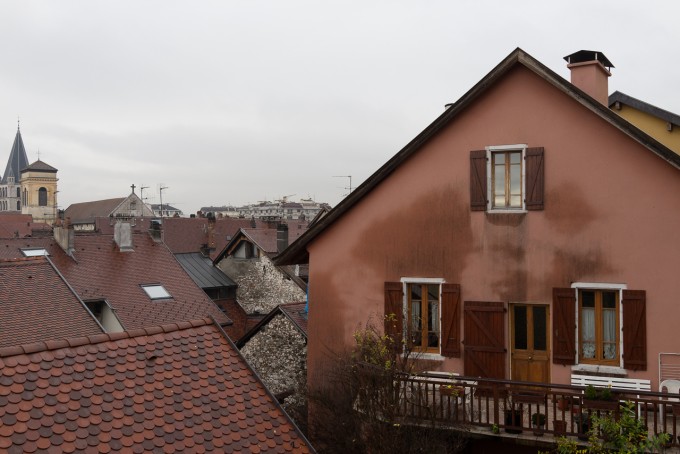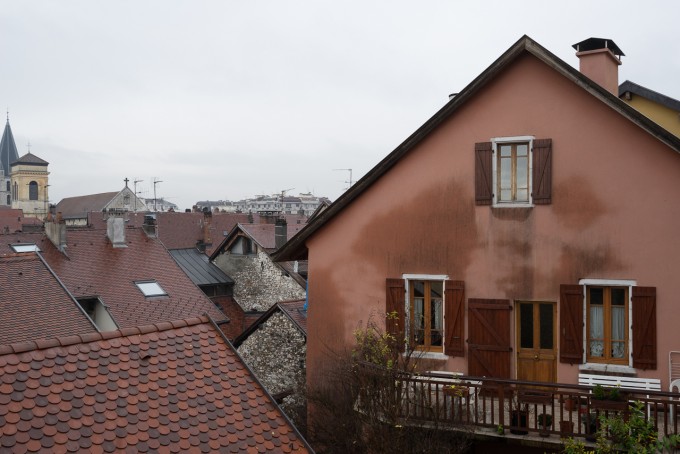 –
Prince Edward rooftops – Hong Kong, China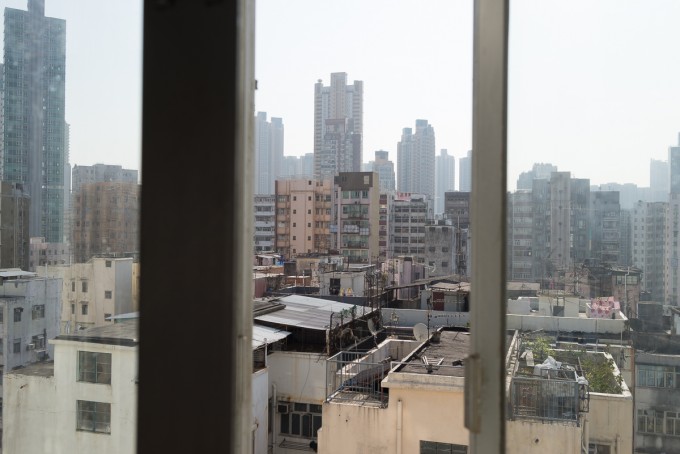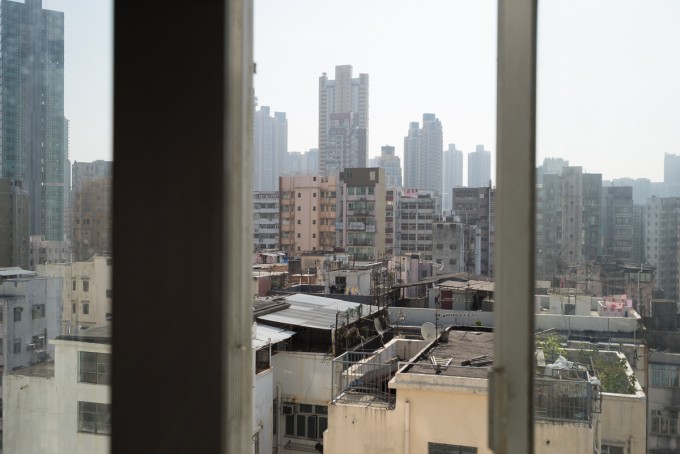 –
Optical Stability System
So I went to CERN, home of the Large Hadron Collider. Before the tour, there was an exhibition of the called the Universe of Particles, in the dark. I took this; 16mm f/4.0 ISO 32,000 at 1/10s handheld. I have also given a 100% crop of the centre of the frame showing lettering on the far wall to illustrate how well this works if you also have an extremely steady hand. It doesn't work miracles as out of the three images I took in this situation, only two came out perfectly as sharp as this.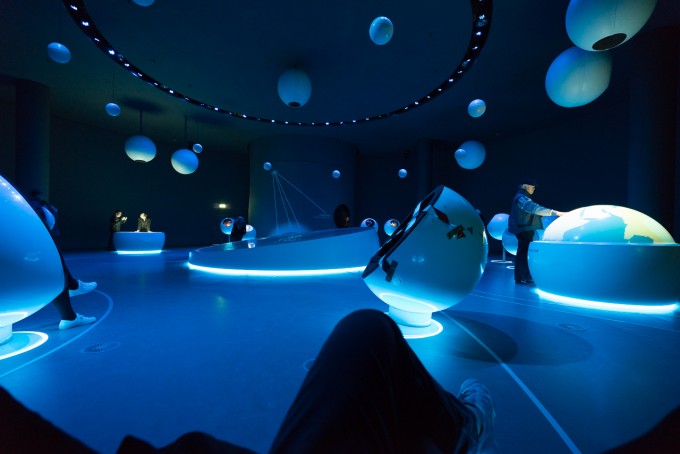 –
100% crop of the above shot took at 1/10s handheld ISO 32,000.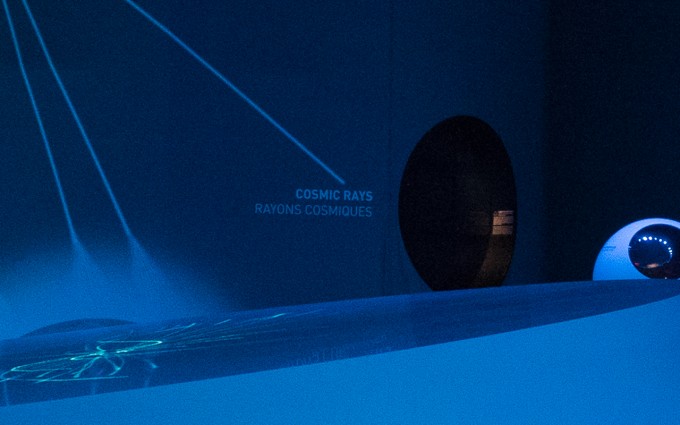 –
Sun Flare
So I was on top of the Alps, Gornergrat home of the Matterhorn and it was a gloriously sunny day. I took a shot into the sun at f/22 – this is the sun flare and it is good. The FE16-35mm handles sun flares far better than the XF14mm and slightly better than the RX1.
This compares the Zeiss FE16-35mm to the Fuji XF14mm. The Zeiss gives a sun burst effect, the Fuji doesn't. Simple.
The Zeiss images are at the (top) with the Fujinon images at the (bottom).
Swiss Alps – Gornergrat, Switzerland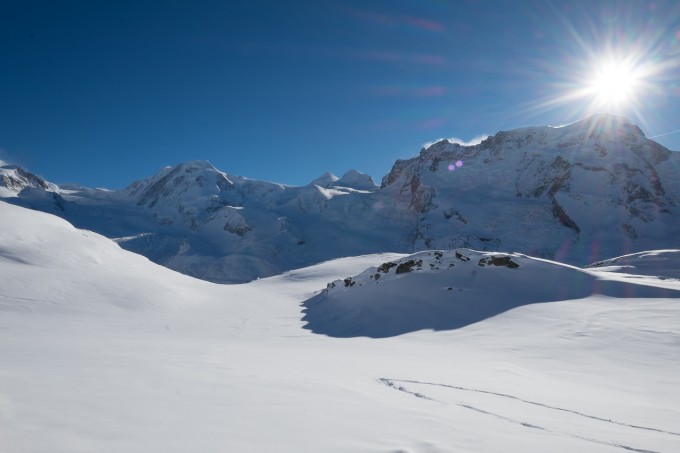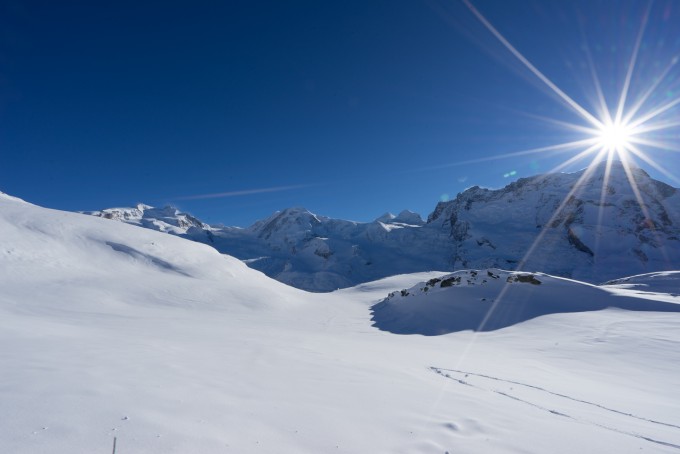 –
Too infinity and beyond, if it gets there
Whilst I was up in the Swiss Alps, I noticed that the Milky Way was positioned in such as way as to show the central mass. I could not miss the opportunity to attempt some long exposure astro photography, living between London and Hong Kong does not present much of an opportunity to see let alone attempt to photograph it.
The FE16-35mm was being a royal pain in the ass.
I really do not like electronically coupled focus rings with no hard stops. I had no idea where infinity was because it was definitely not where the OSD says it was. Getting infinity focus on the stars was a hit and miss affair and more luck than anything else. This is where the Fuji lens really shines, hard stops with distance markings on the barrel – I know where infinity focus is all the time and it works.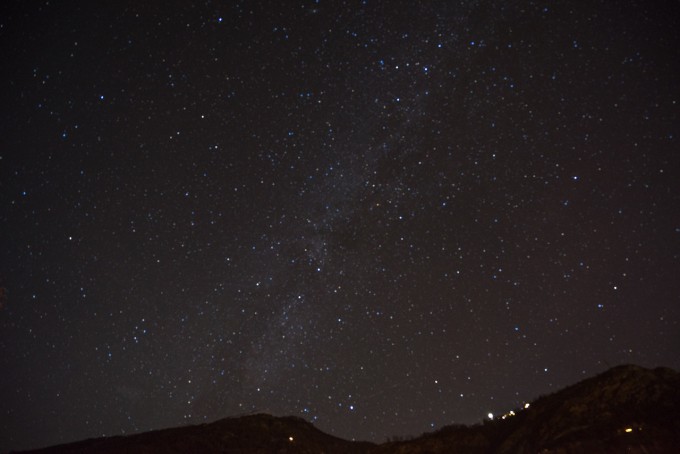 Trying to find infinity focus is so bad that I may be thinking I have a bad lens; coupled with the back focus issues on AF and I think I may have a bit of a lemon.
Out of the 29 shots I took of the Milky Way, the one focused to and around infinity according to the A7R on screen display were extremely out of focus. Through trail and error, the one focussed at 11m (according to the Sony on screen display) was in focus. Extremely annoyed, go figure.
This is a 100% crop of the out of focus image at infinity. Just stupid. I hope so as I can then get a better copy from Sony.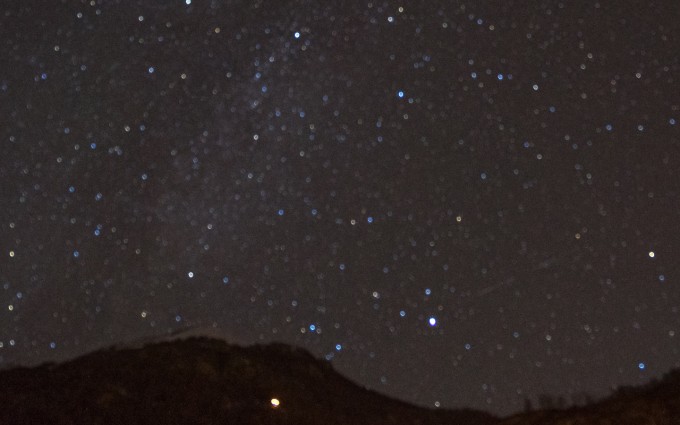 I'm still unsure what to think of this lens. It's not a bad lens, it does what one should expect and the price, although expensive, is not that offensive. I can't put a finger on it, perhaps it is the size dwarfing anything else in my bag, perhaps it the infinity focus issue (I will get this checked out with Sony when I get back to Hong Kong) or perhaps that it's a zoom and I prefer primes.
I can not say I love this lens and I wanted to, while it has not given me the initial wow factor of all the others lenses I have purchased over the last couple of years, it does the job and works as it is suppose to. It is something that gives me my wide angle craving – if Zeiss ever decides to release a 18mm or wider Loxia, I would be tempted to switch but until then, this just works.
Would I be tempted to take this over a Fuji & XF14mm or the RX1? For sheer convenience I would but it hasn't won be over as a conscious choice always to reach for the FE16-35mm. I think I will need a little more time.
Until then, enjoy the images.