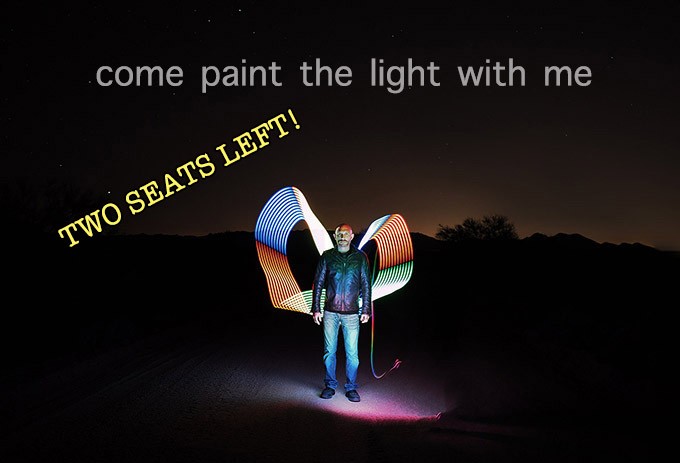 SIGN UP HERE, TWO SEATS LEFT FOR THIS SATURDAY NIGHT!
Just an update but we now have TWO seats left for this Saturday's (Sep 19th) light painting workshop where myself and Olympus Trailblazer Alex McClure will be taking you out to an old old AZ ghost town (destination to be announced Sat before we head out), at night, for some amazing light painting with whatever camera you bring along. (Does not have to be Olympus). Alex is a light painting guru and knows his stuff so we will be out there getting some pretty cool shots..
SEE THE ORIGINAL POST HERE with ALL details!
We have two seats left (had one but someone had to cancel). So TWO of you can get in on this awesome night. Best part? Cost is only $100 and includes food for the evening. If you are an AZ local, be sure to join us for this cool one night workshop. So far we have 10 who are attending and we have two more open slots. Will be an awesome night for all! I am excited to shoot with all who are joining us!
$100 for the night's workshop and food and drinks.