Photokina is Coming. That means LOADS of new gear, and this year could be AWESOME!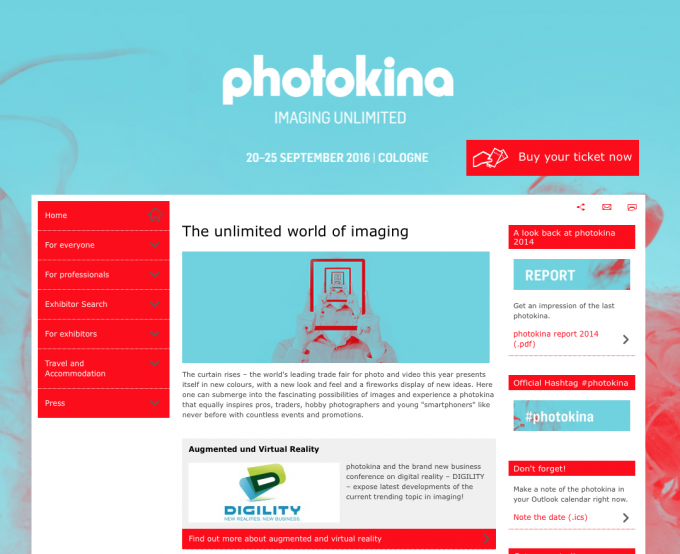 2016 may be the year that I attend my very 1st Photokina! So far it is looking good, so my fingers are crossed. Yep, eight years running this review site and I have never physically made the journey to Cologne, Germany to see the spectacle that is PHOTOKINA.
This year though I am expecting BIG BIG things from Sony, Leica, Olympus, Fuji and others. I mean BIG deal kind of camera, lenses and gear.
I feel 2016 has been a slow, boring-ish year for new WOW FACTOR new releases but I think 2017 will have some items shipping that are just full of WOW. So if I do indeed go to this event, look out as I will be covering it here, my YouTube here and even with some Live Streams on my Facebook HERE. 
I will keep everyone updated but even if I do not make it, I will still be covering ALL newsworthy releases from my office 😉 So, what do I feel is coming to Photokina this year? Just a few things that I feel are almost sure things…
New Leica M – I think the new Leica M will be announced at Photokina this year. I also think it will be slimmer, have a unique hybrid RF and a new sensor that gives much more pop than the 240 did. It will be the most tech advanced M to date IMO and should be beuatiful. Now of course, I could be wrong but all signs, and mumblings are telling me this. I'd even say the new M will be the most desired digital M ever, and come in at a lower price than we are used to from Leica. Let's hope. I also think Leica will release one or two other new things that will raise some eyebrows. But anytime there is a new M (Every three years) it gets exciting around the HUFF household 😉 Speaking of Leica, my MD review with Leica 28 Lux is coming..soon. BTW, I am 99.9% on the new M being announced at Photokina. Though I could be wrong!
SONY GOES PRO? – I feel and think Sony has something big planned for Photokina. Sony likes to roll out small things like lenses before the big guns, and  this year, I smell something pretty special. Hmmmm. Maybe the A9 pro? Pro build, sleeker design, dual mem cards, fastest AF to date, weather sealed, gorgeous new sensor, stunning low light abilities and video that any pro would drool over. Maybe a Sony version of the Hasselblad Medium Format X1d 50c? Hmmm. Maybe…maybe. Maybe a new RX100 redesign, maybe. I wish I did know, but if I did, I would never be able to tell you anyway. So it's best I do not know, so I can speculate 😉
FUJI GOES BIG? – I also think Fuji has something BIG planned for Photokina…maybe even something special.  I do feel Fuji will have something that is just BAM, POW, and a surprise. Larger sensor…maybe larger than full frame. Right now Fuji has a solid lineup with the X Pro 2 and X-T2 and are going strong. What else could they release to WOW the camera world?
OLYMPUS PRO MARK II? – E-M1 Mark II or E-M2, whatever they call it I think it will be unveiled and will be amazing. Olympus ALWAYS has new cutting edge features but I think this time Olympus needs to concentrate on their weaknesses, like low light capabilities, which is the M 4/3 soft spot. Other than that I see a very well made and solid redesigned sleeker body, a new sensor with their best IQ and speed to die for. I am 95% confident in an E-M1 MKII for Photokina.
Nikon, Canon, Sigma – Nikon and Canon…I think a new mirrorless system will be introduced by either CANON or NIKON. I think Canon is more likely. While they have all held back on their mirrorless cameras over the years to protect their DSLR sales, the  time has come for one of these giants to go to a serious mirrorless as only they can do. If not this year, DSLR sales will continue to decline year after year and they may be wondering what hit them by 2019
So I will update you all soon with details and if I will be covering this event FROM the event this year 😉