Three weeks touring Iceland by bike (Fuji X-T1 and Ricoh GR (V)
by James Stevenson
Hi Brandon & Steve,
I'd like to share with you some photos from a cycle tour of Iceland I completed at the end of this Summer. I spent three weeks following a circuit of Route 1, Iceland's ring-road.
It was tough finding a balance between covering daily distances whilst keeping in reserve the time and energy to take photos, especially since landscape photography is so often a game of patience. Iceland can be a brutally challenging place to cycle, and it pretty much brought me to my knees at times, but travelling the country this way rewards your efforts with astonishing views of places unlike anywhere else on the planet. I've written about the experience in detail in the blog section of my website (links below), including some useful travel information for anyone planning to go themselves.
My plan is for this to be the beginning of many such adventures which I'll document and share. Reading other peoples stories was hugely beneficial for me, I'm hoping mine may prove to be for someone else!
I welcome any feedback or questions about the trip and hope you enjoy the photos.
Goðafoss, The "Waterfall of the Gods", was the first of Iceland's many iconic falls I reached. Eight days of riding, five of which were into headwind strong enough to blow me from the road, had left me with very little energy. I'll never forget the effort it took to get here, or how happy I was to be lucky with a break in the clouds and a chance to test out my Nisi 10-stop ND filter, shooting some long exposures.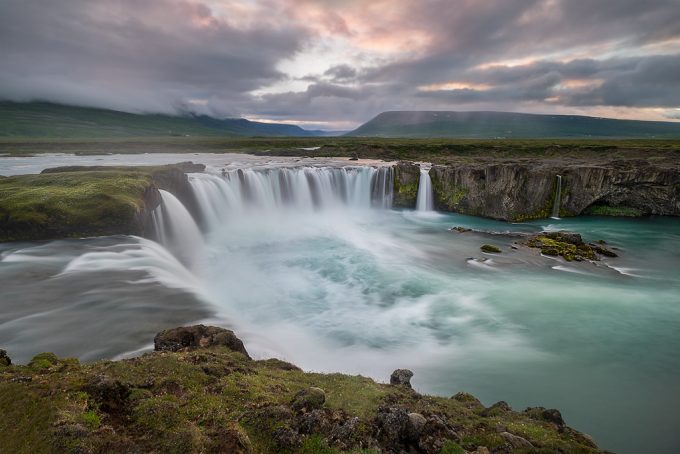 –
Reynisfjara is a stunning headland that features prominently in Bon Iver's "Holocene" music video. The black sand beach sits against towering cliff of basalt rock columns and caves. Puffins buzz and whir overhead, bringing fish back to their grassy burrows from the churning Atlantic Ocean. The skyline here is pierced by huge, sharply pointed sea stacks.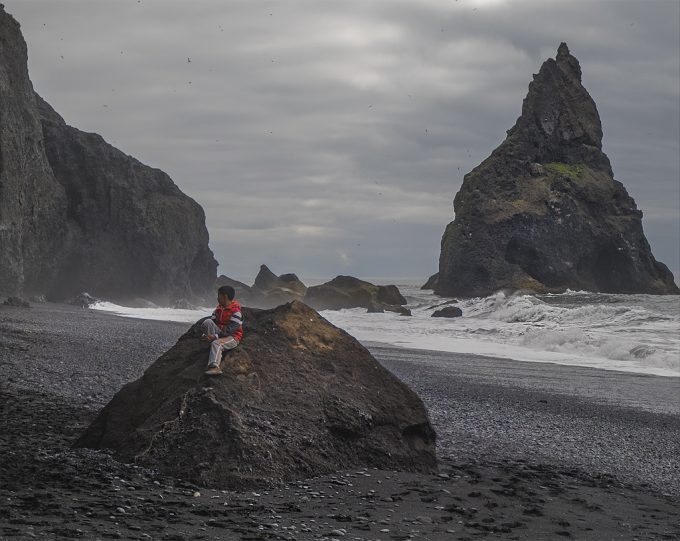 –
The 60m thundering waterfall of Skogafoss was a real surprise to see, since I'd somehow failed to notice it was on my planned route! For a few short minutes the sun broke through the clouds causing fleeting rainbows to appear intermittently the fine spray. In landscape photography, my goal is often to capture things in a cinematic way, both with composition and processing. Some of my favourite photographers are actually cinematographers; I love Emmanuel Lubezki's work on The Revenant and Stuart Dryburgh's wonderful eye for composition on The Secret Life of Walter Mitty. Iceland presented some great opportunities to attempt to push my own style.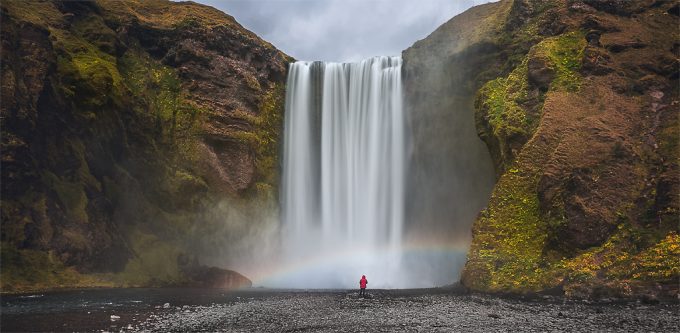 –
Detouring a little from Route 1 here to take the alternative coastal road, the dramatic East Fjords were a thrilling place to cycle. As he road drops out of the mountains from Egilsstadir, all around are sweeping valleys and breathtaking views.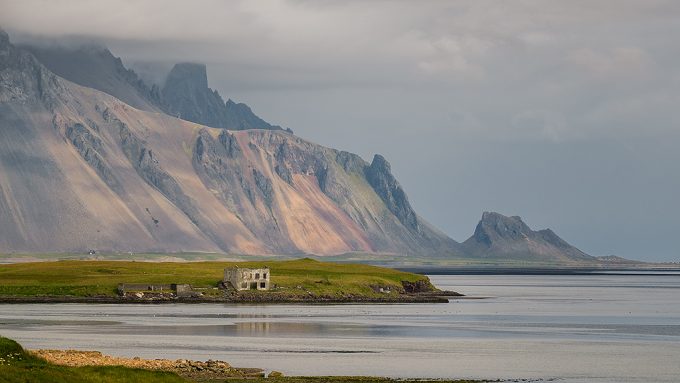 –
Skaftafell National Park is beautiful location. Set against a backdrop of mountains and glaciers, Iceland's tallest trees grow here (the country is largely treeless). Svartifoss waterfall is an impressive sight here, famed for its distinctive basalt cliffs.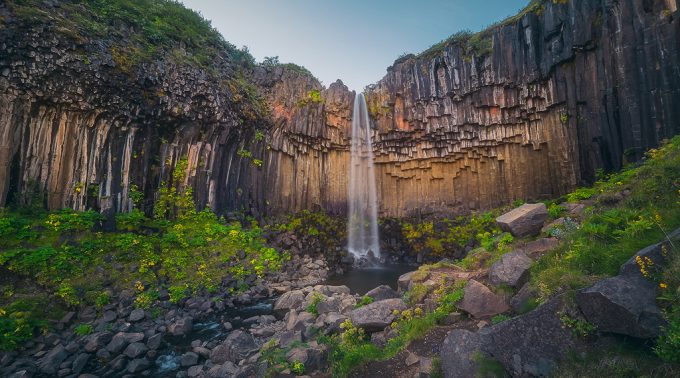 –
I noticed this lonely looking bench whilst walking around the small Southeastern town of Höfn, with its view of the sea and an enormous, distant glacier. Not a bad place to sit and read! I never tired of surprising sights like this.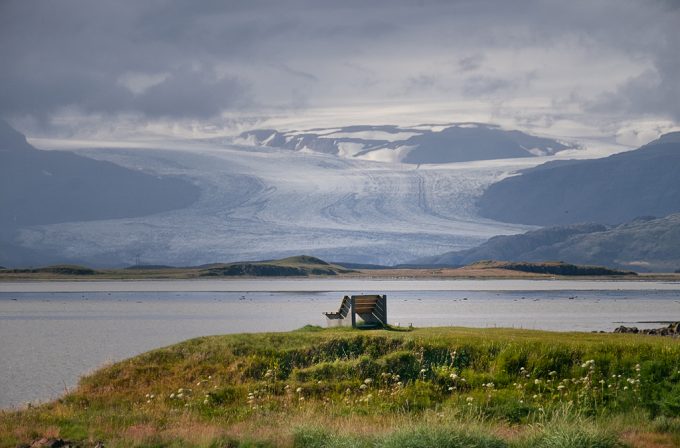 –
Jökulsárlón is a distinctive glacial lagoon, formed by a receding glacier that once met the shoreline here just 50 years ago. It's a striking sight, so close to the main road that it really takes you by surprise as you approach. Here is where you'll see many photographyers striving for shots of icebergs stranded on the black sand beach.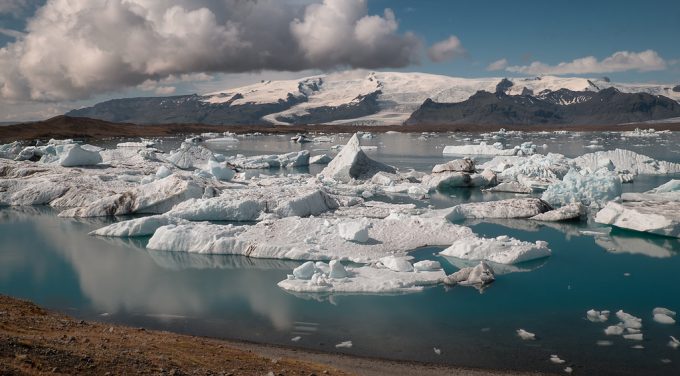 –
Something I love about seeing Iceland's falls are that they are all so distinctive and unique. Many have campsites so close you drift off listening to the roar of the water. Seljalandsfoss is no exception, here you can walk a path into a shallow cave behind the falls. Whilst the light was flat on my visit, I still did my best to get a shot here of a memorable place.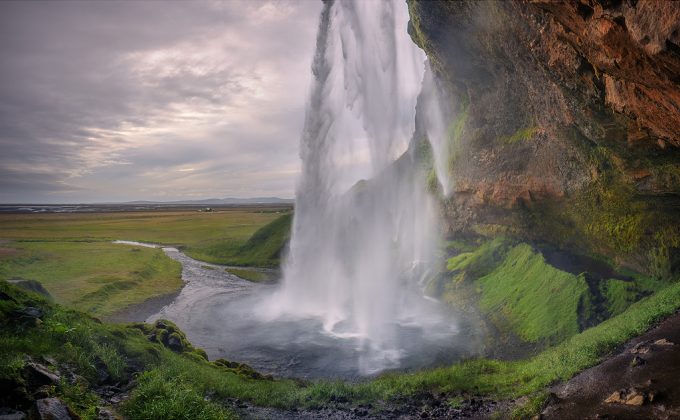 Gear used:
Fuji X-T1
Fujinon 10-24mm and 18-55mm zooms
Ricoh GR (V)
Lee / Nisi ND filters, Gitzo Traveller Tripod
Here's my website, facebook and instagram pages.
www.jamesstevenson.photos
www.facebook.com/jamesstevensonphotography
Instagram – @jamesstevensonphotography
Keep up the great work on the website,
Happy travels!
James
REFERENCE – Fuji XT-1 Review – Ricoh GR Review