The Feiyu Tech G5 GoPro 5 Gimbal 1st Look Video and Test
I will start this one off with the video test, then my written thoughts! Enjoy and have a GREAT Friday and weekend! I will be back on Monday 😉
My Video Comparison – Side by Side with the EVO GP PRO (My Current #1 that delivers smooth video and great audio)
Well it finally arrived to me and I will let the cat out of the bag right now.
For me, it's a fail. So far.
I have tested many gimbals here on the pages of this website in 2016
and many more are to come in 2017 as I have a love for these little mini steadicam emulators 😉  Ever since I was a kid I shot video and was always drawn to the mega buck steadycam rigs advertised in the back of Videomaker magazine in the 80's, but of course could never afford them. The good news is that today, with the crazy tech we have available, we can get similar results using a GoPro, our smart phone or even DSLR's and Mirrorless cameras using these small, portable mini handheld gimbals.
I have been focusing on smart phone and Gopro gimbals as they are small, lightweight and offer fantastic performance. Just as I prefer small cameras and lenses I prefer my gimbals to be small. 
So far I have reviewed many but only one or two have impressed me. For example, the DJI Osmo, fail due to unusable audio and drifting. It's also the most delicate of the gimbals. EVO GP Pro, this one has been my #1 and beat every gimbal I have pit against it, well..it sort of tied with the GoPro Karma grip as the GoPro gave me the most rock solid steady video quality but horrendous muffled audio when using the GoPro 5. Slap on a GoPro 4 to the karma and we get motor noise. The EVO GP Pro works perfect with my GoPro 4 Black, with video and audio. No issues at all but lately I have been wanting a good gimbal for use with the newer GoPro 5. The EVO adapter for the GP PRO is awful as you get horrendous motor noise within the audio.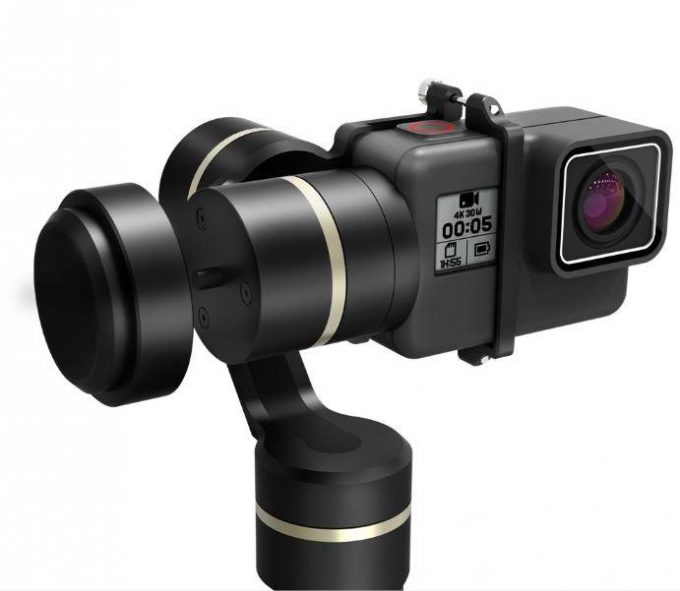 Other gimbals I have tested here have been the DJI Osmo Mobile which I enjoyed but I prefer shooting on a GoPro over my iPhone, as its a chore getting large files from my phone (Apple does not allow SD cards, boo). I have also tested the Feiyu Yech G4s, which I used back a while ago but when I upgraded to the EVO I gave away my G4s.
So let's rewind to a  few weeks back. Right when I realized the new GoPro Karma grip was unusable for me due to the really horribly muffled audio, I searched for a gimbal that would deliver good video and audio with the GoPro 5.

One gimbal that stood out to me was the new upcoming Feiyu tech G5. They promised the moon with weather sealing/splash proof design, 8 hour battery life, out of the compatibility with the GoPro 5 and super strong brushless gimbal motors for smooth performance. Even app compatibility for adjusting and all of that goos stuff. I ordered one instantly and it was delayed, and delayed and when it finally arrived I was excited as I just knew it would be "The One" I have been waiting for.
I charged the battery, put in my GoPro 5, added the must add counterweight for the GoPro 5 (it's in the box) and away I went. I instantly noticed the gimbal was reacting VERY slow to my movements. My EVO was always quick, smooth and solid. This one seemed like it was having a hard time moving the GoPro 5 in a smooth and quick manner. But connecting to the app allowed me to change this response, so that did improve when I tested that after I shot the comparison video. But it did not fix the main two issues.
When I did my side by side test with the EVO and GP4, once again, the EVO GP Pro and GoPro 4 Black won in video smoothness and audio. The Feiyu tech, to me is a rushed product and I am one of those paying to beta test it. The video has some shakes, the audio has motor noise from the gimbal and it is the worst gimbal I have ever tested to date. The old Feiyu G4s is a better gimbal IMO.
Yep, I paid $279 for this. GoPro NOT Included of course. 
Even with adjusting the response the video is still the least stable of any gimbal I have ever tested. There are tiny shakes going on all the time and big ones going in when stressed. Situations that my EVO and the GoPro Karma breezed right through.
The positive aspects are that it looks and feels nicely made. Has a rubberized grip, and is stubby and short. But watch the video and you will see the performance is shoddy. I am going to have to try and  return this one and just go back to the GoPro Karma grip, which to me is the best gimbal for the GoPro 5, hands down. It has the solid integration and with the super charger will charge the grip and your GoPro 5 in about an hour. No need to remove the GoPro to download your video to your computer either, can all be done via the usb on the grip. One button press starts your GP 5 recording as well, so the integration makes it worth it and at $299, its only $20 more than this one.
The Karma grip..iIt's substantial in build and feel and the audio, while very muffled is much more usable than the thin audio and motor noise audio of the other gimbals for the GoPro 5, like this G5.
This gimbal also has some serious drift and leveling issues. Seems to be a Feiyu tech thing. It's a mess. 
I do not and can not recommend this Feiyu Tech G5. It looks and sounds good on paper but in real use it is the worst performance of any gimbal I have tried for any GoPro or phone. I usually do not write negative reviews as if I dislike something I do not waste time writing about it, but I have had so many email me about this one so I felt I had to and it has been a slow week AND it's not like it took much of my time to write my thoughts after making the video 😉
So if you have a GP 5, you want the Karma grip without question. No other gimbal will offer the steadiness of it or the build and integration. The audio will be muffled but I heard it through the grapevine GoPro may have a fix soon for this. So I have faith. The main weakness with the Karma grip though is the integrated battery, and it's semi short life. Also without this supercharger, expect a 6-7 hour charge time. SO THERE IS NO PERFECT GIMBAL  for the GoPro 5 as of yet. I see none on the horizon either that solves all issues. All either have audio issues or steadiness issues. This G5 has both.
This goes for $279 but if anyone wants my G5, as new in box I will sell it for $150 plus $15 ship within the USA. Email HERE me if you want it!