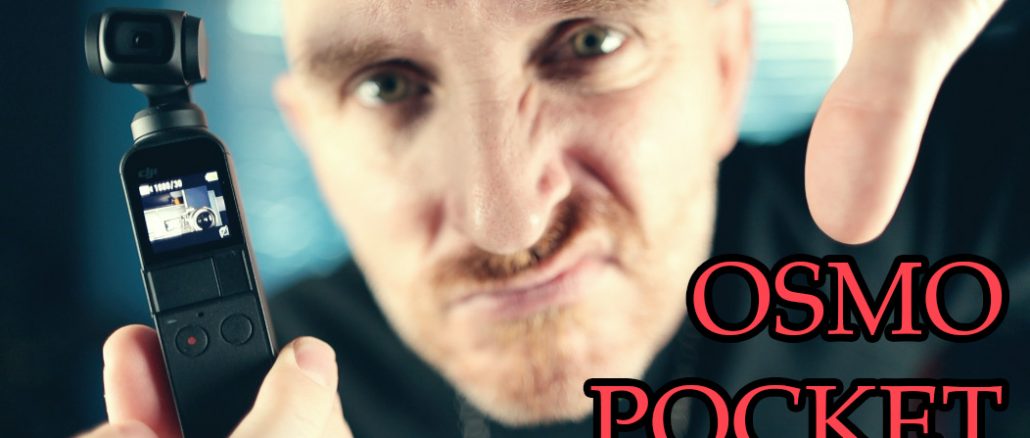 The DJI Osmo Pocket. Cute Design, average performance.
By Steve Huff
This article is best summed up in the video below where I talk about the Osmo Pocket vs the GoPro 7 Black (which to me is no real contest). But I will also write a few more thoughts on the Osmo Pocket below, after the video…
Hello all and Happy Christmas Eve!
I am guessing that there are some of you reading this,
at least one of you
, who may have one of these new gadgets under the tree this Christmas this year.
The new Osmo Pocket by DJI
arrived with a splash and excitement not too long ago and it even got me!
I ordered one with my own $349 of hard earned cash
. It arrived a week and a half ago or so from B&H Photo who delivered super fast, right as it was released. So kudos to B&H once again. (It's now sold).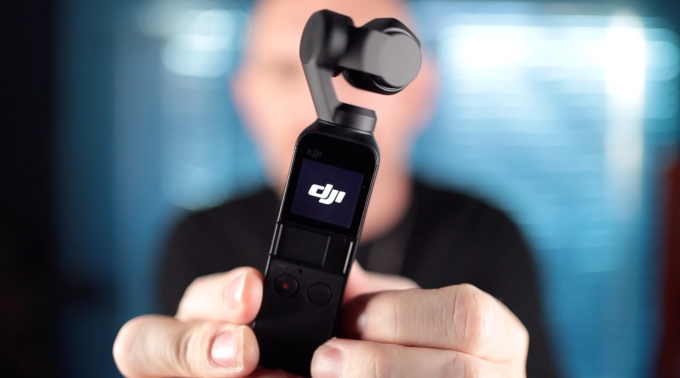 With that said, I was excited to test this guy as I literally always carry my GoPro 7 in my front pocket and use it heavily. I love the GoPro 7 so much I almost bought a second one. It is by far the best GoPro ever made and deserves high praise even though it does have a flaw with low light shooting with the Electronic Image Stabilization (and yes I paid the full $399 for my GP7 as I do not do "free product for reviews" when it comes to cameras, lenses, etc.) Even so, for vlogging use no one who watches your vlogs or videos will even notice or care about that glitch with the GoPro 7. No one cares, really. Only we do. ; ) That is another story for another day but today I want to just quickly share my thoughts on the Osmo Pocket, which is a video camera/gimbal that is so tiny it fits in your front pocket and can be taken anywhere (Like the GoPro 7).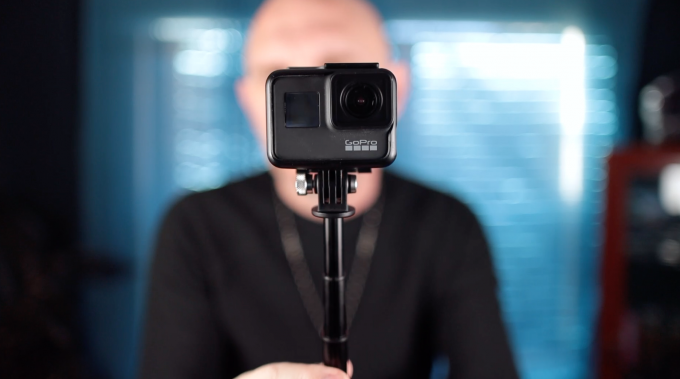 But this Osmo Pocket. It is cute and has a super cool design, which I admit, DJI is great at. Their products always suck me in and make me spend my cash and no, they do not ever send me review units nor do I ever get "free' products in exchange for a review. I could jump on that train but just do not do it as THAT is when it gets tricky.  Today the way these companies market is via "Influencers" and I guess you could say I was one of the very 1st influencers back in the day (11 years ago). I would write about what I loved, and many of you would buy it if you like what you saw or heard, but I am always honest and only review products I love ; ) But today, it works differently as many YouTube channels you see reviewing gear get some of those products for free in exchange for a review. It's a fact, just how it is. I choose to BUY the gear I review these days, or rent it, or get it on loan for 2 weeks or so and often turn down the freebies offered to me. I do not take free camera or lenses or electronics in exchange for reviews. This is why I can be brutally honest with how I feel and why I only spend my time reviewing products I love (usually).
Before I get to the Pocket I want to say I did also post a look at the DJI Ronin S a while back when it was announced. In fact my video on youtube was the 1st "In Hand, In Use" video there was and when I said it was too heavy I received a few words from DJI…that if I can be honest, I did not like. Yep, these days the review business is very political. But again, that is another story for another day but many reviews today are sort of nonsense done only for the financial aspects and rewards of it. The passion is still there but many just have the passion for the money that can be made, not the actual products or art of the craft. Sad to see but it's true.
But yea, that Ronin S is heavy (which is not an issue as it is for more serious projects not daily use), and I guess the Osmo Pocket was designed at DJI while they were having Opposite Day. The Pocket is truly super light and it is the world smallest and lightest 3 axis gimbal camera. It's slick, I will admit. It's almost worth buying one for the fun factor alone and stealth vlogging (but again, the GoPro 7 does it better and is also just as small).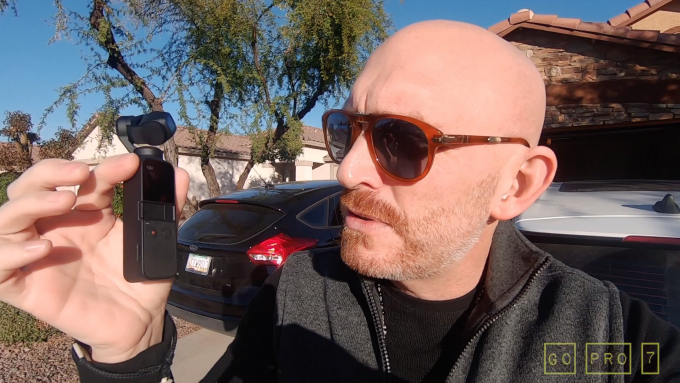 Enough fooling around…Let's get right to the meat of the matter and how the GP7 bests the Pocket. These are facts by the way…
The Osmo Pocket doesn't have a wide enough field of view for its target audience (vloggers). With GoPro, I can choose between my levels of wideness, and I use linear as there is no distortion or fisheye effect. It is a normal wide angle look without issues and allows me to fit my environment in without issue (the screen grab above is from GoPro 7 video), or if I want to be close up with my mug I can do that as well. The Osmo, when vlogging, makes you look extremely close to the camera and no one wants to see ME that close ; )  Unless your arms are like stretch Armstrong and can reach out to a lengthy distance when recording yourself you will be taking up the whole screen with your face while in selfie vlog mode, and the quality is bested by the GP7. With that said, I do love the LCD screen on the front and as small as it is, even with my aging eyes I can still frame up the shot. The Osmo needs the screen, so I am glad they put one there. But why not make it a tad wider? They market it for those who vlog but it is not really that great or even that good for this purpose. GoPro 7 beats the pocket here easily without question, hands down, period. Maybe DJI can change this in an OSMO 2, and if they do my guess is that all of those defending the pocket now will praise them for making it wider later.
When you buy the Osmo Pocket you have to go through a whole series of annoying events just to use the thing. It's a process and you must hook your phone up to it to register and set it up, to activate it. Takes a bit of time. I'd rather open it up, charge it and use it. DJI always does this though, and they get some of your info when you do this. Just seems strange. With the GP 7 I put in a battery and was able to use it without 'activating" it online.
The gimbal drifts. A lot. GoPro 7 has no gimbal so no drift. 
You need to buy their microphone accessory to get better sound. More money. The built in is good sometimes, and other times not so good. The GoPro 7 has a more beefy sounding mic that has never given me sound or wind issues. The Pocket is more crisp which can be better but it's weird, as it is not 100% reliable.
This is not any kind of action camera, not made for that. It is not waterproof, not shock proof and if you drop it while on you will most likely mess up the gimbal. Feels a bit fragile so be careful. On the flip side, the GP 7 is tough, waterproof, and can be dropped (I've dropped mine many times).
The Stabilization is good but the GoPro 7 EIS works better, and is smoother. This is true. Not sure what GoPro has done but it may be technology from the outer limits. It's amazing. Anyone who claims the IS of the Osmo is better has not seriously used both side by side. It's almost night and day. GP7 IS much smoother for IS.
Low light is about the same as the GoPro 7 really, maybe a little more noise. So no improvement. BUT the GP has issues with the IS in low light so the Osmo is better for low light.
The Slow Motion feature is useless and crippled. There for marketing only it seems. Not really something I would ever use. 
You can use your phone with it but attaching it is akin to attaching a basketball to your head. Makes no sense AT ALL as it kills the whole small size argument.
Focus is hit or miss with the pocket, and will sometimes not focus correctly. You will notice when you load the footage. 
White balance is all over the place with the Osmo. You will se color shift within the same footage at times. 
After using the GoPro 7 for months and now the Osmo Pocket I have realized that the GoPro 7, for me, does everything better than the Osmo Pocket. It has better video quality from what I see, has better audio, has better stabilization, is even smaller, is waterproof and drop proof, doesn't need "extras' that you will lose due to their tiny size, can easily change the batteries and have many on hand, oh and it fits in my pocket.
Some will not like hearing this but it is the honest truth and fact. The Pocket is cuter and has a cool trendy design but performance wise, I am sorry..it lacks.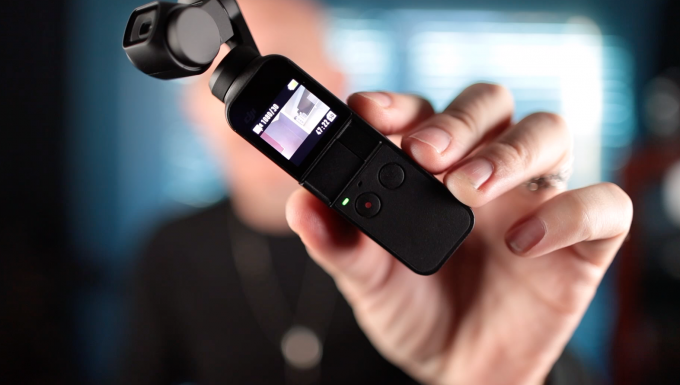 With that said you would think I am saying DO NOT buy the Osmo Pocket. Well, even with all of what I just said it is still a cool device. The form factor is the opposite of a GoPro and some will like the way you hold it vs a GoPro. Some will prefer the lens to being wide angle, as it may work better for B Roll footage. That's about it. The GoPro 7 beats it in all ways (besides low light with IS) but it's still a cool device to own if you like what it is. It can be a camera you take everywhere with you and does fit in your pocket (you MUST have it in the case or else risk breaking it). It starts up pretty quick (5 seconds) and is ready to roll. Just do not take it out in the rain, and do not drop it.
DJI could have made this much better. A wider angle lens, waterproof, drift free gimbal, class leading audio quality, better video quality and low light quality or at least quality that beats the GP7. Maybe by the time we get to the Osmo Pocket 3 these things will be better. For now, it is another first gen product much like their original Osmo (which I was not a fan of and thought was the worst all in one camera gimbals made and yes I bought one of those as well).
The marketing blitz for this pocket is strong as DJI is giving so many away to YouTubers in exchange for reviews. That's never a good thing and not something I would ever do. I buy my own gear that I review or get a loaner (that gets sent back)  but do not accept free cameras or lenses in exchange for a review. I will repeat, the GoPro 7 is a much better camera that can do what the Osmo Pocket does but even better. Others have said this in their reviews as well, those who bought an Osmo Pocket and those not looking to capitalize on affiliate sales with it. I could have done that, praised it and sold a hundred or so through links but sorry, I have to be honest with my reviews. 
I highly recommend the GoPro 7 for those who want a take anywhere video camera that offers gimbal like stabilization, great color, small size, toughness and good audio though with a weakness in the dark when using IS (it shimmers). If you want something with a gimbal (but larger), THIS GIMBAL is awesome for less than a Osmo Pocket.
At this time I can not and do not recommend the Osmo pocket but hey, you may like it anyway ; )