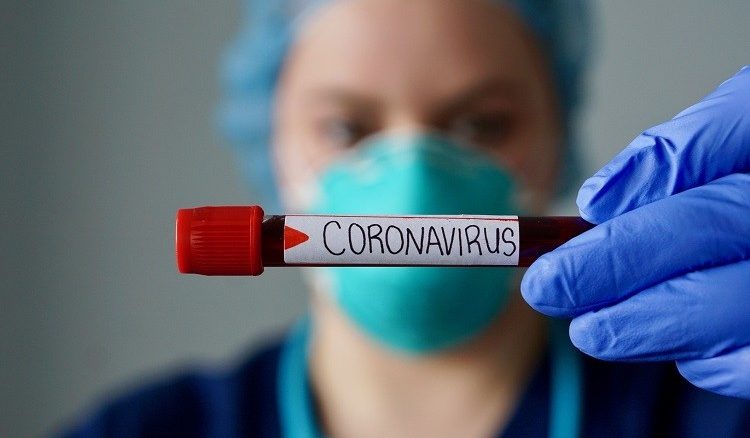 Will we FAIL this test? What about the camera industry?
By Steve Huff
History can repeat itself.
A few weeks ago I wrote an article here about what I felt we were about to go through. Some scoffed, some said "this is not a pandemic" and some understood the reality we were about to face. Now we are just getting in it, and we are not even close to being done with this virus. With business closing down, retail sales down massively, electronic purchases way way down and camera sales about as down as it can get, what about the future of some of our favorite camera companies? I will speak my thoughts on that later but for now, let's talk about reality and where we are right now as a globe, but mostly here in the USA where I reside.
The Spanish Flu
The Spanish flu of 1918 killed millions of people around the globe. It had a death rate of 2.5%. Why so many died then was because we became careless, and eased our efforts on staying in. A second wave hit and that was very deadly, then a third wave. While we didn't have the medical tech then that we have now, the reason we aren't seeing more die today around the world due to Coronavirus is because of our stay at home and social distancing efforts. They are working to keep infections under the several million it could be. That's fact and pure common sense. If you have common sense you can see this as clear as a mid day blue sky.
The virus is not even really close to being gone, we are really just now starting to peak and some states will not peak for 1-2 more weeks, IF we stay on track with distancing and isolation. It's just now starting to get into rural areas where if it gets bad, it will be a disaster due to lack of ICU's in hospitals in those communities.
The current death rate in the USA of Covid 19? As of today it's 5.7% if we go by the number infected vs how many have died – . That is the real death rate if we use the official numbers as of today. Math doesn't lie. Of course, some will say there are many more infected that we do not know about. Yes there are, but the rate of that infection is not known. All we can do is go by the numbers we have. With such a lack of testing in the USA, we just do not know. So I go by the numbers we are given.
As of April 17th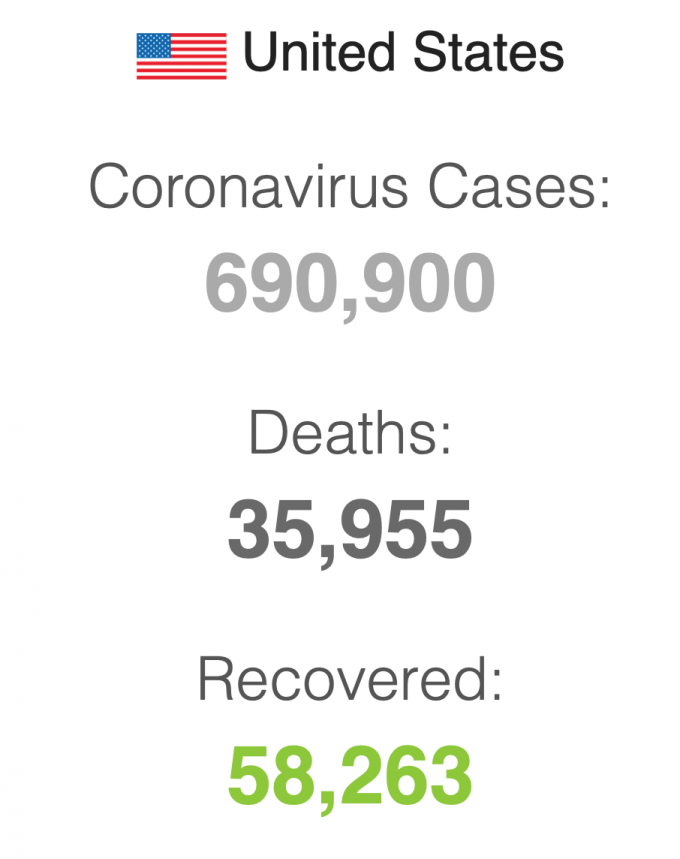 If we loosen restrictions while the virus is starting to peak (now) we very well may lose hundreds of thousands. It's possible. Your parents, your grandparents, your brothers or sisters. Black, white, brown, gay, straight, kind hearted or mean as sin, we are all possible walking incubators for this virus.
Only going by the numbers we have, for every 100 who get this nearly six are dying here in the USA. That's very high when you see that the devastating Spanish flu had 2-3 die for every 100 who had it. 1 in 20 who get this virus are losing their life. If the US population was infected all at once, we would lose about 17 million people within 2 weeks. By comparison, 9/11, one of our worst tragedies in this country, we lost 2,700 people and our country came together and united over it. In WWII, we lost just over 400,000 and that was a heart wrenching tragedy. As of now, 36,000 casualties I the USA for Covid but we are still growing by 2000 new deaths a day. We are seeing 25-30,000 NEW cases every day in the USA as well as of April 17th 2020. Sobering indeed.
UPDATE: As of 04/25/20 we have surpassed 54,000 deaths. The "experts" said we would hit 60k in August. We will hit that before May even starts. 
This is Nothing like a cold or flu.
If this were our normal seasonal flu, we would have had 679 deaths with 650k cases as the death rate for the normal flu is 0.1%. With Covid we are creeping up on 36,000 deaths with our 650k cases, or about 35k more deaths than the seasonal flu if we used the same numbers.
This fact is this. This virus we are dealing with today is potentially much more deadly than the catastrophic Spanish flu of 1918. We aren't seeing the mass casualties only because of our isolation efforts and actions.
With so many wanting to be out and some protesting to do so, it's more evidence of ignorance (not having knowledge of facts) and people who think they are strong and invincible, without a care for the country itself or for the lives of others.
Being strong.
The reality is that being strong would mean you have the strength to understand what we have here, have the common sense to understand and having the strength to do what you have to do. Stay in, weather the storm. That takes strength. Basing our actions on emotion does not come from strength, it comes from fear. Acting on fear is never ever good. Fear is a killer. Fear is evil. Fear is our worst enemy in life. "There is nothing to fear but fear itself". Those are true words and why I dropped all fear from life a few years ago. I also have no fear of death, at all. It's quite nice to live free of this other "disease" we call fear.
History tells us that If we repeat what we did in 1918, our economy will collapse even worse, we will be in this so much longer and more businesses will close. As it looks now, we seem to want to repeat history and relax our efforts. We are in a war, a new kind of war for us. Some seem to want to lose the war after 4-6 weeks. Crazy.
I still believe 100000% we are far from over with this. Unless the summer heat kills it until next season, this will continue for a long time to come.
Immunity?
We also do not know yet if we can build an immunity to it. This hasn't been shown yet as some who had this and recovered are now testing positive again. Could be faulty tests but who knows. That's part of it, we just don't know. When we are dealing with the unknown we should always be extra cautious.
UPDATE. Now the CDC says this same thing as of 04/24 that impunity is not guaranteed with Covid.
36k+ gone within weeks. (As of 4/24 we have passed 54k deaths, and almost at 1 million cases)
Today, April 17th 2020, here in the USA we have hit over 36,500 deaths as of 1:30 PM Pacific time. Some states are doing well, due to less density of population but it's still there and still spreading no matter where you are. Some states are not doing well due to more density. Some states are slipping from people being careless.
The Spanish flu lasted two years. We are only in the first weeks of this. Something to keep in mind.
Air travel?
As soon as mass air travel is back the virus will spread like wildfire unless we have mass testing, tracing, wait for our curve to go way down, and have a solid plan. We will be back at square one, and if the virus mutates and become more deadly… then we are in trouble. It happened in 1918 with the second wave. Became more deadly during the second wave.
Sacrifice.
Sometimes we have to sacrifice for the greater good, and have the inner strength to do just that. We all have it within us, and we all can find it within us. Me? I'm at total peace after 4 weeks of isolation. I'm anxiety free, and understand we are in this for the long haul. I mentally prepared myself for the worst. If it works itself out sooner, then awesome. If not, I will live with whatever has to be done. The virus will be done with us when it's done with us. If we could all find this inner strength, it will make it much easier to get through.
Facts are important.
We can't erase facts, we can't change history, we can't ignore reality. Some do, but it will not do them any favors in the long run. Time will tell wether we learned from history or ignored it. I hope we have learned because ignoring it can make all of this so much worse and last so much longer.
I Love you all, so please be well. For those on the front lines working to bring us health care, food, essentials.. you are the hero's right now. You deserve 3x the pay, respect and love from all right now. You are saving lives and that can only come from the love within your heart. Bless you all.
Real Numbers. Facts only. 
USA as of today, so far (see image above) 5.7% who have gotten this so far, have perished and lost their battle with this virus (they died). 1 in 20. That's with our isolation and distancing efforts. That's only with the numbers we are given. The true death rate, I believe 100% we will see is at close to 2%.
Be safe and be strong my friends. Strength doesn't come from ignorance it comes from inner peace and being able to see life clearly. To understand reality and facts and the dangers of where we are right now. That's real strength. Be strong my friends. Love is the key to this life, and those who understand that may understand what we are dealing with a little more clearly.
THE CAMERA INDUSTRY
So now that we understand what we are facing and where we are at, how will this effect camera sales, companies and even going out to shoot like we used to? Well, I do not know, no one does. But we can assume it's not going to be good.
It's going to be tough for most companies to stay afloat if this goes long term, and I do think this is with us for the long term. So it all depends on what we do as a people, as a nation, and as a globe. I can see some camera companies failing as I just do not see mass people going out and buying $1000, $2000 or $3000 cameras when 25 million people just lost their jobs over the last 4 weeks, and with many more to come. During the Great Depression we had 20 million who lost their jobs. We have now surpassed this number in 2020.
I do not see anyone but the comfortably wealthy spending big money right now. Most every day people are not worried about what camera or lens they will buy soon, unless again, they are wealthy or ignorant to the facts we are facing right now. My spending has come to a halt 6 weeks ago. I spend today only on essentials like food and home essentials as my earnings have dropped 65% over the last few weeks. But I knew this would happen, and expected it. Even so, I am not full of stress, worry or fear. I am at peace as I said, as I know all is how it must be at this time.
It's hard to imagine camera companies like Sony failing quickly, or Canon. Others, well it is not so hard to see problems ahead for some smaller camera companies. If this virus continues on, and keeps us social distancing for months to come, photography as we knew it may just be a memory. If we try and save the economy by "opening up" in May, that can have a serious backlash and make things much worse, going back to square one.
That would NOT help the economy at all, but rather, make it worse.
Some out there seem to think we are almost back to normal after a few weeks. Well, no we are not. Not even close. The days of big photo meetups, workshops and press events are over. At least though 2020 and early into 2021. The days of shooting weddings every weekend are over, at least for now and the foreseeable future. People spending thousands on Wedding Photographers are over, for now. The days of Disneyland, the days of sporting events and the days of mass gatherings like concerts are over for the foreseeable future. Photography has embedded itself everywhere and so many of us shoot in so many situations. Most of those situations are for now, gone.
I am staying positive on all of this, but when we look at reality it's tough to see some industries coming out of this without massive changes taking place. Photography will always be with us no matter what but not at the level it was in 2019 and the years before it. I even heard that Amazon will be lowering affiliate sales commission %. So this is hitting everyone in some way. Influencers are hurting as well, many who use photography in some form to get their message across.
Some are out there documenting this crisis now via photos, every day (with masks and distance I hope) and this is important for history. Photography is emotion, smiles, love, sadness, happiness, grief, and history all in one medium. It's special and you guys know this. It will never go away of course, but the writing is on the wall. It's going to change for a while, even when we get out of this.
I still have hope for the world. I hope that many will emerge from this with a new appreciation for what we have, the simple things. A new appreciation for each other, and the human race itself. A realization that we do not need new things to keep us happy and content. A new appreciation for friends and family and human life. A new appreciation for this earth as the earth is what we are. It's our home. It's the earth that allowed us to be born, and when we die we go back to this earth. When we are in the womb, our mother eats food of the earth and this food is what allows us grow into what we will become. So we are the earth and we are not here to fight with each other, or be divided or allow ourselves to be led to slaughter. We are here to live, be productive, respect our neighbor and to love.
We can control our own lives and destinies, so it's up to us. If the is a test for us, let's hope we pass it rather than fail.
Be well, be strong and be better than you ever have.
Love you all.
As of 4/24. Nearly 20k deaths over the last 7 days.