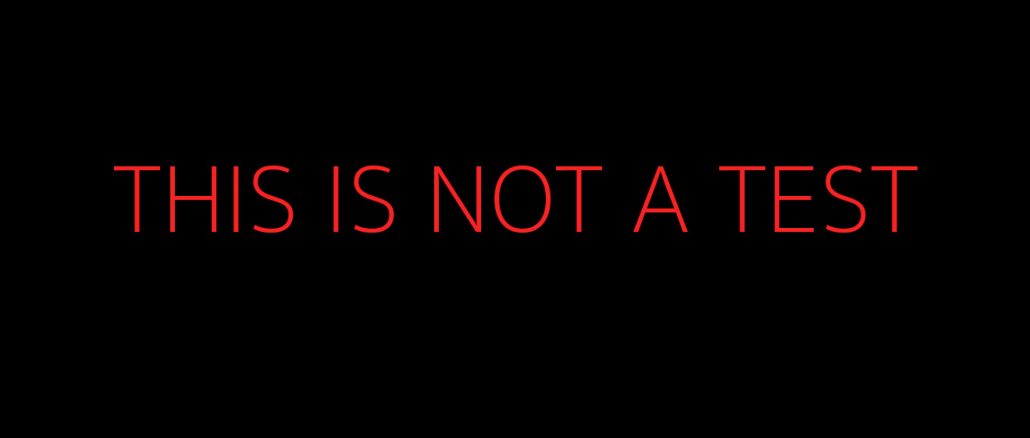 This is NOT A TEST. 
By Steve Huff
It's not a time to review or buy cameras. It's not a time to buy anything but necessities to get us though LIFE for the next 90 days. Keep your money, you may need it. 
As I sit here on my couch at home I feel like we are all in an episode of the Twilight Zone, or Black Mirror. But no, this is not a movie or a show or fantasy. It is very real and while many blew it off a month ago, and even still are today, I feel we are in for some bad bad times ahead. The writing is on the wall.
This is a website that has been around for twelve years, reviewing cameras and camera gear along with Audio HiFi gear. Today, as of now, it does not feel right to review anything as the world is suffering, we are in a recession and I predict we will be in a depression this year. I expect the damage from this to be catastrophic, for many reasons.
I know at least for me, I could care less right now about what new camera may be out. This is not a time for that, for me. Sure, life goes on but as of now, we have to asses our situations, take care of our families and be responsible to avoid spreading this to others. I believe we will have close to 100K infected in the USA within 10-12 days. Unless we lock down AS A NATION NOW, it will grow and grow. This is just common sense and it is happening daily with MINIMAL testing. We are not testing many at all at this time.
Anyone who has been paying attention to what is happening closely understands the reality of our situation. If you have not been paying attention closely to the facts, you may not understand the breadth of this crisis we are in. Not just here in America but WORLD WIDE. We all deal with fear in different ways. Some of us shut down. Some go into denial and deny what is happening. Some of us get angry, and some of us get depressed. We must accept it as the new reality. Life has changed. Period. Just like that. It bums me out but I also like to think of the good things over the bad. The extra time with family, with my Son. Playing games, watching old shows (The Walton's from the 70's is our current series, a time of depression itself..and family, and love).
Because we are lagging in response here in the USA, and we have seriously lagged (I feel a lockdown should have been in place weeks ago, and tests, masks and gloves should have been here immediately, we still do not have these things. Tests are MINIMAL even today). We will be seeing catastrophic numbers of new people who are getting this virus over the next few months. In fact I believe 100% we will end up in a nationwide lockdown by next week, that's my predictions. Again, hope I am wrong but the trajectory we are on says otherwise.
If we look at what is happening in Italy, who have been locked down for two weeks now yet their death rate keeps growing daily (today 680+ deaths, yesterday 500+, tomorrow ?). We should be locked down NOW, NATIONWIDE. It is up to me and you to get through this, no politician will help you. Only you can help you. You do that by STAYING INSIDE. Yes, it is hard. You have work, you have routines but this is beyond all of that.
RESPECT IT
A real time counter of cases, deaths and recoveries. Also, broken down by state. This updates throughout the day. The numbers are rising and rising, and this is with us TRYING to stop it. Let's all do our part to slow this down. 
You may not fear this virus, and we really should not fear anything in life, but we should RESPECT it. While it will not kill all of us, or even most of us or even the majority of us it can and is killing many. People in their 20's to their 90's have fallen from this virus, and it spreads MUCH easier than the flu. Many are out RIGHT NOW spreading it without even knowing as many who get it show NO symptoms yet some suffer and die within 14 days of contracting this virus. If you are elderly, have any kind of underlying condition from Asthma to Heart Disease to having had cancer treatments or even just high blood pressure, the odds of serious illness, hospitalization or death RISE greatly and far beyond the 2-3% you see out there. You can be in your 20's, and have Asthma and die from this. It's not a joke.
So we need to do all of our parts and stay inside during this time. We will soon be forced to, and rightly so.
China has been able to slow this down. To a halt, finally. The way they got there though was by very strict lockdown. Here in the USA we are lax, everyone is out and many are not taking this serious at all. Kids were on beaches for the last few days in Florida like nothing was wrong. They will now go home and some will spread it to their family. One girl even said she lived with her Grandmother and was not concerned. THIS behavior and lack of understanding is what will hurt us here.
All one has to do is look at how it spreads (touch, sneeze, cough and it survives in the air for up to 3 hours). It's easy to catch. Use an ATM? It could be on your fingers. Touch ANYTHING and you can get it. With so many out there touching everything in stores or anywhere it is spreading like crazy and many more of us have this then we know as testing has been MINIMAL. This is an aggressive virus, and can linger on our doorknobs for days. This is why in our house, right now, no one in, no one leaves unless it's for food items. If we all did this, we would squash the virus within weeks. But that will never happen as most refuse to take these uncomfortable precautions here in the USA and those are the ones who ruin it for everyone.
Look at Italy, who is in dire trouble. Two weeks into their lockdown and still 600 deaths in the last 24 hours. We are now growing in our numbers faster than Italy. Because we have done nothing.
What I am saying here is we are about to head into the roughest time of our lives, in our lifetime, here in the USA. It's real, and it's here. It's not fear mongering, it is reality.
With all of this on the way, and what I feel will be a nationwide lockdown by mid next week, try to look at the positive of anything you can as stress, fear and worry will really be hard on us.
As for us, we have been locked down in our home, doing our part, for days. We are ready for as long as it takes. No one can enter our house, and when we leave for groceries we will have a mask and gloves when we do so. We started this four days ago and are prepared for the long haul. 
When we get through this, I am not sure what I will do here with this website. I believe a depression is coming to the USA this year. I HOPE I am wrong but 2.2 million filed for unemployment this week, stocks have tanked, sports have shut down, car makers have shut down, airlines are almost bankrupt, housing is already dropping in price in what last week was a HOT market. It goes on…Restaurants are dying, retail is dead and in some areas of the world the internet is starting to stress. Hollywood has she down, TV shows shut down, late night shows are now on YouTube, broadcast from homes now. Small business is hurting and people like me, well, it's not looking good.
The virus will spread much much more in the coning days and weeks. So I see more massive losses in all industries, including photography and HiFi as this is not a two-week crisis. This will have effects for years, and the immediate effect will most likely last into 2021.
I guess we will have to see and I HOPE I am wrong, I would love to be. See, I have underlying conditions, as does Debby. We are over 50 so we do not want to get this, and we surely would never want to spread it. So we are taking responsibility for ourselves and others, and I hope you are all doing the same NOW.
So no, this is not a test. 
THE BRIGHT SIDE
I do see a bright side to all of this. Even with all of the loss we will see this year I believe that when it's over we will be kinder to each other. We just may realize we almost lost what we take for granted every day. We will see how we have been killing this earth without regard as we will see skies clear and amazing things from our lack of polluting. We are already seeing this in other part so the world, like Italy, and that is the beautiful and hopeful part of all of this. It may just show us that we need to respect each other, our planet and appreciate what we do have. I see this clearly as sometimes it takes an event like this to fix the ebb and flow of the world and human behavior.
Have hope, have faith and have love and positivity as well. It may be hard right now to get out of panic mode, but of you fully understand what may be coming, you will be mentally prepared. If you blow it off now, when it hits you will be in shock. Always better to know what is ahead.
Stay safe my friends and when this is all over with we will have to see where we are as a WORLD. This WILL forever change our world, so be safe, stay inside, be considerate of friends and family and heed the warnings we are hearing DAILY now. Do you think the world would shut down if it was just the FLU? Well, no it wouldn't.
Love you all, and we will get through this. I'll update here as I can, if I have something to write about. Do not expect reviews from me anytime in the next few weeks. Maybe commentary but no reviews. Now is not the time. Finally, if there are some out there still in denial? Come back in 10 days here and see where we are at. I will be HAPPY to be wrong, but fear I am not so this is MY warning to YOU, my friends, my readers and those who have been with me on this incredible ride since the start.
It will be amazing when we get through this. LOVE IS THE KEY.
Steve
PS – We still can hope that the heat of the summer will KILL this virus. That would be welcome and a relief for the world.