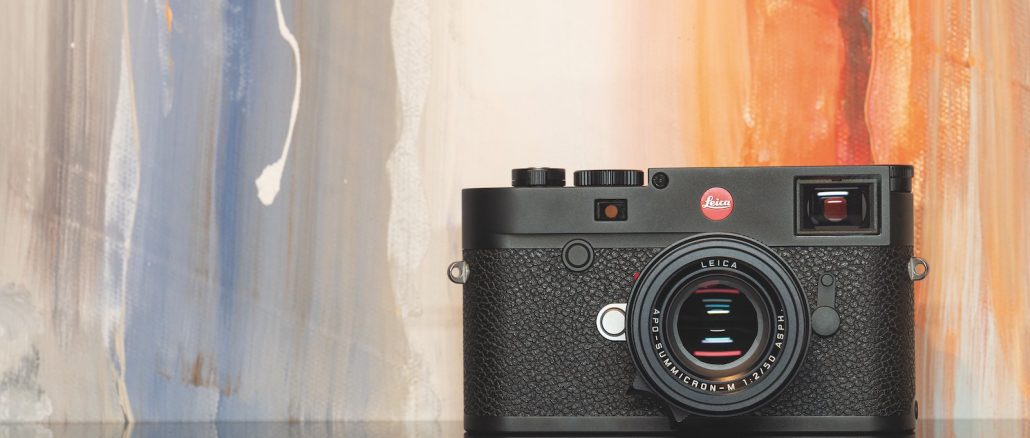 Leica announces the M10-R High resolution M camera. Why I do not want one.
By Steve Huff
So Leica announced their new M10-R today. It ships by end of July 2020 and you can pre-order for $8,295.00 HERE.
I have to be honest here. This will be quite different from other posts or videos you may have seen on the new Leica. I'm not a fan, so be warned. I also edited this post from what it was as I probably was in a mood when I wrote it, and therefore a couple of the things I said were not fair. With that, on we go.
This new Leica M10R camera is here and I have zero interest in it. While I knew about this R version for the last few weeks (as did most of you due to rumors) it's exactly what I do not want to see in an M camera. For photographic work that can touch ones soul, 40+ megapixels are in no way needed. I feel this camera takes a step back from the heritage and history and even the soul of Leica. Just my thoughts, my personal opinion. Nothing more or less. My brain speaking aloud here because I feel I should.
These are my honest feelings on this new release from a company that has been a huge part of my life for so many years. Fast fact: One year, I believe it was 2012, I almost had an M camera tattooed to my arm. True story. 
I've been writing about Leica now for 13 years and have always been a huge fan of the brand. I have owned the M8, M9, M10, M-E, MM, MD and almost all M variations including the M6, MP and M7 in my film years. I have owned all of the great glass at one point or another, and these days have a few of these lenses left and use them on a Sigma FP or a Sony A7III, though this is a rarity these days during a pandemic.
I love the M concept and design, to me it's the perfect camera design. Iconic even, but if I were going to buy an M today, it would be a new base model M10 or a new or lightly used M 240, which was indeed, after much thought, my all time favorite digital M camera. I loved the signature look that came from it, as it was different from the M8 and M9 and to me, gave a richer photo experience. The colors from that sensor after several firmware fixes was beautiful. Looking back at my M files, my fave memories were created with the M8, M9 and the most from the M240. I'm a fan of 24 MP sensors for photography as I feel this is the sweet spot for dynamic range, ISO noise, etc. To me "cropping power" is not a valid photo feature : ) If I did want a high res camera, I would buy a Sony A7IV for less than half the price of this and get better IQ/features and video capability for day light shots (yet still suffer some in low light).
I would not pay $9000+ after tax for a Leica M that shoots 40+ MP. Let's be real for a moment…It will in no way improve my photography, and will only help to make me lazy in composing my shot, and it will not do well in the low light situations I shoot in (when I can shoot). Many who argue for high MP sensors say "it allows me to crop and get the shot I really wanted". Well, that's being lazy and will only help to degrade your skill as a photographer over time. To me, other cameras were always there for that, when I wanted to be lazy and let the camera do all the work for me. With an M? Noooooo! The M is a camera that I always saw as a mechanical beauty that was simple in its execution and specs. A body, a sensor, a shutter button and exposure dial. IT HELPED ME improve my skills and made me work for the shot. When I nailed it, it gave me a sense of accomplishment. But cropping and being lazy would make me feel the opposite feelings. Blah.
Today the M seems to be trying to compete with everyone else, when it doesn't have to compete at all. It is already unique and one of a kind so upping the resolution to 40+ megapixels, which no one on earth "needs" in an M and charging over $9k after tax..is well, ridiculous. Especially in todays time.
July 2020
While we have a pandemic taking 700-1000 lives a day in the USA RIGHT NOW as of July 16th 2020, and spreading to 60-70k+ people a day, and with many MILLIONS receiving unemployment benefits that are set to run out very soon…here I am talking about a camera that comes in at $9000 after tax and will offer me nothing over the previous M's when it comes to the photos I can take with it. Nothing new, just a higher res sensor. Meh. 
My suggestion if you must have a new M? Go buy a used M8, M9, M10 or M240 and they will be new to you and quench your thirst for that new camera excitement, and they can teach you a thing or two about photography just by using them. New is not always better, new is just different. In this case, I would not buy the new M10R if it were $2500… for ME. The sensor for me, is useless. For you it may be the best thing ever. All depends on what you feel as useful. But what will it bring YOU that will improve your shots? Nothing, if you are being honest.
So now that my opinion is out of the way (and remember that is only my opinion). I know many of you are lusting over this new R version of the M.
BTW, The only brand new Leica I would buy today (and the last Leica I truly fell in love with) for me is the old, original and kick ass Leica SL which can be had new for  $3800 via Amazon Prime. Truth be told the original SL moved me away from the M's a while ago. I just prefer it in all ways for using M lenses and the cost of a new SL is 100% worth it, even today. Solid, amazing EVF, works amazing with M glass, and has the build the M10 wished it had.
Photography is not about the latest and greatest gear UNLESS that latest and greatest does something to improve your skill, your images or the capability of the camera. Recent cameras like the Canon R5 (now reports of overheating though) are all out beasts and offer amazing things for your money. The new Sony A7SIII that is coming this month WILL offer amazing things for the money, no doubt, and be much more affordable than one may think. To me the Leica M10-R it is just another rehash to make some quick sales that I can not be a cheerleader for.
LEICA M10R PRESSS RELEASE for those who ARE excited to fork over $9k for a 40MP M camera. 
July 16, 2020 – Leica Camera introduces a new high-resolution version of the company's legendary rangefinder camera, expanding vivid creative possibilities from the most human moments in street photography to the most epic landscapes. With its unique 40 megapixel color sensor, the new Leica M10-R delivers enhanced rendition of details to fully explore the optical excellence of the legendary Leica M lenses.  This new flagship expands the M10 family, which includes the M10, M10-P, M10-D and M10 Monochrom, and achieves maximum image output without compromising the tenets of M photography.
The M10-R's newly developed 40 megapixel sensor represents a considerable increase from the 24 megapixels of the M10, and yet the M10-R offers significantly reduced image noise as well as a wider dynamic range. The sensitivity range of this new sensor, from ISO 100 to 50000, ensures it can be used in any situation a photographer may need. That base ISO of 100 helps allow bright light photos where the aperture can be kept wide-open for better background blur and bokeh, while on the other side of the spectrum the maximum exposure time has been increased to 16 minutes for more creative freedom with long exposures in the darkest light. Complementing the Leica M10-R's imaging prowess and handling is its super quiet mechanical shutter, inherited from the M10-P. Its whisper-quiet operation helps the user be stealthy, when capturing that decisive moment requires the utmost discretion, and its minimal vibrations reduce the risk of camera shake to help yield sharper pictures.
As with all of Leica's rangefinder cameras, the construction of the M10-R involves a large amount of hand assembly utilizing the best quality materials by highly trained specialists, carried out at the company's production plant in Wetzlar, Germany. This ensures that the large number of components – such as the complex rangefinder mechanism – not only perform with the utmost precision but are also particularly robust and long-lasting. A Leica M is synonymous with reliability and durability, making it a valuable long-term investment.
The Leica M10-R reaches its full potential when paired with its native Leica M lenses. The camera has the capacity to fully utilize the outstanding imaging performance of this legendary, longstanding lens range. The M10-R truly sings when paired with the newest generation of Leica's technical marvels of optics, such as the APO-Summicron-M 50 f/2 ASPH., capturing photographs of a truly exceptional quality. Concurrently, the M10-R's newfound heights of image quality and resolution also emphasizes the distinct characteristics of older M lenses, many of which are still cherished by vintage photography enthusiasts to this day.
The Leica M10-R will be available end of July at Leica Stores, Boutiques and Dealers for $8,295.00 in black chrome and silver chrome finishes.