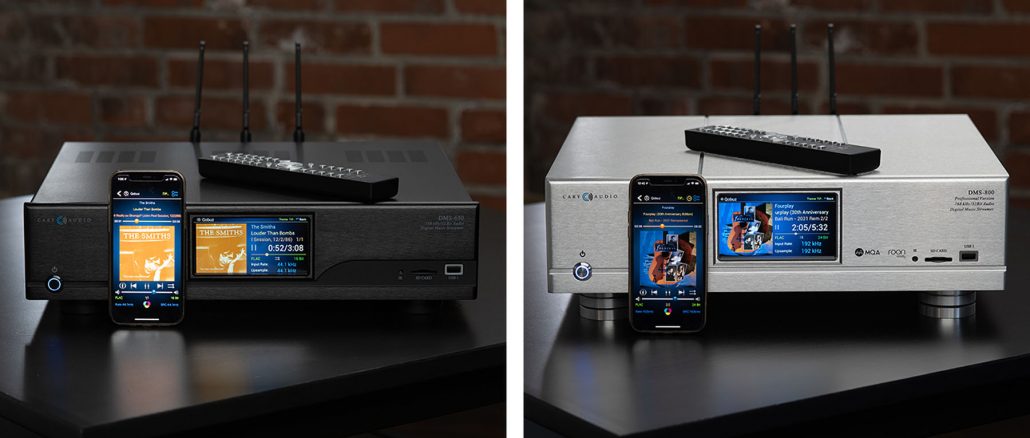 Below is a press release for the new Cary Audio DMS-650 and 800PV Streamers. These are full fledged high end music streamers with DAC built in. I will be getting in the new 650 for review next week along with one of the companies tube offerings for amplification  ; ) Stay tuned.
INTRODUCING THE CARY AUDIO DMS-650 AND DMS-800PV NETWORK AUDIO PLAYERS
RALEIGH, NORTH CAROLINA
January 25, 2022
Cary Audio is pleased to introduce the expanded DMS line up. While the DMS-700 continues to be our core DMS product, we wanted to add additional products to the line to meet various needs and desires of customers. As a result, our DMS family now includes the DMS-650, DMS-700, and DMS-800 Professional Version (PV).
The new DMS-650 Network Audio Player (left) replaces the DMS-550. As our entry-point into the DMS platform, it is anything but entry-level. Using the AK4497EQ DACs along with our robust digital front-end and cutting-edge analog circuitry, the DMS-650 redefines what it means to be entry-level. The DMS-650 has a slight cosmetic redesign that features a black-out appearance (for black units), which includes a black display frame and black power button. For both black and silver units, the right-side groove now includes a "swoosh" design as well as a faceplate devoid of silkscreened logos for an ultra-clean sleek look.
The DMS-650 has a retail price of $5,995 and is now shipping. Purchase is available through our Dealers and Distributors, orDirect from our Factory on CaryDirect.
The new DMS-800 Professional Version (PV) Network Audio Player (right) improves upon the performance of the DMS-700 by essentially creating a dual-mono, dual-differential version of the DMS-700. Inside the DMS-800PV, we've doubled the DACs to include two (2) AK4499EQ 4-channel current output switched resistor DACs, as well as doubled the DSP stages. Digital and analog power regulation stages have all been doubled, and we have completely separated the left and right channels using separate DACs and analog circuit boards. All of this and more, including a larger 5" display, with a slightly taller stance and Crystek clock. This is our ultimate model of the DMS platform, allowing us to create a sound so enthralling and truly analog that you will become at one with your music like you never thought possible. The DMS-800PV is truly worthy of our "Professional Version" moniker, harkening back to our renown CD-306 Professional Version SACD Player. We do not take this moniker lightly, and the DMS-800PV is only the second product to ever display this badge.
The DMS-800PV has a retail price of $14,995 and is now shipping. Purchase is available through our Dealers and Distributors, or Direct from our Factory on CaryDirect.
The DMS-650, DMS-700, and DMS-800PV represent a true family of DMS products. Each provide the same user experience, features, sonic signature, and all are Roon Ready and MQA Certified. Depending on your system requirements and desired level of performance, there is a DMS to fit the bill that will change the way you listen to music forever.
About Cary Audio
A manufacturer of high-end audio and video electronics, Cary Audio is known for delivering innovative, no-compromise high-end audio and audio video designs to owners worldwide. Cary Audio's award-winning product lines have received accolades from many influential audio enthusiast magazines. Visit caryaudio.com or carydirect.com for complete product specifications and additional information.