NOTE: This is just a quick-n-dirty first look. My full review of the Olympus E-P2 will be coming soon!
I want to thank B&H Photo for getting me this Olympus E-P2 before Christmas! They came through with a speedy delivery. Wow. Thanks!
Even though this E-P2  is a Christmas gift for someone in my household I had to take it for a test spin 🙂 Many of you know that I loved the original Olympus EP-1 (wow, that one didn't last too log huh? Six months?) and Olympus has now released the E-P2 in a cool black body with an EVF for those who want a viewfinder. They also had to up the stakes a bit due to the Panasonic G-F1 stealing the E-P1's thunder. (the G-F1 appears to be in stock at Amazon
as I write this)
When I opened the E-P2 box I said "WOW! This is one handsome camera". The black looks sexy, sleek and modern. It still has that classic charm though not as much as the white and silver bodies did. I like it. It is reminsiciint of rangefinders and in my opinion, it is the way digital photography is headed. More compact, easy to take with you bodies. Here are some snazzy shots I took using my new lightbox. Take a look: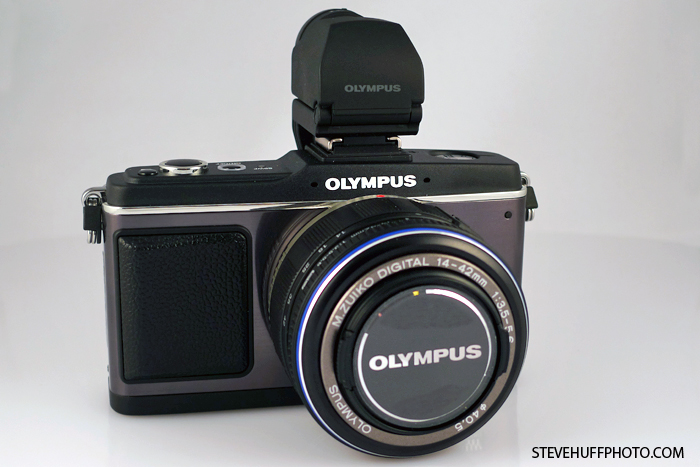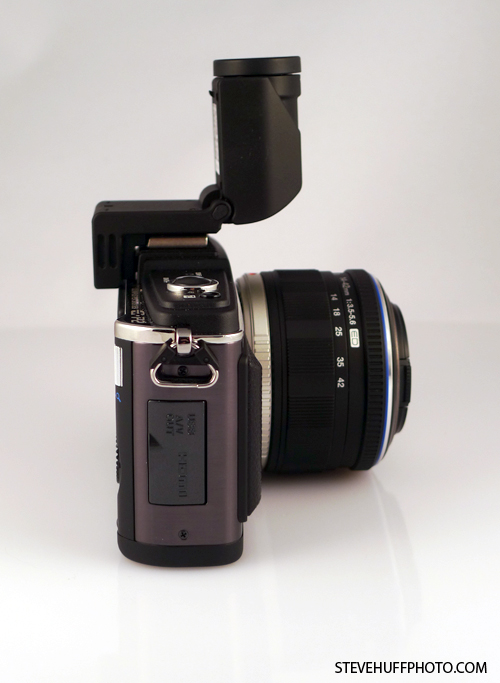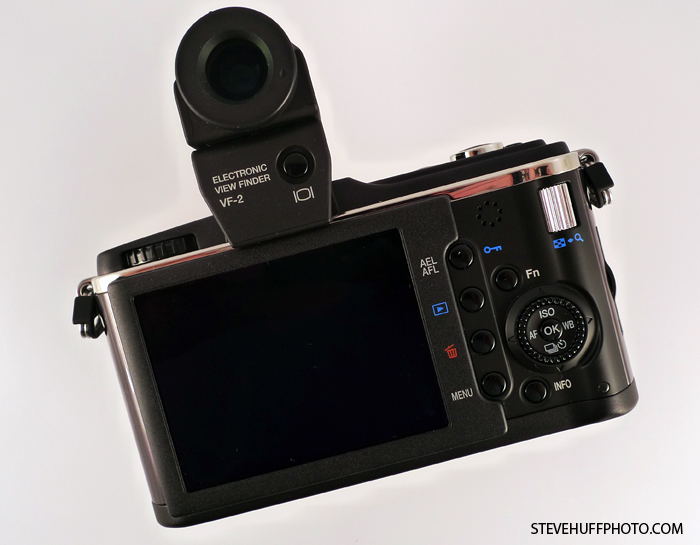 The E-P2 is still 12.1 MP, and still retains the features of the E-P1. You can see my full E-P1 review HERE at my old site if interested.
Of course there are minimal changes with the E-P2 with the main differences being the addition of the Electronic View Finder and AF tracking. Also, the color. But, there are also a few other differences that I will be going over in complete detail in the full review (after Christmas). One of those is the addition of an interesting ART filter called "Diorama". To me, it sort of looks like a tilt/shift effect but Olympus describes it like this: "The Diorama art filter gives users a miniature model photo feeling by narrowing the depth of focus and enhancing color and contrast."
I snapped a few shots in this mode and basically it adds some blur at the top and bottom of the frame. Sort of Noctilux-ish..well, not really 🙂
So I was only able to have this out of the box for less than 24 hours and my quick "first snaps" are limited to around my house as its 20 degrees outside and I am freezing my bony legs off. So, look for my full review soon. Until then, here are a few of my 1st quick snaps from around the house. Basically, its an EP-1 with some extras. BTW, the following are ALL OUT OF CAMERA JPEGS. No raw, no processing. Just resized.
ISO 1600 – E-P2 with kit zoom – F5.1 – 34mm (68mm equiv) – Pinhole Art Filter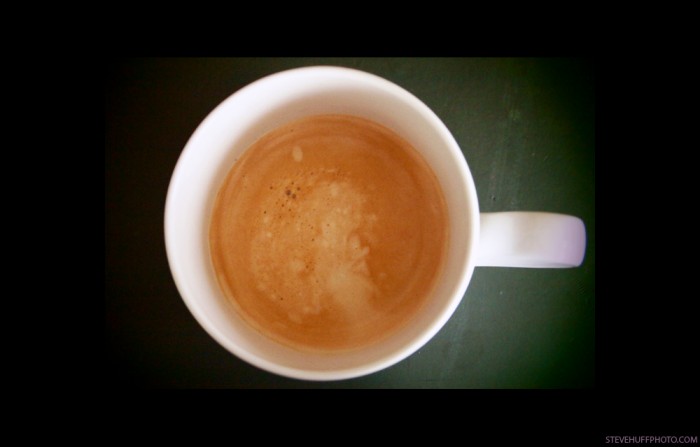 ISO 1600 – E-P2 with Kit Zoom – F5.1 at 34mm (68mm Equiv) – Pinhole Art Filter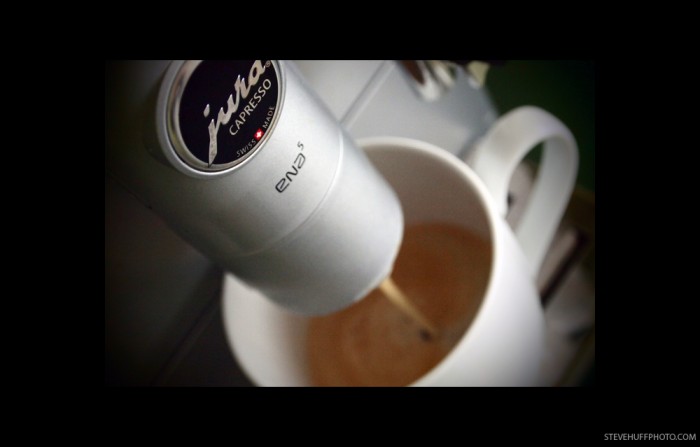 ISO 1600 – E-P2 with Kit Zoom – F3.5 at 14mm (28mm Equiv) 1/30s – Pinhole Art Filter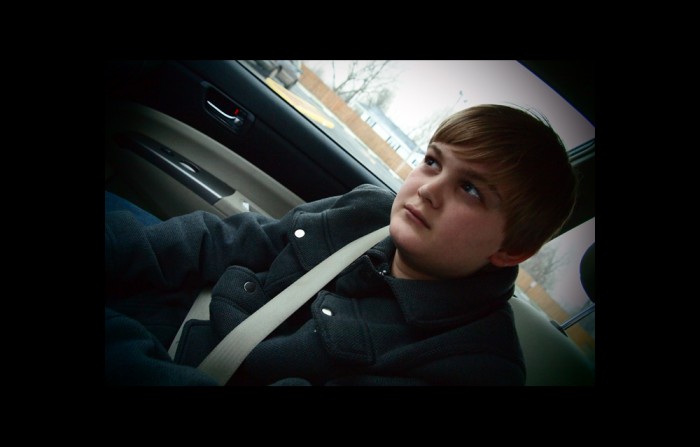 ISO 1000 – E-P2 with Kit Zoom – F3.5 at 14mm (28mm Equiv) – Diorama Art Filter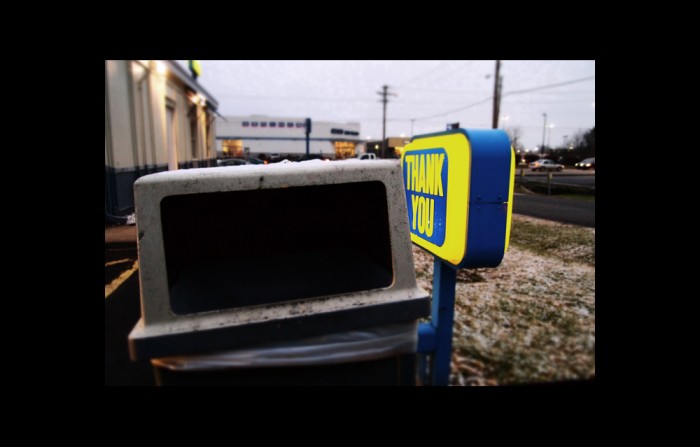 ISO 1600 – E-P2 with Kit Zoom – F5.4 at 38mm (76mm Equiv) – Pinhole Art Filter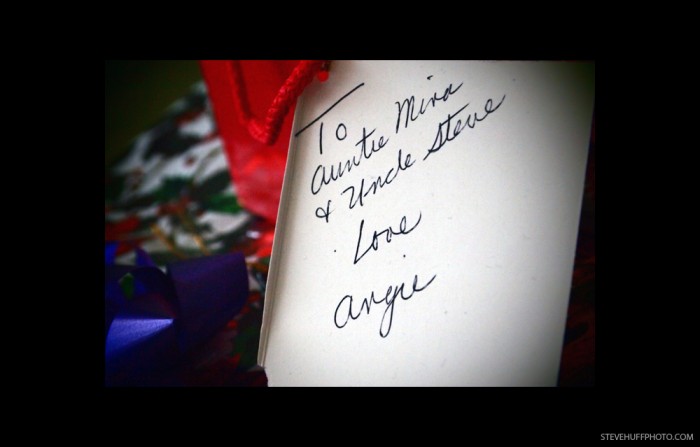 and a crop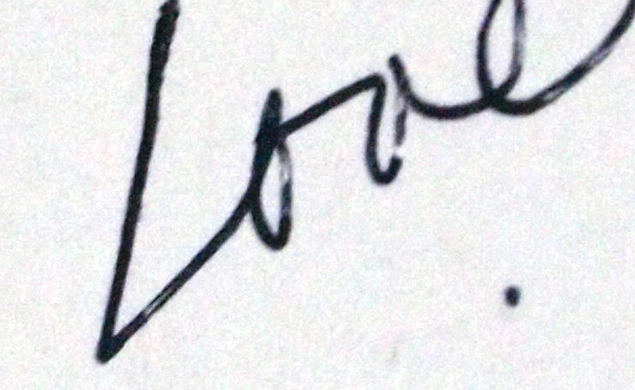 I am pretty impressed with the out of cam JPEGS here as well as the higher ISO performance for this being a small, compact grab n go type of camera. I hope to have my full review up soon, so check back daily! Also, I will be shooting the Leica X1 for the next few weeks but due to the delay with the camera (now available Feb 2010) my review will be posted after the new year sometime.