Since I have a Nikon D3s low light monster here I decided to do a silly experiment. As you all know I shoot with a Leica M9 and a 50 Noctilux F1 lens. The M9 only goes up to ISO 2500. Thats it! The D3s goes past 100,000 ISO but it is pretty bad that high so I have been shooting it in low light at ISO 12,800-16,000. At these crazy high ISO settings it is pretty damn good. Pretty amazing really.
But I wanted to see if the M9 at ISO 2500 with the Noctilux at F1 could perform as well as the Nikon D3s at ISO 16,000 with a Nikon 50 1.8 at F2.2 (the 50 1.8 is not really sharp until 2.2).When I say "perform as well" I mean, can the M9 get the shot in super low light with its limited ISO compared to the D3s? In other words, will you lose a low light shot by having an M9 and super fast lens over something like a D3s?
So to cut to the chase, the house was dark and I had a small light in the room where this was shot. I had both cameras at my side ready to go.
Keep in mind that these are OOC (out of camera) JPEGS. Both the M9 and D3s were set up to shoot B&W in camera. No RAW here, just a quick JPEG test using out of camera files.
First, here is the D3s at F2.2 and ISO 16,000. This looks FABULOUS to me, and below it is a 100% crop.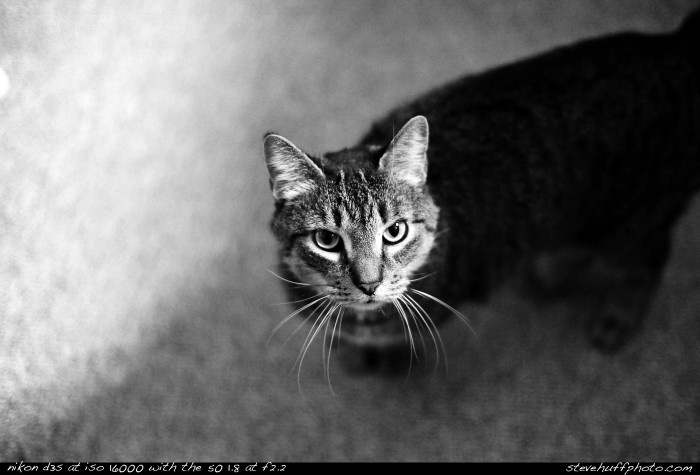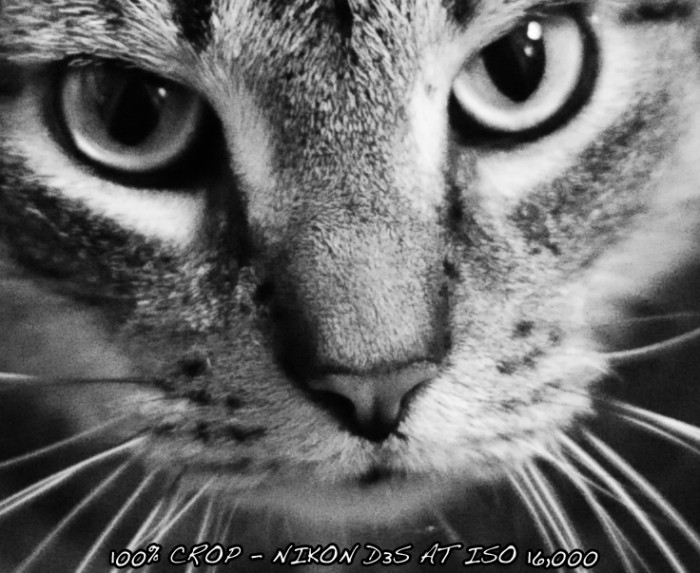 and now the M9 and Noctilux at F1 and ISO 2500…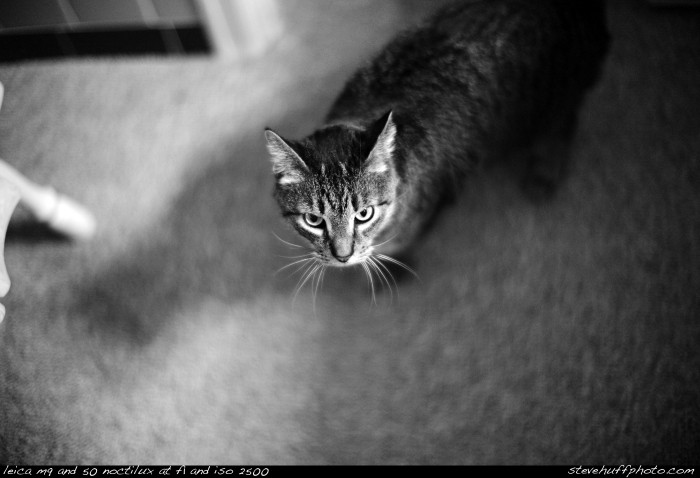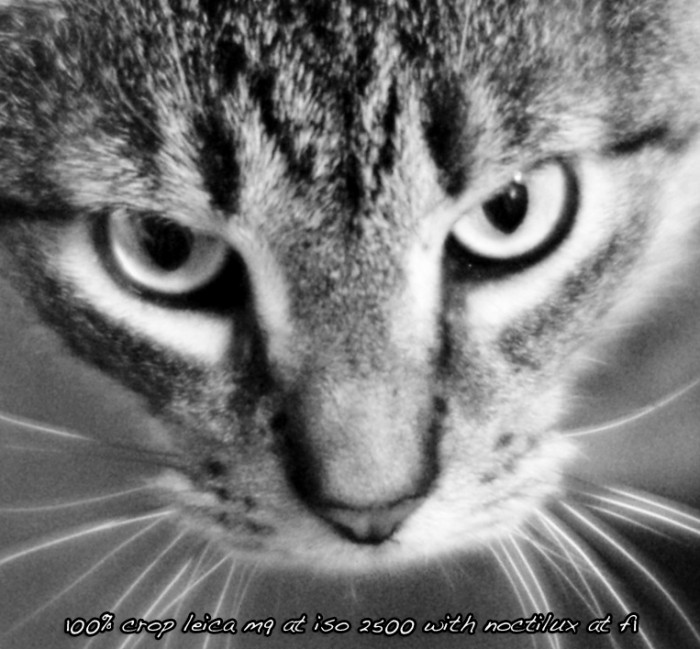 So the M9 shot is softer but that is due to the image being shot at F1. The Noctilux has lower contrast as well. I also know the D3s is a better JPEG camera than the M9, which is a mediocre JPEG camera IMO. So, I had to see what the DNG RAW file looked like.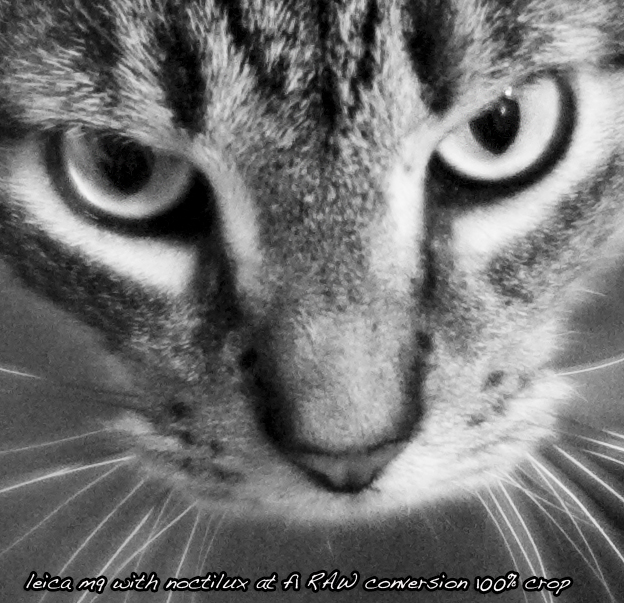 See the "glow" around the whiskers 🙂 Anyway, yes, the M9 can do low light, high ISO photography with a fast lens. Also, at these speeds on BOTH cameras it is better shooting black and white as the color on the D3s gets a little weird at high ISO. Same with the M9 with low indoor light. I think I will expiriment more with ISO 2500 B&W on my M9. It could be fun AND rewarding!
This post was not to say the M9 can beat the D3s at high ISO. There is no way in hell that is possible. The D3s is an amazing low light machine but honestly, I prefer my M9 picture quality over what I have gotten with the D3s so far. For high ISO, there is nothing quite like the D3s. Imagine if that F1 Noct was on the D3s? WOW. That would be a sight and with semi clean ISO 16,000 there would be nothing you could not shoot.
I will have a full review of the D3s soon. I am still working on the Leica X1, this D3s as well as the Canon 7D. I also have a Nikon D300s and D3000 here as well. My problem is I have so much fun shooting my M9 and even the Olympus E-P2 that I find it hard to lug the D3s out. But, its coming along 🙂
Thanks for reading this silly post, I was just curious to see how it would turn out and the M9 did better than I thought 🙂 For me, a fast lens and not so low light camera works pretty good!
PS – BTW, the Leica combo costs about $12,000 and the Nikon combo used will set you back about $5400 so the Leica is MORE Than double the cost. No doubt about it, the D3s has some bang for the buck going on. If it were only smaller. Again, for wedding or wildlife pros seeking a fast low light AF camera, the D3s is drool worthy.