Here you go! I have been having so much fun with the X1 and E-P2 I had to post an image here. Also, since I have been breaking my back shooting with the Nikon D3s as well, I threw one in from that camera as well at ISO 16,000.
BTW, HAPPY NEW YEAR!!!!

Leica X1 – F2.8 – ISO 100 – Converted to B&W in CS4 with Silver Efex Pro. The X1 lens is bitingly sharp and will bring out EVERY detail, good or bad. The X1 makes me look 10 years older 🙂 Ha ha…Seriously though, the review will be up soon. I will go over everything with the camera that I have learned in the 3 weeks I have been shooting it. AF speed, handling, menu, image quality, RAW vs JPEG, accessories and more. The review will have a TON of photos as this camera has given me a ton of keepers!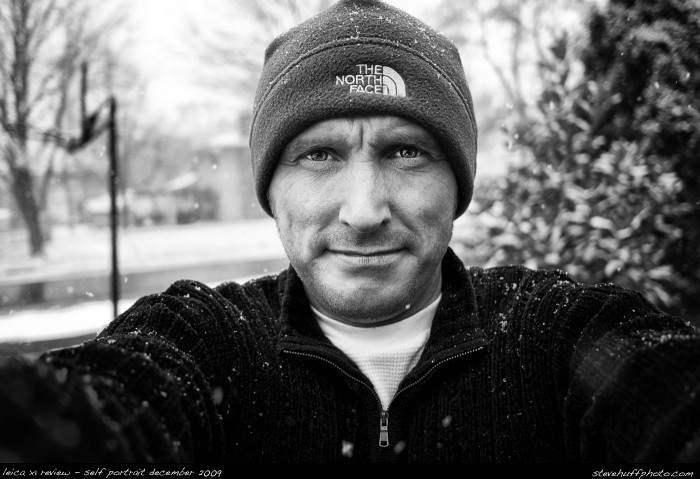 Nikon D3s – ISO 16,000 with 18-200 DX lens at 24mm and F5.6 (only Nikon lens I had on hand today) – Was at Lincoln Park Zoo today and there seemed to be about a dozen people there TOTAL. I saw this lady in the reptile house who was afraid of this Ball Python but she gathered up the courage to touch it. I did not even realize the camera was at ISO 16,000 but it worked out OK. I had a slow DX lens on the camera and while its not the best image in the world, it shows what ISO 16,000 is like in color.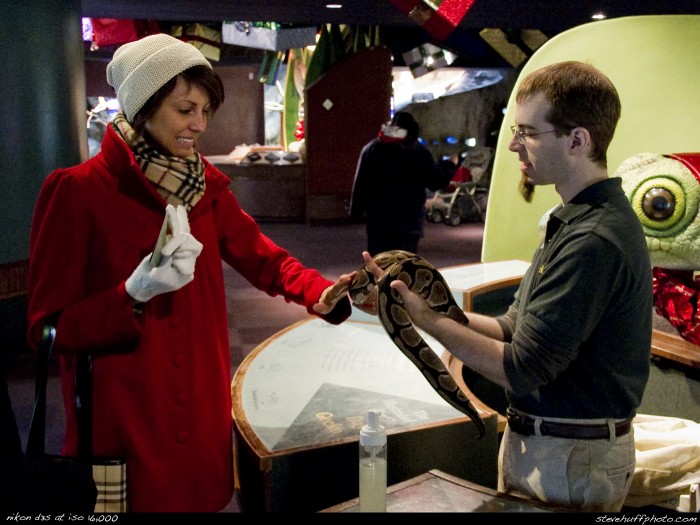 …and one from the Olympus E-P2 
– Grainy B&W Art Filter! My wife mostly shot the E-P2 today but I did get this shot and a few other street images that I really liked. The Olympus E-P2 is usually in stock at AMAZON
!