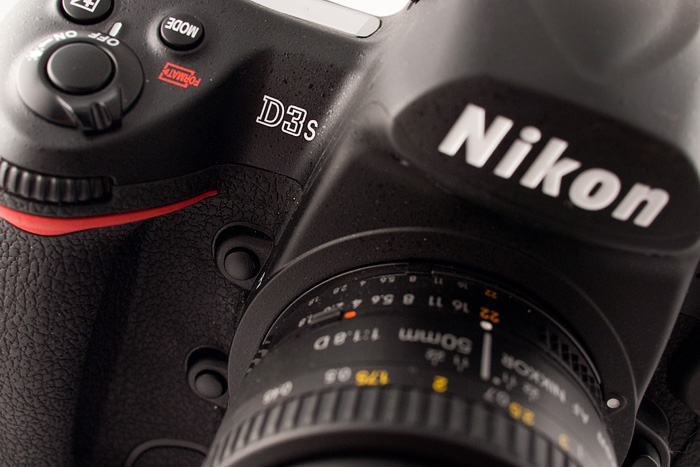 Nikon D3s Real World Photo Review – Well, here I am again and this time it is to write my review about a camera that just a few short years ago I would have sold my spleen to buy. The Nikon D3s DSLR is Nikons most ambitious camera to date. With the ability to almost see in the dark, this beast of a camera is probably the most versatile camera I have ever laid my hands on. Yes, the Nikon D3s is the current LOW LIGHT/NO LIGHT champion and if shooting in non-existent light is your thing then this camera is a must "try" and most likely "buy".
As most of you know by now, I shoot with a Leica M9 rangefinder digital camera. I love the compactness, the image quality, and shooting with high quality prime lenses that have ZERO compromises. Yes, I feel Leica makes the best glass in the world and I love the small size and hefty build of them as well. So it has been a while since I shot with a DSLR and I was not so sure I was ready for it. Being so used to my compact Leica kit, something like a Nikon D3s would be huge, cumbersome, and heavy. For me, not a formula for  the"take my camera anywhere" type of shooting that I am used to.
In any case, B&H Photo was kind enough to send me this Nikon D3s to see what I thought about it and to see if it could sway me from my Leica M9. Did it? Well, no spoilers up front. You are going to have to read on to find out! But be warned, I shot quite a bit with this camera so I have quite a few images to share. This review will be heavy on the "real world" images more than the text.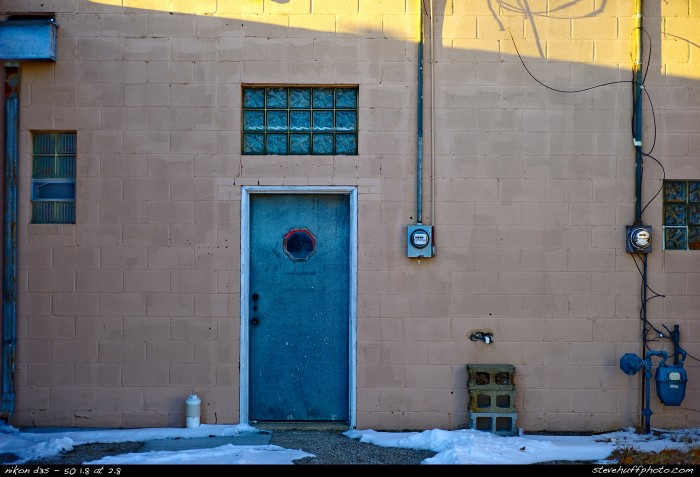 I will assume many of  you are reading my site for the first time with this review as I usually am a heavy Leica guy and mostly review Leica equipment. I have reviewed Nikon and Canon in the past but mainly just the ones that have passed through my hands…the ones that I enjoyed. I usually do not like to write about a camera unless I really enjoy it as my reviews are not like the ones you will find on the big review sites. I do not follow a cookie cutter pattern. I just write what I feel and it all comes out in real time as I type.
This review for the D3s will be more like a real world use "write up" rather than a review. I will write about and share my experience with the camera with text and photos. I will show my results with the images and there will be no charts, graphs, or boring BS that has nothing to do with photography. I mean, if you have to stress about the specs of a camera and wether it can resolve a hair on someones mole then you may be in the wrong place. 🙂 Also, there are plenty of technical sites out there to get your fix for that type of review.
I am going to concentrate on the one big deal here. Since this is basically a D3 with some improvements, I am going to focus on that one big improvement. THE HIGH ISO CAPABILITY. With the possibility of going up to 102,400 ISO, this D3s may prove to be a DSLR I can seriously dig because me like to shoot in low light with fast lenses! Ugg! I think I was a caveman in my past as I always seem to be shooting in cave like light settings 🙂
Here is a youtibe video I made showing a couple of the features that I like about the D3s. In the video I show you how fast this thing can crank out the photos as well as demo the Q mode which is Nikons take on a quieter discreet mode. BTW, my new video intro graphic was created and sent to me by a reader of the site, Justin Johns. Thanks Justin! You can check out his website HERE.
The Arrival Of The D3s
Let me start by saying DAMN! THIS THING IS HUGE!
Yep, it arrived by surprise and when I opened the box from B&H Photo I was literally blown away by the size and heft of this thing. In the past I shot with a Nikon D2hs and LOVED it. It was one of my favorite cameras ever and it's tiny 4MP resolution provided me with many beautiful 20X30 prints. The D3s is practically the same body as that D2hs but it has been a while and I seemed to have forgotten how big and heavy it really was! Next to my M9, it is HUGE. Next to the little Olympus E-P2 it looks like KING KONG. The E-P2 could be Fay Wray, ha ha.
Nikon D3s next to the Olympus E-P2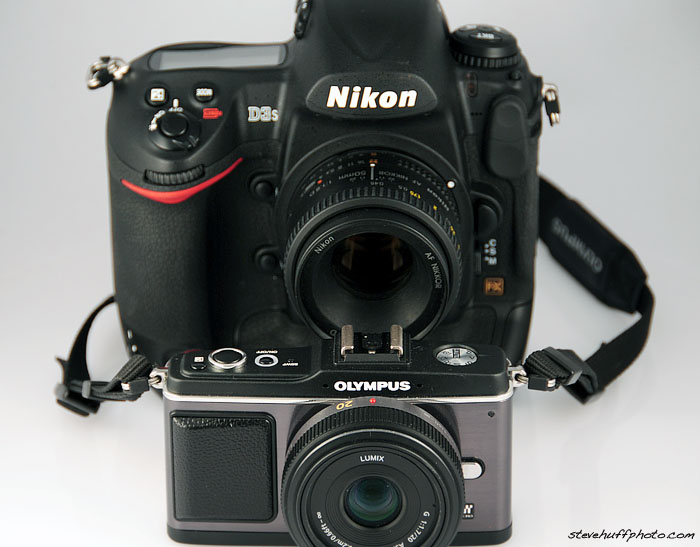 The only lens I received with it was the plastic Nikon 50 1.8 lens which is not a high quality piece of expensive Nikon glass. At about $120 it is a true bargain in the fast lens world. I was curious if I could get decent shots with this camera using cheap glass. I know some out here will be spending their life savings on this thing and may not be able to start out with  a $1500 lens. So all images (except one or two) in this write up were shot with the little 50 1.8 Nikon. 🙂 Besides, any bigger of a lens and I really would not have wanted to lug this camera around. So that is my excuse, and I am sticking to it!
I am NOT a fan of big and heavy cameras but I am a fan of cameras that perform well, especially in low light. Will the D3s win me over? Will I sell my spleen to buy one? Not likely, but let me tell you about my first impressions on day 1.
DAY 1 Impressions: A: The D3s is huge and heavy. B: The build is exceptional and literally feels like  solid brick in the hand and C: Its FAST as lightning.

The Nikon D3s Specs:
ISO Range of 200 – 12800, Expandable to ISO 102,400
This camera is the Ultimate low light, night shooting camera to date. PERIOD.
Improved D-Movie Functionality
From B&H Photo: An enhanced D-Movie mode offers HD quality (1,280 x 720 pixels) Motion-JPEG movies at 24 fps. By controlling the aperture from the widest f-stop to the smallest, the large FX-format sensor renders low-noise images with beautiful 'bokeh' from a large selection of Nikkor lenses. High-Sensitivity Movie mode allows users to shoot at up to an ISO equivalent of 102,400 in the dimmest of lighting conditions.
Large Pixel Pitched 12.1-megapixel FX-format CMOS Sensor
The D3S's image sensor has been completely redesigned from the D3. They claim its better and I agree.
Image Sensor Cleaning System
In the 3 weeks I shot with the D3s I never saw a spec of dust on the sensor or my images. Every camera should have a built in sensor clean these days.
Lateral Chromatic Aberration Reduction Ensures Edge-to-Edge Image Sharpness
The D3S corrects the color fringing like CA, PF, etc.
Picture Control
Basically this is total customization of how you want your images to look. The D3s comes with four built in presets and these can be customized as much as you want. You have control over everything.
Responsive and FAST
Start-up time is a blazing 0.12 seconds and lag is 0.04 seconds, exactly as fast as the D3, but with a buffer memory twice as large as that of the D3's. Great!
9-fps in FX-format, 11-fps in DX Crop-format
The D3S is the fastest and most responsive camera I have ever laid my hands on. Not only with AF, start up and lag but also shooting. 9FPS shooting in full frame and 11FPS in crop mode. This is great for sports, action or whenever you want to catch blazing action.
3″ 921,000-Dot LCD with 170-Degree Viewing Angle
From B&H Photo description: The D3S's large, high-resolution LCD monitor delivers bright, crisp image playback with up to 27x enlargement for immediate and precise image confirmation. Each LCD is covered with scratch resistant tempered glass and individually calibrated and fine-tuned at the factory to deliver consistent performance.
Easy-Access Live View Mode
The dedicated Live View button gives you instant access to two Live View modes: Tripod mode for accurate AF operation and Hand-held mode for more versatile shooting angles. The speed for Contrast-detect AF in Tripod mode has also been improved for enhanced practicality.
51-point Auto-Focus
The D3S's strategically positioned 51 AF points deliver faster focus, even with quick and/or erratic subject movement. The 15 cross-type sensors in the centre of the frame maintain the same outstanding performance with any AF NIKKOR lens f/5.6 or faster. Basically, this means that this camera has screaming AF, and it does indeed.
Nikon's 3D Color Matrix Metering II
The D3S improves over the D3 using highlight analysis from the Scene Recognition System and then carefully selecting from a database containing information from over 30,000 actual shooting situations.
100% Optical Viewfinder Coverage (Approx)
Durable, Tough, and weather sealed
Dual CF Memory Card Slots
Up to 4200 Exposures per Battery Charge (mine still shows full after hundreds of images)
Quiet Shutter Release Mode
SHOW ME SOME HIGH ISO!
As I previously mentioned, the big deal with the Nikon D3s it is amazing nocturnal abilities. This camera goes up to ISO 102,400! For all of you night owls, this is a camera that will deliver the goods, even in low light. WITH MINIMAL NOISE! I shot it up to ISO 16,000 because after that I found it to be to noisy and the files got flat really fast. The shot above was taken at night at ISO 5000. If I tried this with my M9..well wait, the M9 only goes up to ISO 2500! With the D3s you have crazy creative avenues open to you in regards to low light shooting. So to me, this is the main draw of the D3s and it really intrigued me.
Here are a few high ISO shots for you to check out:
D3s – ISO 16,000 – Nikon 50 1.8 at 1.8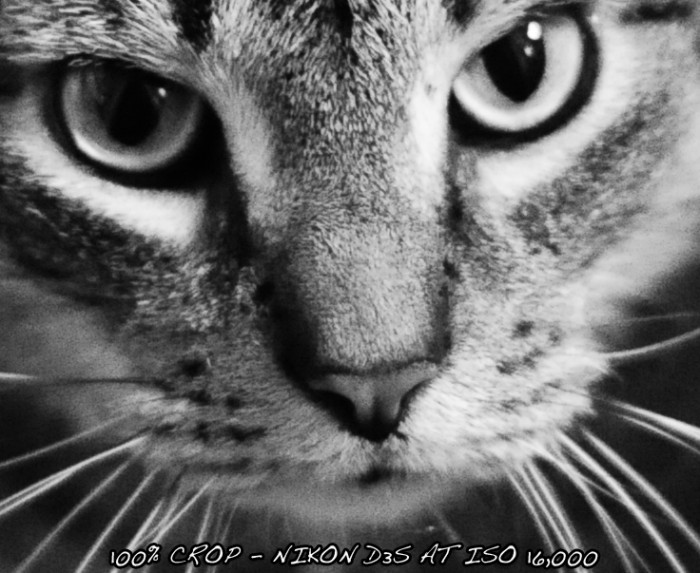 Now, to me, this is pretty freaking amazing. This is ISO 16,000!!! Plus, wide open on a cheap lens at 1.8. If I had a high quality fast prime this shot would not only have been virtually noise free but also sharper. This was taken in my house, late at night with only one lamp on in this room. No problem for the D3s. BUT how about the M9? I did take a shot at the same time with my M9 at ISO 2500 with a 50 Noctilux at F1: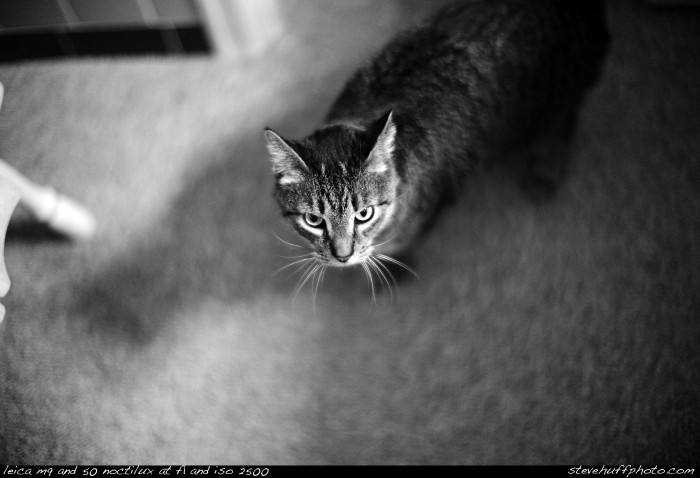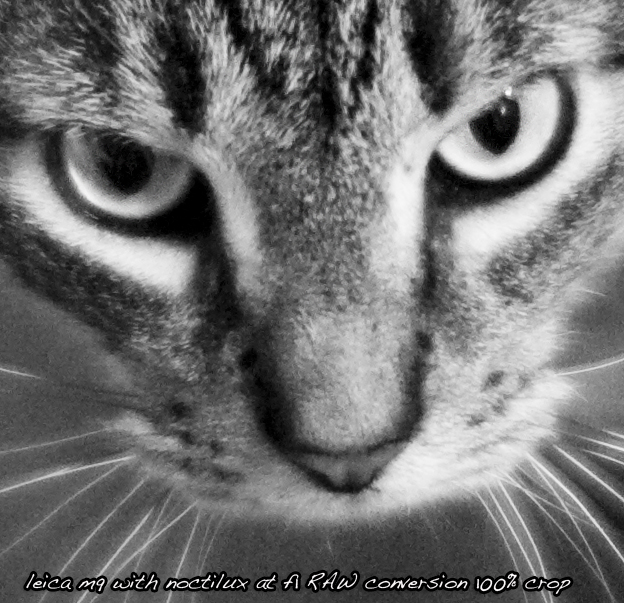 So you can see more noise with the M9 at ISO 2500 than the D3s at ISO 16,000. Nikon has really delivered in this area. Wow. I must confess though, I prefer the rendering of the M9 shot here BUT it is an exotic lens vs a cheapie 🙂 I did this just to see if I could get the shot with the Leica at maxed out ISO and at F1. Here are a few more D3s high ISO shots…
D3s – ISO 8000 – F2.5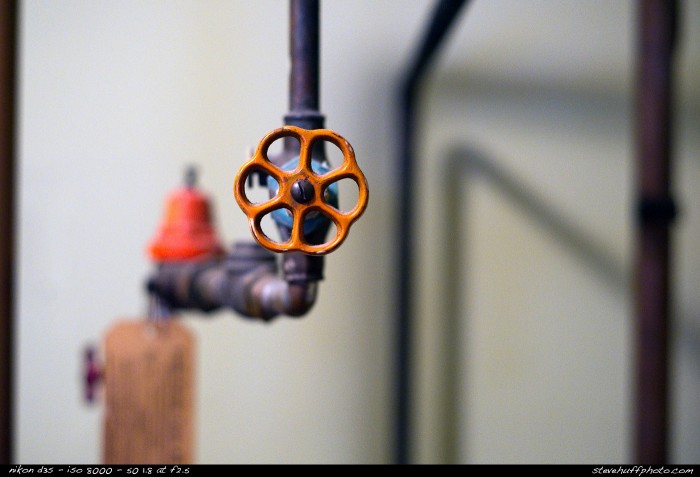 and a 100% crop from ISO 8000…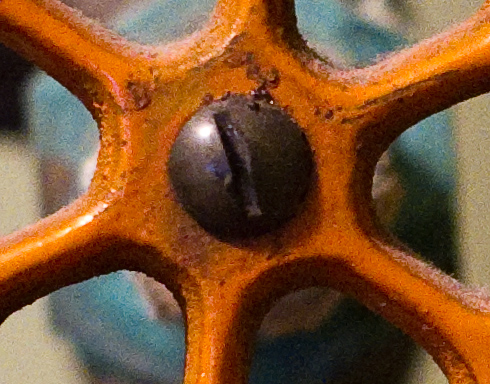 Again, the 100% crop…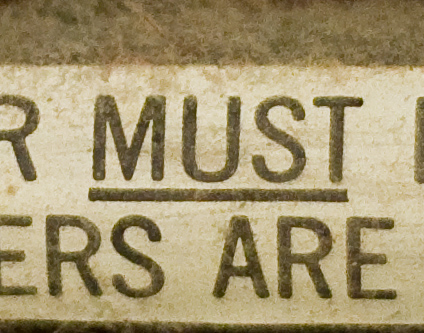 What about ISO 102,400? Is it usable?
I did do a few test shots at the max ISO of 102,400 but honestly I do not  think I would use it at this ISO. Here is a small image followed by a crop…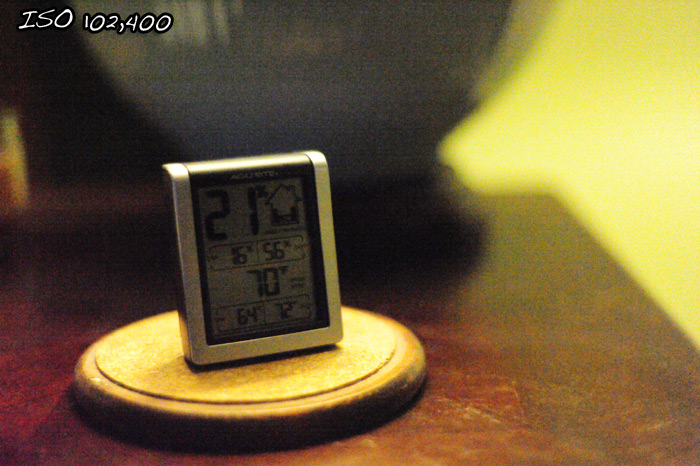 Sure the 700 pixel wide version looks OK, and really for such a high ISO I am surprised it looks that good. But check out the 100% crop below:
While the 100% crop doesn't look so hot I guess it is nice to at least have this option. Who knows, maybe someone will use it and get a great image from it.
How much does this thing weigh? Is it really THAT big?
I wanted to know the answer to that so I pulled out my trusty HUFF-O-MATIC scale and weighed the D3s. WOWZERS! It holds the record for the heaviest camera I have ever tested. This is with the battery and the plastic lightweight 50 attached which is about the lightest lens Nikon makes. 3 lbs 6.8 oz. But lets face it, those who are buying this camera already know about the size and weight as that is one of the features of the D3s.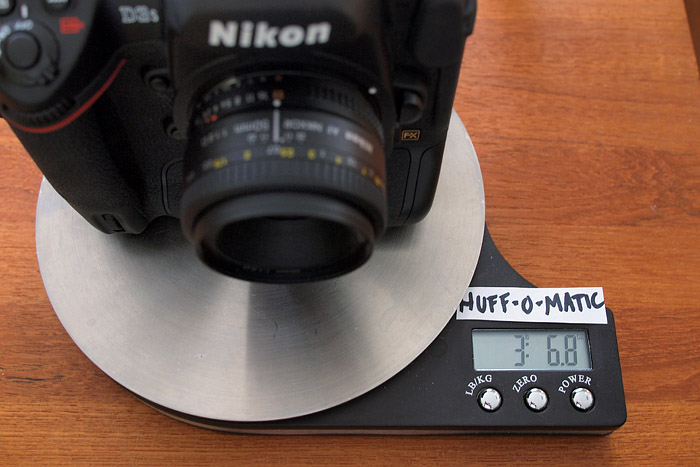 and now without the lens. Yep, still heavy!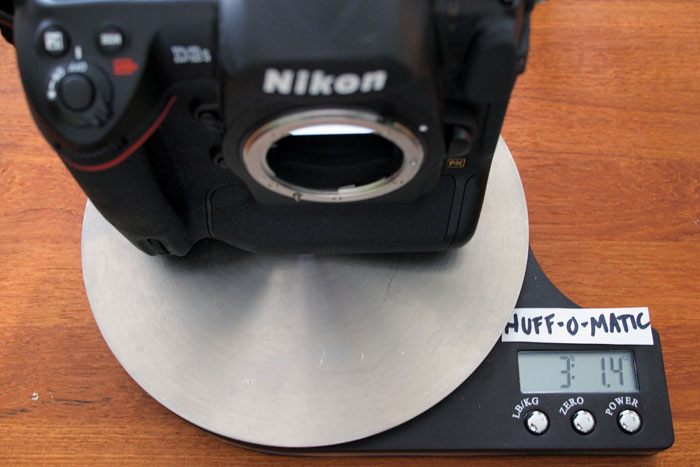 WHAT ABOUT LOW ISO?
As you can see, the Nikon D3s is a serious HIGH ISO machine with results at high ISO that you can not get ANYWHERE else (at the time of this writing). But what about low ISO? The D3s has a base ISO of 200 and yes, it does well with low ISO's as well 🙂 Click any image for a larger version.
D3s – ISO 200 – 50 1.8 t 2.5 – Click image for larger view and to see 100% crop.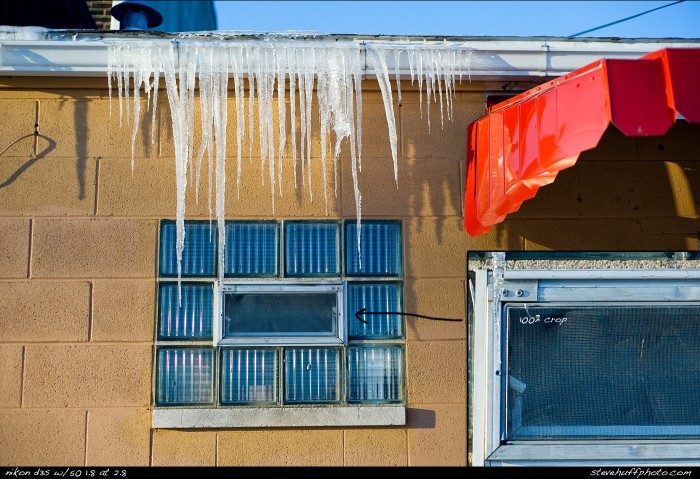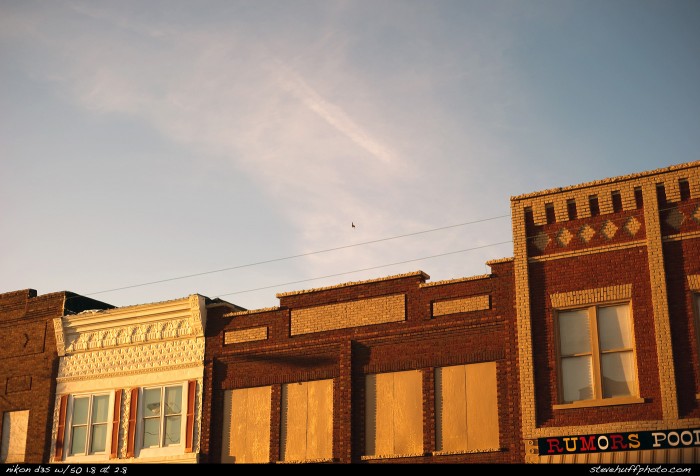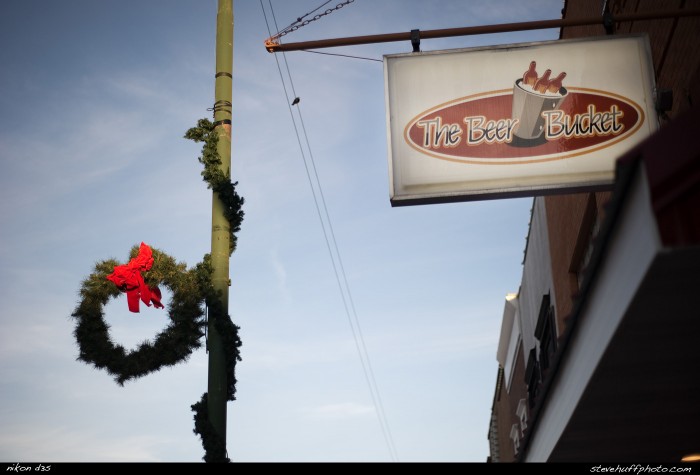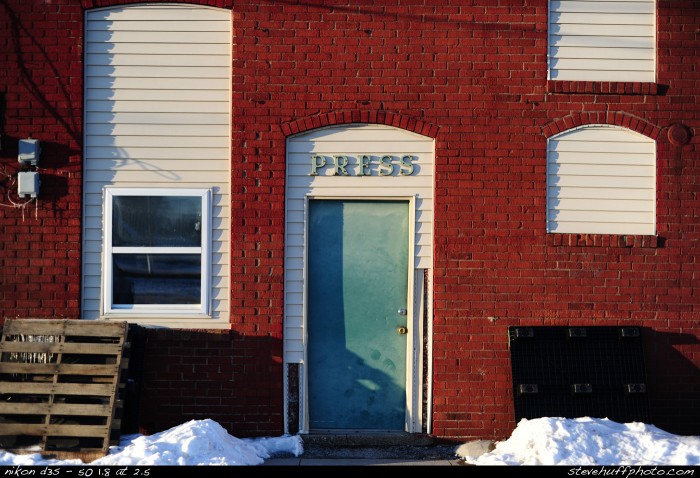 IS THIS THE PERFECT "HOLY GRAIL" CAMERA?
Hmmm. Holy Grail Camera. I do not know of any other camera right now that can give you this kind of high ISO performance so the D3s is truly the new KING in this area. During my three weeks with this camera I loved it for its super fast operation and lightning response. I hated it for its weight and size. This camera for me is much to big and heavy but I am not a sports or action shooter and my Leica suits my needs just fine.
If Nikon could get this sensor into a small body it would be amazing. I am not talking a DSLR, but rather a small body like an Olympus E-P1/2 or the Panasonic GF1. Even M9 size! If this was done then I would buy it, but not to replace my M9 as I strongly feel the M9 sensor is one of the best FF sensors in ANY camera to date. No, not for high ISO but for everything else that matters. Color, depth, detail…the M9 just gives me the most gorgeous files I have ever seen from any digital plus I enjoy the rangefinder way of shooting. I'm a simple, manual focus kind of guy.
The sensor in the D3s is also super but it does not give me the same look that I can get from my M9 and many times the images appear somewhat "flat". This may be due to the cheap lens but I saw this same thing with the 18-200DX lens attached (yes, still considered sort of a cheap lens by many and crops the D3s resolution down) As it stands I see this as a camera for pros who really need the speed, the build, and the heft who want great image quality and astounding low light capabilities. I can not see why a hobbyist would want to lug this puppy around on a daily basis. I know I wouldn't and it is one of the reasons I switched from a D700 back to Leica over a year ago.
With that said, the D3s is certainly the most capable 35mm format camera I have ever shot with. It's incredible actually, and if I were a pro I would but two of them. At $5200 a pop they are not cheap but with its capabilities it is worth the cash if a large camera does not bother you and you need the speed and high ISO capability. I applaud Nikon for creating this capable beast. With a great lens like the Nikon 14-24, 24-70 or 105 F2 I bet this camera would rock…the foundation that is, if you dropped it! Ha ha. Seriously, with a great lens the D3s would shine.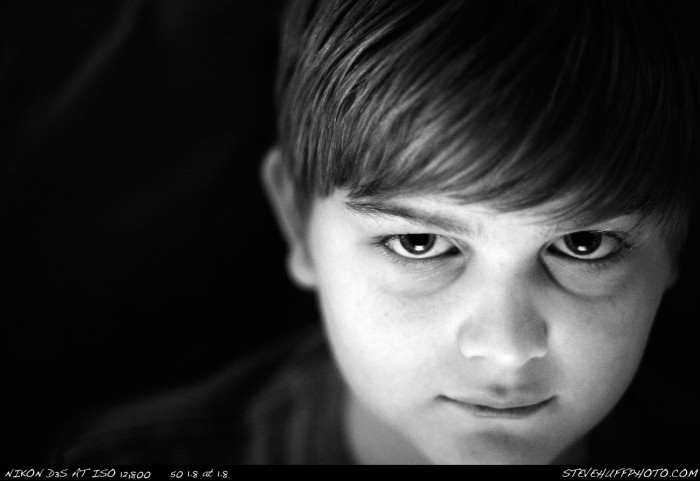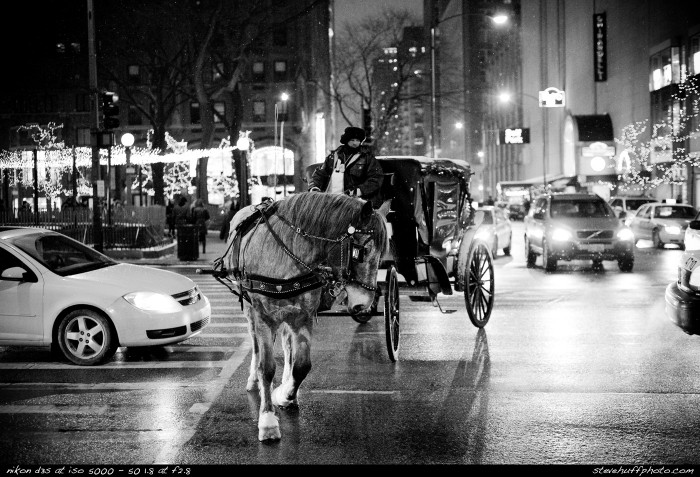 PROS AND CONS
PRO's:
Extremely durable build and could easily stand up to daily pro abuse.
Weather sealed for harsh conditions.
Battery life is absolutely incredible. Nikon says 4200 shots per charge and while I only shot 800 or so, I believe their claim.
Full Frame FX sensor!
The amazing high ISO performance is the best there is to date.
Super fast AF that can literally lock on in VERY low light conditions. The AF never failed me.
Great ergonomics/button placement. Typical Nikon.
HD Movie Mode!
Big fat pixels help give great results. 12MP is also plenty for just about anything.
Love the dual CF card slots.
New Q mode for quieter shutter release.
Built in sensor cleaning.
Of course, superb image quality!
CONS:
Big and Heavy, but some of you will like it for this reason.
Color can get a bit odd at ISO 8000 and up.
Movie Mode seems awkward to use compared to Canon or the M4/3 cameras. Also only 720P and not 1080 like Canons 7D.
A bit pricey at over $5,000.
My final words on the camera, movie mode, and DID I BUY ONE?
So thats about it. There are a couple of things I did not talk about like the HD movie mode. I gave it a try but honestly feel that Nikon has some work to do in this area. It seemed awkward, clunky and not really intuitive. I feel a camera like this should have a dedicated movie button (like the Panasonic GF1) where you just press it and it starts recording your movie. Hassle free. I prefer Canons implementation of video in the 7D better than I do in the D3s but I ended up liking the D3s image quality over the 7D. Go figure.
But besides that the Nikon D3s is a world class photographic tool that can be used for just about ANY photo situation. Action, sports, wildlife, portraits, studio, low light, no light, and everything in between. It is the camera with everything in it, even the kitchen sink! If the weight and size does not bother you then this may be the camera of your dreams. Really, in my 3 weeks with it I found ZERO flaws, ZERO faults, and it was as reliable as any camera can be. Bottom line? It's a tank. If you are a Nikon person and own Nikon lenses and have been wanting to upgrade, I see the D3s as the mack daddy of the Nikon world. The D3x can not even come close to the low light abilities of the S. This would be an amazing tool for a Yosemite trip with a few long fast primes. Imagine shooting at dusk with no noise.
Personally, I find my Leica M9 gives me better IQ (in the normal ISO range of 160-1250) but maybe it is due to the fact I use those great Leica lenses on it. Who knows? But, when its all said and done this D3s was sent back to B&H without a purchase. There is just no way in hell I would take this camera with me everywhere like I do my M9. It would always stay in the house until I had a job to shoot. My M9 serves double duty as I use it every day and for my paid work. It always comes through for me and its MUCH lighter than the D3s.
Like I said, a few years ago I would have sold anything to get my hands on a camera like this but for me its just too large. The M9 stays! To those who want the ULTIMATE DSLR, I can say without a doubt that the D3s is at the top of the heap for speed, responsiveness and high ISO. If I were a DSLR guy, I would probably have to buy one of these.
If you are wanting to buy a Nikon D3s for yourself I can highly recommend B&H Photo. They are taking pre-orders now and if you order one it should arrive within a week or two. You can check out their Nikon D3s page HERE. They are sending out D3s's weekly to those who ordered them so when you pre-order you get your place in line. Basically B&H is the largest and best Photographic store ever in my opinion and i have been doing business with them for 14 years. Awesome company, great service, no hassle return policy. A+ to B&H.
BRAVO to Nikon on the D3s. Amazing high ISO capabilities push this one over the top!
HELP SUPPORT THIS SITE TO KEEP IT GOING AND GROWING!
Remember, anytime you follow my links here and buy from B&H or AMAZON,
this helps to keep my site going. If it was not for these links, there would be no way to fund this site, so I thank you in advance if you visit these links. I thank you more if you make a purchase as I get a tiny credit for ANY purchases made as a result of following my links! This helps me tremendously, especially since I just had to upgrade to a super fast dedicated server just to keep up with the traffic this site is starting to get.
If you enjoyed this review, feel free to leave a comment at the bottom of this page and also be sure to join me on twitter or facebook! Also, you can subscribe to my feed at the upper right of any page and be notified of when new reviews are posted! You can also subscribe via E-mail (also to the right). Thanks so much for reading!
Here are a few more of my images from the Nikon D3s!  Enjoy!