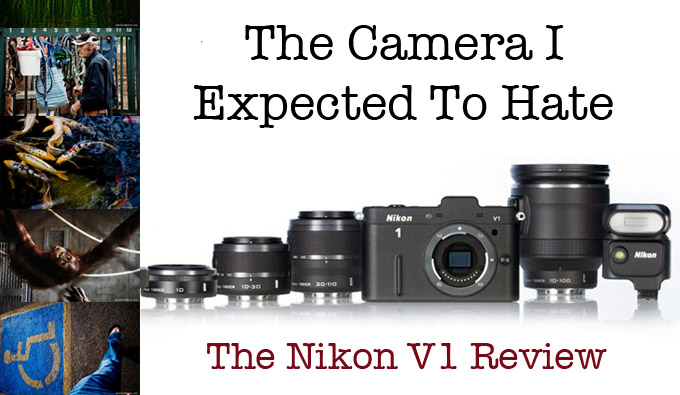 The Nikon V1 Camera Review – The camera I expected to hate!
By Steve Huff
UPDATE: See my new Nikon V2 review and the new Nikon 32 1.2 Lens Review! 
Yes, this is a review of the new Nikon 1 series camera, the Nikon V1  – and yes it was a camera I expected to hate (due to the sensor)! But before I get into this V1 camera, let me talk a little about my Nikon history because I have always been a fan of Nikon, just as I am a fan of cameras and photography in general. To those who know me, they know it is my passion and how this website came about 3 years ago. Enjoy!
The Earlier Nikon Digital SLR's
I've almost had them all – D100, D200, D300 but I will talk a little about the D2h and D700, my two favorite Nikon DSLR's ever. I have not shot a Nikon camera in a couple of years (update: I gave the D800 a quick spin and loved the quality, WOW.) but I used to be a huge Nikon fan. The Nikon D700, IMO, was a game changer in the world of DSLR's and when I owned one with some Ziess glass I was in heaven for quite a while with nice files and high ISO capabilities that were the same as the D3. Nikons claim to fame for me was always the rich Nikon "look", or colors which I have always enjoyed for the most part. Each camera manufacturer seems to have created a "look" for themselves and their cameras. Nikon has the rich deep color that is reminiscent of film in many ways, Canon goes for a more subdued pastel like color and even Leica has their own signature color style which is also very rich with great reds and blues.
[ad#Adsense Blog Sq Embed Image]
As for the D700, I loved that camera but in reality I realized that I was leaving it at home most of the time and never wanted to take it places. Why? Because I was the opposite of those people who are  "wanting to look like a pro". Me, I would rather be invisible when shooting, not have a huge monster camera and lens blazing in my subjects face. For pro work it is fine of course but for personal shooting, which is mainly what I was doing back then, it was just too big for my tastes.
Before the D700 I was a HUGE fan of the D2h and D2hs for their small file sizes, and great quality FAT pixels. I shot some amazing images with my D2hs but again, that camera with a 70-200 f/2.8 attached was a BEAST and it killed my arm and back on many days. When I switched to the D700, the D2hs was sold and I enjoyed the lighter camera for a while but even the D700, for me, was too large for a take anywhere and shoot camera…for ME. So eventually I went on a search for small and light.
The next two shots were taken with a Nikon D2h in 2003/2005
I printed this shot at 20X30 and it looked amazing, even with only 4MP. I think it is due to the FAT pixels..putting only 4 MP on an APS-C sensor. Less is sometimes more.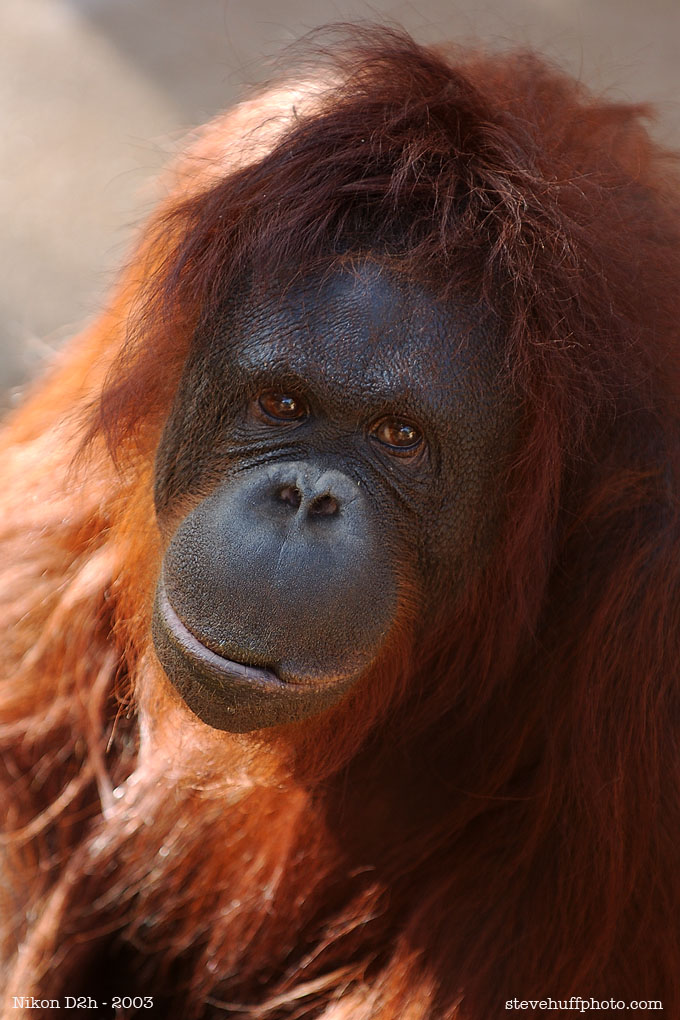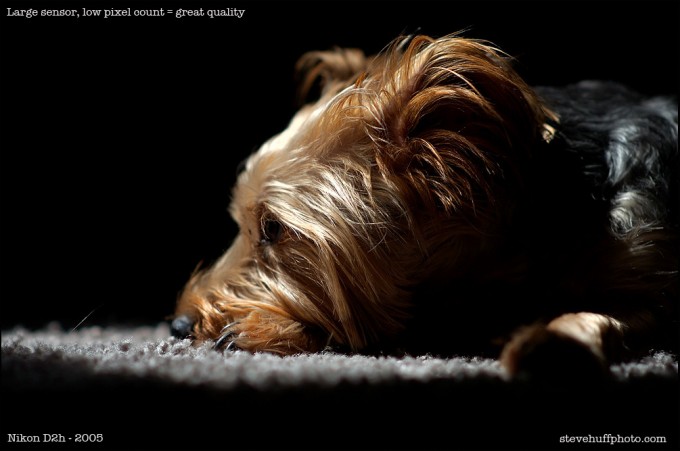 –
So due to only size and weight, the D700 was sold and there were times that I missed it for it's full frame qualities and great high ISO performance even though I eventually replaced it for a Leica M9, which IMO, still provides amazing quality files and has the best available lenses in the world. The problem with the M9 for me these days is it is such a damn expensive piece of gear and frustrations build up at times. My focus has went out a couple of times on me in the last year, meaning my lenses do not focus correctly and when that happens it is a pain. Add to that some random issues that popped up for many people like the cracked sensor glass and the SD card issue and I started to get nervous about shooting with my M9! Let's face it, $7000-$8000 is a huge chunk of change for a camera BODY. I love the M9, and still feel it is an amazing camera that provides the best IQ of any digital to date, but it is a bit finicky at times and with me not having the luxury of a huge bank account (no, I do not get rich from this site)  I tend to leave it at home these days as I search for a small mirrorless solution as my take everywhere personal camera.
In the world of smaller mirror-less cams there are PLENTY of choices. I mean, A TON of choices. It makes it hard even for ME to choose and I get to play with them all! Plus in 2012 there are many more coming – for example, look for new things from Leica, Canon, Fuji and others. But for those looking for a camera such as the Nikon V1 NOW, read on and I will tell you of my experience with this new camera system.
ENTER THE NIKON 1 SYSTEM
Nikon V1 – 10mm pancake  – click image for larger view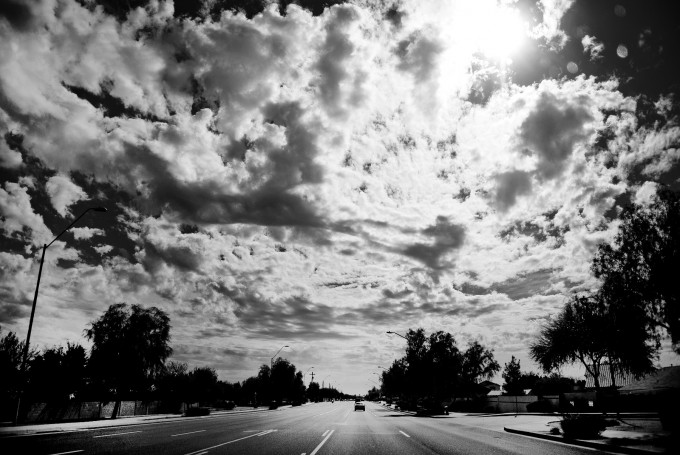 –

Nikon has been working on this "1" system for about 4 years now and the 1st question I asked myself when it was announced is "Really? Four years and they come up with THIS? A Small sensor toy?". The early photos of the 1 system did indeed make the cameras look toy like so I told myself I would most likely not even review it which was silly really..I admit. For this new system launch Nikon released two cameras. The more consumer oriented "J1" and the so called enthusiasts "V1". This review will focus on the V1 because most of you who read this site fall into the enthusiast camp.
So…all the buzz is about the smaller sensor in the 1 series cameras. If I can back up a bit… when I reviewed the Pentax Q a while ago I realized that even with the teeny sensor in it, I was getting some damn good image quality for the kind of sensor that was in that camera, so I knew technology was getting better because it was about as good as I have seen in a camera of that type. I enjoyed the Q and thought it was unique and fun but I think it may be a super niche product and one that will not sell very well or in any kind of huge numbers. It's too expensive for what it is, and the Q's lenses ARE Toy like. So much so that they even call them "Toy Lenses". Still, the Q is cool but not something I would buy for myself due to the price tag. I do give Pentax a thumbs up for creating something different and unique though. The one thing it showed me is that small sensors today can be good.
The V1 with the 10-30 – right out of the camera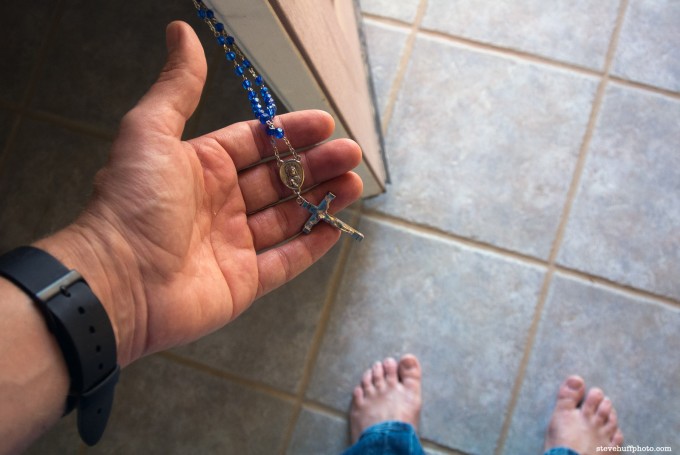 When the Nikon 1 came out I knew that if I looked at or reviewed anything it would be the V1, which is the model Nikon themselves say are for the "enthusiast". I found that odd because in one interview I saw with a Nikon rep he said the 1 system is for those who want a step up from a point and shoot but do not want or need a DSLR. Then another interview said the V1 is for the enthusiast. The J1 and V1 share the same sensor and same quality but the V1 has a better build, EVF and no built in flash. So is Nikon telling us that the IQ from these cameras would make even a die hard enthusiast happy? Hmmm, thats what I was curious about so I agreed to review the V1. Why not right?
The Nikon V1 with 10-100 Zoom at ISO 400 – images from the V1 are typically sharp but a bit grainy when viewed at full size – Click image for larger
UPDATE June 2012: I have been photographing these Orangutans for about 12 years and on June 24th 2012 the one pictured here "Dutchess" was put down due to her having a rare form of cancer. Was a sad day for me as I have visited her well over 200 times. This is the last shot of her that I took and you can tell that even at the time of this shot that she was not feeling well.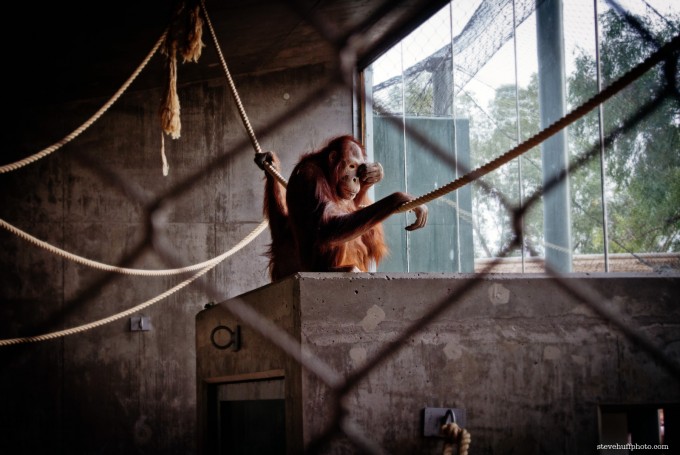 The Features of the Nikon V1
Here is what Nikon says about the V1 and what it can do…sounds impressive right?
Witness the Revolutionary New Nikon 1 System: A Breakthrough in Technology and Design – Capture every moment of an incredible life with an evolution in imaging technology. At the heart of Nikon 1 is EXPEED 3, a culmination of years of dedication to advancing digital imaging technologies. Witness outstanding system performance, high-speed dual image processors, state-of-the-art focal-plane phase detection auto focus and the fastest data transfer rates. Superior image quality, tone reproduction, advanced noise reduction, and an ability to create a whole new type of image are all delivered with the new Nikon 1
Focus Without Hesitation: Advanced Hybrid AF Puts the Focus in Your Control
Your camera goes with you everywhere since moments worth sharing can happen at any instant. Nikon 1 V1 delivers an amazing 10fps speed in autofocus and 60fps in manual mode, courtesy of a unique combination of contrast and focal plane phase detect autofocus. Don't let your creativity be hindered by slow focus speed. Even fast moving action is rendered with amazing clarity – thanks to an incredible 73 point AF array continuously working to ensure everything is sharp and clear
Professional Touches Extend Versatility: Features to Bring Photography into the Incredible
Work like a pro with an advanced set of features that extend creativity. Flexibility comes to your workflow allowing composition with either the electronic viewfinder or Live View LCD panel during both still and movie work. Extend your lighting range by tapping the multi-accessory port and connect the small, yet powerful Speedlight unit. Capture perfect audio for all movie needs by plugging a high quality microphone (support for Nikon's ME-1 Microphone with the AS-N1000 adapter) into that same port. There's even an optional GPS unit that records longitude, latitude and altitude
For Moments that Deserve More: Motion Snapshot Brings the Memory to Life (I have to say, I wish they did left this out. Pure gimmick)
Certain glances at life just cannot be retold with merely a single photograph. Bring to life those incredible times by injecting personal interpretation through Motion Snapshot. In a single click, your vision takes flight – bringing moment, motion and sound to light. Reveal the essence that can't be captured in a single photo
Extend Your Creativity: Simultaneously Capture Full HD (1080p) Movies and Photos
Work with both high resolution photos and Full HD (1080p) movies to bring even more creative expression to life. Start recording at the touch of a button. See a moment you'd like as a still? Hit the shutter. Autofocus keeps everything in focus, even when working double duty to record movies and photograph stills. Elevate production with the addition of varied frame rates in 30/60/400/1200fps. Don't be hindered by working in just one mode – Nikon 1 flexibility gives you more
Only the Best Photo Returned: Let the Camera Do the Work with Smart Photo Selector
Always producing, always looking to frame a shot to perfection? What if there was a camera that could do the thinking for you – working to return a photo with optimal exposure, subjects in frame, clarity and focus, even eyes open? For times when you prefer to just be in the moment and let the camera do the work, move the dial to Smart Photo Selector. You find the best moment. Nikon 1 V1 will capture it
1 NIKKOR Lenses: Compact, Light, High Performance Optics
Express quality with the revolutionary new 1 NIKKOR lens system. Don't be limited by a single fixed focal length (attack on the Fuji X100?) -select from a growing selection of lenses that incorporate Nikon's vibration reduction (VR II) technology for blur-free images. Aspherical elements keep lenses compact while maintaining high quality. A silent stepping motor (STM) keeps autofocusing quiet – especially during movie recording. Compactness brings portability, whether using the optional single focal length 10mm or the 30-110mm telephoto. 1 NIKKOR extends a heritage of precision symbolized by durability, superior image quality and optical excellence
Low Light
An advanced innovative Nikon super high-speed AF CMOS imaging sensor, wide ISO range and option to select the best lens for the job gives you even more control over the light. Produce amazing photos in all those moody environments. Tap only ambient light and open the most artistic doors to photographing on the dance floor, nabbing dramatic sunsets and candlelit moments. For extended range, attach the 1 Nikon Speedlight for fill flash and more
Electronic Viewfinder
Accustomed to framing your images with a viewfinder? The Nikon 1 gives photographers the option to work with flexibility – using either the 1,440,000 dot (SVGA) electronic viewfinder (EVF) or the large high resolution, 921,000 dot (VGA) LCD panel with 100 percent view. See every one of your creations rendered clearly on the high contrast viewfinder. The camera's eye sensor allows you to toggle between EVF and LCD views by placing your eye to the EVF. A Diopter adjustment is available, as well
EXPEED 3 Processor
EXPEED 3 marks the culmination of years of dedication to advancing digital imaging technologies. At the heart of Nikon 1 is EXPEED 3, with dual image processors, to deliver outstanding system performance, high-speed processing, state-of-the-art phase detection autofocus and the fastest data transfer rates. Witness outstanding image quality, tone reproduction and advanced autofocus at unprecedented speeds
Intuitive Simplicity
Easy access to advanced features are hallmarks of the Nikon 1 system. From the ultra intuitive command and features buttons, easy-to-understand menu and fast lens mount, you'll be expressing thoughts and visions as never before. Even advanced features for photos and movies can be created with one-click ease
LCD Monitor
Check your creativity: frame and share your creations on the large and sharp 3.0 inch LCD color display. An ultra-high resolution VGA screen featuring 921,000 dots shows every detail to precision. An anti-glare coating renders easy viewing of photos and HD movies, even outdoors
Speedlight
For instances where available light is not enough to properly illuminate subjects, or when special lighting effects are desired, use the optional Nikon 1 SB-N5 Speedlight. Plug this compact device into the i-TTL hot shoe. Angle the device up, down, left or right and bounce light to your creative advantage. No batteries are required to power this device
Skin tones? Nikon V1 and 10 2.8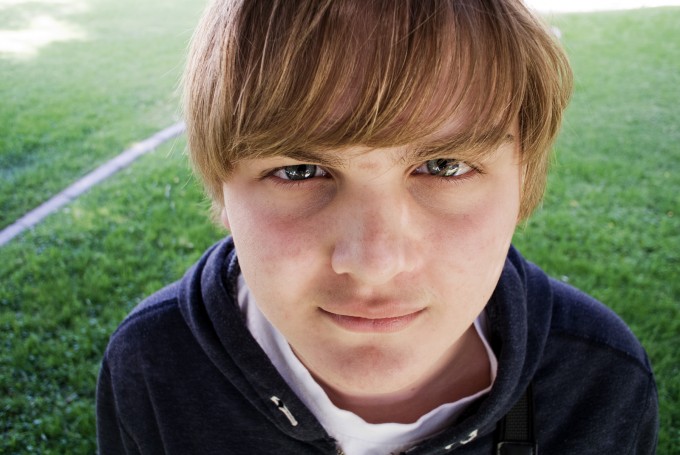 –
NIkon 10-100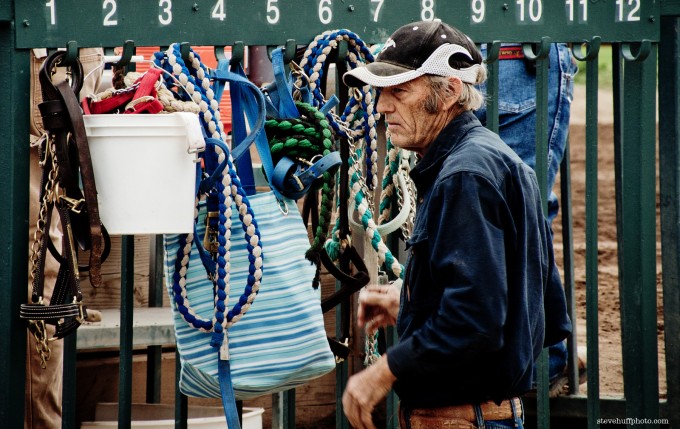 My interest was growing…and then it arrived
When I started to read more about the V1 I looked at the specs and features and saw that Nikon was boasting the "Fastest Auto Focus in the World" and one NIkon rep said it put the D3s to shame in the AF department. BOLD CLAIMS!  Olympus was also boasting the fastest AF a few months ago in regards to the E-P3. The more I read about the Nikon V1 the more I was intrigued. I started to get really curious about it when I saw some reviewers who never even shot with it calling it a "turd" or saying that this new CX format is "A dead format". Interesting…it seemed like 80% of the enthusiast world was judging it just due to the sensor size. With other cameras that come in for less money having larger sensors, many failed to see the point of the 1 series. What could it possibly offer that wasn't already being provided by a NEX-5n or Panasonic G3?
When the camera arrived to me from B&H Photo along with the lenses I was impressed as soon as my hands hit the camera body. It was solid. It was sleek. It was black and it felt like a fully finished product (unlike some cameras that are rushed out). After charging the battery, which is the same chunky battery used by the Nikon D7000 I went out to shoot with camera and I had the 10 2.8, 10-30 zoom, and the 10-100 zoom. After just a few shots and hearing the quiet mechanical shutter and how solid the camera felt…I was PRAYING the image quality would be good because the camera was performing amazingly well in every other area. The auto focus blazed and it was 100% accurate. The LCD was nice and crisp and colorful. The EVF was really good and the AF tracking was even pretty damn incredible. If the IQ held up and was good enough for my personal daily shooting and it could beat my Olympus E-P3, I knew right then I would buy one because I never experienced AF performance and accuracy like this nor have I enjoyed metering this good!
The fact is that the V1 is a JOY to shoot! Worry free. Never failing. Even the NEX-7 misses the AF occasionally. This Nikon V1 NEVER MISSED ONE SHOT as far as AF goes. So it all came down to the IQ (image quality). If  that fell apart and the resulting images looked like a cheap P&S (point and shoot) then forget it.
Here are a few shots with a variety of lenses. All shot RAW and processed using Adobe Camera Raw. The Nikon V1…
The V1 with the 10mm at f/2.8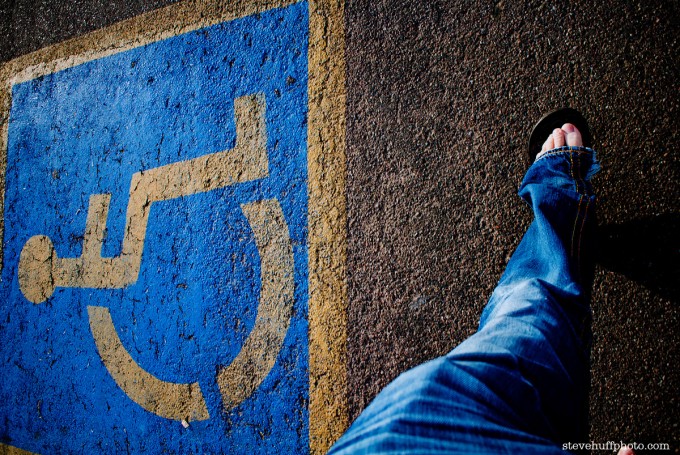 –
The $750 10-100 lens that is optimized for video fully zoomed to 100 and at f/5.6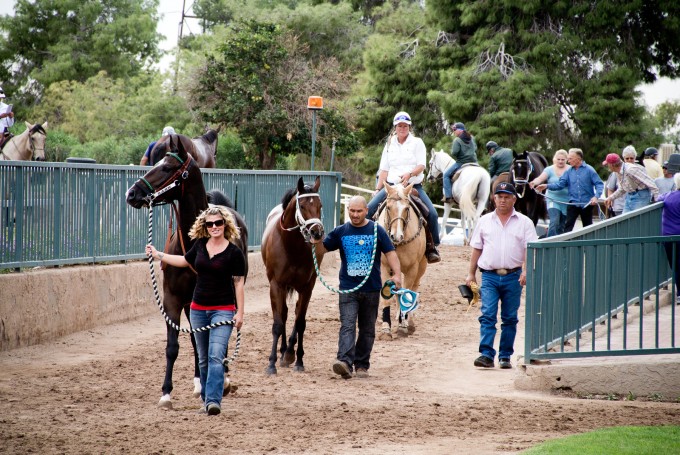 –
The 10-100 again at f/5.6 and 100mm (270mm equivalent)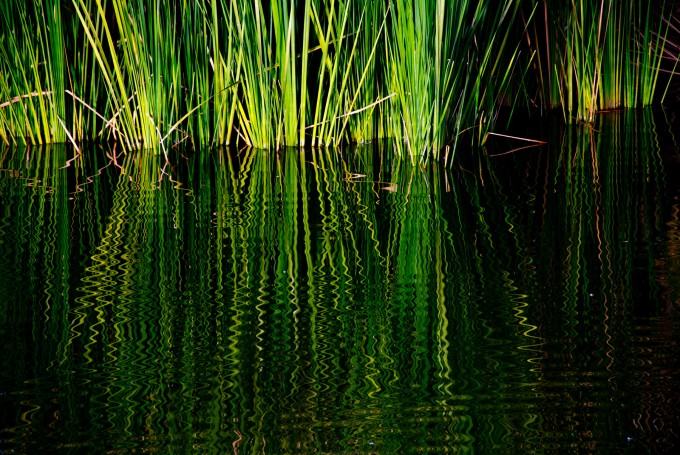 –
My video overview of the camera and menus system
My 1st thoughts on the image quality of the Nikon V1 – Excellent but not perfect, and I will tell you why.
My first thoughts of the image quality were very good. I found  that the V1 gave me great quality images in good light and when the light fell a bit I would get a little noise added to my pic, but it wasn't  bad noise, nor was it excessive. The one thing I found that I could not escape from is that it is not easy to get shallow depth of field with this camera/sensor/lens combo, in fact it is not really possible with the current lens lineup to get anywhere near what you would get on a NEX or even Micro 4/3 camera with a fast lens. The lenses for the "1" are all pretty wide in focal length due  to the 2.7 crop factor. The sensor is small so the lenses have to be wider to give us the equivalent and more normal focal lengths. The lenses are also "slow" with apertures starting at 4.5 for the 100-300 zoom. Nikon did not release any kind of fast primes like a 20 1.4 or 1.7. So the Nikon 1 system is not a camera you can pick up, shoot a portrait with and totally throw out the background focus. You can get some shallow depth of field if you get close with the 10 at 2.8, or if you zoom out to 110 with the 30-100 and open it up to 5.6 but this Nikon system is NOT for those who like shallow depth of field or creamy soft looks.If you thought micro 4/3 was at fault for this reason, you will think this even more so with the Nikon 1 system.
The V1 and J1 is more for  those who like their images sharp, in focus, and with nice deep color. The camera puts out some great quality NO QUESTION but you will not get super smooth noise free images. Even at ISO 100, looking at the full size files you will see some noise, but nothing bad or overbearing. The IQ of the V1 is good. It's really good. It is excellent, especially for what it is, and after using both side by side extensively I much prefer the IQ from the V1 than the Fuji X10, which has an even smaller sensor and no EVF.
No real complaints from me at all on the V1 until you get to low light because that is where the weakness comes in of this system. The SLOW lenses. In low light, shooting at f/3.5 with the ISO cranked to 1600 you will not get image quality like  you see in the images here so I am really hoping for a nice fast prime to come along for the 1. With faster lenses you can shoot in low light at a lower ISO. So no, the V1 is not perfect but it was not designed to be. Nikon wouldn't want to have  their DSLR sales drop now would they? I just hope their "fast portrait prime" arrives sooner than later.
The 10-100 at 100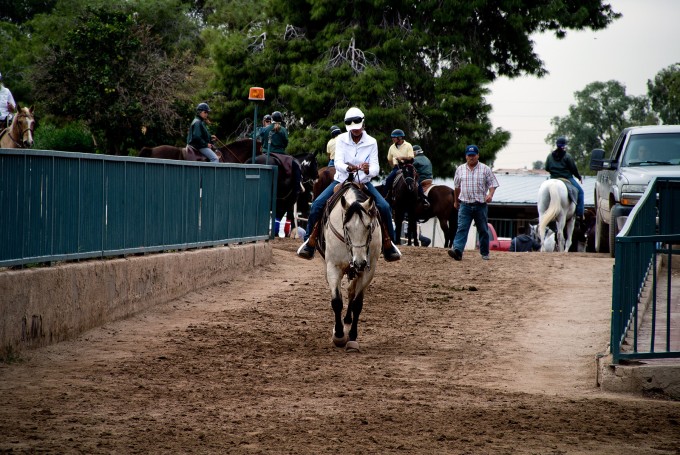 –
The 30-110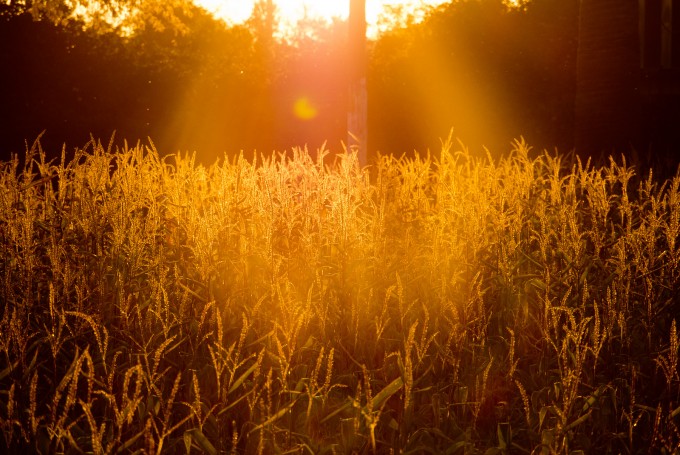 –
10-100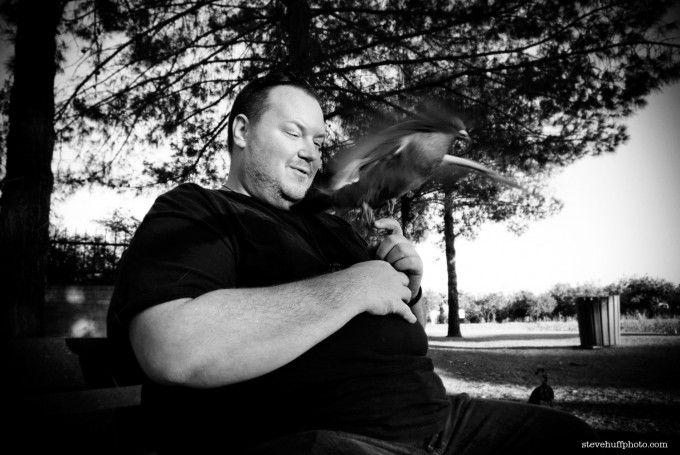 For those that are wondering…How about sharpness and detail? 
The V1 and it's lenses put out a sharp file, that is for sure. With a resolution of 10 MP you will not have a crazy high res file but you will get images that are a breeze to work on due to the small sizes of the files. Also, the NEF (RAW) files of t he V1 are SUPERB and recommended over JPEG. Here is an image with a 100% crop embedded. Make sure you click on the image to see it larger and to see the full 100% crop.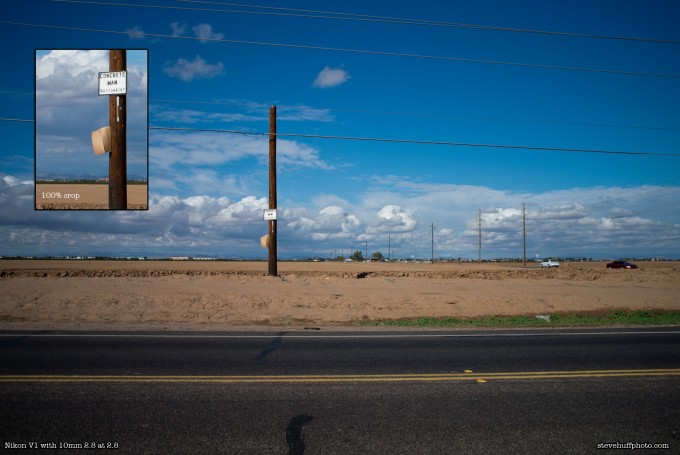 –
with the 10-100 at 100 and  f/5.6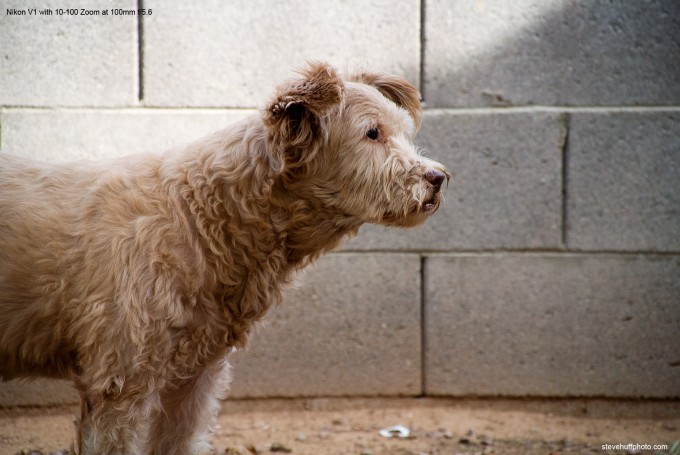 –
and the 10mm at 3.5 stopped down a bit and at ISO 400 indoors with some window light – why I insist on making this face in photos I will never understand 🙂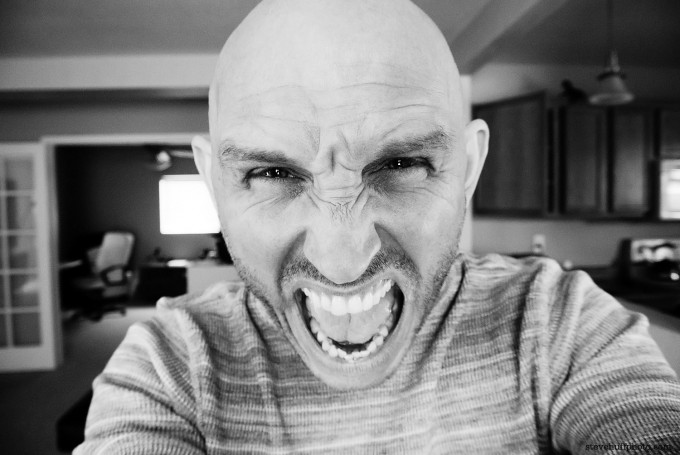 –
High ISO – How is it?
I compared the higher ISO of the Nikon V1 to the Fuji X10, Olympus E-P3 and Ricoh GRD IV. The little V1 did VERY good IMO and better than expected.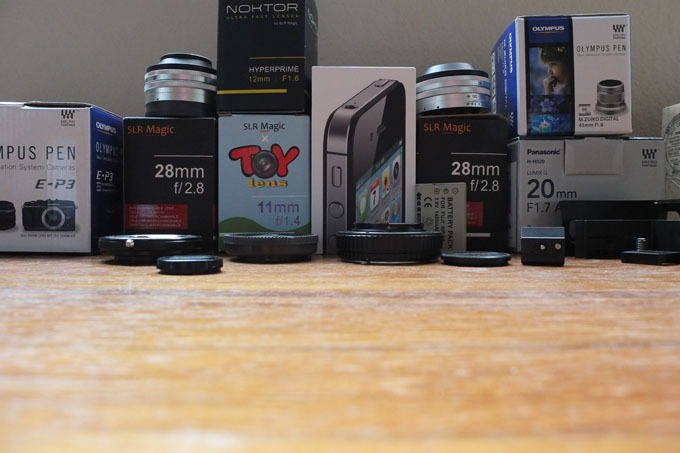 and the 100% crops

–

–
ISO 800 – low light. If  you click the image below you can download the full size out of camera shot. NO noise reduction at all and look how sharp the image is. This was taken in my kitchen at night, so just the lights above. Focus was on the edge of the cardboard box.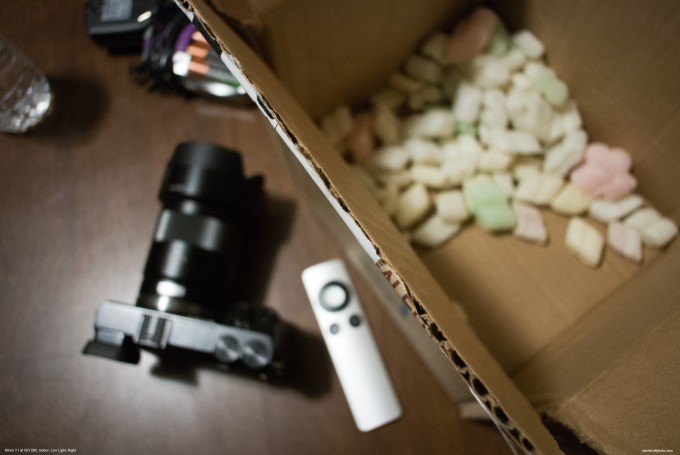 –
The V1 at ISO 3200, NO NOISE REDUCTION – From RAW – SHARO AS A TAC, NO SMEARING
CLICK THE IMAGE FOR FULL SIZE OUT OF CAM FILE – THIS WAS TAKEN AT NIGHT IN MY KITCHEN. AMAZING ISO PERFORMANCE HERE.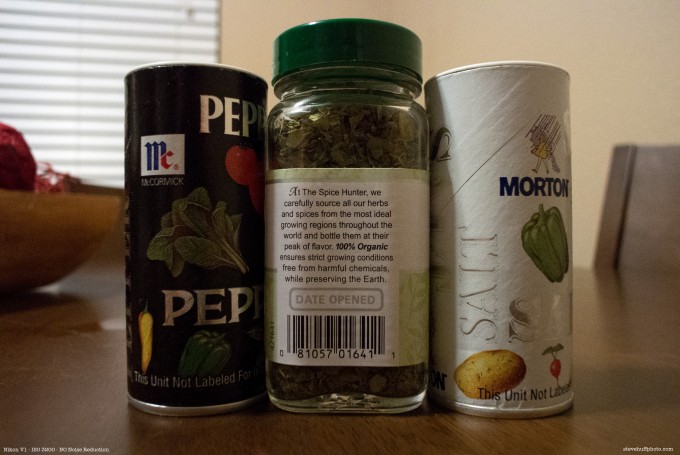 –
ISO 6400, No Noise Reduction – Click image for full size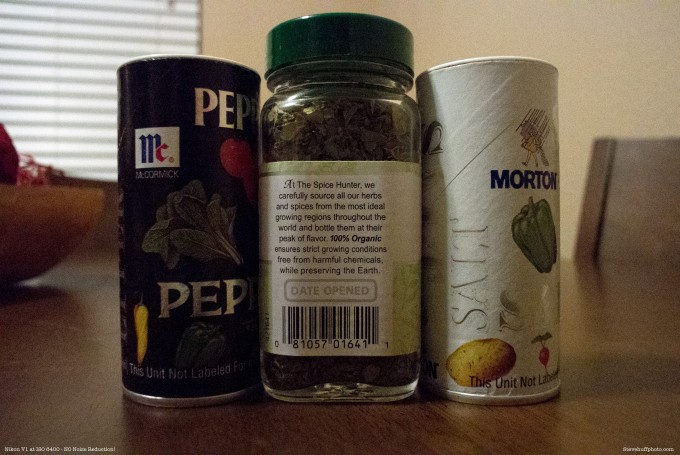 –
A shot from the V1 at ISO 6400 – In cam JPEG with NR, AT NIGHT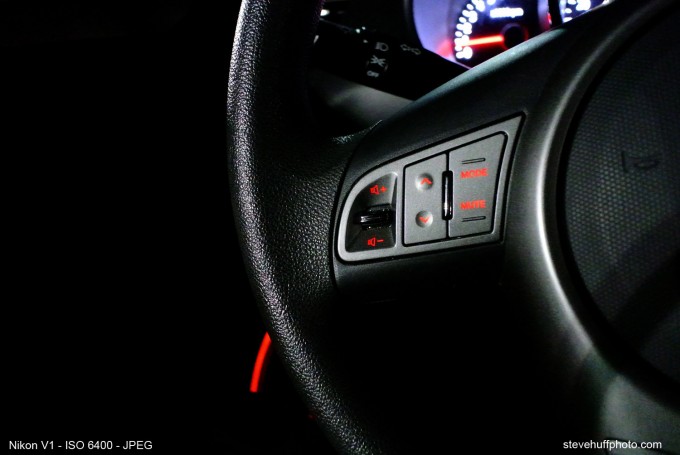 –
How about a real world high ISO image? ISO 3200 at night with the 10mm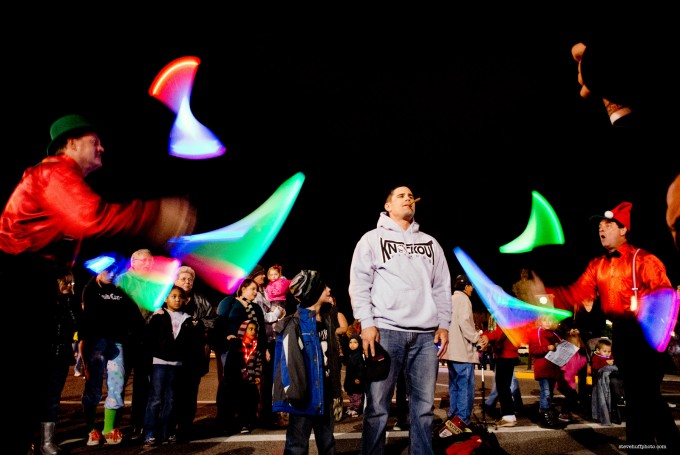 The Nikon V1 is more than just about taking pictures…it also shoots nice HD video
The V1 also shoots great video. Not the best I have seen (NEX-5n and 7 are better here) but VERY good with NO Jello effect that I have found. The video is solid and detailed but the in camera mic does pick up wind noises very easily. When using the optimized for video 10-100 lens, it is silky smooth and fun to shoot. Here is a quick video sample using that lens. It was overcast on this day so the video does not look super colorful or contrasty but it works for me. The VR on the Nikon lenses work well to stabilize the handheld video as you can see while I tracked the horses at full zoom.
–
The gimmicks…Motion Snapshot and Smart Photo Selector
OK, I have to say that there are TWO modes on the back dial that should not have made it to the V1. Instead of these, on the V1 at least, since Nikon says this model is for the "Enthusiast", they should have nixed the Motion Snapshot mode. Basically if you switch to MOTION SNAPSHOT the camera records a couple seconds of slo mo video and then adds a still shot at the end. Kind of cheesy and you can even choose the music type. You can see a sample of this in my video overview farther up this page. I will never use this and not sure who will really.
There is also the "Smart Photo Selector" which is not for enthusiasts, lol. Basically you aim the camera, press the shutter and even before you press down the shutter release all the way the camera starts taking photos and it takes 20 of them. After that it picks the best 5, as chosen by the camera, and puts them on your memory card. Supposedly it will capture the smile, the moment, the best focus and framing. I tried it but all I saw was 5 photos that looked about the same. I would have rather Nikon took these off of the V1 and instead put the traditional modes on the dial like A, P, etc.
The J1 and V1 do not have a pano mode or low light mode or anything else which I am fine with as I never ever used those modes anyway on the other cameras.
One of the best 5 from my test of the Smart Photo Selector.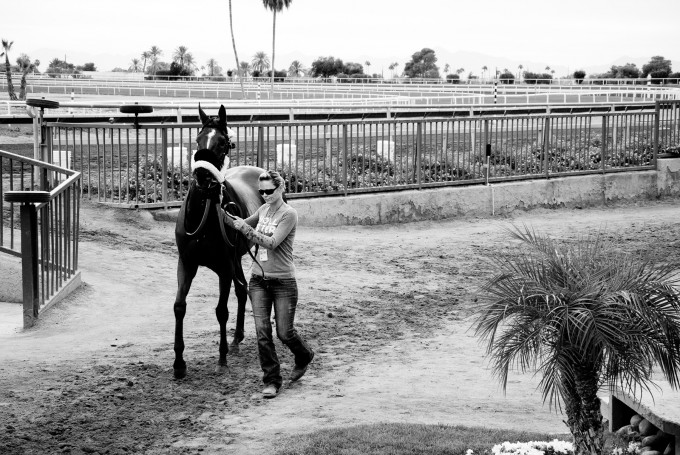 –
Small sensor vs Larger sensor, APS-C vs CX…is it r
eally that big of a difference?
So I was out shooting the Nikon V1 for the past few days to evaluate it for this review and I also brought along the Sony NEX-7 and 50 1.8 lens to see which camera I enjoyed shooting more. It's a no brainer which one will give you the better image quality right? We would all assume the Sony would win without question. Well, it is true BUT is the difference really THAT huge between the smaller CX sensor in the V1 compared to the APS-C in the NEX-7?
Lately there has been a ton of buzz online about smaller sensors vs larger sensors and some people get downright angry just talking about a camera like the Nikon V1 due to the small sensor. It's a fact! Cameras with teeny small sensors like the cheap-ish Point and Shoot cameras at the local shop will never give you the quality you see from a larger sensor camera. They have limited dynamic range, not so accurate colors, a hard look to the files, and bad high ISO performance. They are usually cheap in price though and serve their purpose as vacation cameras or family cameras. Most people do not know any better and buy a point and shoot at Best Buy because it looks cool or has the name Canon or Nikon on it and they assume it will be high quality. Sadly that is not always the case. To those in the know (me, you, us) we are well aware of what cameras will give better photo quality and the fact of the matter is that sensor size, megapixel count and lenses all contribute to the final quality of a cameras file. Have a large sensor and lower MP count? Expect GREAT quality..borderline amazing. Large sensor with high MP count? Then we will see a drop in quality. The same rules apply for a small sensor. Keep the MP light and you can do great things with a smaller sensor. Pack on too many pixels and it starts to go downhill with decreased light gathering, dynamic range, color, etc.
For example, the Sony NEX-7 has a large APS-C size sensor but Sony crammed 24 million pixels on to the sensor which in turn decreased its high ISO performance a bit when compared to the 16 megapixel NEX-5n. It also makes for some huge files that seem to choke my aging iMac. While it has an APS-C sized sensor, I think that the NEX-7 loses some ground because there are so many MP crammed on the sensor. The 16MP NEX-5n seems  to do a bit better because there are not so many on the same sized sensor. This enables better performance. Even so, the NEX-7 performs GREAT, especially with RAW files, but how would it compare to something like the Nikon V1 with its smaller "CX" 2.7 crop sensor that has only 10 megapixels? Is Sensor size REALLY THAT IMPORTANT to the every day hobbyist or enthusiast? I wanted to know for myself which his why I shot the NEX-7 with its large sensor and high MP count next to the V1 with its small sensor and low MP count.
–
BIGGER SENSOR: The NEX-7 – 24 MP – 1.5 crop sensor (APS-C) – $1349 with kit zoom
The NEX-7 seems to have it all for us gear heads. It has manual control, a gorgeous EVF, tillable LCD, a large APS-C sized sensor with a whopping 24 megapixels crammed in and it's pretty sexy as well with the new Zeiss 24 1.8 and the Sony 50 1.8 lenses. A bit large with the lenses attached but still, a sexy camera thats body is much smaller and sleeker than a DSLR. On the downside, the NEX-7 metering and out of camera colors leave a little to be desired in my opinion. When I open a file from a NEX-7 and look on my screen I am not finding myself  saying "WOW".  Not once has my jaw dropped when opening a NEX-7 file (really the same for any NEX camera because as good as they are, the colors and the way it exposes never does it for me out of camera) but after some work and tweaks, they can be absolutely gorgeous and they have the capability to WOW.
The NEX-7 is a great camera, and the price is right as well for what you get. It may seem expensive but look at the NIkon V1 which is $899 for the V1 body and kit zoom, and the V1 does not have the manual control or larger sensor. $1349 for a NEX-7 and kit zoom. $449 more for the APS-C sensor, manual controls, tillable LCD, and more video features like 24P, 60P, etc. The NEX-7 was made for the enthusiast and Sony finally has some fast glass coming for the NEX system so is the price worth it? Id say it is because there really isn't much the NEX-7 can not do. Is it a Leica M9 or Nikon D3s? No, but it also not $7,000. Even with that said…we can not just push aside something like the V1 when it comes to the decision making…which I will talk more about below.
The NEX-7 with the 50 1.8 – click the images for larger view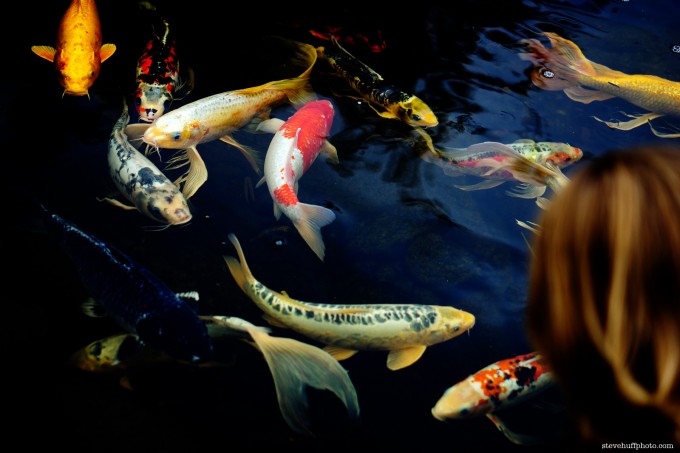 –
–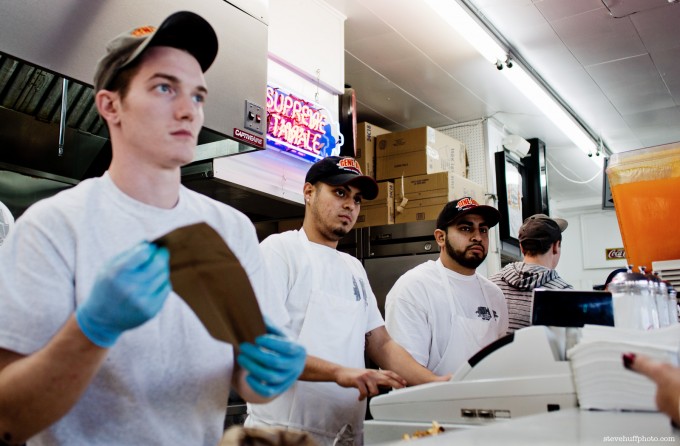 One thing that I notice from the Sony files of the fish (converted from RAW) are that they are rich, have deep blacks, nice color, and a smooth noise free look. Click on them for a larger view. Out of the camera the images were not looking good but processing the RAW files brought out the beauty and color. To me, it is evident these are from a camera with a larger sensor.
SMALLER SENSOR: The Nikon V1 – 10MP – 2.7 crop sensor – ISO 100-6400 – $899 with kit zoom

The Nikon V1 has arrived and there seems to be so many haters, mostly those who have not even held the camera. Yes, it is pricey for the specs and having a small sensor but Nikon has packed some serious tech in to the V1 (I did not try the J1) with a very solid build, a very nice EVF, a minimal approach and decent lenses that are insanely sharp but sadly, they are all SLOW in the aperture department. The Nikon V1 is FAST, responsive, and never missed focus for me with thousands of shots taken. IN fact I will go on record now and say the V1 has the fastest and most accurate AF that I have ever seen in a camera (that I have used). It's as fast or faster than my old D700, or 5DII. Faster than the quick Olympus E-P3 and the tracking works like a charm as well. You can shoot at 5, 10 or 60 frames per second in full resolution, with RAW. It is an advanced camera with a smaller than average sensor. So why did Nikon choose this sensor? My guess is so they could make it fast, responsive and a JOY to shoot with.
I already talked about this above but my only wish is that they had a fast prime at launch because using these lenses at night, like indoors at a party just doesn't cut it unless you use the flash. But in daylight, the camera pumps out photos effortlessly. The metering is AMAZING on the V1, and beats any mirrorless camera I have shot with to date. The Nikon 1 is actually almost the perfect camera! If Nikon would have made it M9 size, with a large sensor and created sweet Leica like lenses then it would have been game over. This kind of speed, metering, and AF performance in a larger version would KILL the competition. But I am guessing Nikon did not want to kill the sales of  their DSLR's (just yet) so they had to cripple the V1 in one way…the sensor.
Well, I can not say "cripple". The sensor in this camera is probably the best small sensor I have seen to date but it still has limitations which are no shallow depth of field, and more noise than usual even at low ISO. Other than that though, I am finding the V1 to be pretty damn good. IN fact, I am most likely keeping this one and yes, I have to pay full price! I just find it such a joy to use that I can kind of look over any issues with the IQ. Would this mean I would sell all of my other cameras? No, but I can see this camera being my goto daily camera just for the fact that it is so reliable in everything it does.
The fish with the V1 and 10-100 at 40mm (108mm equiv)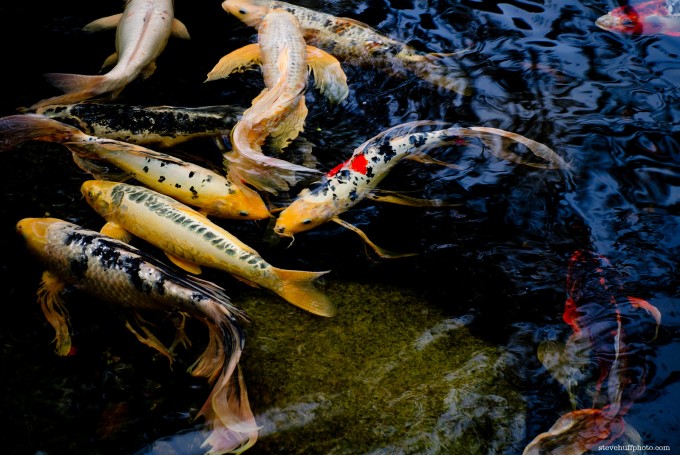 –
ISO 1600…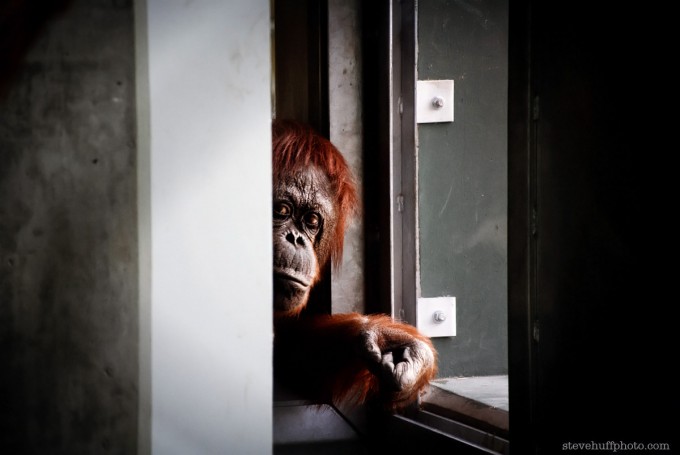 –
10-100 at ISO 800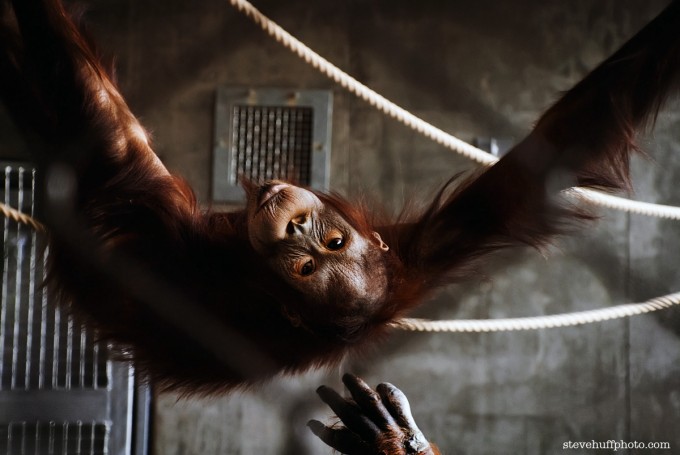 So why all the hoopla over Sensor size if the V1 seems to take great quality images? Well one thing I have learned after using the V1 is that the hoopla is really over nothing. But do not mistake that for me saying the V1 is perfect. It is not. I would not use this camera to shoot a concert or for pro work that required high res files simply because the quality drops off some when the lights get low. Besides, Nikon makes pro DSLR's for pro work and Leica makes an M9 that works amazingly well for concerts and pro work as well. So in reality, people bitching and moaning over the V1's sensor size is silly. It does exactly as advertised for its intended target audience, and that audience is someone who wants and upgrade from a point and shoot but doesn't want a DSLR.
This camera is an in between. A camera that gets a lot right and little wrong. No, it is not an IQ dream machine and yes  the sensor is small but did we expect D3 performance here? Even if Nikon put in an APS-C I have a feeling the AF would be slower and the camera as a whole would be as well. The lenses would be bigger and then we would hear complaints about it being too big. I really like the V1. It's a very finished product and you can tell this when you shoot it. It feels right and in use it is such a pleasure to use and know that you nailed the AF, the metering and color.
UPDATE June 2012: How about the V1 vs the new Leica X2?
Well this one is a crazy comparison begging to be done but take a look below at an image I shot (just for this test). 1st, the image. Yes, just a boring test shot of an old AC unit. Since the Leica X2 is a 16mp camera with an APS-C sized sensor I crippled the Nikon V1 shot by UPSIZING it to 16MP, the same size as the X2 file. Now this will degrade the V1 file but let us see how it went:
The image I snapped with both cameras. Both were set at f/4, ISO 100 and the V1 had the cheap 10-30 zoom. The Leica has their top quality 24 Elmarit.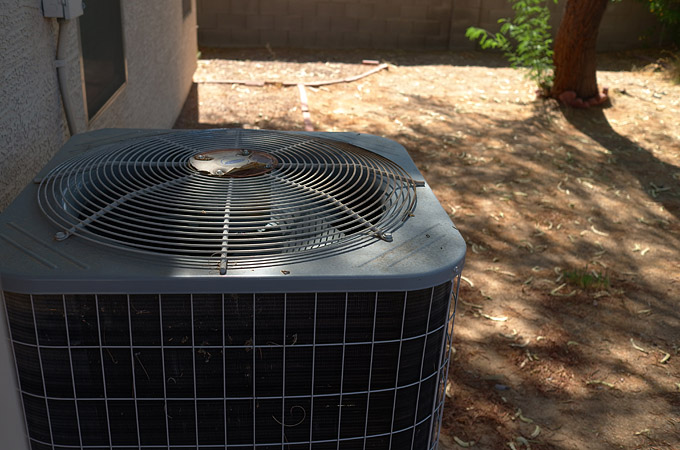 Now the 100% crops. You must click them to see them larger sized and the full 100% crop view
REMEMBER! I upsized the V1 file to 16MP so this degrades the file quality quite a bit! Interesting to see how much sharper the V1 is over the Leica, which is always applauded for the sharpness! Crazy.
–
and now the V1 crop at 10MP, native resolution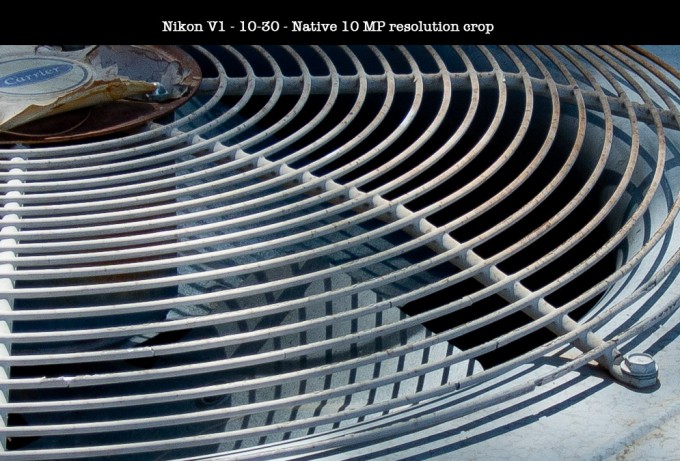 Of course  the X2 will give you lower noise, better and richer IQ overall and the warmer colors that the X2 is known for…but the little V1 is holding it's own! At $749, the V1 is approx $1850 less expensive than the Leica X2 and EVF setup and the V1 is MUCH faster, much more responsive, more solid feeling and takes amazing video. Hmmm. You will lose out on shallow depth of field though, but then again, the X2's 24 2.8 lens doesn't give you much of that anyway.
Is the cost really that high on the V1?
Many forums are up in a roar talking about how the V1 is way too expensive and that it should be priced at $599. I DISAGREE 100%! Sure, Id love for it to be $599 but when you compare the V1 to other cameras that are $599, the V1 wins every time. For example, everyone is going nuts over the Fuji X10, which I also enjoyed quite a bit but I wouldn't take one of those over a V1. The V1 has a larger sensor, a great 100% coverage EVF, a better more solid build, faster AF, better metering, much better video, better battery life, is the same size AND you can change lenses! The V1 gives you all of this over the X10 for $$150 more. Not bad at all, and certainly not overpriced.
Look at how it stood toe to toe with the $2600 Leica X2 setup above.
Others will say you can get a NIkon D5100 for $100 less. TRUE! But the D5100 is a TOTALLY different type of camera! It is a bulky DSLR that feels plastic and fat. The lenses are huge and the V1 has faster AF, is smaller, is built better, has a GREAT 100% EVF, etc etc etc. The V1 is for  those who want a small camera that also has HIGH performance. The V1 gives us that. If it had an APS-C no one would be buying the D5100 or D7000, etc. Nikon HAD to cripple the V1 with the sensor size when you think about it so their DSLR sales would not die.
BUT the V1 is NOT overpriced in the slightest FOR WHAT IT OFFERS.
There is not a mirrorless on the market right now in its price range that beats it in AF speed or accuracy, in metering, in video, EVF, battery life or out of camera color. $749 with a kit lens is just about perfect. If it was $599 it would be the steal of the century. The V1 really is high tech, loaded with not the bells and whistles and gimmicks but rather technology that will improve future Nikon models as well.
$899 – Priced right in my opinion for what is on the market right now.  UPDATE – The V1 is now $749 with kit lens..so the price did come down! Now is a great time to buy. 
–
The PROS and CONS of the Nikon V1
PROS
Build is top notch for this class of camera
Speed speed and more speed!
EVF is very good – colorful, bright, and sharp
AF is accurate – didn't miss one shot while reviewing – 1st time ever
5, 10, or 60 frames per second
Mechanical and Electronic Shutters
Phase detect and Contrast Detect AF – best in class AF performance
Metering is the best Ive seen in any mirrorless camera to date
Lenses are all sharp and give great color
HD video has NO Jello effect
Feels like a polished and finished product, not rushed or buggy
Nikon has more lenses planned for 2012
RAW files are easy to work with due to smaller files sizes
Menu system is fast and easy to browse and setup
Minimalist design and functions
Battery life rocks with the beefy D7000 battery
Files are very robust when shooting RAW
CONS
Smaller sensor does have limitations
No real shallow depth of field possible
Can be noisy when viewing 100% images
When the lights go down, so does the color
No tilt-able LCD
To some, the cost may seem to high
Stiff competition from Panasonic, Olympus, Fuji
Gimmicky modes should not have been on the V1, should have stayed only on the J1
Must go to menu to change shooting modes
Auto ISO seems to choose LOW shutter speeds that can blur your image
No live preview of exposure changes on the LCD/EVF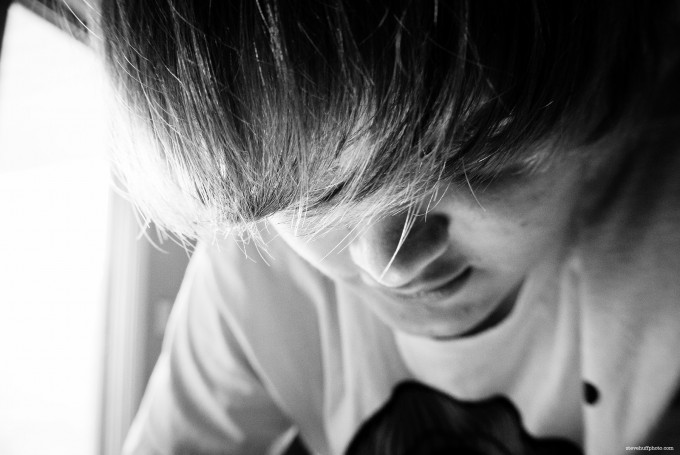 –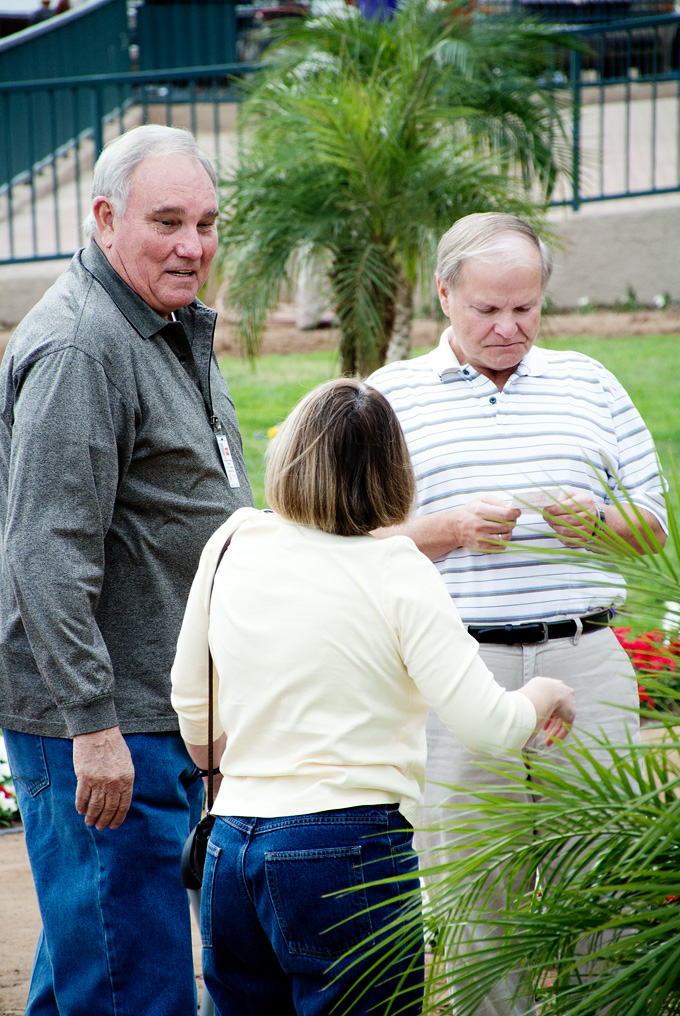 –
My conclusion on the Nikon V1
Well, I think I kind of already wrote my conclusion above so instead of repeating myself again and again I will say this. The Nikon V1 is a new camera system from Nikon. Nikon knows how to build a camera and even though many of us laughed at this camera before it was released, and in fact it was the camera I expected to hate, I have been proven wrong. I have enjoyed this camera IMMENSELY and the main reason? The Auto Focus, the Metering, the color and the easy to work with RAW files. The sharp images and better than expected low light results. The responsiveness, the easy to use menu system and the simple minimal design. The battery life is amazing as well as it uses a big and beefy D7000 battery. It's a damn good camera and one that grew on me more and more each day.
It is not perfect though! I wish there were faster lenses, I wish I could get shallow depth of field and I wish that there were some way to customize the Auto ISO settings as the camera chooses shutter speeds that are too low at times. I also found that when using the VR mode "Active", which is the default, you can get unsharp images. I was seeing quite a few images  that should have been sharp and they were not. After changing the VR mode to "Normal" the problem went away so not sure what was going on there. Nikon should have it set to "Normal" as  the default, not "Active". Also, when making changes to exposure you do not see a real time preview on the LCD like you do with the NEX, Olympus, and other cameras.Maybe a firmware update could change this?
UPDATE: Nikon issued a firmware update on 11/21/11 that fixed the issue of unsharp images with VR.
This baby Orangutan was swinging, howling and having a blast. My shutter speed was too slow to freeze  the action because I was in lower light, and using the 10-100. Even so, I liked the image as it seems to have "feeling".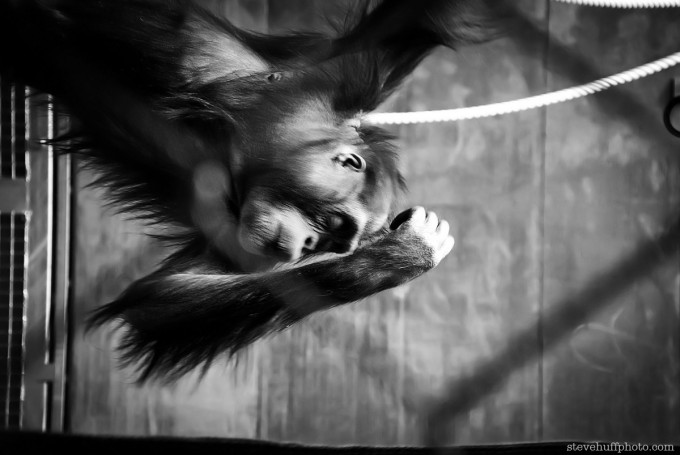 In any case, the V1 is a sweet little machine. At $899, the same cost as an Olympus E-P3, it not only focus faster, is more accurate, has better metering, it also beats the E-P3 in high ISO. It doesn't win out on lenses though and this is where Micro 4/3 wins.
The question here is "Who will buy this camera"? I really don't know but let me break it down by listing what I think is the competition for Nikon that I have shot with.
–
SONY NEX – The NEx-5n is $699 with a kit zoom. $200 less than the V1 and you get a larger APS-C sensor, better high ISO performance, better video options and an even smaller body. BUT at the same time the NEX has larger lenses and the kit zoom with the Sony is much softer in comparison with the Nikon. Also, the AF of the Sony is not always accurate. I always use center point because I want to know for sure what the camera is focusing on. I focus and recompose. Many times the Sony NEX will mis focus. The Nikon V1 did not mis focus ONCE. The Nikon is also quieter than the NEX and has better AF tracking. With the V1 you can shoot sports, running kids, etc. So you have to decide what you prefer…better IQ or faster AF and usability. Oh, and the V1 meters better than the Sony. All depends on what you want in a camera. The 5n has fantastic IQ, V1 has the better body and speed.
MICRO 4/3  – The Olympus E-P3 is one of my faves but I have to give credit where it is due. The V1 smokes it with AF speed and accuracy, and even beats the E-P3 at high ISO. The 12mp sensor used by Oly IS INDEED showing its age when a smaller 2.7 crop sensor can beat it for high ISO. BUT the Oly has the vast selection of amazing lenses. Lenses like the 12mm f/2, the 45 1.8 and the Panasonic 25.14 are excellent and FAST. The V1 has NO fast lenses. This one is a toss up. Personal preference really. The V1 images have a certain look just like the E-P3 does, and stays true to the "Nikon Look". Which look you prefer is up to you. Also, the E-P3 has no built in EVF and that will add almost $200 to the cost. Panasonic also has the newer GX1 which promises  to be the best M 4/3 to date but again, no built in EVF (which I use all the time on the V1). OM-D is out now and it is a better camera but bigger, bulkier and has that M4/3 look. It IS the superior camera but all depends on your wants and needs. I still love my V1 and I also own the OM-D.
FUJI X – The Fuji X100 and X10 are out and the Nikon V1 is priced in between them at $899 (Now $749). The Fuji X10 is a great camera but more along the lines of a Point and Shoot. I compared the two cameras and preferred the Nikon V1. In other words, if I were to buy one of the two it would be the Nikon V1. The X100 on the other hand has much better IQ than the V1 in my opinion, and has the faster lens, superior high ISO performance and cool retro look. BUT the X100 is slow to AF, misses focus at times and is still clunky in operation when compared to the Nikon. It also has no chance of any other focal length. No zoom, no wide, just 35. So again, it all depends on your needs.
–
So there you go. Hopefully you can read these reviews and decide what camera will work for you. Any camera mentioned above will give you fantastic results but what you enjoy shooting with is what will matter the most. It is always good when you can bond with a camera and KNOW what to expect from it. Me? If choosing TODAY (at the time of this writing) between an E-P3, NEX-5n or Fuji X10 for an every day snapshot camera or family camera I would take the NIkon V1. The strengths seem to outweigh the weaknesses for me right now and the V1 is a camera that can even be handed to your wife, your kids or anyone and they could get great result with it as well. It's simple. It's fun. It's the V1, and it does more right than it does wrong which is a good thing. To those who have been bad mouthing it without even shooting with one, give it a try. You may be surprised. Oh and I will probably be adding a few more photos and words to this review over the next day or two, so check back for updates!
–
The 10-100 at around the 70mm mark – f/5.6. Makes for a great portrait lens if you have good light.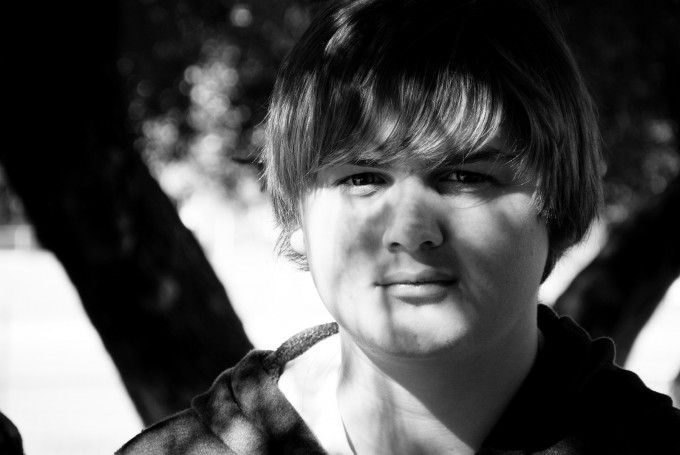 –
You can buy the Nikon V1 at B&H Photo below:
–
–
UPDATED – More on the V1…
The Negativity Of the Nikon 1 System  – Why the bitterness?
It's funny that since posting the review for the V1 I have been getting attacked by the haters of the "1" system on forums, through e-mail and even on reddit, again, by people who never even shot with one! Do the haters really have nothing better to do than to freak out when a positive review is written on this camera? Should I have stayed "safe" and said it is not worth the money just to be politically correct? I would never do that, and never will. If it was a piece of junk I would have said so. It is quite the opposite. It kills cameras like the Canon G12, S95, etc. It beats out all Micro 4/3's I have tried in regards to speed, accuracy and metering. It has amazing battery life, great image quality for the sensor size and yet there are still people out there bashing this camera and telling me I am wrong…AGAIN, when they never shot with one!
All of this ridiculous banter doesn't change the facts one bit! This is a good camera system and excels in SPEED, AF, EASE OF USE, SHARP IMAGES, GREAT COLOR, SUPERB METERING and it does it all with a solidly made body and EVF that works well. I pointed out that the weak link IS the sensor and those looking for DSLR shallow depth of field or even DSLR smooth and clean files will not be happy with the V1. It is not meant to be a DSLR replacement!
I find it borderline funny that when I say something like "I did not care for the Panasonic G3" I get attacked and when I say that I liked this V1, I get attacked as well. Even a threat via e-mail telling me I better retract my review! Really?
I say it like it is, and write about MY experience with each camera I use. I provide pics to back up what I say as well. Good and Bad. I really like the Nikon V1 (did not care so much for the J1 personally, but I love built in VF's and a solid feel) and if you can deal with slow zooms and one slow-ish pancake then it's a great camera to look into. Oh, and to the guy who e-mailed me and said I lied about this being a camera you can hand to your wife or kids and they would be able to get great shots with, my son took some great shots today with the V1 and he never saw it until the moment I handed it to him. 🙂 Nothing wrong with the V1 if you need a camera for family, vacation, candids, and even portraits. It is not perfect but none of the mirror-less cameras are. Period.
UPDATED – Trying out the J1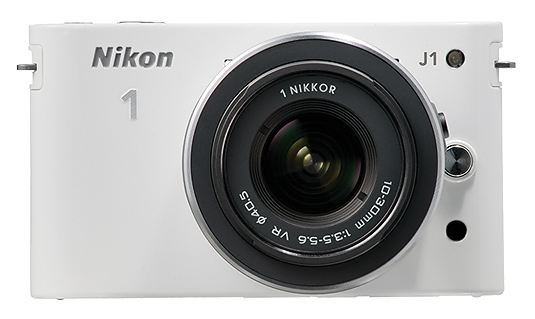 Since writing this review I have also tried out the little brother to the V1, the J1. The J1 is $599 (UPDATE, NOW $499) compared to the now $749 price of the V1. $250 less. So why would you buy a V1 when you can save over $200 on a J1? Well, the J1 has a lower res LCD, no EVF, slower buffer, smaller battery and life, no mechanical shutter and is built slighter cheaper. It does have a pop up flash that the V1 does not have but after shooting both Id still take a V1 though the J1 is a great little camera that gives the same pic quality as the V1 (same sensor). I love the EVF and the slightly larger build of the V1. I also love the battery life of the V1. The EVF alone makes it worth the extra $250 to me. Here are a few snaps from the J1 I took during the week that had it and for its current $499 price with a kit lens, it is the one to beat in this class, no question.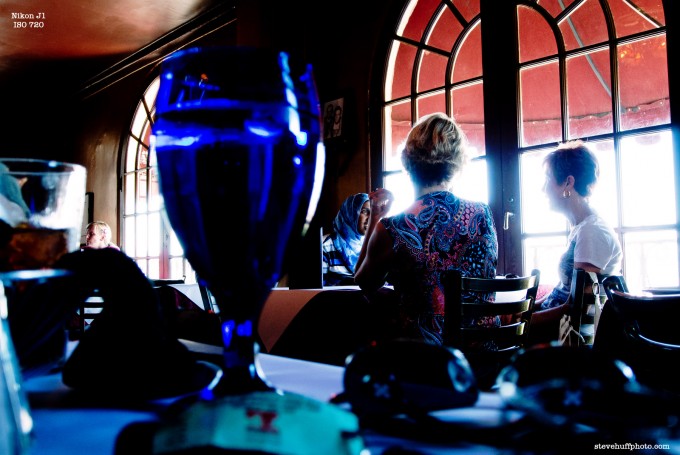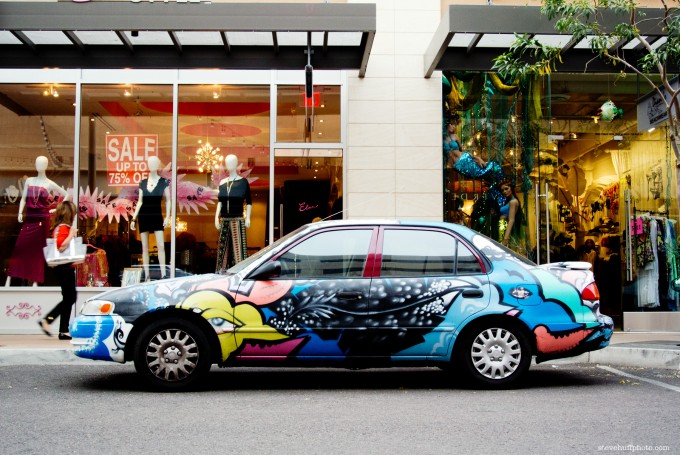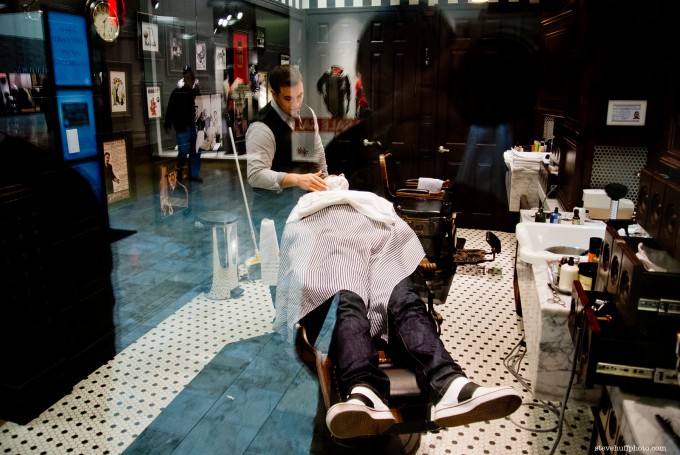 and more from the Nikon V1 below…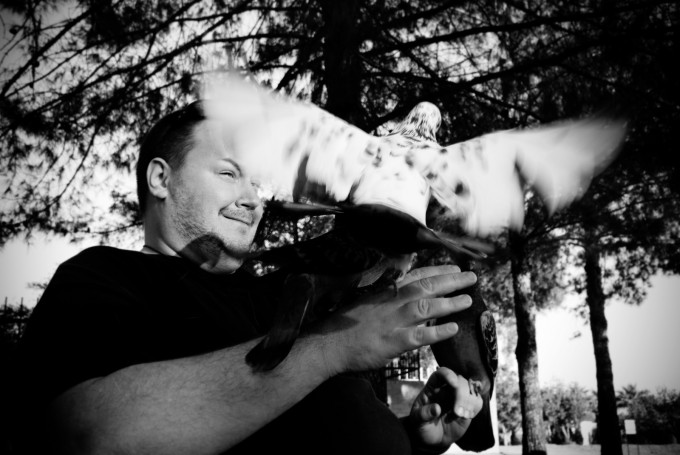 –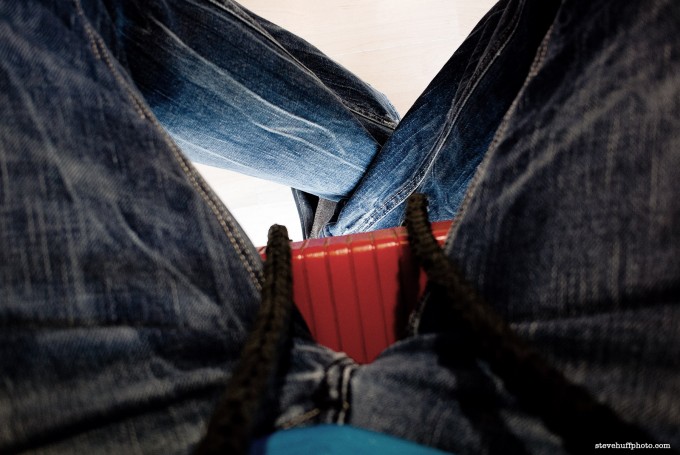 –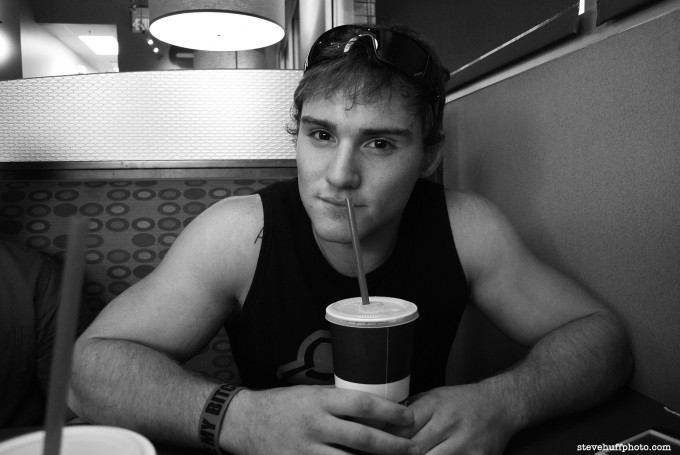 –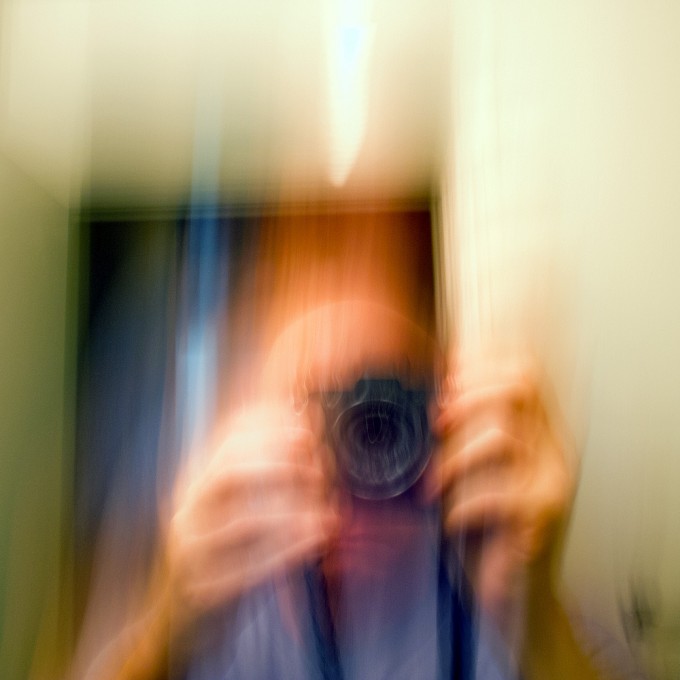 ALL I ASK! HELP ME TO KEEP THIS SITE GOING AND GROWING!! IT'S EASY TO HELP OUT & I CAN USE ALL THE HELP I CAN GET!
Remember, anytime you follow my links here and buy from B&H or AMAZON,
 this helps to keep my site going. If it was not for these links, there would be no way to fund this site, so I thank you in advance if you visit these links. I thank you more if you make a purchase! I have nifty search bars at the upper right of each page so you easily search for something at either store! I currently spend 10-14 hours a day working on this site and the only way that I can pay for it is with your help, so thank you! Currently my traffic has been increasing but my funds to pay for the site has been decreasing, so any help would be GREATLY appreciated!
Even if  you buy baby food, napkins or toothpicks at amazon it helps this site, and you do not pay anything extra by using the links here. Again, you pay nothing extra by using my links, it is just a way to help support this site, so again, I thank you in advance 

If you enjoyed this article/review, feel free to leave a comment at the bottom of this page and also be sure to join me on twitter or my new facebook fan page and Google +  page! Also, you can subscribe to my feed at my subscribe page HERE and read these posts in your browser or news reader!