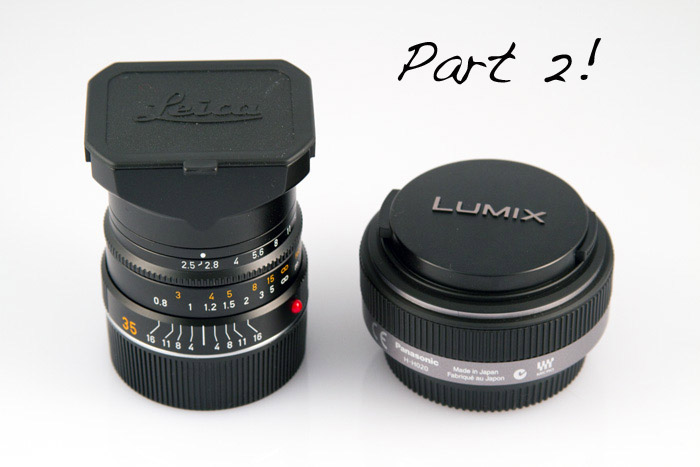 Since posting the just for fun "Quick Shots" yesterday I noticed many of you were looking for a better comparison between the Leica M9 and Olympus E-P2. I had a few e-mails asking me all kinds of questions as well as some of you asking me to redo it using a stationary subject. Even though yesterdays post was a "just for fun" moment and only done for curiosity, I decided to do a better comparison today. I mean, these cameras are not meant to compete against each other so as I said yesterday, this is just for fun. Since I have these cameras on hand, why not see what they can do side by side? I even threw the Nikon D3s in to the mix today.
I went out and found this old house that apparently had a fire recently. I decided to use this as my subject for todays shots so I pulled out my tripod and took the image with three cameras. This is still "just for fun" as it gives me something to do (though I nearly froze to death in the below zero windchill getting these shots).
I added the Nikon D3s to the mix as I had it with me but the only lens I had for it here is the 50 1.8 so I shot it at 2.5 stopped down a bit. I blame the lens here for any softness in the Nikon shot though I included it here.
So here are the three shots. One from the M9 with a link to the full size original, one from the E-P2 with link and one from the D3s with link. I also am providing 100% crops here if you do not want to download the full size images.
You can click any of the images below for a 1400 pixel wide version.
[ad#Blog Square Embed Image]
ALL THREE CAMERAS WERE SHOT AT THEIR BASE ISO TO MAXIMIZE THEIR DYNAMIC RANGE – M9 is ISO 160, E-P2 is ISO 200 and Nikon D3s is ISO 200
OK, here we go. I will show you all three images and let you guys discuss the results.
Leica M9 – 50 Summicron at F2.8 – Base ISO of 160 – NO PP – Straight from ACR 5.6 w/defaults  – CLICK HERE FOR FULL SIZE 18MP IMAGE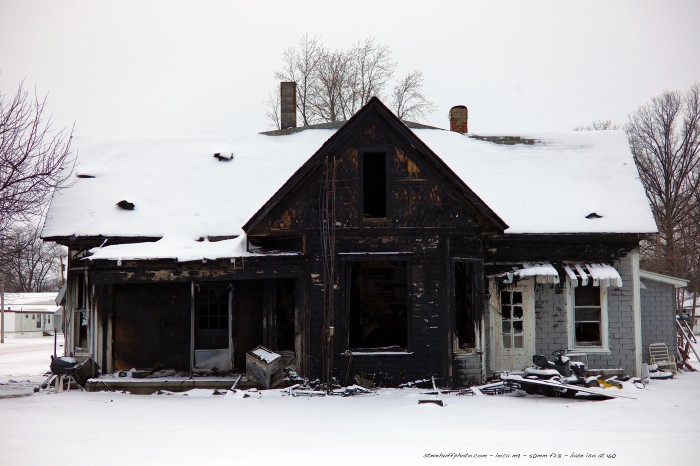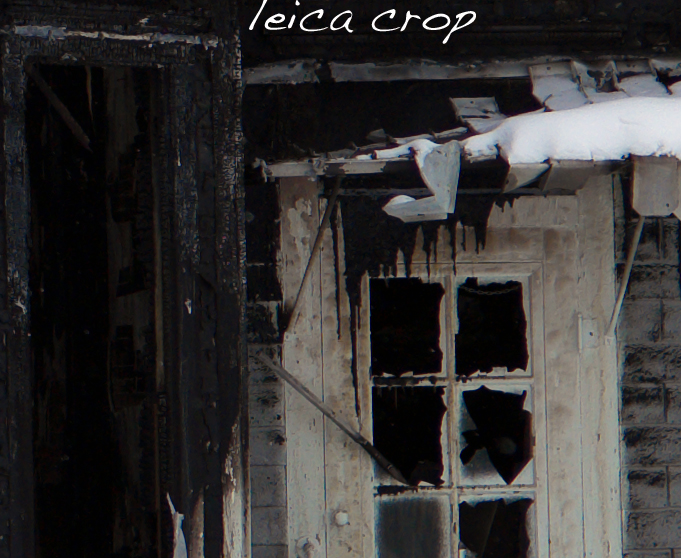 Now the Micro 4/3 Olympus E-P2 with the Panasonic 20 1.7 prime lens set at F2.5. Base ISO of 200  – NO PP – ACR 5.6 Defaults – CLICK HERE FOR FULL SIZE IMAGE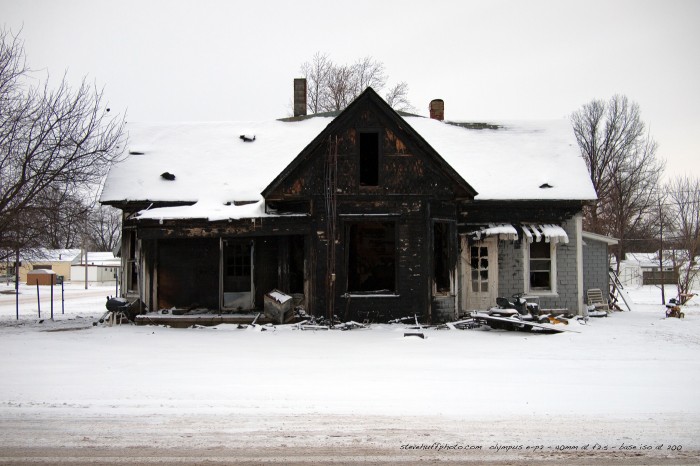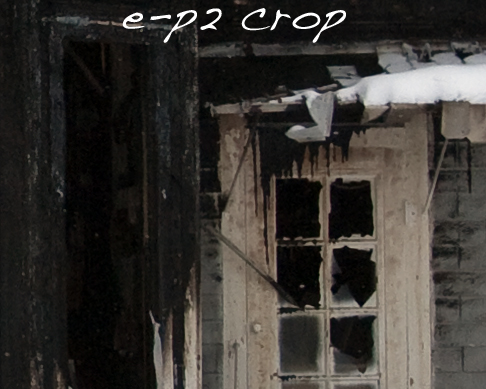 Nikon D3s – 50 1.8 at F2.5 0- Base ISO of 200 – NO PP – ACR 5.6 Defaults – CLICK HERE FOR FULL SIZE IMAGE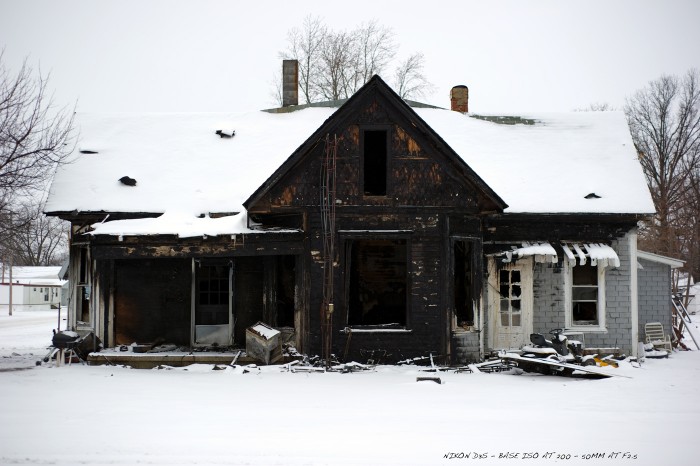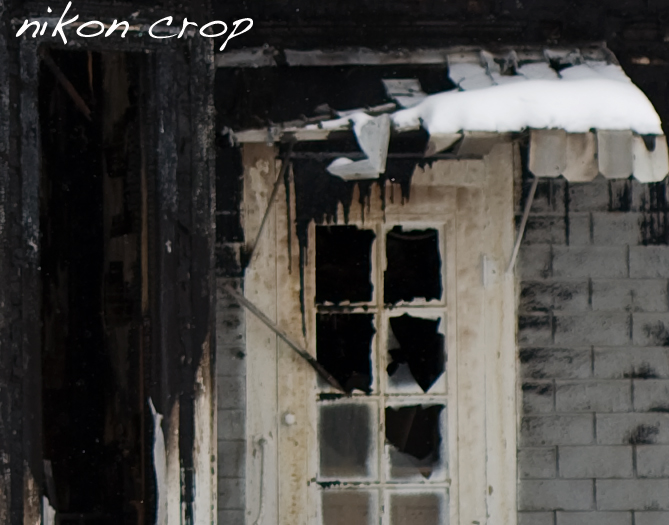 and three crops of the chimney. Look at the M9 chimney 🙂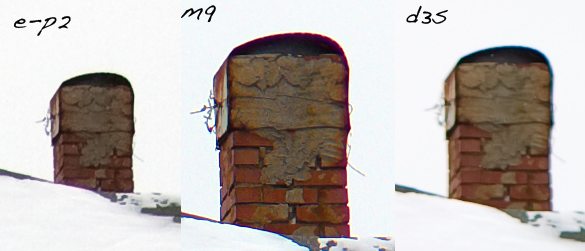 So there you go. I am going to let you guys discuss the results. These were shot using A mode on all three cameras and I set each cameras ISO to its base ISO for maximum performance. No sharpening was applied and defaults were using in Adobe Camera Raw 5.6. I stopped down the Nikon lens from 1.8 to 2.5, the Panny lens from 1.7 to 2.5 and the Leica lens to 2.8. Yes, I should have done all three at 2.8 but I didn't, and I am not going out in the snow and cold again to redo them so take it or leave it! Ha ha. My thinking was if I was stopping down the Nikon and Panny from 1.7 to 2.5, the 50 cron being an F2 lens should be stopped down to 2.8. Also, the only lens I had on hand for the D3s was the 50 1.8 so that is all I could use. Sure I could have shot these at F5.6 but I am more interested in the performance of a lens wide open or close to it. Almost any lens will do good at 5.6.
This will give you guys an idea of the file quality of each camera and it also shows the white snow was handled fine by each of these cameras as far as DR goes. I feel the Leica has the best file quality here and the D3s may have the edge in DR but YMMV. Enjoy!
HELP SUPPORT THIS SITE TO KEEP IT GOING AND GROWING!
Remember, anytime you follow my links here and buy from B&H or AMAZON,
this helps to keep my site going. If it was not for these links, there would be no way to fund this site, so I thank you in advance if you visit these links. I thank you more if you make a purchase as I get a tiny credit for ANY purchases made as a result of following my links! This helps me tremendously!
If you enjoyed this rarticle, feel free to leave a comment at the bottom of this page and also be sure to join me on twitter or facebook! Also, you can subscribe to my feed at the upper right of any page and be notified of when new reviews are posted! You can also subscribe via E-mail (also to the right). Thanks so much for reading!