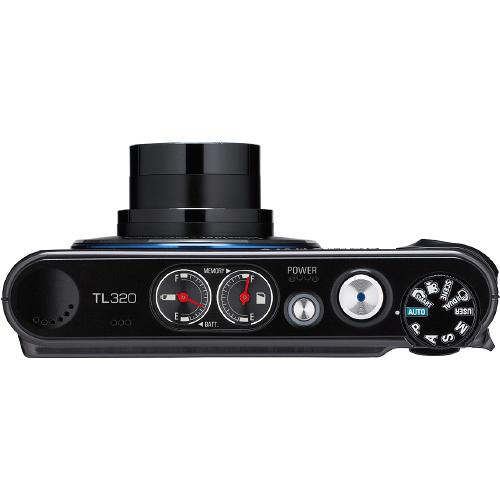 $238. What can that buy you in the digital camera world? Samsung has released a pretty cool looking 12MP point and shoot called the TL320 with HD video capability and get this, ANALOG dials! Many of you may have seen this already, but I am intrigued by it for its size, design, those cool retro Epson RD-1 style gauges, and the OLED display. Oh, and the 12MP resolution and HD video. All for $238! I have one here for testing now and so far, so good but it's not up there with the D-Lux 4 or m4/3 stuff. At $238 I am finding it to be a damn good buy.
Its small, its build is decent (better than Canon S90 build) and the AF is FAST, HD video is decent and IQ is what you would expect in a $300 camera.
Seriously, I am a sucker for the dials. B&H has it in stock right now. They also have the Panasonic LX-3. Speaking of the LX3, that was one of the hottest selling cameras last year and I remember that camera was NEVER in stock! B&H has it in black and silver, both under $400. Amazon
also has it.
As for this Samsung, it has been getting mixed user reviews but again, at the price point it appears to be a bargain for its specs. Review coming in the next week or two!
For now, here are the specs from the B&H Photo website:
SMART Auto

Concentrate on your subjects – let the camera handle the pictures. Samsung's SMART Auto technology analyzes your composition with 11 custom scene settings. From vast mountain landscapes to indoor portraits, the TL320 intelligently captures your memories – maximizing quality while minimizing effort.
Perfect Portrait Technology

Combining the very best in face detection, self portrait, smile shot, blink detection, and red-eye fix technologies; the Samsung Perfect Portrait System makes portraiture easier than ever. Beauty Shot mode automatically retouches people pictures for professional, studio-quality results.
Dual Stabilization

Dual Image Stabilization (DIS) technology helps produce sharper, more natural-looking photos in low light conditions. By combining the best in optical and digital stabilization, the TL320 corrects for hand shake and unwanted movement to keep all of your memories bright, sharp, and in focus.
HD Video Recording

Capture brilliant, 720p video with the TL320! Record HD clips at family get-togethers, concerts, and sporting events with the touch a button. Easily share your memories on a big screen HDTV by connecting the camera through the all-digital HDMI connector.
Integrated Smart Album Management

Smart Album Management allows you to easily organize the photos on your camera by date, content, color, or theme. Time saving and intuitive, this makes finding and sharing the perfect shot fast and easy.