When the big bad ass Leica S2 arrived for me to test I knew that I had to take a road trip to go in search of some cool new shots. It's a fact, shooting the same old things over and over can get old really quick and KILL your creativity. I also know that there is nothing like taking a road trip to kick start your photographic mojo and your motivation. The only problem I had was "where to go"? After a day or two of heavy thought I decided to do something that I have been wanting to do for a couple of years now, and that was to take a trip to a small spot in Kentucky where my Father was born back in 1939.
When my Father was alive he always told me stories of where he grew up and when I was little we would visit on many occaisons. Only problem was, I was very very young when we went and I could not really remember what it was like, though I did know it was a small mountain town with coal mines and winding roads and I thought that this would be a great road trip to kick start my motivation. It was decided. I wanted to go. But I remembered some of those stories my Dad used to tell and it scared me. He once told me about guys who would stop cars on the road with shotguns if they saw you were not from around there. I guess some of the locals don't take too kindly to strangers 🙂 My Dad once said to me that if I ever drove through that town and got stopped, all I had to do was mention his name and say I was his son and they would leave me be. Kind of SCARY huh?
That did really not ease my mind too much, but it also did not deter me.
I decided to call up someone who has visited this town MANY times back in the 60's and 70's with my Dad to see if she wanted to go with me. My Mother! I rang her up and asked her if she wanted to take the trip with me. She hesitated…and then said no. But then after a few hours she e-mailed me and said she she would go, so we were all set! She also told me I should be able to take some great photographs in the town and reminded me that it has probably been 33 or more years since I have been there. Things may have changed.
So I was excited! I packed my bag with the Leica S2, Leica M9, Pentax K7, and a couple of point and shoots along with some lenses. Along the way I shot with all of these cameras but this article will only include images from the M9 and 50 Cron as the S2 images are being saved for the S2 review, and my Zeiss 35 Biogon images are being saved for that review! I will have many more images in those two reviews. Here is one from the little $238 Samsung TL320 I packed along with me as I snapped through the car windshield on the way…
Samsung TL320, blindly shot through my windshield while on the road searching for photo motivation!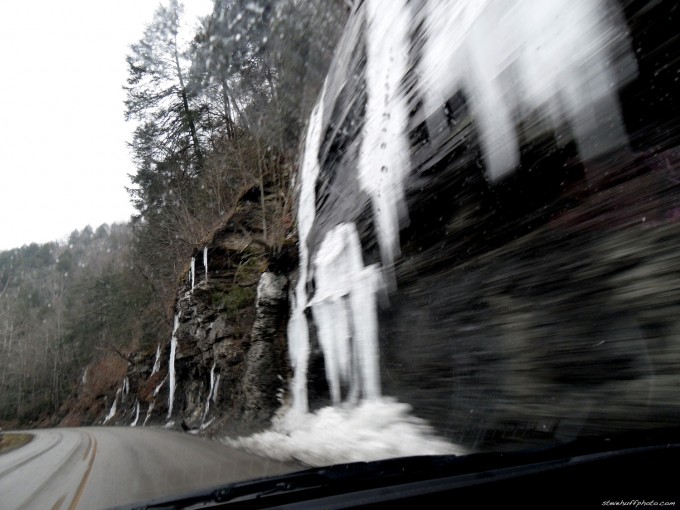 As we arrived in this small coal mining mountain town I thought we were going to die in a horrible car crash due to the small 2 lane roads that twist and turn through the mountains. Cars were whizzing by me and passing me because the locals know these roads like the back of their hands, and I didn't. For our safety AND the S2's safety I kept it slow 🙂
As we drove through we saw several coal mines and not much of anything else except old run down houses, old abandoned businesses, and the residents who lived there. There was not a store to be found, no gas station and absolutely NOTHING in this town but empty shells of the past. We were told that the old grocery store closed down several years prior. As we rode through we noticed most of the homes in the area were in desperate need of repair and the ones we that we thought were abandoned were actually being lived in. Luckily, there were no shotgun wielding guys on the road 🙂
"Driving through Closplint, KY" – Leica M9 and 50 Summicron at F2 and ISO 800.
Leica M9 and 50 Summicron at ISO 800 – One of the many coal mines in Closplint KY.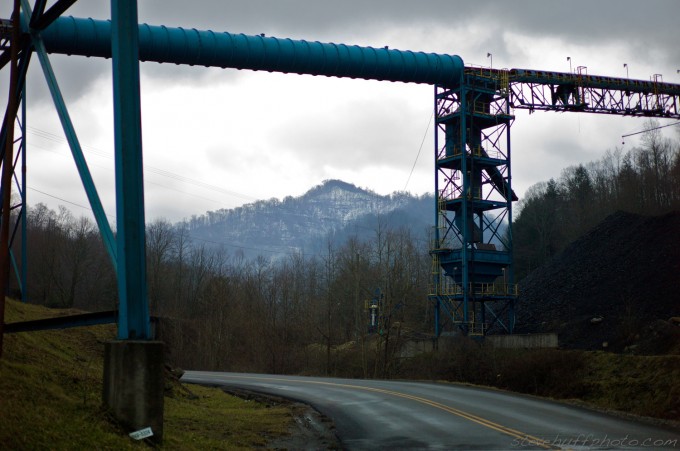 It was very strange as we drove through and saw "Huff Creek" and the "Huff Mines". I was even told there is a Huff Cemetery on a hill somewhere. It was very weird seeing this run down town with my last name plastered everywhere. I felt like I was in an episode of "The Twilight Zone" and I kept waiting for Rod Serling to pop up in my backseat with a short intro of what was to come…
We drove for a few minutes and we soon spotted my Aunts house. I remember visiting her in this same house when I was 5 or 6 and there it was, looking exactly the same as it did back then. It's funny because her house was one of the few in this area that was in amazing condition. Her and my Uncle always had pride in their home and they took care of it over the years. The house has been in their family for generations and I am sure it will continue down the family line in the future. I was happy to see she was cooking as I remembered how good her food was back when I was last there, when I was about 6. Cornbread, green beans, ribs, mashed potatoes, homemade apple sauce and blackberry cobbler. All home made from scratch, not the frozen stuff like I buy 🙂 She was expecting us and had prepared the food just for us.
It was delicious and I ate WAY too much.
We visited with her briefly and I am really glad we did. My 83 year old uncle was very sick after suffering from multiple strokes. We were able to see and talk with him briefly but he was bedridden with a broken hip. He was unable to speak and was being fed through a tube in his stomach. My Aunt  said she was doing her best to take care of him 24/7 and she broke down crying on several occasions. She  told us that he will never walk nor will he ever be able to eat or drink anything ever again (through his mouth). She had so much on her plate that we did not want to intrude any longer. After our visit and the emotional goodbyes we left and went on our way. I snapped one picture inside the house.
My Aunt Helen, her Grandson Josh and my Mom – Leica M9/50 Cron/F2 – ISO 1250 (no NR)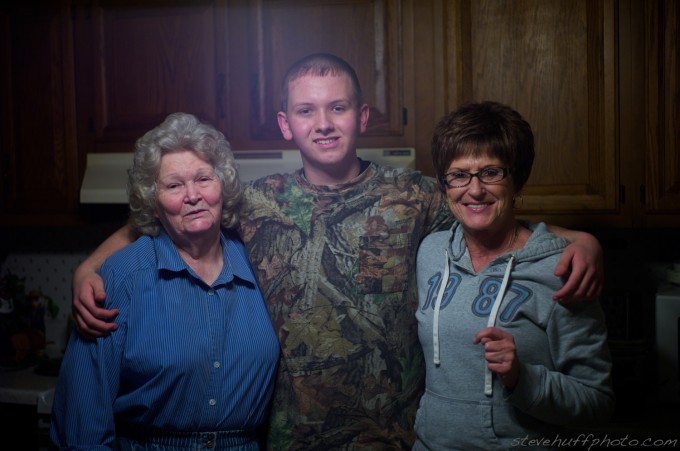 It was starting to get dark out and it was a one hour drive down the mountain (with no street lights) but I still stopped for a few photos before we headed back down. I spotted this old Amoco station that has been closed down for many years. I knew that I just had to snap a shot of this. I knew that the M9 and 50 cron would render every bit of detail that this building had. I pulled over, ran out, and snapped. This is the kind of stuff that I LOVE to find and photograph and it was EVERYWHERE.
This photo has had some processing in CS4 but not as much as you may think. Only color/contrast enhance was done here with some SLIGHT dodge.
"The Old Amoco" – Leica M9 and 36 Summarit at F2.5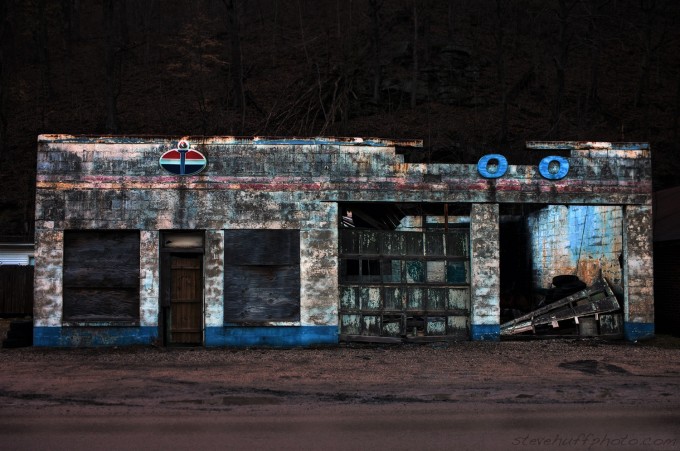 When my Father grew up in this town he worked in the coal mines before going into the Army. He ended up moving to Chicago after that (where I was born) but he always spoke of this town with great love (though he never wanted to move back). I remember the stories of the swimming holes, the grocery shop with nickel moon pies, and a family bond that ran as deep as the mountain was high.
As we drove back down the winding road I had the feeling that this was not the same town that it was 50-60 years ago. I mean, in many ways it was. Technology was absent from the town. No cel phones, no stores, no restaurants. Just coal mines and houses. Much like it was back in the  40's, 50's and 60's. But back then there were grocery stores, there were gas stations and mechanics, and yes, even a place to get something to eat. The town today, while full of residents, seems to be fading out and I can only imagine what another 10-20 years will bring.
"Crist Saves" – Leica M9 and 50 Summicron at ISO 1600 – No NR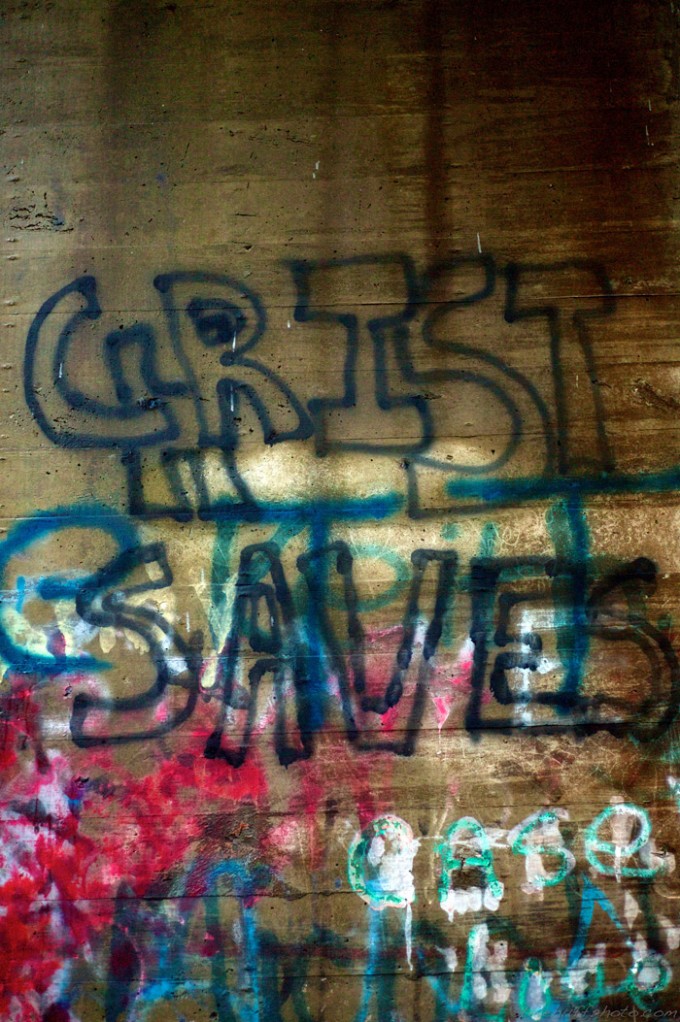 "The Old Citgo" – Leica M9 and 50 Summicron at F2 (B&W conversion in Silver Efex Pro)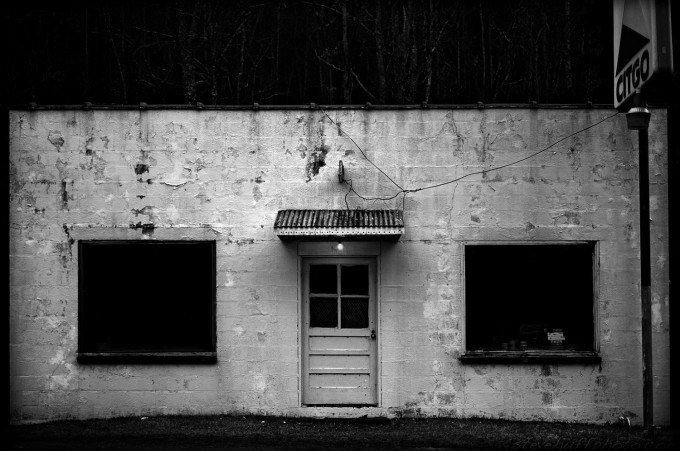 Leica M9 and 50 Summicron at F2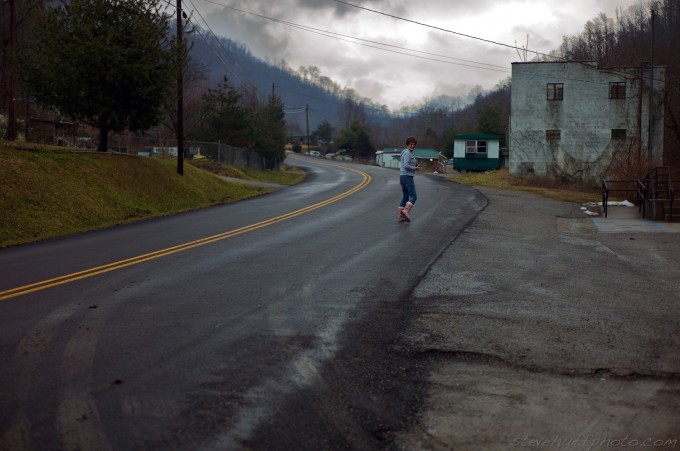 Leica M9 and 50 Summicron at F2 and ISO 1600 – NO NR!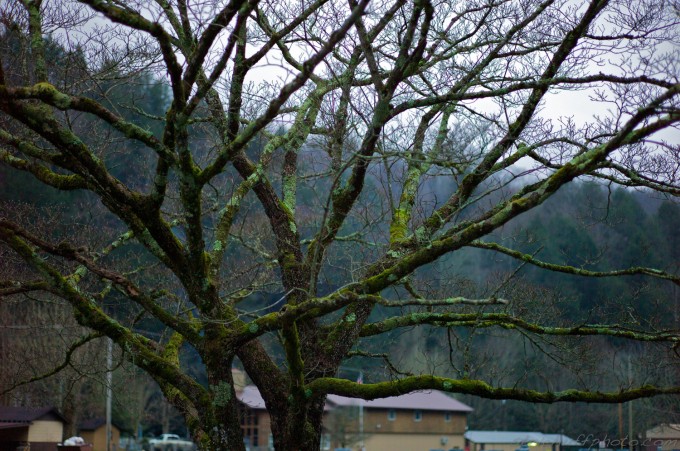 Our time was just about over in Closplint, KY. We had an 8 hour trek home and I was already getting tired but I was still in the mood to shoot!! We ended up staying the night in a bigger town a couple hours away and the next day we headed to nearby Cumberland Falls for more photo inspiration. I only snapped ONE shot at the falls with the M9 and 50 combo, so most of the images from the falls will be in my S2 and 35 Biogon review.
"Cumberland Falls" – Leica M9 and 50 Summicron at F2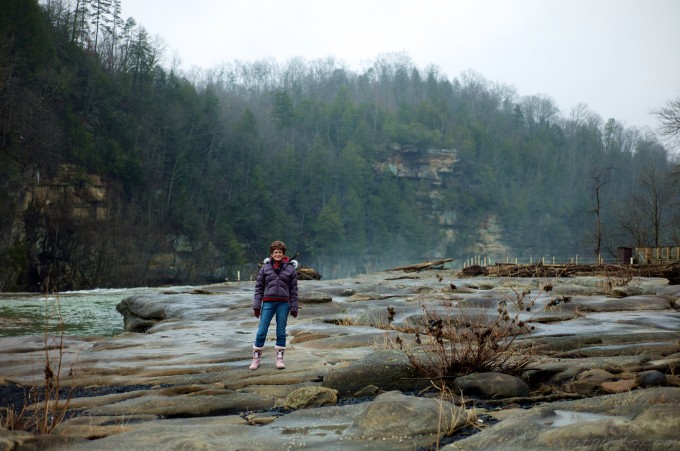 It was so nice as we were the ONLY ones there at the park and we had free run. If you have never been to this park, you can check out the info here. It's a pretty cool place to visit and the waterfall is a sight to see.
My SD cards were soon filled so we walked back to the car and headed back home to civilization. I enjoyed my quick 36 hour adventure with my Mom and while I may never visit "Closplint" again, I am glad I visited my Aunt & Uncle and finally got to explore the town that my Father was born in, even if it was not the same as it used to be. The really cool part is that this trip succeeded in helping me get motivated to shoot, and I came away with a load of images that I really like. I also realized that no camera could ever replace my M9, the S2 included.
I think I need to take longer road trips more often. BTW, I will have more images from my trip in the Leica S2 review and the Zeiss 35 Biogon review (which I am writing tomorrow).
Thanks for looking!
Steve