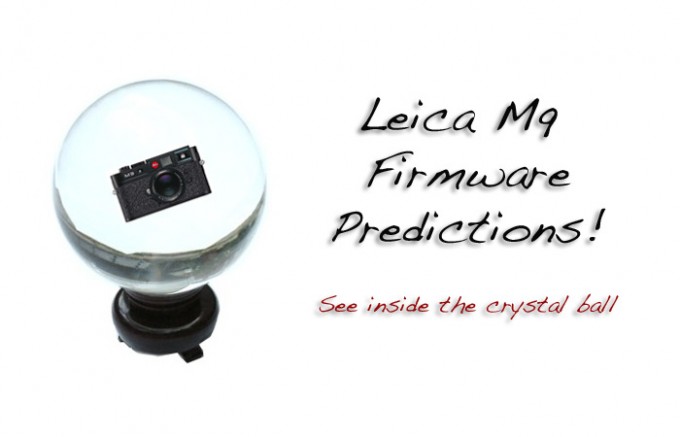 I have my crystal ball here and have gazed into it. What I saw was the future of the M9 and its new firmware! Well, not really but a little known fact about me is that I once worked as a Phone Psychic in the 1-900 Psychic phone craze days back when I was 20 or so. That was pretty interesting. I also have been predicting the sex of babies for 25 years and have only been wrong ONCE, and that was with my own son. I must have predicted 200+ babies in my lifetime, all correct. NO JOKE!
Anyway, today it came to me….the new M9 firmware should be right around the corner and here is what I think will be improved. Now, keep in mind this is just for fun but my Crystal Ball has never been wrong!
SD Card Format Times – I have seen the future. The ball showed me that formatting an SD card in the M9 will be fast. Instead of the 20-30 seconds it now takes, I am seeing that reduced to 2-3 seconds.
Faster Image Preview – As I gazed at the M9 in my Crystal Ball I saw image previews coming in fast. No more slow distorted mess. The previews snapped in and zooming was quick. This looked good so lets see if it becomes reality.
Improved High ISO – It was funny. When I gazed into the ball there was barely any noise. High ISO was better, so was mid ISO's. Hmmmm, very interesting.
PREVIEW….This was slightly foggy, so I could be mistaken but the LCD preview on the M9 in the crystal ball seemed crisper than on my M9. Previewing images looked…sharper…more detailed.
The Red Was Faded – Not sure why but the color red was faded near the edges of the ball just before it all vanished and clouded up with something else that popped up…
A calendar! It was turned to the month of March. Not sure of the significance but maybe this is when the firmware will finally be released. Who knows? Not me.
Anyway, hope you have found my predictions interesting. Let's wait and see what happens.