Here is the conclusion of Ashwin's journey to Vietnam with his Leica M8 and D-Lux 4! This was supposed to go up yesterday but I have been sick with some sort of flu for the past 2-3 days and slept most of the day. All better now so sorry for the delay! Enjoy!
If you missed Part 1, you can read it HERE.
---
All Text and Images by Ashwin Rao.
Part 2 of 2
Day 8 – Hue Mausoleums
The end of our trip on Day 8 included stops to Several of Hue's imperial and dynastic mausoleums. We spent much of our time at the tomb of Tu Duc, one of Vietnam's most famous dynastic rulers. These tombs are nearly essentially palaces dedicated to the life and worship of these dynastic rulers of Vietnam. There are many main buildings, sub-buildings, and statues worth photographic, and despite our enjoyable and long day out along the coast, I took out the M8 and D-Lux 4 again for a heavy round of photography. Like many other sites in Vietnam, many parts of these famous historic sites are falling into decay. Some of this has to do with financial limitations, but other factors including weather and humidity, wreck havoc on these structures. Once again, this makes for fascinating photography, but keep in mind that you are visiting something precious, and something that not be the same for generations to come.
Leica D-Lux 4: Crumbling wall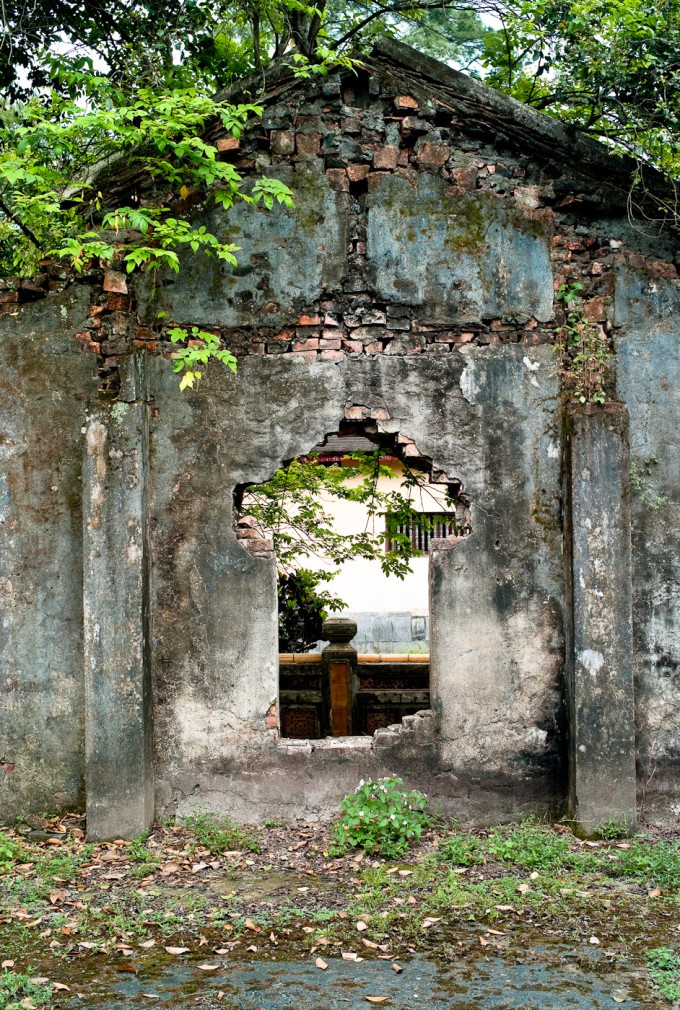 Leica D-Lux 4: Working outside the pagoda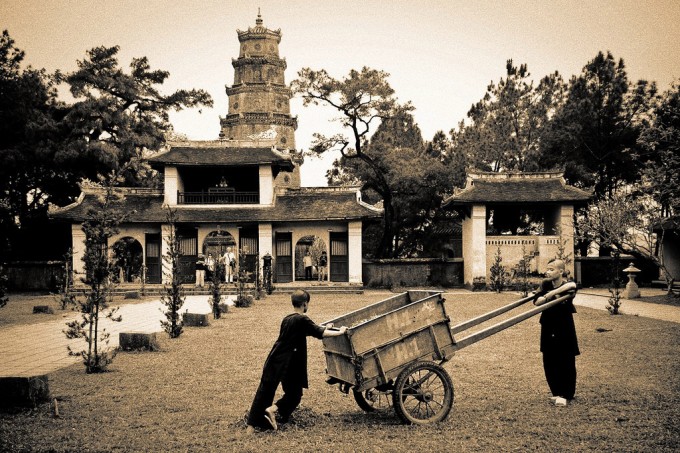 Day 10 – Hue Imperial City and Mausoleums
Much of the city of Hue is build around the Old Citadel and Imperial City of the Nguyen Lords of the 17th-19th century, who presided over the southern part of Vietnam during this time. In 1802, Hue became the capital city of all Vietnam, and it remained so until 1945, when the Communist government declared Saigon, renamed Ho Chi Minh City, as capital. Through Hue crawls the Perfume River, which while photographically captivating, does not live up to its romantic name. It can be fairly foul smelling and is quite littered, but waterside settlements are in abundance and sadly proclaim Vietnam's poverty stricken lower class to visitors.
We spent much of our time in Hue crawling through the Old City and Imperial Palace, which is housed within the walls of the city's citadel. We spent most of our time getting lost in the endless passages of this city, which offers many photographic highlights. In the Imperial city, it was possible to make good use of either the M8 or D-Lux 4. Unlike other sites, we had all day to explore, so photography was unrushed. The Imperial Palace is also falling into ruin here, and there are signs of a violent past, with bullet holes ravaging the sides of many of the palace's walls. As I walked through, I could only imagine the violence-plagued past of this city, including events such as the Tet Offensive and the Hue Massacre, which included some of the sites that we passed through.
Hue's Imperial palace is worth spending quite a bit of time exploring. I could have spent several days shooting both wide and telephoto in this fascinating site, capturing both the smallest details and the scope of imperial rule, along with the effects of humidity and time in decaying what must have been a beautiful architectural marvel in its heyday.
Leica D-Lux 4: Colorful decay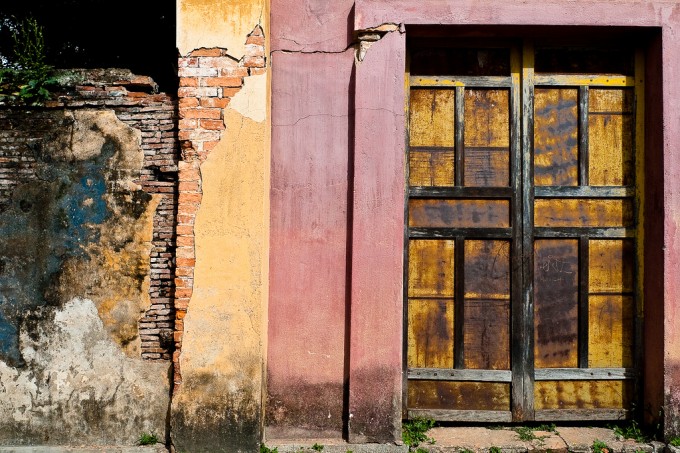 Leica D-Lux 4: Fern in the wall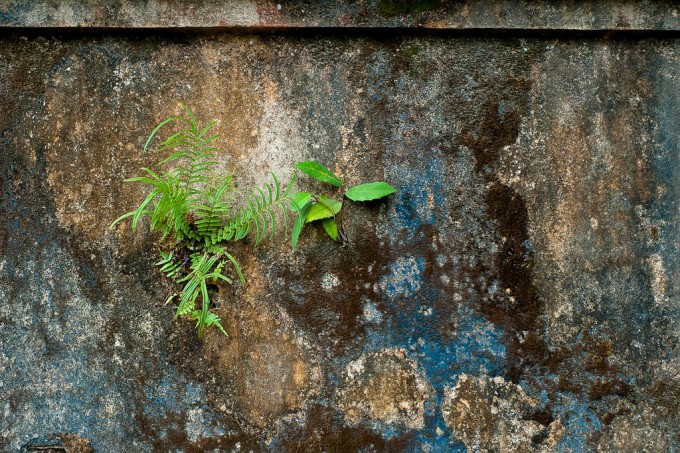 D-Lux 4: Gait to the Imperial Palace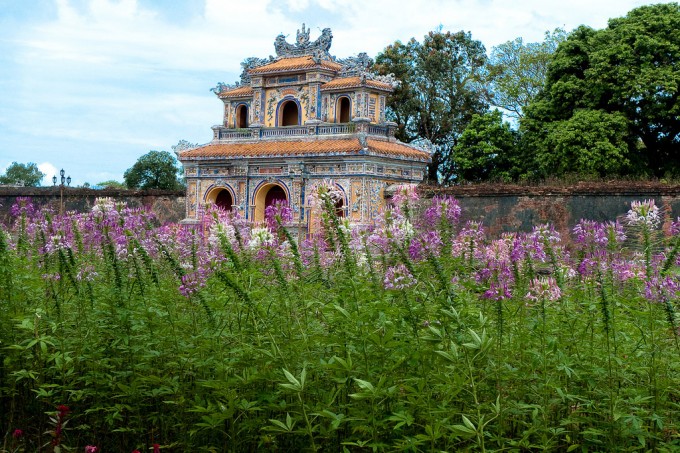 Day 11- 13 Hanoi
Our next destination was Hanoi, the largest city in Northern Vietnam, As we moved northward, the temperature changed from HOT and humid to cool, and even rainy. In fact, Hanoi in February seemed to have a very similar climate to Seattle in the winter, at least when I was there. We busted out our sweaters and raincoats, and marched out into this marvelous city.
There's much to see and eat in Hanoi. The city has plentiful Viet cuisine and AMAZING French restaurants. Truly, the French food here equals that which I have had in Paris. Absolutely marvelous. Hanoi is probably the city most like European or Western cities in Vietnam. Many Westerners feel quite at home in this charming, albeit crowded, town. There's much to buy and see. The city's home to 6.5 million people and is an important site in Vietnam's political history. While there, we visited the famous "Hanoi Hilton", the site of John McCain's imprisonment during the war. It was interesting that the Vietnamese presented this prison as a place of gentle imprisonment, not of war-related torture. Walking through the Hilton, McCain's flight suit is prominently featured in a case, which is a bit startling. There are plenty of pictures of American GI's "enjoying'" their captivity, or so it is made to seam. The truth, I suspect, is otherwise, given that Senator McCain does not wish to speak about his years there. Seeing these places, including the war museum, made me acutely aware of the many sides to any story. What is refreshing however, is that the Viet people showed us, as Americans, absolutely no hote or malice. When I inquired about hidden anger or suppressed anger, people looked as if I had asked them a silly question. To most to whom I spoke, the Vietnam War was a disappointment of the past, and the proud Vietnamese had won this war and moved on in their history and struggle for independence.
There are many places to visit in Hanoi, including its many lakes, of which we visited Hoan Kiem Lake, with it's famous island in adjoining Monkey Bridge.
The city is quite walkable, and it was funny to run into many Americans, Aussies, and Europeans carrying around the same Lonely Planet Guides as us, following similar walking tours. Photographically, many of these markets along the guided walking tours that you can find in Lonely Planet make for fascinating photographic opportunity. I think of Hanoi as a favorite place to shoot for "Street Photographers." Here, both the M8 and D-Lux 4 shined in their use.
Leica D-Lux 4: Hanoi graffiti?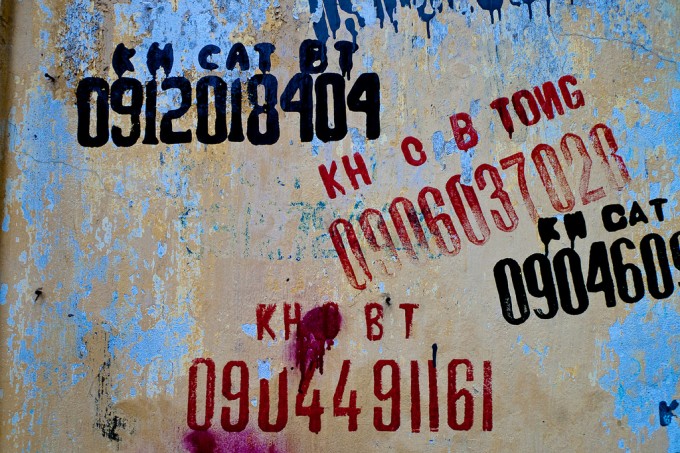 Leica D-Lux 4: Hanoi traffic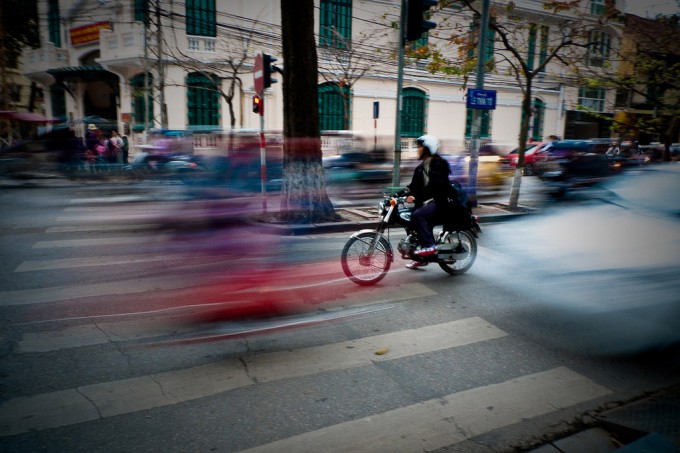 Leica D-Lux 4: Hanoi calligrapher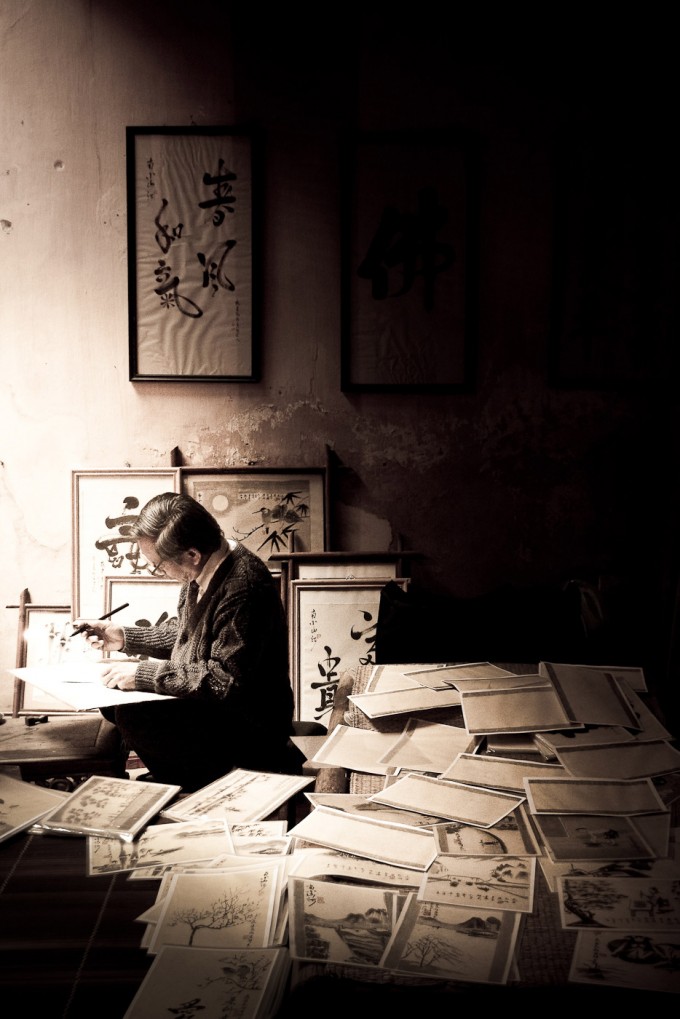 Day 14-16 – Halong Bay
Now for one of the highlights of the tour, and what I feel is a CAN'T miss part of any photographic foray to Vietnam: Halong Bay. Possibly Vietnam's most famous UNESCO World Heritage Site, the bay encompasses over 1,500 square kilometers and nearly 2,000 small to large islets. These islets are essentially sea stacks (think Oregon Coast) that stretch out into the calm waters of the bay. While we were there, the weather was rainy and grey. Initially, I was disappointment. I had seen many pictures of Halong Bay at Sunrise, and marveled at the gently beauty of this grand place. However, the fog and rain turned out out to be a great photographic opportunity. Suddenly, giant sea stacks would emerge from the fog as we cruised through the waters. It made for an experience much like I might imagine Frodo from Lord of the Rings having: a journey of mystical discovery.
During our time on a overnight stay cruise on the bay, we visited floating settlements, Kayaked into areas of utter isolation, and even crawled with headlamps into underground passageways. Halong Bay was a magical place.
I braved the rain and fog, with M8 and D-Lux 4 in hand. Thankfully, neither camera ever received a serious dousing, but if wet weather scares you, make sure to bring appropriate protection for your camera. You may need it.
IMAGES:
Leica D-Lux 4: Symmetry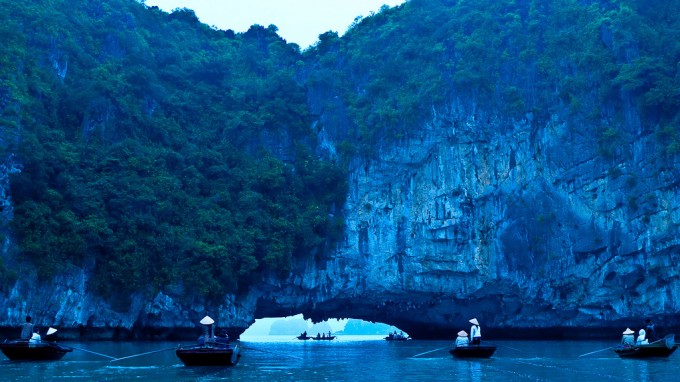 Leica M8: Travelers in the mist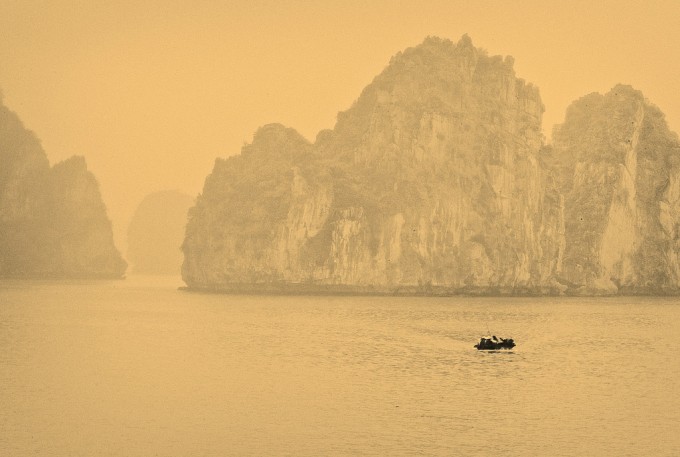 Leica M8: Into the mist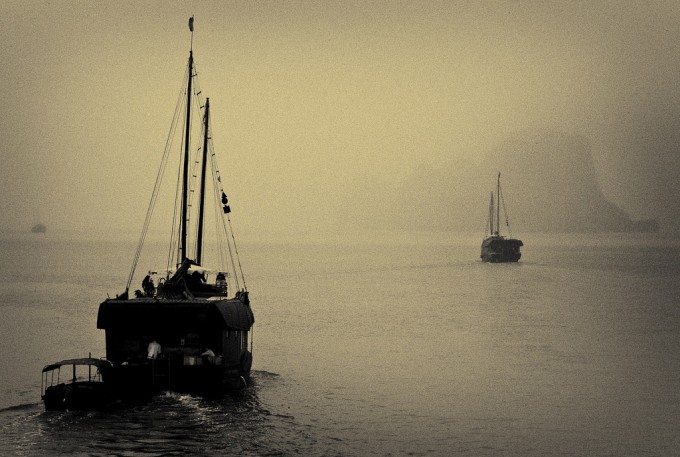 Leica M8: Seastacks in Halong Bay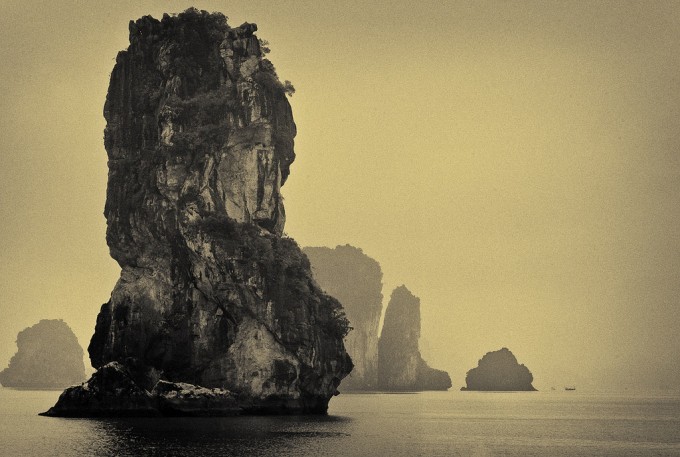 Day 17: Back to Flooded Saigon & the Journey Home
Leaving the misty shores of Vietnam, we returned to Saigon, now flooded by recent flash floods. The flooding made for fabulous street photography, and I snapped off a few with the D-Lux 4, but after steady shooting an over 2,000 images to bring home and process, my endurance was waning, and the homesick feeling was starting to creep back in. All in all, my visit to Vietnam was a magical experience, full of beautiful sites, unique experiences, terrific food, and an exposure to a culture that I had never experienced. I found that travel was surprisingly easy. With th country's alphanumeric script, it was easy to communicate with our Vietnamese guides and escorts. The people are remarkably kind, helpful, and knowledgeable about their unique and wonderful country. I heartily recommend a visit, if you have never been and crave a photographic adventure of a lifetime
Issues with photography
The climate: As you may know, Vietnam is known for its humidity, heat and rain. While I traveled there, I didn't find any of these issues to be so bad as to interfere with my photography. However, I do take some chances with my gear, and feel that it's okay to expose my cameras to light rain on occasions. I never had any issues with humidity or moisture related damage to my gear. Never did my M8 or D-Lux 4 stop working. All in all, I came home unscathed. Make sure to protect your gear
Too many things to see
As a photographer with passion, you'll see so much to photograph. I tend to see the world these days as a series of snapshots, and I am always thinking how an image I may see with my eyes can translate to an image from my camera. Vietnam presents a stunning, and at times, overwhelming array of photographic opportunities. Make sure to take images, but also make sure to take in the culture and take moments to step away from the camera to enjoy perspectives with the most important lenses, your own eyes.
Power conversion
Make sure to bring appropriate power converters and chargers for your trip, lest your batteries run dry.
Photography is not always welcome
Be respectful. Not everyone wishes to be photographed. If you can, ask to take an image. If someone waves you off, respect their right to privacy. There are many cultural differences to contend with, so if an opportunity to capture an image seems to induce an unwelcome sentiment, pass up the opportunity. It's not always worth it.
You can't see everything in 2 weeks- What I missed and wished that I had seen
Sapa and Northernmost Vietnam
Angkor Way and Cambodia
Laos
The De-militarized zone (DMZ)
Here are few images to conclude my article. I hope you enjoyed my reflections of this journey, now one year gone by. I do find that my images bring me back, and to me, that's the most important thing.
Leica D-Lux 4: Monkey Bridge in Hanoi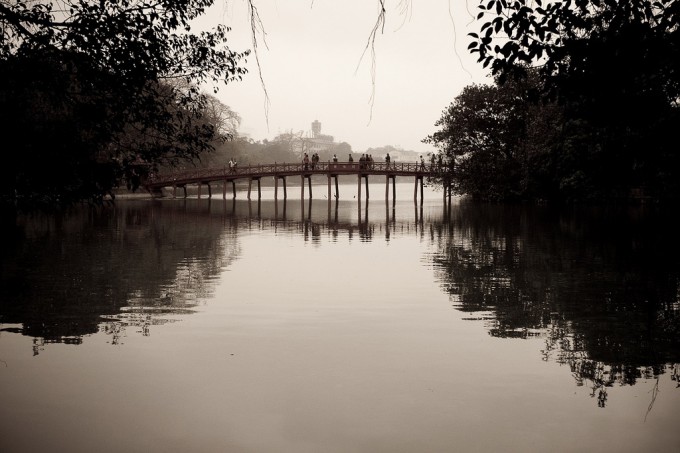 Leica M8: Hoi An Shoe emporium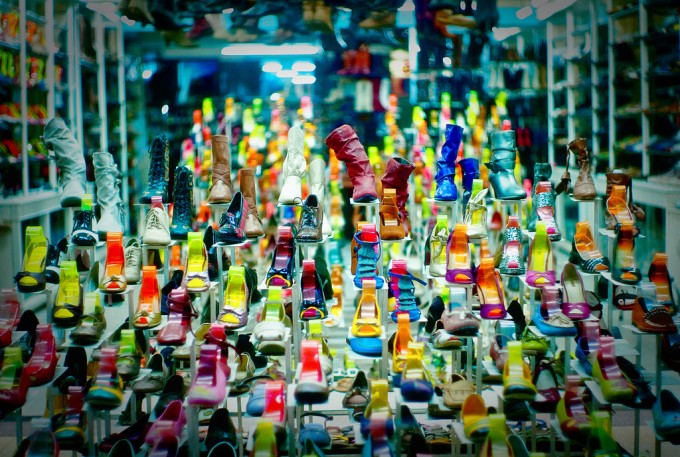 Leica D-Lux 4: Misty trip through the bay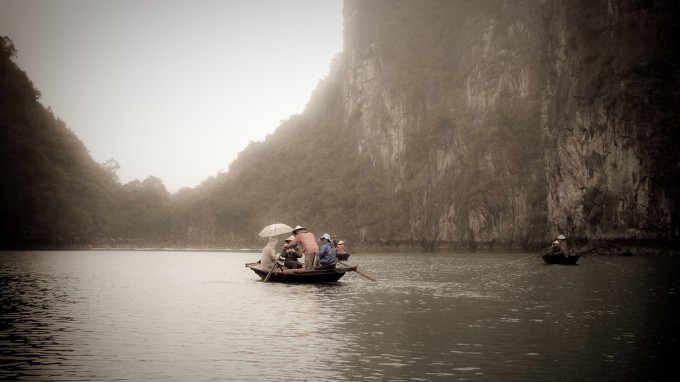 Leica M8: Balloon vendor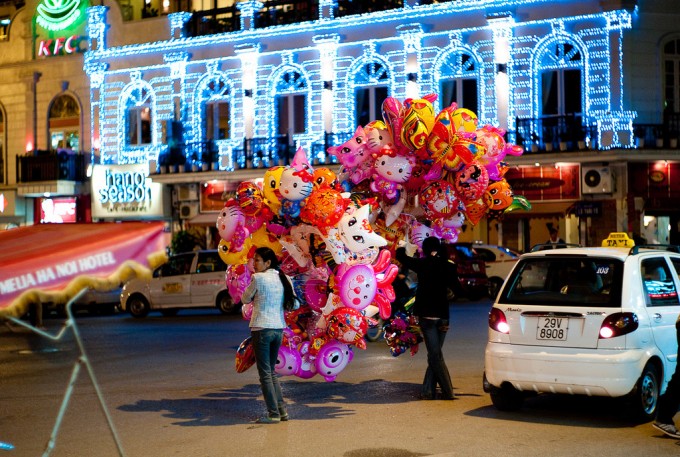 Leica D-Lux 4: End of the day journey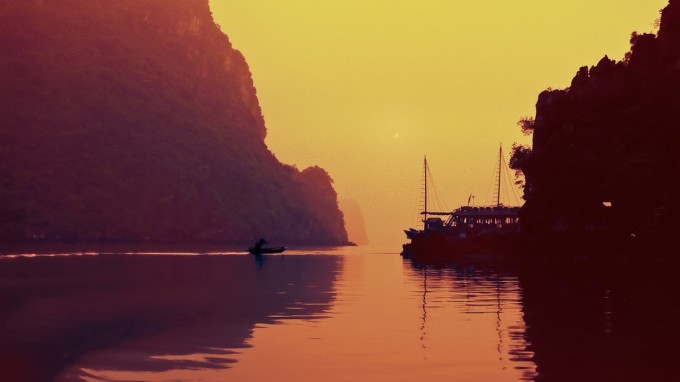 If you want to take a look at the rest of my travels, here's a slideshow of my images from Vietnam.
Here's a link to my flickr site:
http://www.flickr.com/photos/ashwinrao1/
And here's a link to my photo blog:
http://photos-ash.blogspot.com
See ya out there, camera in-hand!
[ad#Adsense Blog Sq Embed Image]