Today I was out an about shooting with the Leica M7 but a couple of days ago I shot one frame of my son with the M7 loaded with Kodack 400CN film, and then one with the M9 set to ISO 400 and in camera JPEG. I wanted to see how the M9 would look at ISO 400 when compared to ISO 400 film. I plan on doing a HUGE comparison between the two in the next 2 weeks, JUST FOR FUN! We all know that film gives a different look than digital but can we get a B&W film look with an M9 file? I wanted to know! I used Kodak 400Cn because I wanted to drop it off at the local drugstore for processing. What you see here is the stores crappy scan, not my scan (I do not have a scanner as I do not own the M7).
So remember, all I am doing here is comparing an M9 JPEG at ISO 400 to the M7 shooting ISO B&W film. No, this is not Tri-X (I LOVE Tri-X) but it's all I had on hand and all that was available to me at this time.
OK, so here is the image from the M9, just resized. Other than that, it is the out of camera JPEG at ISO 400.
Leica M9 – 35 Lux at 1.4 – ISO 400 – Click image for larger view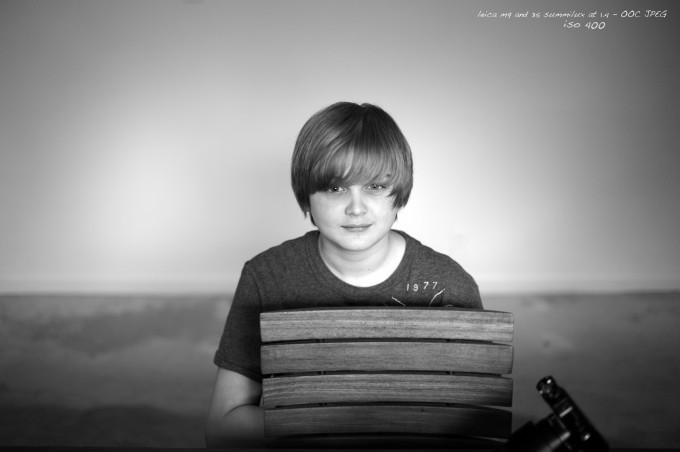 Here is the frame from the Leica M7 with BW400CN film…Again, 35 Lux at 1.4! – Click Image for larger!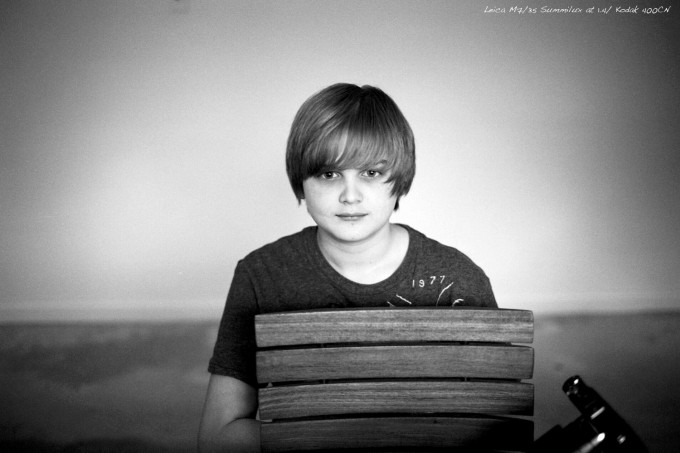 and now, an attempt to get the M9 file to look like the film shot using Silver Efex Pro's Kodack 400CN filter…click image for larger!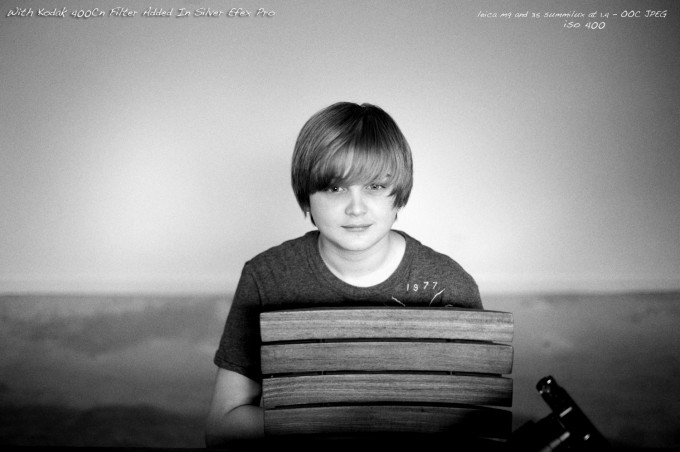 Remember, before anyone starts to complain in the comments…
This was a "just for fun" quick test – I plan on doing a huge 20-30 image comparison with B&W and Color film in the next two weeks! Again, for fun! This is not a "scientific" comparison and for my large comparison I will most likely scan the negatives myself. I used to scan all the time and I have thousands of negatives from my old M7 somewhere around here. It may be fun to re-discover old shots anyway 🙂
I thought it was interesting and a fun comparison even if it was with the horrible drug store scan. One thing I can say is that the M7 feels quite a bit more solid and substantial over the M8/M9. Someone asked why I would want a M6, M7 or MP since I have an M9. Well, I would love to have a Leica film camera as a "companion" to my M9 for those times when I want the look or feel of film, or even to enjoy some nostalgia. The feel of the camera, the feel of the shutter and even loading the film. It's different and I like it 🙂 Plus, you can find used film bodies at some decent prices so why not? I will most likely be buying something in the next month or so and will also be posting film shots with different films, etc. Can't wait!
On another note, it is funny to see so many complain about the M9 ISO. Look how clean ISO 400 is on the M9 compared to the film shot!
[ad#Adsense Blog Sq Embed Image]