Making The Move…
Nikon DSLR To The Leica M9…My Experience.
By Scott Graham
Hi. My name is Scotty Graham, and I am a Cameraholic. I started sipping cameras when I was 10. My Grandmother gave me my first camera. It was, what she thought, a harmless camera, the Pentax K1000. My use of the Pentax lead to heavier use and more dangerous cameras. I used to hide a camera in my locker at school, and sneak out between classes to take photos. I have spent a life savings on cameras ever since. I never got help. My addiction kept growing, and led me into the heavy Nikons, and got worse when the digital age hit in the late nineties. Although I never robbed a 7-11 to buy the newest Nikon that came out or a new lens, I was tempted. After experimenting with every Nikon on the market, nothing could give me the high I wanted… nothing until the Leica M9.
STOP. Am I sick or am I like you? Do you have a similar story? Let me start over…
My name is Scotty Graham, and I am a High School Photography Teacher at the Jakarta International School. I also own Last Flight Out Photography, which leads photography tours in South East Asia.
I bought the M9 in Singapore two months ago. It came at a price. I had to sell ALL of my Nikon stuff. As you know, the Leica is not cheap, and for a teacher like me, it was a major investment! I wish I could afford both systems, but I had to make a choice, and that choice was the M9.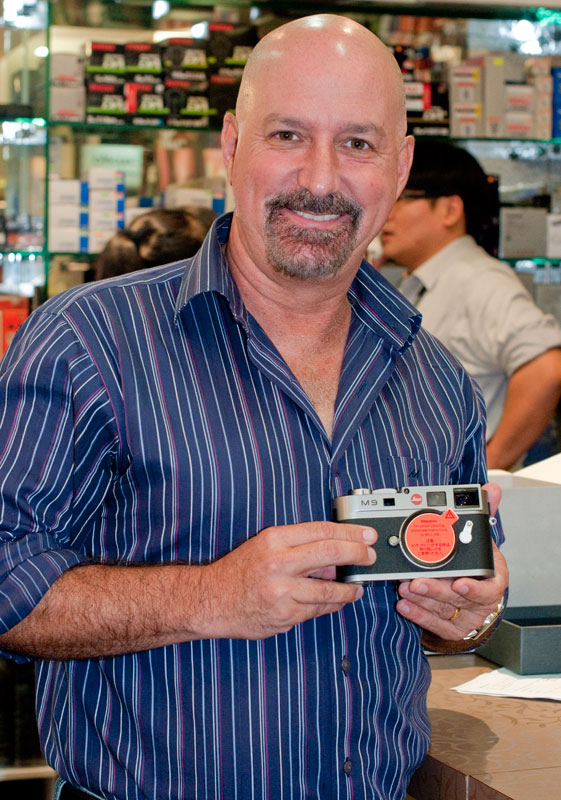 The decision to move to the M9 did not come easily. I was happy shooting with my Nikon. It was not always a good relationship, though. I travel a lot. Let me repeat, A LOT. I am an expat living in Jakarta, Indonesia and to escape the traffic in this city, I go everywhere I can when I can. The first thing I pack before a trip is my camera gear…and I bring everything. With my Nikons, that amounted to a great deal of stuff to lug around. Besides looking like a total camera geek on the streets, it was heavy. Sitting down in a restaurant to eat was never easy because I never knew where to put my camera gear. I would come back to the hotel after a day of shooting tired as hell and with a sore back from carrying my camera bag. I got to my breaking point, and often found myself leaving my Nikon in the hotel room because I didn't want to carry it. A change was needed.
One day, a friend of mine sent me a link to a review of the Leica M9. It was Ken Rockwell's site. I had heard of Leica before in my film days, but had never owned one. After reading Ken's review, he had me intrigued. I scoured the Internet for more information, and of course, Steve Huff's site fell into my lap. One night, I stayed up late reading EVERYTHING on Steve's old site (this was before he started his new site). I then emailed him, and asked him, "Steve, do you have any regrets selling your Nikon D700 for the Leica M9?" He replied with an emphatic, "No regrets, Scotty". The seed was set. I joined a couple of Leica forums, asked many questions, and got lots of answers. I read every review available on the M9. I watched Chris Weeks' videos on street shooting with the M9. I read (present and past tense) Steve's site daily. Finally, I came to a decision. I made the move.
I am sure there are other readers of this great blog that are in the same position as I was a few months ago…that is, a DSLR user thinking of trading-in for the Leica M9. All of the reviews I read came from long time Leica users already familiar with shooting a range finder. I wanted to know what a newbie to Leica and Range Finder cameras felt about shooting an RF camera and more specifically, the M9. I wanted to know how they felt about giving up their SLR for the RF. I was told countless times to not give up my DSLR. I was told, "Don't give up your Nikon as the Leica is good for some things, but can't do other things that you take for granted with your Nikon". Again, keeping my DSLR gear was not an option for me. I am not rich, and the Leica is a rich man's camera. I had to sacrifice my gear to shoot with a Leica.
Following in Steve's footsteps, this article is my "real world" review of the M9 from the perspective of a long-time DSLR user, and someone new to Leica and the Range Finder camera. I want to thank Steve for letting me share this review with you.
Am I happy with the switch? Read on…
WHAT LENS TO BUY?
When I bought the M9 in Singapore, I didn't have a lens. In fact, the camera sat in my bedroom for two weeks without a lens. You can imagine what that was like for an addict like me. I had limited funds left after plucking down almost 8 grand for the M9 (more expensive out here than at B&H). With a friend here in Jakarta (that I met in one of the Leica Forums), I made a trade for two lenses. I traded some Nikon equipment for his Voightlander 50mm f1.1 Nokton and his Leica 18mm Super Elmar. At this point, these are the only two lenses I own, and both ROCK!! In the future, I will buy more lenses…I have the disease, so it is inevitable…
I know this is a tough decision for most of you out there…what lenses to buy? Steve has written several articles on this site with recommendations, and I would read them…he gives great advice. In my case, what was in the trade was in the trade, I had little choice. I shoot lots of wide angle, so the 18mm worked out well for me. The 50mm ended up being a great all around lens, and I would take a 50mm over the 35mm for a "one lens" kit if I were forced to only have one lens. I found on my recent trip to Italy, these two lenses were enough…but sometimes, the 18mm was too wide, and the 50mm wasn't long enough. In the future, I would like to add a 28mm and perhaps the 135mm (which Ashwin wrote a fantastic review of on this site) to give me four lenses to meet just about every focal length one would need on a trip. I want the 50mm Lux, but I'll tell you the truth…the Voightlander is an EXCELLENT lens and FAST at f1.1. I have virtually no complaints with that lens. It is solidly built too. I accidentally dropped the lens when I was walking up some concrete steps (it fell out of my case that I had on my belt). To my horror, I watched it bounce down three steps until a guy behind me picked it up. Besides a couple of scratches and a broken UV filter, the lens still works perfectly. Unreal. One tough lens.
MY IMPRESSIONS OF THE M9
When I finally got my two lenses, I went in my back yard to shoot my daughters (that sounded bad…I meant "take photos" of my daughters). These are the very first shots taken with my new Leica M9.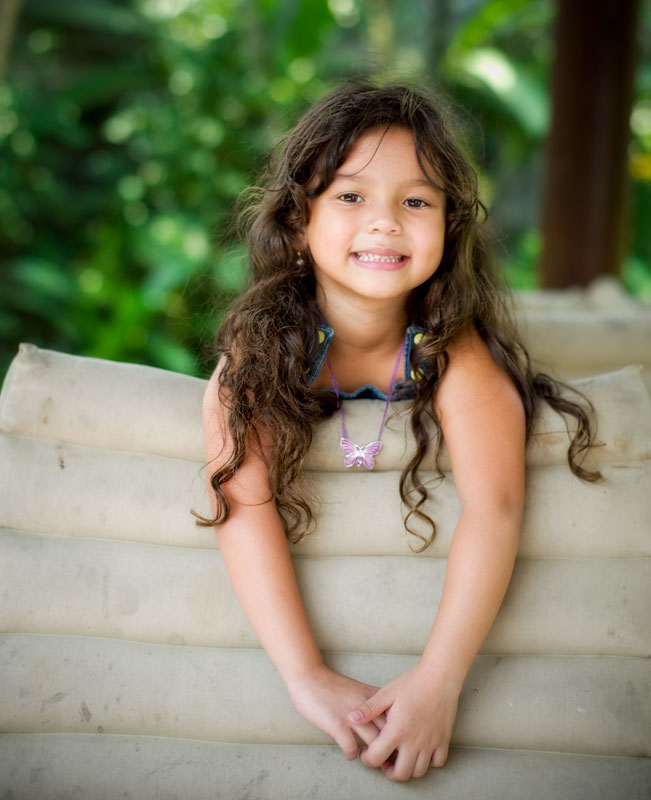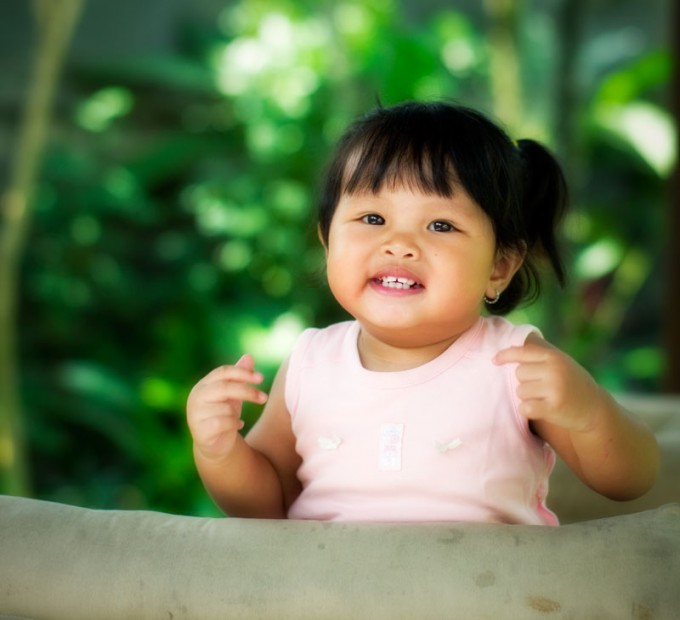 Size of the M9
First off, the camera is heavier than I thought it would be. It is a beautiful piece of machinery solidly built. Nothing feels cheap on this camera. It fits in my hands so nicely and is a pleasure to hold. Having said that, it is not a light camera to carry around. It is not much smaller than my old Nikon D700, but the incredible Leica glass is tiny compared to the monster Nikon lenses. If you were to compare the Nikon 14-24mm to my 18mm Super Elmar, it would be like a little puppy sitting next to a Great Dane. This is where the weight is saved in carrying the Leica (the lenses), not really with the body (still smaller than most Pro DSLRs).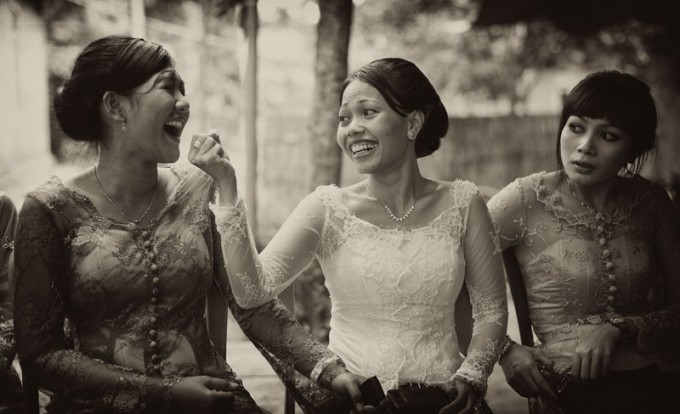 Focusing
I had trouble with focusing at first. I still have trouble from time to time. I was so used to the rocket fast auto focus on my Nikon D3, it took some time to adjust to manually focusing the Leica. I am getting much faster with practice, but I am still not up to speed with it. My wife and kids get frustrated with me when taking their photo as I take much more time while they hold their smiles and poses. You won't hear about this from long time Leica users, and it is something you need to be aware of when you switch over to the range finder…it takes practice to focus well. Sometimes (not often) I can't see the virtual image in the focus zone to match with the real image…not sure what causes this, but it is frustrating when it happens. What I really like about the Leica, however, is that I have total control over the camera, and that is a good thing. I can't think of how many times my Nikon got it wrong with focusing. I am in control of the Leica. If it is out of focus, I can only blame myself, and not the camera. Once you get those images lined up in the viewfinder, the photo is tack sharp where you want it to be. I am starting to prefer focusing the Leica to my auto focus on the Nikon, but it has taken LOTS of practice.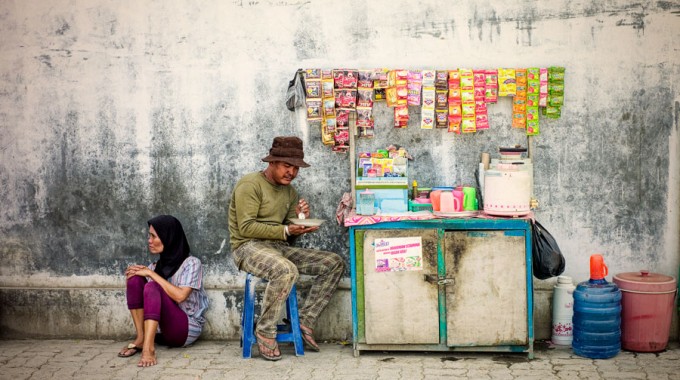 Composition
The viewfinder is beautiful… so bright and it is easy to see what is coming into your picture…the reason many PJ's love the RF. The frame lines are clear. However, with the Voightlander 50mm, the frame lines were fairly accurate, but I realized after awhile that I was actually capturing slightly outside of the frame lines. Once I knew this, it was easy to compose. Composition is not a problem. It is not as accurate as a DSLR looking through the lens, but I have no problems composing. When I have the 18mm attached, I have to use a separate viewfinder. I first focus in the main viewfinder, and then look through the other viewfinder to compose. That was tricky at first. Sometimes I would forget I had the 18mm attached, and would frame in the 50mm frame lines, and then look at my monitor and be shocked to see a wide-angle image. Oops.
I now prefer the viewfinder of the M9 to that of my Nikon. It is really nice to keep one eye open and to see people move into the frame. It is also nice to not have that temporary blackout when the shutter is pushed. The viewfinder for my 18mm is extremely accurate. I thought it would take more practice to frame with the RF, but if you have been taking photos for a long time, composition comes naturally with the RF.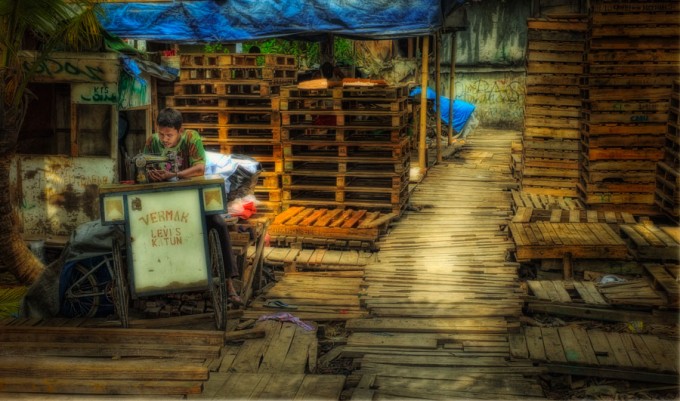 Image Quality
WOW! That is all I can say. The files are gorgeous from this camera. With over 18 million pixels, you end up with a file that is plenty big to print, and they take abuse from Photoshop and Lightroom adjustments so well. I thought the files from the D3, D700, D300 were good. The Leica files just feel better. I often look at my files in Lightroom, and think, "no adjustments needed here"…the native files are that good. I have a large format printer (the 44 inch EPSON 9880), and have made a couple of large prints (one print is 2 meters wide), and the prints are gorgeous!
The image quality is one of the main reasons I bought the M9, and I was not disappointed. Of course, the Leica glass plays a big part in the equation. I am not saying I didn't get beautiful prints from my Nikon, and my Nikon glass, I did. However, the image quality from the M9, a camera a fraction the size of the D3 coupled with a 70-200mm lens, can't be beat by anything out there today (in my opinion).
Here are two examples of photos (my wife, Tika) that are straight from the camera with no adjustments…nice, heh?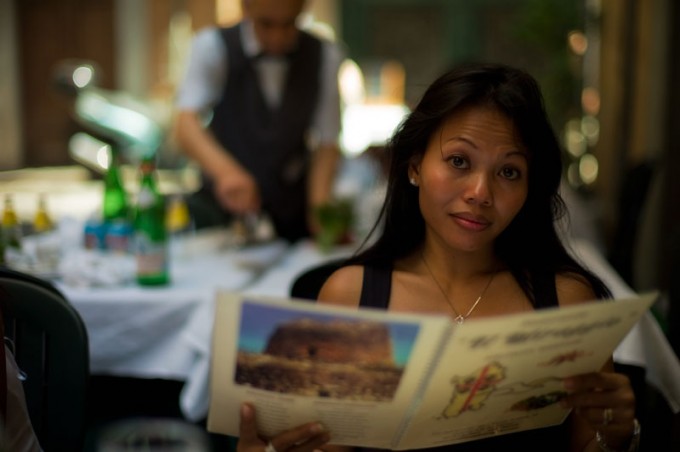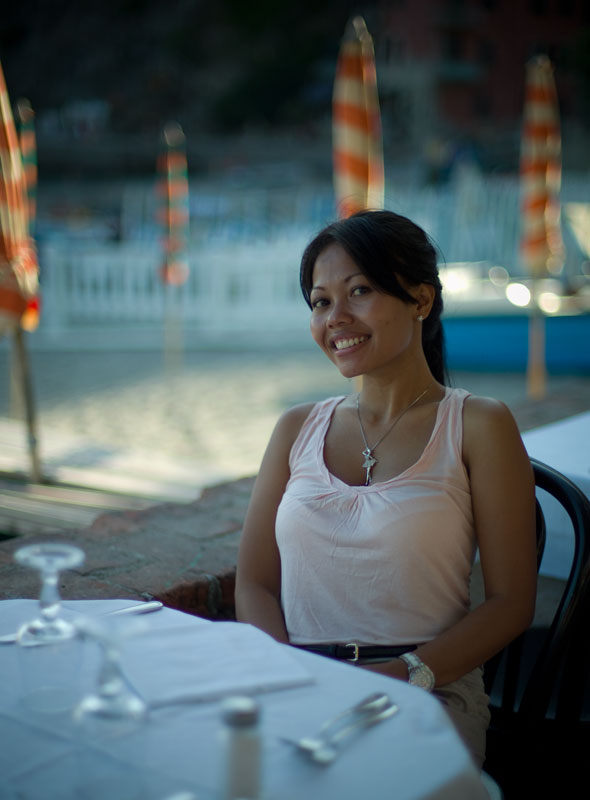 I made some very simple adjustments to the second photo in LR to the second image to produce this: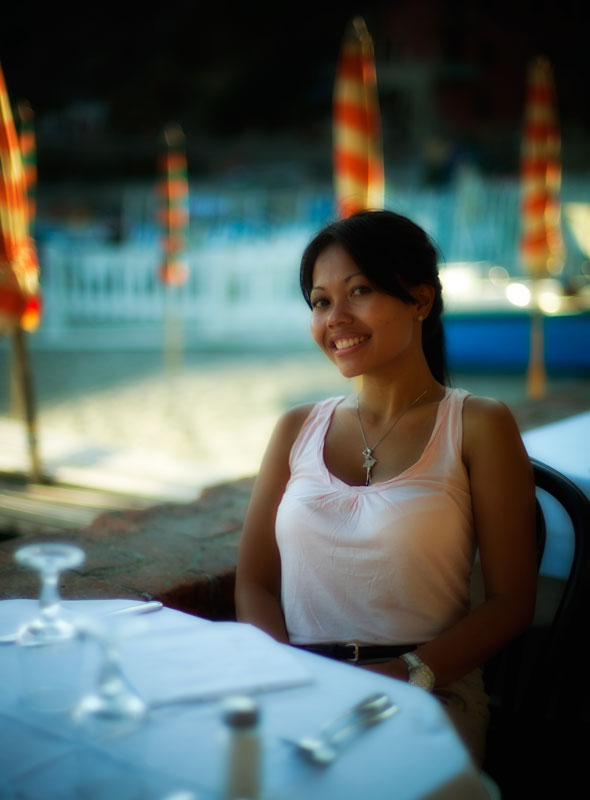 I really didn't understand the "Leica Look" I kept hearing about, but now I get it. There really is a different look to the images that come out of the Leica. I still can't explain it, but it is there.
HDR
A controversial topic, I know. Some people hate it, some love it… I am not here for that debate. I happen to like it (at times) when done properly. With my Nikon, it was easy to set up auto bracketing and fire away. How does the M9 work for HDR? Although the M9 is not nearly as fast as the Nikon (it only fires at 2 frames per second), it is very easy to set up auto bracketing, and the M9 will take up to 7 shots. What I liked about it was that once the auto bracketing is set, you just press the shutter button once, and the camera does the rest. I found myself hand holding many of my HDR shots that I would never be able to hand hold with the Nikon. Since there is no mirror in the Leica, I was able to hand hold the camera at slow shutter speeds up to an eighth of a second with no visible camera shake in the files. In all of the churches I visited in Italy, tripods were not allowed. I boosted the ISO to 1600, and hand held 5-shots with the last two shots at pretty darn slow shutter speeds. The resulting photos after blending in Photomatix and touched up in Photoshop are pretty darn good…I think better than what I could get with my Nikon. The M9 is a great HDR camera!
What I didn't like about the Leica was that often I would forget to turn off the auto bracketing. Then, when I only wanted one exposure, the camera would suddenly take 5 exposures. I would have to wait for the camera to take the five exposures, then wait for the exposures to record onto the SD card, then turn off the auto bracketing and re-take the photo I was intending to take originally. Often, I missed the shot because of this. I have learned my lesson though, and not remember to turn the auto bracketing off.
Here are some HDR shots …all hand held.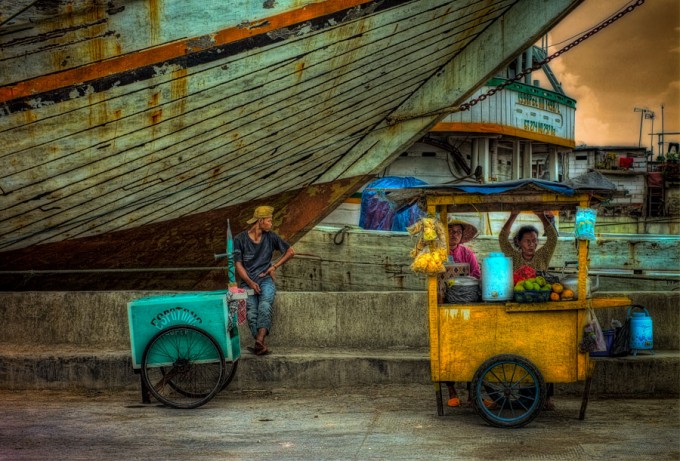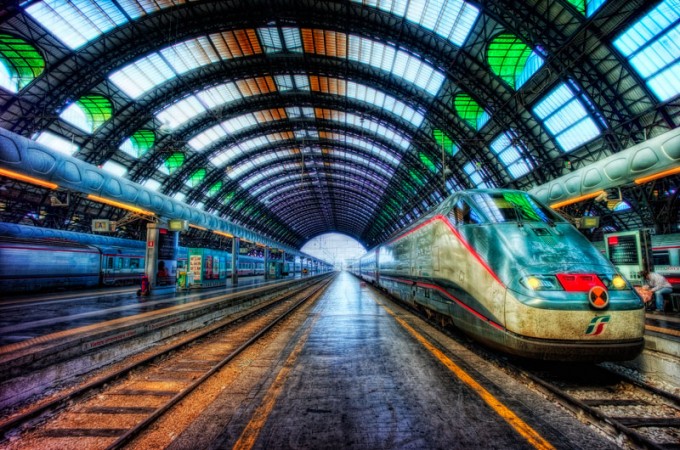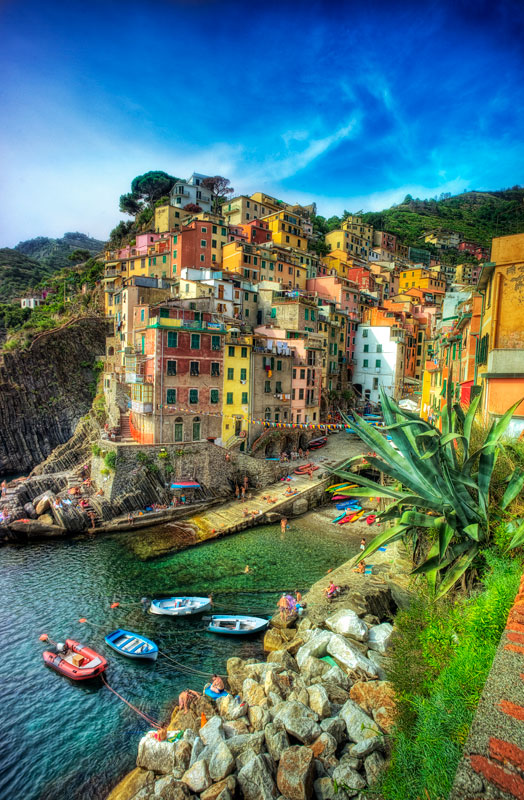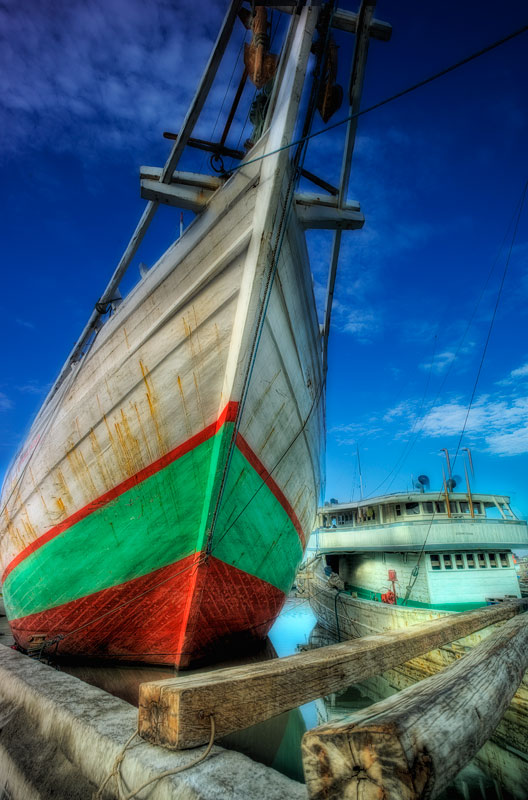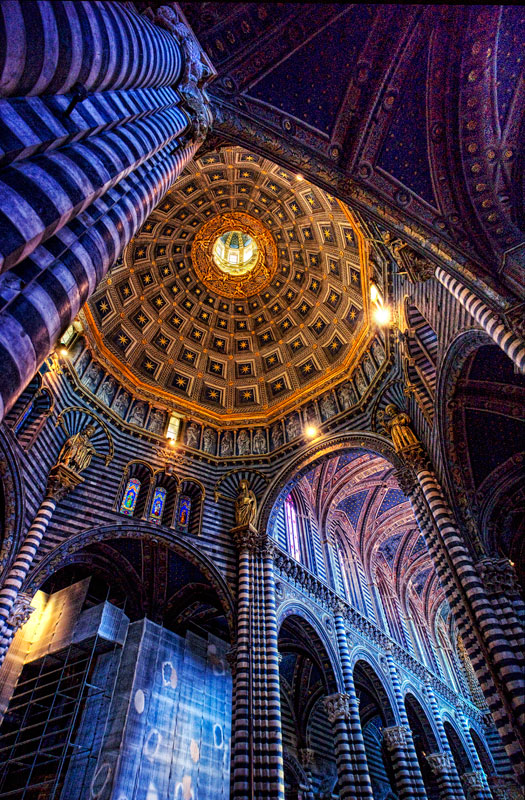 Leica M9 for Street Shooting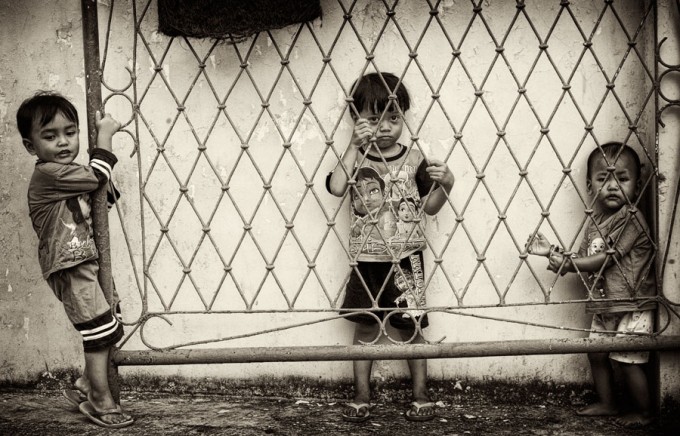 I might hit a nerve with some here on this. The Leica is known as the King of Street Shooting. I agree and disagree… at least from my perspective. Yes, you can be less intrusive with the Leica, and it is not so scary looking as a massive DSLR with a long lens pointing at someone, and most people don't take you as a professional carrying what they think is some old clunky camera…this is where I agree that the Leica is King of the Streets. I will admit that I am a mere plebe with the Leica. My focusing skills are not that good yet, and I don't have a lens longer than a 50mm. I find it difficult to shoot people in the streets. Contrary to what most Leica shooters say, I get noticed by people with my Leica where I was seldom noticed with my Nikon…I was seldom noticed with my Nikon because I was usually a fair distance away with my large zoom lens. Zoom lenses are really handy for street shooting. With my Nikon, I could hide across the street and get a totally candid shot by zooming in without the person even knowing he/she was being photographed. Since I need to be close to the subject with a 50mm, it is more difficult to get a candid shot. The person/people I am trying to shoot are well aware I am taking their photo. One occasion while in Italy, I was trying to take a photo of an artist painting a portrait of a girl on the street (great textured background), and noticed him flipping me the bird as I was focusing… so much for a candid shot. On another occasion, I was trying to take a photo of a group of old men sitting on a bench talking and smoking cigars at dusk. I would have gotten the shot with my long lens and Nikon, but with the Leica, I had to move close to the men. They noticed me, and one of them waved me away. For street shooting, I miss my Nikon. Sorry. Don't beat me up, Chris Weeks…I do have tremendous respect for good street shooters (like Chris), and have more respect now knowing how difficult it is to get good street shots. Having said this, I am getting more practice as I use the Leica more, and I have gotten a couple of decent street shots.
By the way, I agree with Steve Huff…Nik's Silver Effex Pro absolutely rocks for black and white conversions. All my black n white photos are converted using Nik. The Leica also has a built-in black n white for jpgs only. I really like the vintage black n white, and it is one that is difficult to duplicate with Nik. I would use it more if the conversion could be made with the DNG files rather than the jpgs.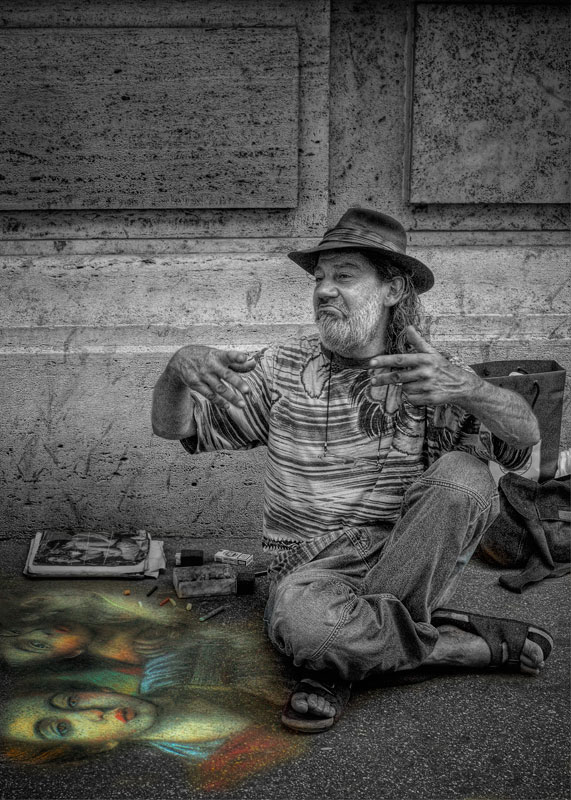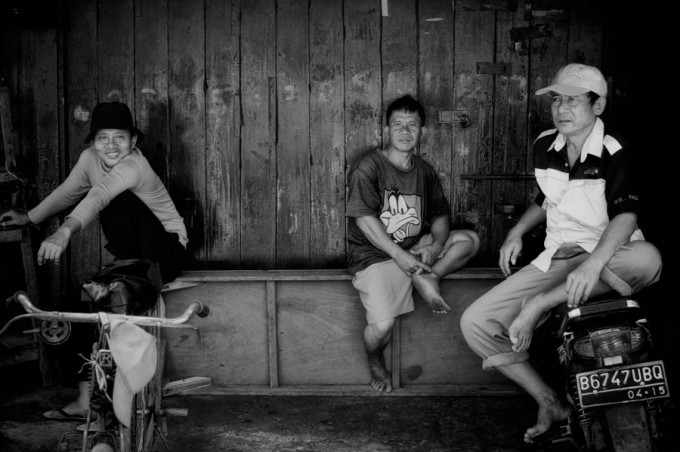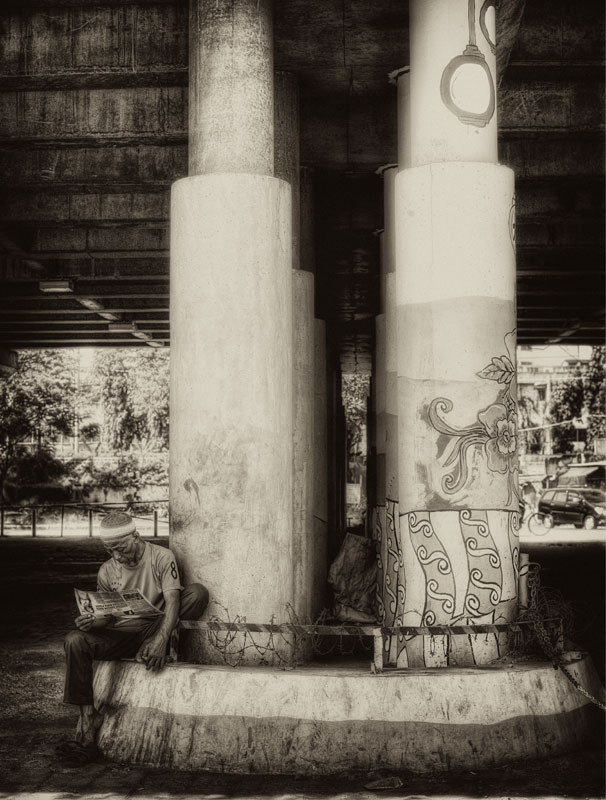 Battery, Base Plate, On/Off Switch, High ISO, and Monitor
I wanted to mention these things as they are mentioned in virtually every review I read on the M9. I disagree with many of the reviews I have read about the battery. It doesn't last as long as my Nikon's battery, but it has never been an issue with me. I bought an extra battery, so I always have a fully charged battery with me. The battery easily lasts a full day of shooting. I have yet to drain the battery , and often when in Italy, I was shooting from 5:00 am till late at night
Reviewers have also criticized Leica for having to remove the base plate to get to the battery and SD card. A non-issue for me…really, no problem.
The On/Off switch could be better. It is too easy to move, and can easily accidentally be switched on. Not a huge problem, but given the quality build of the camera, I am surprised Leica didn't build a better on/off switch.
I have yet to shoot above ISO 1600, so the conceived high ISO problem with the M9 is not an issue with me. My Nikon D3 could go to ridiculous ISO levels with little noise. It really is THE camera for high ISO shooting. For my style of shooting, I rarely need an ISO above 1600. With my Nikon, I would occasionally use a high ISO for sports and for the rare stage performance I would shoot. I find the Leica to be the best travel camera available. Rarely during travel would a high ISO be needed. Having said that, I did experiment with high ISO, and the critics are correct, the Leica does not handle high ISO as well as the latest DSLR's. However, it is not a deal breaker for me. After all, how often when you used film would you use the ridiculous ISO's offered now by the DSLR's…c'mon….get real.
Finally, the monitor… clearly the M9's weakest link. To put it plainly, it sucks…especially for a seven (eight) thousand dollar camera. I like to use the monitor to check if I nailed the focus. All my photos look fuzzy in the monitor, and then when I would look at them in Lightroom after downloading, they were sharp. My brain has adjusted, however. I can now tell from the monitor which photos are sharp and which are out of focus. I also use the monitor to check for composition. For this purpose, the monitor is fine. I do miss my monitor on my Nikon. Again, not a deal broker. It sucks, but I absolutely love this camera, so I don't let it bother me.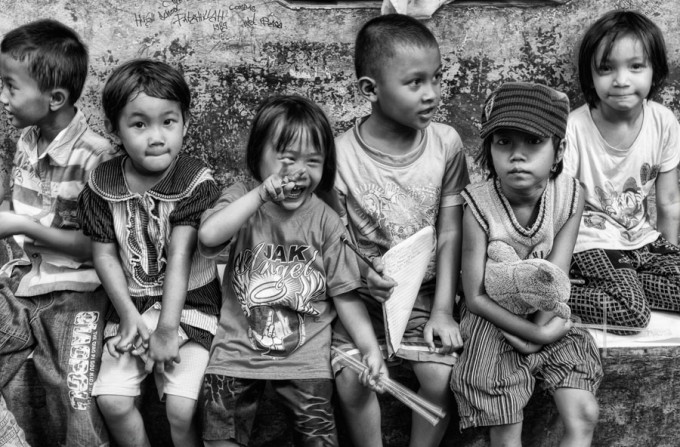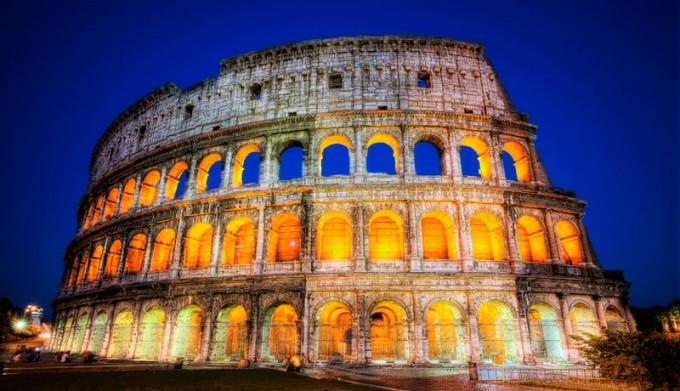 AM I HAPPY I MADE THE MOVE?
I am now an Ex-DSLR shooter. Other than my underwater camera, I no longer own a DSLR. Do I have any regrets? In short, NO REGRETS. I made the right decision for ME and for my style of shooting. There were times I missed having a zoom lens. In retrospect, however, I think of the shots I wanted with the zoom, and they were very few. I have learned to just not "see" those shots anymore. Instead, I concentrate on the shots I can get with the prime lens I am using. It does make me "see" differently. People told me my style would change when shooting with the Leica, and I agree to a point. You have heard this before…the Leica brings back the fun in photography. You have to think with every shot you take. You must think about your aperture, shutter speed, exposure, focus and composition. There is nothing automatic, and I like that. I am in control of my camera, not the other way around.
Chase Jarvis says, "The best camera is the one you have with you". I take my Leica with me everywhere. Rarely am I without a camera. Not true with my Nikon…it was just too damn big to carry around with me. I am happiest with the Leica when I am packing for a trip, and when I am out walking around. I can't tell you how nice it is to walk around with the camera around my neck with a small lens attached, and carrying one other lens in a small case on my belt. Gone are the days of lugging 20 pounds of camera equipment on my back. I bought a Gitzo 1541T tripod with a Really Right Stuff ball head that probably weighs less than my old ball head alone on my old tripod. The Leica is just a pleasure to walk around a city or hike up a mountain. It truly is the perfect travel camera, and is why I have no regrets, and don't miss my Nikon.
My wife hates the Leica. She can't use it, and that is somewhat a problem. It is not the type of camera you can hand to a stranger in the street and ask to take a group photo with you in it. I don't have a single photo of myself from my last trip as Tika couldn't use my Leica. Oh well. In the future, I guess I will just have to set the camera on a tripod, put on the timer, and jump into the shot.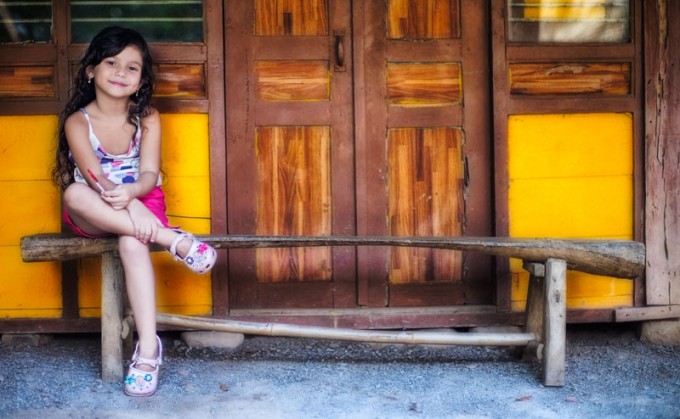 Is the M9 right for you? Depends on what you shoot. If you are a wedding photographer, I would stick with the DSLR as your main camera, and carry the M9 as a second camera. You could shoot a wedding with a Leica, but it would be a challenge. The modern DSLR is clearly the most flexible tool out there for photography…if you rely on "getting the shot" for a living, the Leica is not your best choice of camera. If you shoot sports or you are a wildlife photographer, the Leica is not for you unless you want it as a second camera. If you don't want to think, and let the camera do everything for you, the Leica is not for you. If you are a scientist or flower fanatic, and want extreme close-up shots of bees, frogs and spiders, stay away from the Leica. If you are a traveler, fine art photographer, photojournalist, landscape photographer, architectural photographer, street photographer (with practice) I would dump your heavy DSLR stuff now, and invest in a Leica…you won't be disappointed nor will your clients. If you can afford it, keep your DSLR and have a Leica to complement your equipment. I am willing to bet, however, that after time, you will use the SLR less and less, and choose to grab the Leica instead.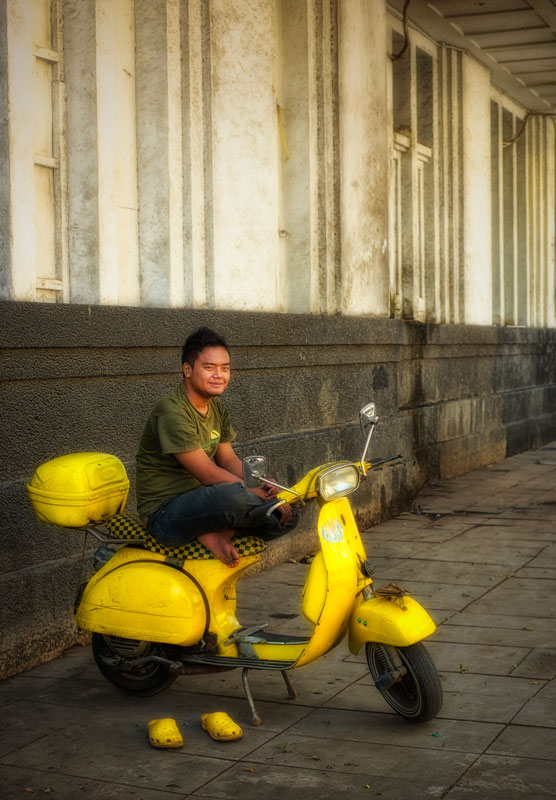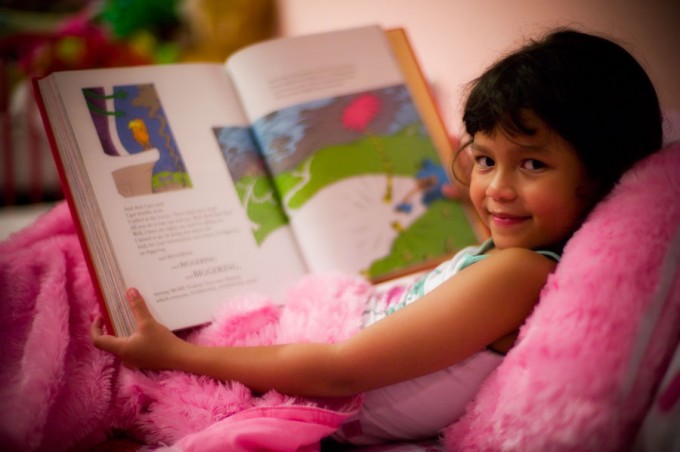 My name is Scotty Graham. I am a recovering cameraholic. This may be my last camera until the M10…ha ha…once a cameraholic, always a cameraholic.
Thanks again to Steve and his website!! You da man, Steve!! (Thanks Scott! Awesome article/write up on the M9!! – Steve)
Scotty's Photo Blog…www.scottygraham.blogspot.com
Scotty's Website (badly needs updating)…www.scottygraham.com
Scotty's Pbase Galleries…www.pbase.com/scottygraham
I NEED YOUR HELP!
Remember, anytime you follow my links here and buy from B&H or AMAZON,
this helps to keep my site going. If it was not for these links, there would be no way to fund this site, so I thank you in advance if you visit these links. I thank you more if you make a purchase! I have nifty search bars at the upper right of each page so you easily search for something at either store! I currently spend 10-14 hours a day working on this site and the only way that I can pay for it is with your help, so thank you! Currently my traffic has been increasing but my funds to pay for the site has been decreasing, so any help would be GREATLY appreciated!
If you enjoyed this article/review, feel free to leave a comment at the bottom of this page and also be sure to join me on twitter or facebook! Also, you can subscribe to my feed at my subscribe page HEREand read these posts in your browser or news reader!  Thanks so much for visiting my site, and check back often!
[ad#Adsense Blog Sq Embed Image]