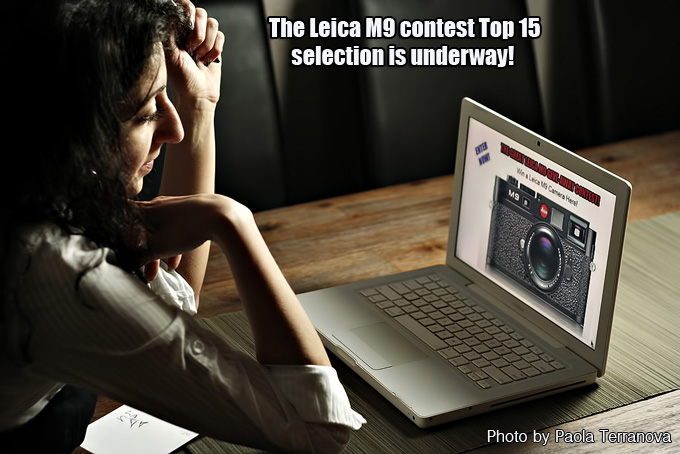 WOW! Over 1300 entries came in for the M9 contest. Over 2600 photos!! When this contest started I thought there would be 300-400 entries max but you guys surprised me with your enthusiasm, creativity, and overall excitement for this contest! As the entries came in I separated them into one of three folders. Basically one folder for the submissions that were good, one for the submissions that were better and finally one folder with the submissions that, in my opinion, told a great story. The best of the best all had something to say and the entrants came from all over the world. Some were dark, some were humorous and some were erotic. Overall, every single entry was looked at carefully and I will be posting my top 15 anytime between now and Feb 15th. I want to go over each and every entry one more time to be sure but this is not going to be easy, not at all!
Also, when the top 15 is announced and posted I hope we can all remain civil and respect the decision made. This contest was all about storytelling, using two images to form a narrative. About 95% of you did this and did it well, so that makes my job even harder! No matter who makes it to the top 15 I congratulate all who entered just for getting out there and giving it a shot! I am thrilled that this sparked passion in everyone who participated and I know if I had to come up with two images that told a story it would drive me crazy trying to figure out what to shoot.
So once again, thanks to all who entered. Thanks to Seal for his generosity and overall "coolness" and thanks to the Judges, Heidi Klum and Rankin who will be picking the TOP two winners. Don't forget to follow one of them over at picortwo.com! Keep an eye peeled every day as the top 15 can be announced at any time, just no later than Feb 15th!