Let us all welcome Ken Hansen as a site sponsor!
OK, all of my site sponsorships have been filled up! Today I proudly welcome Ken Hansen, Leica dealer extraordinaire to the list of those who support this site. There are many choices out there in Leica land but my dealers of choice has always been Ken Hansen, B&H Photo and Dale Photo. Three top choices for Leica cameras and lenses. I have dealt with and bought from all three of them and received nothing but the best in return in regards to speed and service. Ken has been around since 1958 selling Leica and has also owned and operated a nice photo shop in NYC for many years. He has since retired from Retail but now sells Leica from his home office and usually has stock on hand of everything Leica (well, besides the elusive 50 Lux ASPH though dealers do get one or two a month it seems). He even usually has the film classics like the M6's or M7's in stock as well as the little film cameras like the CM and Minilux.
Ken has been with me and my site since the first days, loaning me lenses or cameras to review. He has been a great supporter of this site and I have been happy to send him business, as he has always provided stellar service to me and others that have raved about him to me via e-mail.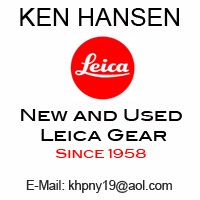 So when you need camera gear be sure to shop at the sponsors of this site as without their help this site would not exist! You can e-mail Ken Hansen anytime at khpny19@aol.com and ask about what he has available in Leica (I have bought an MP, M8.2, X1 and varous lenses from Ken). You can visit Dale Photo HERE and browse their online shop. They sell Leica as well as Artisan & Artist cases and bags for your Leica (I have bought 2-3 Leica lenses from David at Dale, super fast delivery and top notch service). Let's not forget LenRentals.com where you can RENT Leica lenses! No need to spend thousands up front. Try them out 1st! I think lensrentals may be the only place to rent Leica glass and even the M9.
For all of you Sony NEX shooters, J-Tec provides cool accessories for your NEX-5 so check them out if you haven't already. Of course there is also B&H Photo who I have been raving about since the start as well. I have spent probably over $200,000 with them in 10 years and never had one issue. B&H is great for Leica as well as ANY other brand of camera or accessory. They sell just about everything and when you buy from them using my link I get a small percentage that helps this site go on! They also usually have a nice supply of used Leica.
So thanks to all of my sponsors and for those who were asking about sponsoring the site, I am now all filled up! I only planned to offer four spots and only to those whom I know and trust and easily recommend. I had some shady sites trying to pay me pretty good $$ to advertise here but I turned them down. Nope, what you see here are the best of the best IMO for Leica and everything else photographic!