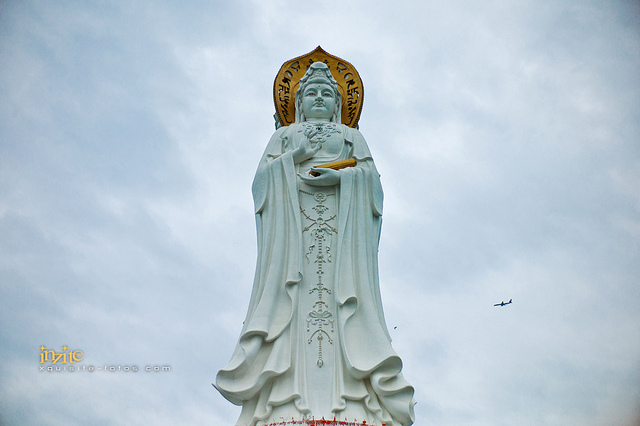 My First Trip with the Leica M9
By Ricky Cheong
Intro:
Hi Steve and fellow readers, my name is R.C or better yet just by Inzite and I've been a viewer of this wonderful site for quite some time already so I thought I should also chip in my thoughts regarding shooting an RF and how it fairs against a SLR. I have been shooting for about 6 years or so with DSLRs from both Nikon and Canon, only recently this year or so have been really using my m bodies. DSLR is fine, and probably great for what I shoot and my shooting style, however there are times when I just want to go out and have less or a burden (especially when going out with the lady). This spring, I decided to only take the m bodies with me for our trip in Asia. Our destination: Macau, Hong Kong, Sanya and Phuket.
The Gears:
M6, M9, 35 Summicron, 15 Voigtlander.
Being new to the m system I don't have many lenses for the bodies, I actually end up buying the 15 Voigtlander in Hong Kong while we stopped there. I left Toronto with M6, M9 and a 35 Summicron all inside my Crumpler 6 million dollar home. It was quite a change from lugging around a d3, 14-24, 50 1.4 in the same bag, or a 1dm3 or 5d, 24-70 and 70-200 in the same bag. The bag no longer felt like a burden and I no longer get harassed by the flight attendants regarding having too bulky of a bag beneath the seat.
The Trip: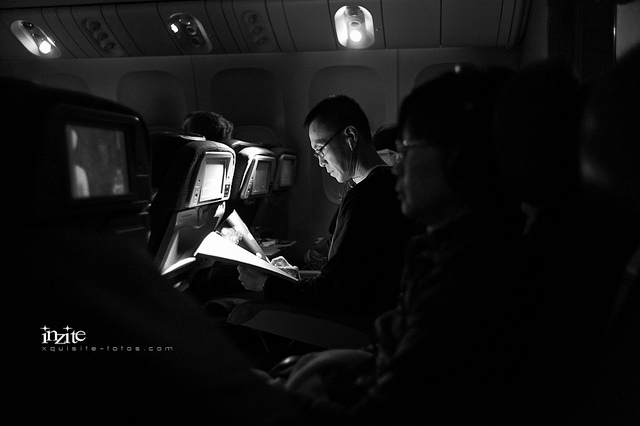 On the way to Hong Kong, packed plane as usual.  M9 | 35 | F2 | 1/8 | ISO 800
–
Flight was long and tiring from Toronto to Hong Kong, with babies going off every 30 minutes or so, amidst the chaos on the plane, I did manage to fire off a shot that I was very happy with. The 35mm summicron + M9 is such a small package, great for shooting in close range with people in tight space. Had I try to shoot it with a d3 + 50 1.4, I would probably catch the attention of the woman sitting beside me because I would probably spend a good minute or so trying to yank my bag out from the seat in front, then followed with pulling the camera out of the bag, and not to mention the bold, fierce sound of the shutter going off.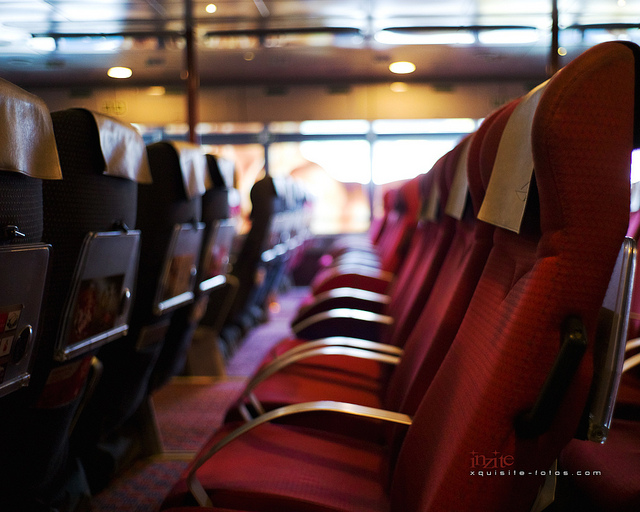 Riding the ship from Hong Kong Airport to Macau. M9 | 35 | F2 | 1/50 | ISO 800
–
I do have to say, shots coming from the combination of M9 and 35 IV (I'll use IV as the short form of summicron here on) is pretty 3D compared to similar shallow dof shots done with a 35L or 85L or 50 1.4 G. So carrying my dead tired drained body, I hopped onto the ship that will take me back home to Macau. I rested for a few days in Macau before flying off to Sanya to meet the lady. The short first part stay in Macau was not bad. Carrying a lighter camera in typical Asian humid climate can really enhance the travel experience. Back when I used to lug around a bag full of Nikon or Canon, I would be feeling so hot and tired that I would be really inclined to stay in doors as much as possible. Now with the m bodies, I can spend more time shooting outside and less time enjoying the ac.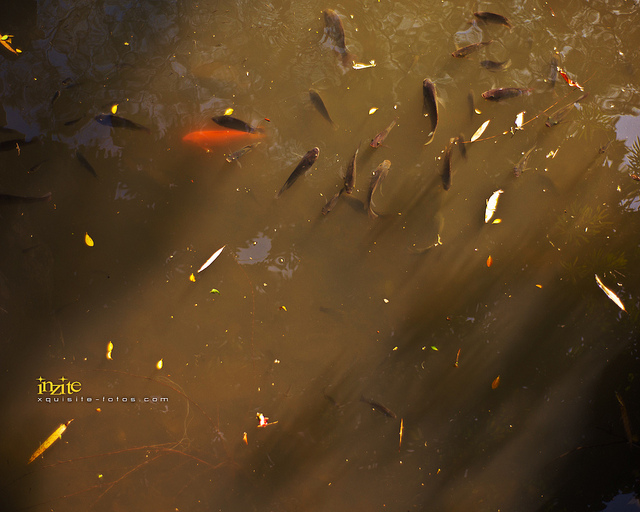 Koi watching in a garden surrounded by cement buildings. M9 | 35 | F2 | 1/500 | ISO 160
–
So I met the lady in Sanya and we hit up some tourist spots there, it's a nice and interesting place there, some call it Hawaii in Asia. I find it quite relaxing as all we did everyday was go out and have fun, all on our own schedule. Weather was nice, typical island climate. If you find your self in the area of Hong Kong or Macau, hop over and spend two or three days there. It is as close as it gets to Hawaii without leaving southern China. The M6 stayed in the bag at our room as a back up body, I took the M9 + 35 IV out every day, every where, bag less, free. It was a good start for the remainder of the trip with regards to the pleasure of shooting. 35 IV works great for an all purpose lens, prior to this trip, I have always wondered if a 50 would serve me better.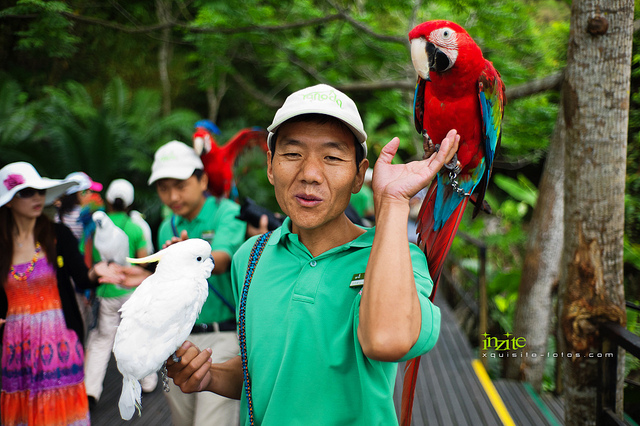 Visting Yanoda Natural Reserve, I have never seen so many parrots in one place in my life. M9 | 35 | F2 | 1/350 | ISO 200
–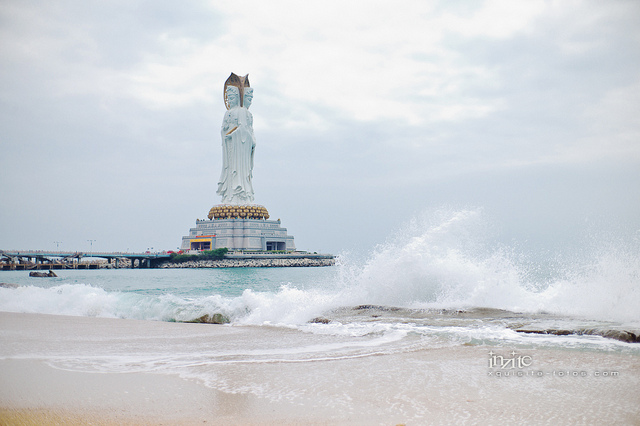 Nan Shan Temple in Sanya, viewing it from the beach gives it quite a unique feel.  M9 | 35 | F2 | 1/4000 | ISO 160
–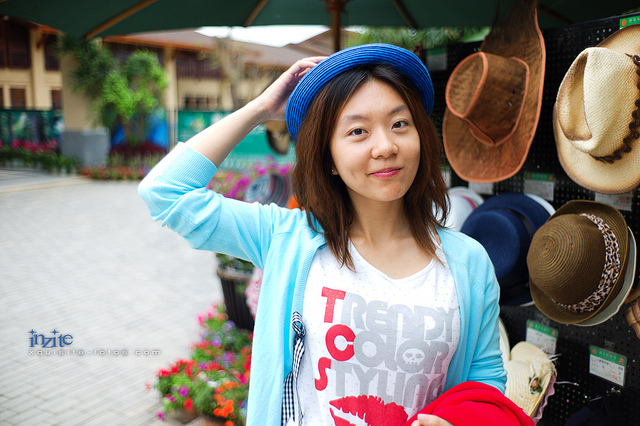 The lady trying on a hat, we end up buying it for 45 RMB. Love the colors.  M9 | 35 | F2 | 1/1500 | ISO 160
–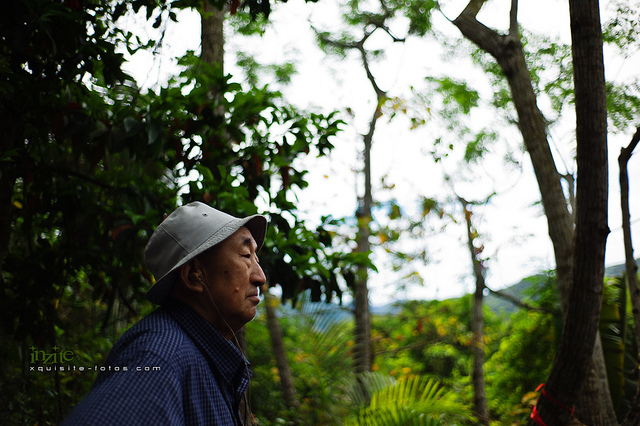 Elder people give great subject sometimes. He was an old kind man.  M9 | 35 | F2 | 1/1500 | ISO 160
–
After our short stay in Sanya, we arrived in Macau along with my future in-laws. My second part stay in Macau is basically to act as a tour guide for the future in-laws. However, I did manage to fire off a shot or two that I can actually use for this report. Again, in warm weather like Macau, the less you bring out doors with you, the better and happier you will feel. I once carried a D3 with a 200 F2 VR lens for shooting once and despite the amazing result I got, it was a nightmare. Then of course when people ask you if it's hard work carrying such equipment you usually man up and say it's no big deal but deep inside us SLR folks all know that the freaking thing is big heavy and a pain to carry. Since I didn't take much pics this time in Macau that is worth sharing, I will also attach a few I took before that I feel it will give you a glimpse or Macau and that being there is all it takes, the type of camera doesn't matter really. (well, it does if you light to shoot natural light in dim lighting like me, and honestly, the M9 is definitely not there yet in the high iso department, see below)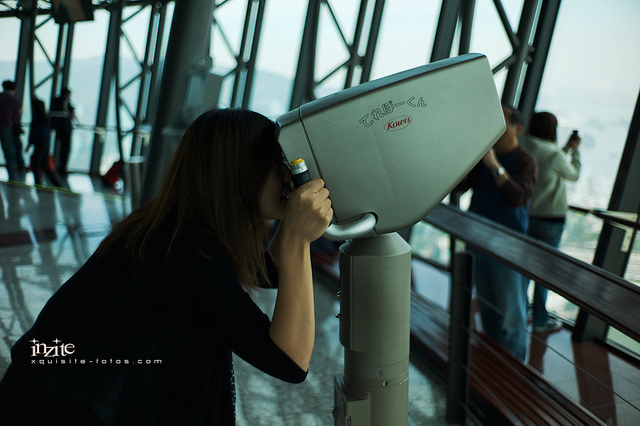 Scanning Macau from on top of the Macau Tower, the tallest building in macau.  M9 | 35 | F2 | 1/1500 | ISO 160
–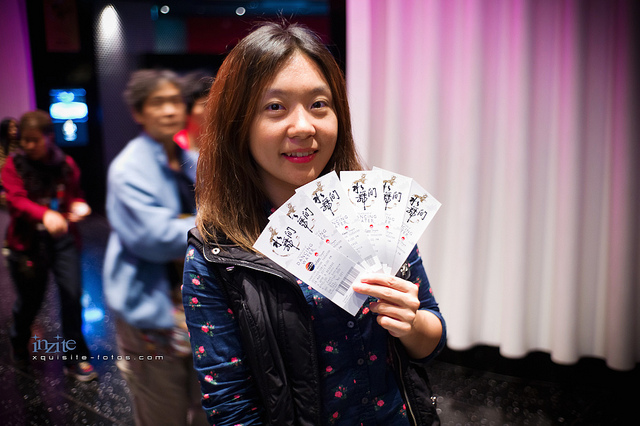 Waiting with tickets to see "The House of Dancing Water" at City of Dreams. Yes, it's a nice name for a hotel, but it's true that you do feel that you are living a dream. M9 | 35 | F2 | 1/30 | ISO 800
–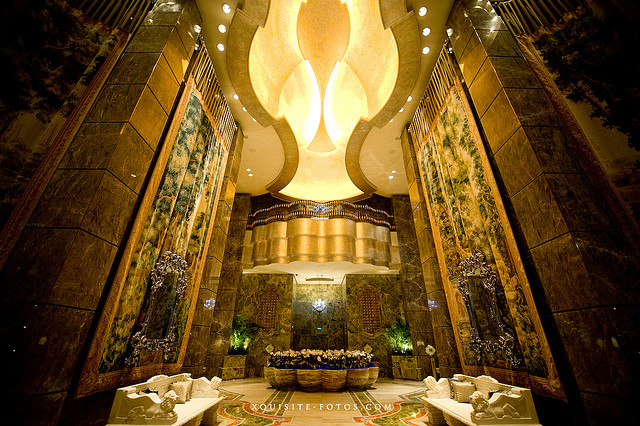 Inside the MGM Macau VIP lobby, beautiful is understating it, it's GORGEOUS! D3 | 14 | F2.8 | 1/60 | ISO 2800
–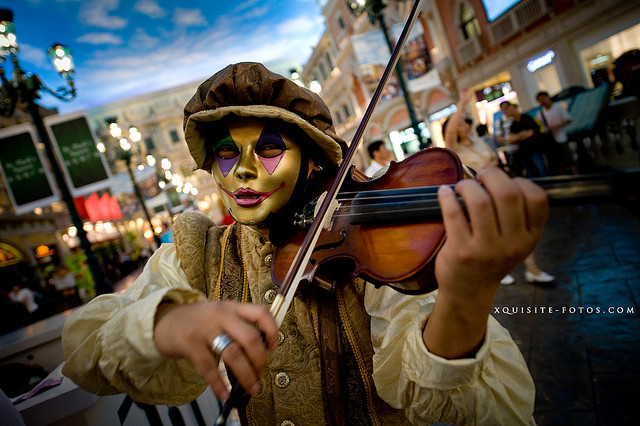 Wide angle Venetian style. Yes, it's in Macau and you can enjoy the famous meat jerky and eggrolls right after! D3 | 24 | F2.8 | 1/60 | ISO 2000
–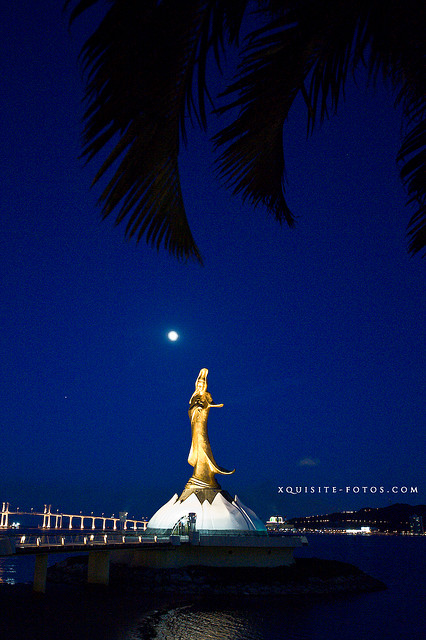 Moon lit Guan Yin by the shore, Macau, where the east meets the west.  D3 | 24 | 1/40 | ISO 8000
–
Hong Kong, the place where anything is possible as long as one has the cash. It is the place where you can buy multiple M9 in store. (at "fried" price, as locals call it). It is also the same place where you see more people carry LV bags more than plastic shopping bags. It's a fine city. I dropped by a famous camera store in TST to pick up a 15mm Voigtlander and off I go in wide angle rf land. Framing through the external view finder and focusing or metering through the internal finder proved to be easier than I thought, it is miles ahead of the D3 + 14-24 combination in terms of weight and portability. However, based on the firmware of the M9 at the time, it did have the color shift corners issues, doesn't bother me much but its there.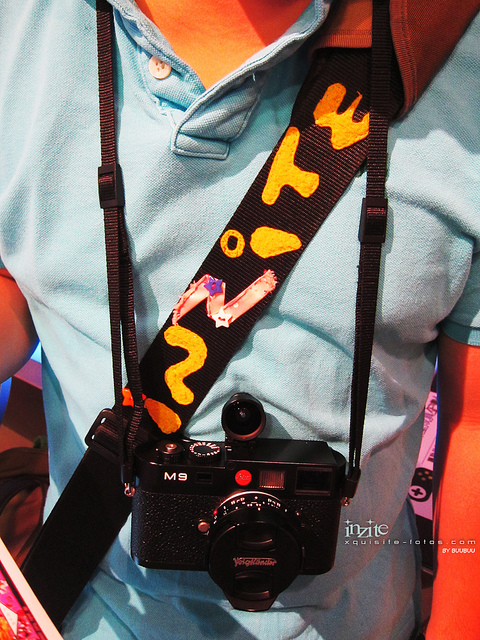 Small and portable, image quality is quite decent, I like. 
–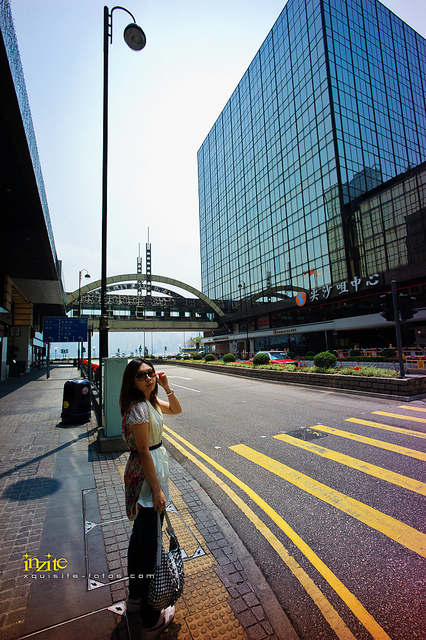 Look at the wide-ness of that! I really like this shot because it's quite odd to see no one on the streets in Hong Kong.  M9 | 15 | F6.7 | 1/750 | ISO 400
–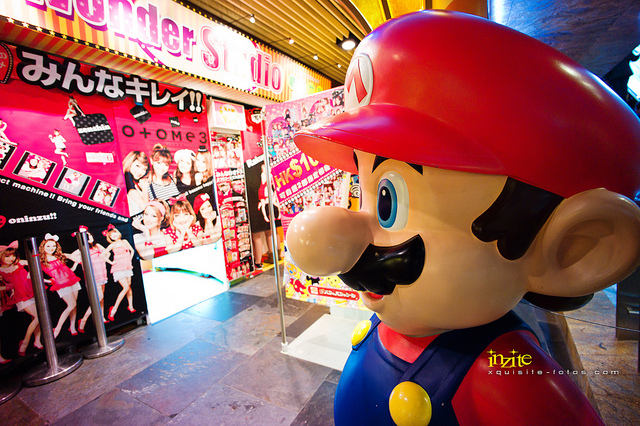 We met Mario at an arcade place in Mongkok, Hong Kong. M9 | 15 | F5.6 | 1/8 | ISO 800
–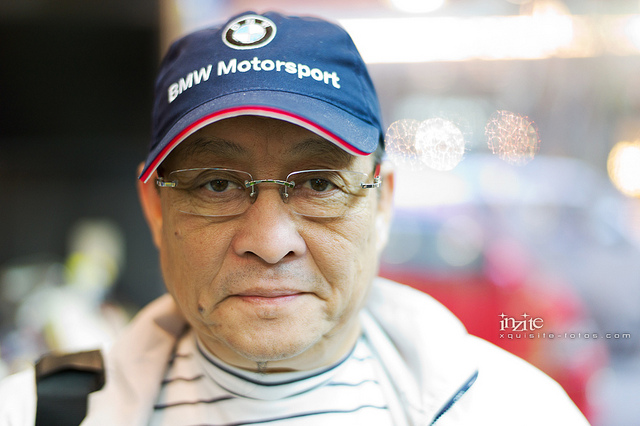 I got to try a 50 F1.4 Summilux in store in Hong Kong, it is definitely a mighty fine lens. I look forward to getting one soon! M9 | 50 | F1.4 | 1/45 | ISO 1000
–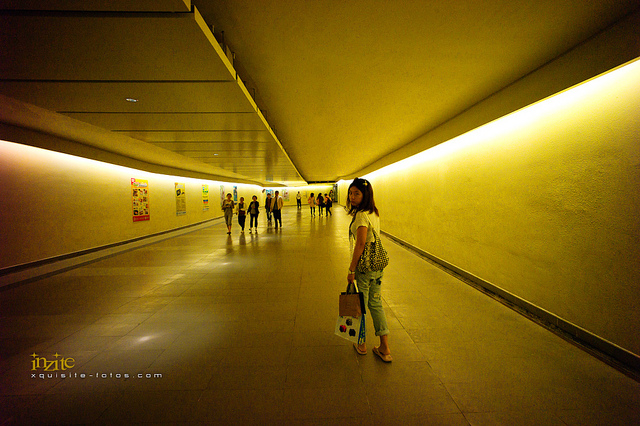 Getting away from the heat in underground AC cooled pass way.  M9 | 15 | F4.5 | 1/125 | ISO 1600
–
Finally we arrive in Phuket, Thailand. It is basically a foreigner's heaven, everything is cheap! The food was excellent, our resort was excellent and the weather was excellent. It was a good opportunity to test out my new wide angle! I was really glad that I did not bring a D3 + 14-24 because it was incredibly hot during the day and I simply cannot imagine carrying such heavy gear under the scorching sun. The M9 did an incredible job in the intense heat and humidity. It's certainly weather sealed "enough" for my usage. I even took the M9 into the pool with me to get some nice shots. All in all, the results from this final leg of our trip solidify my belief in the possibility and results of the M system in terms of the practicability for traveling. It can certainly match what I can get with my DSLRs at home and if not exceed them by allowing me to shoot with less of a burden.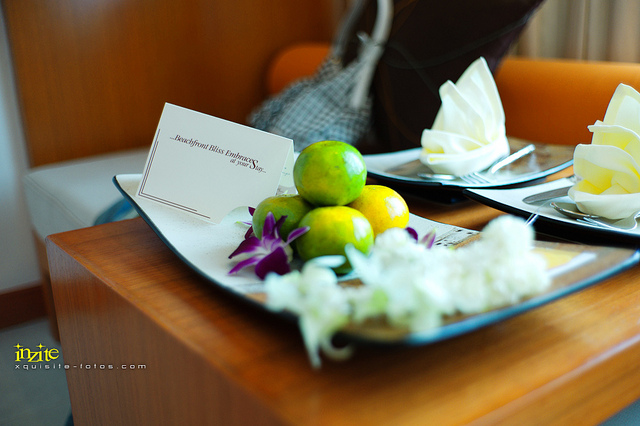 Fresh fruit to welcome us to the suite, mmm.. beachfront bliss.. M9 | 35 | F2 | 1/60 | ISO 200
–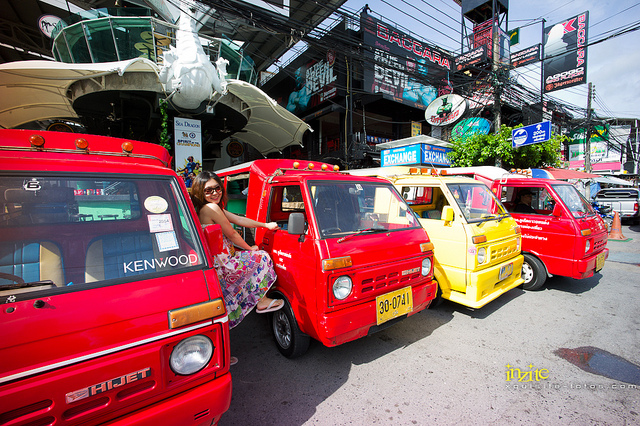 Explosion of colors, tuk tuk rules here! It's hot there!  M9 | 15 | F6.7 | 1/125 | ISO 200
–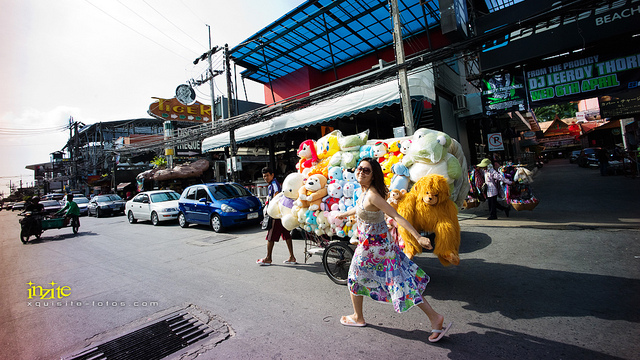 With some practice, spontaneous shots are possible with a range finder. We caught eye of this street vendor pass by us rather quickly, we turn and ran to catch up with him.  M9 | 15 | F6.7 | 1/750 | ISO 800
–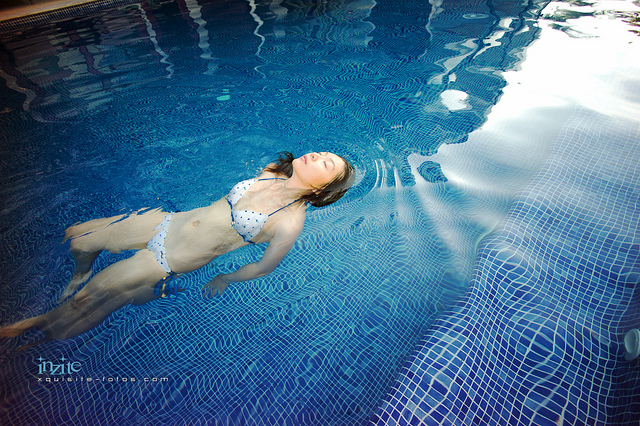 Hand held over the pool water, it turned out better than I expected.  M9 | 15 | F5.6 | 1/90 | ISO 160
–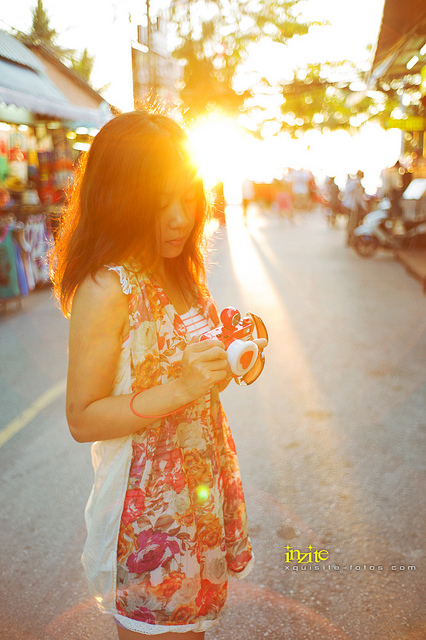 A rare shot done by the 35 IV, I was really addicted to the 15.  M9 | 35 | F2 | 1/90 | ISO 200
–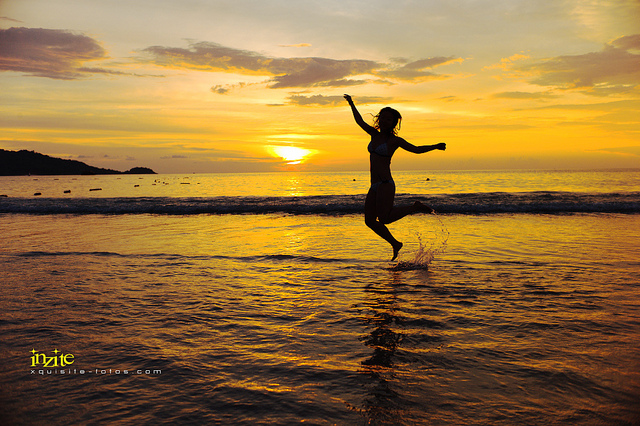 Great sunsets to conclude everyday in Phuket.  M9 | 35 | F4 | 1/500 | ISO 200
–
Post Trip Conclusion:
The M9 performed wonderfully through out the trip, even though it is one expensive piece of equipment but maybe because of its small size and low profile, I actually felt more comfortable bringing it to difference places, simply because it attracts less attention. The 35 IV proved to be quite a versatile lens, but there are multiple times that I simply wanted to focus closer than 0.7m, however that's the limitation of the Leica m system. The 15 was probably one of my best buys in recently years because it was so small and so wide, it really got me getting creative and I guess the result shows. I didn't find going manual focus was that bad of a thing, but it does certainly take some time to get used to. The large file size from the M9 did force me to get a total of 3 16 GB cards by the end of the trip but the quality is there right in the raw files. All in all, in the future when I'm going to a paradise I'm taking the M bodies and before that I need to get my self a 50. I hope you all enjoyed this write up and my experience with the M on this trip and the results I got from it. Thanks!
Feel free to drop by my flickr to see my other works
Inzite.
[ad#Adsense Blog Sq Embed Image]
HELP ME TO KEEP THIS SITE GOING AND GROWING!! IT"S EASY TO HELP OUT!
Remember, anytime you follow my links here and buy from B&H or AMAZON,
 this helps to keep my site going. If it was not for these links, there would be no way to fund this site, so I thank you in advance if you visit these links. I thank you more if you make a purchase! I have nifty search bars at the upper right of each page so you easily search for something at either store! I currently spend 10-14 hours a day working on this site and the only way that I can pay for it is with your help, so thank you! Currently my traffic has been increasing but my funds to pay for the site has been decreasing, so any help would be GREATLY appreciated!
Even if  you buy baby food, napkins or toothpicks at amazon it helps this site, and you do not pay anything extra by using the links here. Again, you pay nothing extra by using my links, it is just a way to help support this site, so again, I thank you in advance 

If you enjoyed this article/review, feel free to leave a comment at the bottom of this page and also be sure to join me on twitter or my new facebook fan page! Also, you can subscribe to my feed at my subscribe page HERE and read these posts in your browser or news reader! Be sure and visit the all new forums on the site HERE.