How to Save a "Throwaway Shot"
By Ashwin Rao
Hello, my fellow Huffites, it's Ashwin again, coming fresh off the excitement-packed Seattle 2011 Photo Workshop. Steve, Roger Paperno, Charles Peterson, Tim Isaac & his wife Lily, and myself entertained and photographed with over 20 very talented photographers from both near and wide. It was a great experience, filled with good times, new friends, and lessons learned.
Speaking of lessins, I have slowly been learning a few lessons myself, along the way to trying to get the most out of my photos. One challenge that I have given myself is to periodically revisit old photo shoots, ones that I may not have though successful, and try to coax more out of the images….maybe by revisiting old images, I could find new inspiration and rediscover a diamond in the rough. I hope to tell you my story of just such a "diamond-in-the-rough" photograph in the coming words and images.
In the summer of 2010, I visited nearby Mount Rainier with out-of town friends. The day, while nice enough, wasn't spectacular. In fact, typical of "moody" Northwest weather, the forecast that day ended up presenting "mostly cloudy", with a few sunbreaks. While this made for a nice stroll around the Paradise Visitor's area around Mount Rainier, it seemed to make for poor photo-making circumstances. Yet, I prevailed and took a a few photos with my Leica M9 and APO-Summicron 90 mm f/2 Asph lens as I wandered around a few trails with friends.  I brought the lens in hopes of compressing landscapes and relating the scale of the surroundings to the giant mountain off in the distance. For the most part, my photographic muse was uninspired. Rainier was shrouded by or covered completely by clouds for large chunks of the hike, but in moments, during those rare sunbreaks, the giant mountain would peak out and tempt us. So away, I snapped, hoping for the best.
On returning home,  I quickly downloaded the images, and here's a sample of what I got….an image that I'd consider thoroughly uninspiring….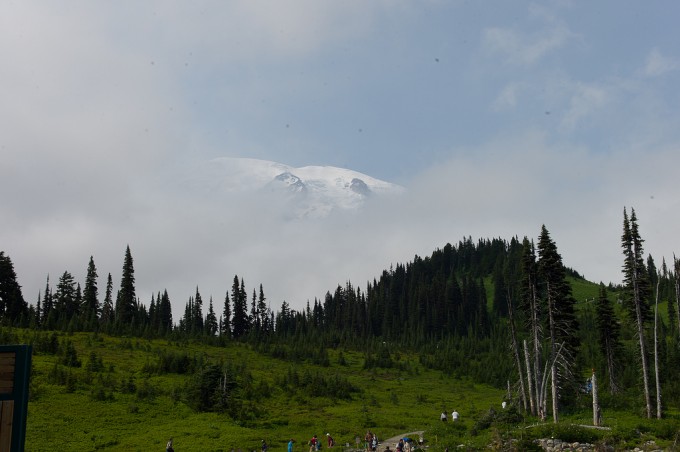 As you can see, the image was fraught by poor composition, dust on the sensor, and a lack of clear cohesive direction. Being an eternal optimist, I did my best to tweak the image. I did a bit of liberal cropping to re-center the image and get ride of some dust, and thought I had done a reasonable job of capturing a somewhat bland summer mountain moment. I have plenty of these in my home photo collection, half-finished images that simply don't seem worth much more effort: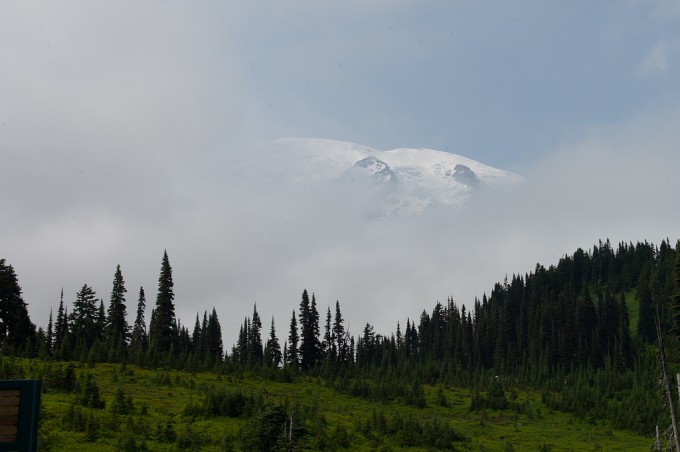 To me, the image continued to seem underexposed in the foreground, and generally dull. I tried to tweak things a bit more by increasing the "green" luminance channel in Adobe Lightroom to bring out the trees (as well as some more dust on my sensor, which came about as a result of my processing)…What I got reminded me of some of the garish HDR images that I stumble across, but at least I gave it a reasonable effort and improved the overall exposure.
I moved on and looked at other shots, but ultimately put the photos away for nearly a year. For some reason, maybe due to the crummy weather that occupied Seattle through much of the spring, I decided to go back to those images from a year ago, and give the image another try….
This time, The approach that I took was to say, for a change, let me try to bring out my "inner Ansel Adams"….Every once in a while I find it fun to mock up images in the style of a famous photographer, and in this case, I decided (with the best humor possible) to put on the hat of the famous Ansel Adams, known across the photographic world for his wondrous black and while work.
To all of you who believe that a photograph should be taken and left as is, please read up on Ansel's techniques. Adams used extensive photo processing to achieve the look that he desired. He did a ton of dodging and burning, to bring out the intended highlights and sink the intended shadows to create some of history's most compelling images. Today, in the world of digital imagery and wizardry, processing becomes much easier, and I was able to simply refer back to my Lightroom library and do a quick Black and White conversion. Stepping back to the last edited image in my series, here's what happened, after a bit of dust removal and contrast adjustment: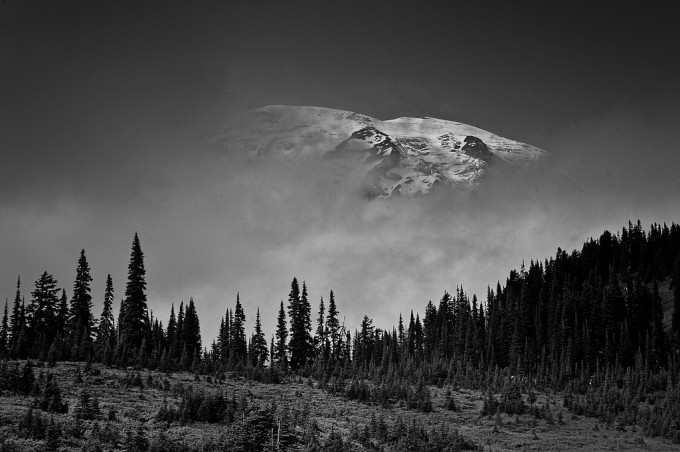 To me, suddenly the image in front of me, left for dead a year ago, came to life. I suddenly saw Mt. Rainier as a looming giant in the mist, with the foreground telling its own story….so I I decided to tweak further, pushing the highlights and shadows a bit more to see what would happen….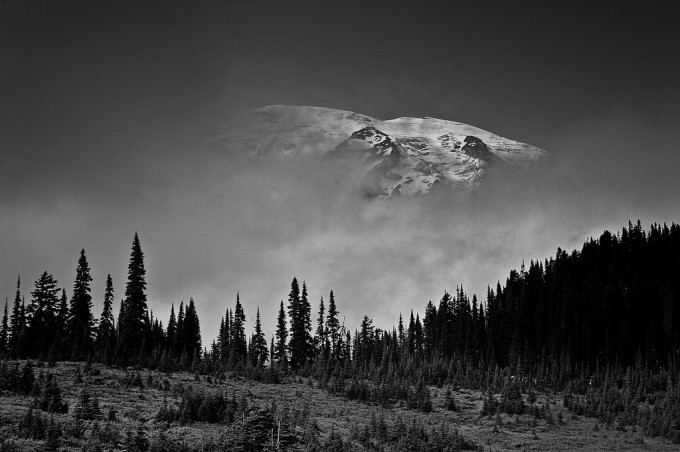 What I found was that the mountain was becoming even more mysterious…What had originally been intended as a snapshot of Rainier, dashed by the poor weather, was becoming a moody shot, and a "keeper" to my eyes….
So after a bunch more tweaking, that involved adjusting shadows, doing a bit of selective dodging and burning, and performing a series of little tweaks that involved emphasizing the cloud and fog that I saw in this modified image, all in Lightroom, here's the final result:
So what do you think? I personally feel that I saved an image….a throwaway image at that….Sure, I manipulated the image extensively. Some might argue that what I performed took the image from the realm of photography to something more like graphic art. To me, the image is still a photograph, albeit one that's extensively interpreted for effect. But again, I feel that this last image is a "keeper"….
I'd be curious what the traditionalists and digital manipulators among you think. After all, this series of images provides a flow from "Before" to "After", and you can see how what the end-result of the image represents is a far distance from the reality of the day.
Yet, this is now how I "see" Mt. Rainier, as a mysterious giant, hiding in the Northwest's dense fog, occasionally peaking out, tempting us. Tempting us in its beautiy, challenging us towards becoming better photographers, and to me, better photographic editors….
Until next time, your thoughts and comments are warmly invited….
[ad#Adsense Blog Sq Embed Image]