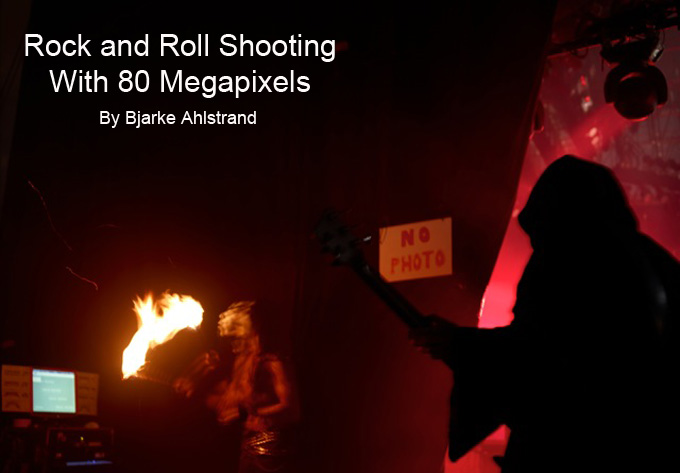 ROCK 'N ROLL SHOOTING WITH 80 MEGAPIXELS
by Bjarke Ahlstrand, Copenhagen, Denmark
I'm a television producer, doing documentaries, reportage and fiction during working hours, and in my spare time, I'm a happy Leica M9/Hasselblad H3D-39/CANON 5D MARK II shooter. I was quite fond of Canon's 5D Mark II, especially since I also use it for "professional" purposes, video-wise, and some of the Zeiss glass is really nice. But all that changed with the introduction of a digital Hasselblad in my life last year. Suddenly colours; skin tones and grass looked "right". And the sharpness and amount of detail of a medium format camera and 39 mega pixels is of course impressive. I find some of the same nuances with my Leica M9, which I totally love (except for the dust spots on the sensor and the utterly lousy service from Leica!) and I now consider it my main camera, also due to the portability and low light abilities.
Recently I met a really nice guy, Jacob, from PhaseOne, which is actually Danish based alongside Hasselblad. (Being a Dane it's quite weird that the biggest still cameras in the world are manufactured here, but that's another story…). Having just released the world's BIGGEST resolution digital back with the new PhaseOne IQ180, 80 stunning megapixels with an amazingly-price-tag. I had seen the usual press/example photos, documenting the abilities of the camera (in sterile studio enviroments), I asked why they didn't let me borrow the camera for a couple of days to see how it would perform. Since my M9 is currently at Solms for dust spot removal (second time in a row since they didn't clean it at all the first time), the upcoming Roskilde Festival seemed like a good (dust) spot (haha) — and to my lucky surprise, they agreed. To let me take the most expensive camera in the world (the back alone is US 44.000$!) into a realm filled with drunken people,
dirt and rock 'n roll. Brave them.
So armed with the IQ180 digital back, a PhaseOne 645DF camera and two stunningly sharp Schneider lenses, a 55 mm f/2.8 and 110 mm f/2.8 respectively, I entered the festival, I was armed and ready to shoot.
On my way to the car, I convinced my colleague, Ruth, to participate in a test-shoot.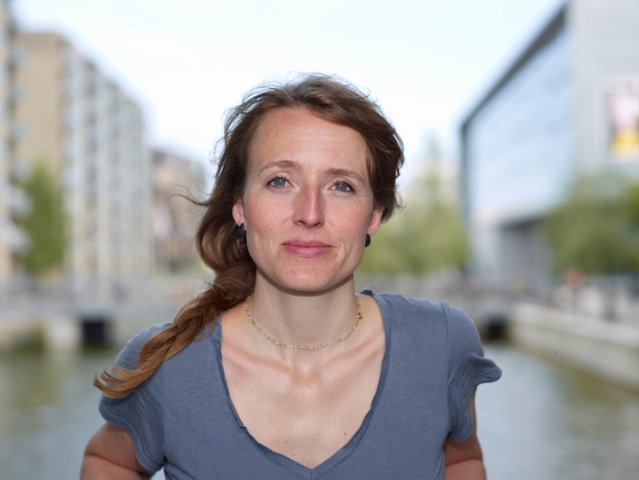 Whauh. Nice first shot. And the details in those 80 mpix are amazing, I've never seen anything like it. And this is "raw" from the camera–I didn't (re)touch it all.
The Roskilde Festival is the biggest musical festival in Northern Europe, and attracts some 100.000+ people, most from Denmark, Sweden, and Norway. And Zombie- land it seems.
–
ISO 200 · 55 MM · F/3.5 · 1/10 SEC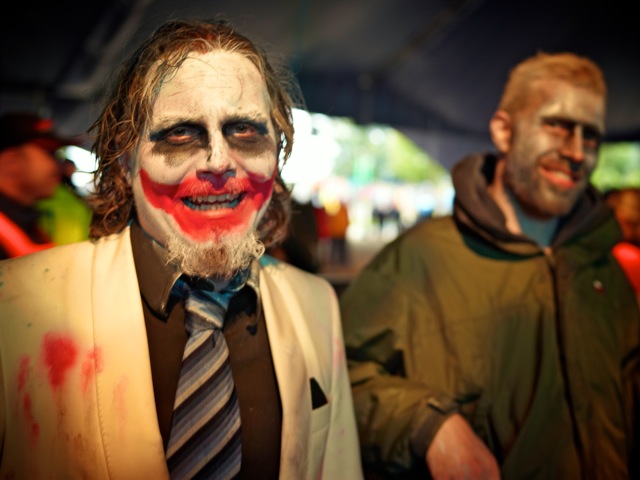 –
A zombie handheld at 1/10 sec with a heavy medium format camera, will never be sharp. And the thing about cameras–the most expensive they become, the worse they handle ISO, so shooting more than ISO200 on the most expensive digital camera in the world simply isn't an option, even though, it technically can go up to ISO3200. But then the images "downscale" to "just" 20 mpix resolution (like a full frame 5D Mark II or Leica), but it looks very bad. So the zombie had to be a little blurry, but I'm sure he can live with that 🙂
ISO 200 · 55 MM · F/3.5 · 0.7 SEC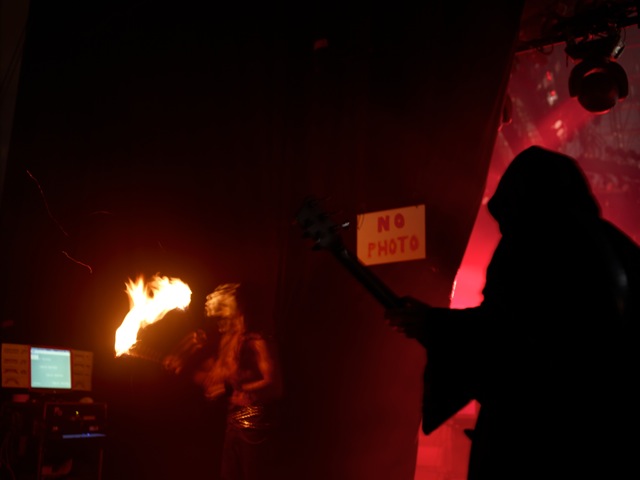 Ooops, another unsharp image–but at least it tells a story. It's something about a fire breathing musician warming up backstage before entering the stage, and a sign saying something a true photographer will never ever read. Shot from the hip, nobody noticed anything.
ISO100 · 110 MM · F/2.8 · 1/100 SEC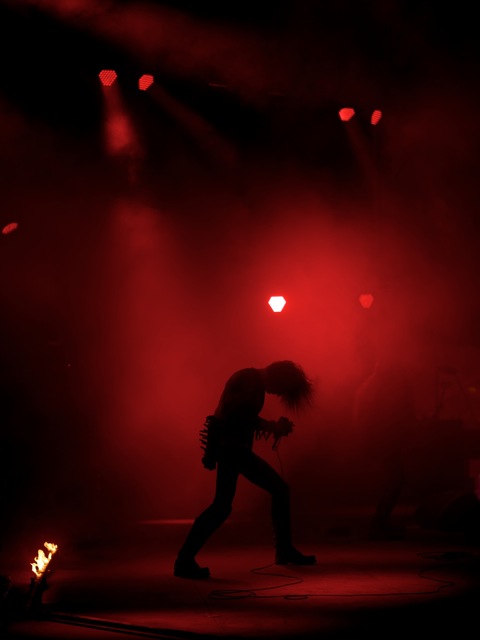 –
At concerts you won't see many Steve Huff's running around in the press pit with little Leicas. Nope, most likely you'll see a bunch of Nikon and Canon carrying men with their 24-70 and 70 – 200 mm lenses shooting constantly at everything that moves. I've been there, but I wouldn't go back. A prime lens forces you to think about what you shoot and how to frame it, and I personally find zoom lenses to be boring, even though they have a flexibility that primes don't.
The band playing here is Norwegian black metallers 1349, and the monk-looking bass player took it all the way to the underworld of … bass lines.
ISO 100 · 110 MM · F/2.8 · 1/125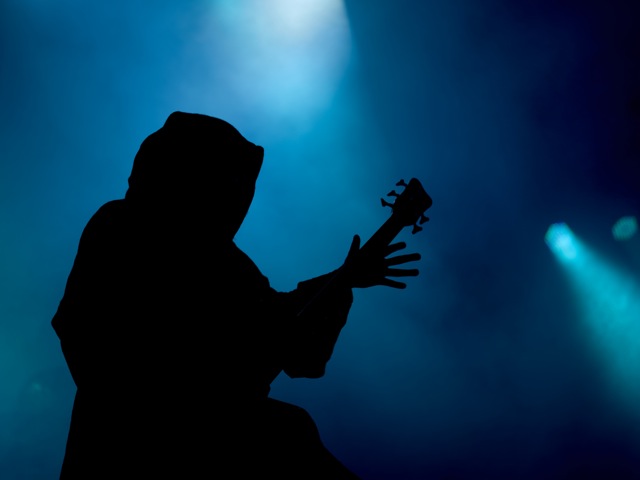 –
I converted this one to black and white in Nik Silver Efex, other than that it's totally raw, and it looks amazing on print in high resolution.
ISO 100 · 110 MM · F/2.8 · 1/160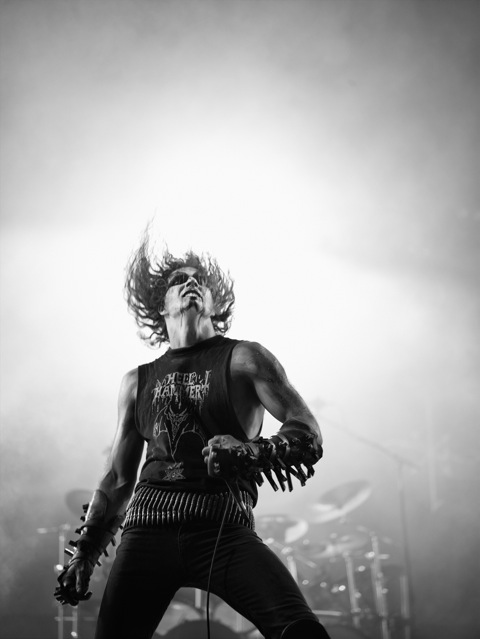 –
In the media section of the back stage the Canon and Nikon Professional Services teams were heavily represented and all the pro's had the opportunity to borrow lenses etc. for free. But I was more interested in the guy from HP and his huge, I mean GIGANTIC printer. I didn't get its model number (hey, it's a printer, not a camera or a lens 🙂 but he made prints of the best of the Nikon concert shots. I convinced him, for testing purposes, to print one of my images so we could check out the details and sharpness. I chose the last image I took of 1349, backstage, after the concert.
I used a single Canon Speedlite and took only two shots before the band was off. Bang, there it is. That sharpness. Check out the drummer's eye, the guy farthest to the right. The printer guy printed a huge print and was very impressed and claimed that we could have made wallpapers out of this easily.  All the Nikon shooters and representatives didn't understand what camera took that shot, haha. Oh, the little things in life…-
ISO 100 · 55 MM · F/5.6 · 1/100 SEC + SPEEDLITE FLASH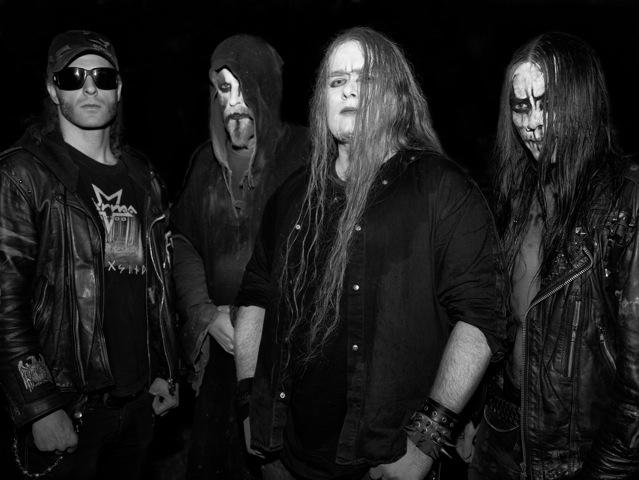 –
 Here's a crop of that same image.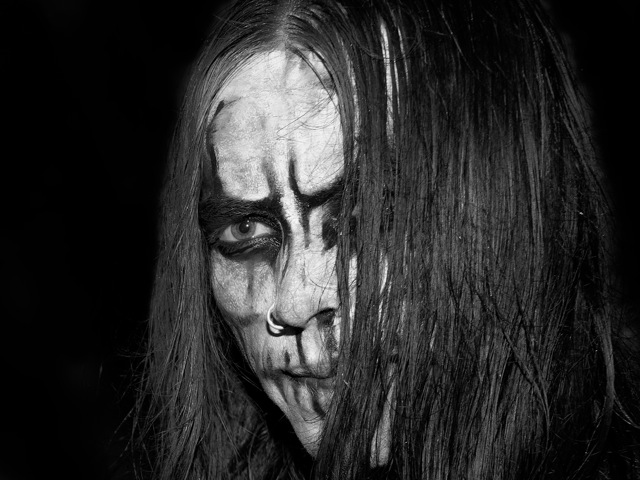 Roskilde Festival is four days of music and people in an intense but friendly melting pot. So for the next couple of days, I just wandered around, drank some beers, shot some people, drank some more beers, shot some music, and … you get it.
Nice girl…
ISO50 · 55 MM · F/4.5 · 1/60 SEC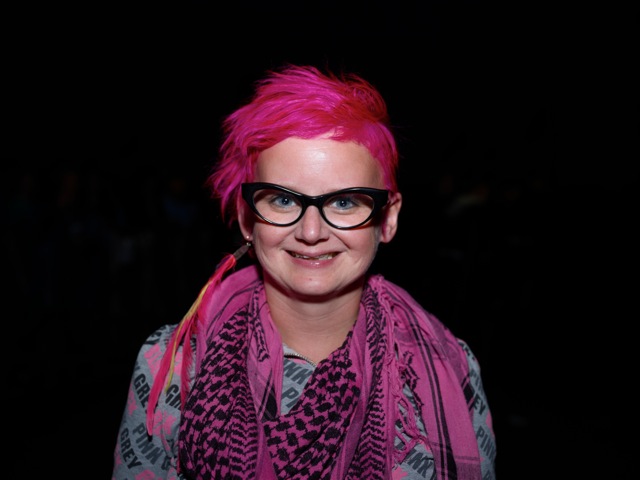 Guy with glasses next to graffitti with … glasses
ISO35 · 55 MM · F/7.1 · 1/60 SEC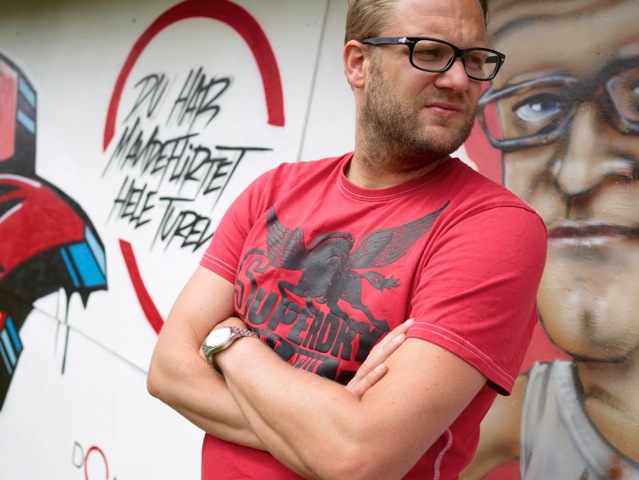 She just blends in, that orange girl, with the emo-rocking-gothy looking people
ISO35 · 55 MM · F/5.6 · 1/80 SEC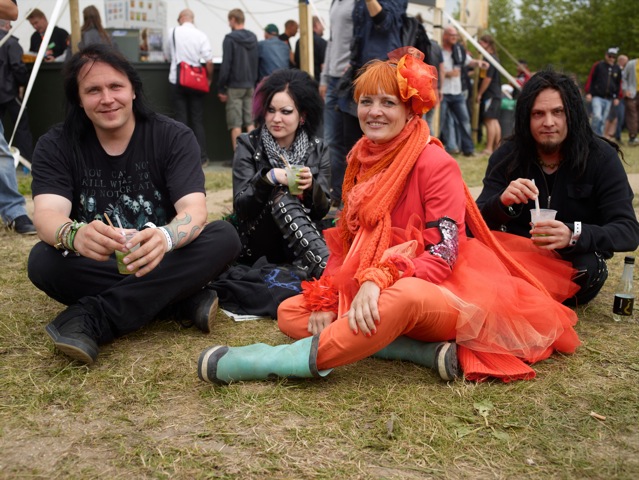 –
Nice bokeh in front of the mohawk.
ISO100 · 110 MM · F/2.8 · 1/80 SEC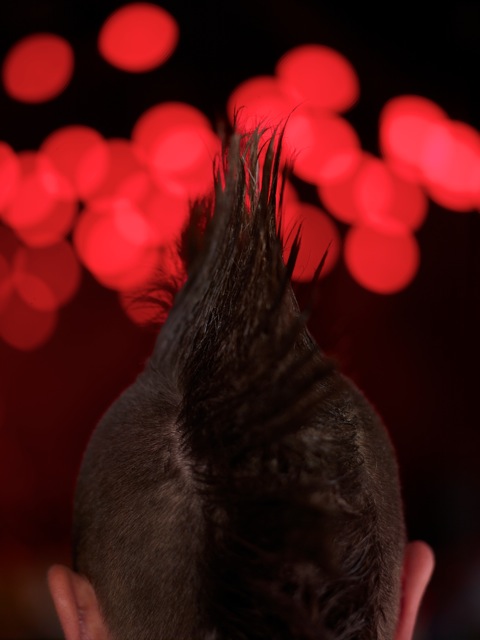 –
They're not faking it.
ISO35 · 110 MM · F/4 · 1/60 SEC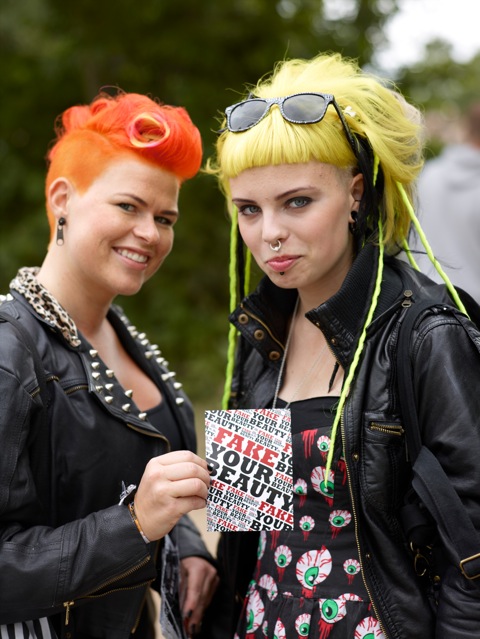 –
Perhaps this Indian Indian is faking it a little bit
ISO100 · 110 MM · F/3.5 · 1/200 SEC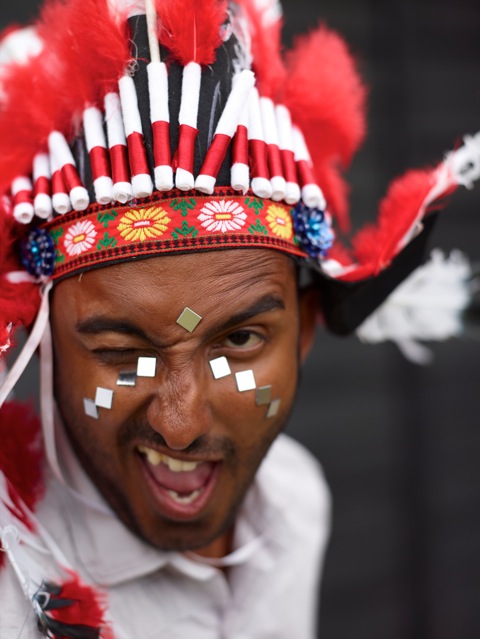 –
12 year old finding it hard to believe that he should clean his room, when grown ups don't.
ISO35 · 55 MM · F/5.6 · 1/125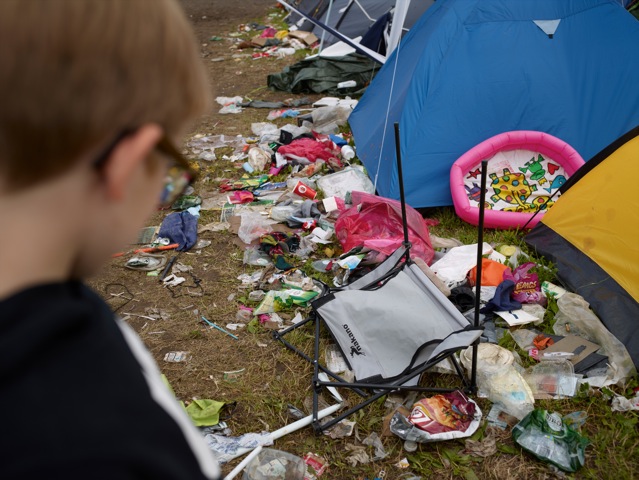 –
There was sun, there was dirt, there was rain — and when you mix it, you get something else…
ISO35 · 55 MM · F/5.6 · 1/10 SEC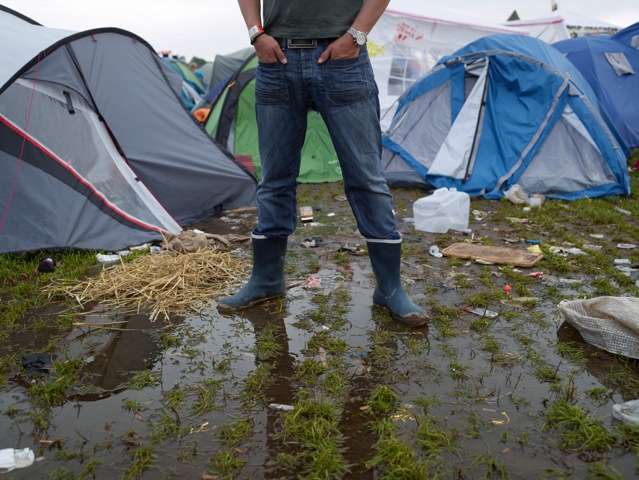 –
Here's one of yours truely, the one on the left. It's not everyday that I meet someone who has
my tattoo on a t-shirt, so I had to get my Nikon-shooting friend, Daniel, to immortalize this moment.
ISO35 · 55 MM · F/4 · 1/400 SEC
–
These are only very low resolution copies of the actual images, which are full size 10328 px x 7760 px = 80.1 megapixels. I promise you, if you look at this image in full resolution, you can see every detail, every tiny ink stroke on his tattoos, every hair, all the … Well, I'm glad I'm not shooting fashion or doing retouching, because the files coming out of the IQ180 are huge. Around 90 mb as raw files, and if you save them as 16 bit tiffs (you have to import them via the CaptureOne raw converter software for the best results), they turn out as 480 megabyte files… Heavy cameras demand heavy computers, and my iMac I5 with 8 gb ram came to its knees a few times.
Fortunately you shoot a lot less images with a "big" camera. Through out the 4 days and nights at Roskilde, I shot 610 images. That's not much–since I was all over the place, eager to test the camera–and I know for a fact, that some of the professional concerts shooters easily end up with 700-1000 images … per concert!
ISO35 · 55 MM · F/4 · 1/125 SEC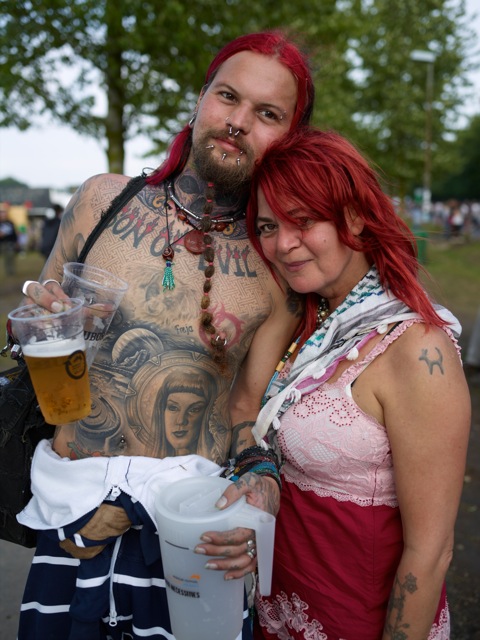 –
My son, Hjalte, was with me one of the days, and he has an age (12), where he thinks it's quite embarrassing when his old (young!) man stops strangers and ask to take their photo. But when we met my best friend, Michael, and his wife Klara, even he couldn't refuse…
ISO35 · 55 MM · F/4 · 1/160 SEC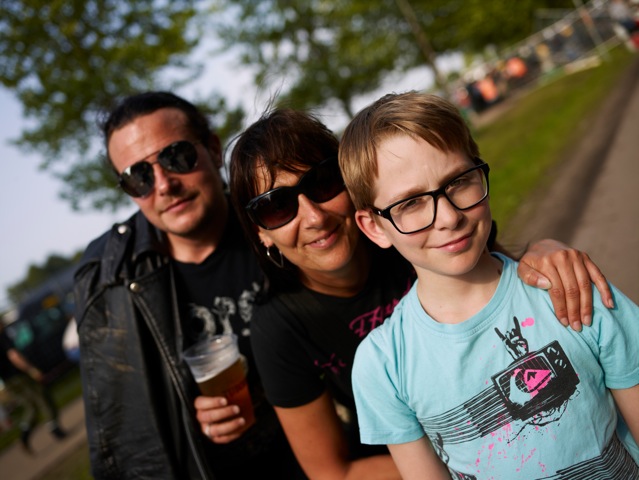 –
…and when he met his biggest idols, Danish supergroup "De Eneste To" backstage before their concert, he actually asked me to take a photo with them.
ISO35 · 55 MM · F/5 · 1/250 SEC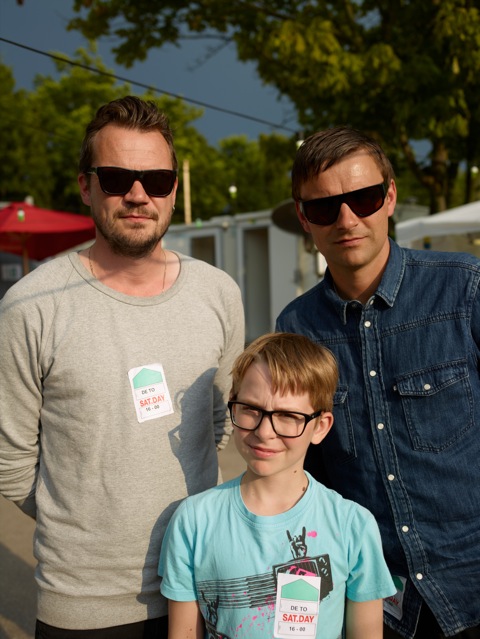 –
But then he got so exited that he dropped his iPhone and and smashed the glass/screen.Instead of being a good parent and helping him pick up the pieces, I shot this one, a split second before he burst into tears.
ISO35 · 110 MM · F/6.3 + SPEEDLITE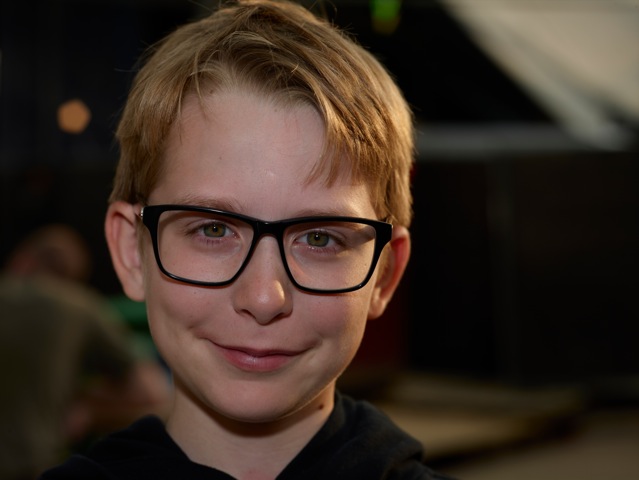 –
Oh my god, the sharpness in those little eyes, it's simply amazing. Not that I enjoy seing my son unhappy, but testing a camera on something you know, really works for me. I don't fancy shots of jewellery or fancy shining cars–give me a person and I'll see if it handles skintones etc. the way I like it.
And even though I actually think that my 39 megapixels Hasselblad H3D does a better job with colors (those fantastic Fuji ones :-), the IQ180 beats everyone and everything when it comes to sharpness and the amount of details.
ISO35 · 110 MM · F/6.3 + SPEEDLITE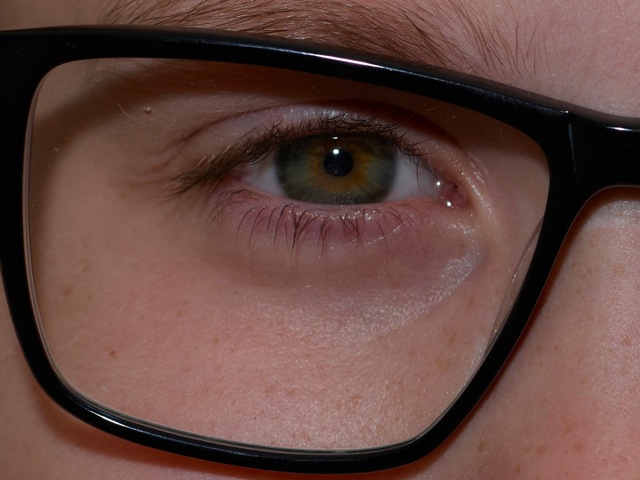 –
And the last concert shots of "De Eneste To", here's Peter Sommer
ISO100 · 1100 MM · F/2.8 · 1/125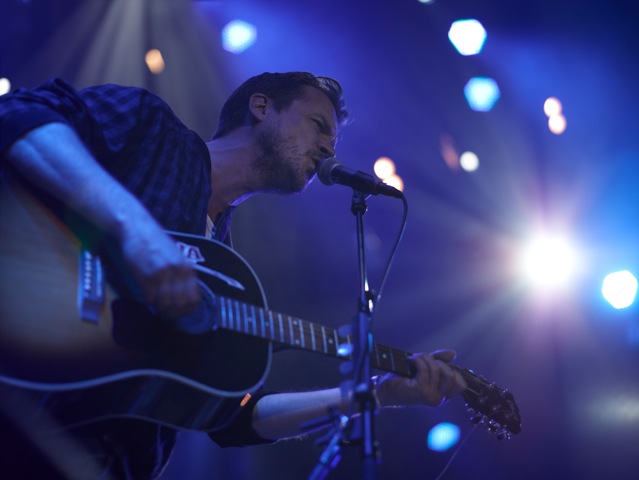 –
And here's Simon Kvamm
ISO100 · 110 MM · F/2.8 · 1/125 sec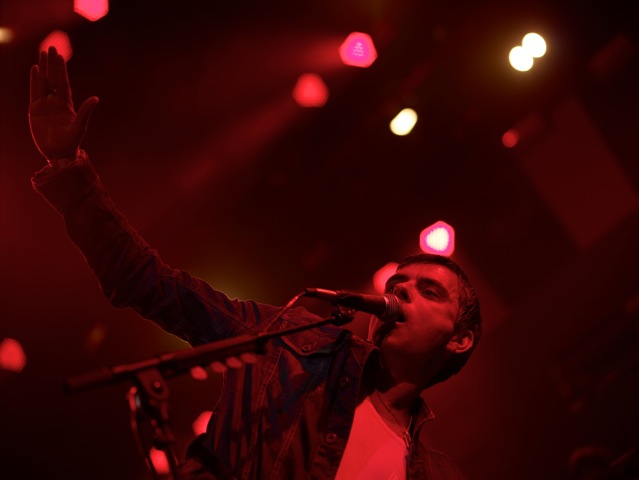 –
And the two of them after I added grain and converted to black and white with Nik Silver Efex.
ISO200 · 110 MM · F/2.8 · 1/125 sec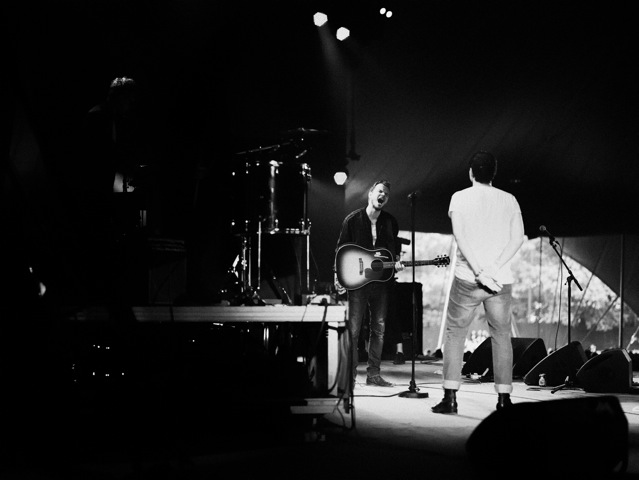 –
Well, that concludes it on my behalf. Even though I'll never be able to afford the PhaseOne kit (approx 76.000 US $ incl the two lenses !!! ) I took rock 'n roll shooting with me to Roskilde Festival, it was a nice experience. It was quite easy to use and produced excellent images (as long as you don't exceed ISO400 :-). The post was very heavy, but zooming 100% in on a nice shot, makes it worthwile.
Now I miss my little Leica. So you there in Solms: will you please get your fingers out of your … and clean (the sensor)!
[ad#Adsense Blog Sq Embed Image]