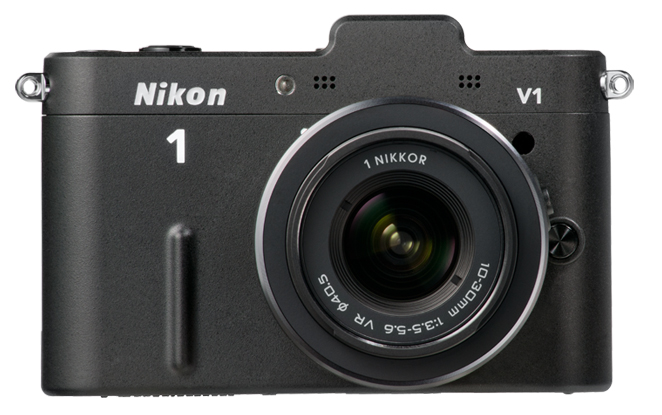 Nikon enters the game with the new MIRRORLESS J1 and V1 cameras!
Haha! Hot off the heels of my "No need to buy a new camera" article….
So here we are, FINALLY! Nikon decided to enter the Mirrorless Camera market game with the newly announced J1 and V1 camera system. A system designed from the ground up with a new sensor, new lens mount and all new Nikon System! The J1 seems to be the one for the everyday person and the V1 seems to be made for the enthusiast. I am thrilled that Nikon has finally taken this leap but the design of these cameras seems rather lackluster IMO. Still, it is all about the image so if the quality is there that is all that matters. Well, quality, control, speed…
These cameras both have a  smaller sensor that Nikon is calling the "CX" format so who knows if the quality will be there? It has a 2.7X crop and is 10.1 MP, developed by Nikon. So the sensor is SMALLER than the micro 4/3 sensor and their 2X crop! Uggg.
The V1 has the built in EVF which is now finally starting to show up in cameras like this, and this is a GOOD thing. Wow..so many choices…NEX-7, New Nikons, Pentax Q, Micro 4/3…it's getting crazy but all seem to serve a different purpose. Nikon seems to be going for tiny, fit in your pocket convenience. Specs looks great, price looks right.
You can read all about the new Nikon system directly at Nikon by clicking HERE. What do you know, Amazon is already taking pre-orders! Available in less than 30 days so says Nikon. IMO, this can not compete with the Sony NEX-7 and its APS-C sensor. This seems a bit more like the Pentax Q that I will be reviewing next week. I will also review these cameras as well, so stay tuned.
My guess is that the picture quality will be pretty good as Nikon would not release something dodgy after all of this time (or would they)??. There are already sample images here. You can tell it has a smaller sensor though when looking at the full size shots.
All of these choices makes me hope Leica has something REALLY great up their sleeve for 2012….I think they are going to HAVE TO but this Nikon announcement is rather, umm…blah. Just an FYI, Id buy an E-P3 over this in a heartbeat.
Pre-Order the J1 at Amazon in Black with the 10-30 Lens
or See all of the new Nikon options at Amazon!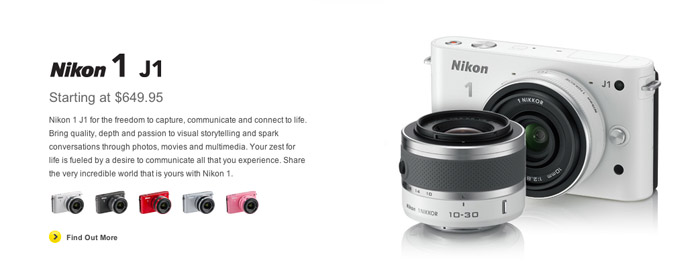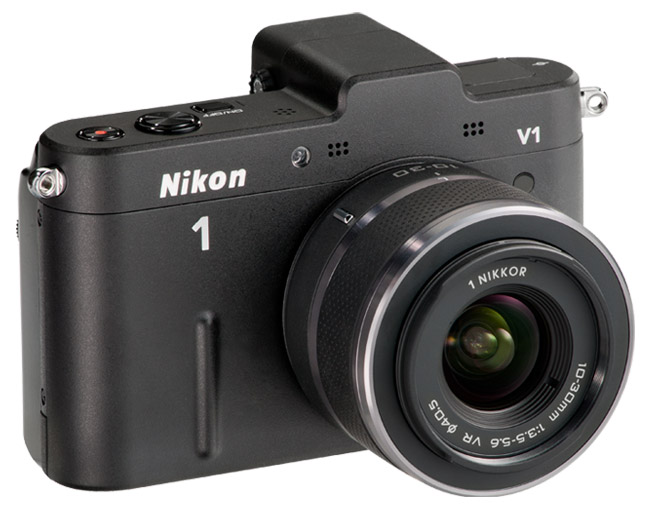 [ad#Adsense Blog Sq Embed Image]
–
Specifications
Type

Digital camera with interchangeable lens

Lens Mount

Nikon 1 mount

Picture Angle

Approx. 2.7x lens focal length (Nikon CX format)

Effective Pixels

10.1 million

Sensor Size

13.2mm x 8.8mm

Image Sensor Format

CX

Image Sensor Type

CMOS

Total Pixels

12 million

Image Area (pixels)

Still Images (3:2 aspect ratio)
3,872 x 2,592
2,896 x 1,944
1,936 x 1,296
Smart Photo Selector (3:2 aspect ratio)
3,872 x 2,592
2,896 x 1,944
1,936 x 1,296
Movie Mode (16:9 aspect ratio)
3,840 x 2,160 (1080/60i)
1,920 x 1,080 (1080/30p)
1,280 x 720 (720/60p)
Motion Snapshot (16:9 aspect ratio)
3,840 x 2,160

File Format

Compressed 12-bit NEF (RAW)
JPEG: JPEG-Baseline compliant with fine (approx 1:4), normal (approx 1:8), or basic (approx 1:16) compression
NEF (RAW) + JPEG: Single photograph recorded in both NEF (RAW) and JPEG formats

Picture Control

Standard
Neutral
Vivid
Monochrome
Portrait
Landscape
Selected Picture Control can be modified
User-customizable Settings

Storage Media

SD
SDHC
SDXC

Card Slot

1 Secure Digital (SD)

File System

Compliant with DCF (Design Rule for Camera File System) 2.0
DPOF (Digital Print Order Format)
EXIF 2.3 (Exchangeable Image File Format for Digital Still Cameras)
PictBridge

Viewfinder

LCD

Shutter type

Electronic Shutter

Fastest Shutter Speed

1/16,000 sec. in steps of 1/3EV

Slowest Shutter Speed

1/3 second

Flash Sync Speed

Up to 1/60 sec.

Bulb Shutter Setting

Yes

Shutter Release Modes

Single-frame [S] mode
Continuous
Electronic [Hi]
Self-timer mode
Delayed remote
Quick Response Remote
Interval Timer Shooting

Frame Advance Rate

Electronic [Hi]: Approx. 10, 30 or 60 fps
Other modes: Up to 5 fps (single AF or manual focus, S Shutter- priority auto or M Manual exposure mode, shutter speed 1/250 sec or faster, and other settings at default values)

Top Continuous Shooting Speed at full resolution

5 frames per second 10, 30 or 60 fps using Electronic (Hi) shutter

Self-timer

2, 5, 10 sec. Timer duration electronically controlled

Remote Control Modes

Delayed remote (2 sec)
Quick-response remote

Exposure Metering System

TTL metering using image sensor

Metering Method

Matrix
Center-weighted: Meters 4.5 circle in center of frame
Spot: Meters 2 mm circle centered on select focus area

Exposure Modes

Programmed Auto with flexible Program (P)
Shutter-Priority Auto (S)
Aperture-Priority Auto (A)
Aperture-Priority (A)
Manual (M)
Scene Auto Selector

Scene Modes

Portrait
Landscape
Night Portrait
Close-up
Auto

Shooting Modes

Still Image (3:2)
Smart Photo Selector (3:2)
Movie (HD 16:9)
Movie Slow Motion (8:3)
Motion Snapshot (16:9)

Exposure Compensation

±3 EV in increments of 1/3EV

Exposure Lock

Luminosity locked at detected value with AE-L/AF-L button

ISO Sensitivity

100-3200
6400

Active D-Lighting

On
Off

Autofocus System

Hybrid autofocus (phase detection/contrast-detect AF)
AF-assist illuminator

AF-area mode

Single-point AF: 135 focus areas
Auto-area AF: 41 focus areas
Subject tracking
Face-priority AF

Focus Lock

Focus is locked by pressing AE-L/AF-L button or lightly pressing shutter release button in (S) AF

Focus Modes

Auto (AF)
Auto AF-S/AF-C selection (AF-A)
Single-servo AF (AF-S)
Continuous-servo (AF-C)
Full-time Servo (AF-F)
Manual Focus (MF)

Built-in Flash

Yes

Guide Number

5/16 (m/ft ISO 100, 20°C/68°F) Approx.

Flash Control

i-TTL flash control using image sensor available

Flash Mode

Fill-flash
Slow sync
Red-eye reduction
Slow sync with red-eye reduction
Rear curtain with sync
Rear curtain with slow sync

Flash Compensation

-3 to +1 EV in increments of 1/3 EV

Flash-ready indicator

Lights when built-in flash unit is fully charged

White Balance

Auto
Incandescent
Fluorescent
Direct Sunlight
Flash
Cloudy
Shade
Preset Manual
All except preset manual with fine tuning

Movie Metering

TTL exposure metering using main image sensor

Movie Metering method

Matrix
Center-weighted: Meters 4.5 circle in center of frame
Spot: Meters 2 mm circle centered on select focus area

Movie File Format

MOV

Movie Video Compression

H.264/MPEG-4 Advanced Video Coding

Movie Audio recording format

AAC

Movie Audio recording device

Built-in stereo microphone; sensitivity adjustable

Movie

HD: 1920 X 1080/60i
HD: 1920 X 108/30p
HD: 1280 x 720/60p
Slow-motion: 640×240/400fps
Slow-motion: 320×120/1200fps
Motion Snapshot: 1920×1080/60p (plays at 24p)
Audio file format: ACC
Movie file format: MOV

Monitor Size

3.0 in. diagonal

Monitor Resolution

460,000 Dots

Monitor Type

TFT-LCD with brightness adjustment

Interface

USB: Hi-speed USB
HDMI output: Type C mini-pin HDMI connector

Supported Languages

Arabic
Chinese (Simplified and Traditional)
Danish
Dutch
English
Spanish
Finnish
French
Italian
German
Indonesian
Japanese
Korean
Polish
Portuguese
Russian
Spanish
Swedish
Czech
Norwegian
Thai
Turkish

Date, Time and Daylight Savings Time Settings

Yes

World Time Setting

Yes

Battery / Batteries

EN-EL20 Lithium-ion Battery

Battery Life (shots per charge)

230 shots (CIPA)

AC Adapter

EH-5b AC Adapter
Requires EP-5C Power Supply Connector

Tripod Socket

1/4 in. (ISO1222)

Approx. Dimensions

Width 4.2 in. (106mm)
Height 2.4 in. (61mm)
Depth 1.2 in. (29.8mm)
Excluding projections.

Approx. Weight

8.3oz. (234g)
camera body only

Operating Environment

32 to 104°F (0 to 40°C)
Less than 85% humidity (no condensation)

Supplied Accessories

EN-EL20 Rechargeable Li-ion Battery
MH-27 Battery Charger
UC-E6 USB Cable
BF-N1000 Body Cap
AN-N1000  Strap
ViewNX 2
Short Movie Creator CD
User's Manual
Reference manual CD