Wow, where did the time go? It's almost 2012? 
Personal Rant and Update…(for those who have been following it)
You know, I woke up this morning and ate some raisin bran while I checked my e-mail and sat at my long desk that is covered in SD cards, cameras, empty diet coke bottles and of course my computer and printer. As I sat there, milk dribbling down my chin, reading the 100th email asking me what camera is the best one to buy I said to myself..."I have nothing to post today"! Over the past few months I have made it a point to try to update this blog at least once a day, sometimes more. Since doing so my traffic has tripled if not quadrupled. Hell, I am even making a little more money in ad revenue and affiliate sales (thank you all)!
So here I am right now sitting here in my Pajamas at 10am. My son is out in the living room playing Xbox 360 after amazingly getting his schoolwork done at 6am this morning. My 13 year old dog Scrubby is sleeping because his arthritic legs do not like walking too much anymore and my wonderful girlfriend who lives 1866 miles away is at work in Chicago where the cold winter will soon be rolling in (which means more AZ visits for her).
If I were writing this say 15 months ago I would have been saying something like "Im trying to head out to get some photos but my dog is begging me for food while I eat, my wife is yelling about something and my son is late for school". But since my divorce over a year ago things have calmed down and things are good. Better than I could have ever dreamed and while at the time it was a VERY dark time, when I reflect back on it all I realize things would be not how they are today if that did not happen. I won't get into details, but yes, my divorce was a good thing.
2011 was a wonderful year for me…
The Seal Tours
Let's see…this year I went on a couple of tours with Seal, made some great new friends all over the world and shot some amazing photographs. I met up with several readers of this website while abroad, met a great friend and photographer Helene Pambrun who showed me around Paris, and thanks to Seal I was able to see Europe in style. The Leica shop in Austria, Street shooting in Lithuania, The huge 26,000 crowd in Belgium…My time in Europe with Seal was amazing, a time I will never forget. I was a bit stressed at the time but looking back now…not sure why that was.
Seven of my photos made it to his new album "Soul 2" – cover, back cover, and inside booklet, all mine! I reached one of my lifetime goals of having an album cover and when I found out that was the case, I was crazy excited. I still am as the CD comes out SOON. CD…that sounds funny now as 95% of all purchased music today is downloaded. Soon there will be no CD's, only downloads and good old fashioned Vinyl (which is making a comeback). So be sure to check out his new CD at his web site HERE.
2011 also brought two successful workshops! The one in Seattle was GREAT thanks to Ashwin Rao and Roger Paperno and the one in Chicago was super cool thanks to Bradley Graupner who helped me tremendously to get it going. In 2012 I plan on another NYC, San Fran, and at leads two others. Announcements soon, and each one will get bigger and better! Anyone up for a 2012 stevehuffphoto.com European Photo Cruise? Hmmmm.
Single life at 41 in 2011…
Rediscovering Dating…
2011 was also a year in which I was single for the first time in 15 years. After a 15 year marriage went to hell I took some time to myself, then dated here and there and soon realized that dating in your 40's is much different than dating in your 20's. It took me some time and some trial and error, but 15 months later I finally found a perfect match for me in every way. I am glad I said from the get go when I started to date that I would  "NEVER SETTLE". Everyone I dated was great but if you are single and 41 it is best to keep searching until you find the perfect one for you, someone  you can be 100% into, a perfect match. If you settle then it only spells trouble down the road. When I say to never settle I do not mean to find a supermodel, I mean find someone you are totally and completely compatible with. Someone who gets you and someone that you get. Someone that you can laugh with, share common interests with. Someone that you are attracted to inside and out. The whole package.
It's funny because the one I found that was my perfect match ended up being a girl I went to grade school with for 8 years.
See our kindergarten picture below: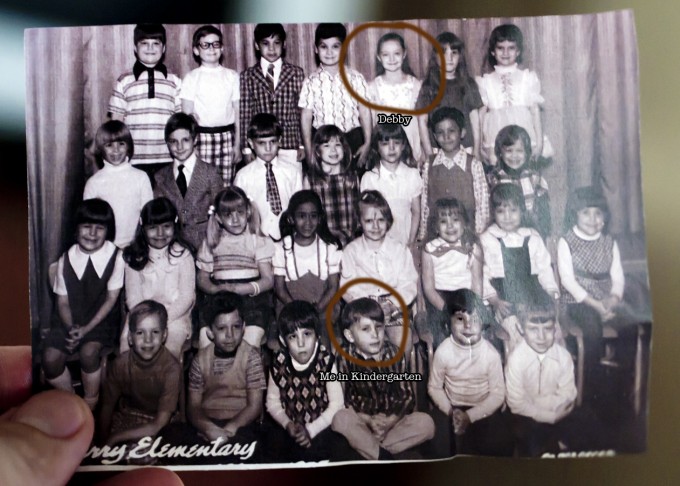 –
…and here we are today 35 years later. This was just before a halloween party so my eyes are freaky: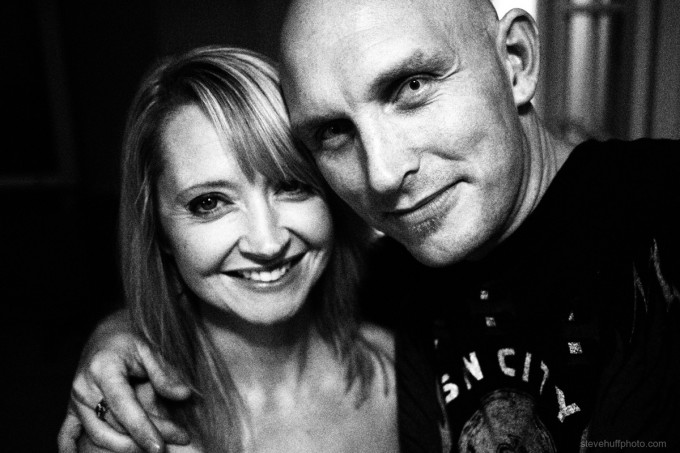 –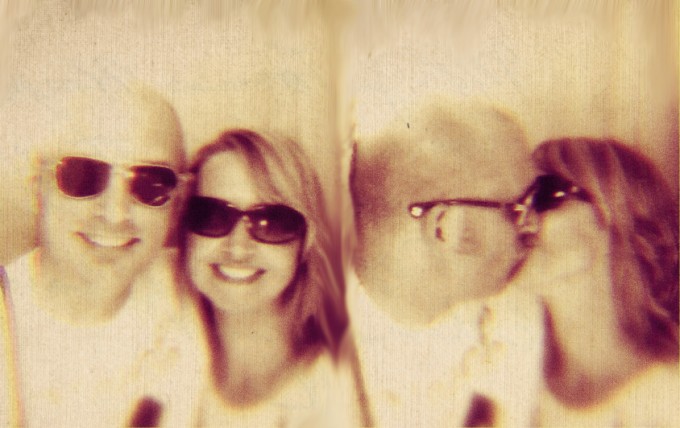 –
Funny how love works huh? From our 1st dinner meet we both knew. I knew. She knew. The best part is she is the kindest, sweetest, funnest and most amazing woman I have ever met.  Yes, things are perfect and I could not have asked for anyone better. I am good. I am happy. I am 100%. For the 1st time in a long time. So add another check box to the success square in 2011!
[ad#Adsense Blog Sq Embed Image]
Time flies, so make the most of it…
Another thing that has happened in 2011 is that my son is another year older. Next year he will be driving, he will be about an inch taller than me, and his life as a young man will be starting. I'll be there every step of the way for him to help him with whatever he needs. Advice, money, anything. So life is good. I remember when he was learning to crawl, then to walk, then to talk, and now he is 15 going on 16. WOW, time DOES indeed fly by!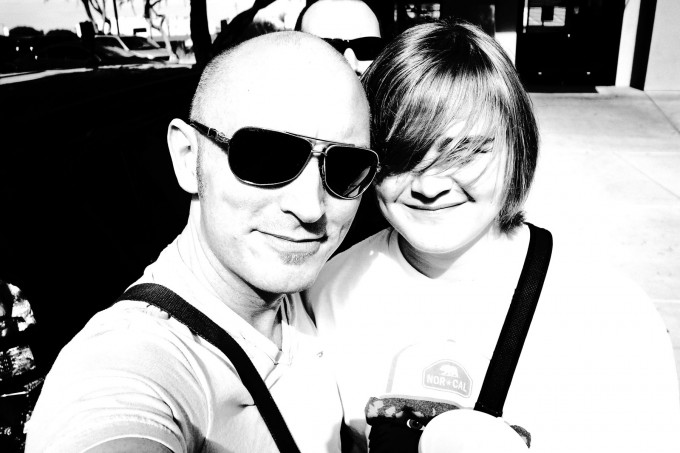 I wake up every day and hop onto my computer to check my e-mails, check my Facebook, check my google +, and to sit down and write something for all of you to read about. What I write may not always be perfect, or be viewed  favorably by everyone but what I write comes from the heart and thats about the best I can do. I LOVE this blog, and I am thrilled that you guys come here daily to read it. It is a true labour of love and 2011 has even tripled my traffic. Im hoping  to do the same in 2012! So stick with me as I promise the best is yet to come!
If anyone out there would like to submit a guest article just send me an email to stevehuff1@me.com with your idea or article. Doing so can generate some serious traffic for you and your blog or flickr or Facebook! Check out this chart below with INSANE statsfrom a guy who posted an image from his flickr into a comment section of a popular post: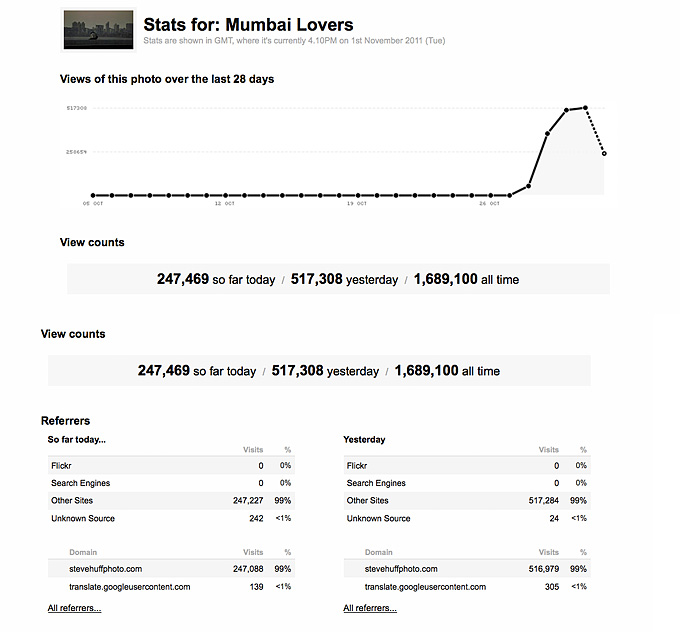 Now I am not saying writing a guest post will send you this kind of traffic but it can generate some hits for you, so if interested send me an email!
So to sum it all up, 2011 was fantastic for me personally. I could not have asked for better.
–
2011 was GREAT for camera gear…2012 may be better!
We all know how great 2011 was for cameras. The Fuji X100. The Olympus E-P3. The Ricoh GXR. The Sony NEX-5n and the NEX-7. The new Olympus lenses like the 12mm, 45 1.8 and the new Panasonic 25 1.4 are all fantastic (Pana/Leica review soon).
Leica was absent for the most part in 2011 with any new gear but from what I have been hearing, 2012 will be a good year for Leica. A new interchangeable lens camera, a new M, and maybe a third camera. It should be interesting. Then there is the new rumored Fuji interchangeable lens camera much like the X100 but with a supposed new sensor that is "even better or equal to full frame". Fuji has the possibility to REALLY explode in the digital market if they create an X100 type of camera that is slicker, faster, has changeable lenses and RELEASE nice fast primes, AND has a larger sensor that performs even better than the one in the X100 itself. Now that would be a camera to end all camera lust for many of us. X200? X1000? Hmmmm.
Sony will be releasing a new Zeiss lens in 2012 as well for their E mount NEX system and from what I gathered it may be something like an 85 1.4 portrait lens. Something like that would be great on a NEX-5n or 7. 2012 should also bring us more new stuff from Olympus – possibly the PEN PRO. Id buy a PEN PRO in a heartbeat as I am still in love with the E-P3, which I feel is the best Micro 4/3 body to date even with its lack of a built in EVF. The rumored Panasonic PRO X or whatever may surface this year still but for some reason I think it will fall short of expectations, but you never know.
So I am looking forward to 2012. Some killer cameras to review, more travel, a renewed love life, and also some new workshops planned that will be KILLER!
Thank you all for your support in 2011! I hope to see you all back in 2012 with your guest articles, daily inspirations, comments and e-mails! This site is run out of love and passion and I have more of that than ever so 2012 will be amazing! I started writing this to kick start my brain into coming up with something for the day and it ended up being another one of my personal reflections that I sometimes post. I feel being personal and allowing others into your life can be a good thing. Makes everything a bit more real and helps you guys to know who I am. Hope you enjoyed it.
Stay tuned…
Steve