Lessons Learned from shooting Black & White by Rob Lloyd
Hi Steve,
I love your site and the interaction it generates between the readers because we all can learn from each other. I've been shooting black and white film recently and I wanted to share some of the lessons I've learned. I love b/w film because it can create incredibly powerful and emotional images. The texture and depth that can be achieved with b/w film is truly remarkable and can be downright gorgeous. However I've found that shooting b/w film to be very difficult because you need to find subjects that are simple shapes and high contrast. Simple shapes – Often in b/w intricate shapes become too complex for the eye to distinguish. It's easy for things like tree branches to turn into a messy blend of grey in the background which ultimately distracts from the subject.
High contrast – I've found that many of my photos didn't turn out because there isn't enough contrast to isolate the subject. Colors that contrast well (red roses against green leaves or orange sunset fading to a dark blue sky) become similar shades of grey. How often do you see the skin tone of a persons face or color of their clothes blend into the same shade as background. Use the light and create shadows to provide the contrast. Henri Carter-Bresson was great at knowing which colors will contrast well in B/W and used it to his advantage. If his subject was wearing a dark suit he would wait until the background was light enough to provide adequate contrast.
Spending time with black and white film will ultimately pay off the next time I use some color film as it is forcing me to think more about composition and light.
Attached are some examples of these lessons I've learned. Keep in mind they are not great photos and are only used to illustrate my points. Everything is straight out of the camera with only some cropping on Fuji Neopan which has become my favorite B/W film.
Cliff – There is enough contrast between the creek and the cliff and the shadows on the rock and ripples in the water provide excellent texture and depth but the red backpack and blue shorts of my wife hiking in the creek blends into the background. The trees on the left side just from two messy and distracting shades of grey.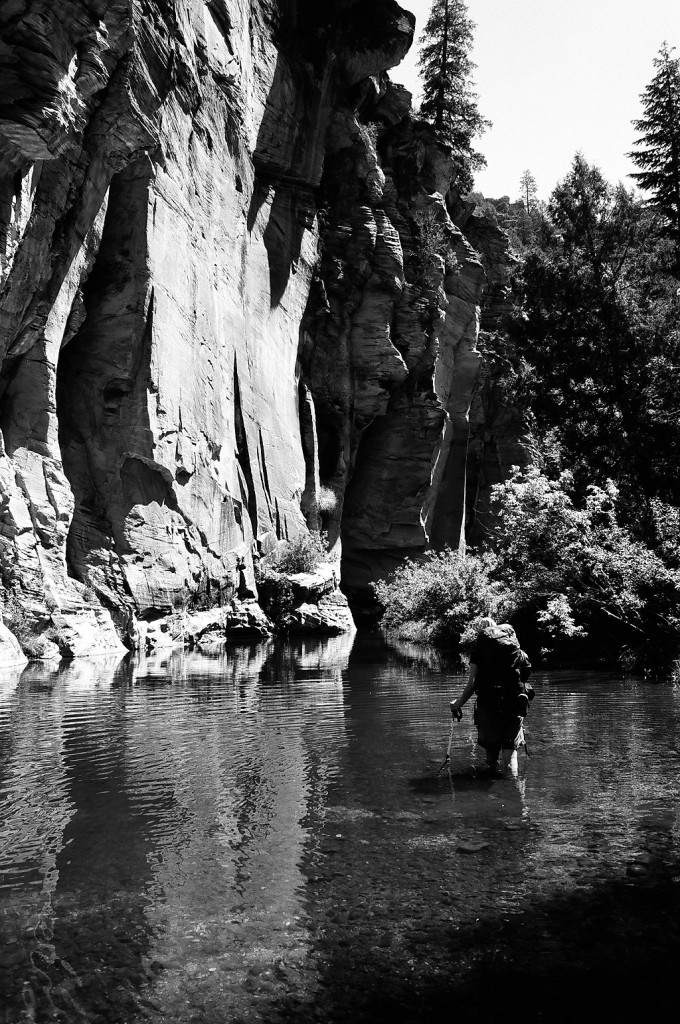 –
Cactus – The red flower contrasted so well with the green cactus and grey rock in color but in black and white all of that got lost because your eye cannot distinguish between the red/green.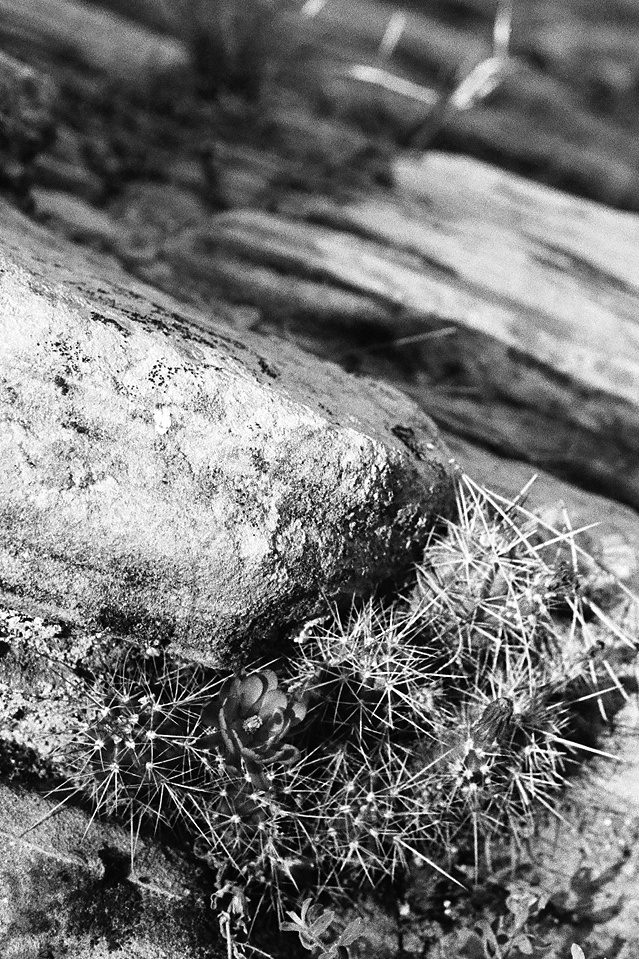 –
Wine Tasting – There is enough contrast between the light picnic table and the dark sweaters of the ladies and the rocks in the foreground are big enough to become simple non-distracting shapes but as you look at this picture your eye is drawn to the mess of grey in the background trying to distinguish what all those little intricate shapes and shades are and why they're in the photo.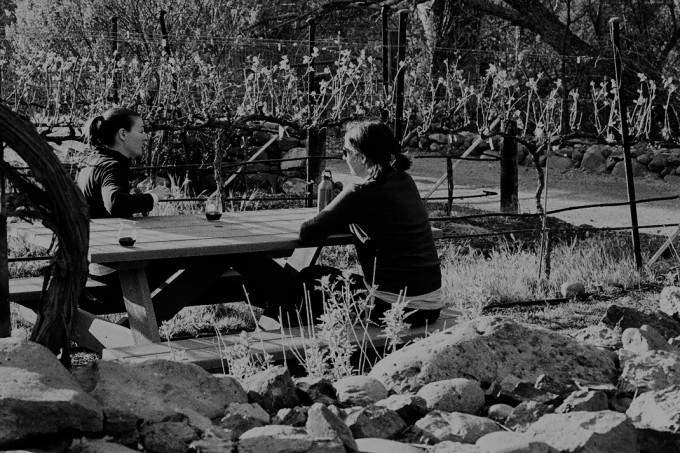 –
Clover – This one is closer because the shadows contrast well with the rock and the plant but think of how much more beautiful it was in color. Bright green clover against an orange lichen covered rock with nice dark shadows to provide depth.
 –
Dog – I really like this photo because there is enough contrast between the white/black fur and the grey background. The shape of his body and head are simple enough to break up the photograph and capture the eye.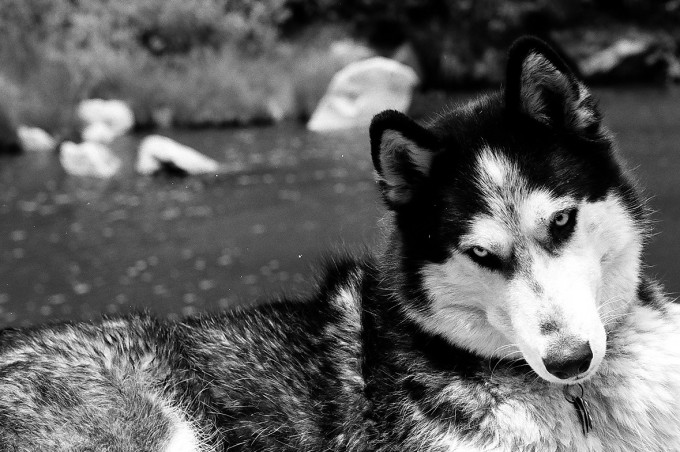 –
Tree – This is another example of high contrast and simple shape captures the viewer with no distractions.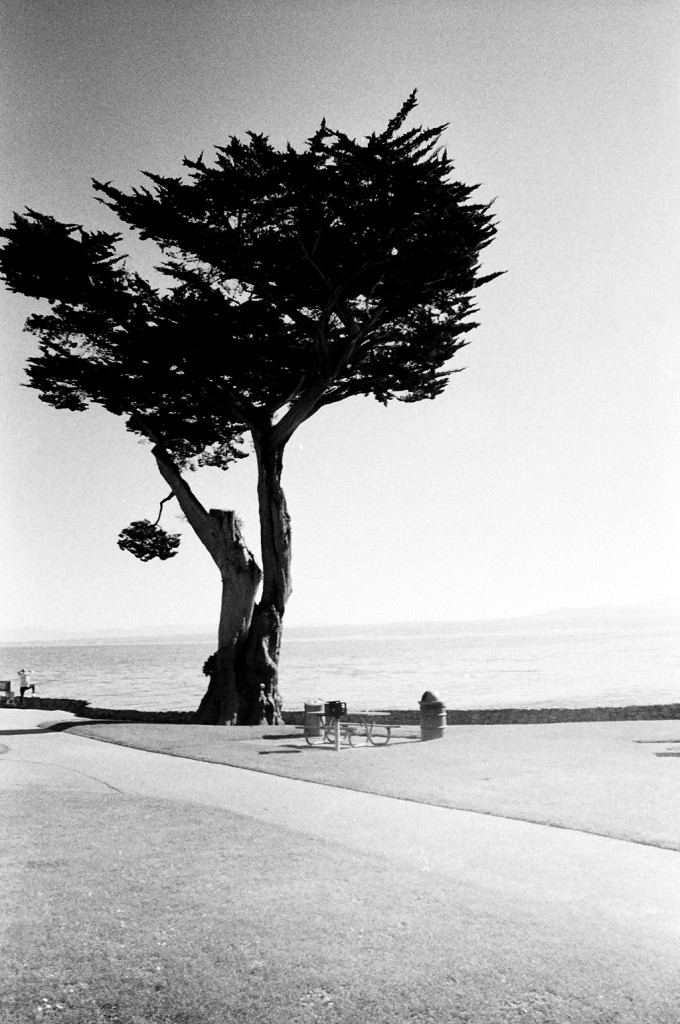 Rob