The Friday Film: A Look Back at a Classic! The Leica CM Zoom.
By Steve Huff
Yea! The Friday film is back for today, March 4th 2011! It's been a while since  I shot film and I have to say I missed it! A few months ago I had some extreme financial issues and had to sell off my MP, M9, and almost everything I owned. All I was left with photography related was a fridge with about 12 rolls of film in it. Ugg. The good news is that in the past few months I have been concentrating on this website more and more as well as getting things back that I lost. I once again own an X1, soon to own an M9 again, and even a Fuji X100. But what was really unexpected was having the chance to own this little Leica CM red leather zoom camera. A camera that I have eyeballed for YEARS but never jumped on. To be honest, back in 2003 I wanted THIS Leica CM with the 40mm f2.4 lens and even had it in my cart at B&H Photo a few times. I never did pull the trigger though!
So here I am in 2011 and I still think of the CM from time to time. It just so happened a reader of the site was selling off some VERY cool film point and shoot style cameras and gave me first dibs on any or all of them. He offered to send them ALL to me for a week to review but I knew there was no way I could shoot enough film in one week to review all four of them. Instead I asked if he could send me the CM zoom and if I liked it I would just send him payment for it. So two days later it arrived to my mailbox via USPS Express. WOW, that was fast. I heard great things about the Zoom from a dear friend of mine who owns one and his advice was to "BUY IT!". Like I needed a push…yea right!
As soon as I opened it and pulled it out of its leather case I knew I would want to keep it. Red leather, a red gordy strap, and a brown Leica brand leather case all included for a GREAT price. He even sent along three rolls of film! I immediately loaded it with some C-41 Kodak BW400 and the camera loaded it up perfectly! All I had to do was open the back, place the roll of film in its place and pull the film across and close the door. The camera started loading it all up and it was ready to go in a matter of seconds.
The CM Zoom has a Leica Elmar Zoom lens Lens, more specifically a Leica Vario-Elmar 35-70mm f/3.5-6.5. It is a slow lens indeed so no fast F1.4 or F2 or F2.5 apertures here but my guess was that this was going to be a gorgeous lens anyway as the Elmar lenses usually are.
To turn on the camera all I had to do was twist the zoom lens out and the camera powered on. I laughed as I did a test snap because the camera focused quicker than my Leica X1, lol.
The viewfinder is TINY though but hey, it is what it is… a Leica point and shoot. The cool thing is that it is a made in Germany Leica and it feels and looks the part. The camera is small, stout, solid and feels great in the hand. In reality , there are plenty of cameras that feel great in the hand but for some reason when I hold a Leica I just feel like I am home. The camera that came before this one, the Miniulx, was smaller and did not look as nice IMO. It was also made in Japan. Not that this is a bad thing, but it seems very un-Leica like. The CM and CM Zoom is a true Leica through and  through.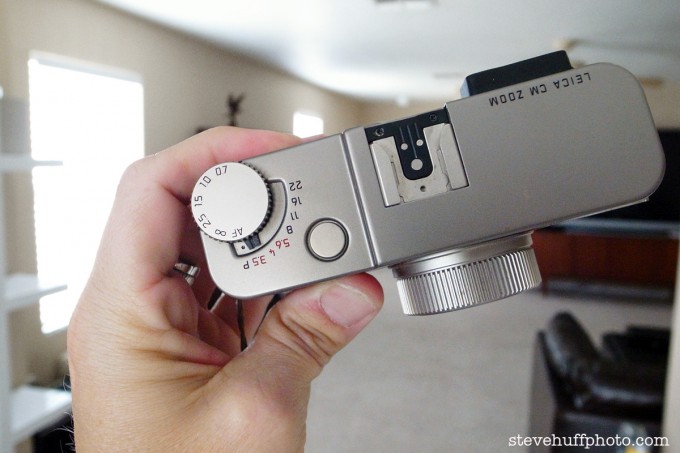 –
There is even an electronic display on the back so you can change flash settings, set the date on or off, exposure compensation and more. It is not on in the photo (sorry about that)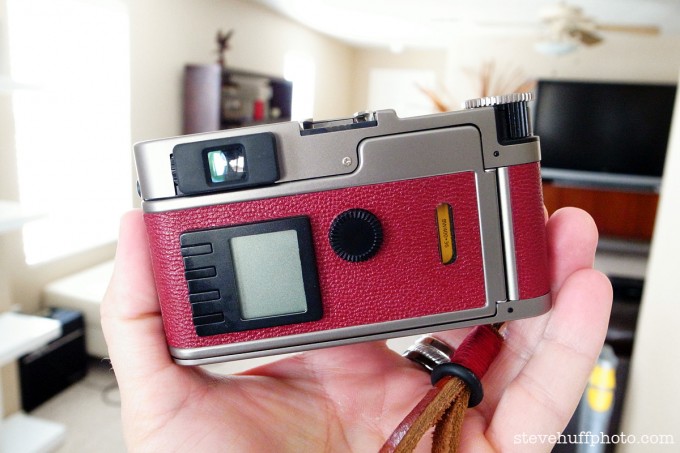 –
This is the official Leica CM Leather case which I believe sold for $150 or so. There is also a Gordys Strap attached to the camera 🙂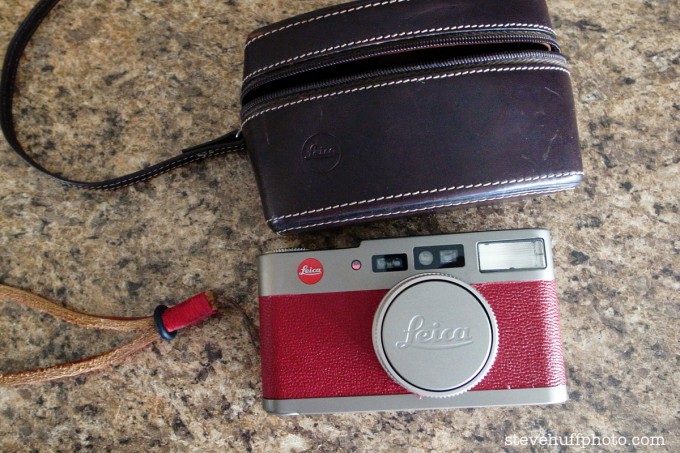 Looks wise, the camera is simply gorgeous. It's fatter than the X1 but almost the same size.
Here is as shot of the X1 next to the CM Zoom for those interested in the size of the CM, both pretty sexy looking I must say…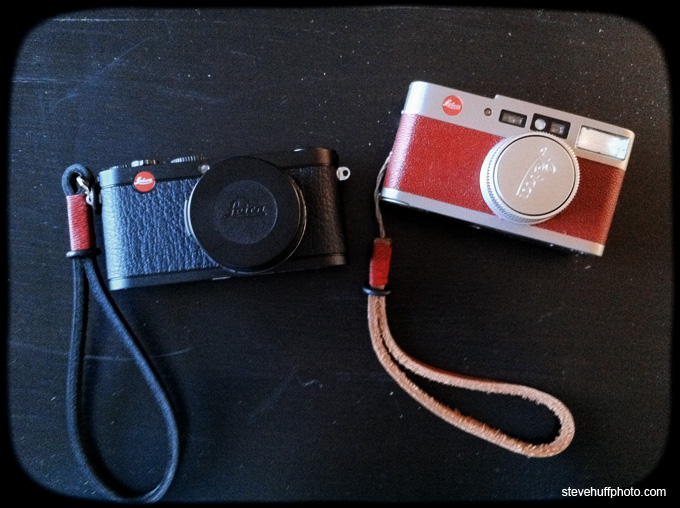 Yea, as usual with most things Leica I fell for it so I think I am buying it for sure. Before posting this review I e-mailed the generous reader who let me try it before buying and told him I will most likely buy it. I really can not afford yet another camera but these do not come around every day with Red leather and case so what the hell, right? You only live once. Besides, I no longer own a film M so for 1/10th the price of a new MP I can still own a beautiful film Leica. It's nothing like an MP, but it is a fun to use little camera.
The camera is easy to operate and use and I did not need a manual to use it. Loading the film was a breeze and the camera itself is in fantastic condition. What else can I say about this little guy that has not been said over the years?
Since I have been yapping about how great this little guy is how about stating a few of the negs…
NEGATIVE #1 – The lens is SLOW! Yep, it's an Elmarit. At its widest end of 35mm it is f 3.5. SLOW when you are shooting Leica. This will not be a low light camera unless you don't mind using the flash (which I have used and it did great). My 1st roll with the little CM was with some Kodak BW400 which is a C-41 print B&W film. No it's not a Tri-X or Neopan but it's easy to have processed for quick evaluation 🙂
NEGATIVE #2 – Max shutter speed is 1/500. I guess this is not really a negative, but just the limitation of the camera. I had some ISO 160 film loaded and even at f/5.6 the LED's were binking "HI" which meant it would be overexposed if I took the shot due to the shutter speed maxing out at 1/500s. But to be fair, most point and shoot film cameras maxed out at 1/500 so it is what it is 🙂
NEGATIVE #3 – Distortion/Vignetting/Flaring. I found at the wide end of 35mm the lens distorts a bit. You can see this clearly in the following image when looking at the walls and mirror: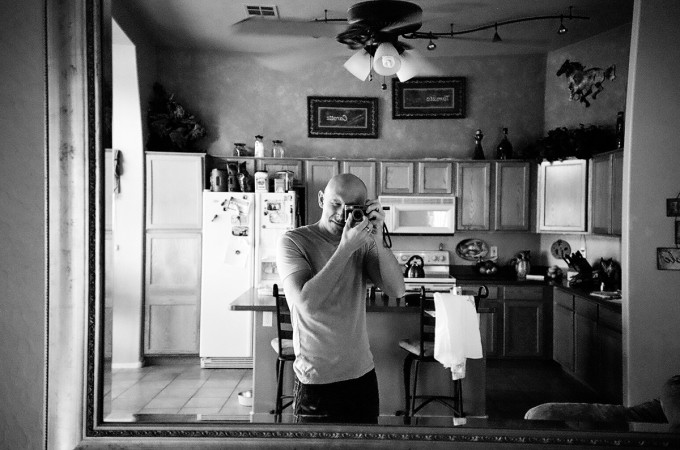 –
There is also vignetting when shot at 35mm and wide open at f3.5. I don't mind it at all though, I like vignetting in my photos from time to time.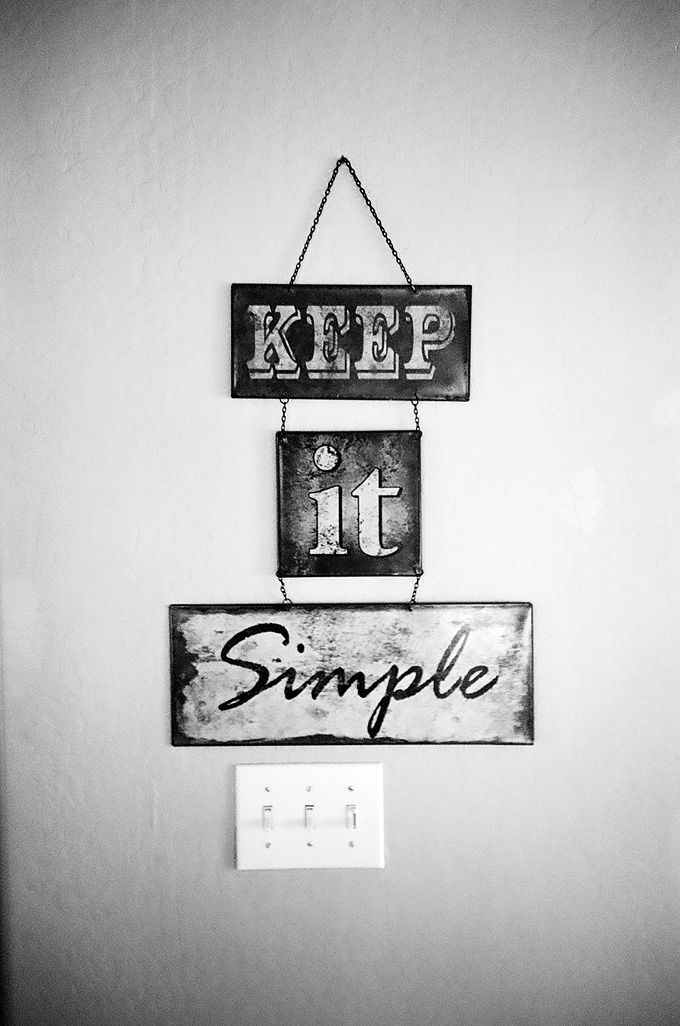 –
Lens flare anyone?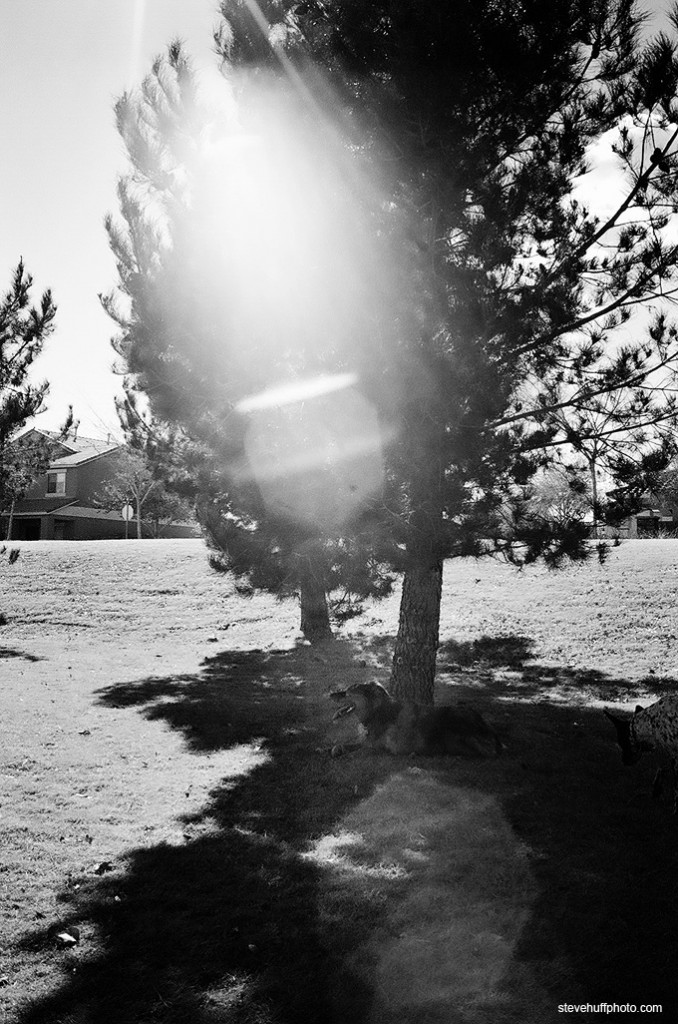 Other than these few niggles, which are usually expected in a cheaper P&S, I found no issues with the CM Zoom. The Viewfinder is tiny but this is a point & shoot camera, not an MP.
Speed wise, the camera if pretty fast to focus and shoot and seems faster than my X1. Solid construction, beefy feel and cute looks. IQ wise, it seems like the lens is capable of good results but just be aware of the three things above and you will be fine.
I have seen these sell for anywhere between $550 and $800 depending on if it comes with a box, case, manual, etc. If you are looking for a great little stylish film camera that won't break the bank you have a few options. Cameras like the Nikon 35Ti, the Contax T2, Contax TVS III are also great choices but for some, only a Leica will do. These are not that easy to find but can sometimes be found through Leica dealer Ken Hansen (email: khpny19@aol.com) or possibly dealers like Dale Photo may get one in from time to time. The Zoom version seems easier to find than the 40mm version though.
Someone asked me why I would buy one of these when I could buy a Voigtlander Bessa which sells without a lens for about $669. Add a lens and you are well over $1k. The reason I would buy a CM over a bessa is due to NOT having a film P&S in my camera stable. Cameras like the CM can be fun, they are small and quick to operate. Totally different type of camera that I would probably shot with 3-4 X a year. Plus, it's a Leica and I'm a fan of what  they do and what they stand for. Lastly at 10X less than an MP (without a lens) this little camera is actually a pretty good deal when bought used. These are not meant to be compared to a rangefinder so I didn't do so. It's more like an analogue X1 which right there makes it just cool to own. It comes down to price though. At around $500 it was hard to pass up!
–
The quick snapshot samples
Here are a few samples from the roll of Kodak C41 BW400, processed and scanned by my local Walgreens drug store (this means crappy low resolution scans). Just basic snapshots as I had nothing going on this past week.
The CM Zoom caught this running dog in mid air!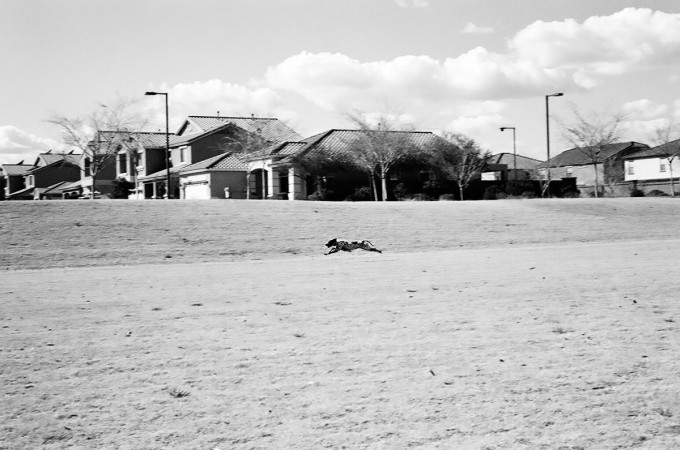 –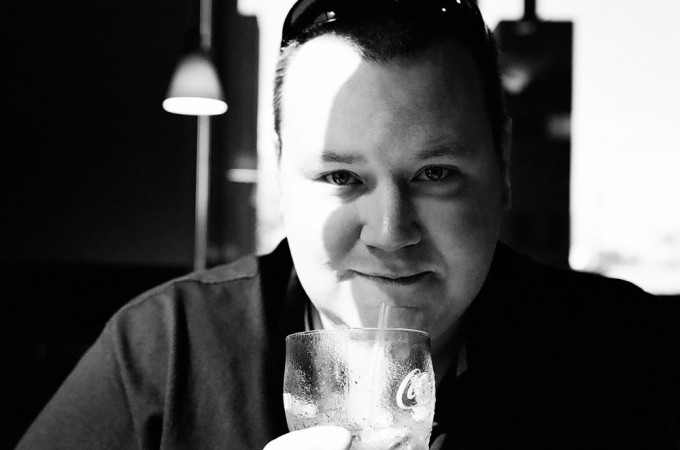 –
Even the built in flash did a pretty decent job here…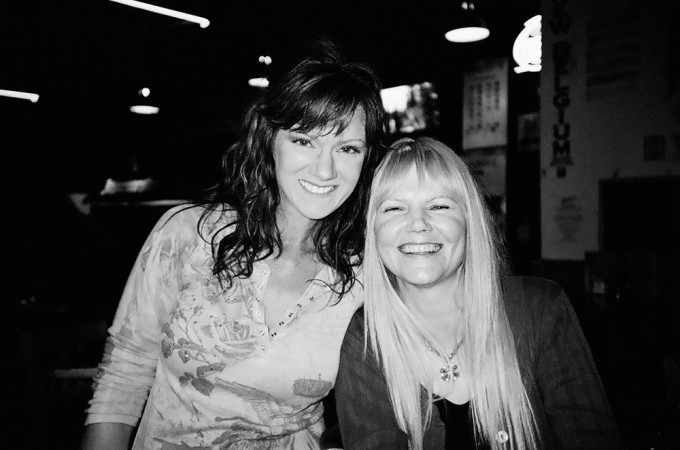 –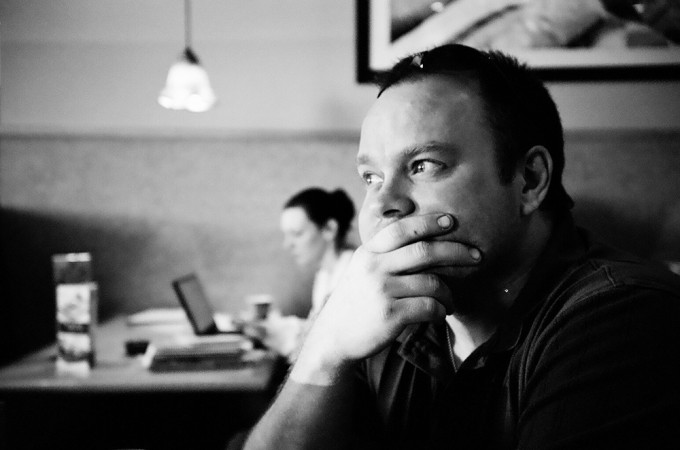 –
Wide open at 3.5…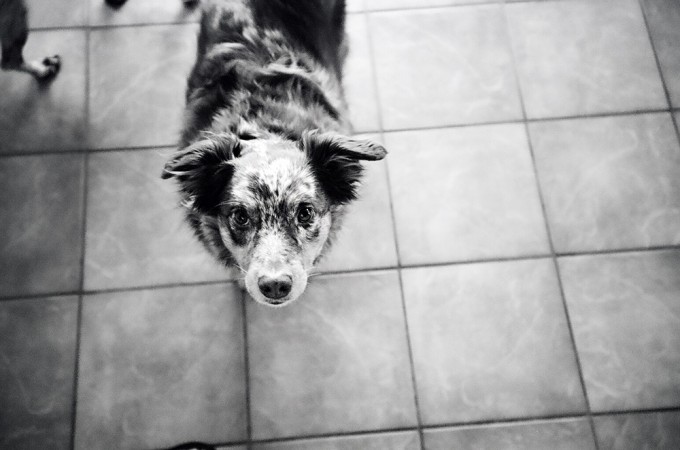 –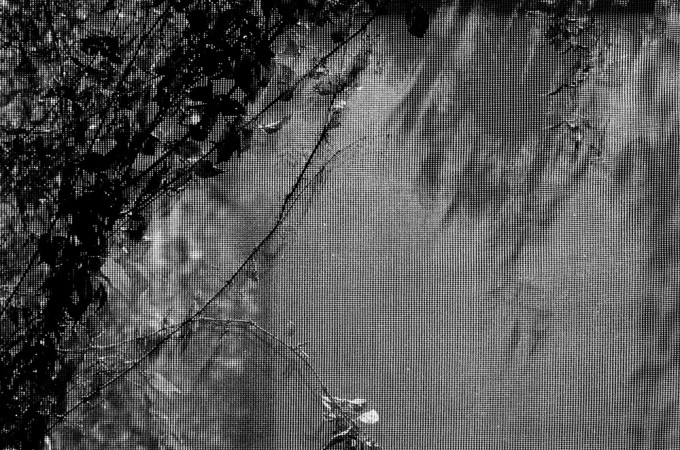 –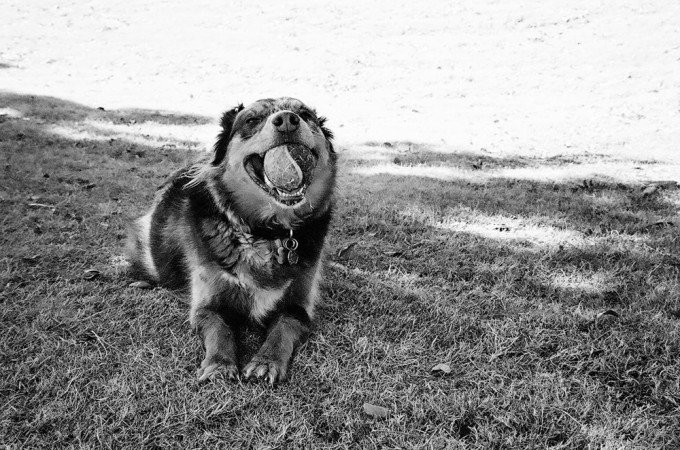 –
Bokeh at 3.5 looks good to me…also remember these are cheap, low res Walgreens drug store scans.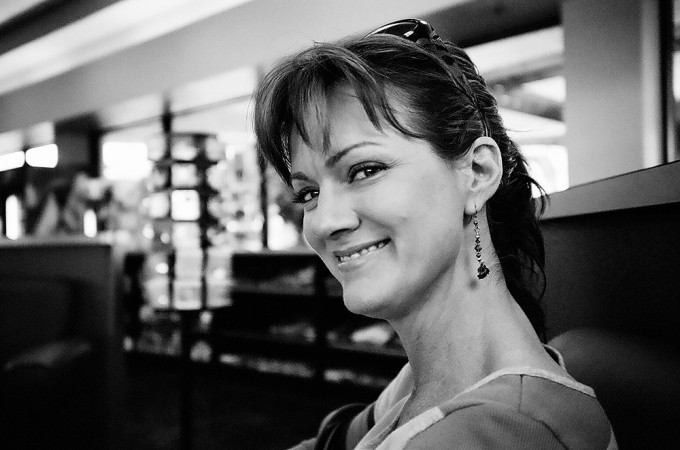 I now have a roll of Kodak Portra 160 NC in the camera and hope to shoot some cool stuff this weekend with it. I'll post the results in a future "Friday Film". Yea, I'm digging the film again!
BTW, if anyone out there has a red or cognac Leica CM (not the Zoom) in the box, in great condition and you want to sell it send me an e-mail HERE. Heck, even a black one if it is mint, in box. Thanks!
For those who asked, here is a  shot with the lens exposed 🙂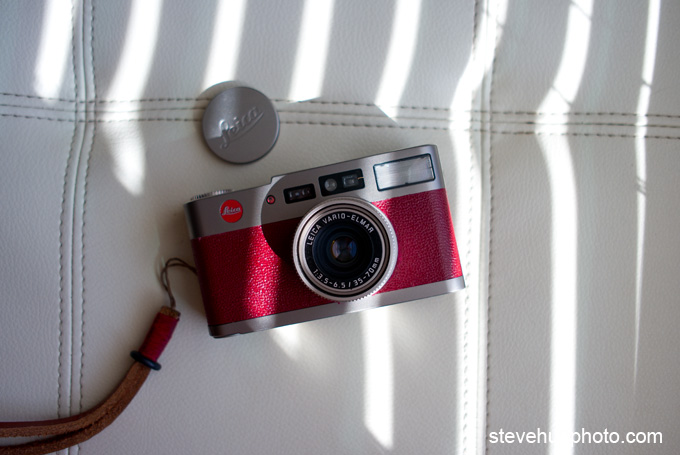 –
[ad#Adsense Blog Sq Embed Image]
HELP ME TO KEEP THIS SITE GOING AND GROWING!! IT"S EASY TO HELP OUT!
Remember, anytime you follow my links here and buy from B&H or AMAZON,
this helps to keep my site going. If it was not for these links, there would be no way to fund this site, so I thank you in advance if you visit these links. I thank you more if you make a purchase! I have nifty search bars at the upper right of each page so you easily search for something at either store! I currently spend 10-14 hours a day working on this site and the only way that I can pay for it is with your help, so thank you! Currently my traffic has been increasing but my funds to pay for the site has been decreasing, so any help would be GREATLY appreciated!
Even if  you buy baby food, napkins or toothpicks at amazon it helps this site, and you do not pay anything extra by using the links here. Again, you pay nothing extra by using my links, it is just a way to help support this site, so again, I thank you in advance 

If you enjoyed this article/review, feel free to leave a comment at the bottom of this page and also be sure to join me on twitter or my new facebook fan page! Also, you can subscribe to my feed at my subscribe page HERE and read these posts in your browser or news reader! Also, the new forums are NOW OPEN on this site so get involved if you like! Thanks so much for visiting my site!