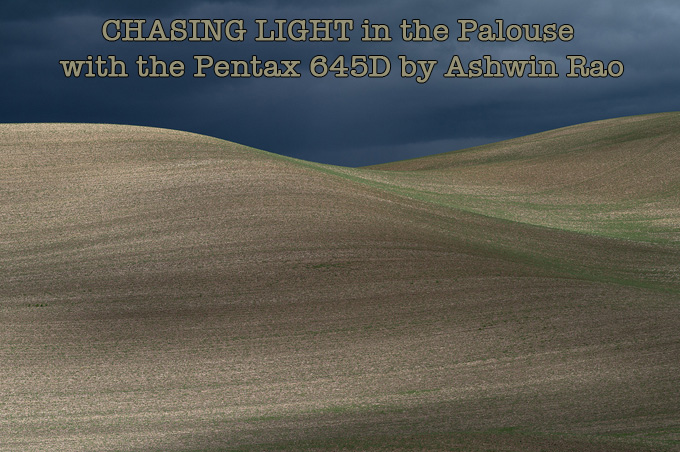 Chasing Light in The Palouse with the Pentax 645D
(& A Brief Review of the Pentax 645D system)
By Ashwin Rao – Visit his blog HERE
The Palouse… Eastern Washington's pastoral land of rolling hills, has long been a source of photographic inspiration and pilgrimage.  It's a land replete with broad swaths of color, vistas with horizons that stretch into an endless distance, gently undulating fields of grain, crumbling barns, and giant machines processing the land's primary industry of grain harvest. Type the word "Palouse" into your browser, and you yourself may be inspired to travel to this beautiful land, situated along the far sound and east of Washington's boundaries, crossing into Idaho and Oregon. It's but a five-hour car ride from Seattle, and yet, in a decade spent living in the Emerald City, I had never made the trip to the Palouse until recently. And now, the call of the glorious land reaches back to me.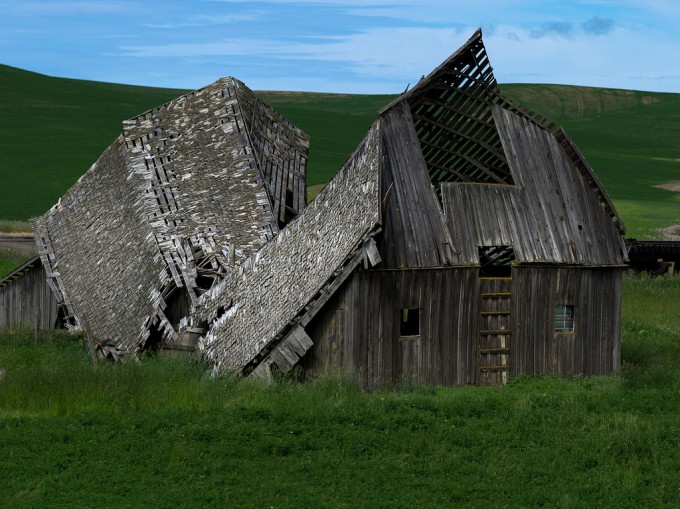 The inspiration for my trip, of all things, was a change in gear. For many years, I have been a rangefinder shooter, but prior to this time, the DSLR and landscape photography had been my principal passions. As the rangefinder ethos grabbed a firm hold of my soul, my photography drifted towards a more photojournalistic approach, with attempts to capture tiny slices of life in meaningful ways. I had kept a Pentax K5 in my kit for over a year for the rare times where an SLR would see more practical use for a particular assignment of photographic task. And one day, while at my local camera store, Glazer's Camera in Seattle, WA, I stumbled upon a "find" that jogged my sensibilities…a lightly used, nearly pristine Pentax 645D, priced to sell….and suddenly the gearhead's dilemma and GAS confronted me. Until this time, I had considered medium format digital photography to be out of my reach financially, lest I up and sell my M9 kit, something I'd not be willing to do. So I was content to view others' fabulous medium format images and hope that one day, such a camera would fall to my price point. Turns out that this was my lucky day. I quickly travelled home, gathered my K5 kit, and promptly traded it towards the 645D, Pentax's clever entry into medium format.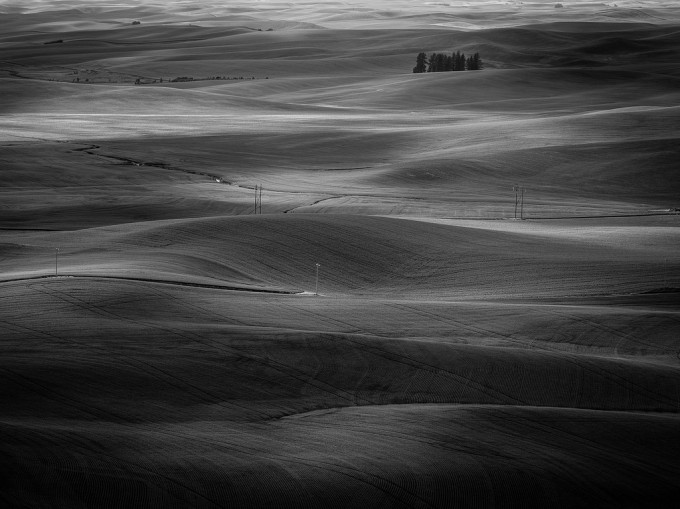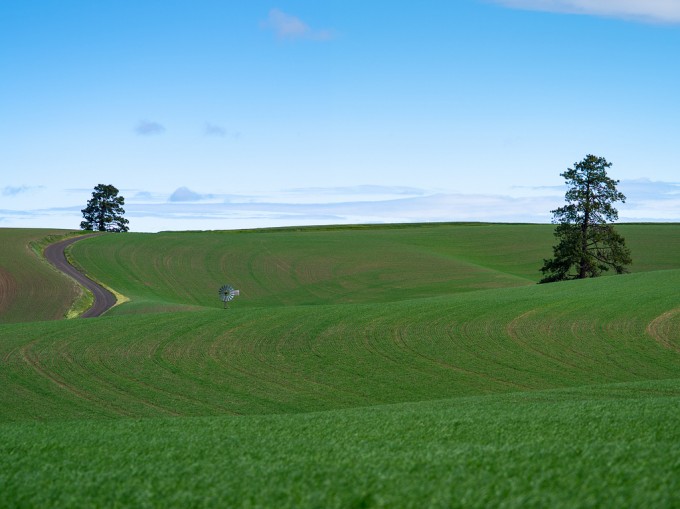 For those of you who aren't aware of the Pentax 645D, here's a quick overview. It costs $10,000 new as of this writing, and can be had on the used market for around $7,000-$8000, possibly less. The sensor is a lovely 40 megapixel 44 x 33 mm CCD sensor produced by Kodak, which thankfully lacks any anti-aliasing filter., thus preserving the native detail of this conventional Bayer-arrayed sensor. Thus, the images that the camera is capable of producing can rival that of the Leica S2, which has a similar sensor (quality of lens notwithstanding). In fact, there are reports out there that the Leica S2 and Pentax 645D share a nearly identical sensor. Added charms of the 645D include weather sealing (with the appropriate lens) and compatibility with the full lineup of prior Pentax 645 lenses. When compared to the film Pentax 645, one must account for a 1.3x crop factor when using the same lenses, as the sensor in the 645D is 1.3x smaller in surface area than its film counterpart. In contrast, the sensor is 1.25x larger than a full frame 35 mm sensor, providing that much more real estate over which to spread its 40 megapixels. The 645D is capable of ISO's ranging from 200 to 1600, and it does remarkably well in suppressing noise over this entire range of ISO, without introducing processing/smearing artifacts. The Pentax 645D was initially made available only to the Japanese market for nearly a year after its initial introduction, but it has been available in the U.S. since the early spring of 2011. Other features include a high-resolution 921K dot, 3 inch LCD and a menu layout that is the same as found in the Pentax K5. To boot, it takes the same batteries as the K5 and uses dual SD cards, accepting SD, SDHC, and SDXC cards without issue. It's not the fastest camera in the world, with regards to buffer or shot to shot performance, churning out 1.1 Frames per second. However, given its intuitive, SLR-like layout, ergonomic design, weather sealing, and "fast" (for medium format) performance, it's gained a bit of a cult following in the medium format world for being a workhorse camera capable of excellent results. Additionally, Pentax 645 lenses have long been regarded as price-performance champs in the medium format world, coming in at prices far lower than comparable lenses in the Hasselblad, Leica and Mamiya lineups.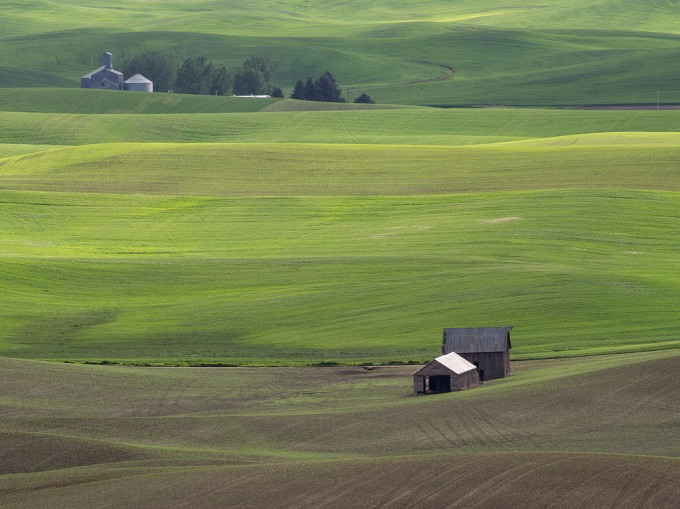 Some of you who inhabit popular gear forums have no doubt heard of the stir that the Nikon D800 and D800E have provided to landscape and commercial photographers, many whom use medium format for their work. For pro work, commercial fashion, print, and landscape work has long necessitated the use of medium format (and large format) sensors to optimize capture of detail, tonal rendition, dynamic range, and image size necessary for commercial and print work.  With the Nikon D800 and its "sans AA filter" version, the D800E, the commercial and landscape world has been suddenly challenged by a new option, far cheaper  (in terms of body cost), with a wider array of lenses capable of producing remarkable pixel-level detail required for this type of work, and some say, rivaling medium format.  In fact, many individuals are jumping ship from medium format to join the Nikon fray, to provide them with the flexibility of that system, along with better high ISO capacity. Why then, did I disregard this exodus and jump onto a purportedly sinking medium format ship?
[ad#Adsense Blog Sq Embed Image]
Well, actually, the answer boiled down to price and a desire to try something new. SLR's have been a "been there-done that" thing for me for some time now, and while the D800E would offer the benefit of superior image quality and clarity coupled with 36 plus megapixels of imaging goodness, it still possesses a sensor with far less real estate (by a factor of 1.5) than the sensor provided in the Pentax 645D. Second: Lens prices. After contemplating the price of the 645D, I naturally began an assessment as to how much it would cost to assemble a kit worthy of this sensor. Would lenses be pricey and add dramatically to the cost of my kit? In fact, many excellent Pentax lenses can be found used for between $150 and $650 dollars. I was able to gather a lens kit that included a 35 mm f/3.5 (28 mm 35 mm equivocal focal length), 75 mm f/2.8, 45 mm -85 mm f/4.5 zoon, 120 mm f/4 Macro (one of the best lenses ever made for medium format by many accounts), 150 mm f/2.8, and 400 mm f/5.6 lenses, for less that $3,000 USD.  If I had elected to purchase only manual focus glass, I could have saved at least half of that price and spent $1,500 to assemble a high quality kit for my camera. It's kind of mind-blowing, actually, how well priced heritage Pentax 645 glass is.
In order to purchase a Nikon D800E along with lenses of comparable focal length capable of resolving on its sensor (i.e. high end Nikon glass with nano crystal coatings, or Zeiss ZF glass), I would have had to spend more on lenses..well, truth be told far more…here's a run down, just for fun (keeping in mind that medium format lenses are not nearly as fast/wide aperture as 35 mm equiv lenses, yet allow shallower DOF for any given focal length. Thus the comparison below is admittedly artificial, but would likely give you perspective on price differential for the "best" option for each system at each 35 mm focal length equivalent. This was the process that I went through, essentially trying to compare the best lens option at each focal length for each system, looking at typical lens prices on the open market
| | | | | |
| --- | --- | --- | --- | --- |
| 35 mm equiv focal length | Pentax A or FA lens (MF/AF) | Pentax price | Nikon/Zeiss  high end lens | Nikon price |
| 28 mm | 35 mm f/3.5 A | $ 600-$ 800 | 24 mm or 28 mm f/1.4 | $2000-2500 |
| 35 mm | 45-85 mm f/4.5 FA (considered the best option at this focal length, better than the 45 mm f/2.8 FA prime | $ 600 | 35 mm f/1.5 | $1,650 |
| 50 mm | 75 mm f/2.8 FA | $ 400 | Nikon 50 mm f/1.4 | $400-500 |
| 90 mm/macro | 120 mm f/4 macro A | $ 300-400 | Zeiss 100 mm f/2 Makro Planar | $1800 |
| 135 mm | 150 mm f/2.8 FA | $ 500 | Nikon 135 mm f/2 DC | $1,300 |
| 300 mm | 400 mm f/5.6 FA | $1200 | Nikon 300 mm f/4 | $1200 |
If you do the math, you can imagine that for an equivalent kit, the price of the Nikon body ($3,300 as of this writing) plus lenses is at least comparable to the price of a used 645D with the lenses assembled above. The issue for gearheads like me would be that the Nikon system offers many other tantalizing options, including lovely zooms, tilt-shift lenses, and other options, for which the cost would continue to mount. The Pentax 645D is a far more limited system, in terms of lens diversity, and most lenses are cheaper or of equivalent price to their FX Nikon lens counterparts…what is lost is Nikon's high ISO capabilities, size benefit, and lens flexibility. What is gained is a larger sensor and the medium format look….I decided to jump onto the Pentax 645D kit, for better or for worse.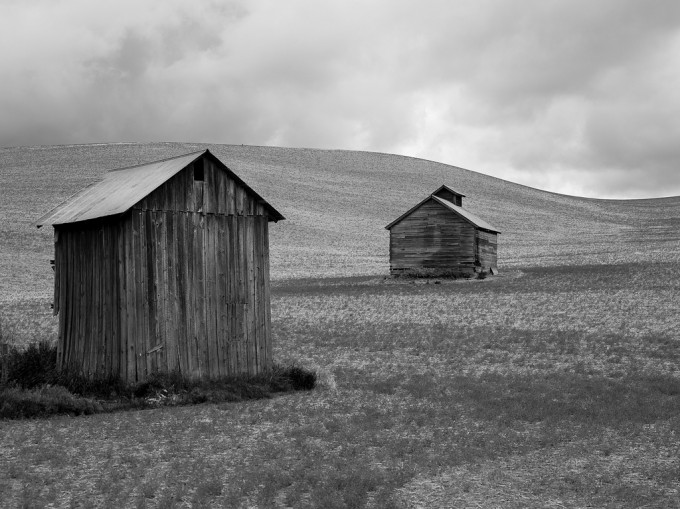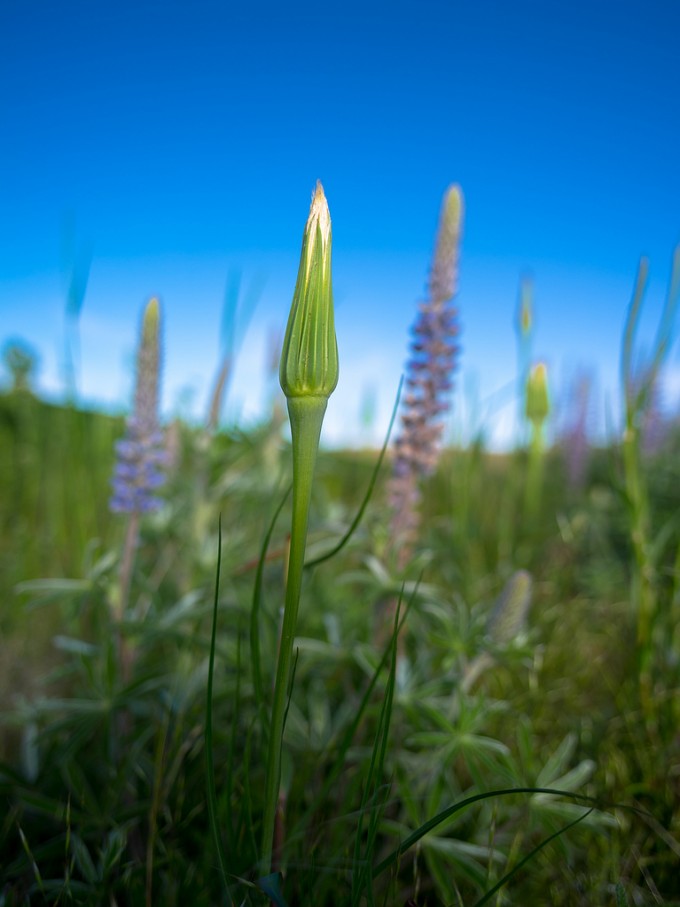 A Bit About the Palouse
So, with that quick review of my decision to invest in this system aside, it was off to the Palouse to see if the Pentax 645D was capable of delivering excellent results with the lenses that I had purchased for the system. For those of you who have never been or heard of this region, the Palouse encompasses parts of Souteastern Washington, northwestern Idaho, and northeastern Oregon. It is a major agricultural region producing wheat and various other crops.  The region is also crossed by the Snake River and crosses over with Walla Walla, a region known for it's lovely wines.  It's through that the regions dune-like geographic formations were formed during the ice ages, cast from the glacial outwash plains. For years, the Palouse has served as a scenic pilgrimage for landscape photographers for its dramatic and unique geography, and it has long been a beck and call for me, as I mentioned above. Thus, I assembled a crew of like-minded photographers, all whom had previously attended one of Steve's workshops here in Seattle,.All are now friends within Seattle's Leica users community. From Seattle, it is a 4.5 journey by car to the western edge of the region. Once there, we were met by a talented local photographer, Ryan McGinty, a friend of mine from Flickr (who also came to know of me through Steve's site), who has lived in the region for many years and magnificently photographs this region through a well-trained and creative set of eyes. For any of you who haven't had a chance, please check out Ryan's images on flickr. You are in for a treat, and you will see the possibilities that this wonderful land has to offer through his images:
http://www.flickr.com/photos/ryanmcginty/
Our journey to the Palouse began along Washington State Route 26, which is the primary byway that brings people into the heart of the Palouse region from the West. From there, we stopped for breakfast in Colfax, and began a lovely loupe through the scenic byways of the Palouse. During our brief, 24 hour stay in the region, we visited many sites along state routes 27,272, 95, and 195. We passed through the towns of Palouse, Garfield, Colfax, Farmington, Pullman, La Cross, and others. We climbed Steptoe Butte to gather in views of the entire region. Along the way, there were old, abandoned barns, farmhouses left behind, windmills, grain silos, winding roads and paths, statuesque trees, horses and lifestock, and endless fields of grain. At the time of year (June), the color palette was principally made up fo blue, green, gold, with hints of brown, and occasional reds. The chance of the occasional thunder/lightning storm will bring darker swaths of blue, maroon, and magenta into the color mix of the Palouse palette, and evening light can add warm yellows, pinks, and pastels. Wildflowers would sprinkle in occasional batches of vivid color now and again, but by and large, this is a land to be taken in macroscopically at first glance (microscopic will come later)….
The wonderful thing about the region that we saw is that there is usually a remarkable vista over every hill, expanding out towards most horizons. In front of us were endless rolling hills, sunbreaks and cloud shadows spotting and colorizing the views in front of us to add drama.  Further, unlike many regions here, the cloud patterns are truly dramatic, with cloud formations ranging from statuesque cumulonimbus and cumulus clouds to wispy cirrus & stratus clouds, providing ever-shifting perspectives of the scenes in front of us. In a very tangible way. We were busy chasing the right types of light as the day passed, sometimes as the contrast, clarity, color, and luminance changed from moment to moment. It was an exhilarating experience for me, a suddenly eager landscape photographer.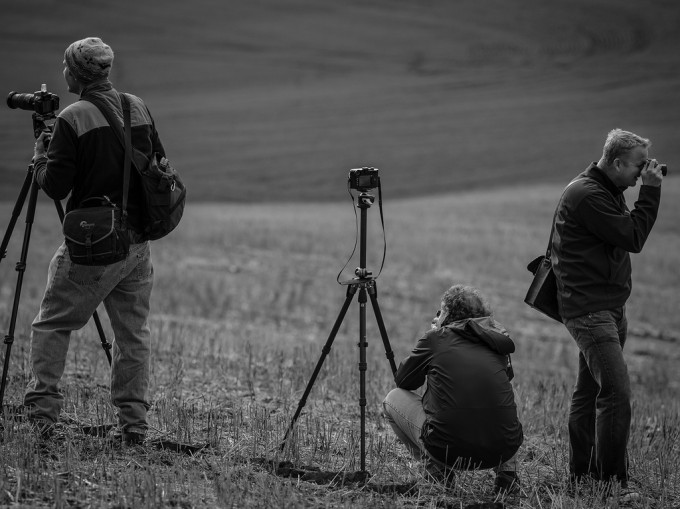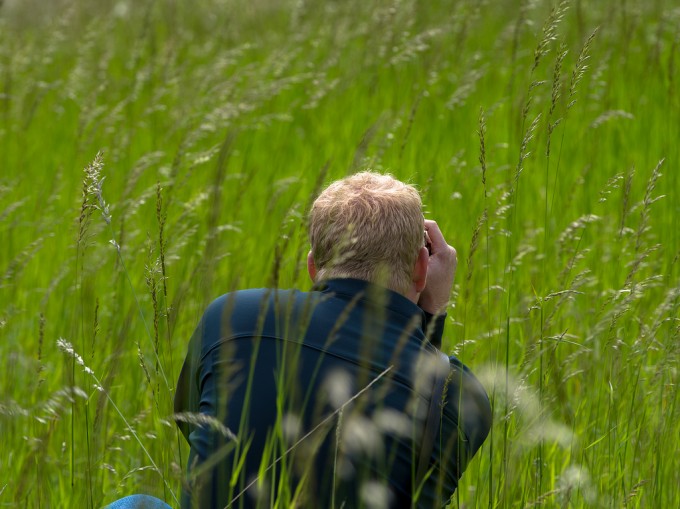 The 645D in the Palouse- A New User Experience
I was very excited to use the Pentax 645D in ths majestic landscape. Along with me came a range of lenses from a 35 mm f/3.5 A (28 mm equivalent in full frame) to a 400 mm f/5.6 (320 mm equiv in full frame). I was excited to use the wider lenses to get close and capture scope, while using my telephoto lenses to compress landscapes, while reaching out to grab far away details. Along the way, I did a bit of chimping on the 645D's wonderful LCD screen, but my and large, I let fate do the talking hoping that the images that I acquired would be in focus, thus allowing all 40 million pixels to shine. Would these older, heritage lenses hold up? After all, Pentax has only unleashed 2 new lenses, a 55 mm FA and 25 mm FA lens, since the Pentax 645D was released. All other glass available to the camera has been present long since the advent of digital photography. IF there's one lesson to be learned, it's that digital photography can bring out all of the flaws and softness inherent to imprecise or imperfect lens design or compatibility with the digital sensor. Did my kit of assembled heritage glass work out okay? The answer is…..
A RESOUNDING YES!
I'm psyched. I came home and began to edit my photos on my NEC 27 inch high gamut dual displays, and wham, there it was…detail….lots and lots of detail. The heritage glass did marvelously on the digital sensor, and I must say that I have been more than satisfied the Pentax 645D's output.
Most images were shot at lower ISO's, from 200-400, as I had the benefit of a nice tripod (Gitzo 3541L) and ballhead (Arcatech) to stabilize my kit. It should be noted that the 645D incorporates 2 tripod mounts, so that if you add 2 really right stuff brackets to the body, you can rapidly change the camera from portrait to landscape orientation.
The 645D is capable of resolving tiny details at near and far distances. Tiny blades of grass come to life just as much as enormous silos. The Kodak CCD's sensor (No AA filter) produces remarkable detail, and to my eyes, there's adequate dynamic range to rescue highlights and shadows in post-processing. White balance is a bit challenged on this camera, however, and thus it would make the most sense to shoot in RAW and post process afterwards.
Speaking of RAW files, they are huge, providing 7264 x 5540 pixels of real estate and file sizes of 80 mb or more. Thus, if you are shooting RAW, make sure to bring adequate memory. I used 16 GB SDHC cards for this trip, but on returning home, I promptly purchased two 32 GB SDHC cards (SanDisk Extreme 45 mb/s) to use and not worry about space.
For the most part, I tried to operate in the wheelhouse apertures of these lenses, stopped down to between f/5.6 and f/11, though I found that Pentax 645 lenses perform admirably even wide open.
Many of you may ask if I am happy with my decision to purchase into this system. Does the medium format experience bond well with a Leica M street photographer? Are the file qualities up to snuff, once one has tasted the M9's sans-AA filter experience? All that I can say is that I am profoundly satisfied, enough to disregard the Nikon D800, as I am unsure what more image quality that camera can offer, especially given that my trip to the Palouse proved to me that 645 lenses are up to the task of critical digital workflow. Further, I hope that the images provided in this user-experience review communicate how I feel about the camera, and to some degree, what type of image quality the camera is capable of.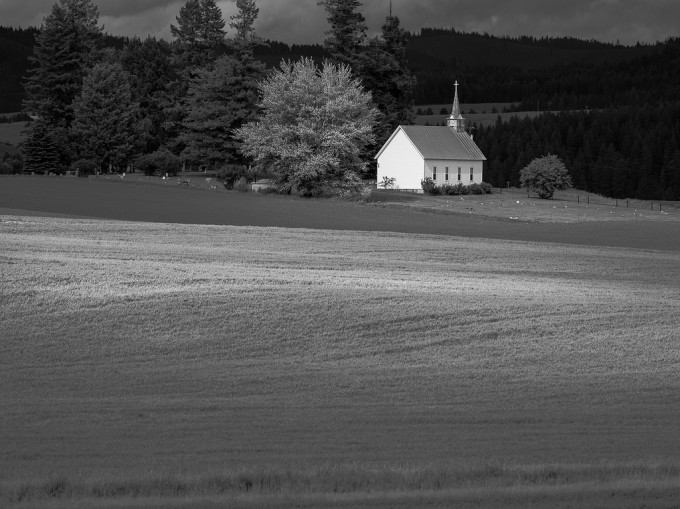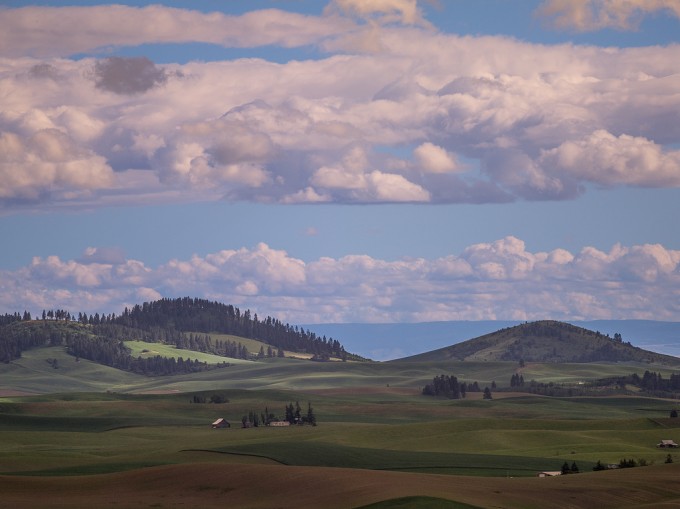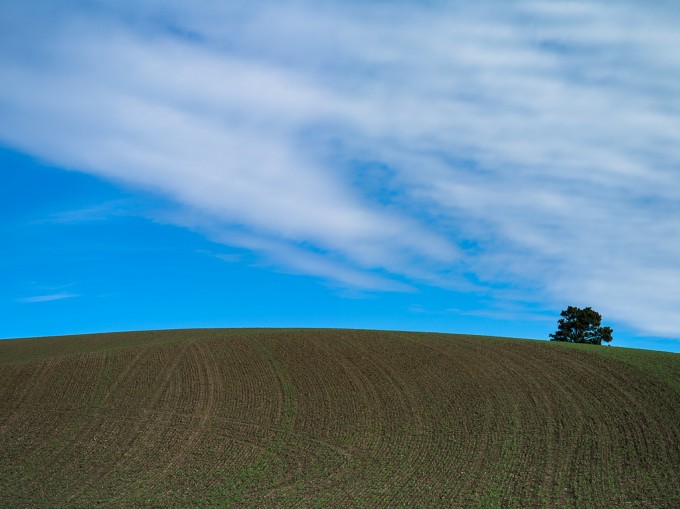 Concluding thoughts and comments
The Palouse is a beautiful region to visit. It should be on your bucket list, if you are a serious landscape photographer or lover of pastoral scenery. Shooting the region with a Pentax 645D in hand (and on tripod) was a pleasure, and I look forward to returning during another season, when the colors offer a different palate and perspective.Along the way, I found that I was very much impressed by the output of the 645D and its heritage lenses, and I look forward to planning future trips for which the 645D will be taken. I found that the medium format experience is one that can be embraced by someone used to hand holding a discrete kit, when the right opportunity presents itself.
Is the Pentax 645D right for you? Only you can make that decision. For those of you considering a Nikon D800/E for landscape or portrait needs, you may want to consider buying into the Pentax 645D system for a similar cost (depending on your lens selections), as you will be duly rewarded by outstanding image quality, pixel clarity and sharpness, and enormous sensor real-estate.
(From Steve: Anyone interested in a Palouse workshop? A couple of days shooting, learning and getting some amazing images in this beautiful and breathtaking location? If yes, let me know in the comments! If there is enough interest we can set something up!)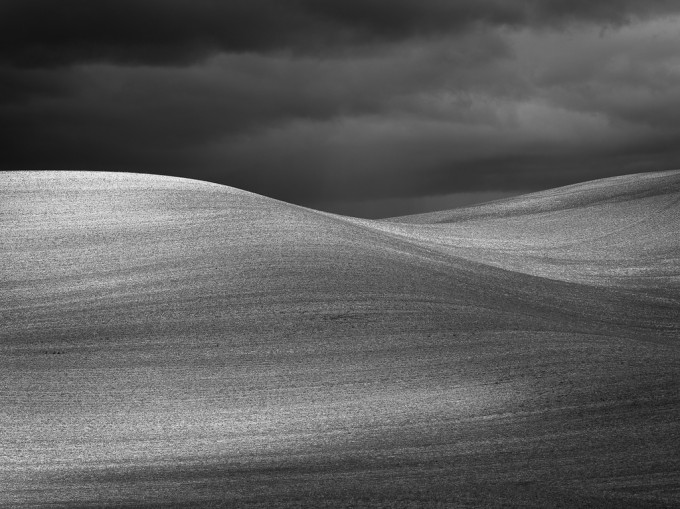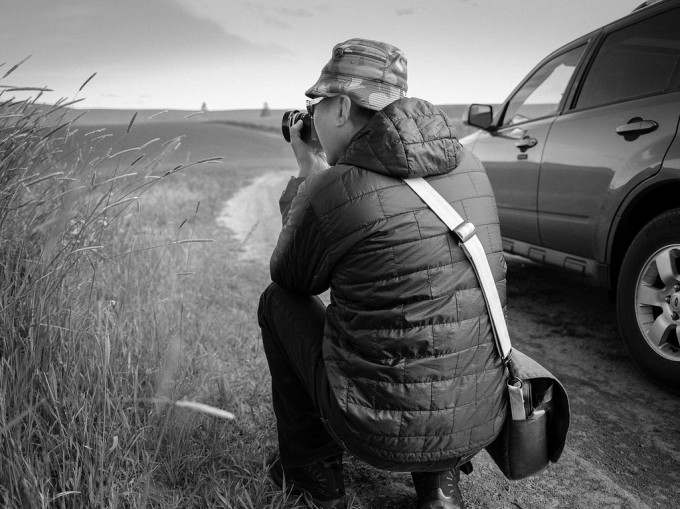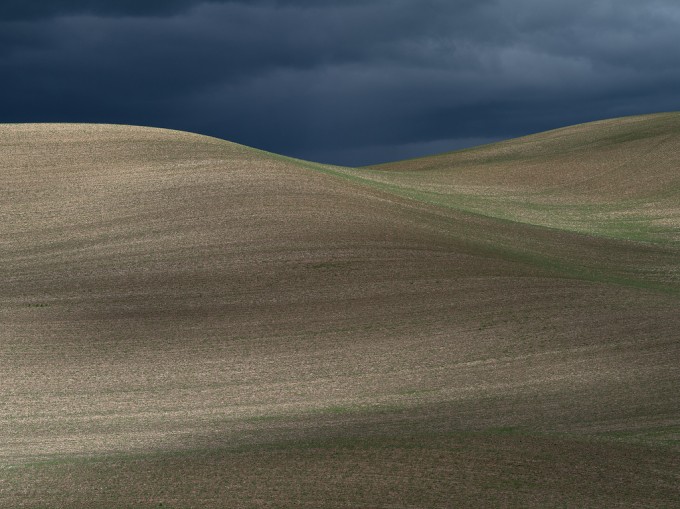 645D pro's
Medium format – lots of sensor real estate for BIG prints and BIG crops
40 MP sensor without an anti-aliasing (blur) filter
Useable ISO's ranging from 200-1600
Dual tripod mounts
Excellent user interface & menu layout (best in class for medium format), making it an easy transition to those familiar with SLR's and looking to make the jump
Dual SD card slots
Weather sealing (with an appropriate lens)
Outstanding ergonomics (for a medium format camera), including a deeply recessed hand grip
Cheap (relatively speaking) selection of Manual and Autofocus lenses, which perform admirably.
645D cons
Limited ISO range compared to 35 mm
Bulky (for a M9 user)
Slow image preview times and buffer
Slow FPS (1.1 frames/se) make sports or rapid street work difficult
Care required to optimize sharpness (every tremble and shake can be easily seen at the pixel level). A stable is a must for critical work
Limited number of vendors for Pentax, compared to Canon, Nikon, NEX, or m4/3
No AA filter can mean "moire" artifacts are possible (less likely in landscape photography)