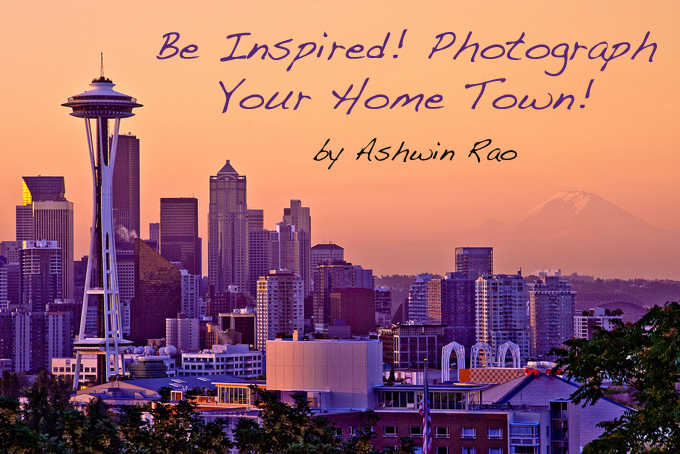 Be Inspired! Photograph Your Home Town…
By Ashwin Rao – Ashwins Blog
Hello, friends and followers of Steve's site. Many of you have read my articles on travel. Stretching my legs in far off corners of the world has brought me inspiration for my photography and challenged me to find creative ways to express myself. Furthermore, Steve's own travels with Seal on his tour through South America, South Africa, and Switzerland have clearly shown what a talented photographer can achieve with a camera and a few lenses in his or her bag, the world stretched out in front of him.
Sure, I'd love to travel the world all of the time, but the reality of the matter is that most of us may not get to venture far from home all that regularly. In fact, I spend most of my days photographing the places in which I live, the friends with whom I share my daily life, and the little secrets that my hometown shares with me. It is our hometowns that become so intimately intertwined in our lives, and this poses both the greatest strength and the most daunting challenge of photography: How does maintain photographic inspiration in their own home town
Here in Seattle, Washington, my hometown of 8 years, I have found a photographic nirvana. Having grown up in Ohio, I came to Seattle with the eyes of a tourist, always excited to explore and ready for the next adventure. It's this approach that I have used to discover the city over the past 8 years, and it is this city in which I discovered photography and the excitement for creating pictographs of the world around me. For me, the city and its surroundings are a playground for inspiration. I can wander into the cities oldest corridors and find fascinating graffiti and shadowed murals. I can wander down to the pier in the evening, and find myself alone watching a serene sunset over the Olympic Mountains, lining the horizon to the west. Or I can gaze towards Mt. Rainier in its morning glow as I bike to work. I can stroll the countless city's farmers markets, camera in hand, and capture life in action, wander into a quiet jazz club and use my Leica glass to freeze the talented musician in front of me who's creating a different kind of art….Maybe I am lucky, but if I am guessing right, many of you have enchanting places to capture that are within your reach. The trick is to find the inspiration around you. Here are a few tips that I have found helpful in honing your photographic craft close to home
Mist over the Ballard Bridge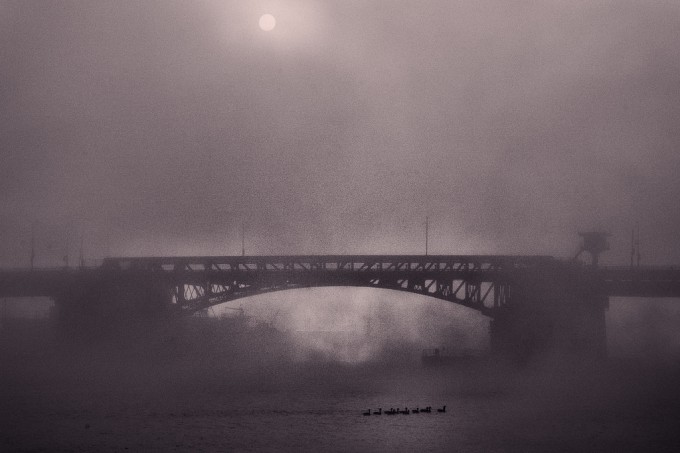 –
Parade Procession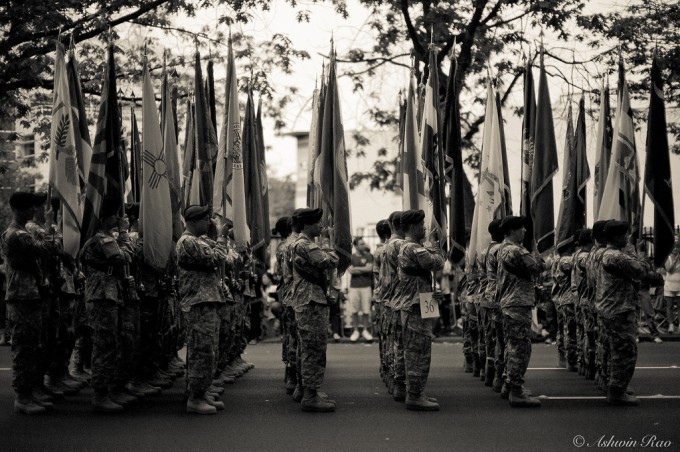 –
Roller Derby Girls…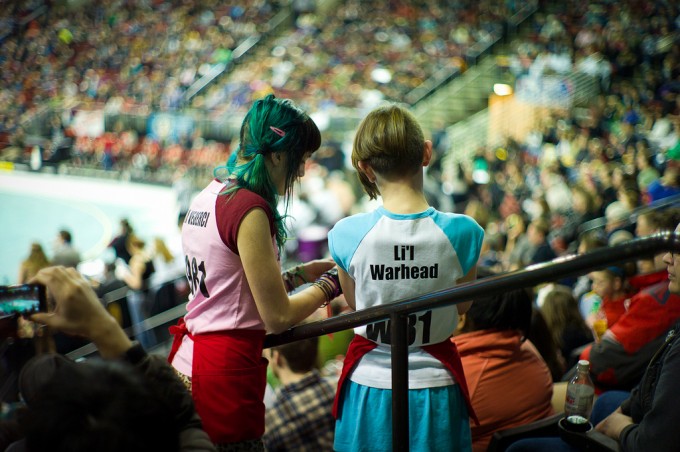 –
Guitar Man
The Photo Stroll
For me, finding the inspiration begins with the "photo stroll". Basically, I make it a point to get out of my house or work place regularly to photograph the world around me. My gaze is always looking for the next photograph, and walking about the places in which I work, live, and play is a great way to renew and reinvigorate one's spirit. In my time in Seattle, I have made it a point to get around town, discover new haunts, hidden alleyways, and locations, which I may not have previously explored. I keep a running tally of places that I have seen and others that I hope to get to one day. I call it my "Seattle Bucket-List", a set of places, which I hope to capture via my camera as time permits. My photo strolls have included day trips with friends, meet-ups with fellow photographers with whom I wish to share thoughts on gear, stories, and inspiration, and solitary strolls through the city in search of a poignant moment. For some of you out there, you have achieved a similar goal through photo-a-day projects. For me, its more-or-less a once a week thing, where I make sure to get out, regardless of weather conditions, to use my M9 around town. Regardless of how you do it, getting out of the home, stretching your legs, and bringing your camera along will surely be enough motivation to take a few happy snaps, and who knows, inspiration may be close to follow…
Cherry Blossoms and Children – University of Washington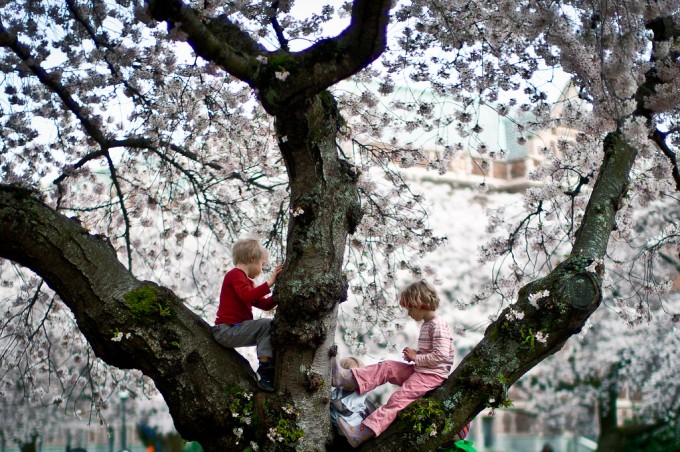 –
Injury, 70,000 watching- UW Football Game, Fall, 2010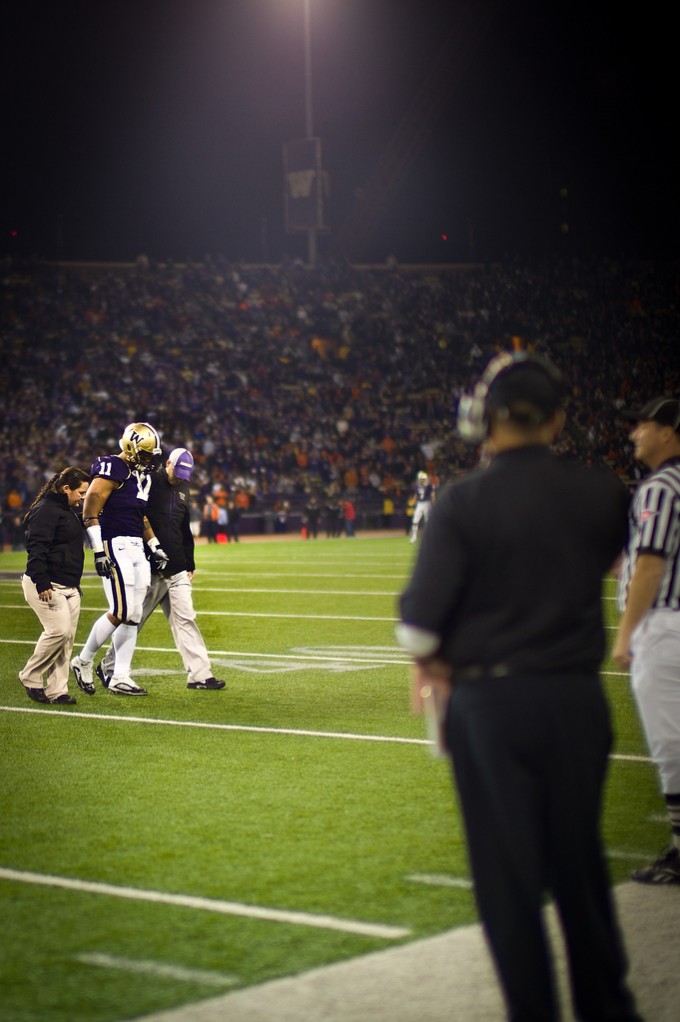 –
Ferry Ride at Sunset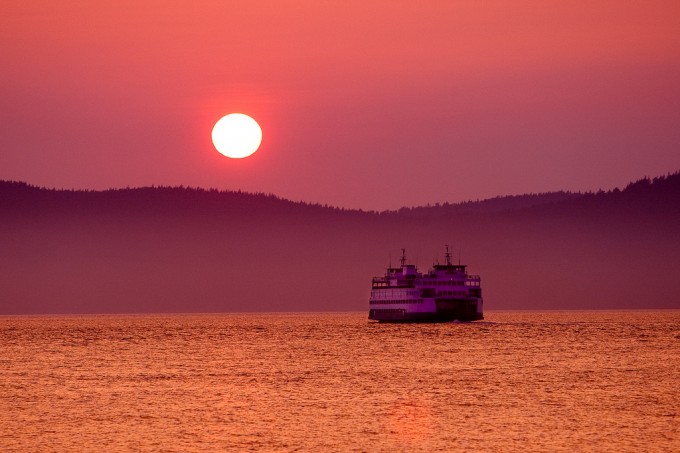 –
Discovery Park Military Road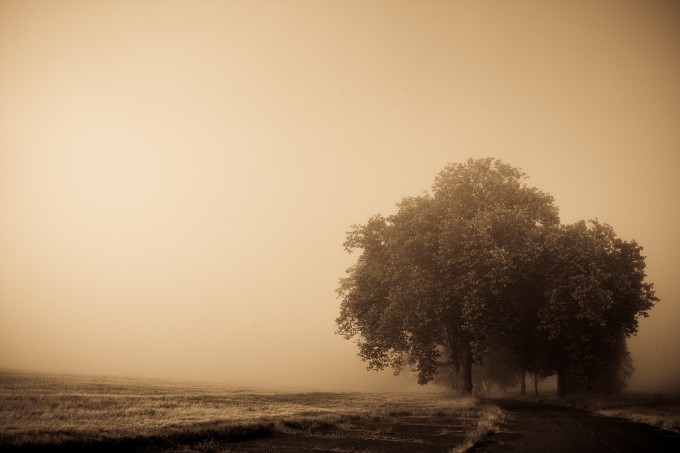 Get Involved with Friends & Make Photo Friends
Over the past 6 years during which photography has become an increasingly passionate hobby of mine, I have gotten to know many people in the community, including some of you who keep up with this site regularly. For those of you out there whom I have met through Steve's site, thank you for your friendship and communication! I often find photography to be most enjoyable when it's a share experience. I have had the good fortunate to meet and make many close friends who are as enthusiastic about photography as am I. It's been a great joy to go on walks, camera in hand, and learn about a photo partner through their stories and through the images that they make. Oftentimes, how your friends and fellow photographers see the world can serve as inspiration to your own photography. For example, a good friend of mine, Brandon, is able to see patterns in the world in a way that I often miss, whereas I tend to see the world more organically, with less pattern. Yet, during our strolls, were are often in the same place, shooting similar subjects, and the differences that we bring to our own creativity can serve to challenge and inspire each of us as we move about the city. It's exciting to get out there with friends, share in these moments, make and take photos, come home and share them with each other. Photography, like so many other hobbies, can be ever more exciting, even more inspirational, when you can share it with your photo buddies and your friends.
Even when I don't always have friends to photograph, all of my friends now know me to be someone who nearly always has a camera with him, and someone who can get "cool" shots of their families or themselves. My friends have become willing participants in my own photography, and I have been able to document intimate moments in their own lives (i.e. weddings, babies, childhood memories, fun hangs at the clubs) in a creative fashion, and this has enriched both my lives and theirs. It'sgreat to have such a group of willing participants for my own photography, and I have to give a shout out to my friends for being so wonderful in allowing me to have them be my inspiration. With time, patience and practice, you can find your own friends, your own community, and be able to enrich their lives and yours through your photos.
Peter Schmeeckle on Drums, Egan's Ballard Jam House, Seattle, WA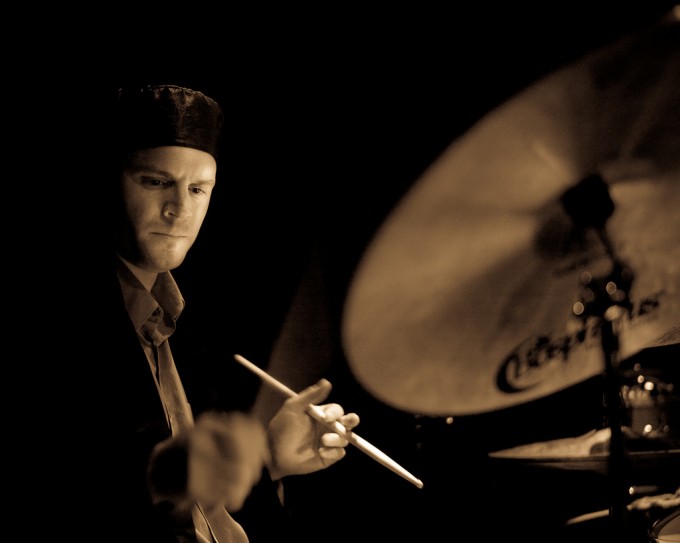 –
Space Needle and Ferris Wheel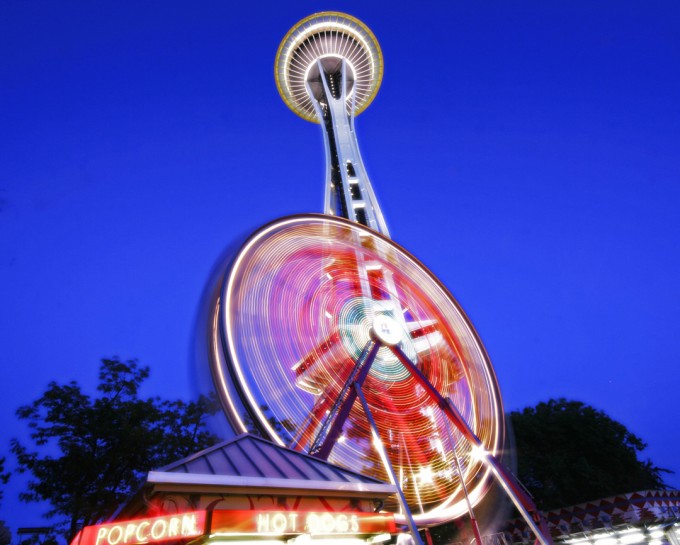 –
Breakdancin' at the Water's Edge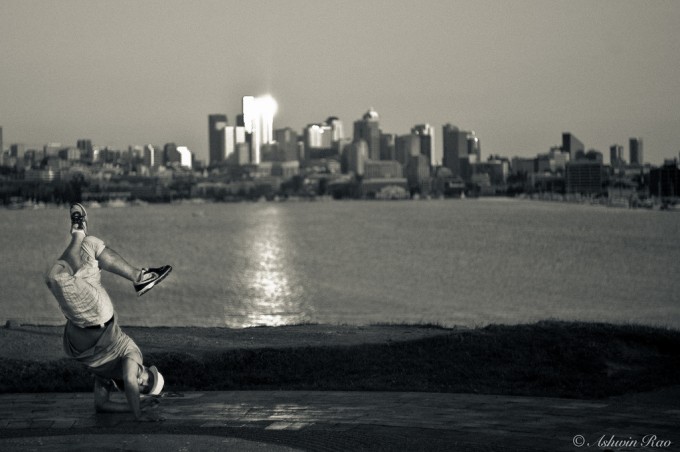 Get to know your camera.
We all have different camera gear. Different cameras, different lenses, different bags, different flashes, different tripods, diffent wrist & neck straps, yada yada. Yet, a common ethos among Huffites is a love of photography. Sure, many of you readers own Leica gear, while others now NEX systems, GXR systems, or m4/3 set-ups. My camera of choice, as you all know, is the Leica M9, and before it, the Leica M8. I find the digital rangefinder to be a near perfect match for my photographic vision. The M9 is a discrete tool, compact and unobtrusive, yet capable of capturing the highest quality image. Because it is so unobtrusive and compact, I nearly always have my M9 with me. In this way, should inspiration strike, my camera isn't far away. Despite my love of the M9, I'd propose the camera doesn't really matter, and the best camera is the one that you bring with you. For some of you, that may be the iPhone. For others, it may be a GXR or NEX camera. For me, it's the M9, and it's a constant companion. Over the past 3 years, I have gained an intimate knowledge of the workings of my camera. I know how my lenses behave on my M9. I know how it meters. I even have a sense of how the aperture clicks respond, how long or stiff the focus throw seems, and balanced each of my lenses behaves when mounted on my camera. I know where to find most-used settings on the buried menus of the camera's LCD. I guess what I am saying is: I know this camera. If you don't know your camera intimately, aspects of its use can serve as a barrier to inspiration and creativity. For me, the Leica M9 has become nearly invisible. It's the tool that I put in front of my eyes, and it sees the world as I hope to see the world…through some expensive glass, nonetheless, but in a way that inspires me to bring the camera along for the ride day-in and day-out.
Regardless of your system, the more you invest in understanding its eccentricities, the more you will come to understand whether or not it is the right tool for you, and if so, how to coax the most out of the camera for your own satisfaction. Bottom line: get to know your camera….
Lighthouse Point, Discovery Park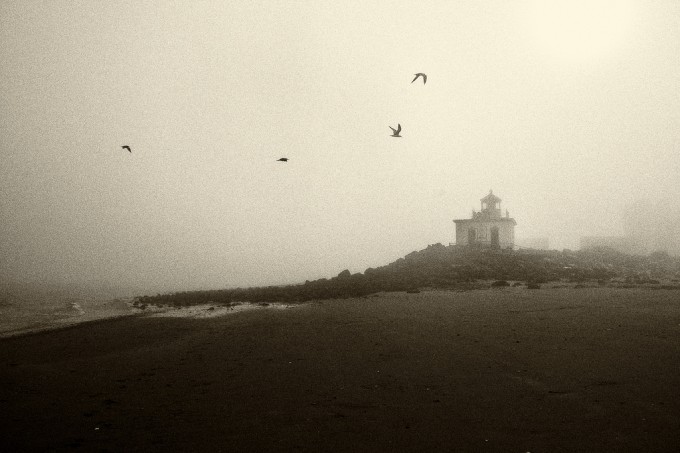 –
ICU TV, Fremont, Seattle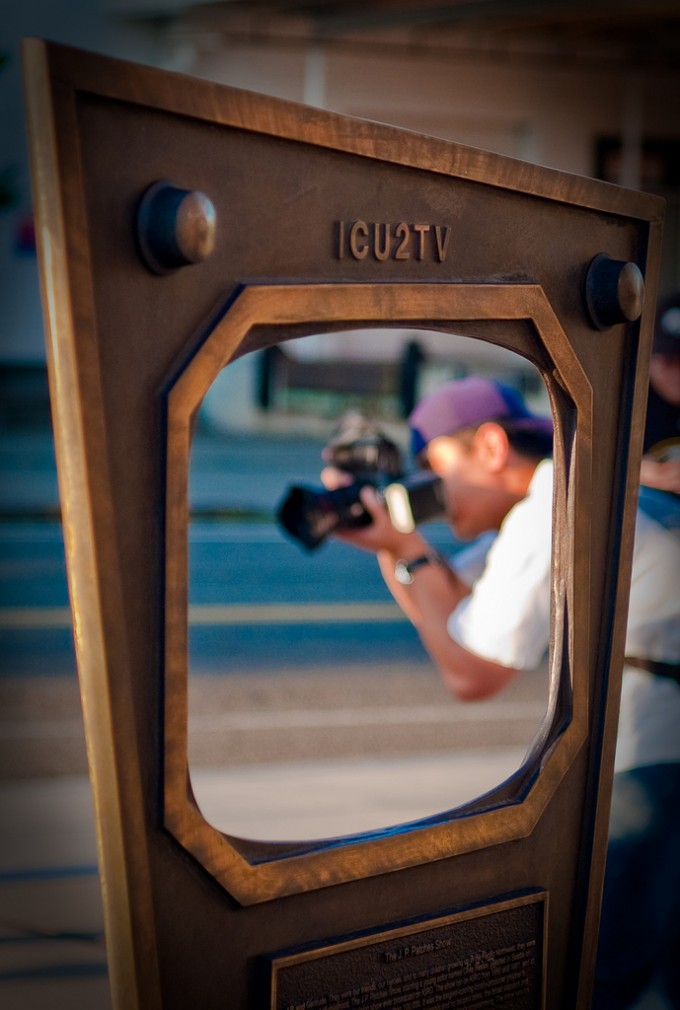 –
Big Four Mountain, Cascades Mountain Range, WA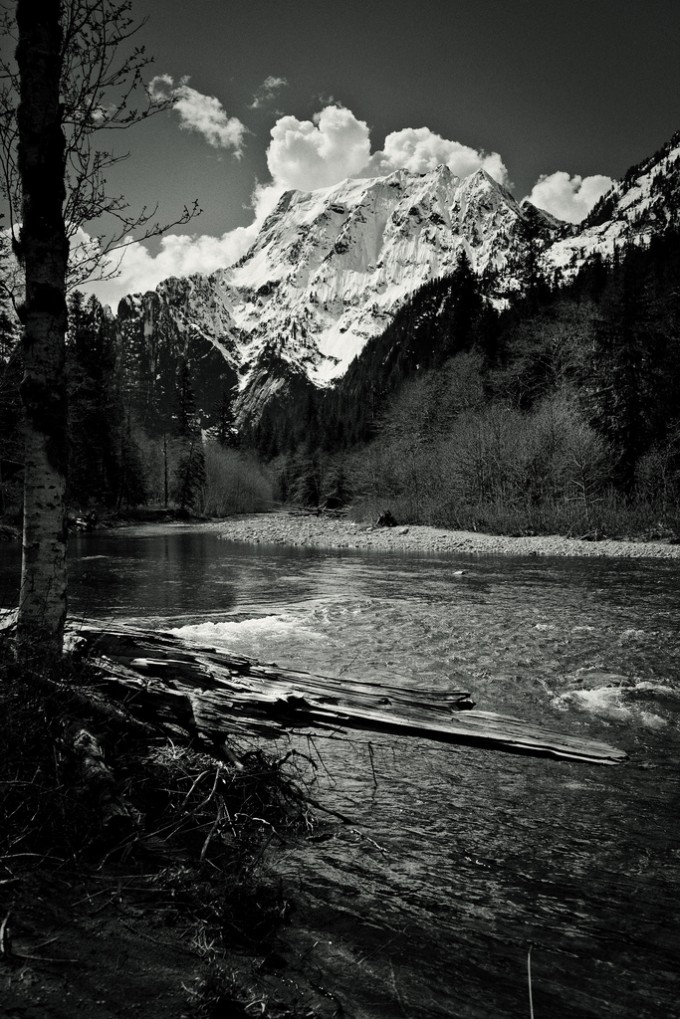 Maintain a manageable kit
Okay, admit it. Most of us readers have GAS bad…and by GAS, I am talking about "Gear Acquistion Syndrome"…So here I am, guilty as sin for owning a bunch of camera gear, preaching to you to keep your kit manageable. So what the heck does that mean? Well, for each of us, that means something different.
Many of us are limited by budget. We can only own so much costly year. We have bills to pay, loved ones for whom to care, and other important costs to account for. But nearly all of us lust for the next great lens, camera, or such eccentricity. Yet, I firmly believe that it is impossible for the gear that we own to make us any better as photographers. In contrast, it seems that the less gear that one owns, the more focused she or he can become in honing his or her craft. Instead of being busy fumbling for lenses, try to bring only 1 or 2 lenses with you on your next photo outing. This will force you to focus on making photos with the gear, rather than focusing on the gear itself. When I travel, I typically bring 3-4 lenses with me, to cover all of the photographic circumstances that I may come accross when far away from home. In contrast, when shooting at home, I often limit myself to a one-lens kit (often a 50 mm lens) or a 2 lens kit (35/50, 50/90, or 35/90), so that I can focus on seeing the world through one perspective. By limiting lens options, I have learned that I can really get to know my kit better. This way, when I travel, I am well versed in my kit, from all the practice that I have gotten at home in using this kit.
Some of you may find that you only need 2-3 lenses for your photography. Others may find that you can comfortably limit yourself, on any given day, to a smaller kit and get the most out of each of your lenses and/or cameras.
Explore the world around you
One of the benefits that I found myself as a resident in my town was that I came to the town as a adult, seeing it in many ways as does a tourist. So heck why not be a tourist in your own town?!? Find places that you have have otherwise ignored. Move about these places without assumptions. You will be rewarded by new perspectives on your home town. If there's one thing I can tell you, explore your home town….even places close to home can be just as inspirational as places far away, as long as you are willing to see them…
A Night out on the Town, Lucid Jazz Club, Seattle
–
The Burke-Gilman Path at Fall Time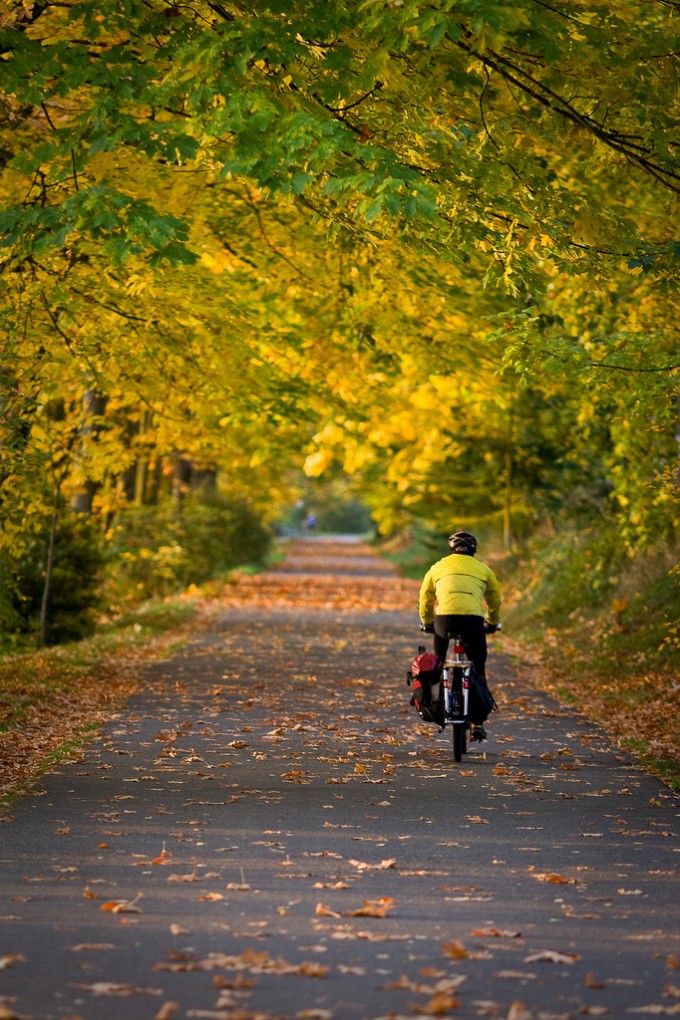 –
A Tender Moment atop the Space Needle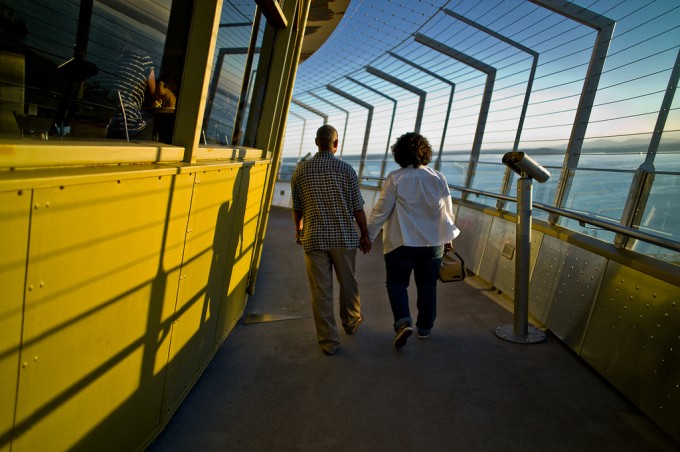 Practice makes perfect (or closer to perfection, at least…)
Practice…Practice…Practice….that is the key, my friends. What better place to practice than your own hometown, your own back yard, or among your closest friends and associates. I am always practicing, and I am always trying to hone my craft. I have begun to see the world as a series of photographs waiting to be taken. With a camera in hand, and with experience borne of such practice, you and I will be better prepared to capture that winning shot. Good luck to you all in this. I'll conclude with a bit of cheesy advise that I heard or read somewhere, which seems an appropriate conclusion to this little article: There's magic in every moment, inspiration at every turn, and many treasures in everyday life. It's all out there, waiting for you.
Now stop reading this blog, grab your camera, and take some photos. Your hometown beckons…
Best,
Ashwin
P.S. To those of you who wish to visit Seattle or may be coming here shortly for Steve's next photo work shop , the images here were all taken in and around Seattle. I hope this whets the palette for anyone of you who will be visiting my hometown soon…
Graveyard of local heros
Skatekids takin' a break to take it all in…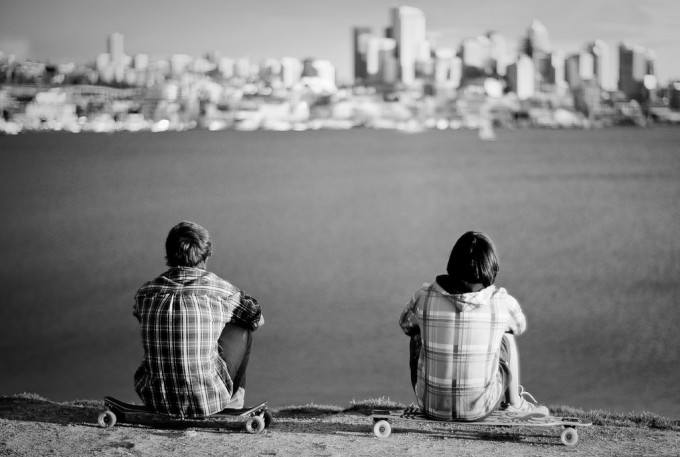 Fourth of July….Liberty Head
City at Night- Kerry Park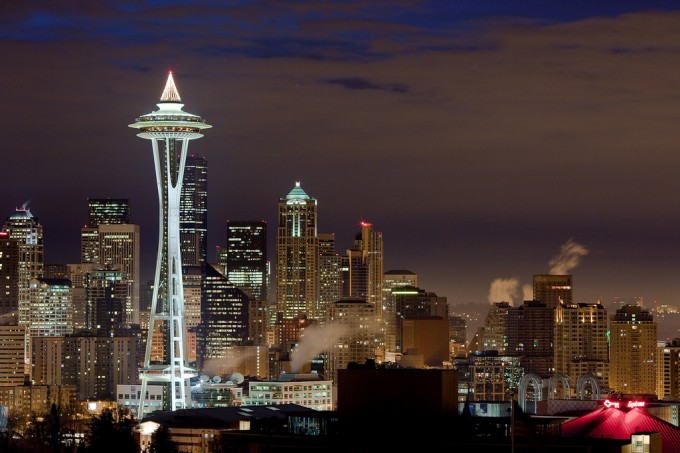 Sun Sets Over the Puget Sound
Totem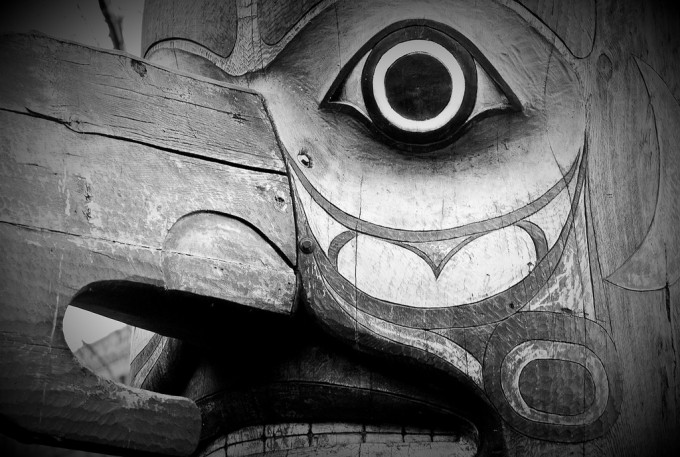 Graffiti Wall Kids
College Life Among the Blossoms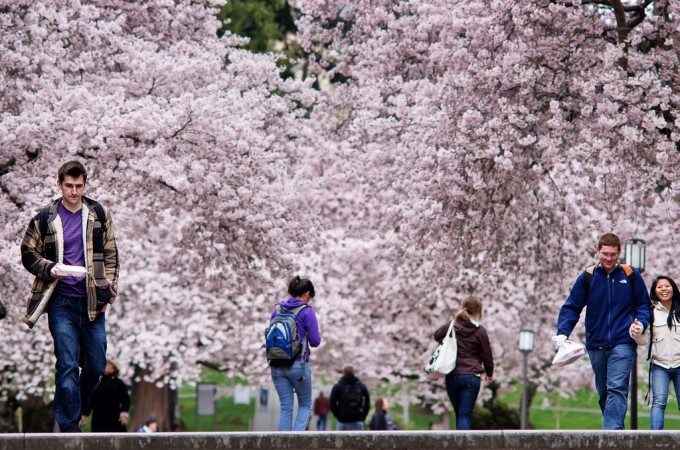 HELP ME TO KEEP THIS SITE GOING AND GROWING!! IT"S EASY TO HELP OUT!
Remember, anytime you follow my links here and buy from B&H or AMAZON,
this helps to keep my site going. If it was not for these links, there would be no way to fund this site, so I thank you in advance if you visit these links. I thank you more if you make a purchase! I have nifty search bars at the upper right of each page so you easily search for something at either store! I currently spend 10-14 hours a day working on this site and the only way that I can pay for it is with your help, so thank you! Currently my traffic has been increasing but my funds to pay for the site has been decreasing, so any help would be GREATLY appreciated!
Even if  you buy baby food, napkins or toothpicks at amazon it helps this site, and you do not pay anything extra by using the links here. Again, you pay nothing extra by using my links, it is just a way to help support this site, so again, I thank you in advance 

If you enjoyed this article/review, feel free to leave a comment at the bottom of this page and also be sure to join me on twitter or my new facebook fan page! Also, you can subscribe to my feed at my subscribe page HERE and read these posts in your browser or news reader!
[ad#Adsense Blog Sq Embed Image]