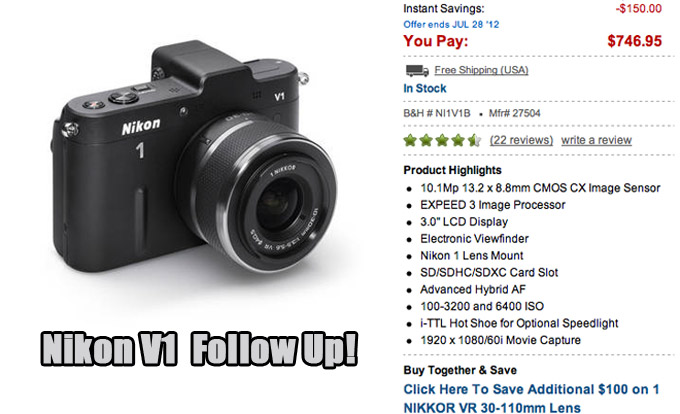 Nikon V1 – Now reduced to $749 with Kit Lens AND  My thoughts after owning the V1 for a while.
The Nikon V1, the camera I expected to hate, has now been in a constant state of price reduction well, pretty much since it was introduced. The camera, which many said was way overpriced at launch and many say is STILL overpriced even at $749 is actually a very good camera and to many who own one, well worth the cost. The fact is that I have been taking it with me more so than other camera recently and the reason is simple. It is fast, it is small, it feels great in the hand and it is foolproof. It never misses focus, never messes with exposure and never gives me funky color shifts. It always delivers sharp images and gives decent high ISO performance, especially considering the size of the sensor.
Here is a file out of the V1, no PP, no enhancements. With the 30-110 lens at f/5.6 at 110. VERY sharp!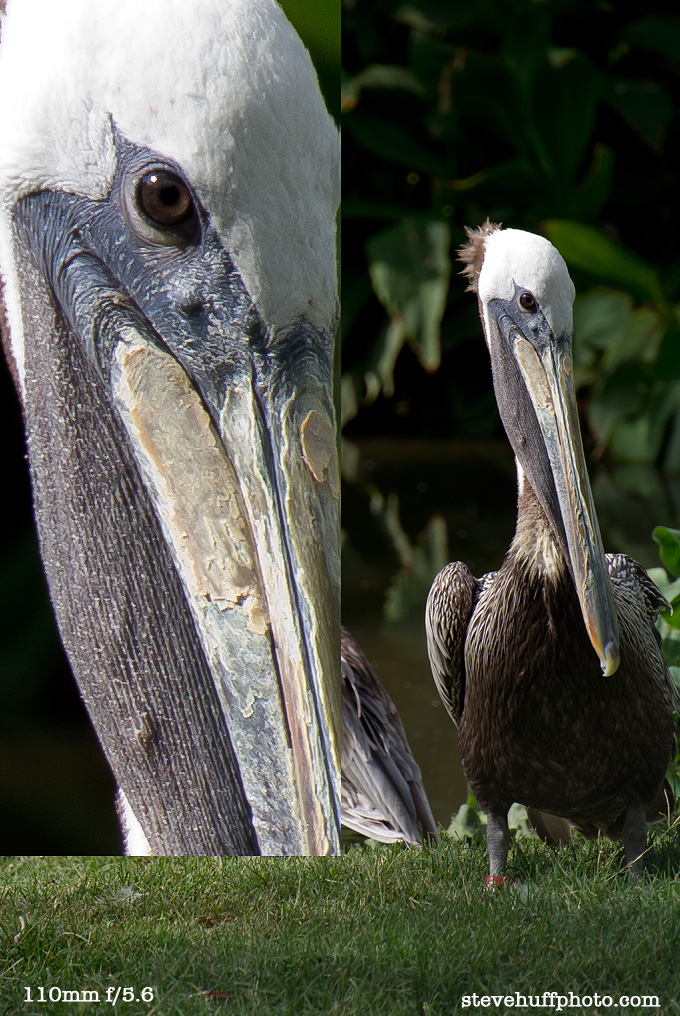 Some of you LOVE the V1 as I have some e-mails from users/readers who tell me it is their favorite camera EVER, and this comes from many who KNOW what they are doing not just amateurs. Others hate it because of the lack of fast or great glass for this system, which is understandable. If you love bokeh and 3D effect, the V1 is NOT for you! But for those who like huge DOF and sharp images with some nice looking "grit", the V1 is wonderful. Those who want a small camera that can give you a great 300mm reach in great quality on the cheap, the V1 may be what you want. The 30-110 lens can be bought for $150 when buying a V1, and  that is a steal of a deal.
The new Sony RX100 is on the way and that has the same size sensor but with more megapixels jammed onto it. I am curious to see how the Sony compares to the Nikon though (and I will do a comparison) as it is even smaller with a built-in fast zoom. The V1 though has a few lenses available, all slow as molasses in the aperture department BUT they are all pretty sharp, especially for the cost.
[ad#Adsense Blog Sq Embed Image]
As for me, I still like and own the V1. No it doesn't give you creamy Bokeh. It can't give you noise free silky smooth images, even at low ISO. But it does deliver in every other area. Size, quality, speed, sharpness and metering and most importantly it is capable of taking beautiful images if you know what you are doing. The thoughts in my review still hold true today. The V1 is a solid little camera all the way around. At $749 with the 10-30mm it is probably $100 above what most people want to pay for it but if I back up to what I said earlier, I use this more than many of the mirroless cameras out today. You can get a V1 with all lenses, even the $800 10-100 and the external flash for under $2000, or the cost of a Leica X2 without EVF.
Will the V1 beat the X2 in image quality? NO way now how! It will not but it will deliver great results. You will just lose out on some of the shallow depth of field and richer color that the larger sensor gives you. In return you get a smaller package in the V1 (the EVF adds bulk to the X2) and much faster AF, processing, and a very good user experience. For most of us, the V1 is plenty camera.
I almost sold my V1 after my X100 and X2 purchases but couldn't bring myself to do it. It's a camera I have become a little bit attached to because it has provided me with many memories and also because it is so enjoyable to take with me anywhere and shoot.
The 30-110 at f/3.8 and 107mm equivalent. B&W in camera. Click it for larger.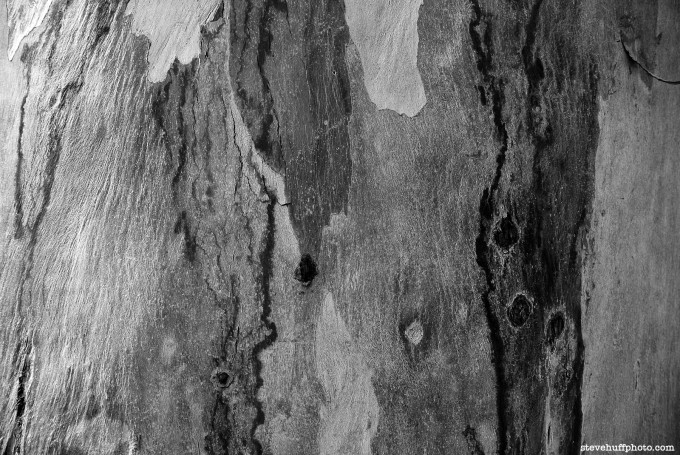 The V1 can be purchased at B&H Photo with the 10-30mm or the 10-30 and 30-110 zoom AT A $250 SAVINGS. My fave lens is the 10mm and then the 30-110 btw as I use those  the most. In other words, bottom line, I still love my V1! It's not for everyone but I am a fan of what Nikon did. Could it have been better? Sure, but it has its own character, and it's a character I like.
Things I noticed about the V1 over the months I have used it:
It has a nice grain and when I shoot in B&W the out of camera images are just right, and they even have a film like grain to them, even at ISO 3200.
The camera can overexpose at times so I dial in a little negative Exposure Compensation from time  to time depending on the scene.
The build is solid and has held up great, never had any issues.
The time it takes to wake from sleep is WAY slow. Was hoping a firmware update would fix this.
The 10mm is really sharp.
The 10-30 is a little softer.
The 30-110 is the best all around lens for IQ out of the V1 at the time of this writing.
I found I NEVER use the silly gimmick modes of the camera. Nikon needs to release a V2 without the motion snapshot or gimmicks. To put it bluntly, the gimmick modes suck and are useless.
Nikon needs to release some fast primes (and I think something is coming SOON)
Overall for $750 this is a great camera and I have not even mentioned the fact that it takes beautiful video as well. With the 10-100 the video is excellent and smooth.  So yes, even today I still recommend the Nikon V1 to those who want small, fast, nice feel, and a no muss and no fuss experience. Just be prepared to see some grain (we see it with film as well don't forget) and almost zero shallow depth of field.
C;mon Nikon, bring us some GREAT 1 series lenses!
Some images from the V1 – click them for larger sizes