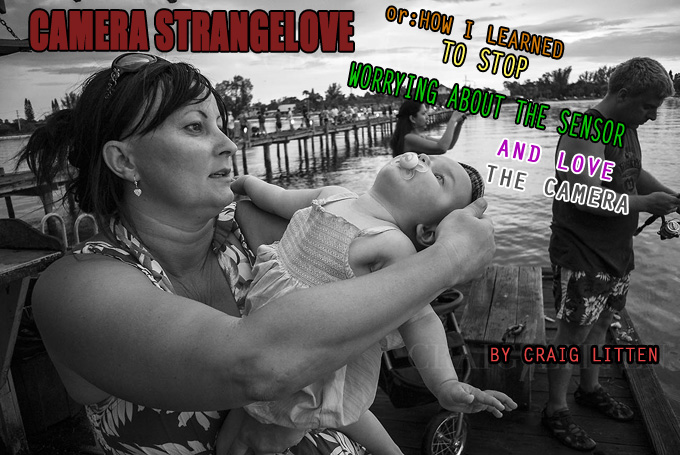 Camera Strangelove or: How I Learned to Stop worrying About the Sensor and Love the Camera – by Craig Litten
A user report on the Nikon V1
Lightening the Load
I've always loved small cameras. Back in the early 1990's while attending my second photo school I wanted a Leica M6 with a 35mm Summicron (f/2.0) lens, but unfortunately it was way out of reach for me. Many years later, while a staff photographer at my second daily newspaper, I purchased the amazing Contax G2 with the Zeiss Biogon 28mm f/2.8 lens. But unfortunately by this time digital photography had already begun to take over—all of my newspaper gear was already completely digital (the lovely tank-of-a-camera 2.2 megapixel, $11,000 Canon D2000). Back then we never even imagined that digital would be as good as it is now, and that film would all but disappear within 10 years.
I took a photo trip to Alaska back in the early 2000s and agonized for weeks over what gear to bring along. I finally settled on the Contax G2 with the 28mm lens and nothing else, not even a back-up body. My friend took all of his pro Canon gear (film) complete with a 500mm f/4.5L (big white) lens. He struggling the entire trip carrying all his gear, and I never regretted my decision. My love affair with small cameras was solidified.
 [ad#Adsense Blog Sq Embed Image]
Who am I Anyway?
Hello, my name is Craig Litten and I'm a freelance photojournalist and documentary photographer from the Tampa Bay area in Florida. I've had a camera in my hands since I was 15-years-old, and have been shooting professionally since 1991. I have been a staff photographer for four different daily newspapers, have won state, regional and national photography awards, taught workshops and lectured to college photography students, been published in several hard cover books including America 24/7 and Florida 24/7 by Rick Smolan, have shot for major U.S. and international clients, have photographed U.S. presidents and movie stars, and have covered more than 7,000 photo having over 10,000 of my photos published in newspapers and magazines (not including the Web).
Prelude to the Nikon V1
My first compact digital camera was the Canon G2. Many of you are familiar with the Canon G series; now up to the G12. When the newspaper I was working for bought it, I quickly latched on to it. I though I had myself a Leica (tongue in cheek). Early on I took the G2 with me to a football game on the road at Clemson University, and I decided to cover the pre-game with it. I know it's hard to imagine now, but digital was still very new at the time and not many people owned digital cameras yet, let alone a smart phone with a digital camera in it. What I discovered as I shot all around the stadium, was that I was almost completely ignored. Who takes tiny cameras seriously anyway? Almost nobody. But tiny cameras are now capable of serious pictures. The G2 was small, light, fun and the image quality was "good enough." I was hooked! Unfortunately though, I had to wait about 10 years for technology to catch up to my vision.
Along Comes the Nikon V1
Like Steve, who called his original Nikon V1 review: The Camera I Expected to Hate, I originally dismissed the Nikon V1. But I kept reading about it and was intrigued. Before purchasing the V1 though, I purchased and owned three different mirrorless camera systems, and have since sold them all. Each one had its positive points, but there was always something that I couldn't live with. If you are looking for the perfect camera, it doesn't exist and never will. Even the mighty Leica M9 has negative points (from what I've read even on this site). Is the Nikon V1 for everyone? Of course not! But it's tiny, powerhouse-of-a-camera that is worth a second, or in this case, third look.
Nikon V1: The Noisy Cricket of Cameras (see: Men in Black)
I love the V1! It's dynamite in a small package. It's fast, responsive, has almost clairvoyant auto focus (really) and has a powerful processor. But most of all, it's incredibly fun to shoot with! Fun, isn't that why we all take photos? Since purchasing mine in March 2012, I've taken more than 13,000 photos with it. It hasn't blinked, flinched, misfired or failed me once. It has served me well so far and I love it. I can honestly say it's my favorite digital camera to date bar none, and I've owned and used many, many different digital cameras since 2000 when I want completely digital for work.
Not everyone's needs are the same, but for me, I needed a digital camera that had good enough image quality to be published. Many of the current mirrorless cameras do. I also needed a camera that could perform and handle the stress that I would put it through. This is where a lot of other mirrorless cameras fall short
The features I needed most in a mirrorless camera are listed below in order of importance.
•Completely Silent Shutter – The V1 has a mechanical shutter, that has a pleasant sound and is fairly well dampened (not too loud), but it also has a an electronic shutter. Not many photography forums talk about this feature, but it is completely silent. The shutter makes no noise at all when you take a picture. For the type of photography I do, and for all of you who do street, documentary or photojournalism, this is a huge, huge plus. It allows you to shoot a scene up close and personal, and not be noticed (at least by your shutter giving you away). A silent shutter also lets you shoot more photos of any given moment without worrying that your subject will think you are totally nuts for shooting so many pictures of him.
•Incredibly Fast & Accurate Auto Focus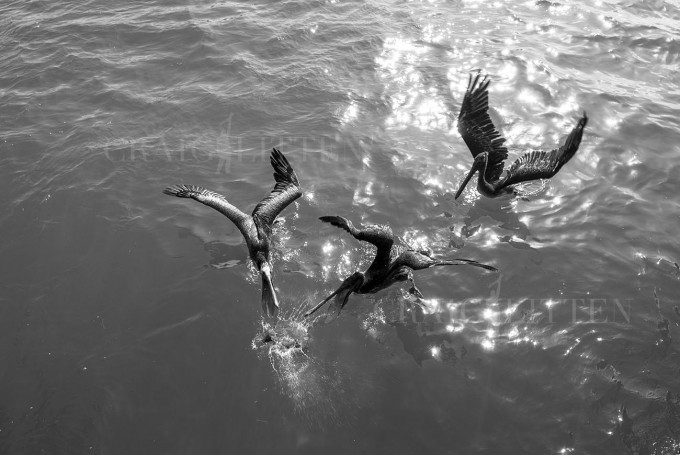 Steve, and many others, have already written about this, so there is no need to elaborate. The auto focus is so fast, that I thought I'd test it out on a high school football game. High school football is very challenging to photograph, especially as the light is dropping. Shooting Pro football is a total breeze next to shooting high school football (I covered NFL for 8 plus years). The V1's auto focus kept up (not my best work but you get the point). See them here.
•Responsiveness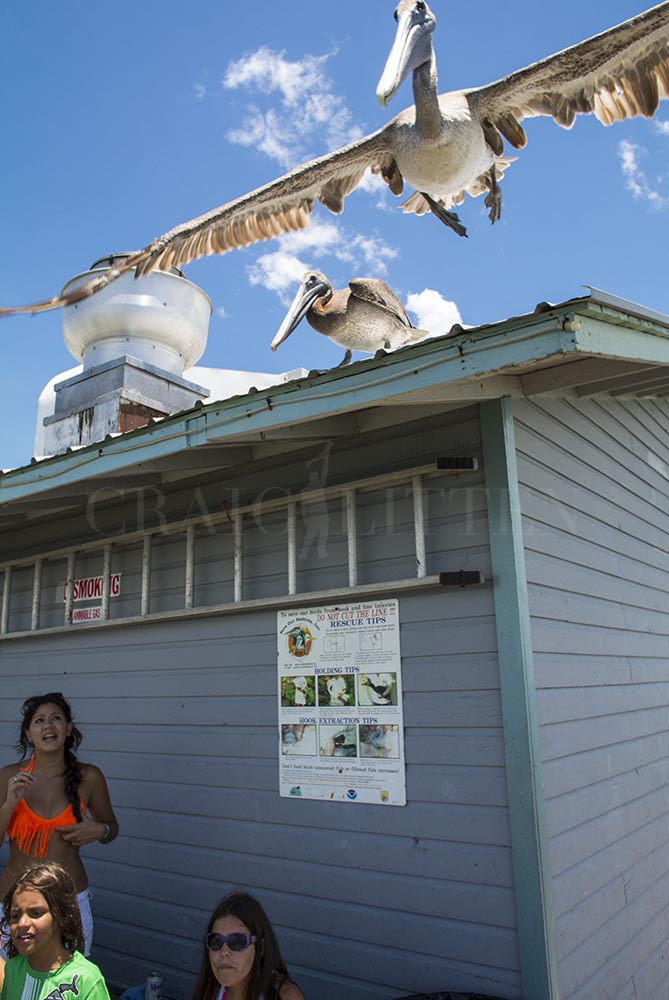 The V1 is super fast–pro camera fast. Enough said. It will keep up with what you shoot. It never lags behind when viewing images, writing to buffer, etc., even when shooting RAW. It's always alert and ready.
•Small Size Including Lenses
Because of the smaller sensor size, the Nikon 1 series lenses are very compact, lightweight, but very well built.
•Huge Battery
I can get about 800 shots, maybe more, per battery charge. This is important to me. Also, the V1 takes the same battery as the Nikon D7000 and D800 (and most likely the upcoming D600 and the rumored D400). This is very cool and very unusual. Same battery, same charger as my other gear, nice! Most of the time there is no need for a second battery.
•EVF
Several cameras now have EVFs (electronic viewfinder). The V1's is excellent, as is its LCD screen. I also like that it's very low profile with a nice, built-in cushiony rubber eyepiece. I don't use it exclusively, but when I need it, it's there. I live in Florida, a state that has bright sun year round, which necessitates an EVF. An add-on EVF is too bulky and can easily get broken off. When figuring the cost of the V1, remember that add-on viewfinders usually cost about $200 and up.
•BONUS
It's expandable and takes my pro Nikkor lenses (if I want it too) via the FT1 Mount adapter. Cool, shoot the moon!
The I.Q.
As you may have noticed, I never mentioned image quality. IQ is important to me but it's not the most important thing. I'll put it this way: the Nikon V1 is light years ahead of the $11,000 Canon D2000 camera that I used for three years a one of the newspapers I worked for. While initially testing the V1, I went back through a lot of film scans that I shot over the years to compare quality. I can honestly say, although film has a different "feel" to it, the V1 many times surpasses the film scans. What more are we looking for? Do I wish it had the IQ of a Canon 5D? Of course. But I have no problems with its IQ at all. In fact, I actually like the very tight grain that the files get at higher ISOs, it's pretty and 'more' film-like to my eyes. I almost never sharpen them either, but had too on both my 5D and 5D MkII. Bottom line: The V1 image quality is very good. I shoot exclusively in RAW and the images are amazingly sharp. Also, the V1 RAW files will take just about any post processing that you can throw at them. I use Lightroom 4.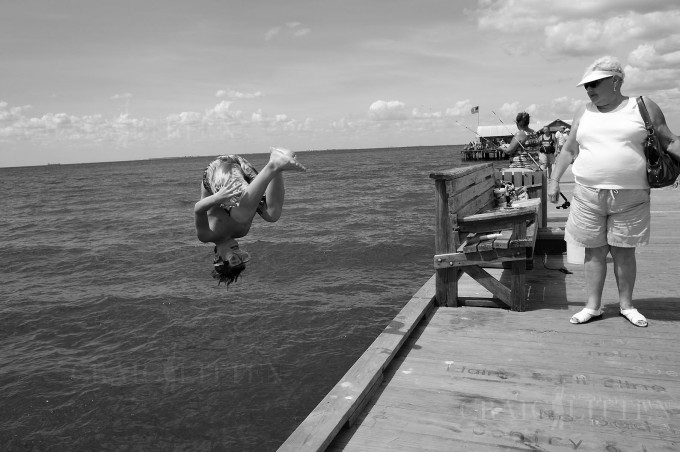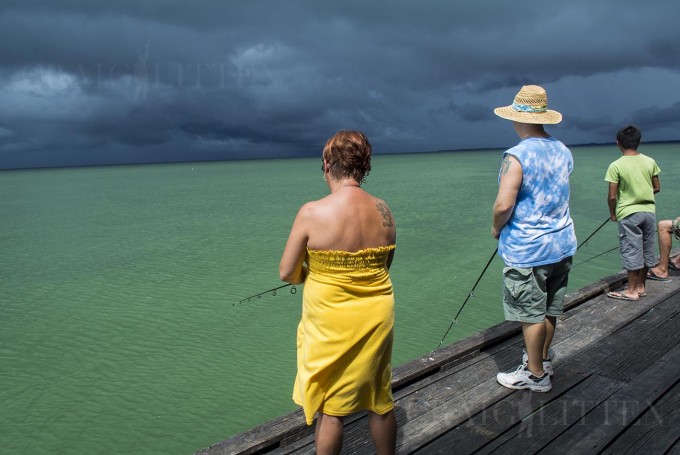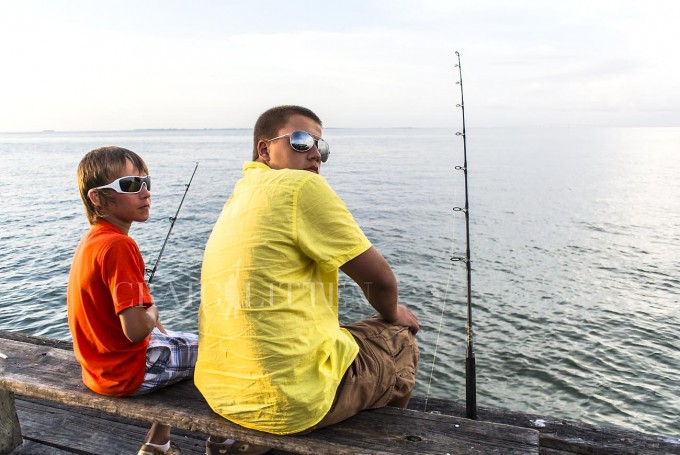 Currently I am working on a documentary photo project shot entirely with the Nikon V1 and the 1 Nikkor 10mm (27mm equivalent) f/2.8 pancake lens. I'm photographing daily life on a 100-year-old fishing pier along Tampa Bay and the Gulf of Mexico. I'm hoping to get the project published into a hardcover book when finished. I've shot at the pier 23 times so far since June 1st. I believe that the Nikon V1 image quality is good enough for a hard cover photo book. I've also used the V1 for certain daily newspaper assignments. Here is a sample. Pro golf shoot with the V1 here.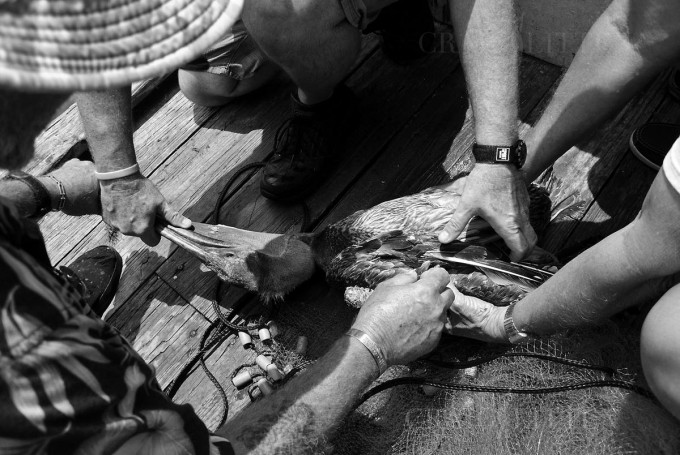 I did a V1 enlargement test on the mighty Epson 4890 Pro Photo printer. I made a 16"x20" print and the file held up beautifully. Rarely in my entire career did I ever enlarge a print larger than this. Personally I think that a 12"x18" print is the perfect size to frame and hang on the wall. So again I ask the question? "Just how large of sensor do we need?" I dare say that most of us do not print a lot of photos these days anyway, but view and share our photos on a screen. Technology is changing rapidly and it's exciting. See: Nokia Pureview 808 smartphone or the new Sony RX100 reviews and be prepared to be wowed by small sensor cameras. Probably the one major disadvantage for the Nikon 1 for some photographers is the large depth-of-field the small sensor produces. It's much harder to achieve nice, shallow bokeh with the one inch sensor. For the type of shooting I do I don't mind. New, fast lenses will help in the future.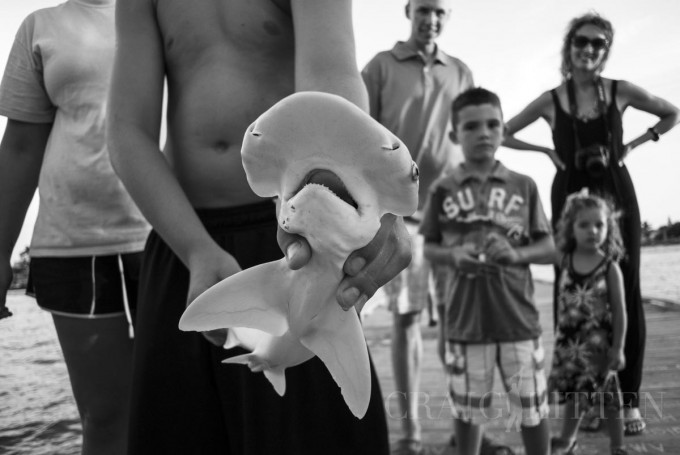 Daily Use
Believe it or not, the Nikon V1 allows me to get photos that no other camera of any kind has allowed me to get. Since I first started using auto focus back in 1986 (Minolta 9000), I have exclusively used only Center Point auto focus (the first AF cameras only had center point by the way). Even with all the pro Nikon and Canon cameras that I've used and owned, with their 51 AF points, etc., I only used and trusted the center point. When you make a living with photography and have to get the shot each and every time, you tend not to take many chances because it could mean losing your job. The Nikon V1 changes this. I have my V1 set to Multi-Point AF all the time with face recognition turned on. Again, it's absolutely clairvoyant, or nearly so. Steve talked about the V1 being the only camera that he has ever tested which nailed the focus every time. This is a true statement. Can it miss? Yes, but very, very rarely.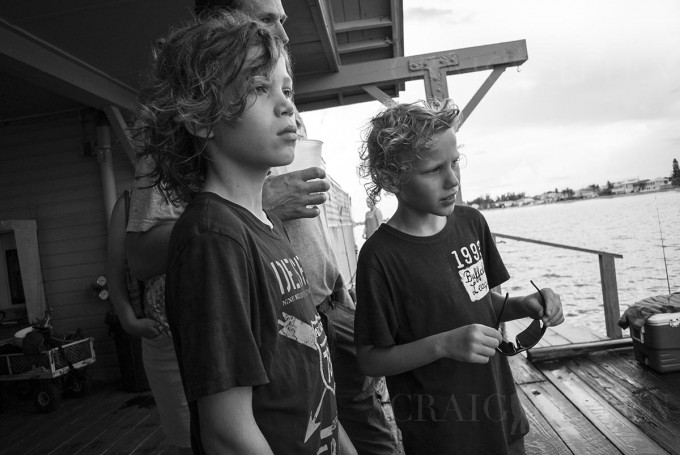 Another thing I've been doing with the V1 that I have never done before is occasionally shoot without looking through the viewfinder or at the LCD. Yikes, did I just say that?! It's true. I've gotten pretty good at framing without seeing. The amazing auto focus and responsiveness of the camera including the large buffer helps with this a lot. You are probably wondering why I'm Hail Marying with my V1. It's mostly related to the fishing pier project I'm working on. The pier is not very big and has water on all sides so sometimes it's impossible to get into position and raise the camera up to frame without being noticed. Also, if you've ever asked someone if you can take his or her picture, you already know that whatever moment or expression you saw seconds before has vanished. You got to be quick and again, this is where the V1 shines!
Why Shoot One Frame When You Can Shoot Five or More?
I do believe in the decisive "moment" and have made my living capturing just that. But now technology allows me to capture decisive moment(s) with my Nikon V1 (and without the distracting clanking—to the subject–sound of the shutter). When shooting in low light with my DSLRs, many times I will shoot multiple frames of the same moment to ensure that I have at least one good, sharp image. The speed of the V1 allows me to do this too. Experience has shown me that the slight movement of a hand, the mouth, eyes, body, etc. can turn a good photo a great photo. So again, the V1 shines for it's speed and high frames per second rate to capture not only a sharp image in low light, but the decisive (peak) moment.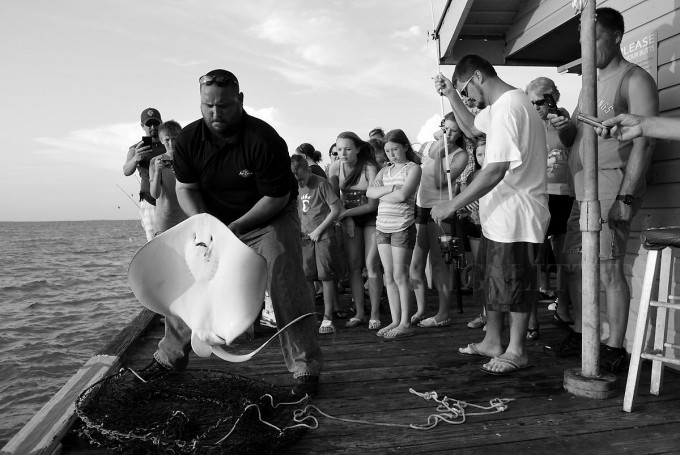 I love my Nikon V1 and feel that its simplicity is one of its greatest strengths. It doesn't have some of the custom control or bells and whistles of other mirrorless cameras, but it has one of the best and easiest to navigate menu systems of any digital camera in my opinion. I purposely didn't focus on the V1's weaknesses though. It has a few things that a firmware update could change and make better, but none these bother me during daily use, and none of them are deal breakers. Steve's two reviews of the V1 cover all of them pretty completely. Or you can easily find them somewhere online. I rarely bump the mode dial, nor toggle the aperture, but it does occasionally happen. My original Canon 5D wonder camera would get turned off all the time when I was carrying it, and I paid over $3,000 for it. My Canon EOS 1D MkIIn would rack focus sometimes at very crucial moments and I'd miss a touchdown play or something important like that. The RAW write times in an Olympus I once owned were excruciatingly slow. The buffer of my $11,000 dollar Canon D2000 would fill up right in the middle of a huge crash at the Daytona 500 and I would miss the peak action. My old $5,000 Nikon D2H looked horrid at anything above ISO 800. And my old top-of-the-line Nikon D4s would only take one film speed setting at a time. So when I had a roll of Fuji Velvia 50 in the camera and walked into somewhere with low light, I had to rewind the film mid-roll and put in some fast (then) ISO 800 FujiPress. Get the picture?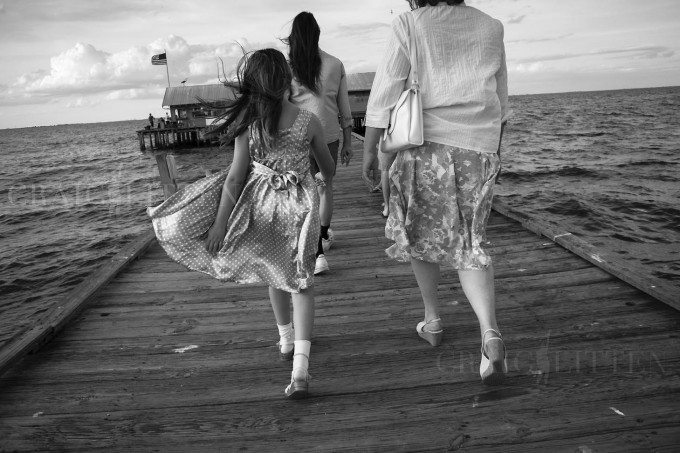 Full Size Samples:
1. Dusty plant shot at ISO 640. It's an ugly pic but it shows the fine detail and sharpness at higher ISOs.
2. Greeting card shot at ISO 1600, 1/5th of a second with image stabilizer of the 10-30 lens. This is a great example of the beautiful, tight film-like grain which reminds me of Ralph Gibson's work shot on film of course – http://www.ralphgibson.com/
ISO 640 – click it for full size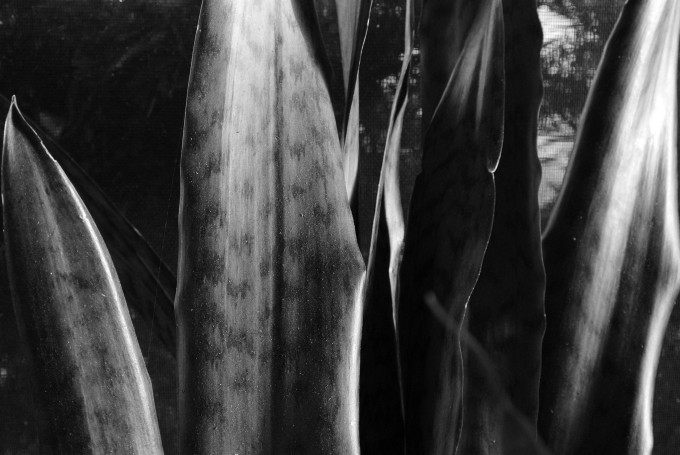 ISO 1600 – click it for full size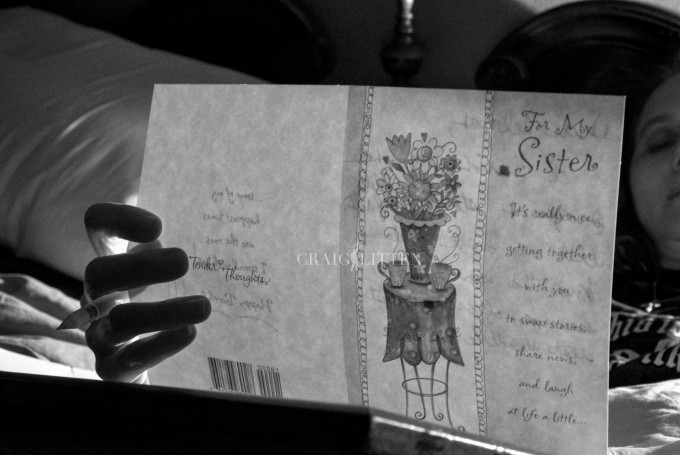 Chase Jarvis said "The best camera is the one that's with you." This is true. A former photo professor of mine, Gary Monroe, said, "You take better pictures when you're photographing than when you're not photographing." Also true. I say, "There is no perfect camera" but the Nikon V1 comes pretty close (for my current needs anyway). A camera is a tool to capture the world, not an idol to be worshipped. Give it a try; great photos are waiting. Did I mention that it's fun to use?
PS: Don't be a hater, keep the comments positive 😉
From Steve: Thanks Craig for this GREAT article on the V1! For all of the readers, do not forget to head over to youtube and enter my Nikon V1 set giveaway!