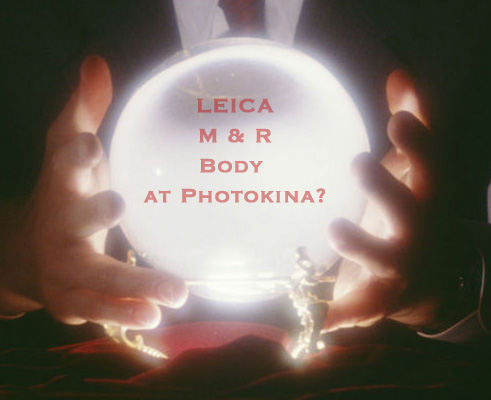 New Leica compact system coming to Photokina? My crystal ball says MAYBE…
So I dusted off my crystal ball last week and in between writing for and maintaining this website 40-50 hours a week and doing some Paranormal Investigating with my son 20 hours a week I figured I would find time to dust off the old ball to see what Photokina will bring us from Leica….
Now, this is just a crystal ball prediction like I have done many times in the past so take it with a grain of salt 🙂 Maybe I should say "for entertainment value only"
In any case, as I gazed into the ball I saw a Leica rangefinder…it was matte black and I soon realized this was the Monochrom which should be delivered to the USA within 3 weeks or so. I also saw the X2 but it was fading into the background. The X2 has been lackluster in the sales dept, especially when compared to the X1 which was a huge success so maybe the was why it was fading.
Remember the R lens solution? Well I thought I saw a small solid Leica like body fly by the crystal ball through a haze of M and R lenses…then a German man was jumping for it saying ME ME ME!! with $3500 in USA cold hard cash in his hands… So odd…
Maybe Leica will have a new German-made body at Photokina that will accept R and M lenses via adapters or maybe it will be something like a mini M..or a new versatile all in one. Not sure. I thought I saw a huge letter "C" fly by as well, which I took as APS-C. This would make so much sense..the digital CL we have been asking for but Leica usually never gives us what we ask for.
That is all I saw so it will be exciting to see if Leica surprises us with this new camera.
As for an M10…I saw a sad face like there have been difficulties with it..maybe it is not ready but I do not see an M10 being available until MID 2013 and maybe THIS will be the "R" solution. Imagine a CMOS – LIVEVIEW M that can take R glass as well. Hmmmmm. The M10…I wouldn't expect a working demo unit to be unveiled in September but maybe can announcement about it.
I also saw a lens…was pretty damn large too..wide angle. But who knows what that meant 🙂
DISCLAIMER: I did not read ANY of this from a rumor site (I do not visit them) and no insider or friend told me this information. I guess we will see what happens in September, just three weeks away! I will be on the Photo Cruise but will try to report when I can that week on whatever I can!