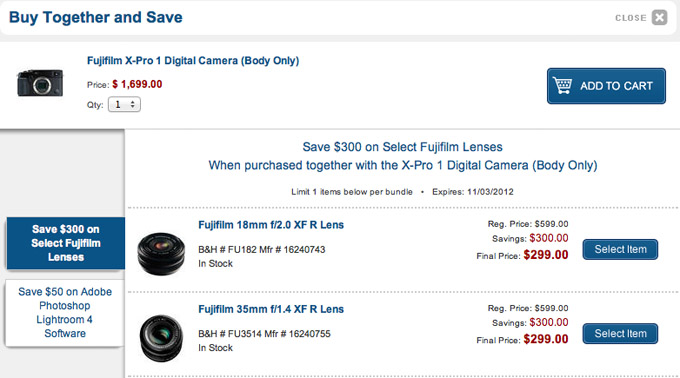 Fuji X-Pro 1 Bundle Deals! Save up to $300!
Fuji is offering a bundle deal right now on the somewhat slow selling X-Pro 1. To boost sales and get ready for their Photokina releases (along with the new interchangeable lens fuji X100 look-alike X-E1) you can now save some big money on Fuji X lenses. Buy an X-Pro 1 now at $1699 and you can buy either the 18 f/2 or 35 1.4 for $300 off! This means that the 18mm or 35 1.4 would be $299 instead of $599. So you can literally save $300 if you want to buy an X-Pro 1 along with the 18 or 35 bringing your grand  total to $2000 for the set (normally would be $2300).
If you want to  take advantage of this X-Pro 1 offer you can do so at B&H Photo HERE. Just add the X-Pro 1 to your cart and then you can add the lens of y our choice at the discounted price. 
or buy it at Amazon – fulfilled and shipped by Amazon!
Unfortunately you can only buy ONE lens not both, so you can not get an 18 and 35 for $299 just one or the other.
Below is the new X-E1 said too be announced/released at Photokina in under 2 weeks!
I have high hopes for the new Fuji cameras coming to Photokina. The X-E1 below looks like a Fuji X100 with a lens mount and the Fuji F1 appears to be the X10 replacement. Hopefully Fuji has sped up the operation of these cameras because if so they will be huge hits. If they fail to perform in the usability area then I think they will not be so well received. We shall see!