The Leica Monochrom Review Part 2: Low Light, High ISO and Filters
This part of my ongoing Leica Monochrom review will go over Low Light and High ISO shooting as well as using filters on the lens and off the lens. The images here were all shot by me at high ISO or in low light. I will have many more great samples in parts 3 & 4. For now, Enjoy part 2 and feel free to leave your comments about the Leica Monochrom!
Read Part 1 Here which goes over what the camera is all about as well as a quick comparison with 35mm film. I also added some supplemental photos HERE. Part 2.5 is now up as well! Thank you!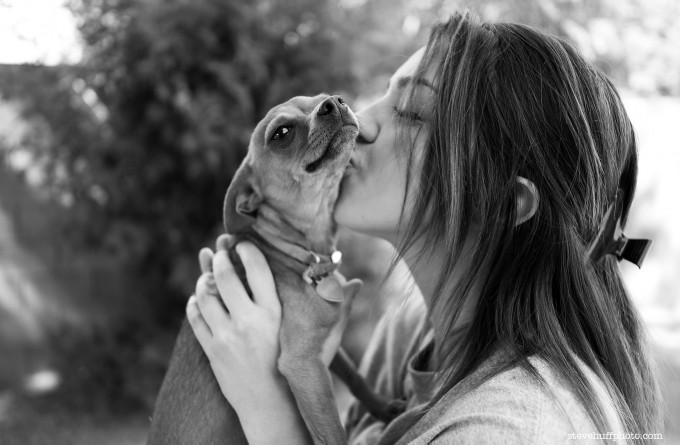 My Monochrom Journey Continues…
After reading part one of my continuing Leica Monochrom Review (you can read it here) you now realize what the Leica Monochrom is all about as well as who it is for and NOT for. You also know it is an $8,000 B&W only camera that does not shoot color. I have been shooting continuously every day with this camera and I have to say that after two weeks I am really connecting with the Monochrom on a level even more so than I did with the M9, which was my camera "soulmate"..or at least I thought. The more I shoot the Mono, the more I think that this one may be "the one" that sticks by my side for as long as it can. I shot the M9 for 3 years and only gave it up to get the Monochrom and I am not in any way disappointed with this decision. In fact, I feel 100% happy with this choice that I made and after daily shooting with this I can say it is a camera that is VERY capable of creating some fine photographs and in the right hands, works of art. Low light, high ISO..yep, the Monochrom is the real deal my friends.
The Leica Monochrom is a serious tool even at night on the street at ISO 2000. I shot this in San Francisco while taking a street walk and was very happy with the results. Please click the image for a larger 1800 pixel wide version.
BTW, I edited this to have the darker gritty feel. I like this high contrast deep black look when shooting late night street and the Mono gave it to me. I could have easily taken the flat grey low contrast look as well. Many Monochrom haters initially said the camera was incapable of producing blacks yet when I compare this to my high contrast film shots on my HD this looks much better to my eyes.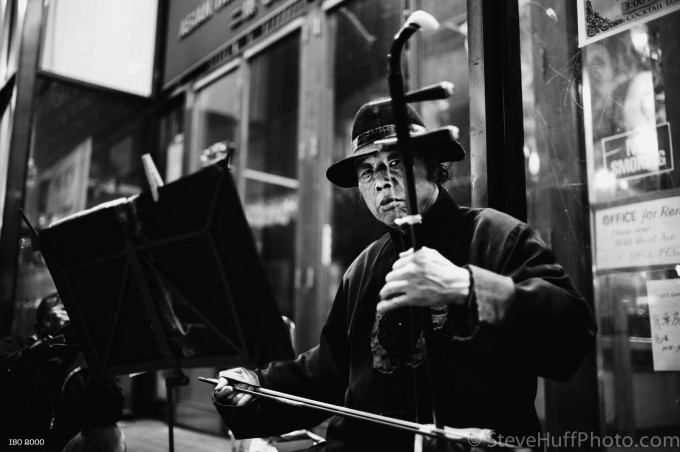 and one more with a less harsh look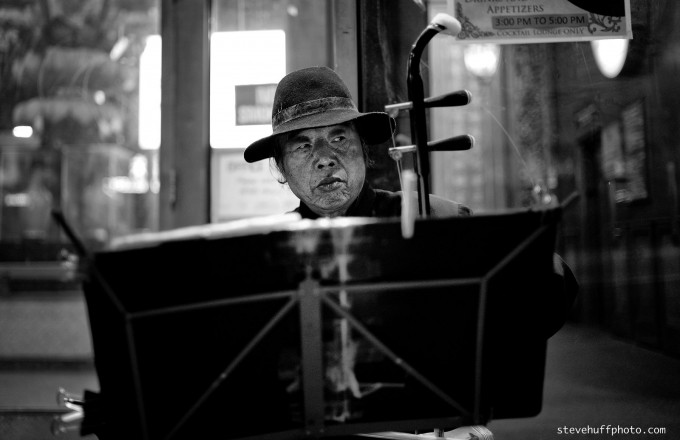 Vision
With the Leica M9 we all had (or still have) a tool that can deliver mind-blowing results with the right lens and of course the right vision of the person behind the camera. There  are indeed limitations though because the M9 is limited with high ISO. Even shooting the street at night with an M9 and 35 1.4 was a little tough at times because the max ISO is 2500 and at that level it is pretty damn noisy. I have used ISO 2500 on the M9 in B&W to great effect but it was still grainy and noisy and that was it… The ceiling was hit with nowhere else to go in regards to low light. Well, that is not true actually. You could always grab a Noctilux f/0.95 for a cool $11k. 🙂
When Leica announced the Monochrom they touted it as a camera that will put an end to B&W film. After using it for a while and getting the hang of the processing I almost believe that statement. I still feel B&W film like Tri-X will never fully die due to the film die hards who will refuse to ever give it up and admit that anything digital can beat it but here we are in 2012 and more and more B&W films are fading away and being discontinued. Neopan 1600, T-Max…it's a sad time for those who love shooting silver B&W. Many faves are dying away and there is nothing to replace them with. They each had their own look and feel and even smell. Can the Leica Monochrom deliver the goods for those who love those films that are now gone?
I think so..if you have the vision to create what your mind sees and wants.
ISO 1600 – I slightly back focused my 35 1.4 but the result is still gorgeous. While other guys were using strobes and flash I went "au natural" with whatever light was in the room and I like the result much better than the deer in the headlights look. Again, I processed this to have more contrast and deeper blacks. I could have went with a lower contrast look. Remember no lighting was used here so the shadow on her face is due to this.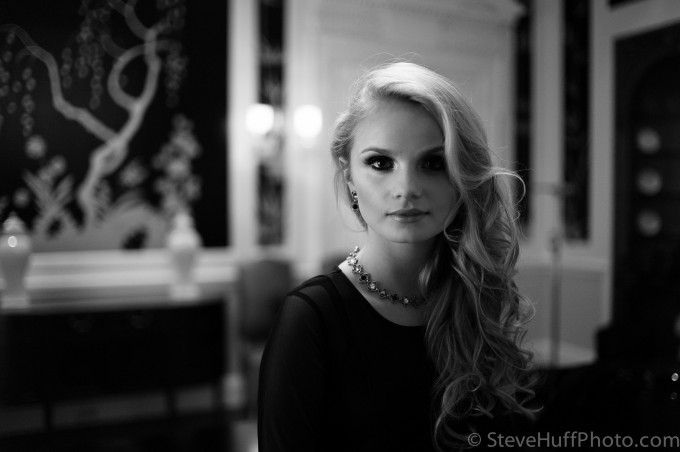 It Delivers the Goods
The really nice thing about the Monochrom is that it delivers the goods *if you know how to use it and process the files from it*. Many shots from the Monochrom, even from a couple of well-respected shooters and reviewers look a but flat because the files need a little bit of work to make them go from great to WOW. I am not saying that my shots are "WOW" but I have come a long way from my 1st samples in Berlin which showed the flat grey look that many are getting with this camera. I am speaking of the look of the files, the tones..the pop..the beauty. In my opinion, the Leica Monochrom is a box full of hidden potential and it may take me a year to really get the most from it. The one thing I know is that it certainly CAN deliver, and it is the real deal if you take the time to get to learn it and become one with it.
Here is an example I shot on the streets at night at ISO 8000. Yes, 8000. I processed it to give it a high contrast pop and as you can see, it has it. Gone are the dull greys you saw in earlier samples. LIke I said, this camera is VERY versatile and can get any look you desire once you learn how to work with the files.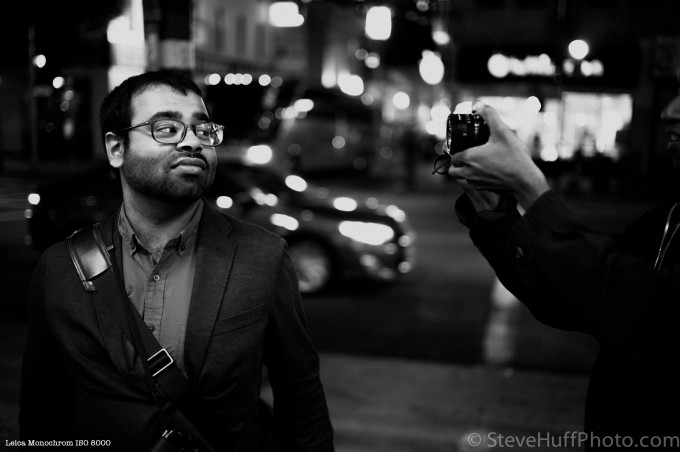 When I say it "delivers the goods" what I mean is that it can do just about anything you need it to do in the B&W world. Do you like flat grey shots? No problem. Do you like gritty high contrast? No problem! Do you like a Tri-X look? The Mono can do it all but to help it along it is quite simple. I always shoot RAW for the best quality file and then during RAW processing I tweak the exposure, black level and contrast to where I want it. I then process the RAW and use either an Alien Skin Exposure filter or bring it in to Silver Efex Pro (which comes with the Monochrom) to finish it up.
–
Using Software Filters with the Monochrom
You do not have to use any kind of filters with the Monochrom but they can add the look of your old fave film and get pretty damn close to it. You can go for rich blacks, high contrast, low contrast, grit and noise, or anything you desire just by running an image through Silver Efex Pro or Alien Skin Exposure. I love Alien Skin Exposure 4 and have put a sample below as to what it can do for a photo from the Monochrom.
This 1st image is direct from the camera with no adjustments at all. As you can see it is a bit flat and dark…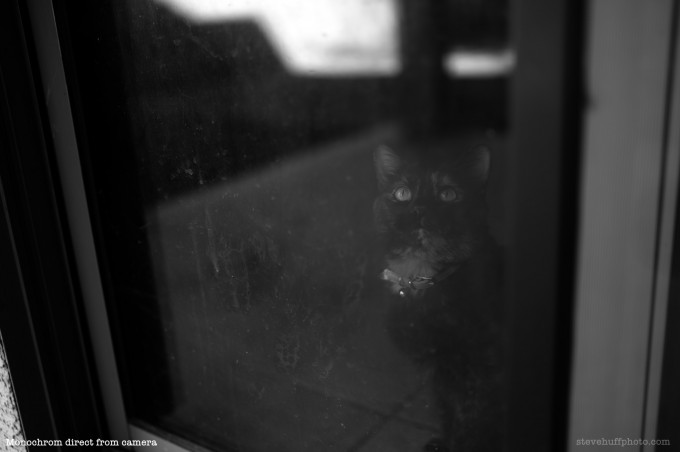 –
I took that image and ran it through Alien Skin Exposure using a simple preset (but I did it without adding grain). This example now pops more and has more contrast. This is just a generic example of a 3 second filter added. You can get as complex as you wish and you can also choose different looks for your photos. The arsenal of film stock filters and customization of these software packages are a must for any Monochrom owner.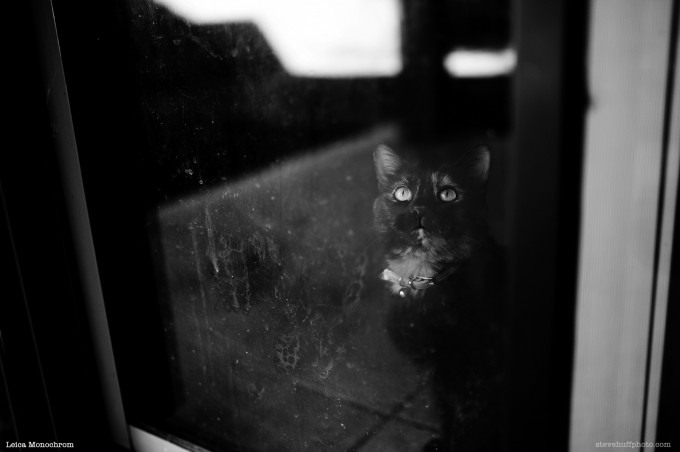 So if you are buying a Monochrom or already own one I highly recommend at least playing with some of these software filters. The camera actually comes with Silver Efex Pro which is the standard by which all others are measured. Alien Skin Exposure 4 can be downloaded here with a 30 day trial.  I highly recommend it not only for the Monochrom files but also for any digital files. Mess with it and get creative..step outside of  the box and see what you like. You may be surprised. I am happy that the Monochrom puts out flat files. Remember, this is a GOOD thing! This gives us the room to process the files to our liking. If the files came out all contrasty and slick then we would have less freedom to create our vision.
The Monochrom is just right and does what it does for a reason. It is not a camera for beginners.
–
The software filters also allow you to get as creative as you want by adding frames and more noise..ISO 2500 – I cropped this one and it shows the effects of the filter I applied.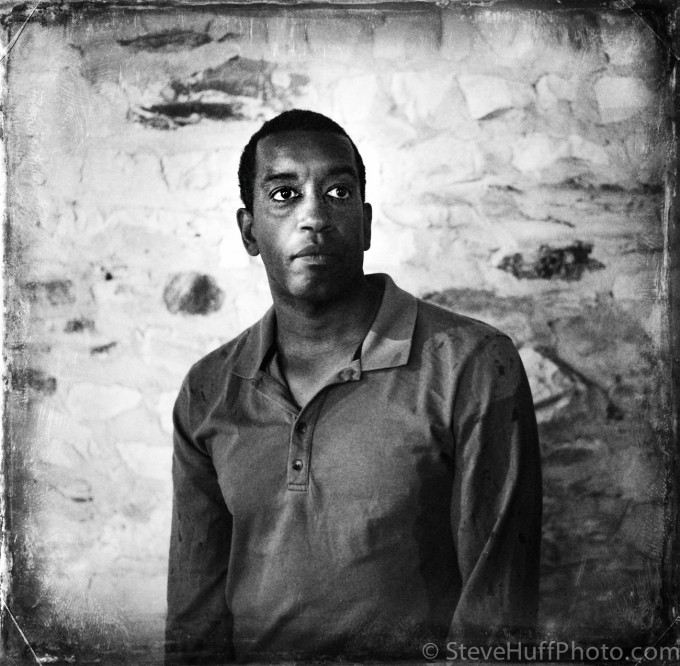 –
Using Actual Filters on your Lenses. Red, Yellow, IR and ND. Old School B&W.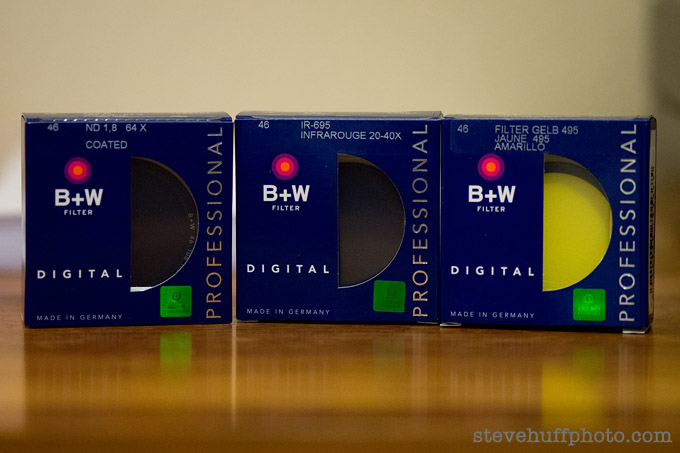 With the Monochrom you are shooting just like your Father or Grandfather (or even you do today) did back in the day. Many B&W film shooters use filters on their lenses to enhance their skies or skin tones and you can also do this with the Monochrom. When shooting just imagine that you are shooting film because what worked when shooting with B&W film will work with the Monochrom. I feel Leica should have included a set of nice filters with the camera for those who want to take it all the way old school and get back to the ultimate B&W frame of mind.
They didn't include any so I went out and bought a few. I picked up a B+W Red, Yellow and IR filter as well as an ND filter for those bright sunny days when I want to shoot with a wide aperture. With the minimum ISO of the Monochrom being 320 it is impossible to shoot at f/1.4 in full sun or mild sun. Adding an ND filter solves the problem. I bought this one for my 35 Lux FLE.
IR filters
I bought one of these out of curiosity. Here is the description of what it should do:
The B+W 46mm IR Dark Red (092) Filter is used for infrared photography with digital cameras and specialized infrared films. This nearly opaque filter blocks all visible light up to 650nm, lets 50% of radiation pass between 650 and 700nm, and more than 90% of radiation pass between 730 and 2000nm. Infrared film sensitivity is rarely greater than 1000nm, so this filter essentially allows most perceivable infrared radiation to be transmitted. Due to the nature of infrared photography, the filter factor for this filter is highly variable and depends largely on your film sensitivity and lighting conditions.
This was shot with a B+W IR-695 filter. I wanted to expiriment a bit with one. This one was at f/1.4 with the 35 Summilux FLE.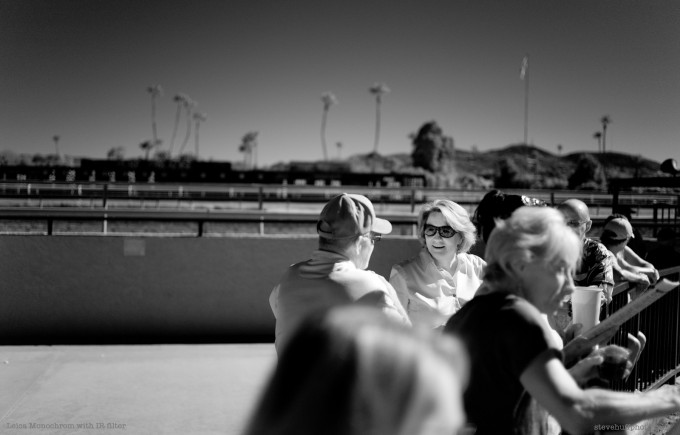 Red Filter Usage and Example
The Red Filter when used on the Monochrom or with B&W film will add massive contrast. If you use this to shoot clouds in the sky you will get very dramatic results with borderline "Thunderstorm" effects. Unfortunately I live in Phoenix where there is rarely a cloud in the sun filled sky so all I have for this section is a shot that shows an OOC JPEG from the Mono with a red 25A Red filter. In most cases you would not want to use this filter – only for dramatic effects in skies IMO. When I get a nice sky shot using this filter I will post it here. I bought a cheaper red filter as I will rarely use it.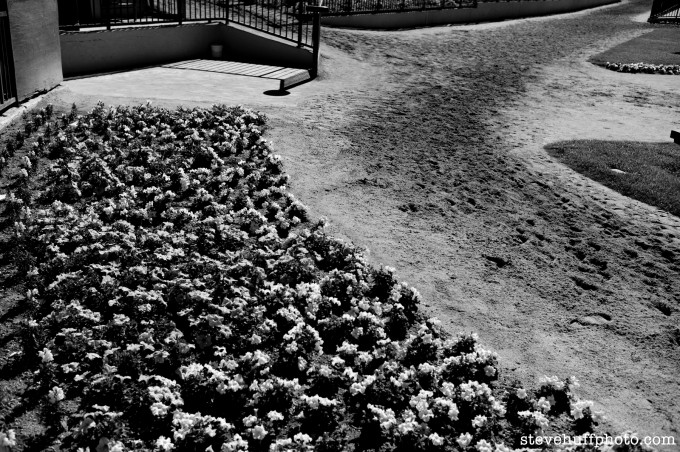 Yellow Filter Usage and Example
Using a yellow filter will help bring out some contrast and can help skin tones a little as well. It's a mild filter that can help bring more pop out of the camera to your files from the Monochrom. Using a yellow filter for B&W is pretty standard and is usually the goto filter as it will help your skies from being too bright as well. If you get one filter for your Monochrom, get a yellow. I use a B&W  Medium yellow which is a very high quality filter. The image below was shot with the yellow filter on the camera. Click it for a larger view.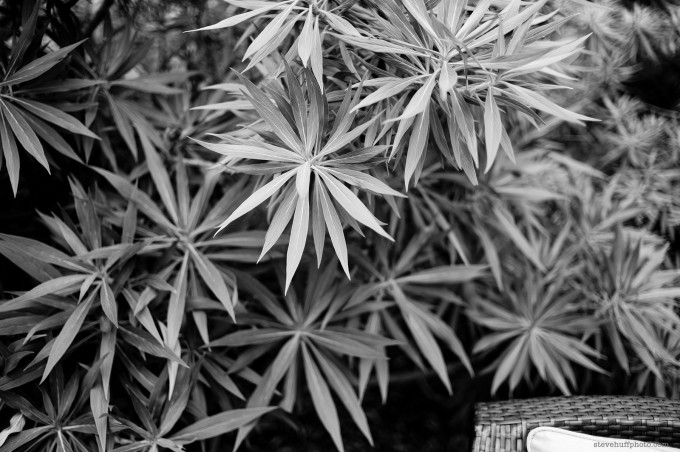 Using filters can be part of the fun and creativity with the Leica Monochrom and will bring you back a bit. Pick a filter for your specific use and go with it. You can also buy other filters but these were the ones I bought for my Mono as they are the most used in B&W film.
–
Really High ISO & the Monochrom
With the Leica Monochrom you no longer have to be limited to ISO 2500 because you can shoot up to 10,000 ISO with this camera and get usable results. I have already shown an ISO 8000 shot earlier in this review but below you can see more from ISO 3200 and up. What amazes me about the Monochrom is the detail that is kept even when there is noise and grain. Even when shooting at night which is a torture test for ANY digital camera and high ISO the Monochrom keeps its cool and delivers stunning results in detail, tonality and overall wow factor.
Click the image below to see a larger version. BTW, this was ISO 8000 on a DARK street. The detail that is here is quite amazing. The tones are rich. IMO, this beats film because I was not stuck with one film in my camera. With the Monochrom I have ALL B&W films available at all times.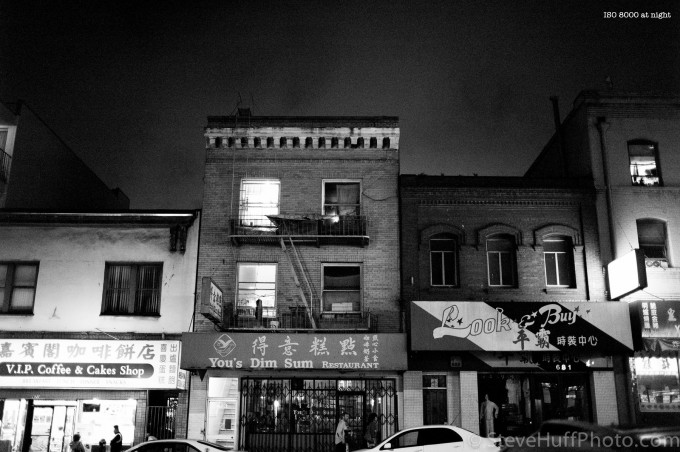 –
Another ISO 8000 with crop – click it to see full crop embedded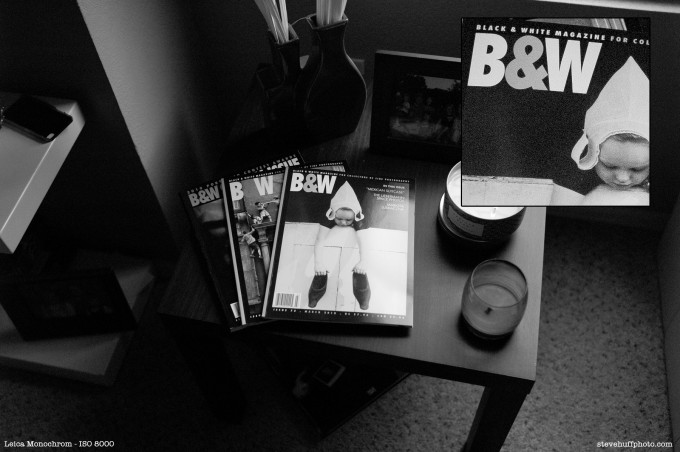 –
ISO 6400 with a little more light shining in…and none of these shots have had ANY Noise Reduction of any kind. What you see is what you get.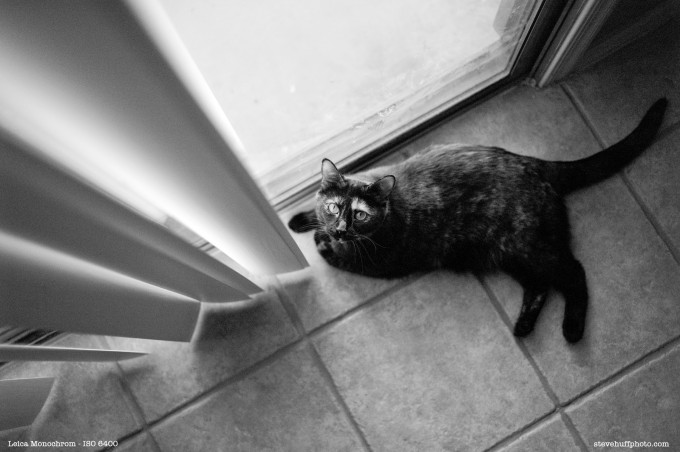 –
Real world ISO 6400 on the street at night…not the best shot but you can get a feel for the noise level when there is no light around..This is direct from camera with no filter applied at all..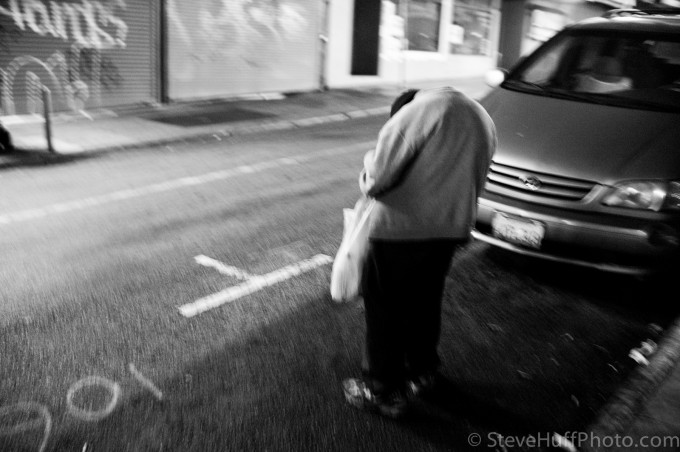 –
ISO 2500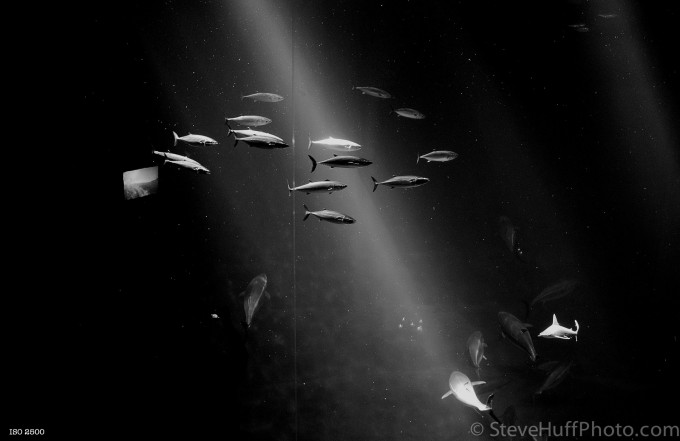 The bottom line on the high ISO and low light is that this camera is SUPER FANTASTIC! This camera is really  a treat and so nice to shoot at night and in low light because it just does what it should and that is to have every kind of B&W film loaded up and ready at your command. Dial in ISO 320 to 10,000 at any given moment and be surprised by the results you will get. The Mono keeps the detail and sharpness and the noise is like a nice grained film. I was very happy with the results and when combined with a fast Leica lens like a Summilux or even Noctilux you can be king of the nightime B&W world. There is no color camera that can do what this one does with the tones nor the experience. The Monochrom is a different camera than anything on the market right now and many scoff at the idea of a B&W only camera but at the same time many are drooling over the thought of owning one.
Shooting in B&W requires passion and a love of the art of photography. You will get out what you put in and the camera can either reward you with beautiful files or disappoint you with flatness. For all of you getting this camera be sure to work with the files using lightroom or Photoshop as well as filter plug-ins and physical filters. This is when you will start to really appreciate what the Monochrom can do for you. I feel that this camera also inspires and when you tale it out to shoot you know you have something special in your hands. I may not agree with Leica's pricing on this camera but I have to tell it like it is and the fact is that I adore this camera. End of story.
BTW, I am loving the combo of the 35 Summilux FLE with the camera and is my favorite Leica lens ever. My perfect kit would be a 28 Elmarit, 35 Summilux, 50 cron APO and a 75 of some kind. No way I can ever afford the 50 APO but it is a killer lens on the Monochrom.
For those that want to replace B&W film with a camera that can do it all in the B&W world but were worried about high ISO..well, don't be. The Monochrom delivers 🙂
Part 2.5 is up HERE.
To buy the Monochrom you need to get on a list or pre-order. Mine came from Ken Hansen (khpny19@aol.com) but you can also buy from Dale Photo, PopFlash, B&H Photo or Amazon
!
Look for part three of this ongoing review  in 7-12 days where I will have side by side comparisons (full size samples) with cameras like the M9, Fuji X, OM-D and others 🙂 I also plan to do prints with the files as well so bookmark and check back often!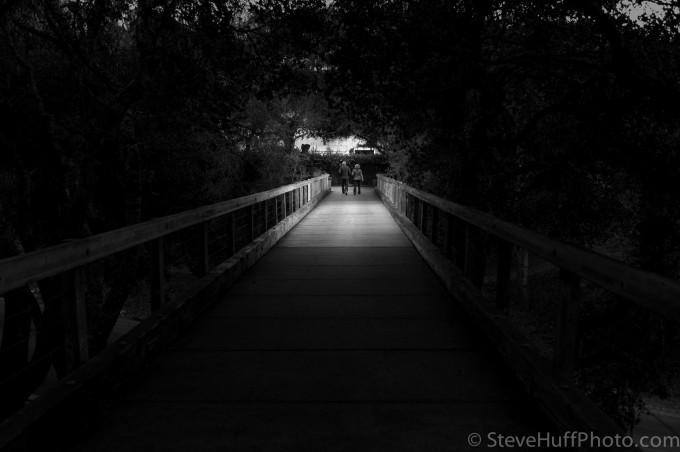 ALL I ASK! HELP ME TO KEEP THIS SITE GOING AND GROWING!! IT'S EASY TO HELP OUT & I CAN USE ALL THE HELP I CAN GET!
Remember, anytime you follow my links here and buy from B&H or AMAZON,
 this helps to keep my site going. If it was not for these links, there would be no way to fund this site, so I thank you in advance if you visit these links. I thank you more if you make a purchase! I have nifty search bars at the upper right of each page so you easily search for something at either store! I currently spend 10-14 hours a day working on this site and the only way that I can pay for it is with your help, so thank you! Currently my traffic has been increasing but my funds to pay for the site has been decreasing, so any help would be GREATLY appreciated!
Even if  you buy baby food, napkins or toothpicks at amazon it helps this site, and you do not pay anything extra by using the links here. Again, you pay nothing extra by using my links, it is just a way to help support this site, so again, I thank you in advance 

If you enjoyed this article/review, feel free to leave a comment at the bottom of this page and also be sure to join me on twitter or my new facebook fan page and Google +  page! Also, you can subscribe to my feed at my subscribe page HERE and read these posts in your browser or news reader! As you may see I do not ask for "donations" through paypal, just support by reading, subscribing, liking, commenting, coming back and visiting my sponsors. Thank you!