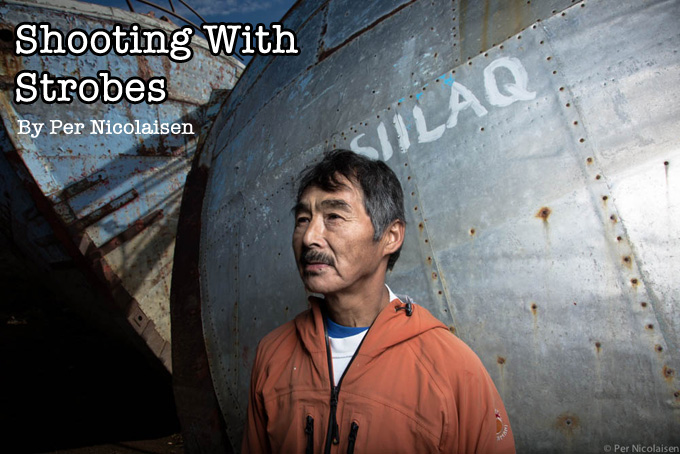 Hello from Greenland! I want to give a little introduction to strobe photography using battery power pack strobes. I made this article in a brand specific example using the Profoto 7B 1200w power pack because I find it to be the easiest way to introduce strobe photography. Battery power packs of other brands are very similar in usage.
I am not an expert or even experienced strobe photographer but I want to give my contribution this wonderful website that have given me so many great articles ever since I started to follow Steve Huff right after the M9 was announced. I always want photography to be challenging and strobe photography seemed like the next exciting photographic venture into the unknown.
I've never previously been interested in strobe photography or portraiture for that matter. I've always done everything I could to avoid top mounted camera flashes, I hate the look, and to some extent I still do. I have always chosen depth of field with fast lenses to make the images "pop" or in other words using fast lenses to make the images appear 3D in a 2D medium. The same effect can be achieved using light instead of depth of field. I eventually became more interested in strobe photography after seeing a lot of great professional photographers work and I also enjoyed a lot of the images posted in flicker group "strobist".
I found it quite difficult to find a starting point, all I knew was I wanted something powerful and battery powered strobe to take outdoors. I quickly came down to two battery power packs brands that I found interesting(out of a lot of great brands). Poul C. Buff "Zeus" series a great value for the money or the expensive and renowned brand Profoto and their "7B 1200w" battery power pack. I called my danish dealer that had the profoto 7B on sale and decided to jump at the offer, sell my beloved Leica Noctilux 0.95, and lay down a total of 9.000 USD for a hole package to get started in strobe photograph which included: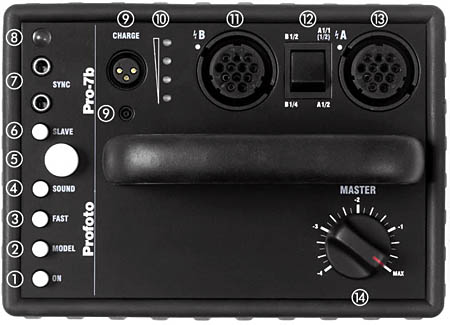 Profoto 7B 1200w battery power pack
By the master control knob (14) you control the total power/level of light out of the two lamp sockets(12,13). This power pack allows asymmetrical and symmetrical power distribution out of the two flash head (12). This basically means there is a button to either halving the power of the second lamp (asymmetrical) or identical power(symmetrical). This can come in handy if you have your main light on your subject and use the second lamp to creatively enhance the subject, for example from the back or above the subject. I done most of my portraits with a single light and use the sun as my "second light". To give you an idea of power of this battery pack, a top mounted camera flash with AA batteries output about 60-90w (anybody correct me if Im wrong) compared to this battery pack that outputs 1200w which means it out powers the sun for a tiny brief moment. I would love to read peoples opinion and remarks about other brands in the comments field below.
– Two pro B flash heads (includes 4 meter cable each to connect to the powerpack)
– Two stands, Manfrotto flash head stand model 1004BAC
– One additional 5m flash head cable
– Pocket wizard
Receiver and transceiver for wirelessly triggering the power pack from the camera (connects to 7 on the power pack)
– A Light meter
The light meter is where all the key information is. I use my light meter connected to the power pack with a cable to trigger the flash and adjust the power to my ideal setting. You can buy light meters with build in wireless triggering that is compatible with pocket wizard and get rid of the cable.
– Light modifier
Now I needed a light modifier to soften the harsh light from the bare bulbs. I choose one 2×3(60x90cm) softbox that mounts on the flash head to start off with. All Profoto's light modifiers claps easily directly on the flash head.
Keeping things simple
Its easy to overcomplicate things and make a advanced setup. You can indeed make a spectacular looking portraits using multiple lights sources but I prefer to use one light and the sun. For me that is complicated enough. Using strobes in the outdoors two factors needs to be acceptable: low wind and no rain.
Setting up
The Camera
Even though I love Leica M I find a DSLR with a zoom lens to fit my needs best for strobe photography. An important aspect of shooting in sun with strobes is "x sync" which is a given cameras ability to synchronize with a strobe. The faster the shutter speed a camera can synchronize the better. I use Canon 5D mark III that has a highest synchronization of 1/200th of a second. If I use a higher shutter speed with a strobe, a big black ugly line starts to appear on the button of the image and heres why. A strobe fires at around 1/3000th of a second and in that super short moment the WHOLE censor in the camera needs to be totally open. The shutter mechanism of the Canon 5D mark III stops to expose the whole censor beyond 1/200th of a second hence the black line visible in image.
I do most of my strobe photography in midday bright sunny conditions. I know It doesn't seem necessary with strobes but I enjoy the look. After I have found a person willing to be photographed and a location, I set up the gear. I then meter the sun. A sunny bright summer midday in Greenland I often measure to ISO 100, 1/200th, F/11. I want my strobe light to offer one F stop faster light:
Typical Day light ISO 100, Shutter 1/200th of a second and F/11
Strobe Light I dial in to ISO 100, shutter 1/200th of a second and F/16. One stop faster. This darkens everything accept the subject and gives a dramatic image and deep blue sky. I don't always choose this approach as it depends on the location, weather and the subject I photograph. I like to set up the softbox close to the subject, preferable within 1 meter when I do head shots. I don´t like to put up "rules" about how the light should be but many put out up the main light in a 20 degree angle and 1-2 feet higher than the subjects head. This way I like how the light "travels" across the face when I put up the light in a angled position, highlighting one side of the face and shadowing the other side. That way you get a sense of depth and "see" the subjects unique conjures instead of a "mug shot" kind of portrait where the main light points directly at the face. You can control the light fall off with F stops. The higher the F stop, the higher the light fall off and that way you control how dramatic you want the difference between light and shadow but keep defraction in mind when using small apertures. Remember to keep metering the strobe light. When I measure I put the light meter directly under the chin. If the person moves a little make sure your exposure is correct by remeasuring and adjust your light accordingly.
So what is challenging about strobe photography?
I see strobe photography as one part technical, one part creative and one part coincidental. When I set up the light I always have a vision about the image and how the subject is lit. After I have taken the images I had preplanned I try unexpected/unusual angles to shot or sometimes the subject somehow seems better lit another way than I had planned. The point is I always keep a open mind to creative impulse as I shoot. Sometime it leads to mistakes which is also welcome because I learn from mistakes. Even though I have limited experience I hope I have given the reader some sort of insight and I hope more experienced strobe shooters can ad or correct some of the info I have given in the comment field below. I also welcome other online resources about strobe photography in the comment field.
Regards
Per Nicolaisen
Husky. Canon 5D Mark II. canon 16-35mm II. 
One softbox on the right. Strobe 1,5 stops faster than sun light(if I remember correctly). It was a little difficult to measure the light "under the chin" as it wanted to bite my hand but I managed 🙂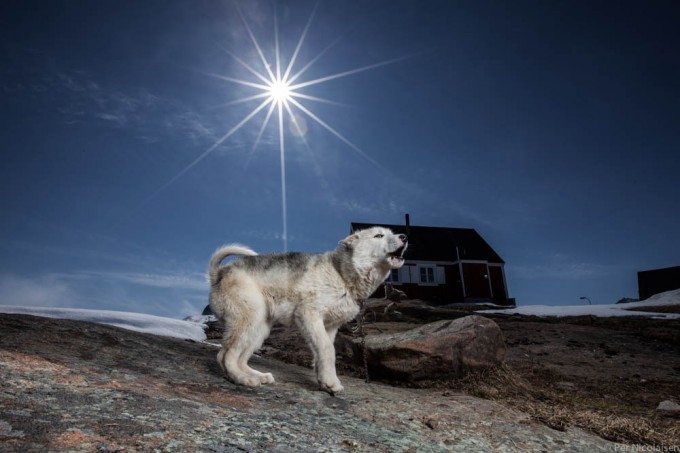 –
My dad. Canon 5D Mark II. canon 16-35mm II
Softbox on the upper left, very near the face. Strobe light one stop faster than sun light.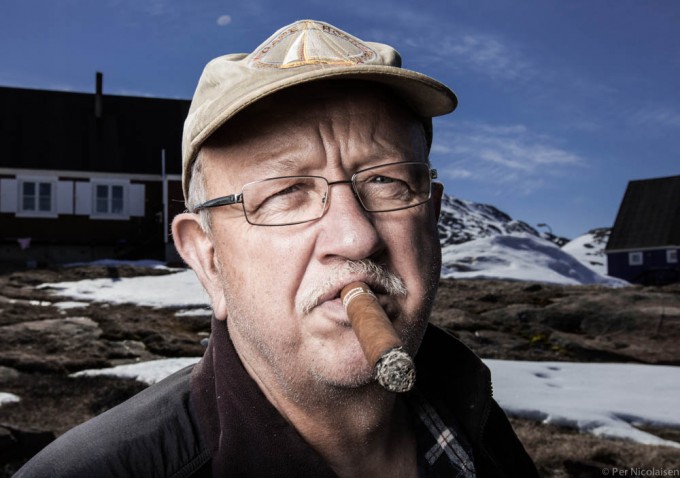 –
Soccer kids. Canon 5D mark III. Canon 16-35mm II
I loaded my SUV with strobe and photo gear and decided to drive around my home town, Tasiiaq, to see if I could find any people willing to be photographed with strobes, when I saw these youngsters playing soccer. Two lights with standard zooms on the upper right.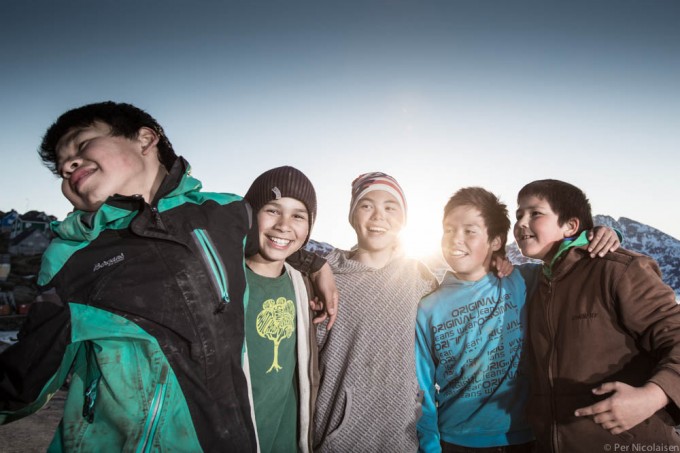 –
Mr. Karl Pivat. Canon 5D mark III. Canon 16-35mm II
Softbox to the upper left, quite close to Mr. Pivat.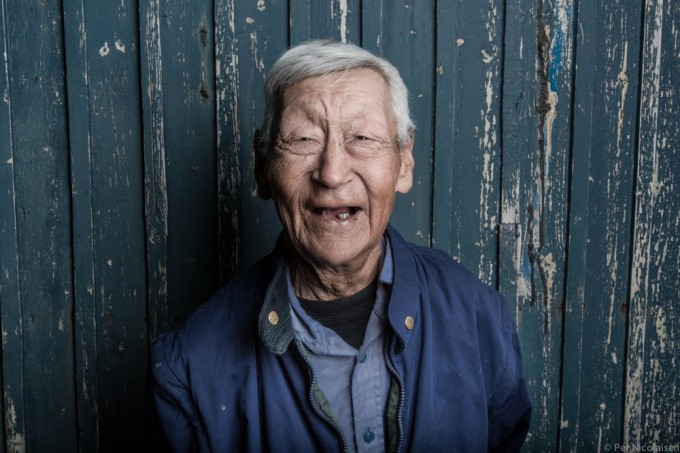 –
Susanne & Hendriks wedding day. Canon 5D mark III. Canon 16-35mm II
Softbox to the upper right.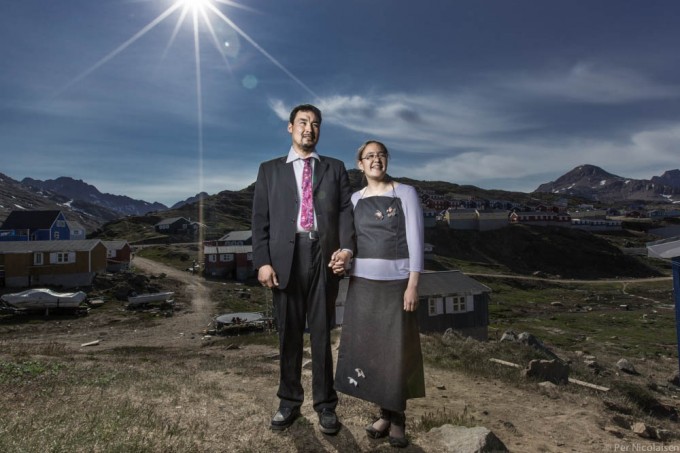 –
My Son and daughter. Malik & Niviaq among "river beauty" flowers <3
Canon 5D mark III. Canon 24-105MM
Softbox to the upper right.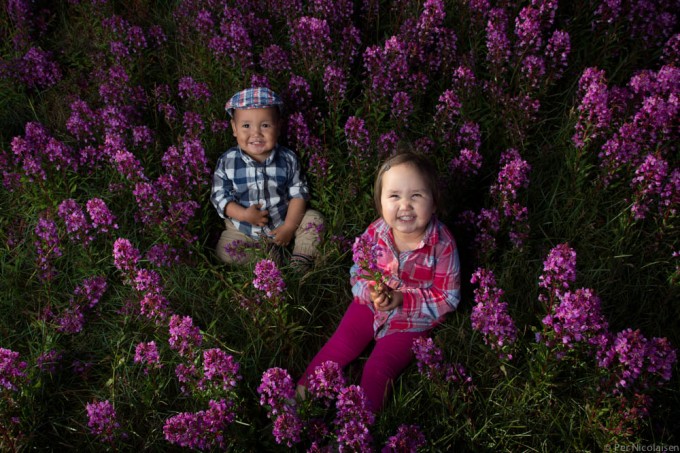 –
Paakkannaq. 
Canon 5D mark III. Canon 24-105MM
softbox to the upper right and one light with standard zoom behind the ship to the right pointing towards the hull of the ship to the left… Light one stop faster than sun light.