Hi Steve,
I picked up the X-E1 with it's 18-55mm in Tokyo last month and I have to say this is one fun and surprisingly intuitive little camera, so much easier to pick up and use than the X100 it replaced. The attached photos are all taken in Paris last week with the X-E1 and the kit lens, postprocessed in LR and Silver Efex (check out sortvitt.com for more X-E1 shots). It was cold, windy and overcast – just perfect for BW shooting.
"Feeling Art, Louvre 2012" (X-E1, 18-55mm at 19mm, f4.0, 1/30, ISO2500)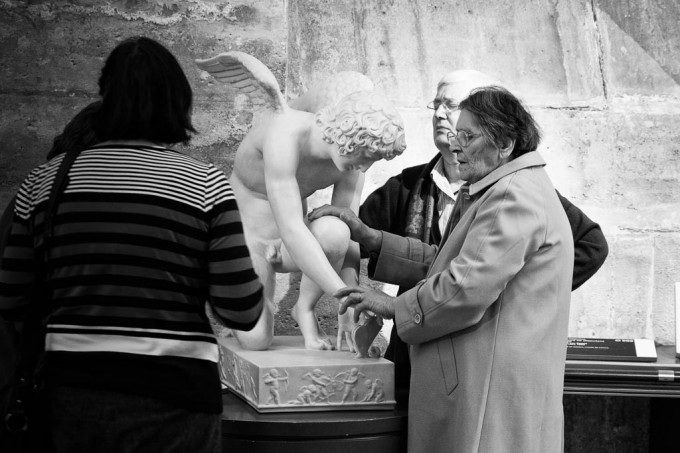 There is a department in Louvre for visuallly impaired where you can touch and feel the sculptures. I passed by it's entrance seeing a group of visitors exploring this little angel. I like the way it seems to bend down, tilt it's head towards the couple and let itself be touched. There is an array of colours in the original so I decided to process it in BW to have it "settle down" and let the eye focus on the interaction amongst the three…
"Cable car, Eiffel 2012" (X-E1, 18-55mm at 19mm, f4.5, 1/10, ISO400)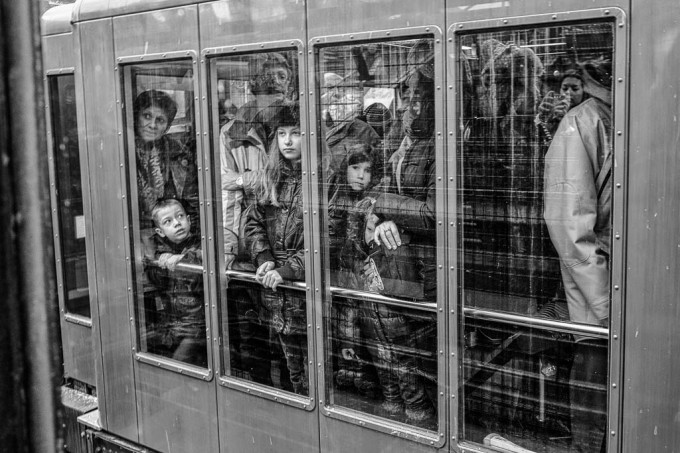 Coming down from a trip to the top of the Eiffel tower I spotted this cable car getting filled up and ready to ascend. It was one of those moments where you know there will be a photo in there somewhere especially when you get kids in range, This works well in colour with the red cable car framing the passengers, but BW seems to bring more focus to the expectations in the kids faces.
"Fleeting heart, Paris 2012" (X-E1, 18-55mm at 44mm, f4.0, 1/30, ISO1000)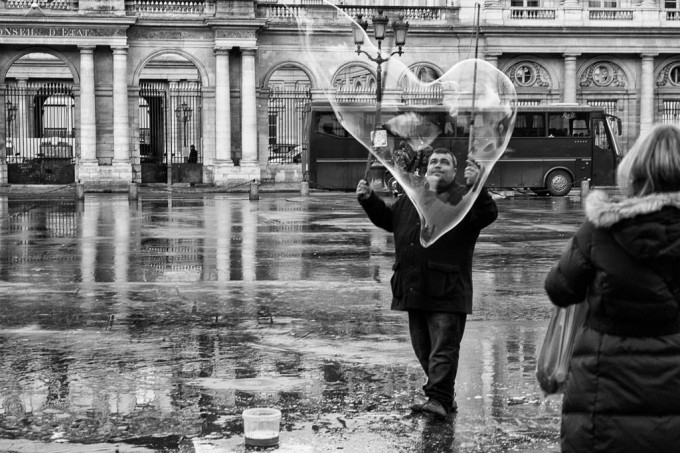 The bubble-maker was creating these huge spheres with the heart existing for a couple of seconds. It was drizzling and the wet ground add some nice reflections in the scene. Again I chose BW to make the heart shaped bubble stand out more.
Jan C. Brunaes