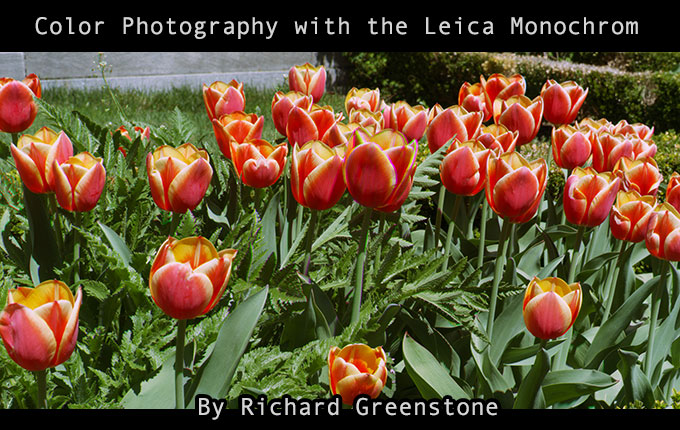 Color Photography with the Leica M Monochrom
By Richard Greenstone
When the Leica M Monochrom was introduced in May 2012 I knew that I had to acquire one for my photography.  Perversely, two contradictory thoughts occurred to me.  First, the Monochrom would provide a nearly unlimited "roll" of black and white film–something I have dreamed of since starting photography when I was thirteen years old in the late 1960s.  Second, and more strangely, how could I make a color photograph using the Monochrom?
Some backstory is important (to me) in telling this story.  My first real camera was a Leica IIIF which my father acquired while serving in the U.S. Army during the Korea conflict.  Some seventeen years after he purchased the camera, I "inherited" it when he transitioned to a Nikon F.  I still have the camera (which has a 50mm f 2.0 Summitar lens) and later acquired a second IIIF (with self timer) which I also still have.  I bulk loaded Plus-X and Tri-X for years with my Watson bulk loader.  In high school and then in college I started using a 4 x 5″ view camera. I used it primarily during my college years, first at University of Oregon, and then for a semester at Art Center College of Design in Los Angeles (and left that school quite voluntarily after one semester), worked as a professional photographer, before taking the odd turn into intellectual property law.
[ad#Adsense Blog Sq Embed Image]
I eventually settled on three cameras: a Leica MP, a Mamiya 7ii, a Hasselblad 500cx.  I shot black and white and color (probably an eight to one ratio in favor of black and white) and only managed to adapt into the digital world by scanning my work and then using Photoshop.  I had a strange detour into digital early on with a Nikon D1 which I stopped using as it fell apart! Horrible camera.  I continued to shoot film exclusively (outside of the usual iPhone photos) until I acquired the Monochrom.
The history of photography is replete with attempts at making color photographs.  Each method, from James Clerk Maxwell to Leopold Mannes and Leopold Godowsky, Jr., (musicians and developers of Kodachrome) through the latest digital processes, rely on basic physical principles and utilize red, green, and blue filters or layers to reproduce color.  The Bayer array invented by Bryce Bayer at Eastman Kodak is but one example.
I'm perfectly aware of the limitations of using a Monochrom to produce color photographs.  First, it's got to be a still life or scenic without much movement unless being used for some special effect.  Second, it's just plain inconvenient.  Let's face it.  Changing filters for the actual photography, and then using Photoshop to combine the images with corresponding color overlays is not as easy as using a camera designed for color, i.e., every other camera available save for the Red Epic-X (or -M) Monochrome.
The advantages of using the Monochrom seem to outweigh the limitations.  Rather than parsing out the photograph into thousands of tiny mosaic pieces (hence the need for de-mosaicing software and anti-aliasing filters), the combination of three sharp and detailed Monochrom files accomplished in Photoshop might yield acceptable results.  It also may provide an alternative technique to photographers.  Another advantage may be the ability to "cross-process" by using a red filter (for example) and pairing it with the blue overlay from Photoshop.  We'll have to save that for another day.  From a personal perspective, and in a sense counter to the purpose of a Leica camera, using a tripod and slowing down to truly consider a photograph may provide unexpected benefits.  I'm still, in every sense of term, a medium if not large format photographer.  I think that the Monochrom will certainly itch that scratch.  It seems more like a medium format camera given the obvious qualitative .dng files.
Process:  I needed to acquire two of the three filters for this experiment.  I possessed a  No. 25 red tricolor Wratten gelatin filter for use with my view camera.  I purchased a No. 58 green Wratten filter and a No. 47 deep blue Wratten gelatin filter.  These struck me as the closest to typical red, green, and blue filters.  The biggest question in my mind revolves around exposure.  Should I photograph each color channel at normal exposure with filter factor compensation determined by the in-camera light meter or manually meter and compensate with the appropriate filter factors.  I could not find filter factors for the No. 47 and No. 58 filters.  I would have to rely on the Monochrom internal light meter due to the lack of available information, but more for its accuracy and simplicity.  For my first batch of pictures using a test target, I used a three-shot sequence with -1/Normal/+1 bracketing.
My test set up includes a Kodak Gray Scale, 18% reflectance gray card, Kodak Color Control Patches, and a GretagMacbeth ColorChecker Color Rendition Chart all mounted on one black mount board.  All four seem like overkill but they yield different information.
I first shot a set of three exposures without filters.  I then shot three exposure sequences with the No. 25 red, No. 58 green and No. 47 blue filters.  For all the tests, I always shot and processed in a nofilter-red-green-blue sequence in order to simplify tracking of files.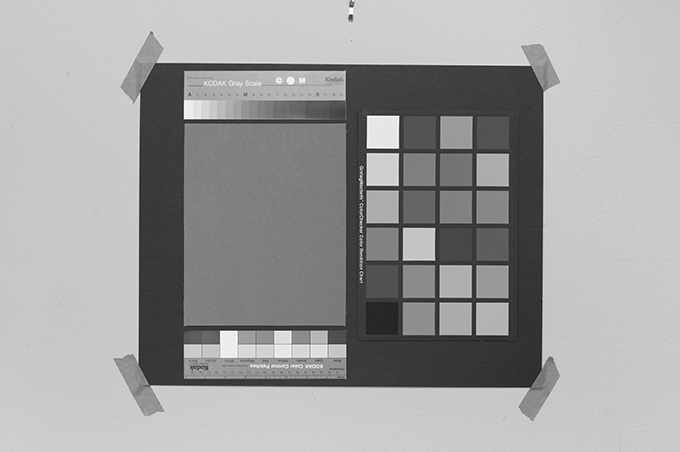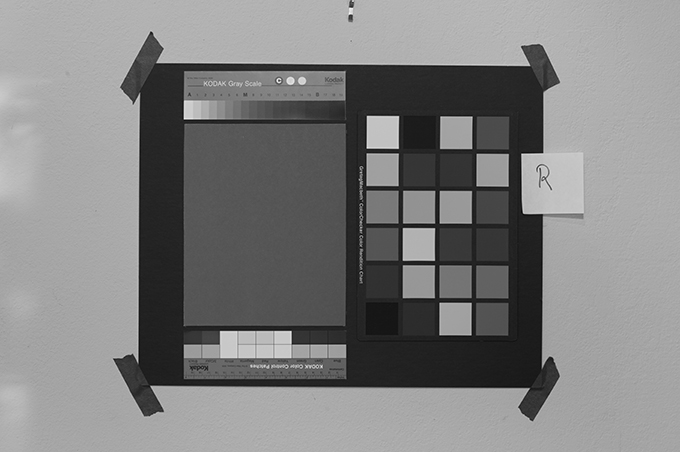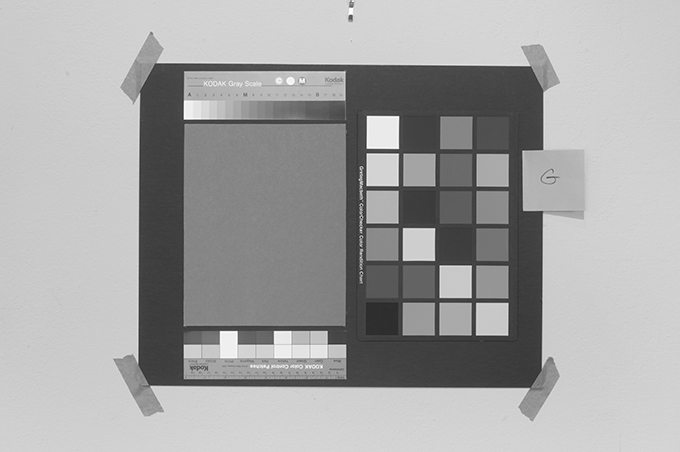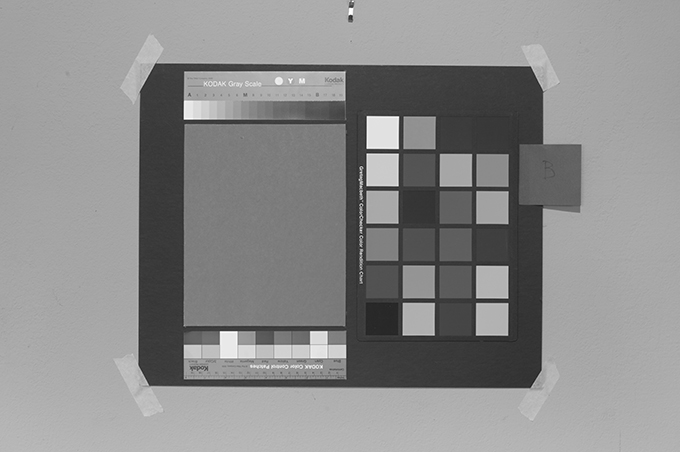 As I don't have studio lights, I used 5000K Solux bulbs from my living room for use on the test targets.  This may account for some inconsistent results.
I converted each .dng file without processing in Camera Raw into Photoshop .psd files.  I then changed the mode from gray-scale to RGB.  For each file, I made a new adjustment layer using the photo filters.  I then picked the appropriate filter, red, green, or blue, increased the density to 100% and unchecked "Preserve Luminosity."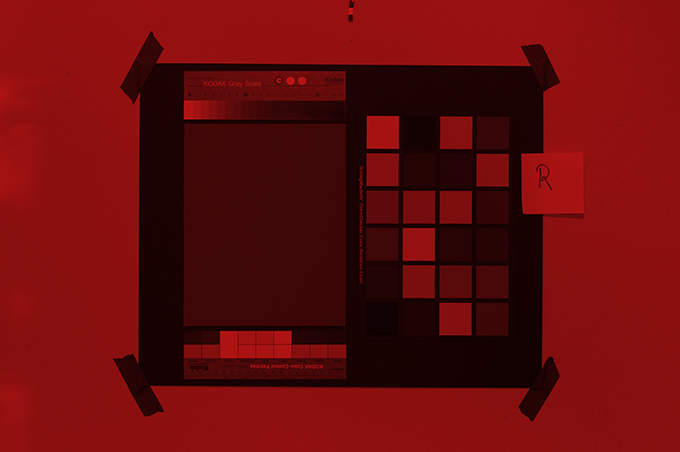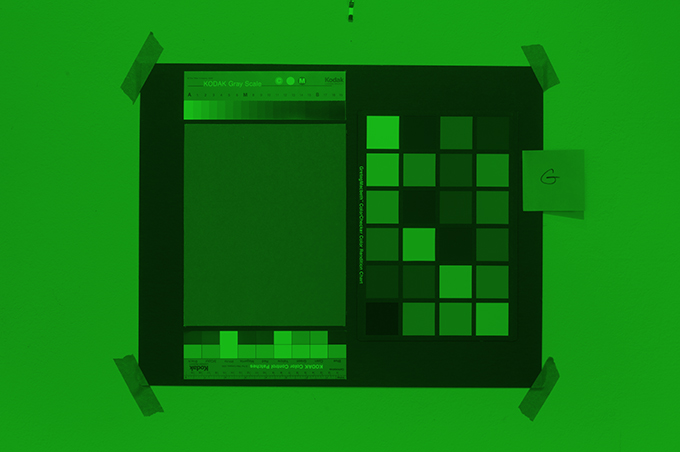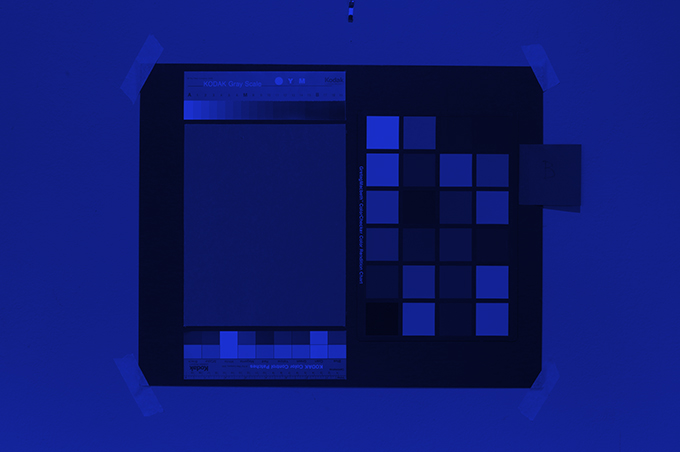 I found that I needed to flatten the layers for the next two alternative steps.  First alternative: I used the Merge to HDR feature to receive a quick and dirty result. It worked! I tried using all combinations–the -1, normal and +1 exposures.  The normal exposures worked the best.  I also tried combining all nine exposures and also combing each of the -1, normal, and +1 exposures before combining the results of each of the three HDR passes.  The HDR combination of normal exposures worked best.  The -1 and +1 combinations looked terrible with significant issues in the neutral gray tones.  The HDR combination gave me very sharp images but there were just too many issues with color rendition.  Does HDR include a sharpening algorithm?  The colors also looked over saturated, typical of HDR images.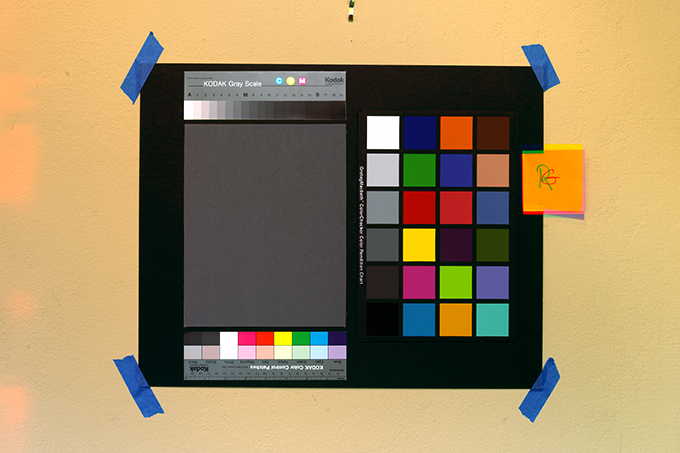 Second alternative: Create the adjustment layers using the red, green, and blue filters.  Take one of the layers and use it as a background or base layer.  Again, I used the red layer as the base. Perform a "Save As" to the red layer to make a new file. Change the mode of the green and blue layer to "Lighten."  Do the same for the other two files.  Then copy the blue and green layers to the base image.  The layers should align very easily at this point (they essentially snap into place) and you will be presented with a full color photograph ready for color balancing and refinement.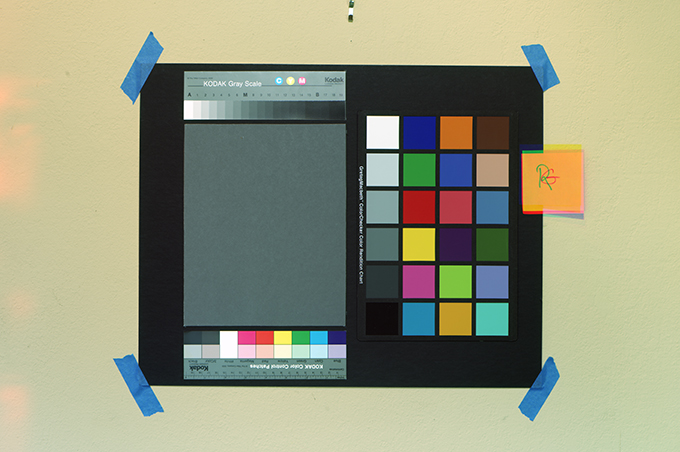 Conclusion:  The Leica M Monochom for color photographs is completely possible but limited by a cumbersome process and movement issues.  Stability in both the tripod and subject are key to the successful use of this process.  The bookcase shows really accurate color and nice dimensionality.  Perhaps some of the readers share the same passion for photobooks and recognize more than a few of them.  The succulent photograph shows very uneven coloration on the wall.  I can't explain this except to note that the lower left was cropped out of the photograph because of uneven filter coverage with either the blue or red filter.  Perhaps filter movement accounts for this issue.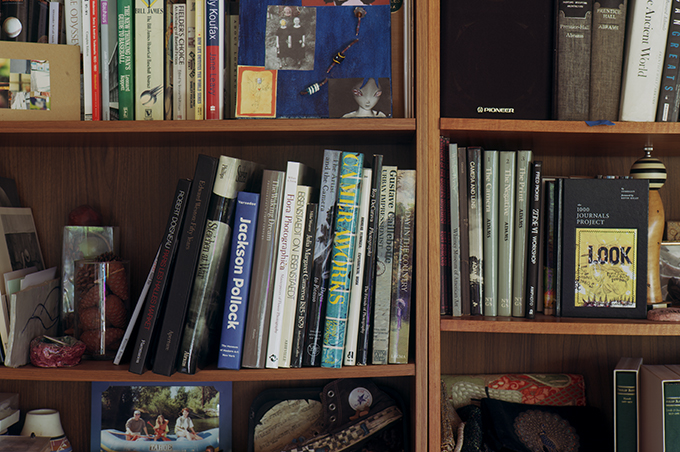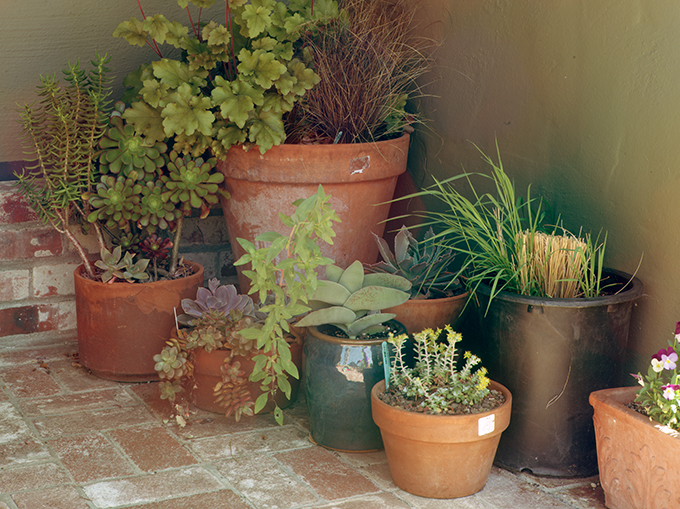 The flowers and arbor were shot at the George Eastman House in Rochester, New York.  If you look closely, you can see where the flowers moved slightly leaving evidence of a three-color process.  The foliage in the arbor photograph shows movement.  Distributed across three pictures, the trees look out of focus, but not in a pleasing way.  The thread leaf Japanese maple is very uncomfortable to look at.  The arbor required the use of the -1 exposure set given the extreme contrast.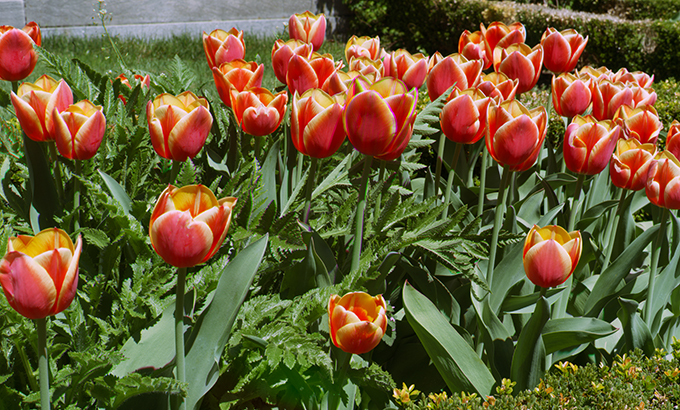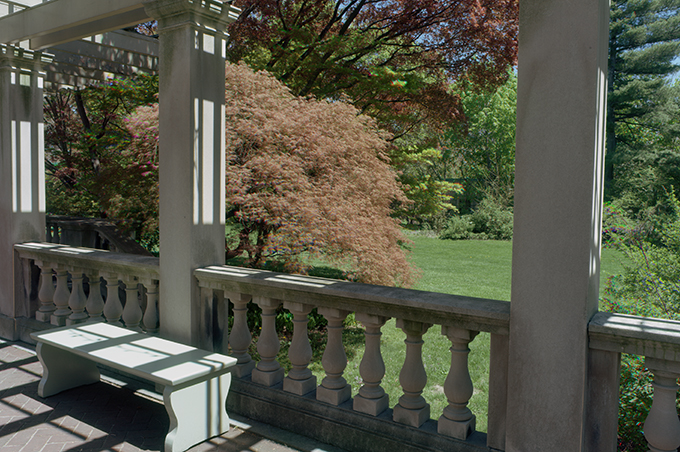 The process also requires swapping three filters so I found it best to prepare an area where I could place the filters, keep them clean, and quickly use them in R-G-B succession.  A willing spouse works very well.  Thanks Ramsey!  Gelatin filters also mark easily and of course, make sure that tripod is locked down tight.
Contact me off list at richard@rjg.com if you would like me to send you the four normally exposed .dng files of the test target.  I'd like to hear your comments and experiences, especially with other ways to manipulate Photoshop and layers.  Have fun!
Copyright 2013 Richard Greenstone.  All rights reserved.