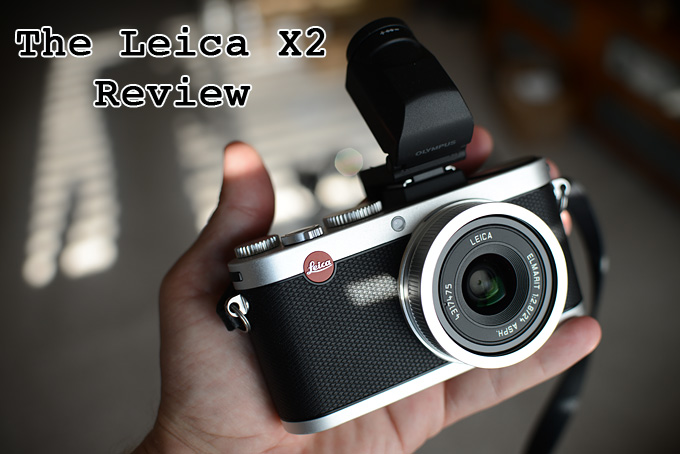 The Leica X2 Review – Can Leica still win us over with their charms?
Here we are at the end of May 2012 and I have been shooting with the new Leica X2 for just about a week. I have shot quite a few snaps and images with it already (I am a slow going type of shooter, NOT a machine gunner) and have found it has given me some really cool keepers that I am happy with. It's a funny thing because when the original Leica X1 came out I loved it, and for good  reason.
The IQ the little X1 put out was astonishing, especially for the time it was released
When that good looking X1 was released there was not much out there that could compete in that size and weight for IQ until a while later when the Fuji X100 came out. That X100 must have sent a chill down Leicas spine as I know for a FACT that it ate into the X1's sales…and thunder.
With the Fuji we have an APS-C camera that has retro styling, a built in hybrid OVF/EVF, a nice and fast (and very good) built in 35mm equivalent lens with a fast aperture of f/2 and even though it was a bit quirky to operate, many felt that it was a better alternative to the Leica X1…and get this, it  was even $800 less expensive!
As the newer cameras in this class starting hitting the scene, the X1 started to appear more like a beautifully designed dinosaur with no EVF, slow focusing, no video (some prefer this) and limited close focusing capabilities. It was obvious Leica needed an X2 so they could get back in the game with an X camera that had the IQ of the X1 with the speed and usability of the newest cameras. Just imagine a speedy X1 with a built in EVF, low noise up to ISO 6400, a faster lens to match the F/2 of the Fuji and that same beautiful design of the X1. Hmmmm. Well, that is what I was REALLY hoping for in an X2 and spoiler alert… that didn't happen.
I highly recommend clicking on all images in this review to see the larger versions which have better sharpness, color and look much nicer!
The Leica X2 at ISO 2000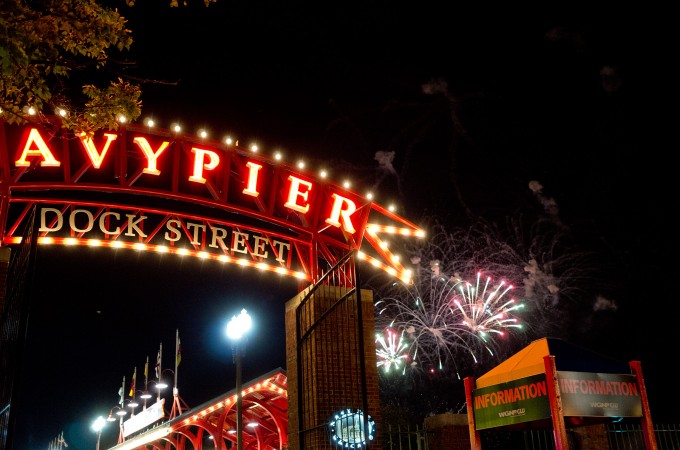 Speaking of Fuji, Even Fuji has appeared to rip off the X name from Leica with the X100 and now X-Pro 1, throwing it in Leica's face. By releasing an X2 with a sturdier design, built in EVF, longer battery life and faster AF without raising the cost would have surely put Leica over the top in the small camera/large sensor market wouldn't it? I think that YES it would have, and they could have shown Fuji a thing or two in the process!
So we all waited and waited.
Then small camera started appearing out of the woodwork as manufacturers decided they wanted a piece of the mirrorless pie. Nikon released the small and very solid performing V1 and even though the sensor is a small and tiny, the V1 excelled at fast AF, motion tracking, video, exposure metering and it even had a GREAT EVF built in. It had limitations of slow lenses and almost no shallow depth of field but I really like the V1 for what it is and what it does as it is SO much more than a point and shoot and pretty much foolproof. With the V1 we have once again a highly capable camera at around $750 that kills the X1 in usability, AF, tracking, close focus, EVF use and video. BUT OF COURSE, not image quality. No it doesn't match the Leica IQ but then again, it is much less expensive and does everything else better.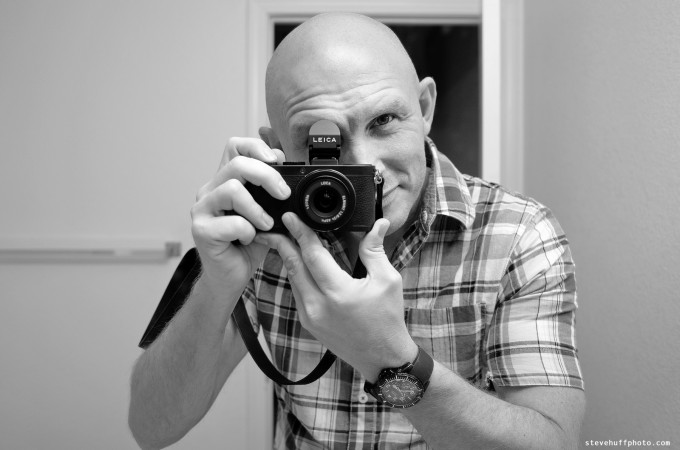 [ad#Adsense Blog Sq Embed Image]
Then we have other cameras like the Ricoh GXR, Sony NEX-7 and the new OM-D which now all surpass the X1 in ALMOST all areas. To my eyes, the only camera that surpassed or equalled the X1 in IQ is the Fuji X100. It is true that the X1 files have a look.. a crispness and beauty that is hard to find in other cameras. I think it is a combo of the Leica glass, the larger sensor, and Leica's color signature that helps to make those X1 files look so good. The only problem with the X1 TODAY is that it suffers from slow use, slow writing, low res LCD, slowest AF in its class, fragile build, dials that move too easy, and a few other niggles I won't get into, but one more is that there is NO EVF.
But how is the new X2? Did Leica deliver?
So now that I have been using this gorgeous looking factory fresh chrome X2 (and yes, you can see how gorgeous it is in the title pic at the top of the page), how do I feel it stacks up against the X100, the NEX-7 and the other cameras in the same class? Read on to find out but keep in mind that this review will be much shorter than the
 over 10,000 word X1 review
I posted almost three years ago (this one will be around 6400 words) simply due to the fact that this new X2 is really just like an X1, but with a new sensor and a few new features. The IQ has really stayed the same with the same overall look as the X1 but maybe with even better color. But then again, maybe not. As I look back,
those X1 pics
are just as good looking as the X2 pics.
The X2 at f/4 and ISO 100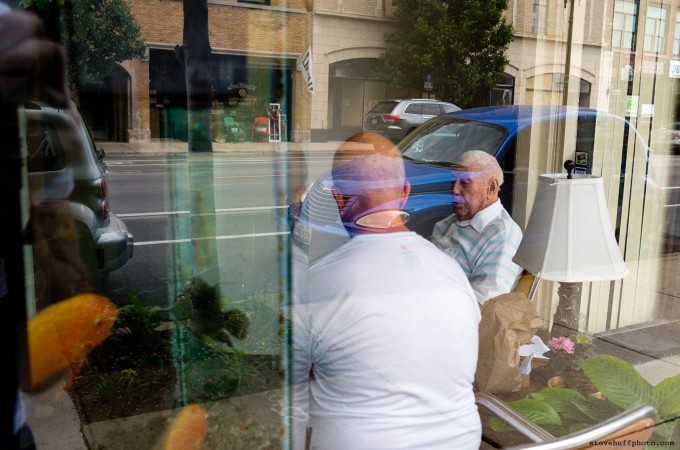 I do have to say that this camera is physically GORGEOUS in the silver chrome finish (wait, didn't I say that already)?. At first, I did not really care for the newly introduced black hump that can now house a Leica EVF that sells for $575 but have since gotten used to it, especially since I added the EVF. But I did not buy a $575 Leica EVF, I simply used the $215 Olympus EVF, THE VF-2. The best thing about this EVF is that it is tillable and that equates to some really cool angles you can get when using it.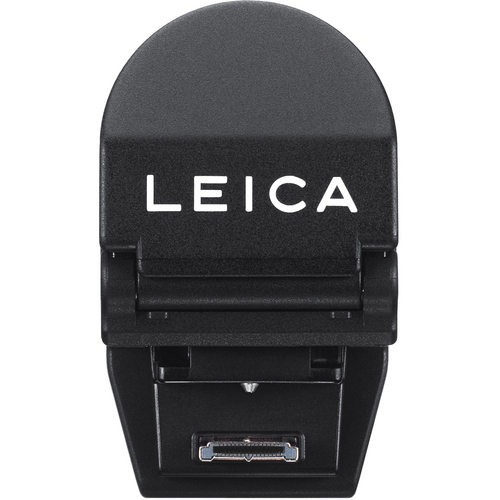 But remember that the Olympus VF-2 is the same exact EVF that Leica sells for $575 except that it says Olympus instead of the big LEICA letters on the Leica version and it may have a little bit of a different shape up top..more rounded. So the design and name is different.
UPDATE: There was one occasion where the Olympus VF-2 did scramble the image in the EVF display and  had to restart the camera. I have since been testing the Leica EVF and this has not happened. So I am not 100% sure that they are both 100% the same. They both work the same but there could be something in the Leica that is not in the Olympus as far as compatibility. The scrambled view only happened ONCE with the Olympus VF-2.
So what is new in the Leica X2 over the X1?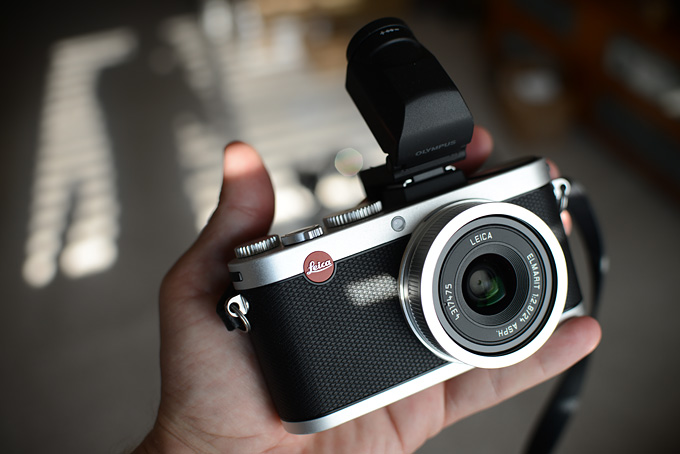 Here is what is new in the X2:
Brand new 16MP high performance sensor with ISO up to 12,500. It is really not very usable at 12,500 and really noisy at 6400 if you shoot in low light so I would stick to going up to 3200, which is what I did on the X1 anyway. The color is great as is the sharpness and detail. The X2 retains that "look" so many loved about the X1 though I wouldn't say there is a huge improvement in higher ISO shooting say at 3200, which to me appears  to be really close to what the X1 gave us.
Slightly new design and beefier build. Yep, Leica has officially ditched the steel grey and I am happy they they did so. The Steel grey M9 and X1 were so easy to scratch and the chrome is classic Leica, so this is how it should be. The X2 is available in Chrome and Black and I prefer the chrome. The new covering is improved as well and is more "grippy" with a rubber like feel. The flash has been redesigned to stop it from accidentally popping up and to also give better and more even flash performance. The dials are not much stiffer and do not turn nearly as easily as they did on the X1. You actually have to put some force behind it, which is good. The back remains the same with the same crappy low res LCD (shame on Leica for this one) and the same button layout and control scheme. Overall the X2 is more beautiful to my eyes but some will prefer the even simpler and more laid back X1. The X2 is also slightly heavier and somehow feels a little more solid and substantial than the X1, just as it should be for a Leica.
Better Battery Life – Much better battery life. I shot all weekend with it and still have 3/4 of my battery left. This is great.
Ability to use the new external tilting EVF. This is good and it is  bad. I really wish it were a built in EVF but this is a case of "we get what we get and shouldn't throw a fit". This is it guys. A big wart of an external EVF made by Olympus. The good thing is that is swivels for waist level shooting.
Faster Auto Focus – THE ONE thing that plagued the X1. Has it improved? Leica says so, but what do I think? Keep reading to find out.
The ability to add an external EVF, though it does add a huge bump to the camera which in turn takes away from its beautiful design. It's a pro and a con because it adds great functionality but takes away from the size and design. WHY OH WHY did Leica not put in a built in EVF? To me, this is sort of a fail as they could have put one in, even if it was a simple optical VF. THIS alone would have made this camera so so so much more desirable, trust me Leica! With that said, the performance of the Leica/Olympus EVF is superb. The fact that it swivels is really cool as you can place the camera by your waist and look down into the finder/EVF. If you must have the LEICA text written on the front, buy the Leica 🙂
The X2 at f/2.8 and ISO 100 – WOW. Such depth and color and detail here, even wide open.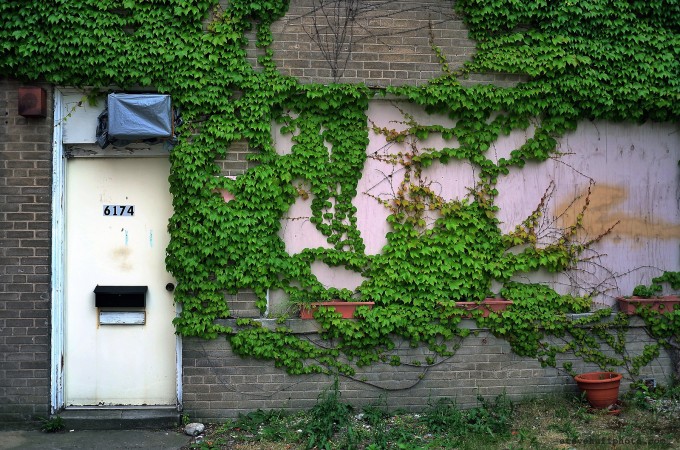 –
Many SCREAMED! "Leica Dropped The Ball With The X2"!
So after three years and all of the competing cameras it seems Leica did not learn much of anything, either  that or they said "screw it, we are Leica..we do what we want". They omitted a built in EVF and decided to charge $575 for a $215 Olympus EVF. They kept the same low res LCD on the back that was in the X1 when ALL other cameras today have MUCH better LCD's on the back of the camera. They kept the same design and just modified the flash and color/design of the camera. The grip covering has changed as well (for the better) and they did NOT add any video whatsoever. The AF has indeed improved though. So basically all we get is the new sensor which in reality doesn't do too much but add 4 more megapixels, higher ISO capabilities and supposedly faster AF speed. The GOOD thing is the price has stayed the same at $1995. Yes, this is GOOD because if this was  raised to $3000 then Leica would not have sold many of these at all. At $1995 Leica has managed to add just enough to the camera to improve upon it while making us Leica fans WANT IT.
So do I think Leica dropped the ball? Well, yes and no. I think if they added a BUILT IN EVF or OVF and even if they had to raise the cost to $2295 it would have been a grand slam hit. This design and this quality with a built in viewfinder would have NAILED IT for me because I LOVE LOVE LOVE the image quality the X1 and X2 pump out. I also love the design, the simplicity and controls, and the 35mm focal length equivalent. But you have heard me before..I think ALL enthusiast cameras today should have a built in VF of some kind. PERIOD. So in this way Leica dropped the ball and lost some sales but in other ways, they have stayed true to what Leica is all about.
SIMPLICITY and QUALITY
The camera is small, sleek, nicely designed, light but hefty, and has a very sharp and crisp lens. The camera puts out amazing IQ and color and you can tell just by looking at it and using it that it is a true Leica. So by Leica not adding gizmos and gadgets and video, they have stayed true to what they are and retained many customers who will WANT to upgrade their X1 to and X2. Besides with the X2 you can also use the optical external VF which some prefer.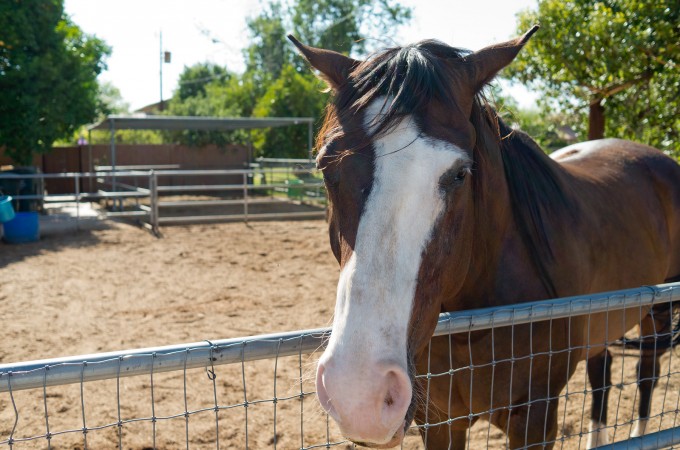 How about the AF speed? The one big weakness of the X1..has it improved? Well…YES!
Ok. This is what everyone wants to know. How is the AF speed of the X2. At $1995, almost $2000, we should expect the X2 to at least be as good as modern day mirrorless cameras right? Well, maybe not so much.  I was hoping so but the fact is that while it is quite a bit faster and responsive than the X1, the X2 is now about the same as the firmware upgraded Fuji X100, maybe a teeny but quicker to lock focus. My Olympsu OM-D blazes with every lens I have tried on it, even the 25 1.4. The Nikon V1 is instant in its AF. The NEX-7 is medium fast so the X2 is doing MUCH better  than the older X1. I do find it faster than the X-Pro 1 as well. I also noticed in low light the X2 is now MUCH faster to AF than the old X1. It doesn't seem to hunt either (unlike the X-Pro 1, which was a deal breaker for me). Overall I was a bit let down by the AF speed boost but at the same time, when in real use, I had no issues. I had no mis-focused shots or missed shots due to hunting. Well, I did have one but I was shooting blind 🙂
The only shot I had that missed focus, but that is because I held out the camera blind, so this one was my fault 🙂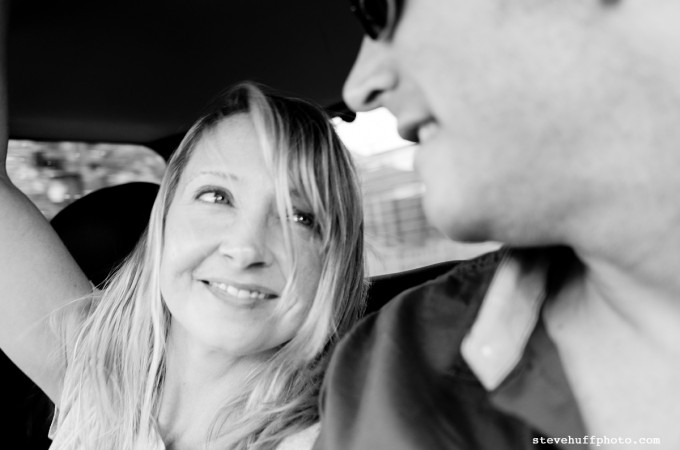 So the bottom line on the X2 AF abilities? Do not use it for action, sports or running kids and you will be OK. Much better than the X1 but not as speedy as an Olympus OM-D, which boasts the fastest AF in the works BTW.
All of this should come as no surprise as it is not a camera meant for those sorts of things anyway. I see the X2 as a "mini M" with a permanent 35mm equivalent focal length attached and it has that Leica feeling when you hold it and shoot it, and yes, even when reviewing the photos. It is a camera that does its best when you see the shot, compose the shot and take your time getting the shot. It is NOT a run and gun type of camera. In fact, the overall performance of this camera is on the slow side. Writing to the card is slow and on a few occasions I had the camera hang up while it was writing but unhang when it was finished writing. Just for a second or so though. It does not feel like a fast operating camera like the Olympus OM-D and Nikon V1. It feels more like the X100 in use (speed wise)..a working and thinking mans camera.
Me and my fiancée Debby Window Shopping with the X2 and EVF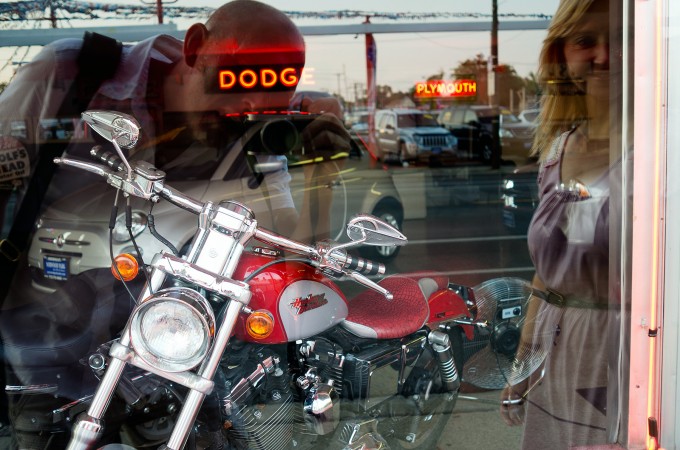 –
ISO 3200 at night time – Yes, it can get grainy when shooting at night but I dig the look and feel of this one anyway!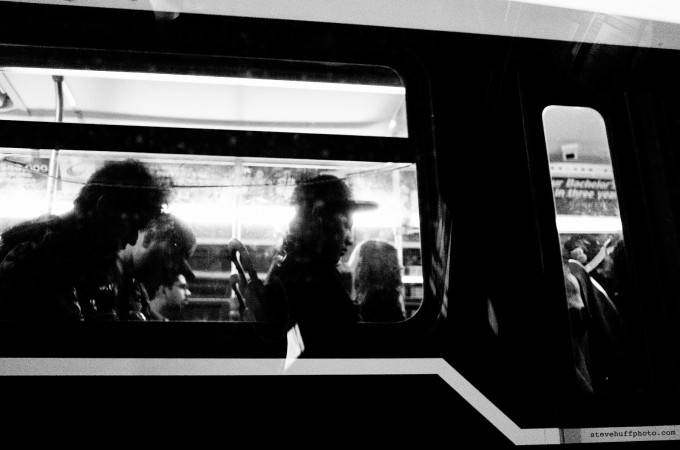 –
Man washing windows…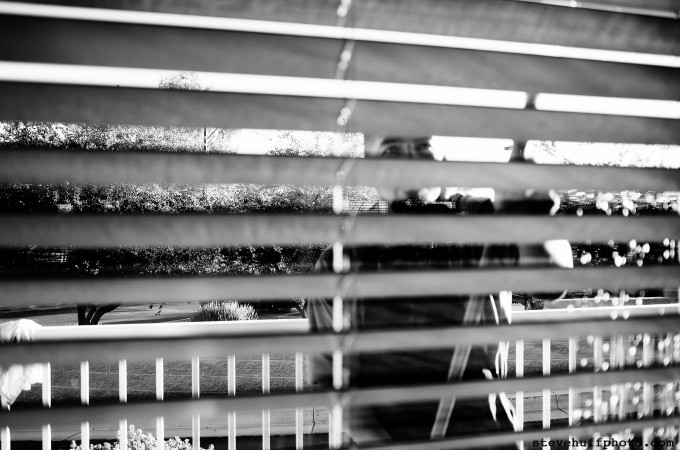 –
Compared To the NEX-7 and Olympus OM-D. Oh, and now the Fuji X100!
UPDATED! Now added a comparison with the Fuji X100!
Honestly, the hot camera around my house these days is the Olympus OM-D with the Panasonic 25 1.4. When the X2 arrived I was wondering if it would have what it takes to bump that OM-D out of my hands 🙂 In many ways it does, and in others NO. The IQ and images I get from the X2 I have been liking a bit more than the images I am getting from the OM-D. I just like that "X" look, and yes there is a look to these files that is NOT in seen anywhere else. But using the camera is slow going when directly compared to the OM-D.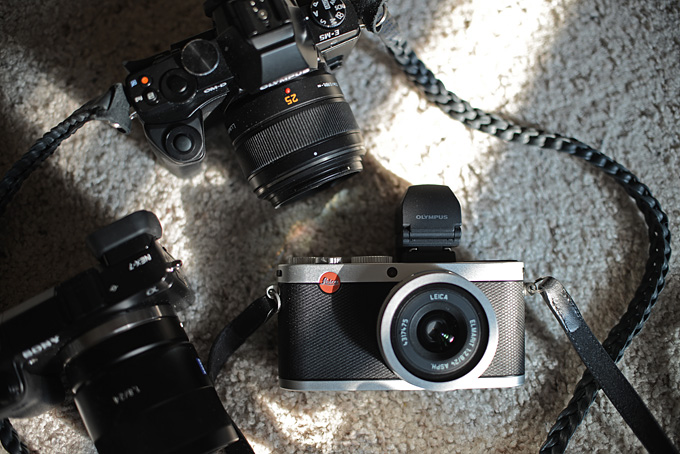 I decided that since I had these cameras here in the house, why not do this comparison? I took a shot with each camera. The Leica X2, the Olympus OM-D and The Sony NEX-7. All were using 35mm or equivalent focal lengths and the Olympus had a 50mm equivalent so it's NOT a scientific test at all. Just a few shots to show how each camera rendered the scene. These are all from RAW. All were shot at f/4 and base ISO of each camera was used.
Click each image to see larger version and full 100% crop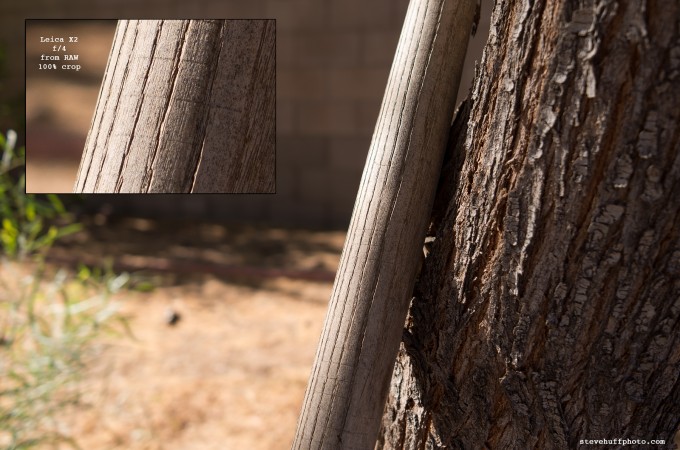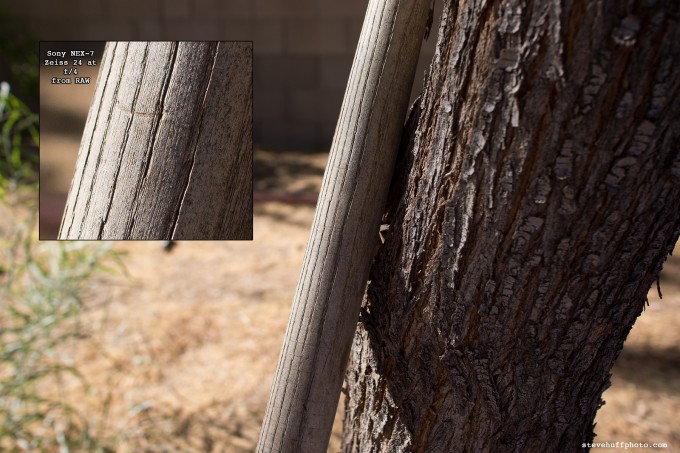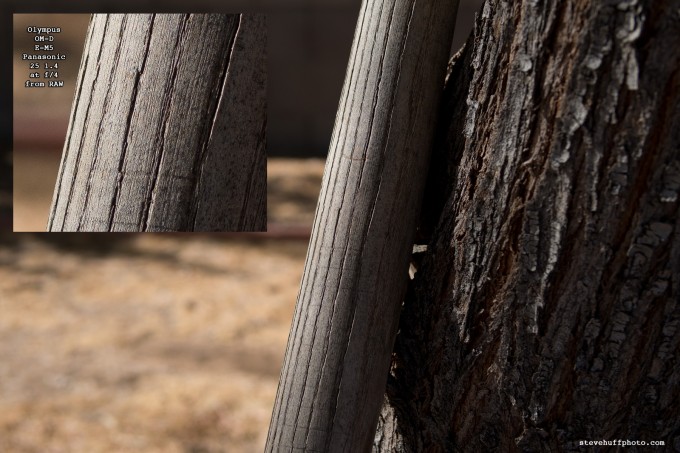 –
To me, the OM-D takes the #1 spot for sharpness and detail though it is so so sharp, almost too sharp. The X2 colors are really nice and the NEX-7 looks good.  One thing to note is that the OM-D was the quickest in operation, the NEX-7 2nd and the X2 was the slowest to focus, shoot and write to the card..AND to shut down as it takes about 2-3 seconds to do so. So while Leica has improved a few things with the X2, they are sort of minor things that were improved upon. It is not like going from an M8 to M9. More like gaining a little bit of a speed boost, much better battery life, sturdier build and of course the EVF capability. At the end of the day the images coming from the X2 look like they could have come from the X1, and I guess that is a good thing. Actually, I KNOW this is a good thing.
Compared to the Fuji X100
I shot these on a tripod at f/2.8 and f/4. No processing or sharpening was done to these at all and these are as they came out of the RAW converter, which was Adobe Camera Raw. One thing you can notice is how warm the X2 white balance is (auto was used to see what each camera puts out at these settings) which his what lends to the pleasing images that come out of it. In comparison, the Fuji rendering is cooler/bluer. I am a fan of warm but remember, these settings can be changed during RAW conversion if desired.
Click each image for larger size and full size crop. ALL from RAW, no PP, NO sharpening added.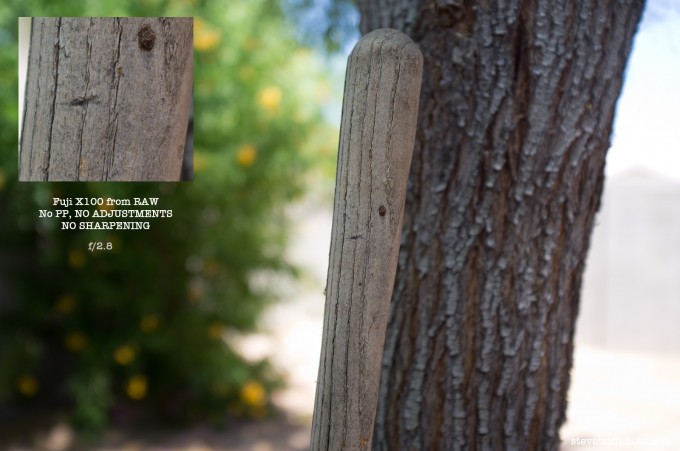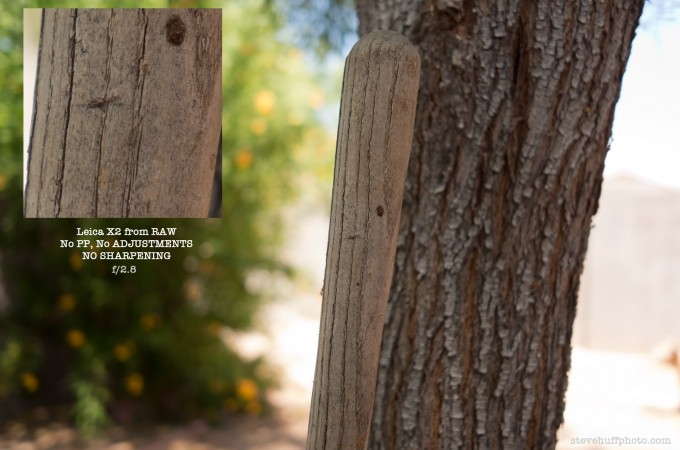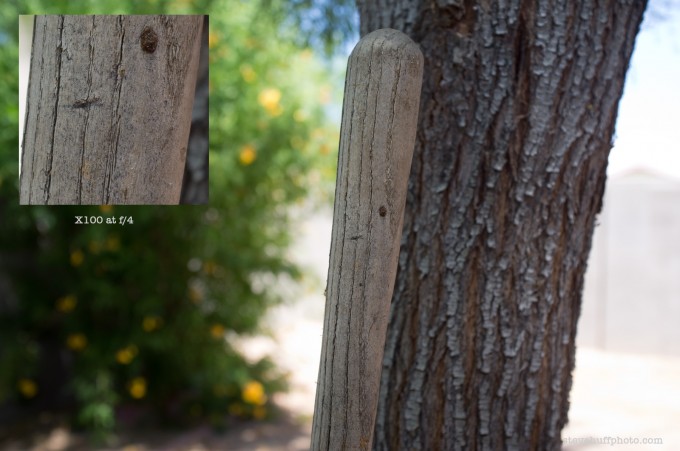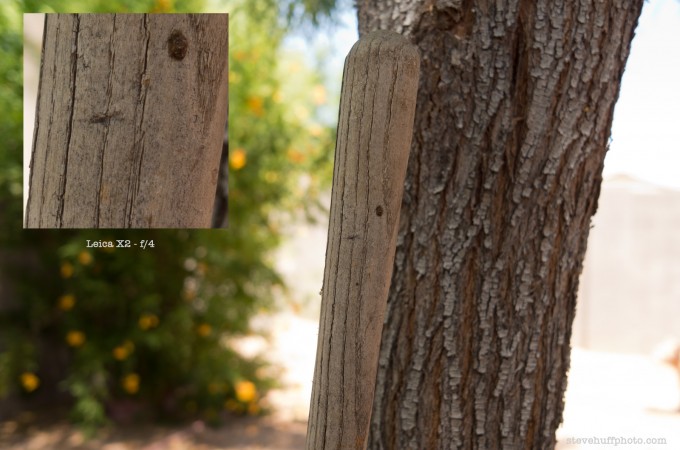 –
Compared to others (in words)
X2 compared to the OM-D E-M5 – OK, I have raved about the OM-D and for good reason..it is a fabulous little camera, and I am not the only one to say so. Just about everyone who has shot with one has stated that THIS is the camera that has finally matured Micro 4/3. The OM-D is FAST, has amazing in body IS, great image quality, a high res swivel LCD, superb fast lenses to choose from, weatherproof so no worries if in the rain, amazing quality video, and a nice built in EVF. All for about $1100 or so. $900 less than the X2. Add a kick ass amazing lens like the Panasonic 25 1.4 and that brings you to $1600 or so, still $400 less than an X2. So why would anyone buy an X2 that appears to use outdated technology (no IS, old low res LCD, no built in EVF, slow write times, etc) when you can get the hottest camera of 2012 for cheaper? Well, at the end of the day it's about the images right? If a camera is easy to use AND capable of giving superb results then isn't that what really matters? IMO the E-M5 is indeed the better bang for the buck camera, no question. BUT the X2 will give you a bit better and dare I say…more film like and richer files/colors. It will be slower but you will get less digital looking images from it. This comes down to asking yourself what you need. Do you need speed and versatility (OM-D) or ultimate IQ and simplicity? (X2) The X2 is also much slimmer and smaller.
X2 compared to the NEX-7 – The NEX-7 was the big camera of 2011 and 2012 because it was the 1st to offer everything in one body full of technology. The only issue with the Sony is that the damn thing operates more like a computer than a camera. It is so filled with technological advances and controls you really feel like you are out with a "device" instead of a camera. Other than that, once set up and with a good lens it delivers great results. It is a little faster to AF than the X2 and operates quicker as well. But the lenses are lacking in the NEX system though the Zeiss 24 1.8 is as close to the 24 Elmarit as you can get, it is just larger. Again, personal preference here. Do you want ultimate control and customization? Video capability (though the 7 overheats after a few minutes of HD video)? Tilt high res LCD and nice OLED EVF? Then the 7 may tick your buttons.
X2 compared to the Fuji X100 – THIS is the ultimate comparison (and I just updated the review with samples from each above). I did compare the X100 and X1 quite a while ago HERE and some of you preferred the X100 and some the X1. Well, the X2 is not much different than the X1 in regards to IQ and it is a little faster, just about on par with the X100 if not a but slower (the Fuji X100 firmware update sped up the AF quite a bit). BUT these two cameras do have much different looks to the images. The Fuji has the Fuji colors and "look" which is a little soft when wide open up to f/4 and after f/4 super sharpness and detail. But you will get those Fuji yellows and greens and blues as well as a cooler white balance when using Auto. The Leica has its own look which is nice and contrasty, great warm and rich color and that Leica look you get from their lenses. Some may prefer the Fuji look, others the Leica look. I do feel the X2 is the more attractive camera. I also feel the X2 is much more basic and simple and focuses on one thing…the photos. The X100 and X2 are neck and neck at high ISO. Now that I have shot both side by side, as for focus, the X100 and X2 are also neck and neck. Maybe the Fuji is a split millisecond faster but it's close. What you choose comes down to preference. Do you want a made in Germany Leica X2 with warm colors and rich files (but slow in operation, poor LCD, no EVF and slower lens) or do you want the X100 which is $800 cheaper (with EVF/OVF, faster lens, video and better LCD)? Your choice! I choose BOTH 🙂 Well, I actually did just that!
X2 compared to the X1 – Well if you are an X1 owner wondering if you should update to the X2..think about it. What would you like to see improved in your X1? If it is only IQ, then you won't get much of that with the X2. The IQ seems about the same to me. If it is AF speed, you WILL get a boost and you will be able to AF in low light much easier. If it is high ISO, well, you will get that as well. You also do have the 6400 and 12,500 options though they are pretty noisy. How about the EVF? Will the size turn you off from using it or will it be a welcome addition to your shooting? If you crave what the X2 brings (new look, EVF, faster AF, 4 more Megapixels) then you will like the X2. BUT the used market for the X1 these days ranges from $1150-$1400 from what I have seen so you will lose some cash on that X1. If you are already happy with the X1 there may not be a real need to upgrade. BTW, you can see some extensive comparison images in my older X1 vs X100 post HERE!
The X2 catches the cat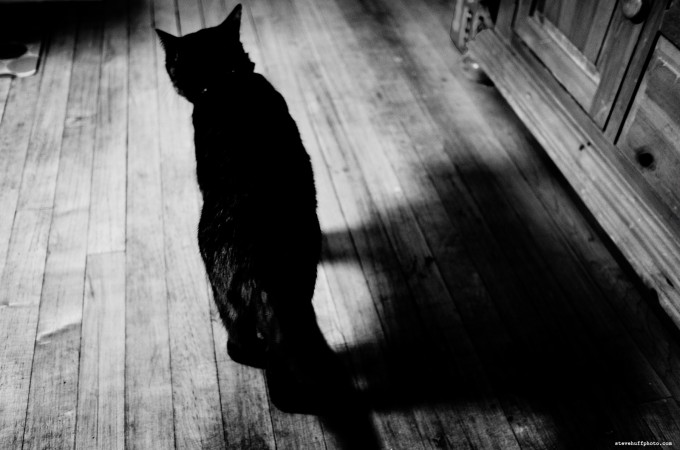 –
High ISO of the Leica X1
Another improvement Leica has made is in high ISO shooting. The X1 was actually a great high ISO shooter and up to 3200 was really nice and usable for most things. If you read my X1 review you will see that ISO 3200 of the X1 beat ISO 1600 of the Olympus E-P2 at the time, and ISO 3200 looked very usable. The X2 now has the capability to go up to ISO 12,500 though it is not usable at this speed (in my opinion). Below see some higher ISO shots at night and also some crops. One thing I was happy with is that the X2 now has much faster AF at night. The X1 was very slow in this area, even unusable at times. The X2 is usable at night in regards to AF. No more waiting and hunting around like the X1 did.
The next 6 images were all shot at ISO 3200, what I feel the the highest usable ISO on the X2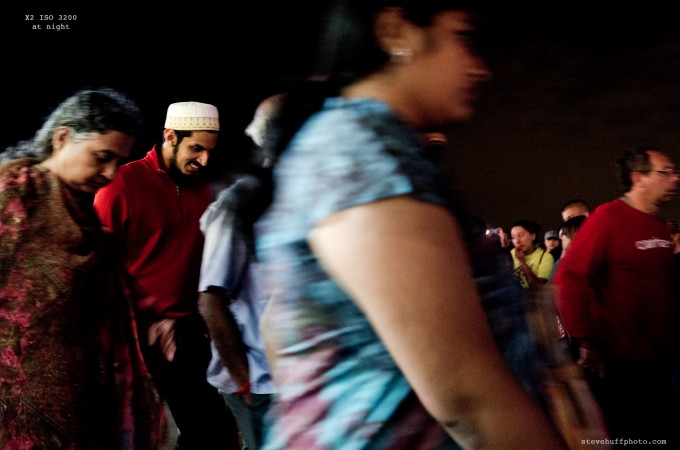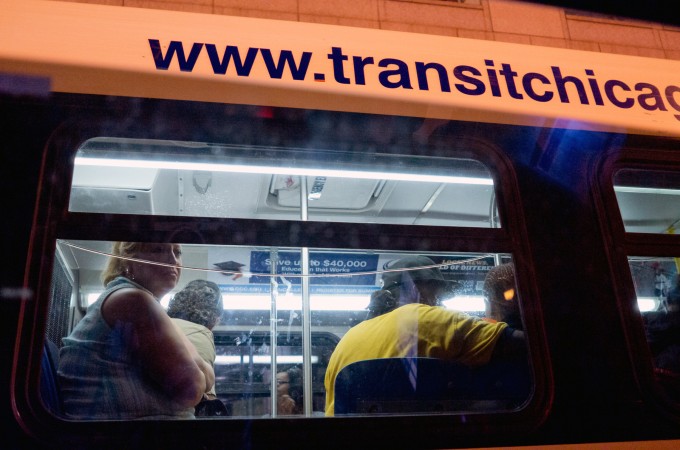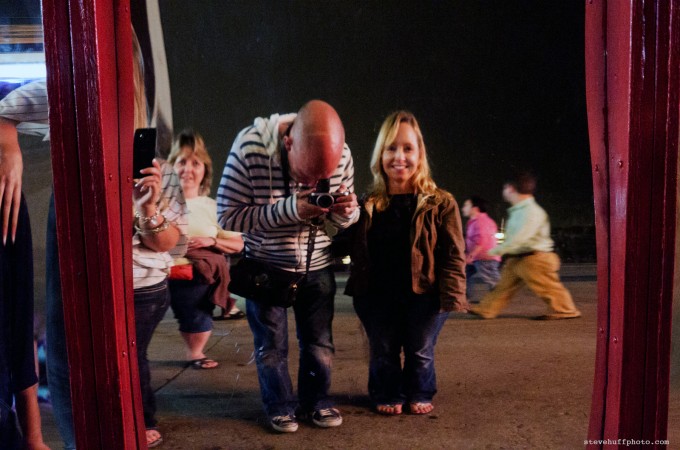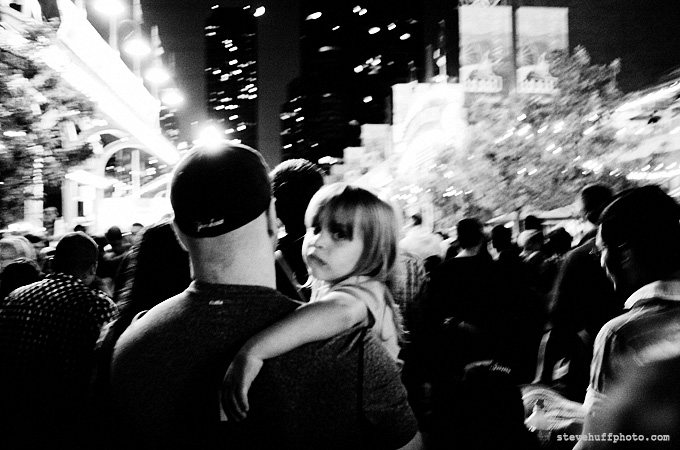 So while the Leica X2 may not be noise free when shooting at ISO 3200 in low or no light, it keeps the color fidelity and the grain is not offensive at all. In fact, I really like shooting at ISO 3200 at night with this camera as the images are very usable and they still seem to have that Leica feel. I would not go out and use ISO 6400 or 12,500 (at night) as they start to get ugly so keep it at 3200 tops if you are night crawling and use 6400 in a pinch.
–
High ISO crops 
Below is a shot I snapped in a grocery store to check out how ISO would do in decent light. You will see the image and then the crops after it starting at ISO 800 going through to ISO 12,500. When in decent light it appears you could get away with using ISO 6400 if you had to, but then again, in decent light you wouldn't need to.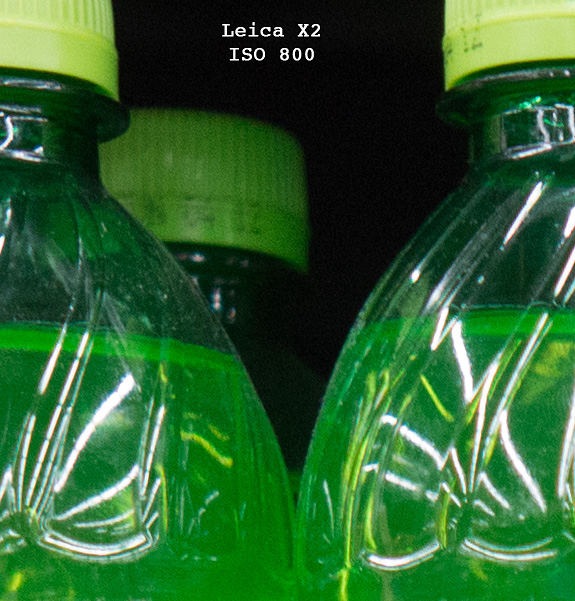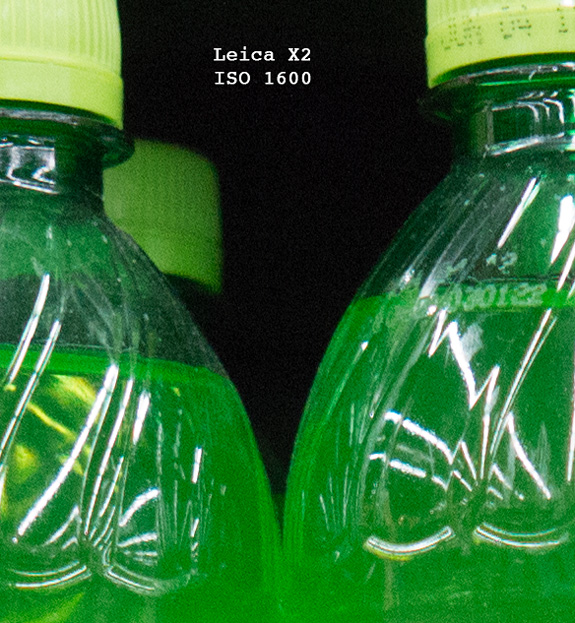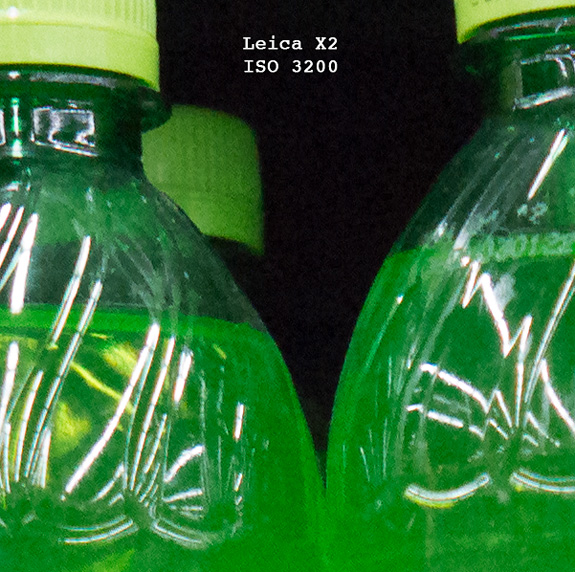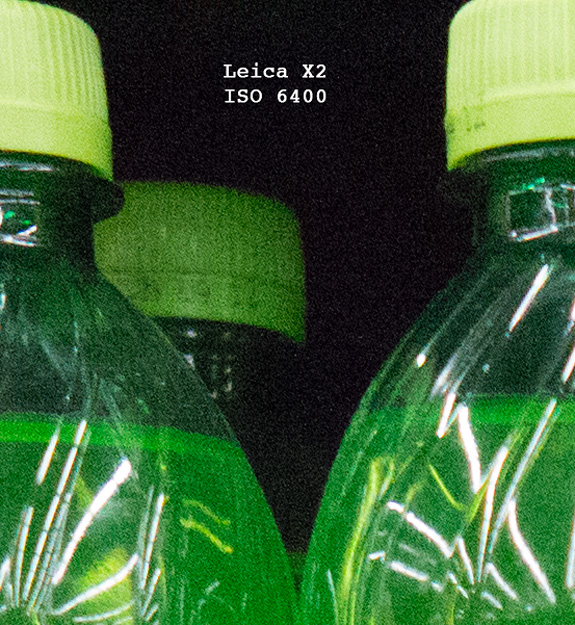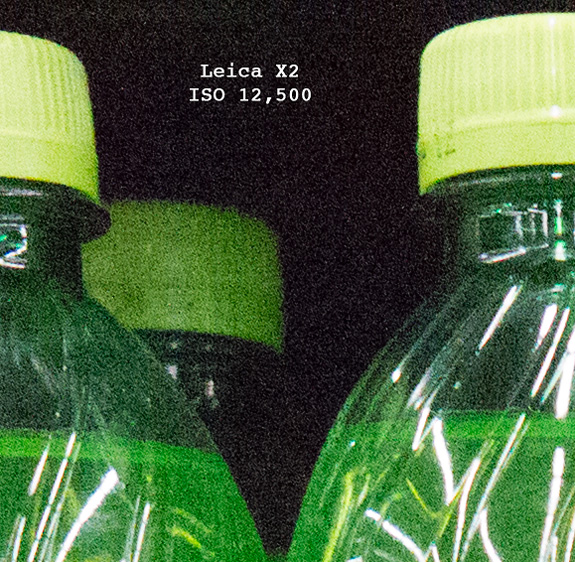 ISO comparison to NEX-7 and OM-D
One thing I found odd is that at ISO 3200 in both sample shots from the X2, the one above of the bottles and the one below of the Polaroid (I tried three times, same results) show a blurred result. These are all from RAW and I did not add ANY Noise Reduction to any of the samples. It appears these three cameras are just about next and neck for indoor low light high ISO. These were taken in my office at 2AM, with only one light bulb going. It appears lighter than it really was.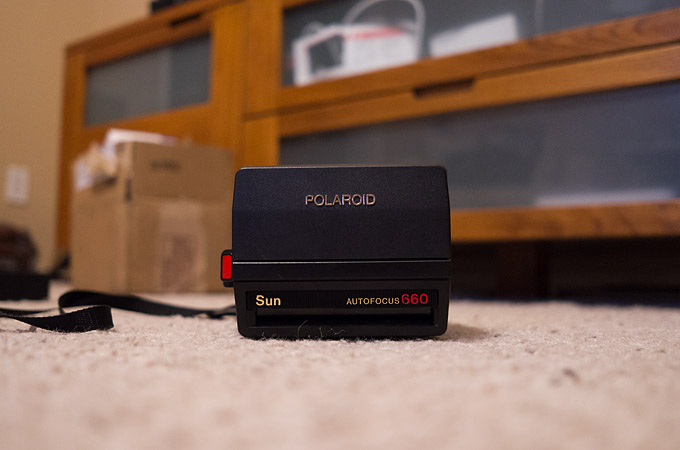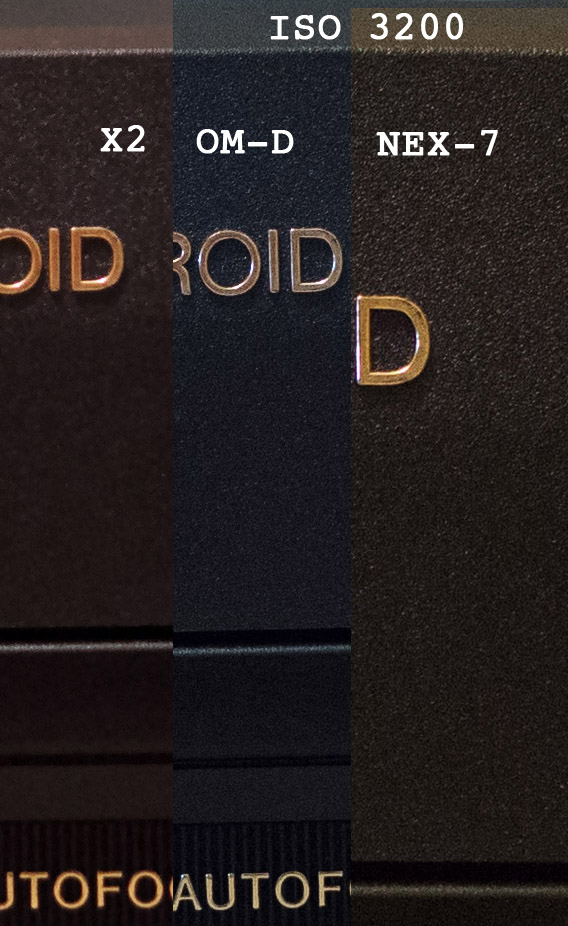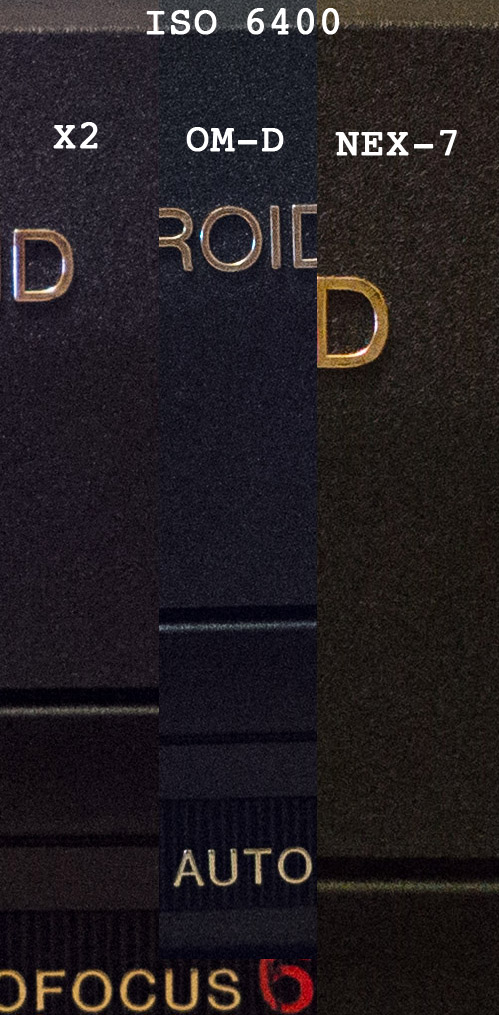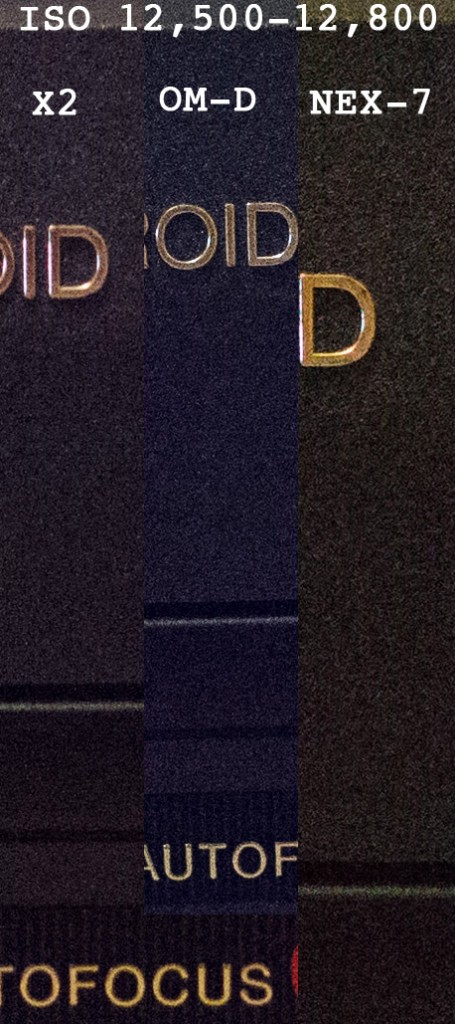 You can clearly see each camera has a different color signature which is what helps to give each image from each camera its specific "look". Noise wide, the X2 is about equal to the NEX-7 and Olympus OM-D, which is very good though not as good as the Fuji X-Pro 1 or possibly the Fuji X100. What is surprising is how well the OM-D E-M5 did here. Not bad at all!
JPEG vs RAW High ISO
Here is an out of camera JPEG shot in high contrast B&W mode, ISO 3200 – right from camera resized with 100% crop embedded – you must click them for larger views and this shot was taken AT NIGHT so there was no light, but the camera AF'd just fine.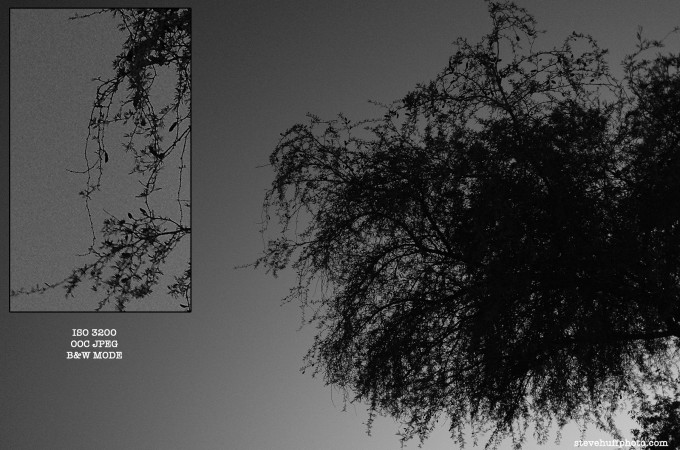 and the same image but processed from the RAW file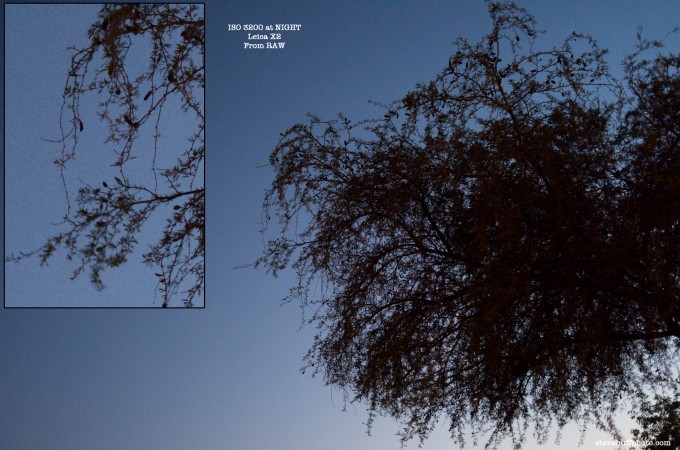 –
Detail of the X2 files
It's funny because I really am not getting razor sharp clinical results with the X2 but I think that is what makes the images look so pleasing. It is very sharp, but not "clinical, flat and digital" like I see with some cameras. The output of the X2 seems just about right. In other words, I like it. BTW, at f/2.8 it is sharp but not super sharp..very pleasing. By f/4 it is even sharper.
Click the images below for larger versions with full 100% crop embedded…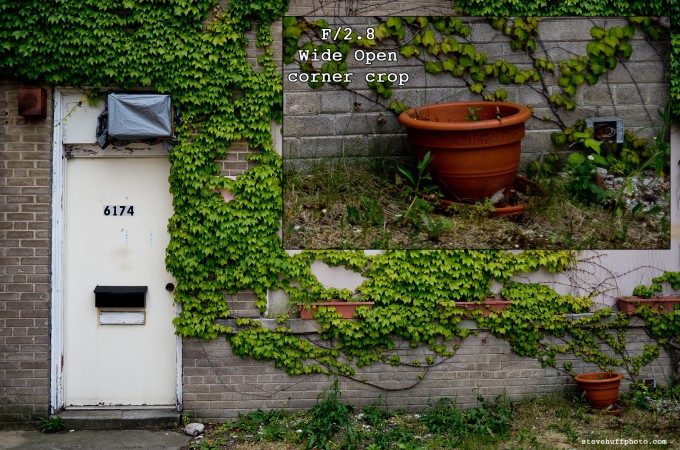 –
THIS is a sharp shot no doubt…f/4 will do it…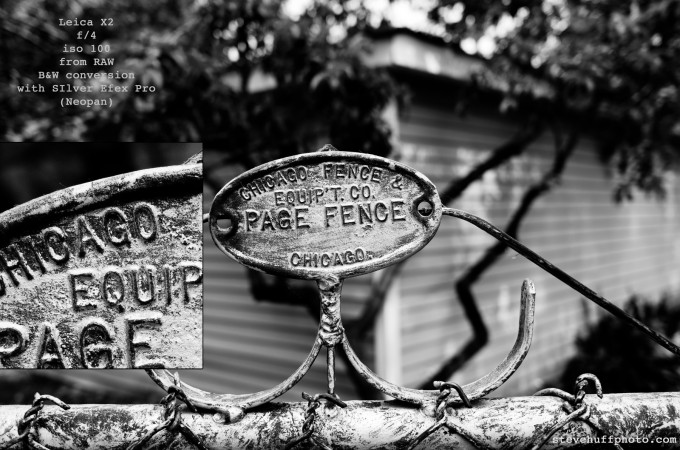 –
UPDATE! Want sharp? CLICK THIS shot to see the larger version and check out the detail in the 100% crop. This was wide open at 2.8!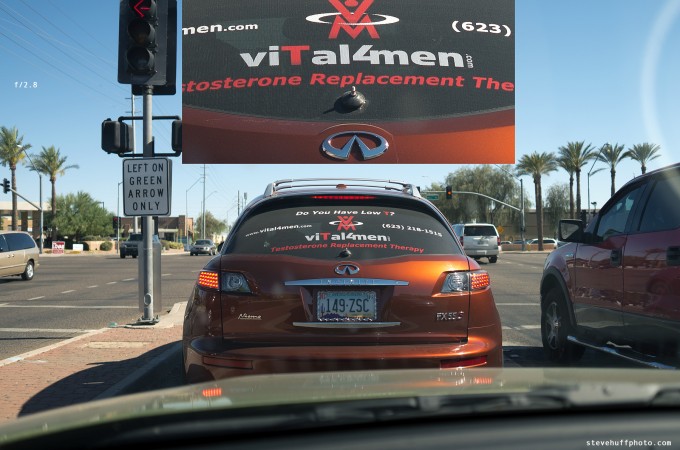 –
The Leica X2 Pros and Cons – 15 Pros but 12 cons…
PROS
The design and look of  the chrome is sexy and gorgeous.
The packaging makes you feel like the money you spent was well worth it, lol.
The AF speed has improved from the X1 no question!
We can now use the external EVF on the X2
The color of the X2 images are really nice and beats almost all others in its class (in my opinion)
Overall image quality remains as it was with the X1 – sharp, crisp and Leica like
High ISO up to 3200 is really usable, 6400 if you need it!
AF speed has improved greatly in low light and it is accurate.
Build seems to have been beefed up a little, which is great.
Same fantastic 24 Elmarit 2.8 lens of the X1!
Nice leather strap is included in the box, just as with the X1.
Flash is re-designed and improved, no more accidental pop ups in your bag.
Dials are much stiffer now so no accidental changing of your aperture or shutter speed.
SIMPLE controls and basic operation make this a real photographers camera, just a little slow 🙂
Finally, this camera is SILENT if you turn off all electronic sounds
CONS
By todays standards, the AF is still slow
By todays standards, there should have been a built in EVF!
Expensive for a fixed lens camera at $1995. $800 more than a Fuji X100 which has a built in EVF and an F/2 lens built in but it's a Leica.
EVF is LARGE and EXPENSIVE if you buy Leicas at $575.
ISO 12,500 is there for marketing as it is not really usable.
Forget AF tracking.
Lens aperture chatters as the camera is on, ala Fuji X-Pro 1
No real in body or lens Image Stabilization!
Can not close focus, no macro mode!
Same old low res LCD that is in the X1. Boo.
Slight barrel distortion when up close and wide open (watch your straight lines)
Manual focusing still sucks. Only good for setting it and forgetting it or Zone Focusing for street.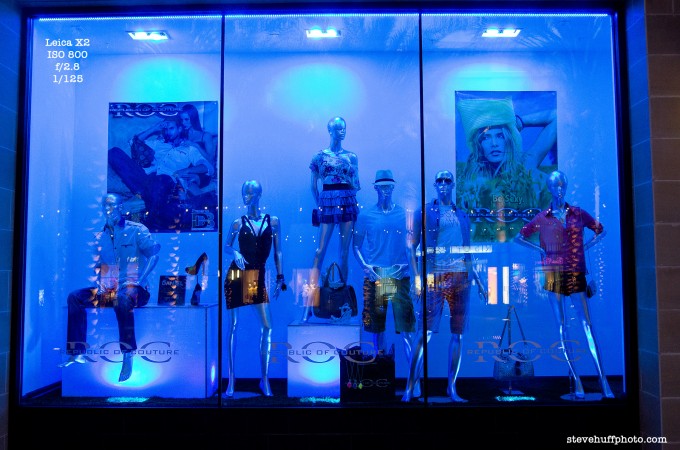 Out of camera JPEGs are sharp!
Just as with the X1, the X2 can output a nice sharp JPEG if you nail the focus. In some cases I actually preferred the JPEG output of the X2 over the RAW files. Check out the shot below, which was from a JPEG. I resized it to 1800 pixels wide and converted to B&W. Click it to check it out. Shot wide open at 2.8.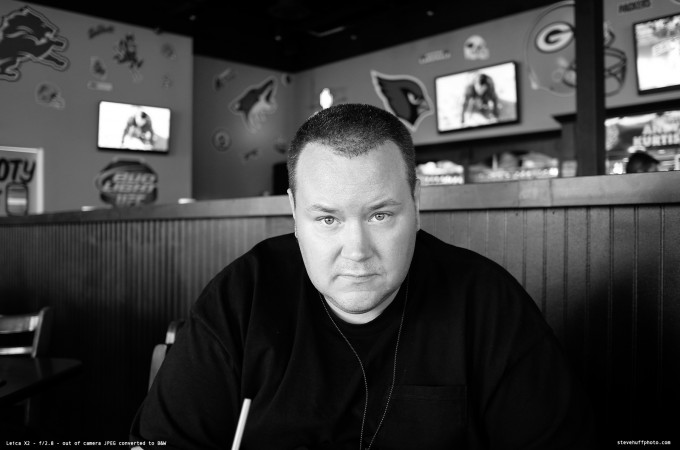 My final word on the Leica X2
It has now been close to three years since Leica released the X1 and in that time there have been many happy X1 owners as well as many frustrated X1 owners. The flaws of the original were easy to look past when it was released as there was not much else out there to compete against it. Today we have so many great mirrorless cameras to choose from, and mostly all come in at a lower price than the Leica X2. This means that Leica really had to step up their game if they wanted to sell mass amounts of this X2 camera. While the X2 is beautiful to look at and rewards your efforts with beautiful file quality I feel Leica should have concentrated on upping the game with a built in EVF, FAST AF and a fast responsive feel. Instead they added EVF capability by adding a hot shoe where you can add their $575 EVF, so it is NOT cheap.
BTW, they did not send me the EVF for review, (only the camera itself in a factory fresh box) so I used the old Olympus VF-2 and it worked throughout my time with the camera but one time the image in the LCD did scramble and I had to restart the camera. Does that mean I am saying you should use the VF-2? Well, I was using it but if anything were to go wrong with your X2 from using it, I am NOT responsible. 🙂 The good thing is that the EVF swivels so it does give you more flexibility than a built in would, and it is a high quality EVF. The bad thing is that when attached it makes the camera look funky and it takes away from the beautiful design. It's kind of a win/lose situation. You win by having access to a great EVF, but you lose by it being so damn ugly. Also, it does NOT lock down on the shoe like it did on the E-P3.
The X2 CAN do portraits as the lens has minimal distortion.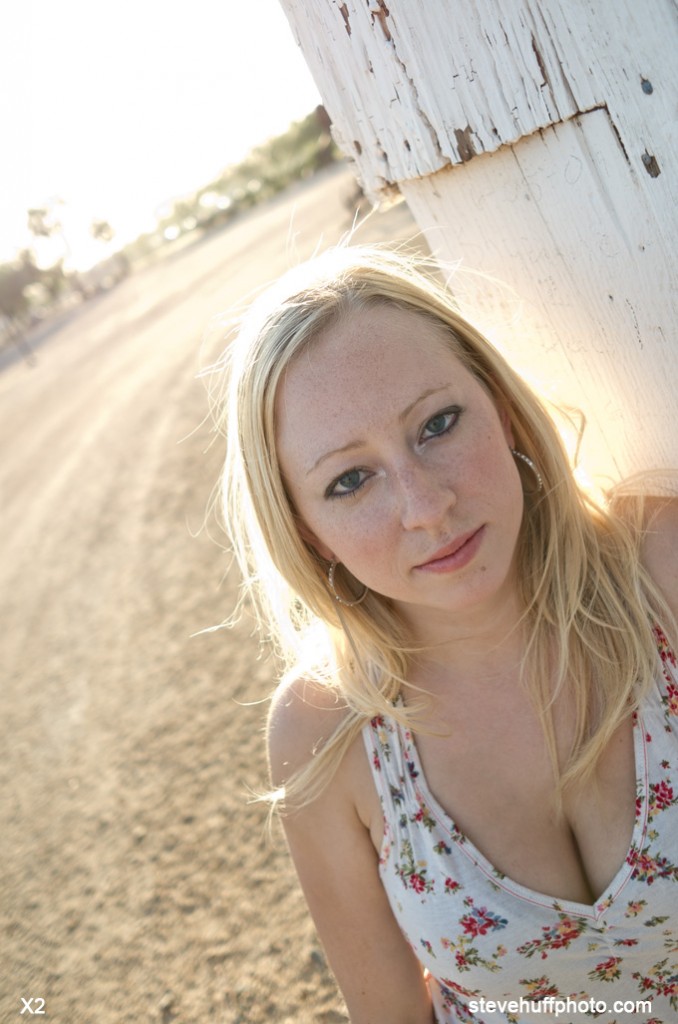 Leica did speed up the AF of the X2 over the X1 and it now appears to be about as fast or slightly faster than the Fuji X100 (after the last FW update). It is slower than the Olympus E-M5 but faster than the Fuji X-Pro 1 and doesn't really hunt like it used to do. Overall is it just about fast enough to not get frustrating. Also, when it locks, it locks. It never seemed to mis-focus in any of my shots which is awesome as that really irritates me when that happens (X-Pro 1, NEX-7).
The image quality of the X2 is pretty much just like the X1 and continues that Leica tradition of simple basic control and superb image quality. With the X2 around your neck you will be carrying a light, sleek, beautiful, and highly capable digital camera that will give you outstanding results. Just be sure you can be accustomed to shooting ONLY 35mm as the fantastic 24 Elmarit lens in this camera gives you a 35mm equivalent focal length, just like the X100 does. I can not stress enough how beautiful this camera is in its design and control execution. SIMPLE, as a camera should be.
When I sat down and really thought about it and looked over images I took with the X2, OM-D and NEX-7 my fave shots seemed to have come from the Leica X2. No, It is not perfect and yes it is pricey but it is simple and is indeed improved over the X1 in style, build, EVF, and speed. If you want a real made in Germany Leica and the M9 is out of your range, the X2 would and could fit the bill. It will give you everything a Leica is known for including the motivation you get from shooting something basic and simple like a Leica camera. Just know what you are getting before you buy and you will be happy. If you are used to a DSLR then you may not like the X2 as it doesn't really do much of anything that a DSLR does well (telephoto, macro, FPS, video, etc).
Just so you know, you can still use the optical Viewfinder leica sells for $330 as well as the X1 grip…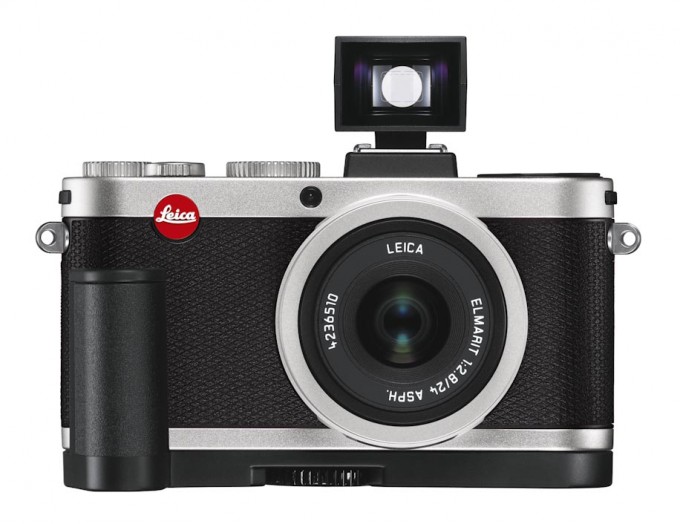 …and here is the black X2 with the Leica EVF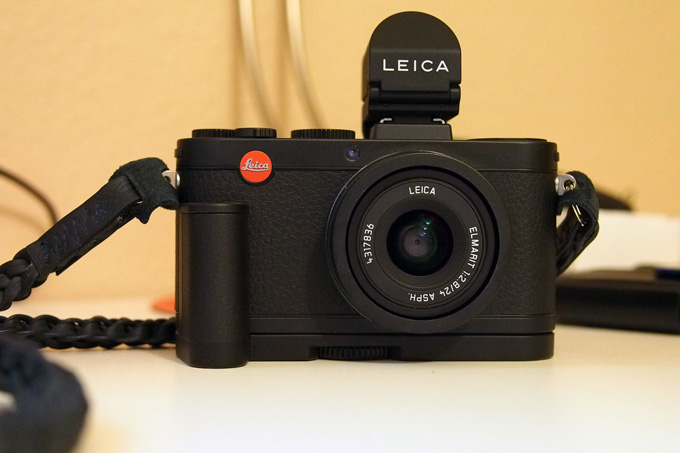 –
A video showing the new $200 Leica X2 Ever Ready case – but there is a flaw!
The X2 will not shoot action very well, is not a wildlife camera, can't and won't do macro and is not the best choice for moving or running kids. The X2 is basically a "life" camera. A camera so sleek and small, so well made and beautiful and one that you can take with you everywhere to record your life, your family, your friends and everyday situations. You can shoot street with it if you set it to manual focus and use Zone Focusing (which the X2 works very well with) and it would be great for environmental portraits, landscape, still life and anything with bold color. I enjoyed the X2 far more than I enjoyed the Fuji X-Pro 1 but I am still unsure if I like it more than the Fuji X100.
I do know the X2 is a bit more polished than the X1 and possibly X100. It feels like a completed camera, just a slower than average one. You can't argue with the results though and the strengths of the X2 are it's IQ, accurate AF, AF at night capabilities, ability to use an EVF and even high ISO shooting. It's also SMALL and sleek so I am overall happy with the X2 though as it gave me a fun time with frustration free shooting. I do wish the EVF were built in but there is always the X3. 🙂 I can recommend this camera IF you don't mind the cost and if you know you are not getting a speed demon. For the X2, it's all about IQ and simple controls and use. I really enjoyed it. Thanks Leica for sending it out to me for review 🙂
Oh, I almost forgot! In the title of this review I asked "Can Leica still win us over with their charms"? Well, all I can say is that they DID in fact win me over as I am bought one for myself and for extended testing use. Yea it is slower than the current crop of cameras, yes I own the really really good OM-D and yes this Leica is pricey but if it has anything, it has charm and charm goes a long way for me in real world shooting. Cha Ching!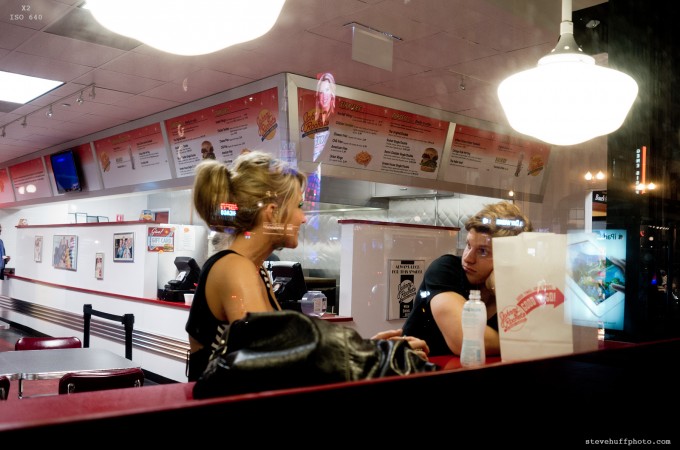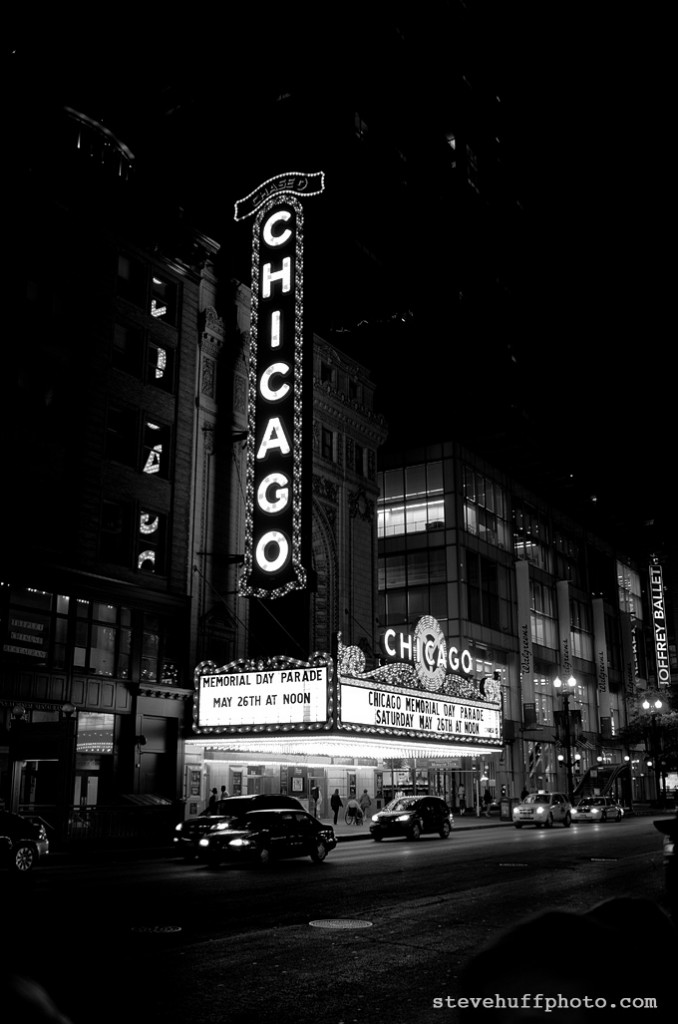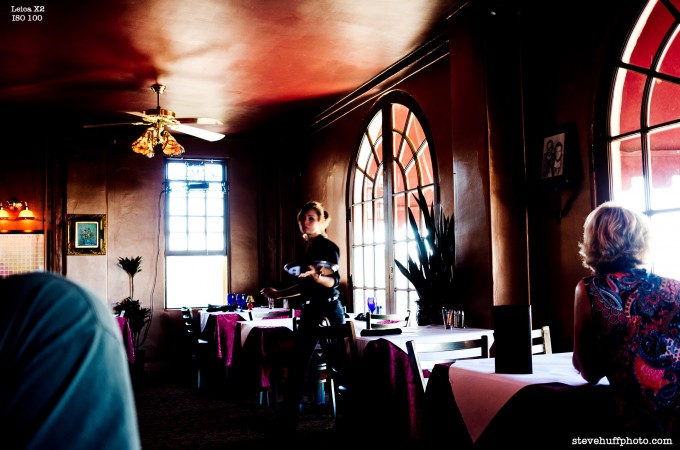 Where to buy the Leica X2
The X2 starts is available in all black or chrome and black. The list of dealers below are all dealers I have used extensively for buying gear and I can HIGHLY recommend them:
Ken Hansen – Legendary Leica dealer – No web site but you can e-mail him here to buy an X2 – khpny19@aol.com
B&H Photo – I have been buying from B&H for over 20 years. SUPERB shop, service and FAST shipping. You can pre-order the X2 in Chrome or Black.
AMAZON – We all know Amazon, they have the X2 for pre-order in Silver Chrome
 and Black
 as well.
POPFLASH PHOTO  – everyone knows Tony at Popflash and he has been a Leica dealer for YEARS. You can order the X2 is Silver or Black.
DALE PHOTO – Dale Photo is another top notch Leica dealer I have shopped with on many occasions. Here is the X2 in Silver and Black!
–
A few More Samples from the X2
EXIF is embedded for those who want it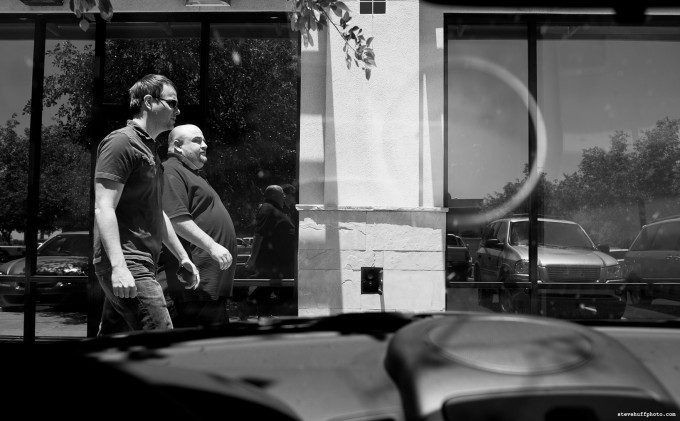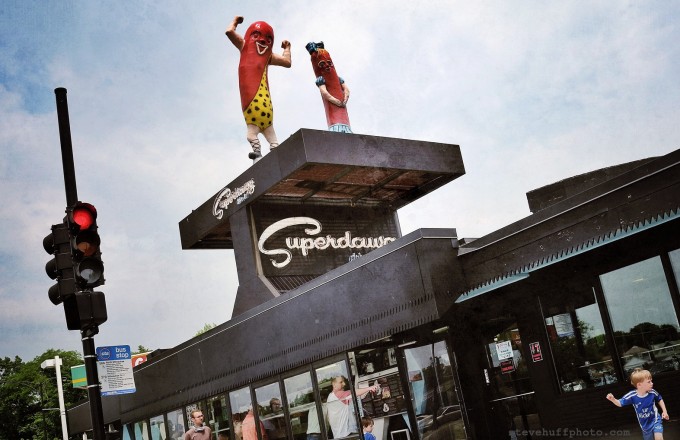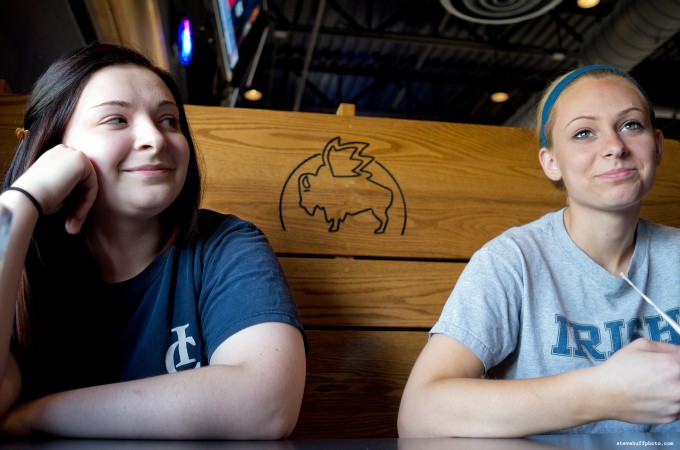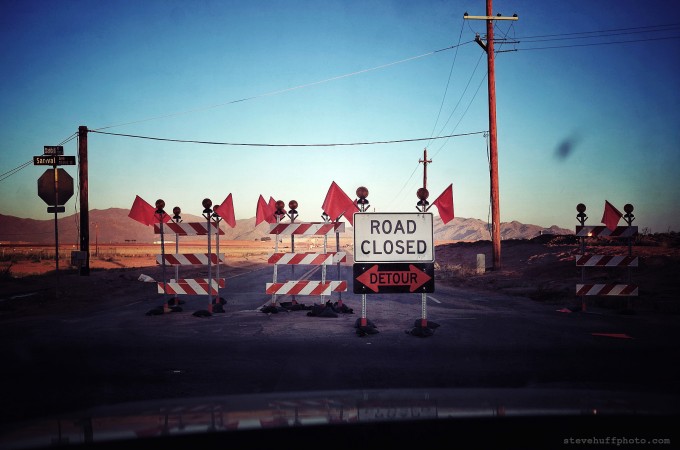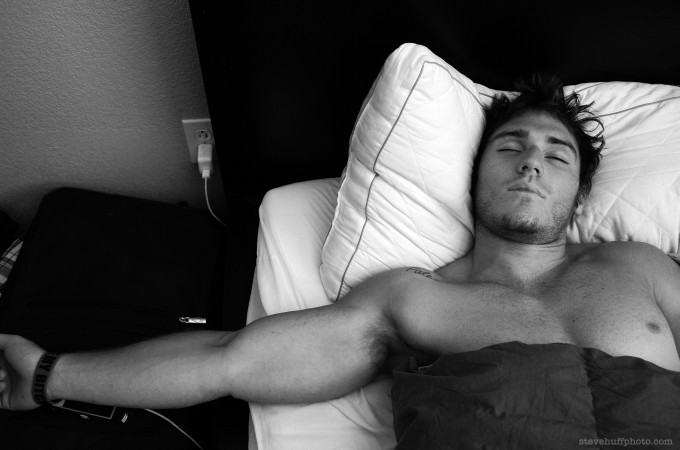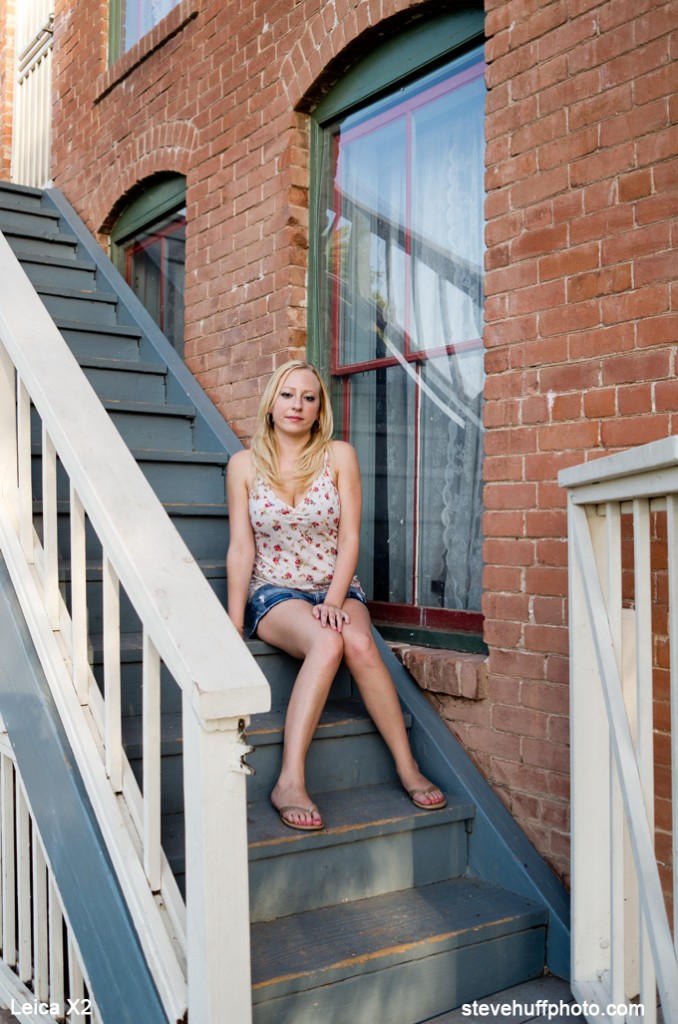 ALL I ASK! HELP ME TO KEEP THIS SITE GOING AND GROWING!! IT'S EASY TO HELP OUT & I CAN USE ALL THE HELP I CAN GET!
Remember, anytime you follow my links here and buy from B&H or AMAZON,
 this helps to keep my site going. If it was not for these links, there would be no way to fund this site, so I thank you in advance if you visit these links. I thank you more if you make a purchase! I have nifty search bars at the upper right of each page so you easily search for something at either store! I currently spend 10-14 hours a day working on this site and the only way that I can pay for it is with your help, so thank you! Currently my traffic has been increasing but my funds to pay for the site has been decreasing, so any help would be GREATLY appreciated!
Even if  you buy baby food, napkins or toothpicks at amazon it helps this site, and you do not pay anything extra by using the links here. Again, you pay nothing extra by using my links, it is just a way to help support this site, so again, I thank you in advance 

If you enjoyed this article/review, feel free to leave a comment at the bottom of this page and also be sure to join me on twitter or my new facebook fan page and Google +  page! Also, you can subscribe to my feed at my subscribe page HERE and read these posts in your browser or news reader!