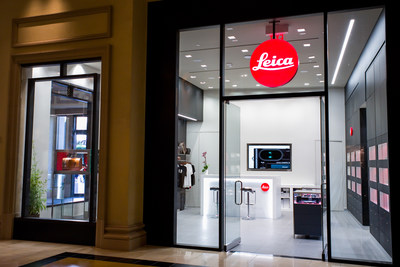 Leica Opens First Las Vegas Store:
Brings Premium Camera Brand to Top U.S. Travel Destination
Prime Location in Caesars Palace Forum Shops Will Feature Full Camera Line, Access to Leica Experts and Superior Guest Service
July 11, 2016 – Leica Camera today announces the opening of the first-ever Las Vegas Store, located in the Forum Shops at Caesars Palace. The Leica Store Las Vegas allows consumers to explore Leica cameras first-hand in a dedicated space that offers exceptional service and access to an expert staff who are available to provide in-depth advice, tips and recommendations no matter the photographer's skill level.
The new Store offers Las Vegas visitors and locals the opportunity to experience the entire Leica camera line and select sport optic products through product demonstrations and advice from a highly-trained staff. A rotating selection of prints are on display to showcase the inspiring imagery captured with Leica cameras. Located right off the Las Vegas Strip's ground-level entrance to Forum Shops, the Leica Store Las Vegas is central for travelers and has the longest operating hours of any Leica Store. Guests can visit the store from 10am-Midnight on Friday and Saturday and 10am-11pm Sunday through Thursday.
"Las Vegas is a top travel destination not only within the U.S. but also for international customers, and Leica is excited to add the city to its roster of locations as it offers a fresh opportunity to cater to photographers and Leica fans from all over the world," said Roland Wolff, VP of Marketing and Corporate Retail, of Leica Camera. "Caesars Palace's must-see Forum Shops, also known as the "The Shopping Wonder of the World," are a world-class shopping destination, with 160 specialty stores and fine restaurants, making it a perfect fit for the Leica Store Las Vegas."
Leica Store Las Vegas in the Forum Shops at Caesars Palace is located at 3500 Las Vegas Blvd. South. Phone: 702-868-4070; Email: info@leicastorelv.com
For more information about the Leica Store Las Vegas or Leica Camera, visit https://us.leica-camera.com