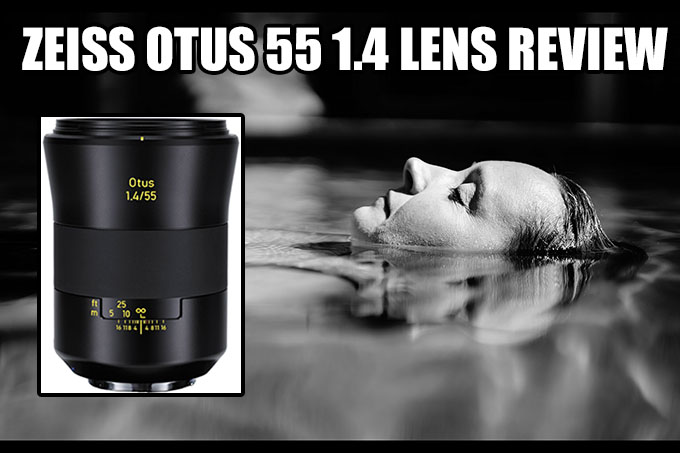 The Mighty Zeiss Otus 55 1.4 Lens. The best of the best?
By Steve Huff
Hey to all! It's another day and WELL WELL…look at this, another 50mm (ish) lens to review! Hot on the heels of the Sony 50 1.4 from yesterday, today I have the Zeiss Otus 55 1.4 which is not quite a 50mm, but close enough to meld it into the 50mm camp. As many of you know, I have used a TON of 50's and there are endless 50mm reviews on this website from over the years. I mean ENDLESS.
But…this…one…is…different. According to most, this is the KING BABY!!…the Zeiss OTUS! Or is it? This is what most online reviewers have stated so I wanted to know myself as I have been on a big 50mm kick lately…again, and I have some personal projects coming up that require a 50mm that I can truly adore and get into so I am trying out various 50's to see which will fit the bill for these projects or travel, portraiture and scenic beauty.
A couple of weeks ago I tested the new Sony/Zeiss 50 1.4 and that started the old itch back up for my love of 50's. When I saw just how gorgeous that Sony was (My review was just posted YESTERDAY and you can see it HERE) , the wheels started spinning in my head about this Zeiss OTUS. Many proclaim it as the best 50 ever made and if it was better than the truly great Sony or Leica 50 APO then I KNEW I had to try it, and coming it at more than double the cost than the Sony, I figured it HAD TO be better. This lens has been out for a while now but I never reviewed back when it was new as I knew it was HUGE, HEAVY and for Nikon and Canon DSLR's. So I skipped it. I should not have done that!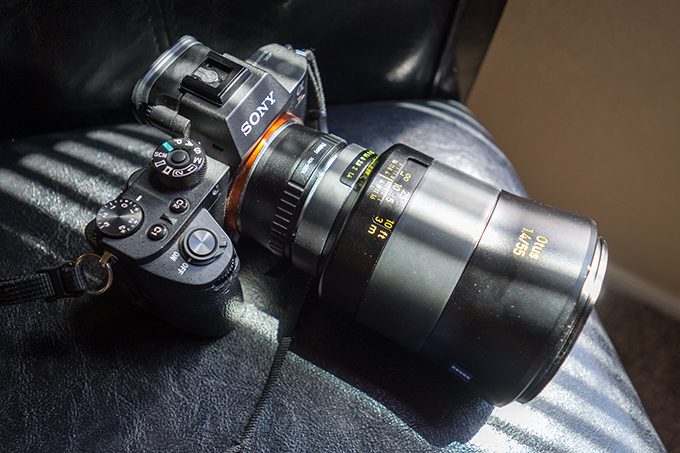 So since I had a Nikon to Sony E adapter on hand, I rented the Nikon version of the 55 Otus from lensrentals.com  which is a rental shop I HIGHLY recommend. Not only have they been a site sponsor for YEARS, they have just about anything one could want to rent for their photo needs. Give them a visit and see for yourself.
The lens arrived and as I took it out of the box I was WOWED by its build, design and yes…SIZE. I remember using the 85 which was like a Cannon. I loved that 85 and realized it was the best I had ever used, but there was no way I would buy one for MY USE as I am not a HUGE 85 guy and it was so so large. If I were wedding or portrait pro I would have bought one in a nano second, but since I adopt more of a casual, street, journalistic style of shooting, I knew that 85 would be way to huge for me and it would be left at home most of the time.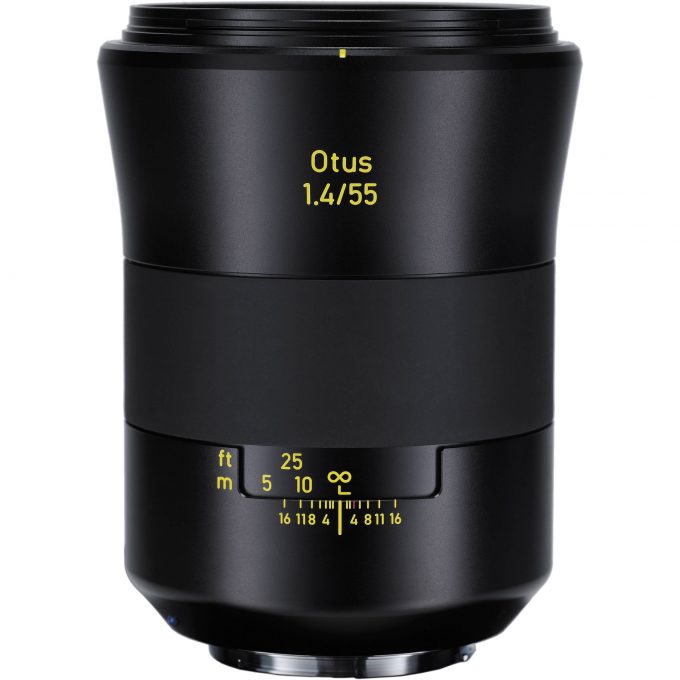 The good news is that this 55 1.4 is just as delicious as the 85 when it comes  to quality of build and IQ but sadly its about the same size as the 85, just slimmer and a hair longer. Since it has a slimmer profile than the 85, it may just to the point where it is acceptable to me to possibly purchase and use often. It is heavy at 2.3lbs, and with the Nikon to Sony E Adapter it does add a good 1″ + to the length when on the camera. So much for the "small" mirrorless solution huh? hehehe. Then again, this lens is meant for DSLR's, so it is not a mirrorless lens that is supposed to be small. 
Then again, shooting this lens on a Sony A7RII over a DSLR allows for MUCH easier focusing. It's not even a contest as its a joy to use, shoot and focus on a good EVF camera. I mean..I can not stress this enough. I remember trying the 85 Otus on a Nikon DF and it was challenging and frustrating  to get an image in focus as using an optical viewfinder, even with Nikons confirmation just did not work. With the Sony, I missed focus twice of all shots I have snapped with this lens.
SHOOTING A PROTEST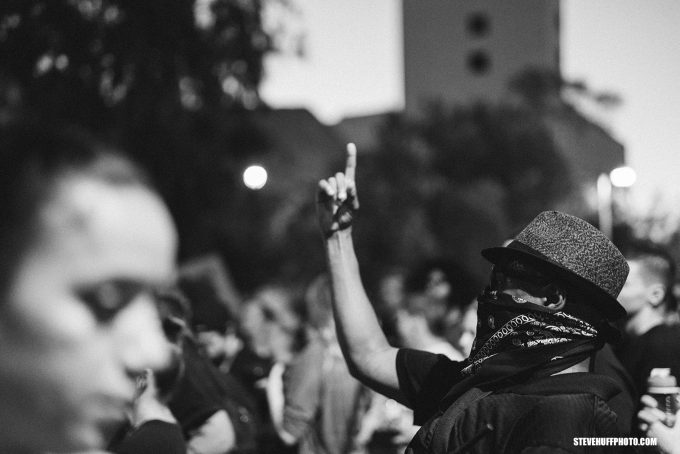 As I sit there on my couch admiring this lens with how it is made and designed, I saw on the news that there was to be a "peaceful protest" in Downtown Phoenix AZ, about 30 minutes from me. I looked at Debby who was already in her comfy pajamas (was to be a lazy day for us) and said "Let's Go, I can test the lens and we can also see what is going on down there". Now this is not the normal Zeiss Otus territory as many use it in studio, for weddings or for portraits. Me, I was going to use it in the streets, in the dark and I thought it was really going to test and push my manual focus skills to the limit. I remember reading a review of  this lens on B&H or Amazon and the photographer reviewing it said "This is not a lens for street shooting". After my use with it, I will have to disagree wholeheartedly with that as I found it to be a phenomenal street lens. Just on the larger size.
In any case, soon after I saw the news about the protest we were on our way there. When we arrived there were maybe 30 people waiting around. I took out the lens and started shooting here and there for a few minutes. Everyone was in good spirits. There were LOADS of photographers there as well, which was cool to see and expected.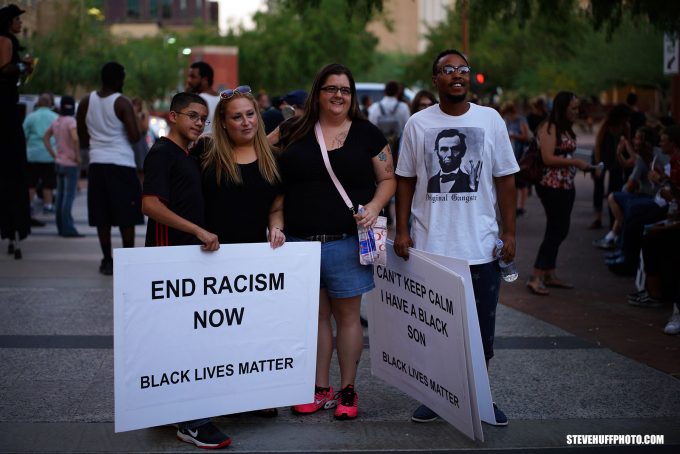 After a few shots, and only what seemed to be five minutes, I looked behind me and started seeing mass amounts of people filling the streets. More and more were coming in, and it was still peaceful and a photographers dream due to the emotion and passion in these individuals who were there to protest their beliefs on this hot topic subject. Their passion, to my eyes, was strong and filled with so much emotion that when I looked through my viewfinder in my Sony A7RII, I could see the shots happen right before my eyes. I did not chimp AT ALL, so I had no idea if my shots were in focus, out of focus or even any good at all at the time. Usually not smart with an ALL manual lens in hand! I was hoping that I was not missing shots as I was indeed shooting wide open at f/1.4, as the sun was going down fast.
Many say shooting wide open at an aperture of f/1.4 using manual focus in the dark is a nightmare. Well maybe with a Nikon, yea, I can see that as the MF system on the Nikon DSLR's leave a ton to be desired. With the Sony EVF it was a dream. No issues at all.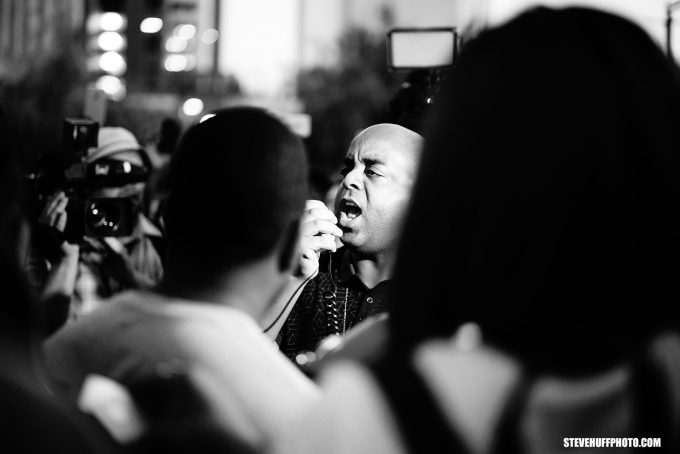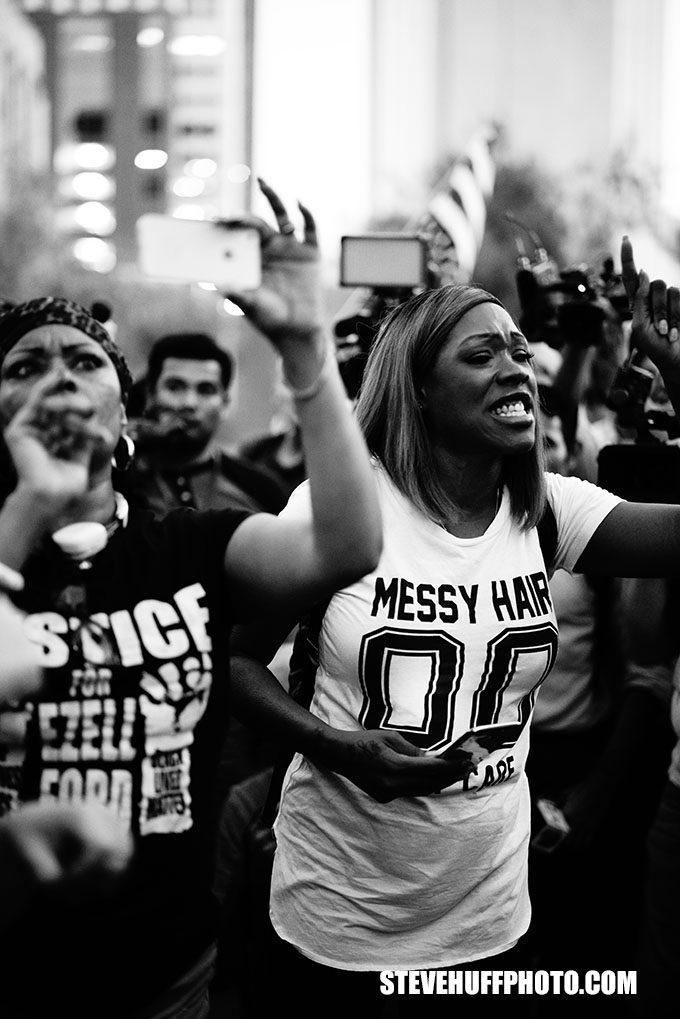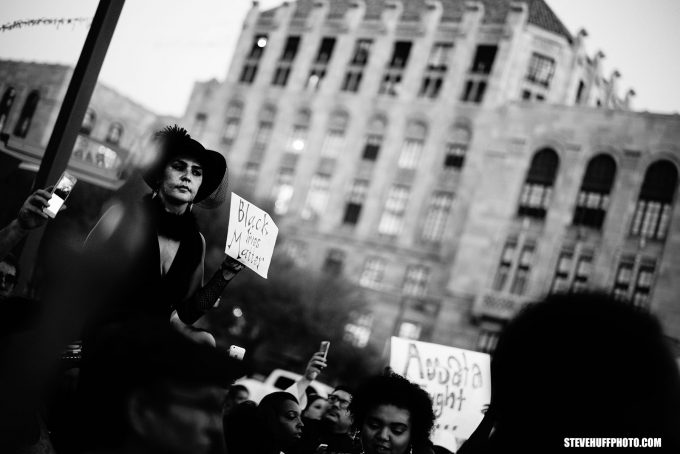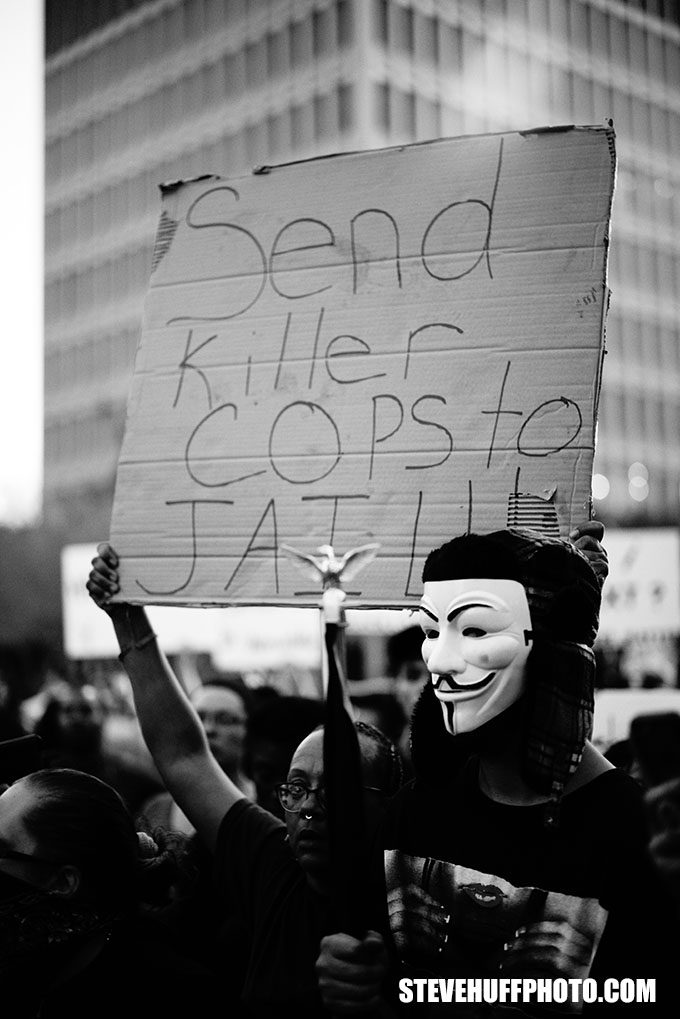 Just a note: for these black and white shots, they are all shot in JPEG mode with "high contrast B&W" as I like the look of this mode in the camera. It fits documentary photography VERY well IMO and that was my goal on this night, DOCUMENTARY photography. In this regard, using the Zeiss was a PLEASURE. Manually focusing seemed so easy, so natural…and the way the lens is built and designed made it easy to do just that. Smooth focus ring (smoothest I have used in a LONG LONG time) and great solid clicking aperture dial which ensures you stay in whatever aperture you are clicked into tells me this lens means business, and it truly did. This is a serious pro lens, and there really is nothing quite like it in build, feel, and even its unique rendering. For street shooting, this lens is amazing and I feel I may have missed so many shots using slow AF. With MF, in the low light it was so easy to nail those shots. Like it was made for the Sony. (Zeiss needs OTUS versions for FE mount!)
My energy was high, my camera was clicking and I was in the moment doing what I used to do so much more often…in the streets documenting life. I missed this type of photography, and it made me realize I need to get out in the streets much more in the future. Using the OTUS was like I had a direct connection to the camera, reminded me quite a bit of shooting a Leica as the lens was up to or above Leica quality, and using manual focus added to the charm…made me feel like I was truly working for my shots and this is a good thing. I was starting to think…Hmmm, maybe I need to buy THIS lens as it will reward me in a few ways. One with IQ, one with low light shooting (no slow low light AF to worry about) and it will also reward me in a way that makes me feel like I actually worked it, instead of just aiming and shooting. No matter what someone may say, using a manual lens will make you take more time with the shots, and IMO, get you better shots. It may be a mental thing but it's true for me.
Now of course one could set ANY AF lens to manual focus, so using this lens or the Sony 50 1.4 in manual should be about the same experience. So will the OTUS deliver IQ that I prefer over the Sony I just reviewed? When I was shooting I did not know the answers to that question, but when I arrived home to review the images I really liked what I saw especially since the conditions were low light and higher ISO and street style shooting.
CLICK IMAGES FOR LARGER!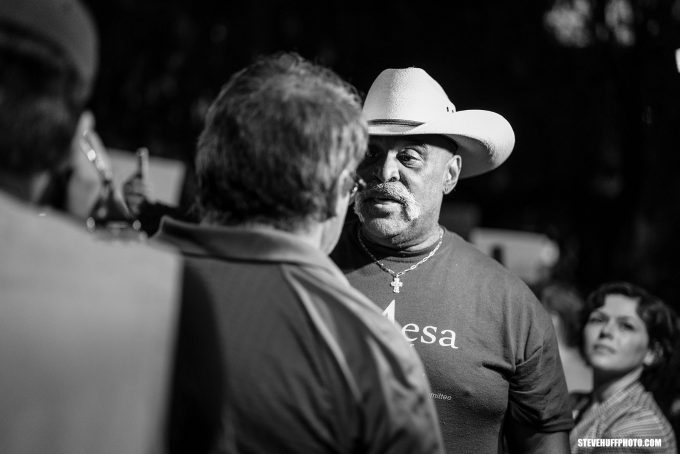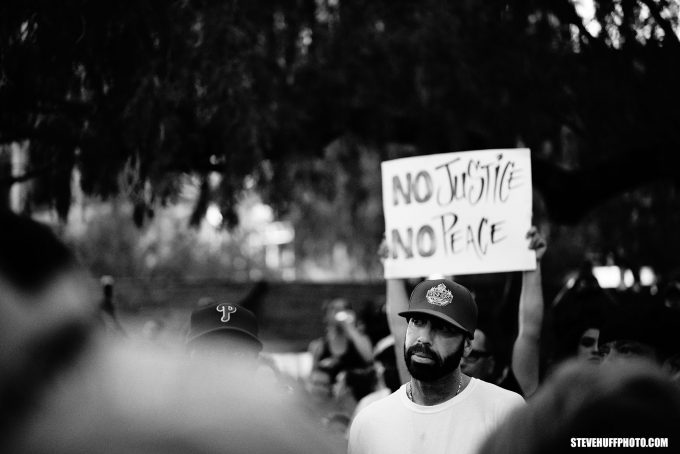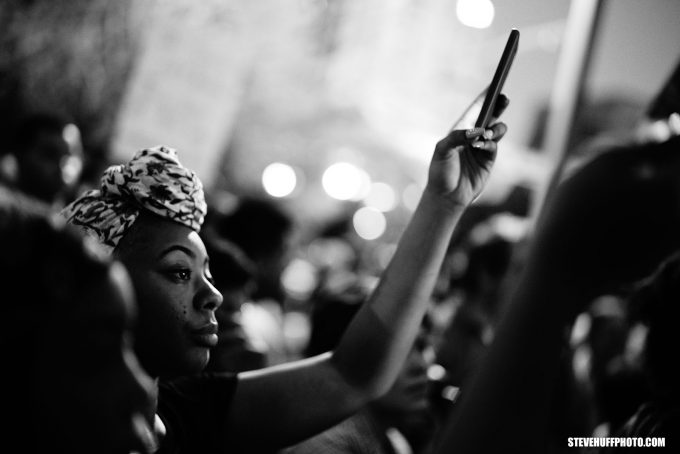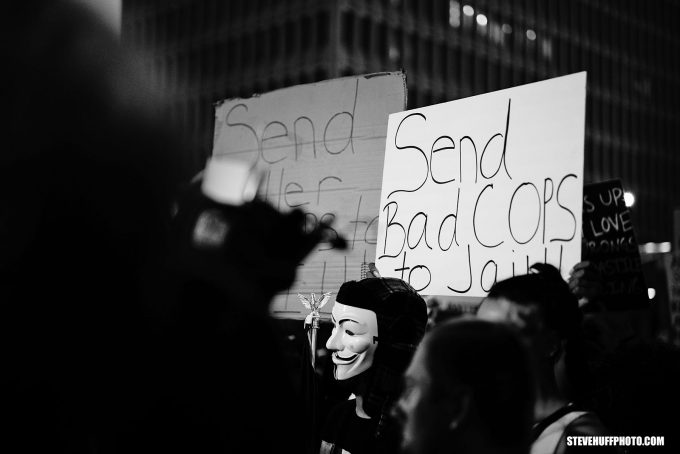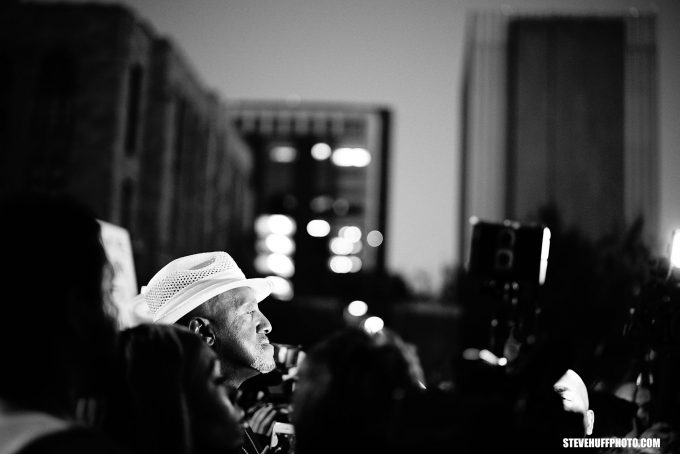 It's as if the lens was drawing the frames with a brush, delivering beautiful Bokeh and amazing subject isolation. Almost as if the lens was faithfully recording the passion and emotion of the night in a way most 50's can not. The way this lens renders your image in some situations is just gorgeous and organic.
As I continued to shoot, at one point it looked as if things were going to get a bit rowdy and it was at this time I thought "what the hell am I doing here"?!?! I do not need to be pepper sprayed or trampled for getting these shots but I also knew good shots do not come from running away… and I was in the moment, in the rush, in the heat and with the A7RII and Otus lens I was firing away at full manual focus speed. Yep, $7500 worth of gear around my neck in the middle of a crowd of protesters…but I have to say, it was quite amazing to see, and to shoot.
I saw one man spit in another mans face who was using a speaker to yell at the protesters, calling them names (the man below who was the one spat on as he was yelling out not so nice words…yea, he was the one causing trouble..even so, he should not have been spat on regardless), which was not cool imo. As I said, I feel ANY AND ALL violence, hate or disrespect is a waste and 100% unnecessary. I am against HATE in all forms, so seeing this man who was also exercising his free speech right get spit on, it did not make me feel too good, even if he was egging the protesters on. Protesting is fine on either side of the fence but when it turns to violence it is just wrong. I believe violence NEVER EVER solves anything, period. No matter what political side you are on.
I think as humans, we are all equal, and we should try to help each other instead of tear each other down. I am losing hope for that in this country though day by day, as it seems hate is the new flavor of the day in the USA. I see it everywhere, on all sides and in many aspects of life, even here on this website from time to time, and for me, it sickens my soul.
It was at this time we left the protest but it was a great experience shooting in this scenario, especially with a manual lens.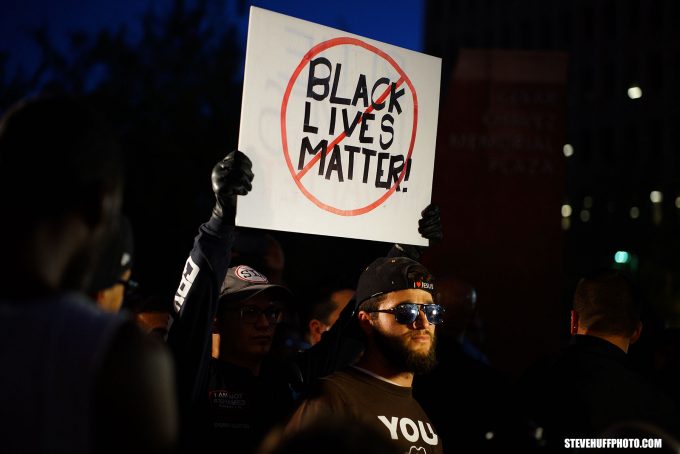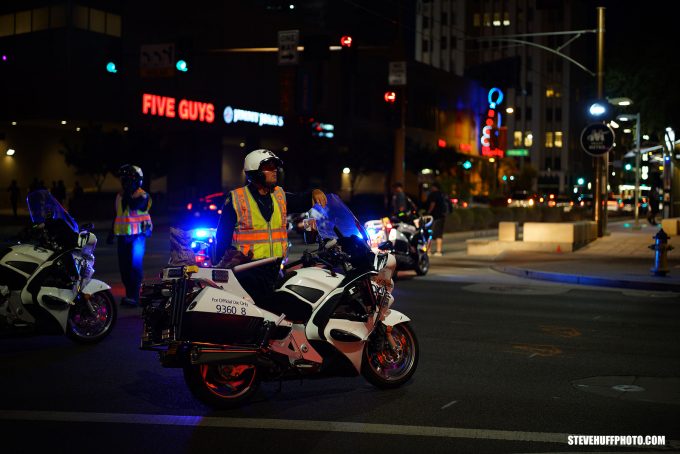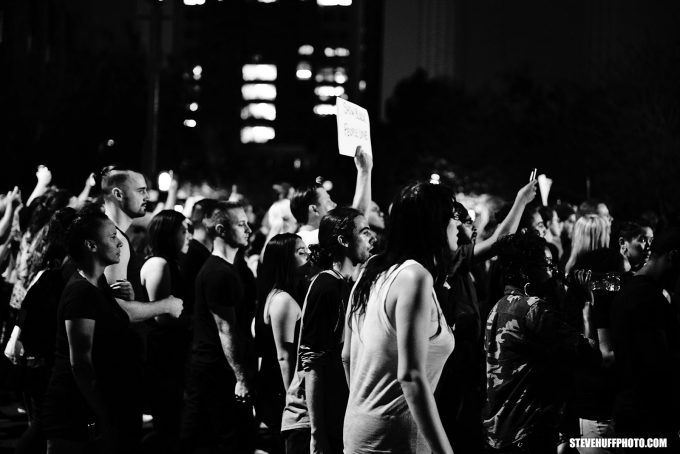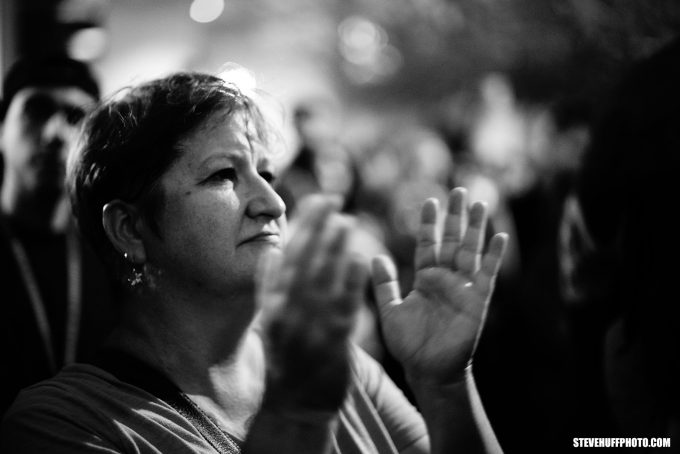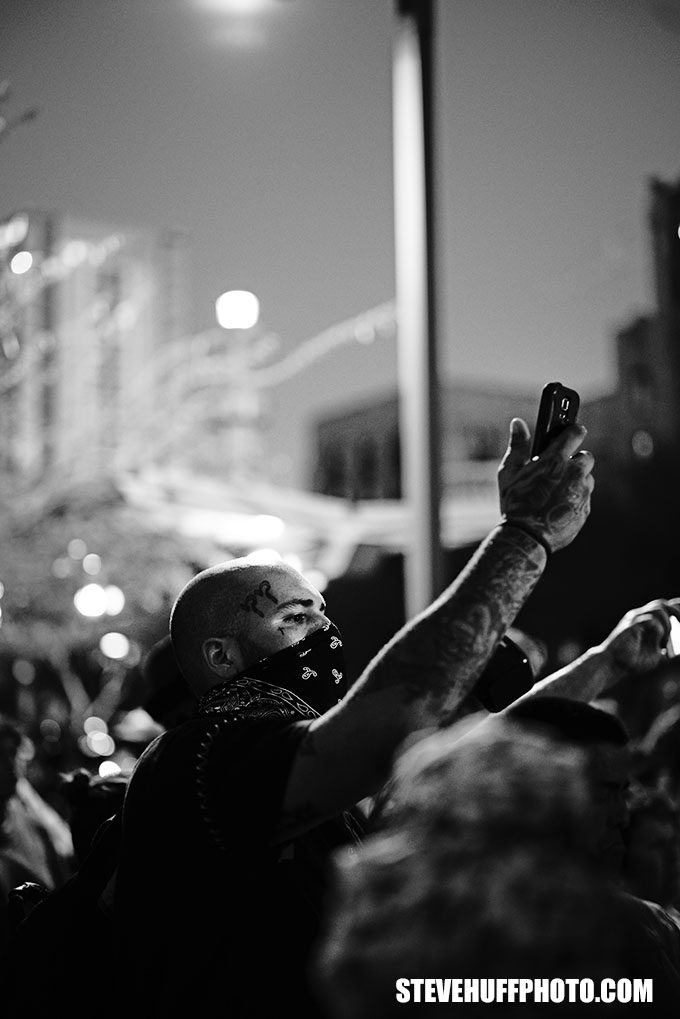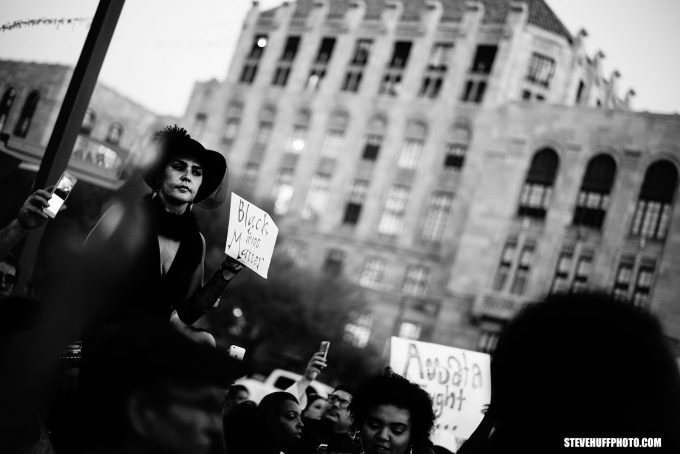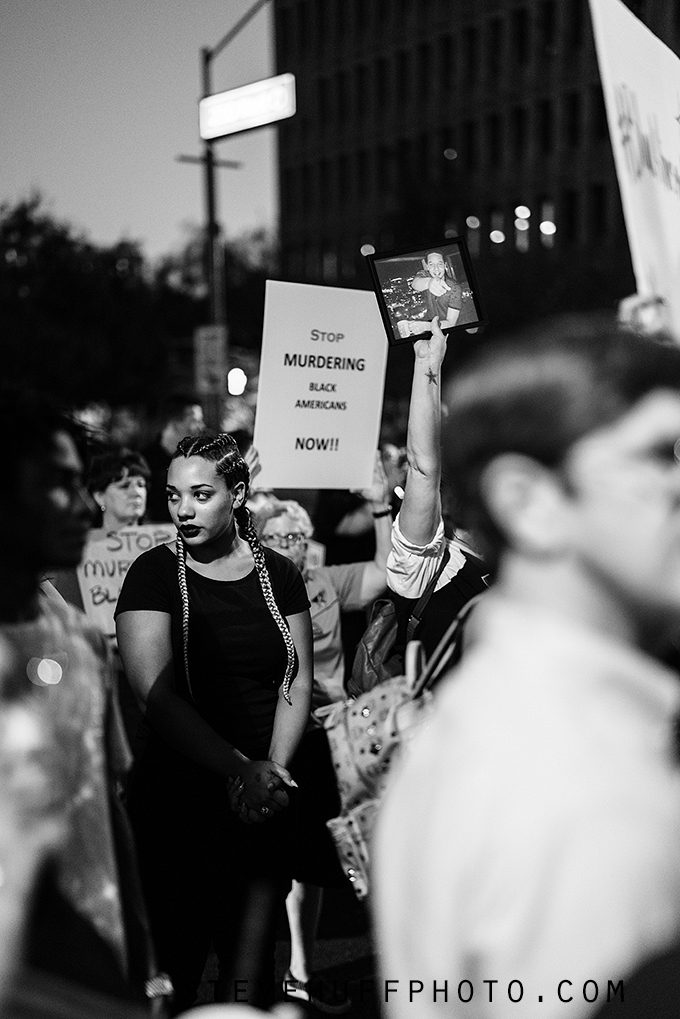 THE OTUS EXCELLED in night shooting, BIG TIME.
This lens is very very special, just as the 85 OTUS is. Zeiss, just as Leica are top in their game for lens design, and this lens is one of the best 50mm (ish) lenses I have ever used. It has a rendering that is 70% the new Zeiss/Sony 50 1.4 and 30% Leica 50 APO. In use, this lens was a dream, it really was. Manual Focus was a PLUS for me here and the smooth focus ring with a long throw aided in my focusing attempts. After I arrived home, I had 2 out of focus images and they were just SLIGHTLY off. This tells me that this lens is an easy focus on a Sony A7RII, or a good EVF camera.
The build is tough as nails as well. It feels like if I needed to, I could have used it as a weapon, or even a hammer. Yea, it is that tough. I would have no fear of using this in a hectic professional situation. So using it as a street shooter at night worked for me, so much so I started thinking to myself "DAMN! Which one do I buy…the Sony or the Otus"? I am still trying to figure this one out.
But let's switch it up….with some color and some other style of shots…
Christmas in July! Click images for larger view!
THE ULTIMATE CREAM MACHINE – BOKEH MAGIC
Let's move on from the protest and low light B&W. This lens simply ROCKS no matter the situation, and when I compare it to the shots I took with the Sony, there is a difference though admittedly, it's not a huge one. The Sony is smaller, has AF, and is $1500. The Zeiss Otus is $3300-$4000 depending on where you buy, and is manual focus and larger. So in that regard the Sony appears to be the no brainer as it is also an IQ king, in its own way.
*Don't pay $4k for this lens, you can get it via Amazon PRIME for $3200 HERE*
But this Zeiss has something mystical about it that I am having a tough time putting my finger on. The way it  render is painterly, the colors are accurate and gorgeous, the smooth bokeh makes the images appear like they were shot with medium format. This is as close to medium format as one will get in 35mm full frame. Using this lens delivers the goods. It delivers IQ in a cinematic way…just full of beauty and smoothness while giving gobs of detail at the same time.
Again, click on these for the best look at the images and quality!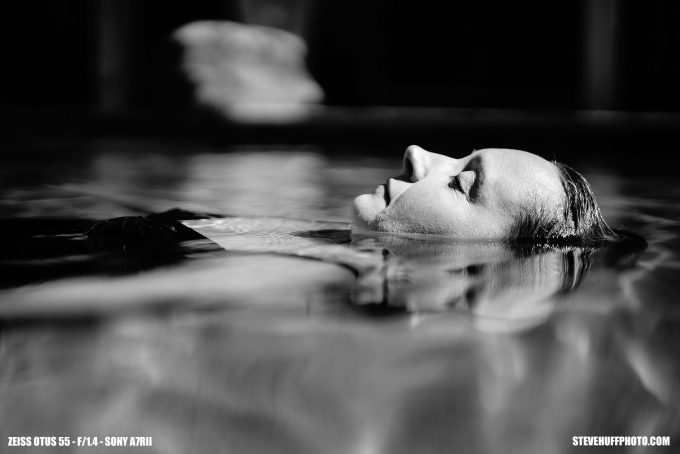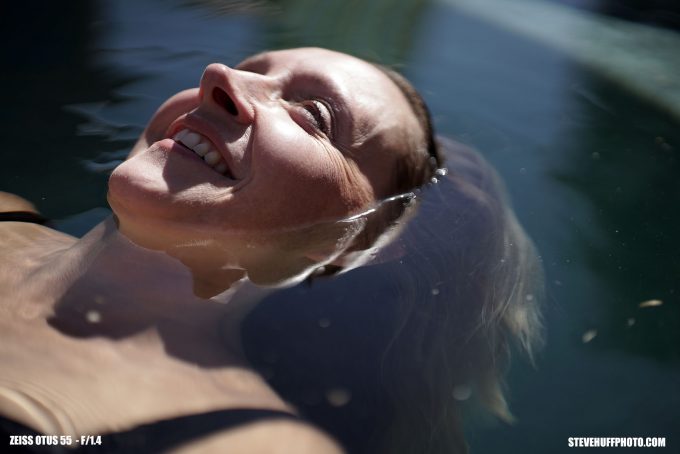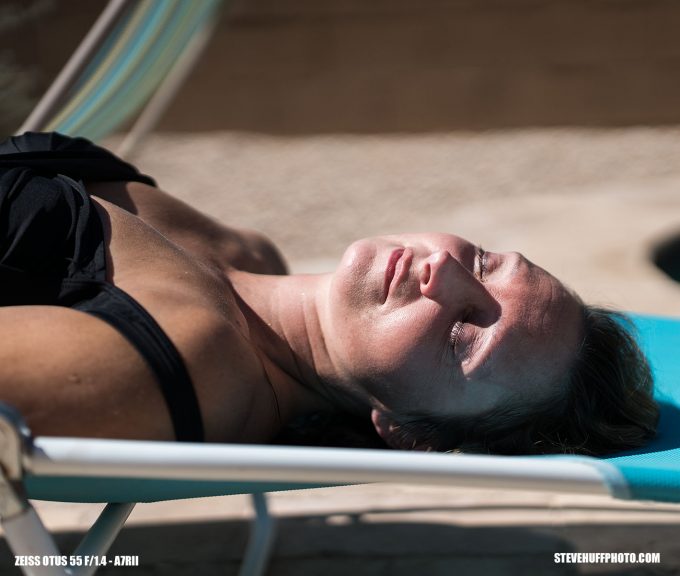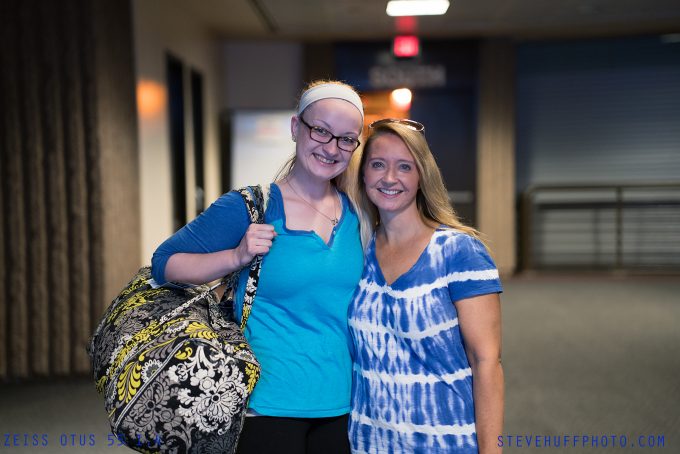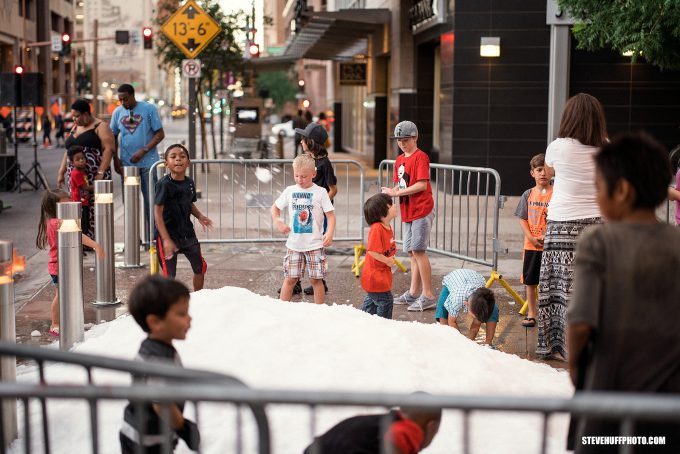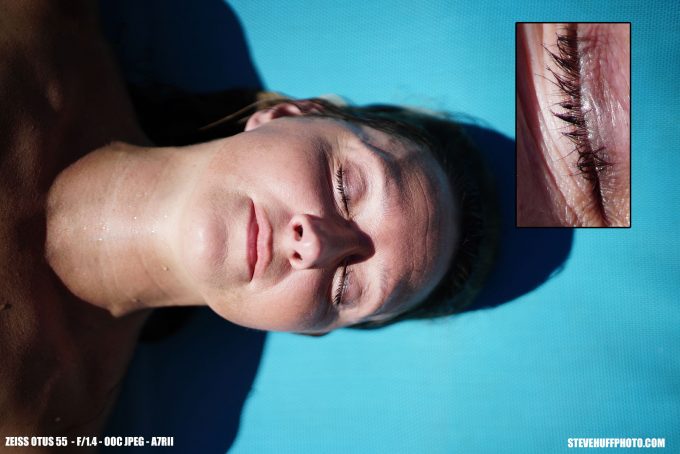 IT'S NOT PERFECT!
The OTUS 55 1.4 is not perfect, in fact there is some slight vignetting (which most Leica lenses have wide open as well) and some slight barrel distortion. Other than that, it is about perfect.
Wide Open at f/1.4, you can see the dust floating around my dog Olive 🙂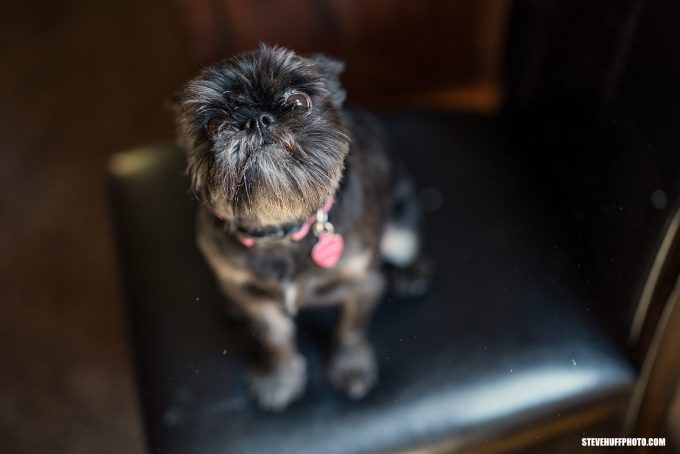 PROS and CONS
Pros
The IQ is stunning in contrast, bokeh, color, and detail.
The lens is built to a  very high standard and feels amazing in the hand.
The price is not cheap, but when compared to similar lenses, it sort of is.
Comes with a hefty all metal hood
Solid clicks on the Aperture dial
Smooth silky focus ring
Medium Format look to images
Stunning in low light
Even great for street style shooting
One of the best 50mm lenses ever made
Cons
Price ranges from $3300-$4000 depending on where you buy it, so it is not cheap!
Only for Canon or Nikon at this time (My crystal ball sees OTUS for E mount later)
ONLY Manual Focus, so for some this is a turn off
It's larger than most 50mm lenses
It's 55mm, so a tad longer than 50. This may throw die hard 50mm users off
CLOSE TO A 100% CROP, LATE NIGHT, OOC JPEG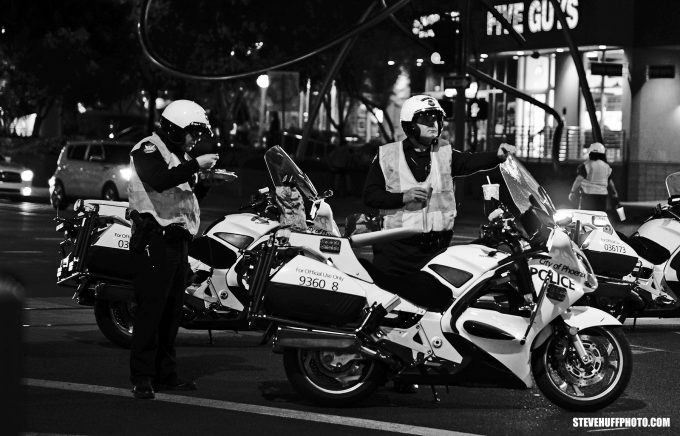 –
What would a review of mine be without my dog Baby being in it? Lol…f/1.4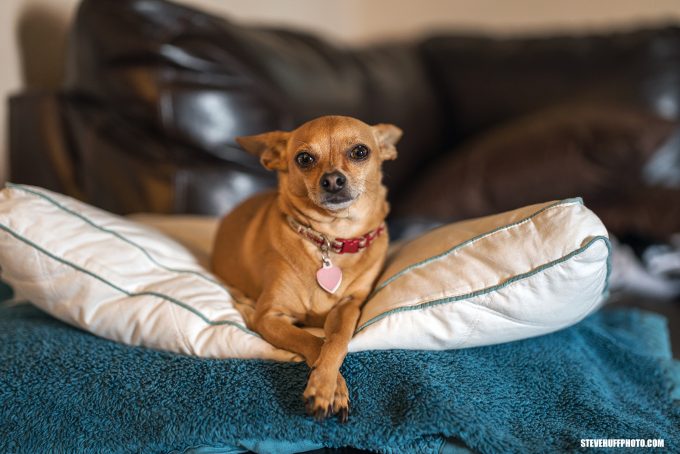 MY FINAL WORD ON THE ZEISS OTUS 55 f/1.4
What can I say? I have been on a 50mm roll most of my photographic life but VERY few have inspired me to get up off of my ass at night, after I was in my pajamas, to get out and shoot while having to drive 30 minutes away. This lens did. There is just something special about this OTUS that is hard to describe but it's magical, sweet, and has all of the ingredients that a pro or even photo enthusiast or geek would love. Most of us could not warrant the purchase of this lens, as most of you reading this shoot out of passion, not professionally. At the same time, this lens is one that most enthusiasts and geeks WOULD WANT as it is just so gorgeous and special. It's rare to find a lens like  this that ticks all boxes, but this one does and while it is not perfect, I can get one new for $4k less than a Leica 50 APO, and get the same IQ.
Compared to the Sony/Zeiss 50 1.4 I just reviewed, this one is different, and does have qualities I do like better like the Bokeh, the Color and the way it seems to paint the images. I will be doing a side by side soon with real photographs (not just static test shots). This is a lens that even excels over the Leica Noctilux for me, and while not f/0.95 it delivers a similar look and feel (sort of), for much much less. This will turn your Sony into a IQ monster.
The Sony/Zeiss 50 1.4 is STUNNING. This OTUS is STUNNING +1. Is that worth the extra $1700 or so it will cost you to go with this over the Sony? For most, NO. For some, it will be a yes. Maybe it is the design and look with the black and yellow. Maybe it is the pure Zeiss name. Maybe it is the heart that is saying so but I think I fell in love with this one, and I will be thinking long and hard which one I will be buying over the next few days, as I need a 50 like this or the Sony for a huge personal project that requires quality such as this.
If you can justify an all manual focus fast 50, and want the best there is, and have $3300 to spare, and want buttery smooth magical quality, then the Zeiss Otus is the KING and you can take that to the bank.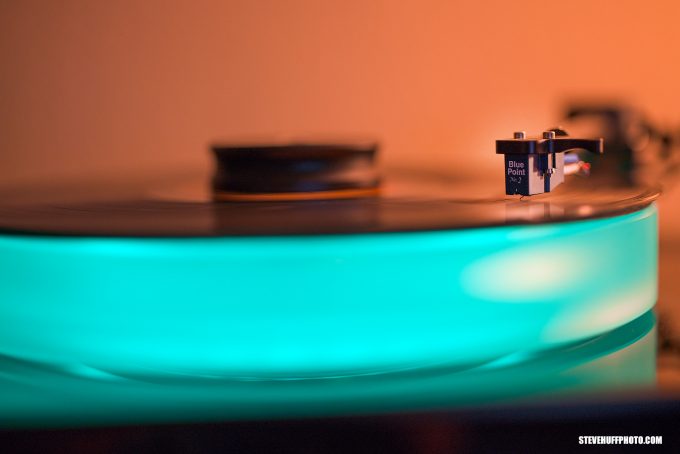 ---
---
HELP KEEP THIS FREE WEBSITE RUNNING STRONG! HOW YOU CAN HELP OUT!
For the past 8 years I have been running this website and it has grown to beyond my wildest dreams. Running this site costs quite a bit of cash every single month and on top of that, I work full-time 60+ hours a week on it each and every single day of the week. Because of this, I could use YOUR help to cover my costs for this free information that is provided on a daily basis. 
To help out it is simple, and no, I am not asking you for a penny!!
If you ever decide to make a purchase from B&H Photo or Amazon
, for ANYTHING, even diapers..you can help me without spending a penny to do so. If you use my links to make your purchase (when you click a link here and it takes you to B&H or Amazon, that is using my links as once there you can buy anything and I will get a teeny small credit) you will in turn be helping this site to keep on going and keep on growing.
Not only do I spend money on fast hosting but I also spend it on cameras to buy to review, lenses to review, bags to review, gas and travel, and a slew of other things. You would be amazed at what it costs me just to maintain this website, in money and time (250 hours a month, and about $3000 per month).
So all I ask is that if you find the free info on this website useful AND you ever need to make a purchase at B&H Photo or Amazon, just use the links below. You can even bookmark the Amazon link (not the B&H) and use it anytime you buy something. It costs you nothing extra but will provide me and this site with a dollar or two to keep on trucking along.
AMAZON LINK (you can bookmark this one)
B&H PHOTO LINK – (not bookmark able) Can also use my search bar on the right side or links within reviews, anytime.
Outside of the USA? Use my worldwide Amazon links HERE!
You can also follow me on Facebook, Twitter, or YouTube. 😉
One other way to help is by donation. If you want to donate to this site, any amount you choose, even $5, you can do so using the paypal link HERE and enter in your donation amount. All donations help to keep this site going and growing!
 I do not charge any member fees nor do I (nor will I ever) charge for reviews, so your donations go a long way to keeping this site loaded with useful content. If you choose to help out, I thank you from the bottom of my heart. It is TRULY needed and welcome. Thank you!