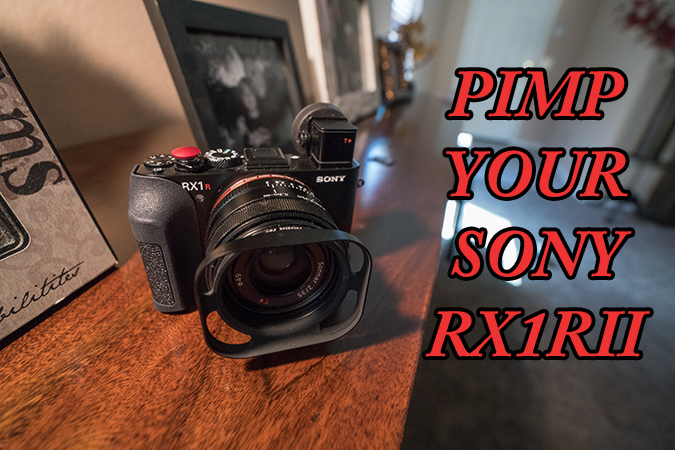 PIMP YOUR SONY RX1 MKII with these awesome accessories!
I have to say, I love my Sony RX1R MKII. I loved the original, then the R and now the MKII is what I feel is the smallest body on the market with the most serious IQ and capabilities, IF 35mm is your thing. In other words, there is no camera that is this size or smaller that packs this kind of IQ, low light and full on potential. The Sony RX1 series has sort of a cult following as the ones who own it and use it seem  to truly adore it, and those who never did bond with it just sold them. But no matter how you look at it, the RX1R MKII, or any of the RX1 series of cameras can produce stunning results in the right hands.
I often get asked "what strap do you use" or "what bag was that in your last video" or "hey, what shutter release is that" or even "what grip are you using". I get these questions very often, and this post is going to tell all of you exactly what I did to my Sony RX1R II to make it my own, and make it much more comfy to use.
I will show you two grips I love and recommend, the best soft release I have found to date (for ANY camera), the sun shade I chose for my RX1RII that is much more affordable than the Sony version as well as what strap I use when I use one on this camera. Usually though, I have it in a small bag and without a strap.
First, check out the video to see it all
Then, below, , check out these two grips for the RX1R Mark II (NOTE: These will NOT fit the old Mark I versions as the MKII body has changed ever so slightly)
FROM METRO-CASE.COM 
This for fitting sleek and functional grip is quite nice. When I attached it to my RX1RII I was pleased with the design, looks, the way it keeps me from pressing the video/movie button and the fact that it is compatible with ARCA SWISS style plates. It also adds a nice grip to the camera while looking like it fits in with the design of the Sony itself. It has a solid feel and construction and for most, this would be the perfect grip. Click the stats below to see more or order. Price is $89 direct at METRO-CASE.COM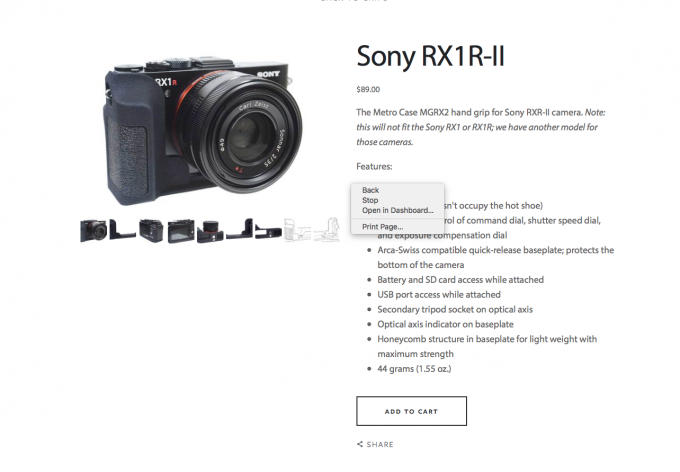 FROM J.B. DESIGNS
I LOVE LOVE LOVE JB Grips! The wooden materials and nice design mean my cameras always look unique and cool when a JB Grip is rocking it. While this look is not for everyone (some will prefer the sleek design above from METRO-CASE, but some will also prefer this all natural wood look as it really gives off a nice vibe and makes the camera look a bit old school, a bit different and it feels great in the hand. I love this grip because of the look, design and the way it feels on the hand. It is easy to remove, lets me have full access to memory and battery and can mount on a tripod. This JB Grip is $85 and available at AMAZON HERE!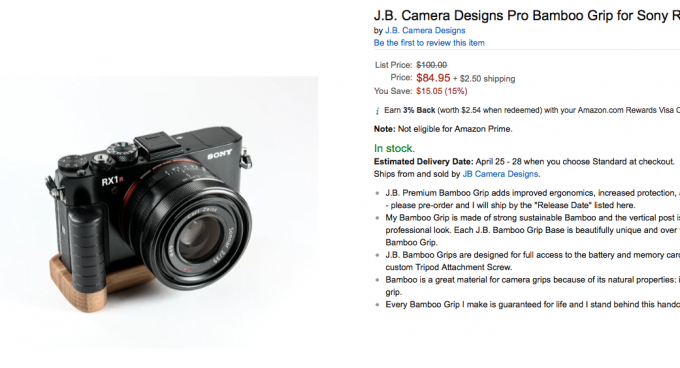 LENS HOOD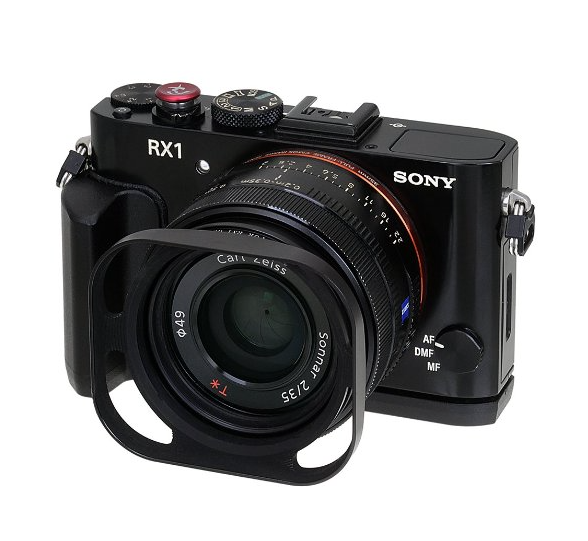 I looked for a nice lens hood for my RX1RII and ended up buying THIS ONE from Fotodiox on Amazon. It is all metal, is squared off and looks perfect on the camera. Not much else to say about this as its a lens hood but it does the job, looks great, is all metal and while not dirt cheap, it is well worth the cost. You can see it at Amazon HERE.
SHUTTER RELEASE – Best release I have ever found!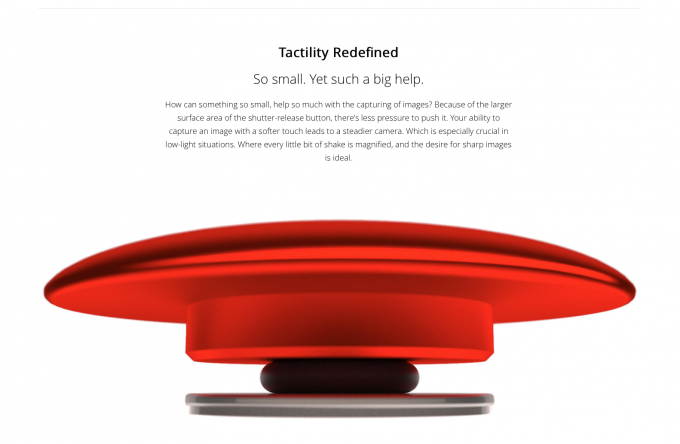 WOW! I stopped buying shutter soft releases quite a while ago. WHY? They always fell off. The screw in models fell off almost daily, and they would be lost forever. Then there were even some stick ons that would always fall off as well. I gave up. UNTIL NOW. Check these out guys and see me attach one to my Sony A7RII in the video above. These come in all sizes and all shapes and are attractive with a clean design. You can go with concave or convex and 10mm or 13mm. All kinds of colors to choose from and they are not expensive coming in at $9-$15
STRAPS?
I have to say, I do not use a NECK strap with my RX1RII often, but when I do it is this one. I always love smaller leather straps, and this one is affordable and nice 😉
 but I do use this WRIST strap from LV Designs more often.
BATTERIES – SPARES and EXTRAS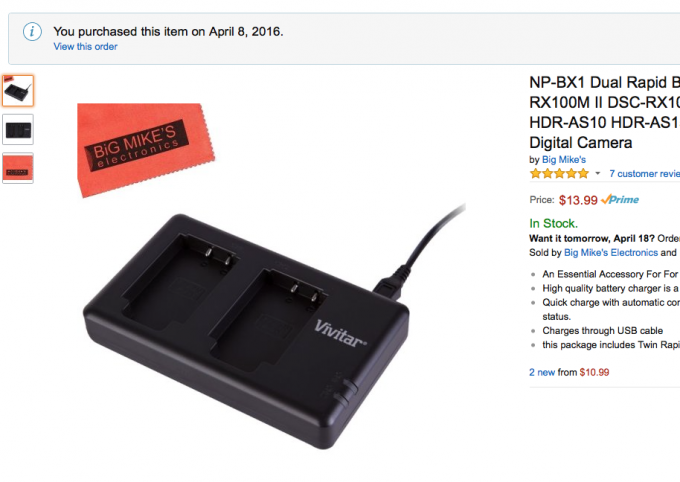 I must have 12 batteries for the RX1/RX100's around here but most of them are cheap spares I bought from Amazon, along with a cheap dual charger that works amazingly well. The batteries can be found cheap HERE (Two for $12) and the charger I use is HERE Highly recommended! 
————-
PLEASE! I NEED YOUR HELP TO KEEP THIS WEBSITE RUNNING, IT IS SO EASY AND FREEE for you to HELP OUT!
Hello to all! For the past 7 years I have been running this website and it has grown to beyond my wildest dreams. Some days this very website has over 200,000 visitors and because of this I need and use superfast dedicated web servers to host the site. Running this site costs quite a bit of cash every single month and on top of that, I work full-time 60+ hours a week on it each and every single day of the week (I receive 100-300 emails a DAY). Because of this, I could use YOUR help to cover my costs for this free information that is provided on a daily basis. 
To help out it is simple, and no, I am not asking you for a penny!!
If you ever decide to make a purchase from B&H Photo or Amazon
, for ANYTHING, even diapers..you can help me without spending a penny to do so. If you use my links to make your purchase (when you click a link here and it takes you to B&H or Amazon, that is using my links as once there you can buy anything and I will get a teeny small credit) you will in turn be helping this site to keep on going and keep on growing.
Not only do I spend money on fast hosting but I also spend it on cameras to buy to review, lenses to review, bags to review, gas and travel, and a slew of other things. You would be amazed at what it costs me just to maintain this website, in money and time (250 hours a month, and about $3000 per month).
So all I ask is that if you find the free info on this website useful AND you ever need to make a purchase at B&H Photo or Amazon, just use the links below. You can even bookmark the Amazon link (not the B&H) and use it anytime you buy something. It costs you nothing extra but will provide me and this site with a dollar or two to keep on trucking along.
AMAZON LINK (you can bookmark this one)
B&H PHOTO LINK – (not bookmark able) Can also use my search bar on the right side or links within reviews, anytime.
Outside of the USA? Use my worldwide Amazon links HERE!
You can also follow me on Facebook, Twitter, or YouTube. 😉
One other way to help is by donation. If you want to donate to this site, any amount you choose, even $5, you can do so using the paypal link HERE and enter in your donation amount. All donations help to keep this site going and growing!
 I do not charge any member fees nor do I (nor will I ever) charge for reviews, so your donations go a long way to keeping this site loaded with useful content. If you choose to help out, I thank you from the bottom of my heart.