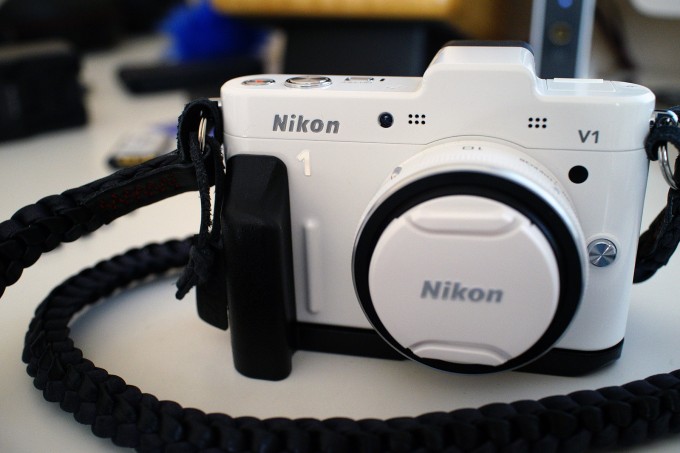 Even though I have no affiliation with DigitalRev, I love and have been a huge fan of their youtube videos for a long while now. Last week I made a purchase from their website for a Nikon V1 with 10mm 2.8 for $269 with FREE Fed Ex express shipping. I ordered and had the camera two days later at my door for a grand total of $269. This my friends is a deal of all deals. For $269 you get the rock solid V1, with its solid heft, large Nikon battery, built-in EVF, dead silent shutter or mechanical shutter, 1/16,000s capability, and small 10Mp files with a nice film like rendering right out of the camera. You get the 10mm 2.8 lens thrown in as well, and this lens is one of the good ones. In fact, my set is the 10, the 18.5 and the 32 1.2. Three quality primes equaling 28mm, 50mm and 85mm. Yep, The new 32 1.2 has taken it up a notch.
I added a grip from Amazon and picked up TIHS ONE because it allows access to the battery and SD card door. It's also much cheaper than the plastic Nikon version – HIGHLY recommended.
I also have a black V1, yes I own TWO. My son owns one in black and his stepbrother owns a black one as well. It seems like we have our own little V1 club around here. The reality is that I have loved this camera since its release and have rarely been without one in my house. With the recent lens additions of the 18.5 1.8 and 32 1.2 this little guy is a steal of a deal, and IMO, better than the V2 because the V2 is $700-$1000 and does not improve on the IQ at all. The V2 also looks like a teeny DSLR. The V1 is classic in design and there will never be another like it. For $269, it is a true bargain.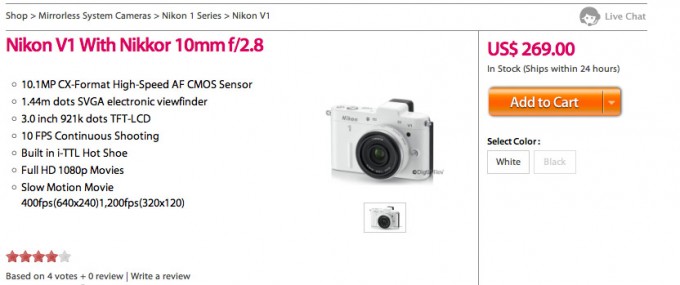 I make ZERO money if you click over to Digital Rev and buy this but I could not sit by and NOT tell you guys about this as it may be the last chance for new V1's being available. They also sell the black V1 with the 10-30 and 30-110 for $479 shipped. These will ship from Hong Kong but as I said, they ship them via Fed Ex Express for FREE so it arrives in 1-2 days from the time they ship it (they ship within 24 hours or so).
You can buy the white V1 and 10mm lens for $269 here, of the black with two lens kit for $479 HERE. Again, I make zero money from this, just passing along the word on a great deal for a camera I really love shooting. I bought my white one there and the experience was great. It is hard to find a new in box V1 these days as most of the big box stores are sold out and at Amazon they are selling the black with 10-30 for over $600. So if you have been getting the itch, I do not think these deals will last very long.
BTW, the strap is my leather braided strap from barton1972.com 
NOTE: Someone pointed out that buying from Digital Rev and shipping to the USA may void the Nikon warranty. It may be fine, but the only way to find out is to ask Digital Rev. If there were any in stock at a reputable USA store I'd go there 1st, but I think most are gone. I am not worried about warranty on a $269 camera, which is why I own two. 🙂 Would I buy a $2500 camera from Digital Rev and ship to the USA? No. But a $269 deal like this? YES, I did. Twice 🙂
To see V1 samples with all of the lenses, click HERE to see my Nikon 1 Gallery page. This camera is not a toy, but a very capable tool with a unique way of rendering an image.