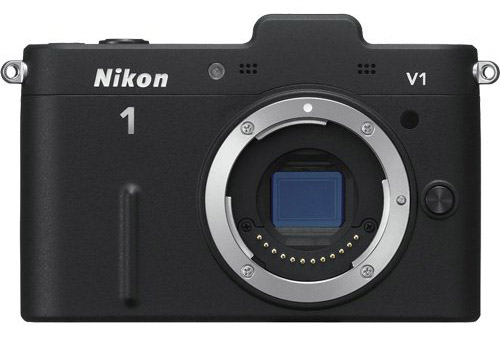 Refurb Nikon V1 Black Body – $249 on Amazon now
Nikon V1 Refurbished from Cameta Camera on Amazon
YES! More Nikon V1 talk, but this is the last post about the 1 system until my new 6.7-13 Lens review which should be in a week or two. I am posting this due to the fact that MANY of you are asking me where to get a cheap black Nikon V1 body, so I found some 🙂
Yep, lots of you have asked where to get a BLACK Nikon V1 at a similar price to  the $279 deal on Digital Rev (that was a white one, new with 10mm). Today I spotted that Cameta Camera on Amazon has a bunch of refurb BLACK V1's for $249 a pop. This is a body only, Nikon refurb with one year warranty. A Refurb is a camera that goes back to the factory for one reason or another. A return, an issue, etc. Nikon goes over the cameras, replaces parts, repairs or just fixes cosmetic issues and then packages them back up for refurb discount sales. So if anyone wants the black V1, and they are getting harder to find these days without paying $600+ then this is a good deal.
Check out this video about the Nikon V2 and Street Shooting (V2 is no better than V1 in speed or IQ)
Just click the link above or below to check it out. It is NOT prime eligible but I have ordered from Cameta on Amazon 6 times in the past and they always came through with super fast service and it was always problem free.
Nikon V1 Refurbished from Cameta Camera on Amazon
I know I have been doing quite a bit on the Nikon 1 lately but that is because of these insane prices on such a great little camera. With these new lenses out now, it is a killer system, 1″ sensor or not. I have one more Nikon 1 review coming and that is for the 6.7-13 Ultra Wide Zoom. Stay tuned for that. Until then, you can check out the video below showing my three fave lenses for the system.
Links to my fave three lenses:
Nikon 32 1.2  – Nikon 18.5 f/1.8
– Nikon 6.7-13 UWA Zoom
and IMO, a MUST own accessory for the V1!